Hi Everyone,
Happy 4th of July weekend! Or, rather, I should say, "week," as the 4th falls on Tuesday this year.
In honor of our Independence, we will talk about my ultimate list of the 20 best shades of white paint.
Get it? Red, WHITE, and Blue.
Wait, Laurel, haven't you talked about the best white paint colors like 100 times before?
Well, I think it's 101. ;] In fact, a lot of you reading are here because you found me looking for information about the best shades of white paint.
However, it's been a few years since this post had a major update, so please enjoy the best shades of white paint for 2023.
White is my favorite color. It is timeless and classic IF you know how to work with it.
However, it's okay if you're not into white as a fantastic paint color for your interiors. But, by the end of this post, I'm hoping you'll see the best shades of white paint in an entirely new light.

Over the years, if I had to state, the NUMBER ONE ISSUE that people face when decorating their homes is:
What damned color will I paint the walls, ceiling, trim, etc.?
And, then, we go to the paint store and find that there are at least 150 colors that they are calling white. And that's just from Benjamin Moore.
How confusing!
It is for me, too. That's why when I find a white paint color I like, I stick with it. When I find a white paint color I don't like, I make a note of that too.
However, some white paint colors might look horrid in one situation and sublime in another.  We're going to go over some of that, too.
If you're struggling, some 27 years ago, when I first chose paints for our old home), I drove myself crazy with indecision and ended up mixing two colors which turned out not-so-great, but fortune struck when my young son flooded the upstairs bathroom, and copious amounts of water poured through the ceiling.
The toilet gods Universe had given me another chance to get it right.
And this time, I did, thanks to Victoria Hagan.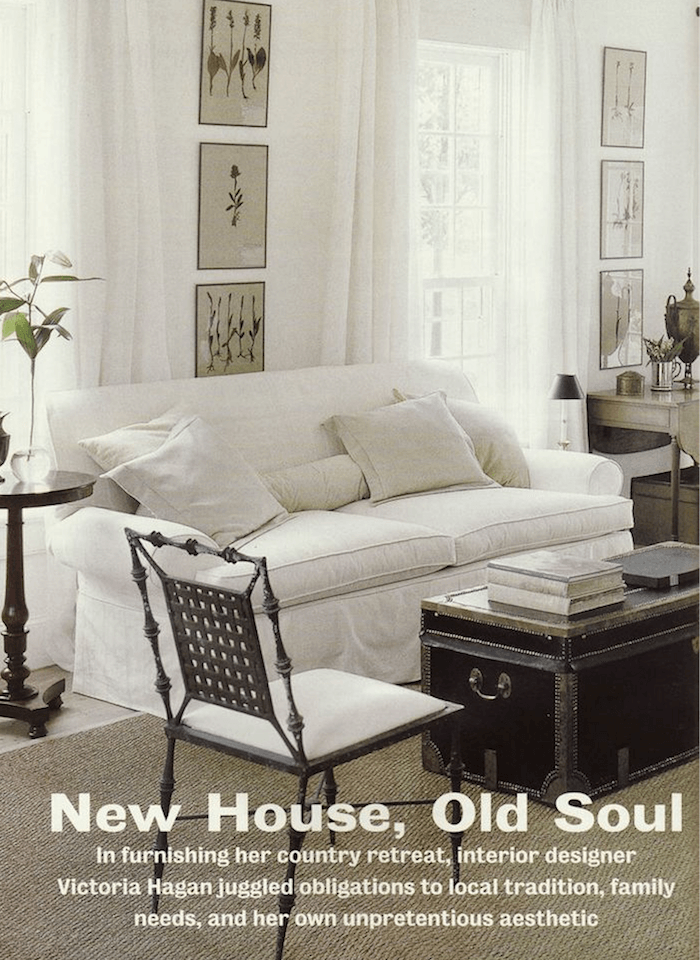 At the time, I was in love with the Hamptons home of Victoria Hagan.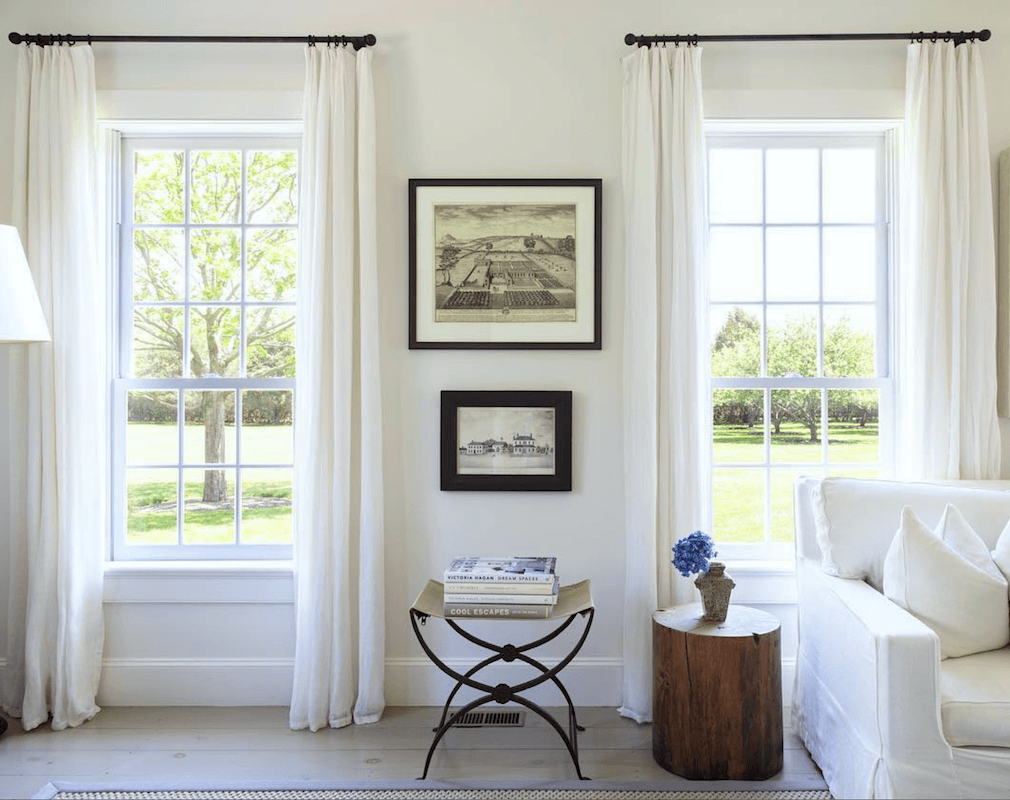 Gosh, I'm still in love with it, nearly 30 years later!

Victoria had used Pratt & Lambert ANCESTRAL. (Above) Sold! And, I enjoyed it very much for the next 11 years until I moved out.  I also used that linen gauze from Henry Calvin Fabrics for at least a dozen clients and Roman Shades in our townhouse living room.
Let's continue with my favorite shades of white paint.
I am sticking primarily to the best Benjamin Moore white paint colors because that is the company that reined supreme and contractors loved to use.
However, a few are from Farrow and Ball, and a couple more are from Pratt and Lambert. Both are fantastic paint brands.
I'm also sharing some rooms by designers known for using the best shades of white.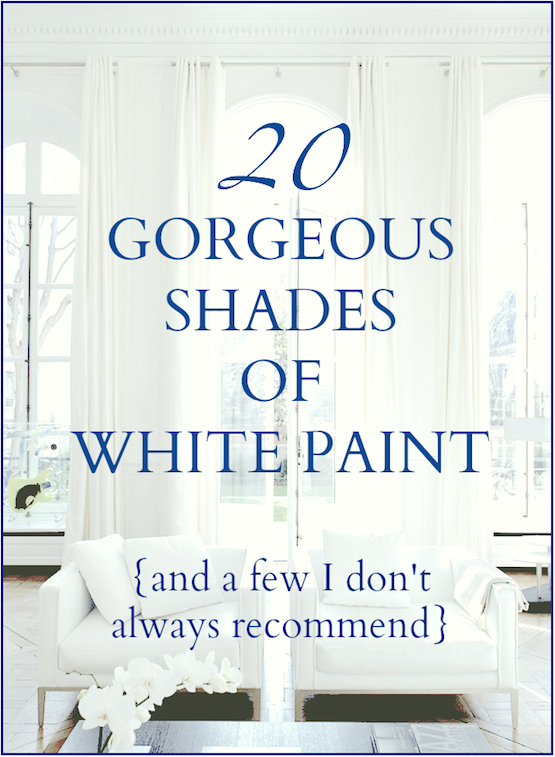 One of the best shades of white paint– and the most popular is: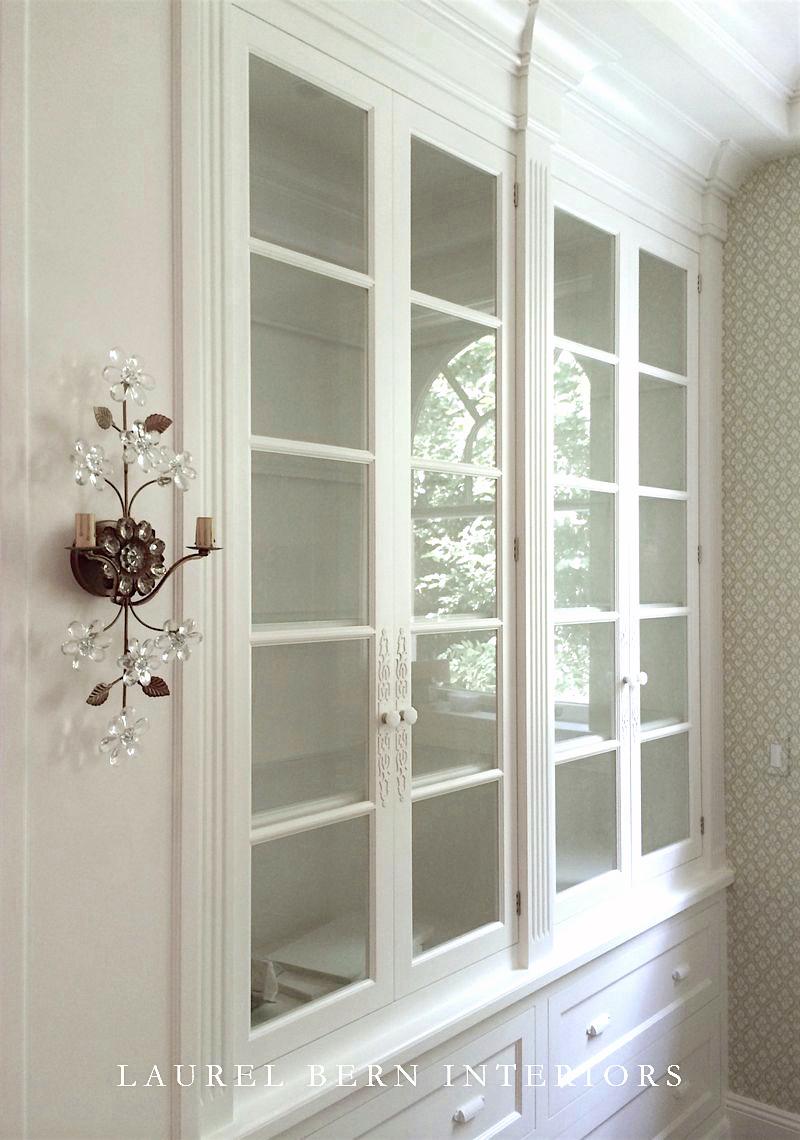 From the Bronxville kitchen we did a few years ago. This cabinet is Benjamin Moore WHITE DOVE oc-17.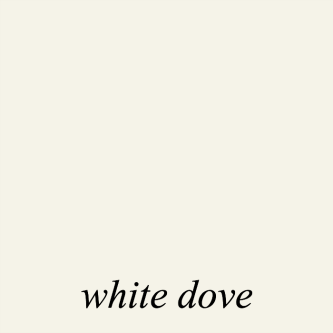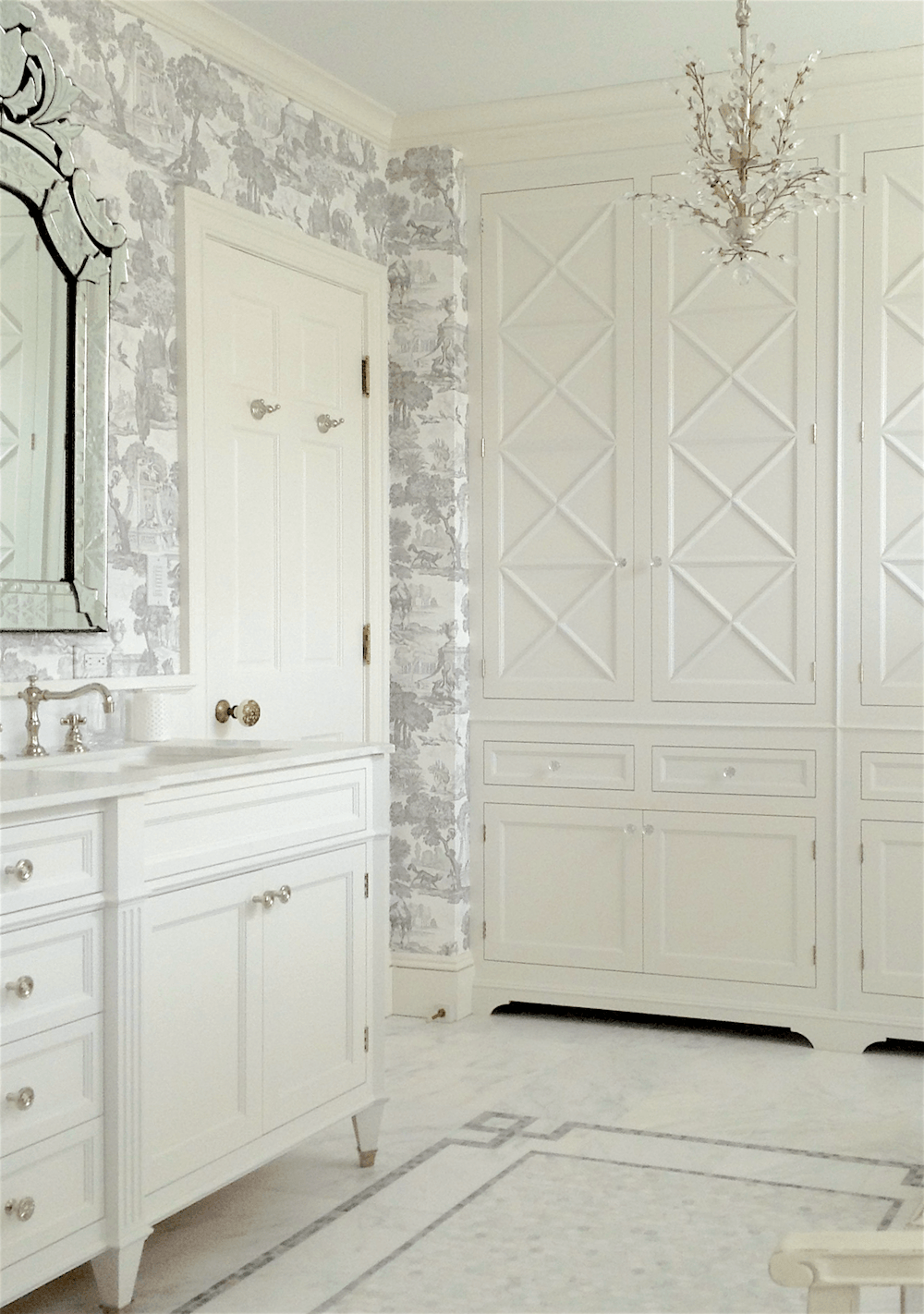 Benjamin Moore- WHITE DOVE oc-17
You can [almost] never go wrong with the dove. It is a soft, warm white with a touch of gray. We also did the bathroom cabinetry I designed in Benjamin Moore's White Dove.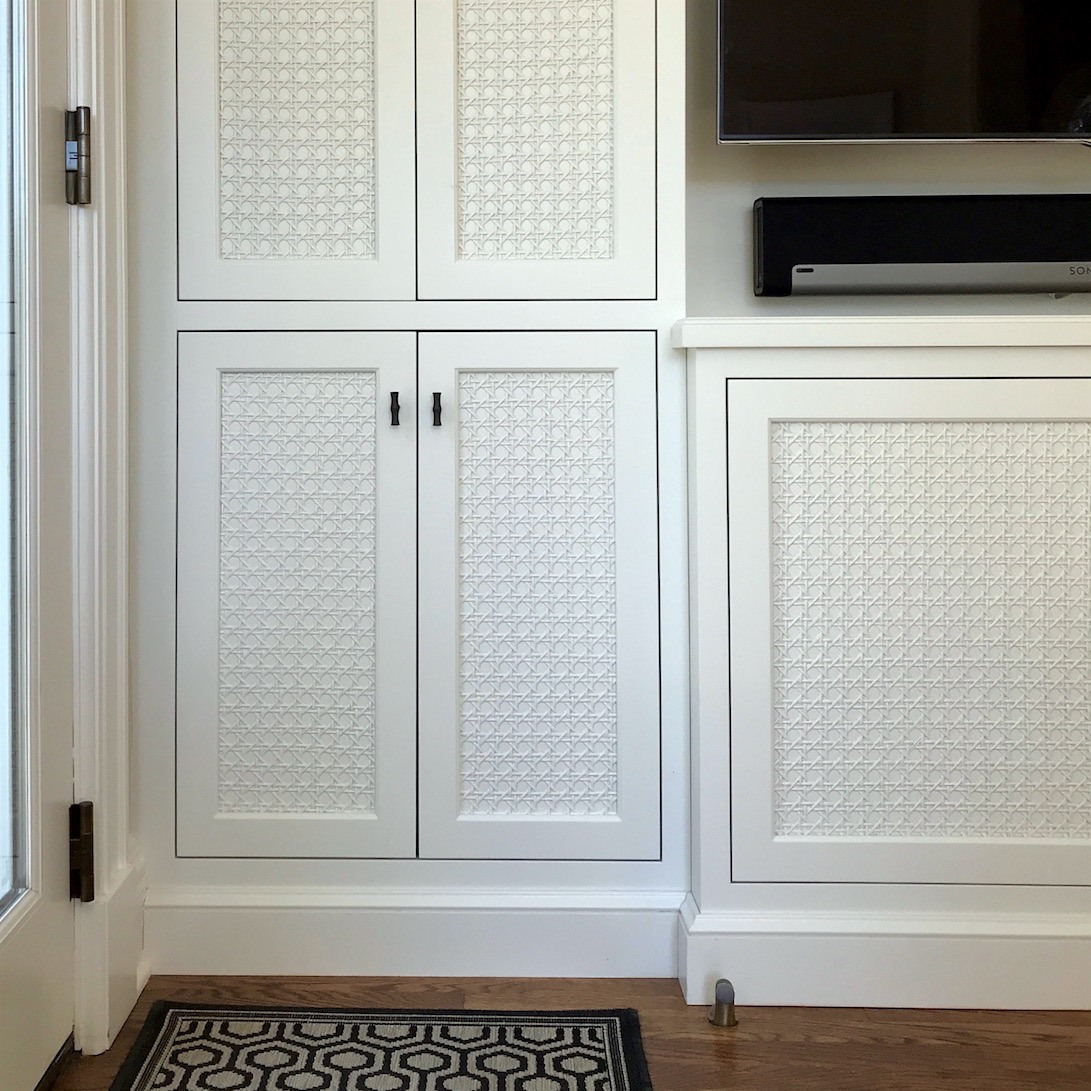 Above is a WHITE DOVE from Lotte Meister's home. Photo by me. To see more of Lotte's gorgeous home, click here.
Next up is Benjamin Moore LINEN WHITE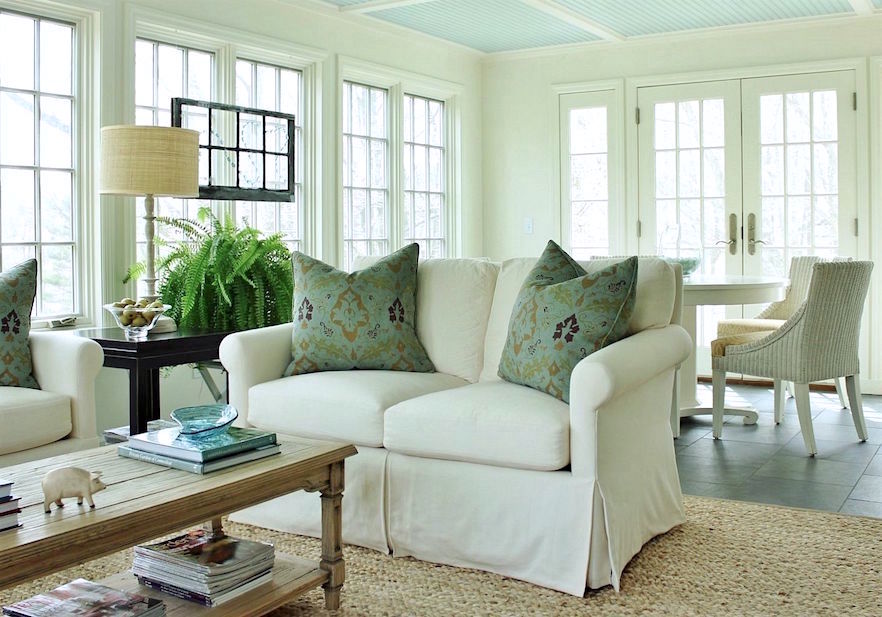 A Sunroom we did in 2010! The walls are Benjamin Moore LINEN WHITE, and the ceiling is Benjamin Moore PALLADIAN BLUE. For more great sunroom ideas, please check out this post.
And, for other beautiful ceiling colors, this is the post for that.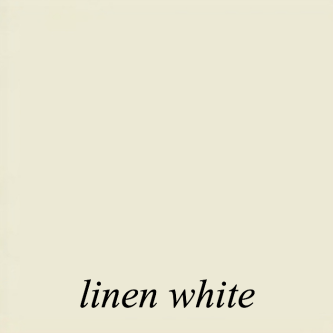 Benjamin Moore – LINEN WHITE. Okay, here's the thing with linen white. It can be fantastic or dreadful. Please do not use it in a windowless or dark room unless you enjoy looking at muddy cream.
However, there are two conditions where linen white is wonderful.
One – a bright room, like a sunroom.
As trim with deep warm colors, browns, golds, greens, and warm reds. The gray in linen white will keep the contrast from looking too intense, yet the trim will read as a beautiful creamy white.
It also looks lovely paired with white dove for the trim if you'd like a little contrast.
However, I have discovered two shades I feel are better all-around shades of creamy white.
Benjamin Moore – LILY OF THE VALLEY905. This is a lot like linen white but just a hair brighter. I did it once in a family room full of gorgeous built-ins. I don't have a photo, however.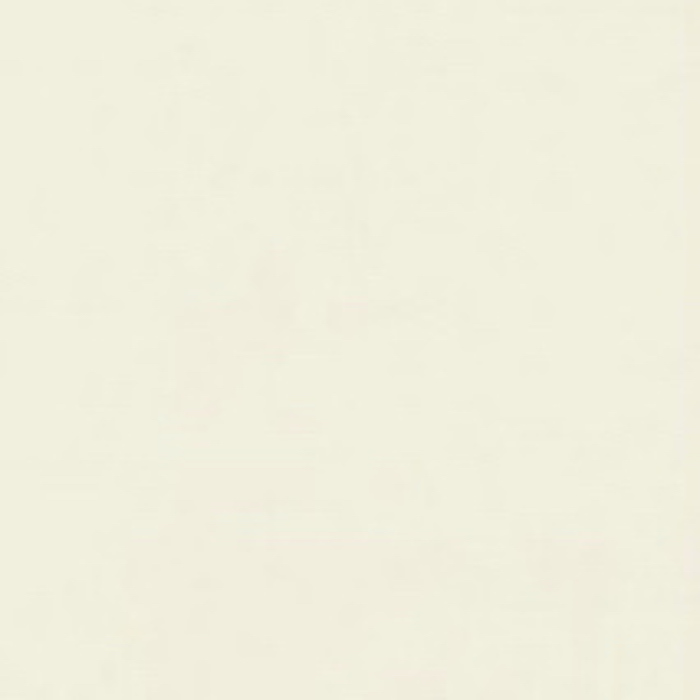 But, it is close to Benjamin Moore IVORY WHITE 925. (above and below)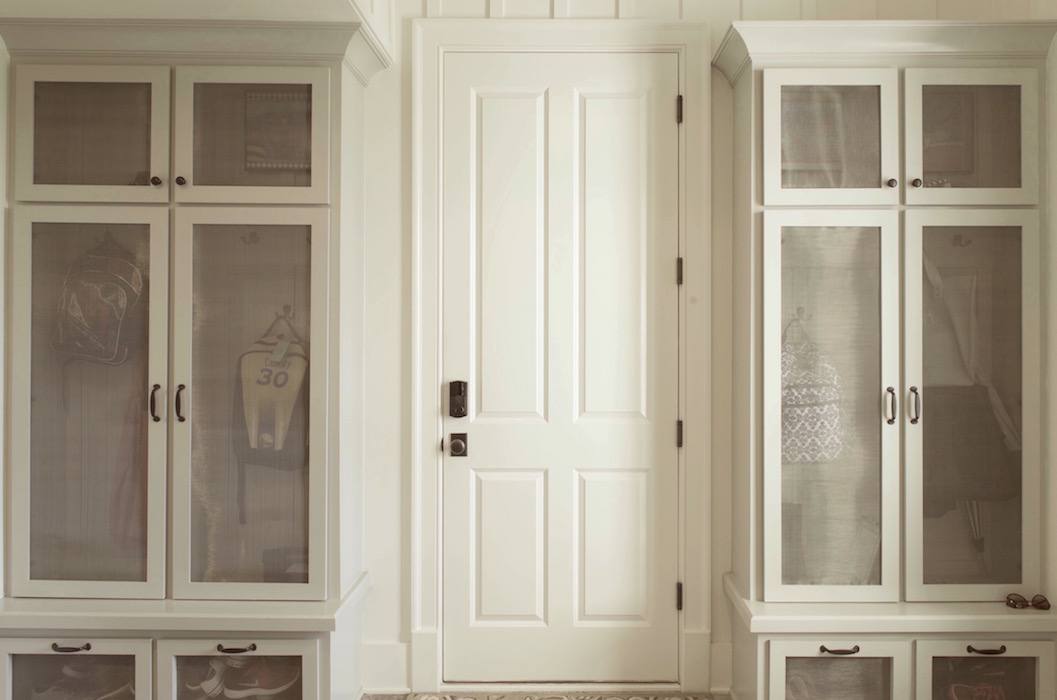 Benjamin Moore IVORY WHITE – 925. This is the home I helped the loveliest long-distance client in 2016. It was one of my last jobs before focusing on the website. Please note that Ivory white is the same color as:
ACADIA WHITE – ac-41. For more about this gorgeous home in Kentucky, please click here.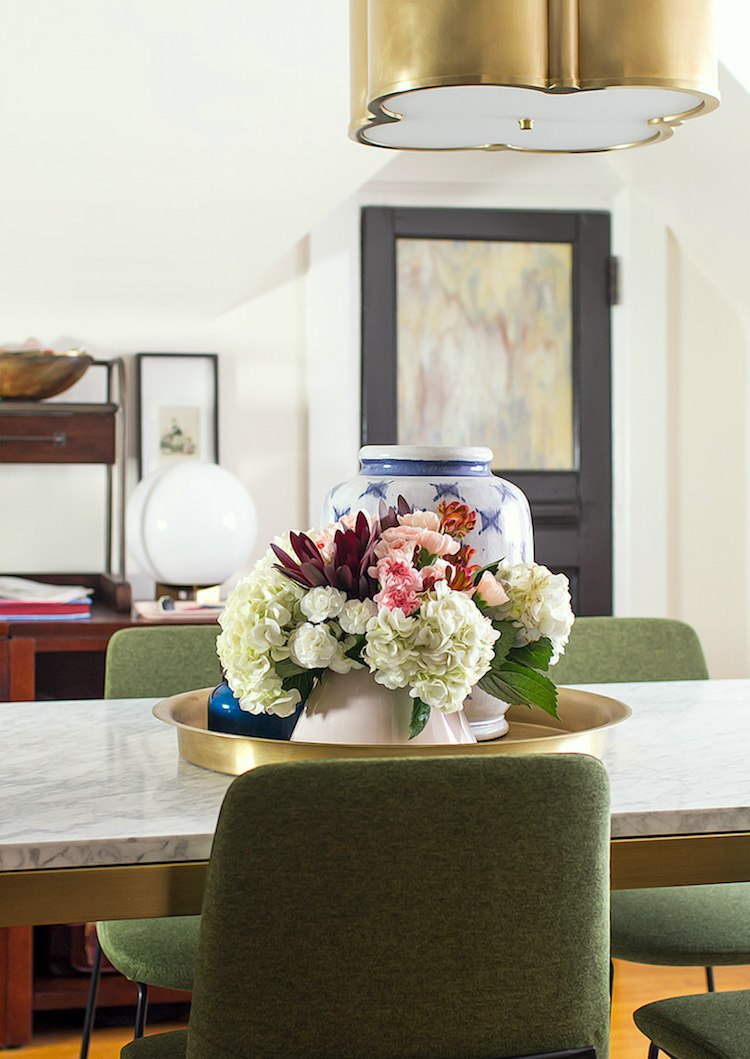 Making it Lovely is a terrific blog about paint colors and sources.

Benjamin Moore WHITE BLUSH 904. (see above) The color looks ever so slightly pink on the chip (and the name also implies pink), and here too, but when it goes up, it's lovely, soft, and creamy. It does not look pink in most situations. However, in the corners or on the crown, the pink might come out in some lighting situations.
Yet, because of its whisper of a pink undertone, this is a wonderful white with taupes, warm grays, and the challenging "pinky-beige."
Please be warned. White Blush does not look good with a clear or bright yellow. In that case, the white will appear to be a pale beige. I know this because I goofed back in 1997. This color was specked by her architect, but I did the other colors. The client chose a clear yellow for her younger son's bedroom. I should've suggested a different white for this one bedroom.

Benjamin Moore CLOUD WHITE – 967 (above) This is another pretty soft creamy warm off-white. It is quite close to White Dove, but by comparison, it is a hair more beige and grayer than white dove.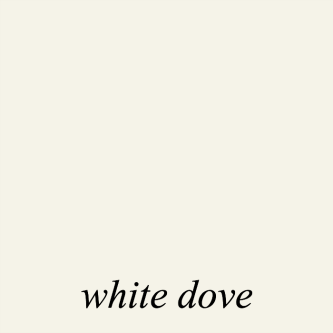 Next up is Benjamin Moore COTTON BALLS 2145-70 or oc-122

Cotton Balls (above) is a another soft, warm, lovely white. It's wonderful for walls or trim with any other color. As you can probably see, it is similar to White Dove but a hair brighter making it more versatile.
You can see more of this cool vintage apartment here, painted in Cotton Balls.
Too funny. I just realized that this is the former home of the parents of the long-distance client who used Ivory White/Acadia White in her home.
However, Cotton Balls is so close to Benjamin Moore SIMPLY WHITE that I am forced to put them in a dead tie for 1st place as the best all-around white paint color.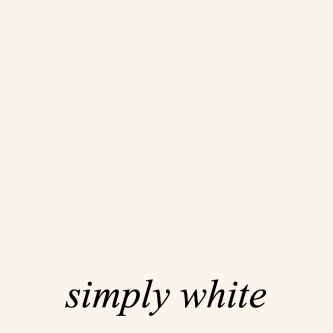 Benjamin Moore  SIMPLY WHITE – 2143-70 The name says it all. However, it is another white paint color decorators love for its warmth. If you recall, Simply White was Benjamin Moore's COTY several years ago.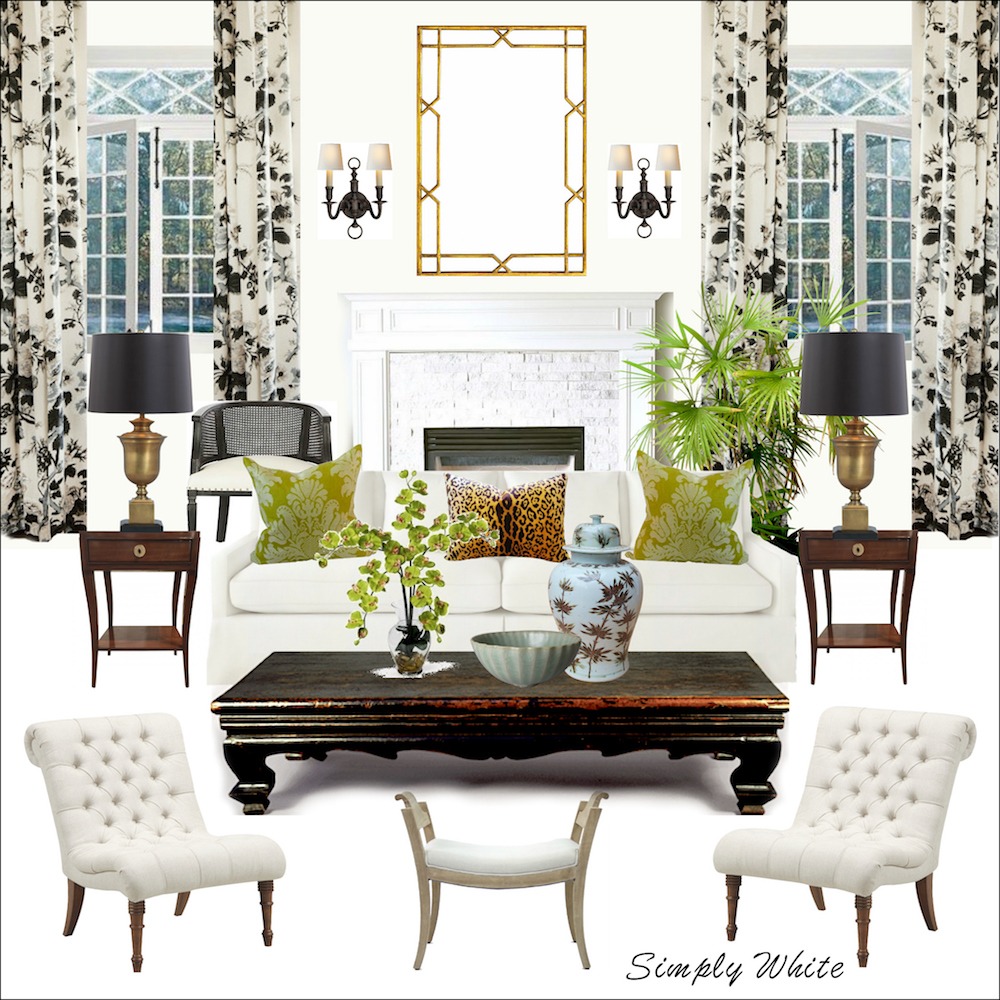 Above is one of the 40 mood boards I created with furniture sources, using the wall colors in the background for the Laurel Home Paint and Palette Collection.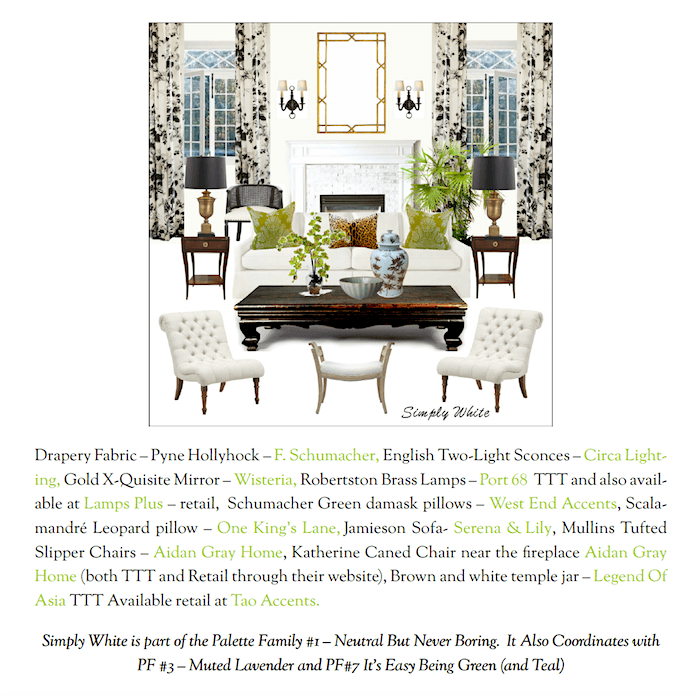 Above is a reduced screenshot of one of the pages associated with this color from the palette collection.
I took 144 beautiful Benjamin Moore paint colors and put them into a collection with trim colors and then 40 palettes, with furniture. And more!
HOT TIP: these two whites are the most versatile in that they look good with cool colors and harder-to-work-with shades of yellow.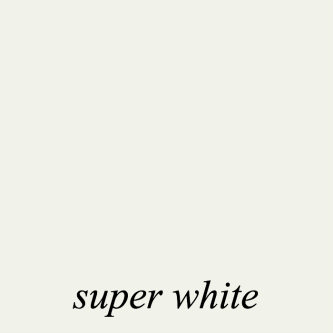 Above, there's another fantastic shade of white paint to include in the best all-around shades of white paint: Benjamin Moore SUPER WHITE.
Is this a cool white or a warm white? Well, it depends on the light. I painted all of the trim except for the bedroom in super white shortly before I moved out of my Bronxville Apartment. (you can see it here)
Well, let me tell you, I wish I had done so eight years earlier.
It was gorgeous in my southwest-facing apartment. It was a clean white but looked warm and soft beside the butter-yellow walls. I lightened them a shade for resale purposes. I went with America's Heartland, the epitome of a true butter yellow.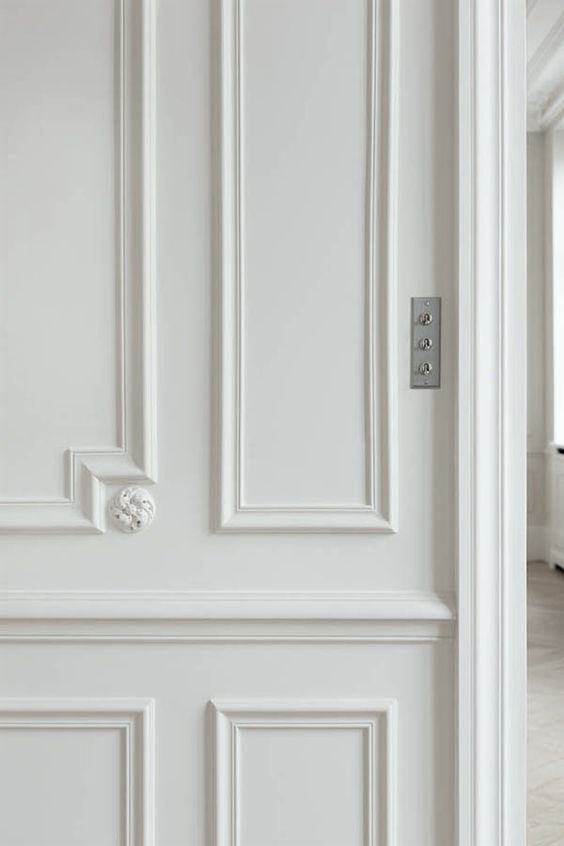 However, putting Super White in a north-facing room will look more stark and cool. But, not super-cool.
Benjamin Moore SUPER WHITE is one of Studio McGee's favorite shades of white paint, and mine is in a well-lit room. Super White is a clean, warm white that I used when repainting my old apartment in Bronxville, NY. By the way, I just realized only a few weeks ago that all of the trim in my living room and den is painted Super White. It came that way.
This next popular color is a slightly whiter cousin of Super White.
This is the whitest shade in my list of the best shades of white paint. It Benjamin Moore CHANTILLY LACE oc-65.
One thing I would like to mention, at this point, is I've noticed many super popular paint colors have equally yummy names like Chantilly Lace.
Would you like the color as much if it was called "Death Warmed Over"? ;]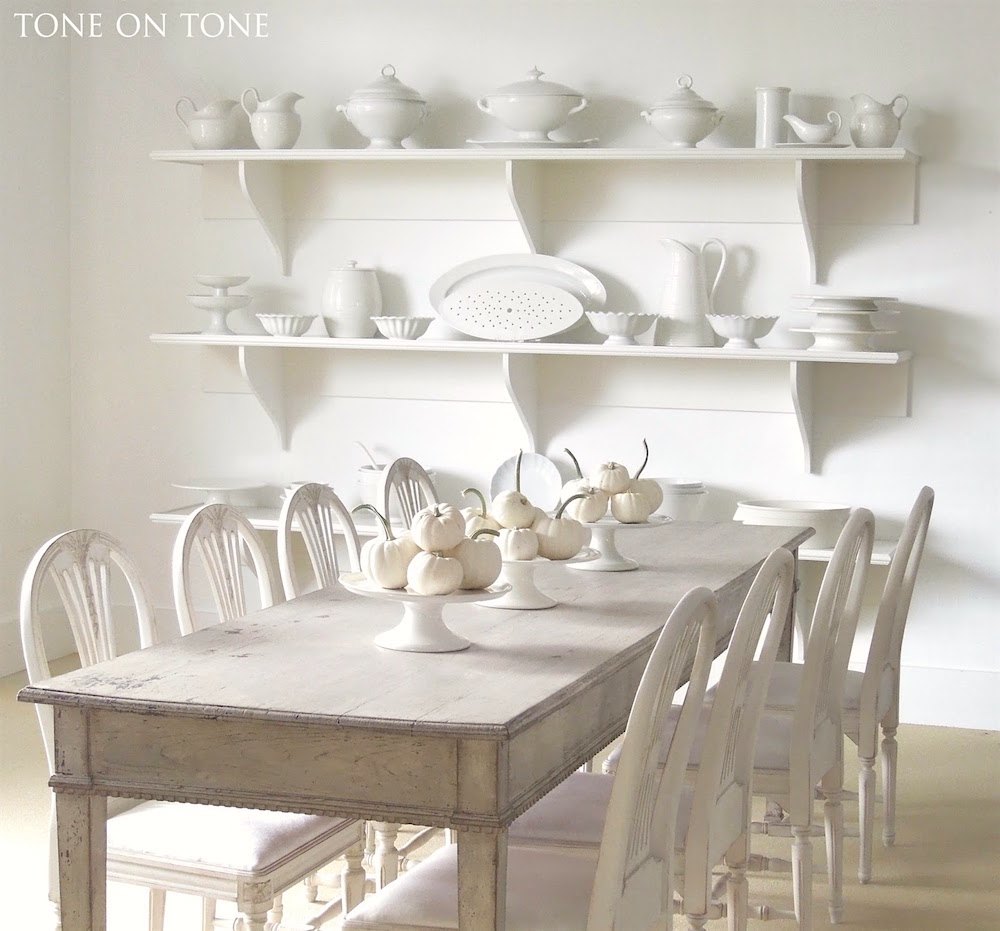 BM DECORATOR'S WHITE – an enduring classic white on the cooler side of the spectrum of whites. Please be careful about using it in a darker room, especially on the ceiling. It is better for brighter rooms, I think.
Loi recommends mixing Benjamin Moore DECORATOR'S WHITE mixed 50/50 with LINEN WHITE — This one is a little secret that's no longer a secret.
Although I've never actually tried it, it makes so much sense. Dec has slightly blue-green undertones and linen, slightly gold… and together, make for a sublime creamy white.
Remember this post where I featured his work?
And, I followed it up much later with a how to get the Gerald Bland look, here.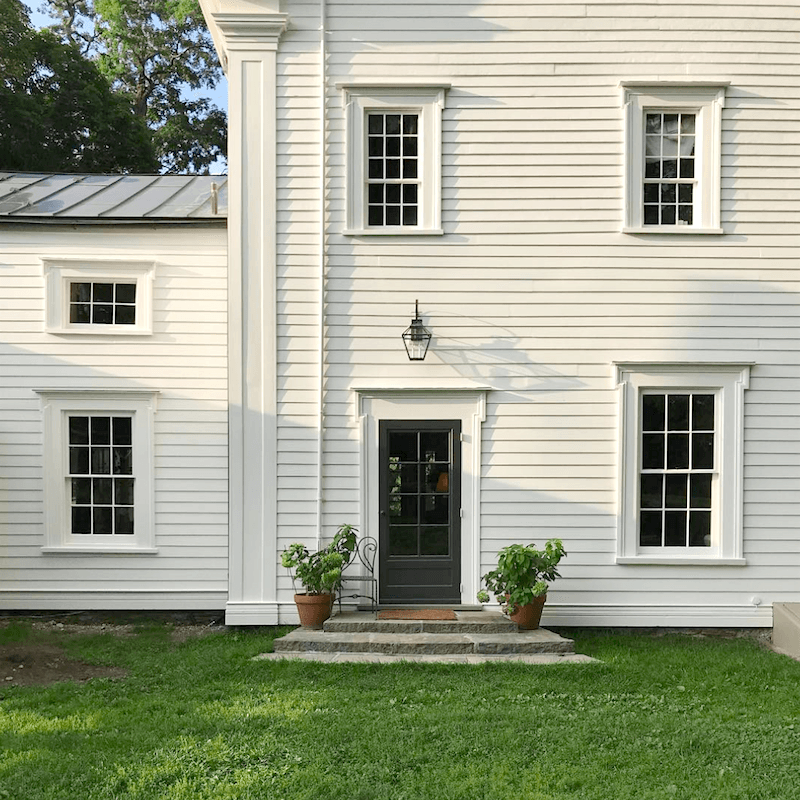 Above is Gerald's incredible Greek Revival in upstate New York.  What shade of white is it, you want to know? I don't know for sure, but I detect a bit of cream so it might be Benjamin Moore White Dove.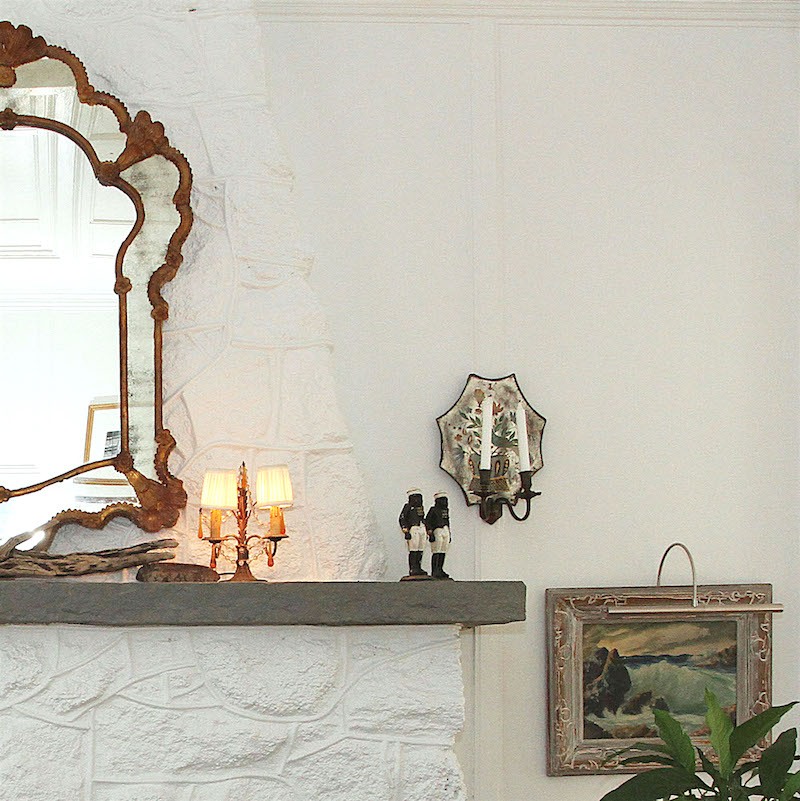 Benjamin Moore – WINTER SNOW – oc-63, a vignette from Nancy Keye's beautiful living room
This is also known as a Darryl Carter color – SOMERSET WHITE dc-05.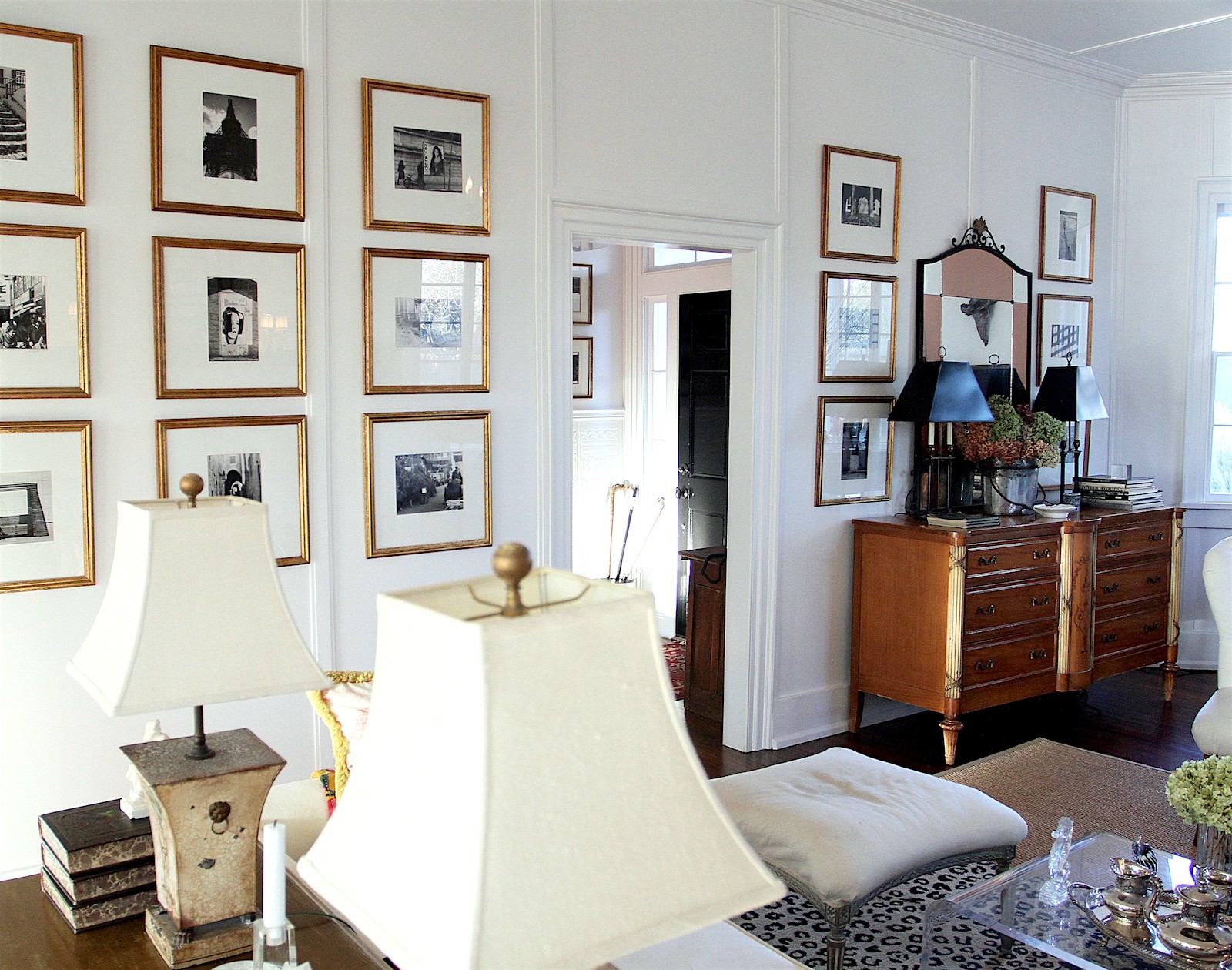 And, here it is again, in Nancy Keye's Living Room.
Benjamin Moore  MOONLIGHT WHITE 2143-70 – This is another of the Darryl Carter colors for Benjamin Moore, which, just to confuse us into thinking it's a different color, is also called Huntington White DC-02.
I don't think BM is promoting these Darryl Carter colors these days; however, if you're interested in a great post on "cracking the Darryl Carter code," with the actual names and numbers, you can find that here onthe  My Knotting Hill Blog.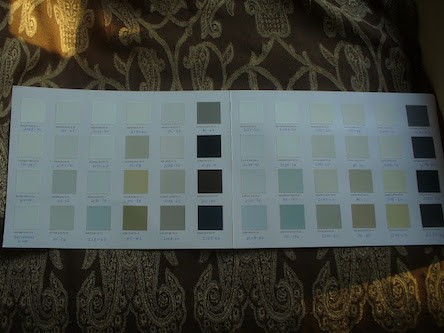 Yes, the image is intentionally too small to read. Please check out Knotting's blog for the answers.
For more, Darryl, please click here.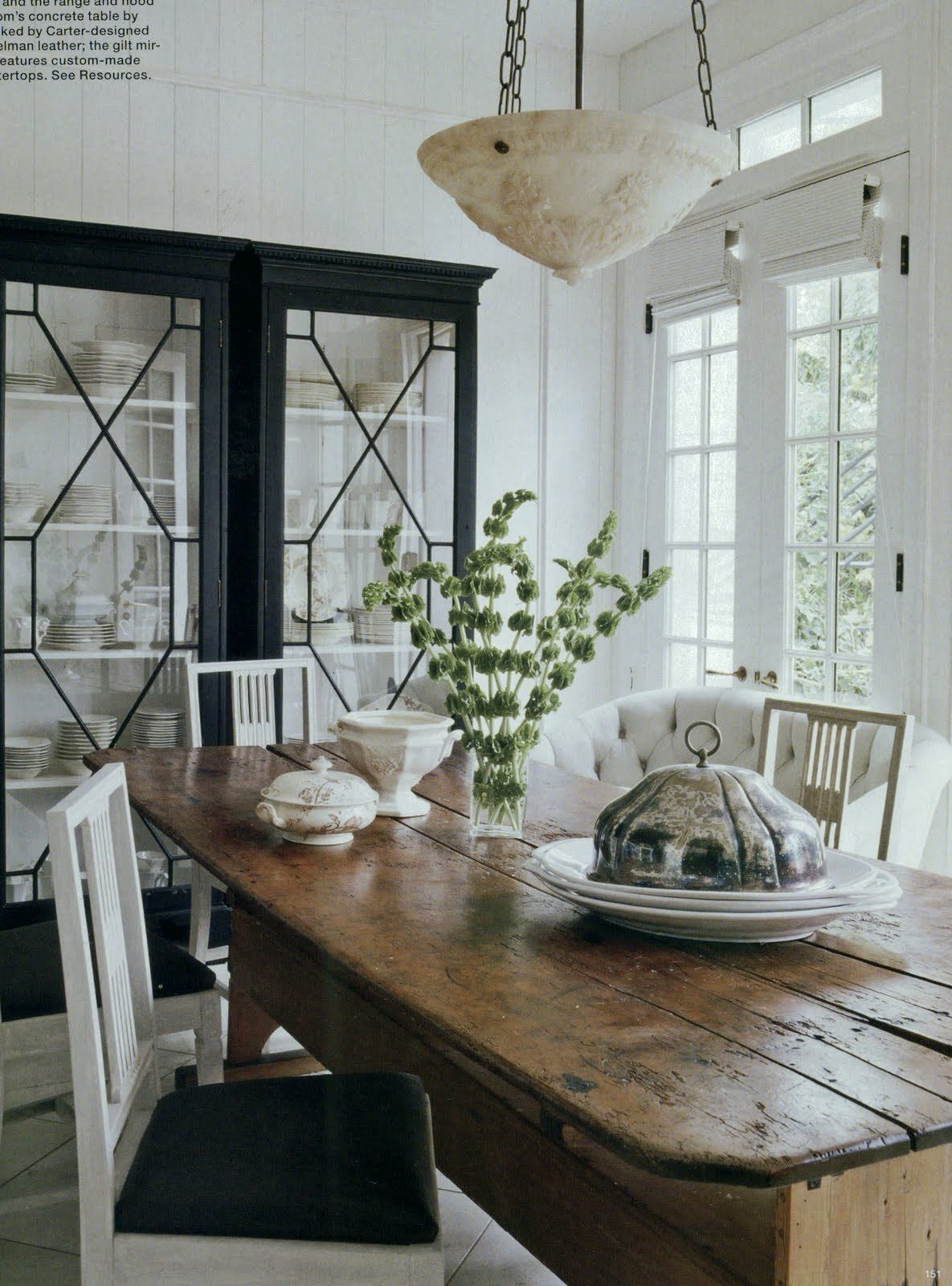 Benjamin Moore PAPERWHITE. This is a cool (but not at all icy) off-white with a slight gray tint.
Below is another board from the Laurel Home Paint and Palette Collection.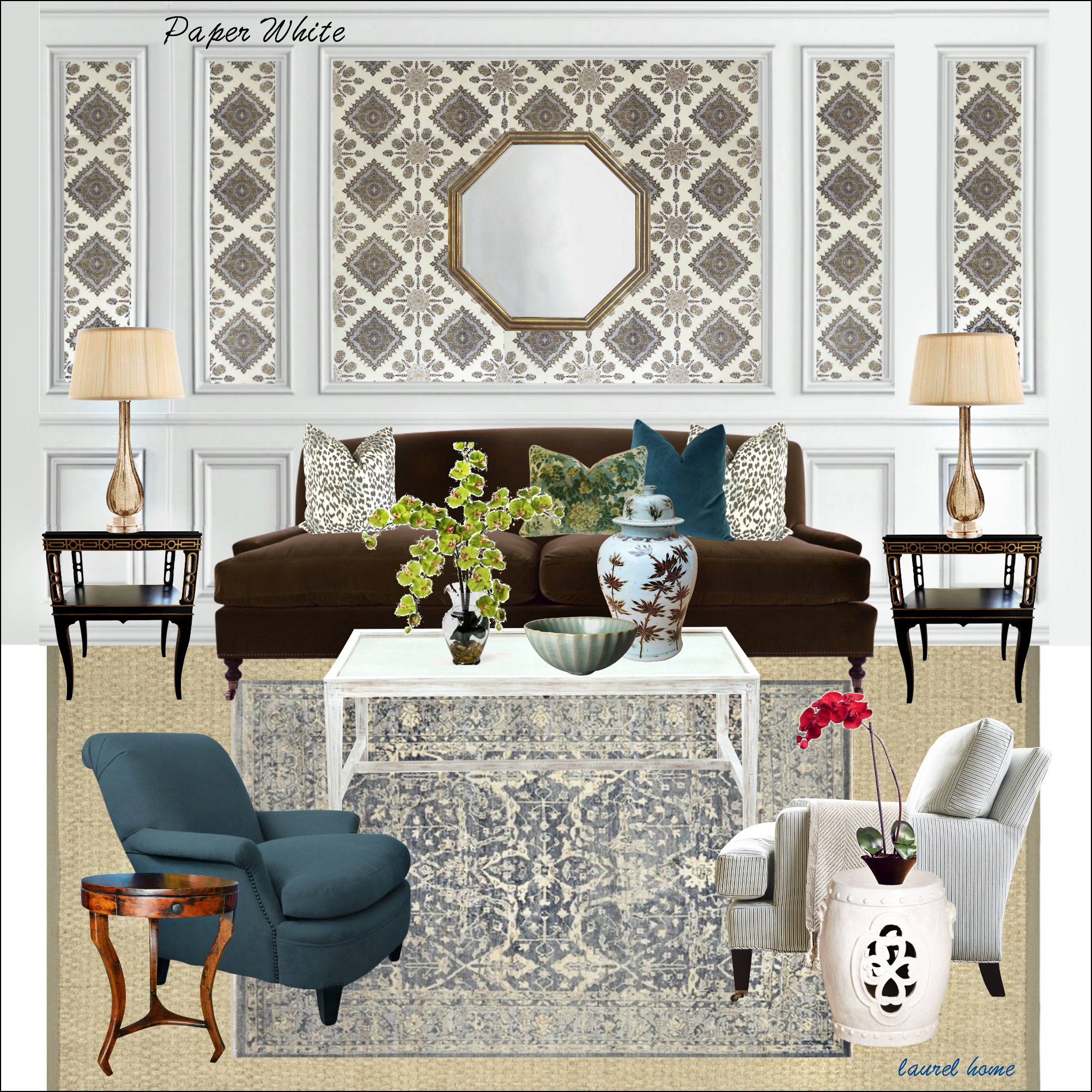 To mix it up, I used Paper White on this board for the trim. The other boards except for one or two have the paint color as the wall color.
Interestingly, another excellent shade of white paint is DISTANT GRAY 2123-70.

However, the gray is so distant it's one of the whitest shades of white in this collection. Paper White has a touch more gray in it. Looking at plain white, (below) I can see that distant gray has a very slight yellow undertone by comparison
BM – WHITE. Who knew? Their plain white is good for trim with either clear or cool colors. It does not look so great with gold. For gold and khaki, I love one of the creamier whites like linen white or Mayonnaise.
My old Bronxville apartment had BM white trim everywhere. It looked terrific on the trim and ceiling in the bathroom (with Benjamin Moore SHORELINE and bedroom when the walls were Benjamin Moore TROPICAL DUSK.
Now, for a few faves from Farrow and Ball and Pratt and Lambert.
Farrow & Ball has been featured on this blog numerous times. To see some of those posts, click here.
Their colors are magnificent and complex. If you are interested in as close as I could find alternatives with Benjamin Moore, please check out this list from 2018.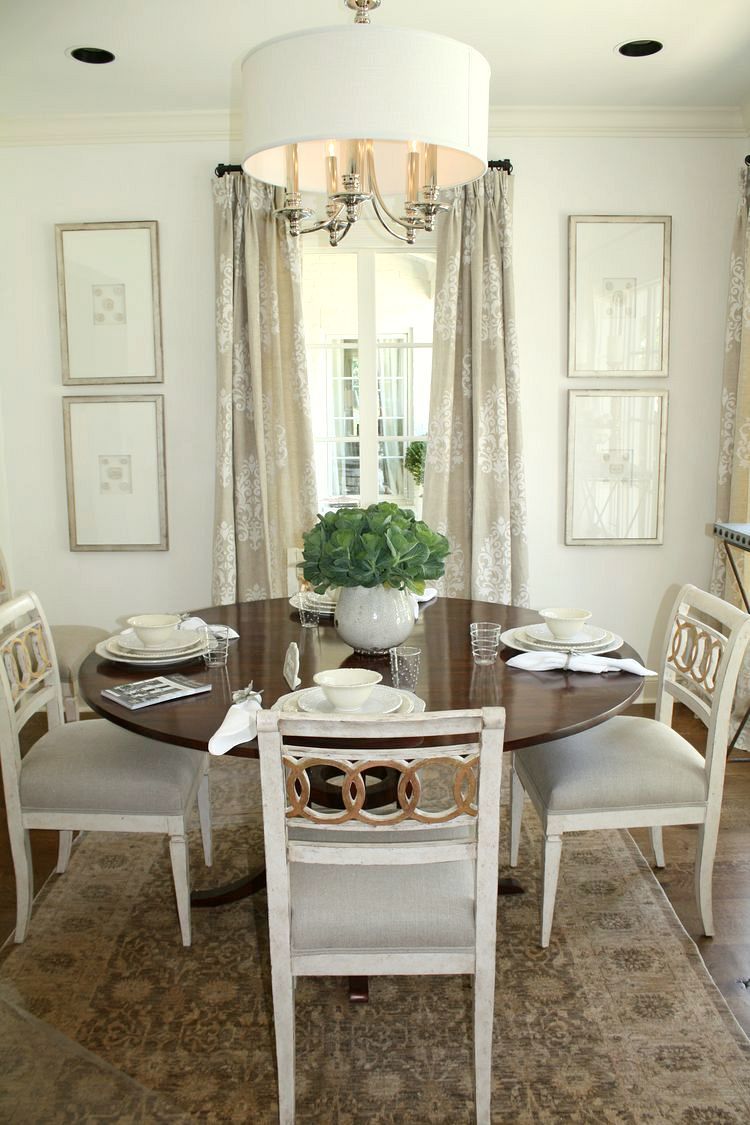 Farrow & Ball POINTING 2003 – Pointing is a beautiful white with just the right amount of cream. (I know… there are a lot of these. Don't knock yourself out. haha.)
Farrow & Ball ALL WHITE is a crisp white that looks wonderful in more contemporary settings.
Farrow & Ball's WIMBORNE WHITE Another lovely cream color.
Pratt and Lambert is another favorite company. They have a far smaller collection of colors than Benjamin Moore, but most are winners.
We have already looked at P&L ANCESTRAL.
Next up is:
Pratt and Lambert SEED PEARL, a clean, warm white- Seed Pearl is a fave of many designers, and I know that Victoria also uses this color. She's a huge fan of P and L. The bedroom above is another of her beautiful designs.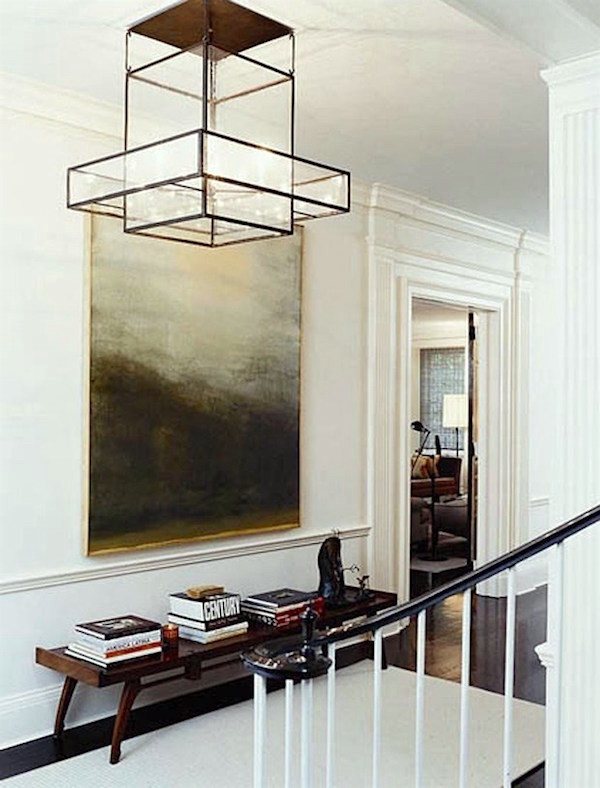 And finally, Pratt and Lambert SILVER LINING, which is not silver. It has a bit of gray. It is very close to white dove. It's another great one, especially for trim.
That is at least 20 white paint colors. However, I must sneak in one more, or I will get shot at Dawn.
We discussed the best exterior paint colors the other day in this post.
Swiss coffee is the first cousin to White Dove.  But do you see the difference?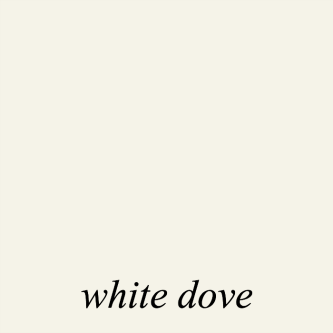 Swiss Coffee has more gray and, thus, could go slightly greenish in some lighting situations. Still, it is fantastic with dark wood tones as long as they aren't too red. I prefer White Dove for its dependability. But all shades of white paint have their limitations in some situations.
The best thing to do, as always, is TEST.
And, I very much recommend the Samplize Paint Samples made with real paint. There's no mess, no left-over paint that's difficult to dispose of. Plus, you can reuse them over and over.
So, are there any white paint colors I stay away from?
Well, yes; however, my sucky white paint color might be someone else's perfect white paint color.
This is my shortlist of not-so-great white paint colors that probably sound less sucky than they are.
BM CHINA WHITE. Some designers love this color; however, I think it looks dirty. But, it's a great white for home EXTERIORS!
I did see China White in a friend's home a few summers ago.
It is a highly changeable color. Sometimes it looked slightly lavender and sometimes like the palest dirty gold.
ATRIUM WHITE. This shade of white is known for its pink undertones. That is fine if you want a white paint color that goes slightly pink. I think this color looks best in rooms brightly lit with natural light.
BONE WHITE. No. Dirt. Yuck. Stay away! I think they finally got rid of the even more putrid Spanish White. I tried a sample once, and it looked like the dog had peed on the wall. I'm not kidding. (However, I understand it's a great color if you're in a stucco home in the Southwest.)
ANTIQUE WHITE. Well, if you like peach, it's okay, but steer clear if you don't want peach.
NAVAJO WHITE. Another one that some designers love, but I think it looks just a tad too beige-barf and neither here nor there.  However, my former neighbor had terra-cotta/ burnt orangey kitchen walls (actually BM spiced pumpkin, which I had used before and liked) and a sage-green living room and used Navajo for the trim, and it was beautiful. But the tile on the fireplace was beige.
When choosing the best shades of white paint, one common mistake is painting a dark room bright BRIGHT white, thinking it will make the room look brighter.
It often looks gray and drab because the north-facing light is blue-gray. I don't recommend white for most dark and north-facing rooms, but I would try one without the gray if you do. Instead, warm undertones usually work best. Here's my favorite white for north-facing rooms.
If you paint the walls white, should you paint the trim a contrasting white?
That is a matter of preference. I usually paint them the same color as well as the ceiling. However, the trim should always be in semi-gloss or satin paint. (I once went into a home where some misguided soul had painted the walls in gloss and the trim in flat.
Benjamin Moore Advance is an excellent product. It's a water-based alkyd and does a beautiful job mimicking oil, but it's low VOC and not oil-based.
Again, if you missed it above, I recommend Samplize self-sticking samples with two coats of paint. They carry both Benjamin Moore, Sherwin-Williams, and Farrow & Ball. For more information or to order, please go here.
By the way, if this extensive list is giving you an anxiety attack, never fear. Here are the only six white paint colors you'll need.
xo,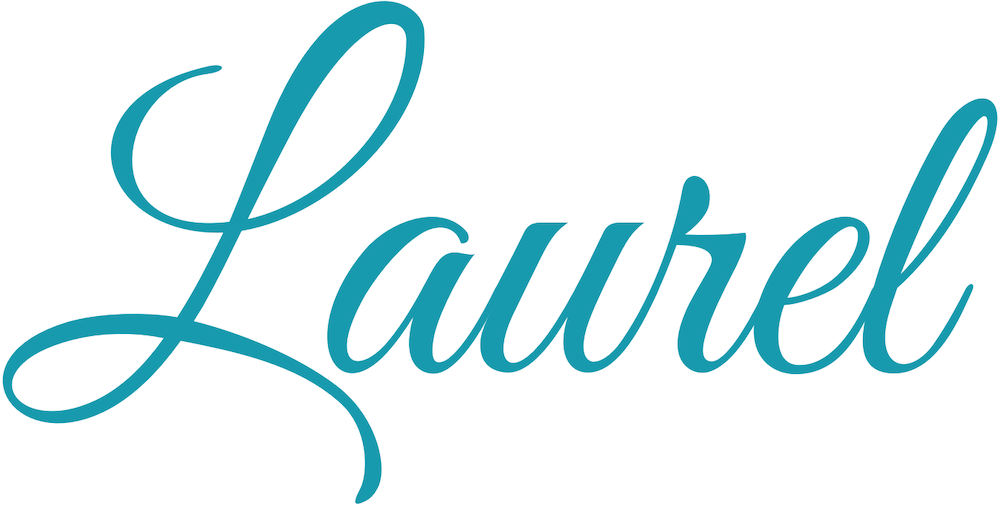 PS: Please check out the newly updated HOT SALES in home furnishings and more!
This is a HUGE shopping week, and the sales are incredible!