Hi Everyone,
Before we get into my favorite kitchen backsplash, several of you have asked what's happening with my renovation plans.
Well, I'm happy to report there's been positive movement on this front. I did submit dozens of drawings, photos, and a detailed description of my design to the contractor I want to hire early this month. And, this Tuesday, I'm meeting with him and his subs to go over the plans for quotes.
But, wait, Laurel. If you don't have any quotes, how do you know this is the contractor you'd like to hire?
Gosh, you guys are so smart. That is a terrific question and could be a separate blog post. So, here are my reasons.
1. When I first began looking for a contractor around June, I did interview one other. Three or Four others were contacted but didn't get back to me. They were automatically disqualified. The other contractor did come over and seemed to be in a hurry, plus I felt he was not experienced enough.
2. Rick, on the other hand, returned my query immediately and came over a few days later. He spent a good two hours here. Oh, and this one's super important. He didn't look at me, not even once, like I had six heads. Nor, did he so much as flinch when I said, "unkitchen."
3. My super nice neighbors upstairs used Rick for various projects, including a bathroom reno in their apartment, and gave a glowing review.
4. Our nearby neighbors used Rick last year and loved working with him.
5. In addition, Rick gave references for numerous other homes in the area, he's worked on who are all happy with the work.
6. I've seen numerous examples of his work and can tell that he's meticulous in his detailing.
And finally.
6. Rick came back a second time and spent another two hours with me going over the plans. He is confident, has terrific ideas, and I can tell he's going to be terrific to work with.
Is he the cheapest?
No. He is not. But, he's not the most expensive either and by a substantial amount based on both of my neighbor's quotes.
So, when is all of this going to commence?
Ahhh, another great question. At this point, I have no idea. There is a LOT that will need to happen before we can begin. Plus, I'm going to have to move out for several months. Of course, I will keep y'all informed as we go along.
But, breaking news!!! I got an email from the amazing Paul Montgomery, who makes the most beautiful hand-painted wall murals. And, from there, started The Mural Source (formerly Mural Sources) where they've taken his original murals and make prints of them. However, and I can't stress this enough.
The quality of the print is so amazing, and the colors.
The photos on the website don't capture the beauty of the printed murals in any way. You can see a close-up in this post from 2018, And, also in this post after the paper was installed. There are also some good images of the wallpaper in this post.
Again, my photos don't capture how amazing they are.
So, why am I bringing this up, today? Well, I told Paul I'd love to partner with them again and he said, he'd love to!  Yipppeeee!!!

I sent Paul a tweaked image of the kitchen. Please notice that the end cabinets will have antiqued mirrors, and only the two center doors will be clear glass. There are two reasons for this.
I definitely need some non-pretty stuff storage in the kitchen.
The mirrors, especially the one you can see here, are going to grab a lot of light into the kitchen, and create a bit of sparkle.
And, so all of this ties into my favorite kitchen backsplash. Or, I should say backsplashes.
What's funny is that I've never lived in a home that had a kitchen backsplash. But, it's true. You can live without one. Some people will argue that one, and I won't disagree when it comes to the sink and range area, a backsplash is a very good idea.
These days, however, it is not uncommon to see the kitchen backsplash run all the way from the counter to the ceiling.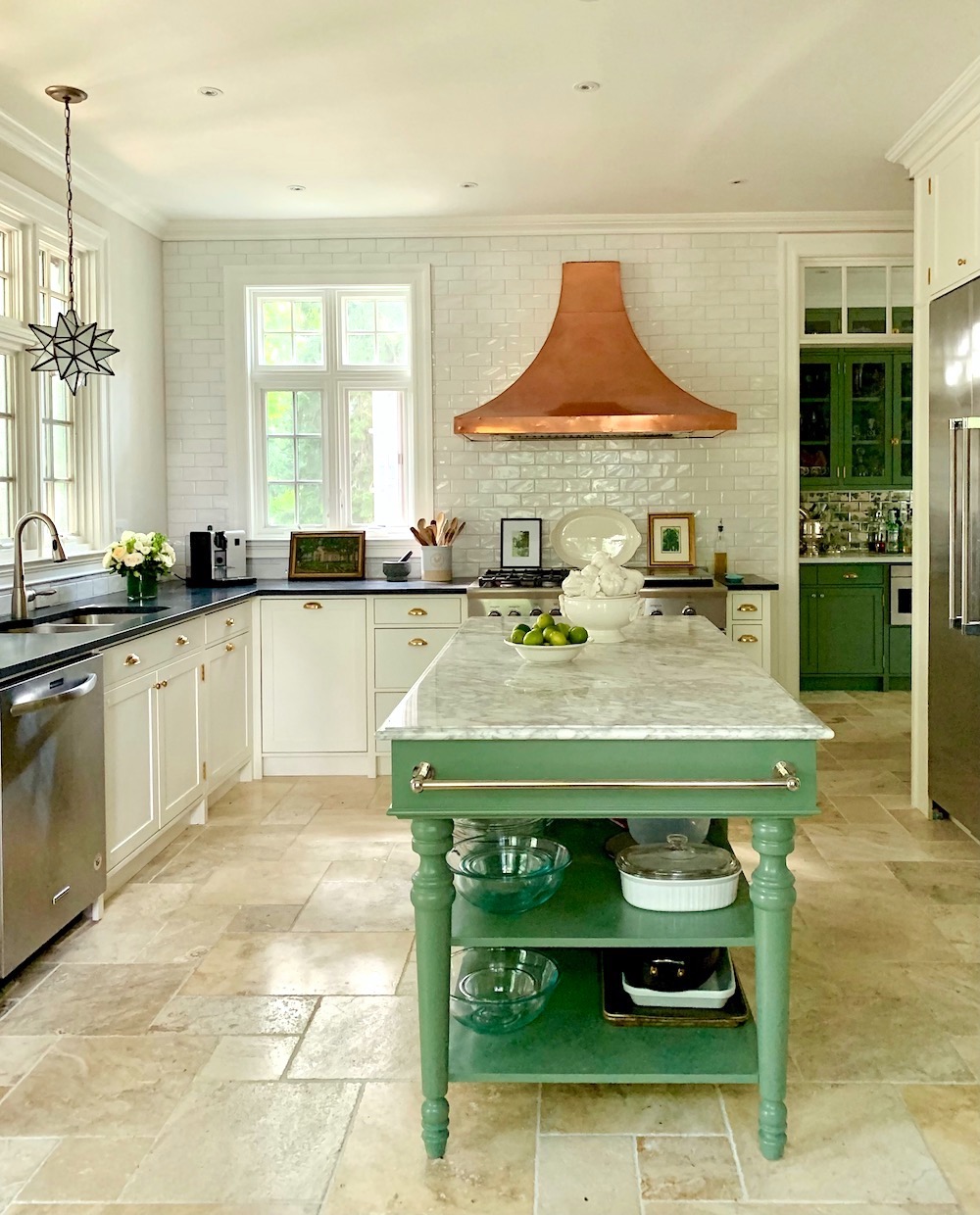 Mary did that in her Bronxville kitchen that I helped her with. For more of her wonderful kitchen, please go here.
However, the other extreme we can see in many of the DeVOL kitchens with only a lip in place of the traditional 18″ undercabinet backsplash. By the way, that lip measures 70 millimeters, or roughly 2.75 inches.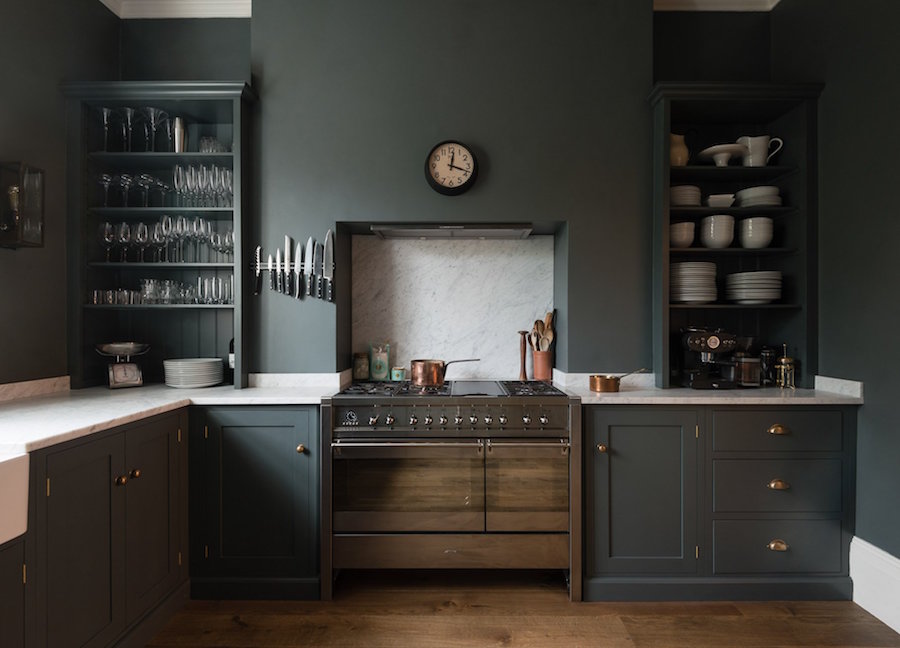 However, as you can see, they did do a full backsplash over the beautiful range.
I am so in love with this kitchen and it is exactly what I'm talking about when I speak of today's Unkitchen. This kitchen could go ANYWHERE!
And there is plenty of storage, as well.
Another lip and they are making it out of wood? I wonder how that works in the sink area. Presumably it's a wood that doesn't mind getting wet like Cedar, perhaps.
Above and below from Nancy Keyes gorgeous "unkitchen," a beautiful "unbacksplash" over the counter. However, an unusual but super-stylish material behind the range.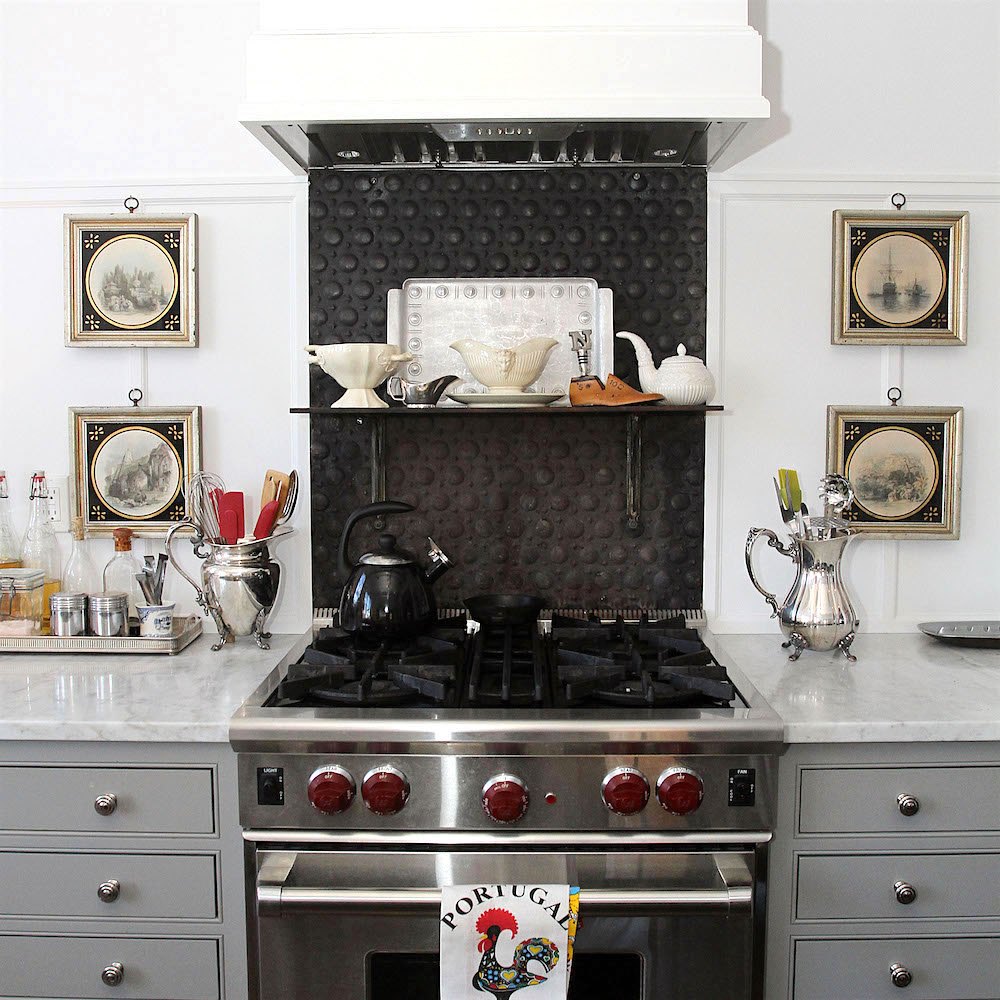 Nancy has such incredible style. I never tire of looking at her kitchen vignettes!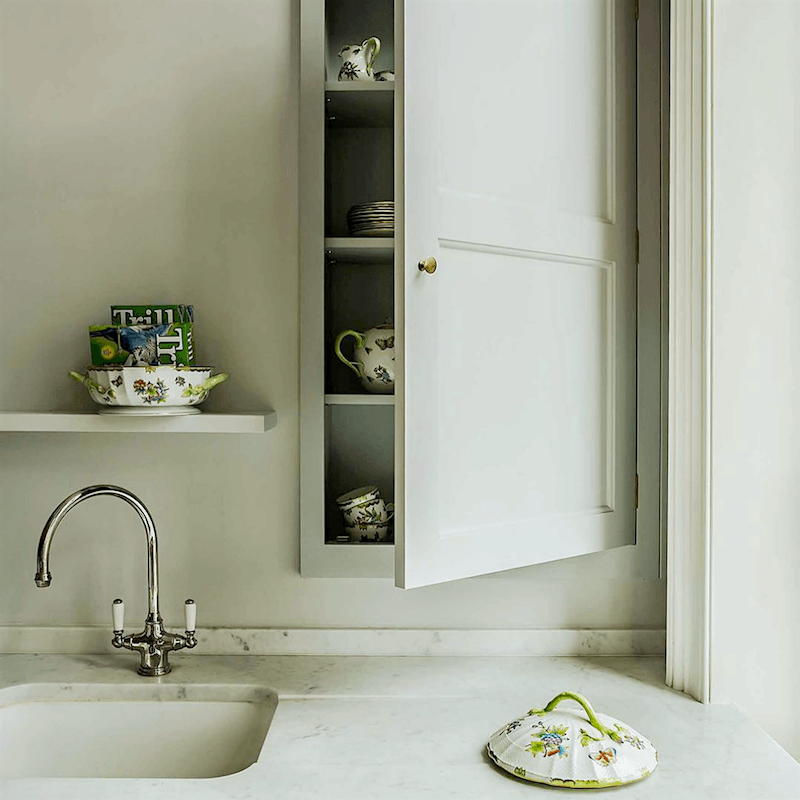 And one more lovely kitchen from Plain English kitchen. There's no traditional backsplash, as you can see.
So, what is my favorite kitchen backsplash tile, if there is going to be one?
Gosh, that's a difficult question to answer because I have to say, "it depends."

I need to know what:
is the style of the kitchen?
Are the other finishes, such as countertops, fixtures, etc.?
Color is the cabinetry?
But wait. Is that a meat cleaver in your hands?
Geez, you're really putting the squeeze on me. ;]
Laurel, you need to tell us, but please don't let it be white subway tile. It's sooooo boring. So unimaginative. Gosh, it's going to go out of style one day…
I'm not going to say anything until you put the meat cleaver down.
Thank you.
However, look. Yes, I am always going to recommend white kitchen cabinets and white subway tile as an enduring classic.
Allan Ramsey "The Artist's Wife"
Please lighten up.
And, please don't roll your eyes.
There are other options; you DON'T have to do white cabinets and white subway tile for you kitchen backsplash!
I mean, I'm not.
You're not?
No, I'm not. I mean, I'm not doing plain white subway tile.
Okay, let's bring that mockup back down.

In my mind, I always wanted a honed or leathered white marble counter. So, I took the time, to make that change which you can see below.
I have to admit that I think the black, or really soapstone, so not quite black is better. That is, from this image and the constraints of the mockup. But, WHY is it better?
I feel that the black accent provides more continuity with the floor, which is also not quite black and not quite white. And, provides a better balance with the entrance. And, it also feels more balanced with the tall dramatic doors in the back.
However, this is super important. No one is just going to stand in this one spot and think any of this. If we put ourselves IN the kitchen, or closer to the entrance, what if we did a black range?
Well, food for thought. (no pun intended). Let's move on with our kitchen backsplashes!
I will go over my favorite materials for a kitchen backsplash and their variations.
The first is ceramic or porcelain tiles, usually in a brick shape, but sometimes in a square, octagon, or other shapes.
These rectangles can be small or larger for a kitchen backsplash. I do love the classic brick pattern in a 3×6 tile. However, I also like a herringbone pattern. I'm not super keen on lining up the tiles in non-overlapping rows. However, if you're going for a contemporary look, that's fine. It's just not my style.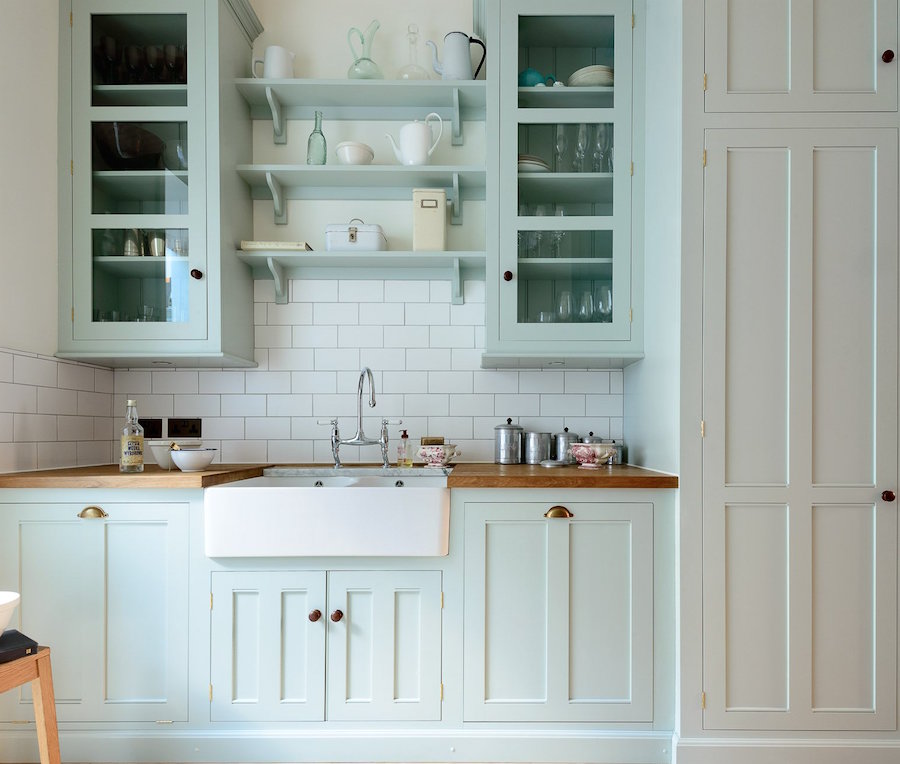 Another DeVOL kitchen. This is more like our kitchens, and there is a simple white subway tile backsplash. Those are fabulous shaker-style cabinets. So pretty.
Walker Zanger handmade white subway tile.

Handmade ceramic tiles are far more expensive than the others. But if you can swing it, they are the most beautiful because of the slight variations. There are machine-made tiles that mimic handmade. Not sure about that. I think they usually look fake.
Another lovely from DeVOL. The dark grout gives this a vintage look.
This is a pretty gray-blue stone called Blue Celeste available at Ann Sacks. We'll be looking at marble in a bit. Of course, ceramic and porcelain tiles can be done in colors, as well as white.
There is also the beautiful Zellige tile which we talked about extensively in this post about the subway tile alternative everyone knows about except for me.
Zellige is most commonly seen in a 3″ square. However, I have also seen it in rectangles. It's a lovely, more rustic look that works beautifully whether your kitchen is trad or contemporary.
What about patterned tiles, Laurel?
Oh yes. I do love the cement tiles that look so terrific in more rustic kitchens.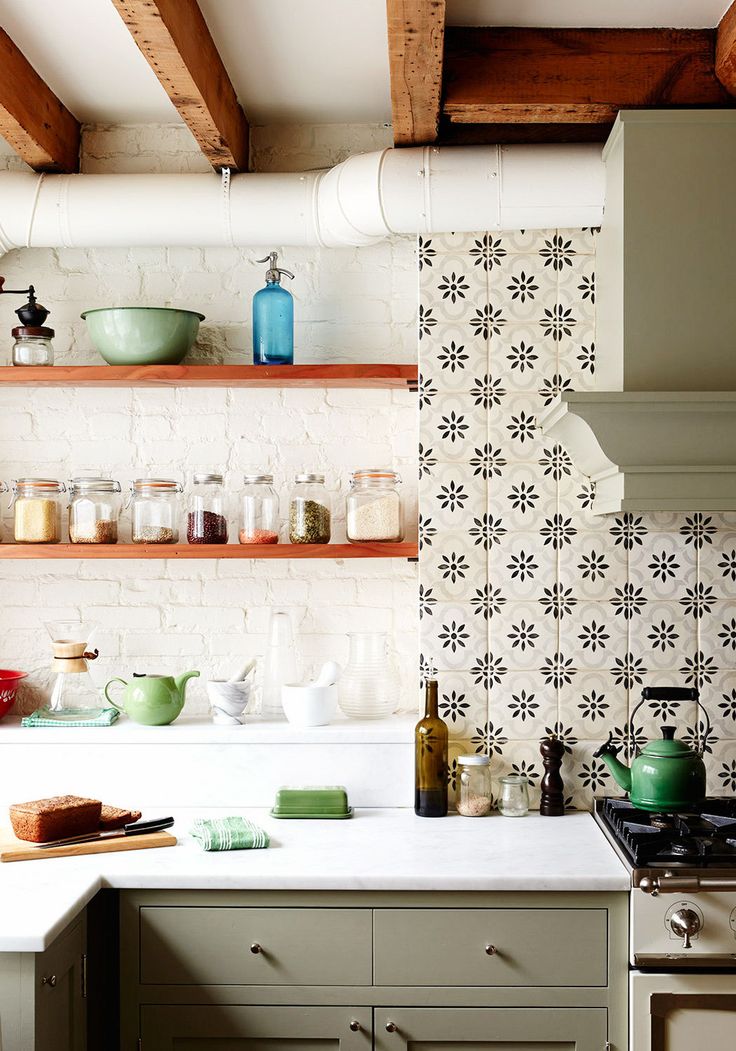 I think this is wonderful as an accent over the range.
Jean Stoffer's small charming kitchen.
Another cool DeVOL kitchen with a small patterned backsplash over the range. I think this one detail adds a lot to this kitchen.
This is a gorgeous look by Artichoke. Remember we talked about this fabulous company in this post.
The next material for kitchen backsplash is marble and other types of stone.
Marble is always an elegant and beautiful kitchen backsplash. And, no matter if I do soapstone or a marble kitchen counter, I still want marble for my backsplash. Definitely marble… Definitely.
Marble can be done in the same shapes as ceramic or porcelain tiles.
Or, marble can be done in a solid slab.
Below are beautiful examples of marble used for a kitchen backsplash in various forms.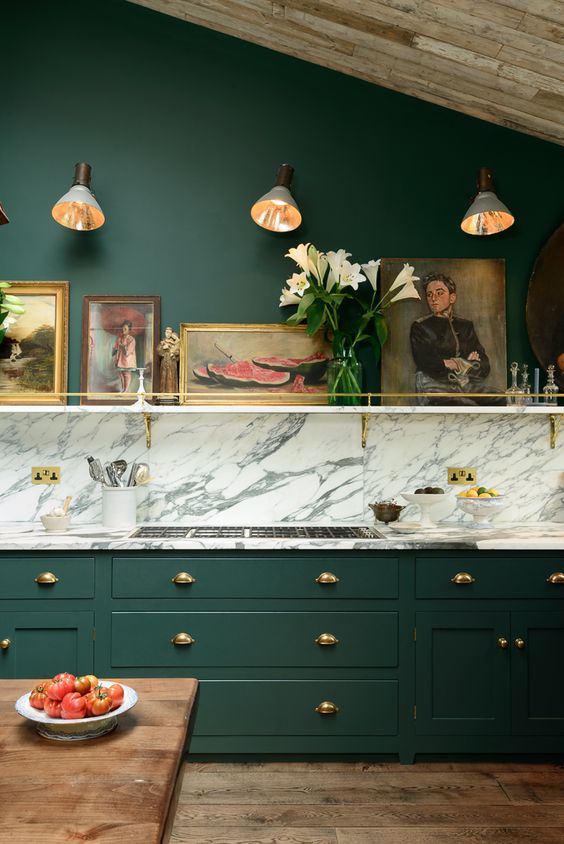 Another exquisite and popular beauty from the DeVOL website.
The kitchen we did in 2014 with a Calacatta Gold Marble slab backsplash over the Wolf Range.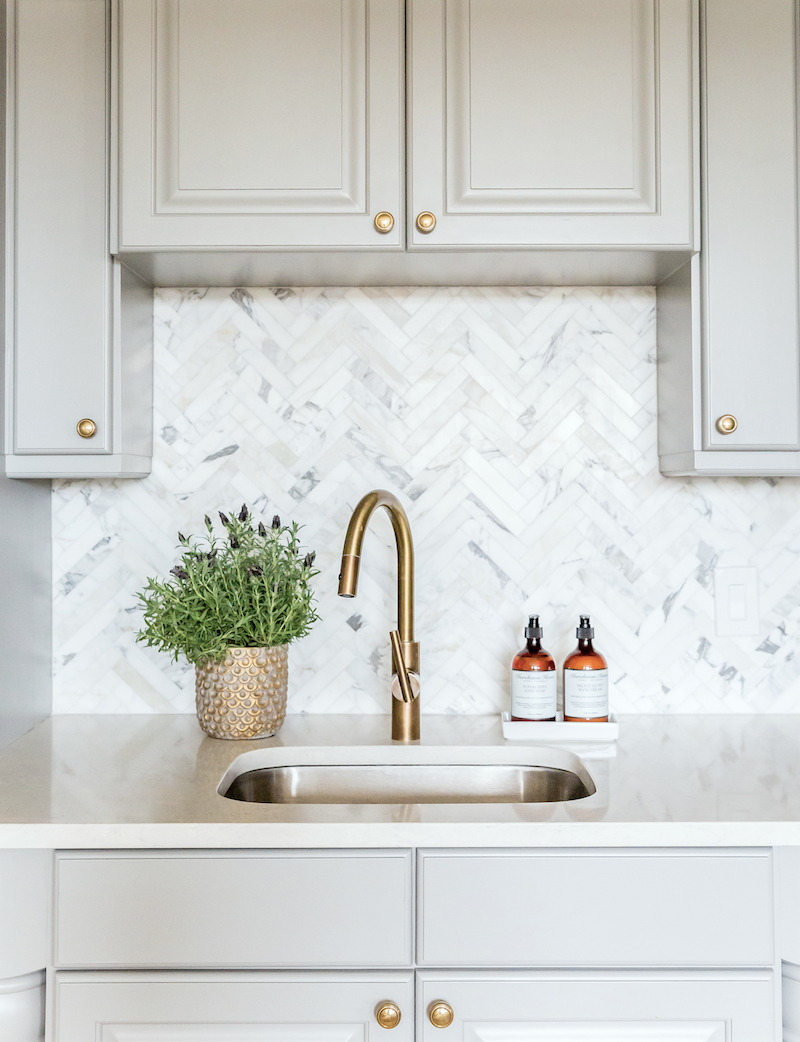 More Carrera, this time in a herringbone pattern.
Melissa Lee via Design Sponge – photo: Ty Cole
This is also a herringbone, but they call it a straight herringbone. Not sure which I prefer.
Oh, how I love this kitchen. It is the exact feeling I want for mine. And looky here, this is either oiled soapstone or black marble. I love the white veining. And, I also love the Carrara brick pattern marble.
Above is another kitchen I've long admired with Carrara marble tiles in a smaller brick pattern from Ann Sacks.
Jean Stoffer's gorgeous vignette from her showroom.
A new trend that I've seen with marble and soapstone is a curved kitchen backsplash.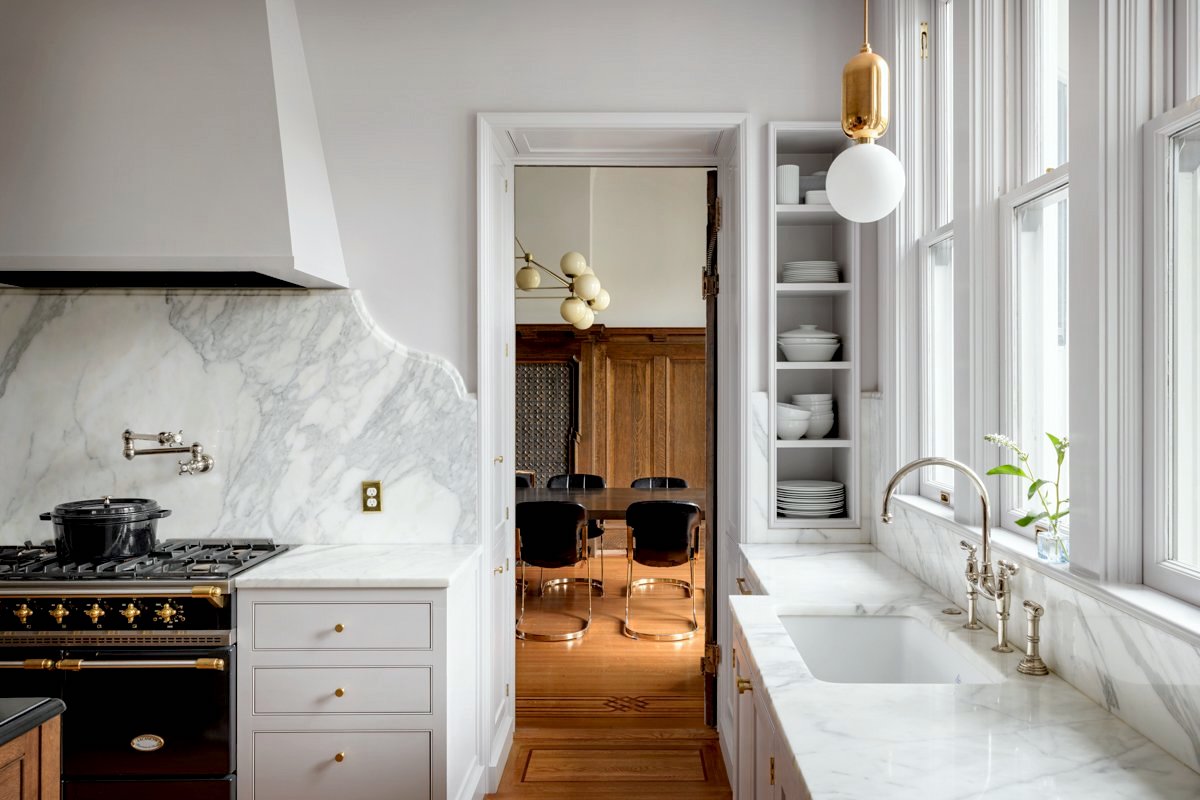 Jessica Helgerson curved-calacatta-marble-backsplash
The final material is glass and mirrors.
Solid glass can be polished or frosted; I guess it's commonly called. Of course, it goes through a process that takes the smooth polish off. This is much like the beach glass my sister Holly is into collecting. The only difference is the beach glass is done organically.
Mirrored glass has become increasingly popular in the last several years.
Is it a trend?
Chateau de Versailles – Galerie des Glaces (hall of mirrors)
Let's go back in time and ask King Louis XIV, who, of course, lived in Versailles in the late 17th and 18th century
There he is, and all decked out, too!
Hey, Lou, I hope you've been resting in peace and sorry to disturb you, but my readers and I want to know what you think about the use of mirrors for a kitchen backsplash? Is it an enduring trend?

"Oh, les Américains et leurs folles tendances ! S'il te plaît, tais-toi déjà et fais des choses plus importantes comme admirer les jambes de ma belle danseuse."
Translation in English:
Oh, the Americans and their freaking trends! Please just shut up already and do more important things like admire my beautiful dancer's legs.
Well, you don't need to be rude about it. However, I'll forgive you because of your incredible contribution to classical ballet. And by the way, your legs are indeed Magnifique!
I guess we can conclude that the use of mirrors is A-Okay!
Like other backsplash materials, mirrored glass can come in many shapes and sizes. In addition, it can be antiqued or not .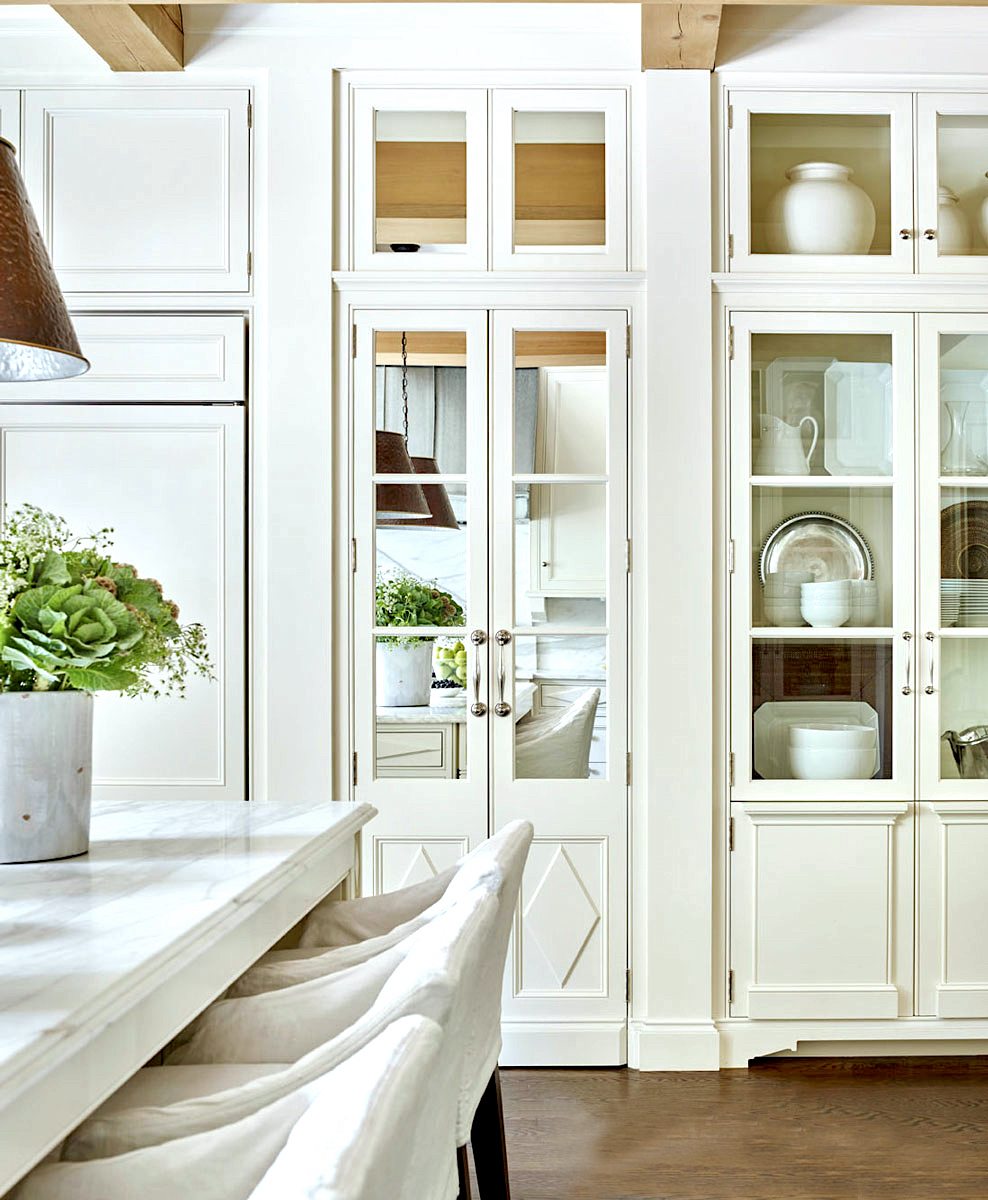 Gorgeous kitchen by Suzanne Kasler
Designed by Shalini – green cabinets – mirror behind glass shelves
Munger Interiors
curved marble backsplash – mirrored backsplash
© Matthew Quinn and Mali Azima
Please notice how similar this kitchen is.
I love the rosette detail. This is from a company I found a while back in the UK, Rough Old Glass. They do backsplashes and gorgeous custom mirrors.  But, this is what I'm thinking of for my mirrored doors in my new kitchen.
Rough Old Glass has a wonderful Instagram account too.
Of course, this isn't a kitchen backsplash, but I love what they've done here!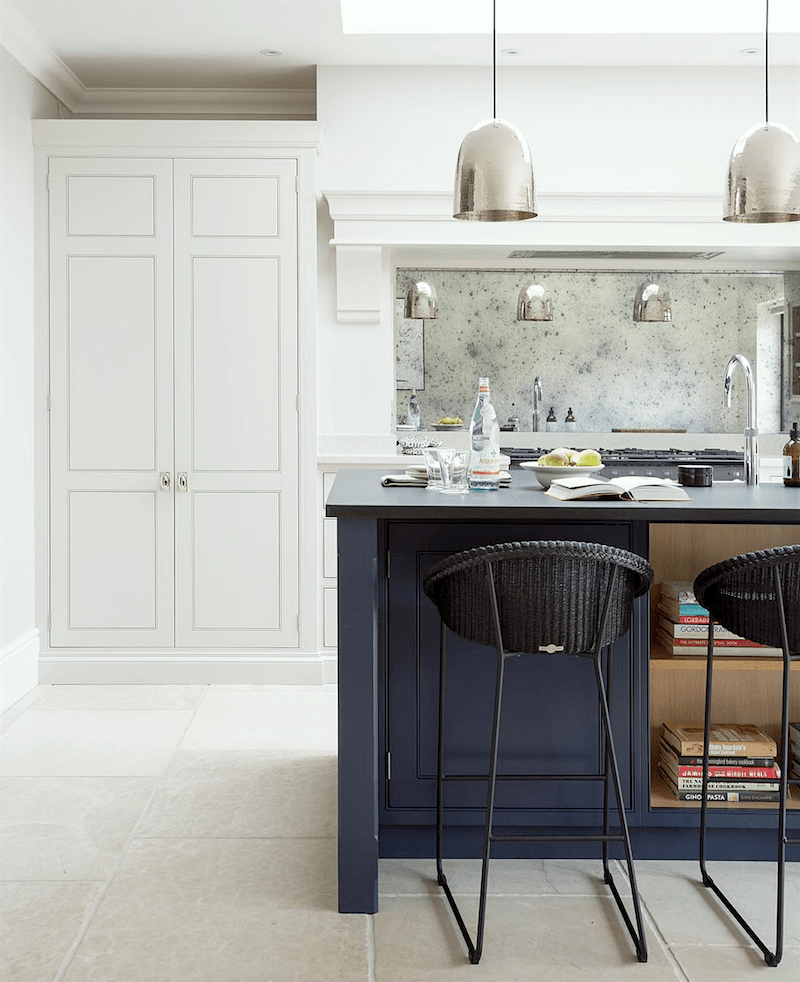 Gorgeous from Humphrey Munson Kitchens.
Okay, I'm pretty much choking on a kitchen backsplash now. lol, There are so many beautiful options.
Do you have a favorite?
xo,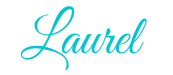 PS: Please check out the beautiful President's Day Weekend Super HOT SALES!
PPS:  Folks, this is my once every two-month reminder.
Although most of you are incredibly fantastic, there've also been some super-snarky (defamatory) comments recently, mostly directed at me. Please don't. I don't allow inflammatory comments, and I also hate playing policeman.  If you find your comment missing, then you'll know that you crossed a line. (If you post a link in your comment, it may take a bit before you see it because all links have to be approved before publishing, is all.)
If you don't like how I express myself, that is absolutely fine. However, instead of flaming me, please go and take a bubble bath, take a stress pill, and then don't think it over. May I recommend putting your focus back on yourself and fuhget about what a silly goose I am? Life will be more pleasant for both of us that way.
Thank you. And endless thanks to the vast majority of y'all who are incredibly kind, supportive, and help make writing this blog an absolute joy for me!
Much Love, always!