The other day when I was researching for the post about faux windows, I came across a related topic.
Secret Doors. Well, hidden doors to a secret passage. Or, to a hidden room.
They are so fabulous and romantic, too. And, hidden doors have been around since the ancient Egyptians used them in their interiors.
There are two main types of hidden doors.
The first one is a term I should already know but, only learned TODAY.
JIB DOORS
Technically, a jib door is a door that's flush with the wall. And, without any door casing. That's pretty much it. There are special hinges that are concealed, as well. Of course, with a perfectly flat wall, there has to be the tell-tale space around the door so that there's just enough room to open and close it.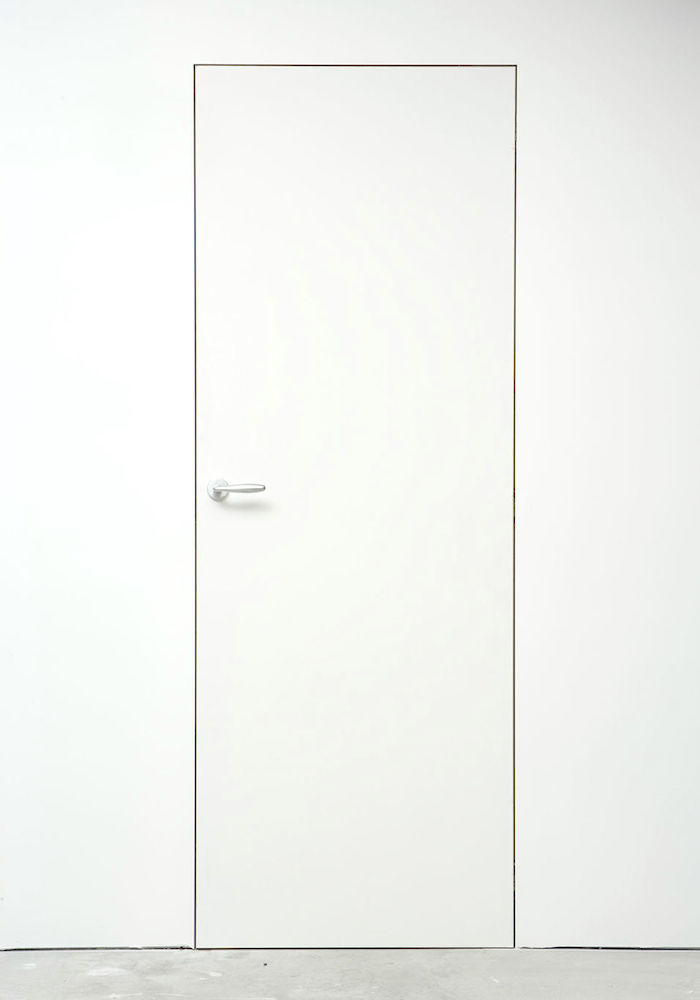 Archello – simple jib door – Xinnix X2 Frame
Above is an example of a jib door at its most basic– a simple, plain door without a casing or any type of adornment whatsoever.
We will be looking at some beautiful jib doors in a sec.
But, first, I'd like to go over the other type of secret door.
It's called a Murphy Door. Yeah, like the Murphy Bed.
There's room for storage. And, usually, that storage is in the form of a bookcase.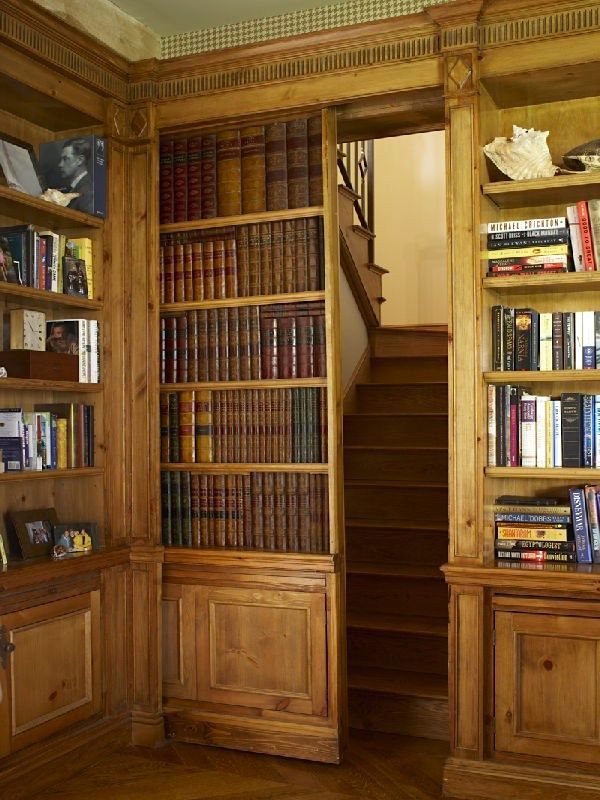 A hidden staircase behind a secret door in a library – Cindy Rinfret
You know, this is reminding me of something from my childhood.
Oh, common' summer's almost over; let's have a little fun.
Please, you must.
And, if you're into this blast of camp from the past, you'll enjoy this one even more. That commish is clearly from "Gotham City." hahahahaha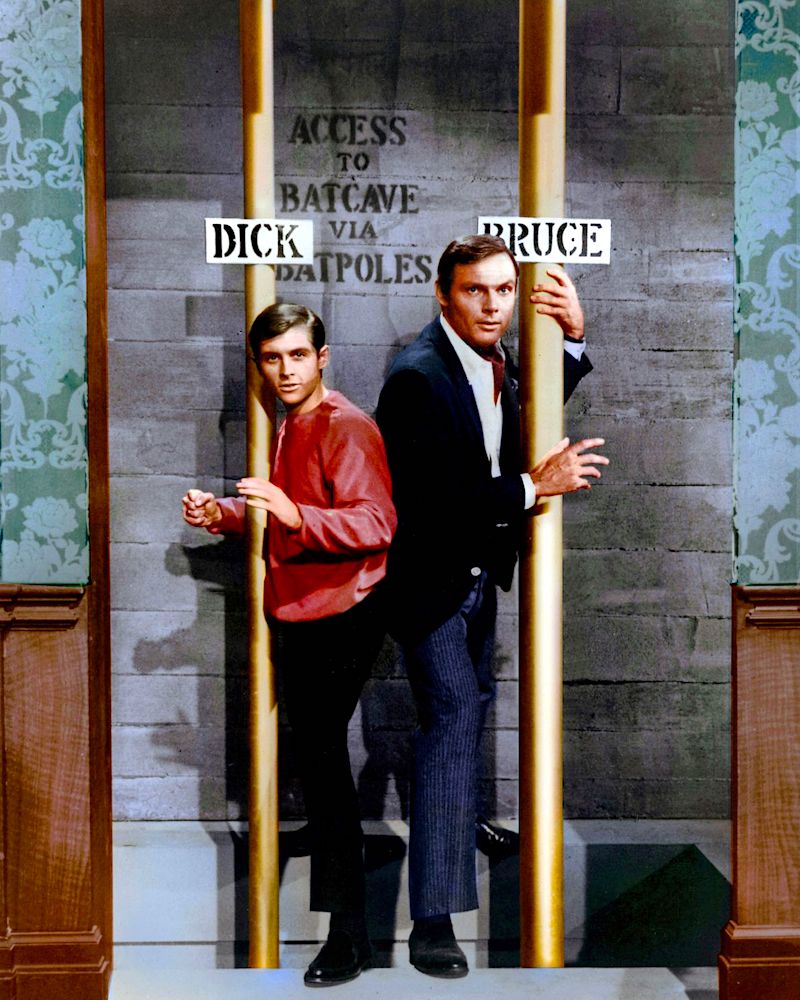 Awwwwww… I misssssss the 60s so much!
But, does anyone else notice how much bigger Bruce's pole is compared to Dick's pole? ;]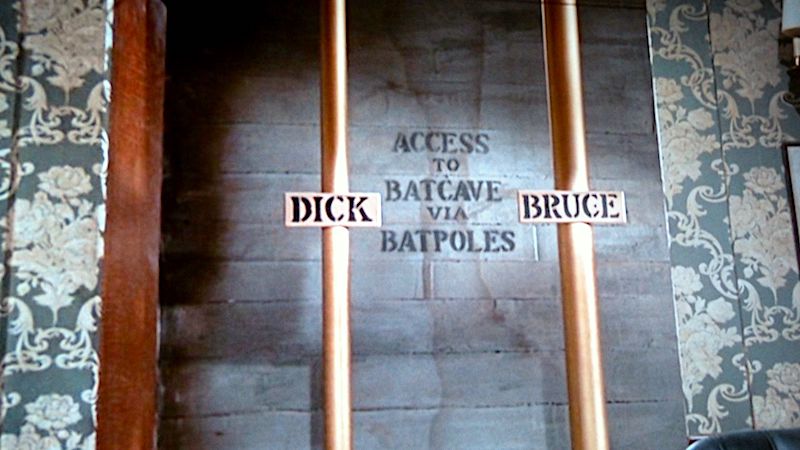 See what I mean?
Laurel??? Have you completely lost your creme brulee?
Obviously, that's a yes. I love you guys too!
Okay, I know you'd probably rather watch Batman reruns, but for those of you who haven't unsubscribed, let's move on with our topic about secret doors.
Let's stay with our Murphy Doors, and then we can go back to the Jib Doors.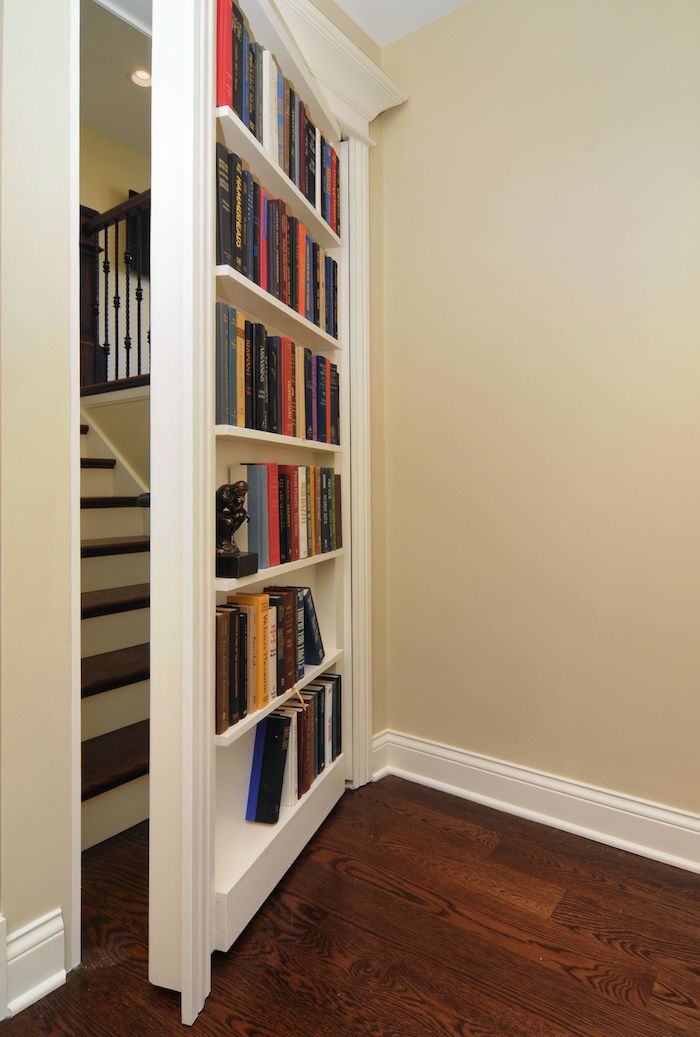 original source unknown – This Murphy door with a bookcase is concealing a staircase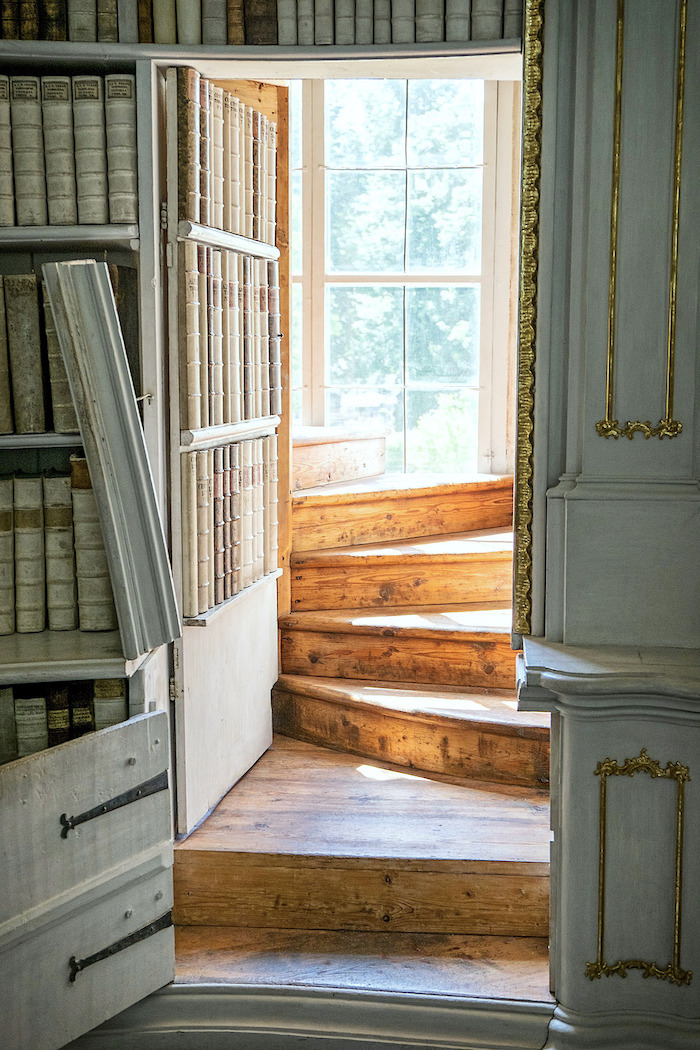 Admont Abbey Library – Austria – Photo-Dieter Karner
And, so is this one. I sure would love to see this with the door shut, but I could not find an image.
This hidden door with a bookshelf was designed by Architect, Peter Pennoyer.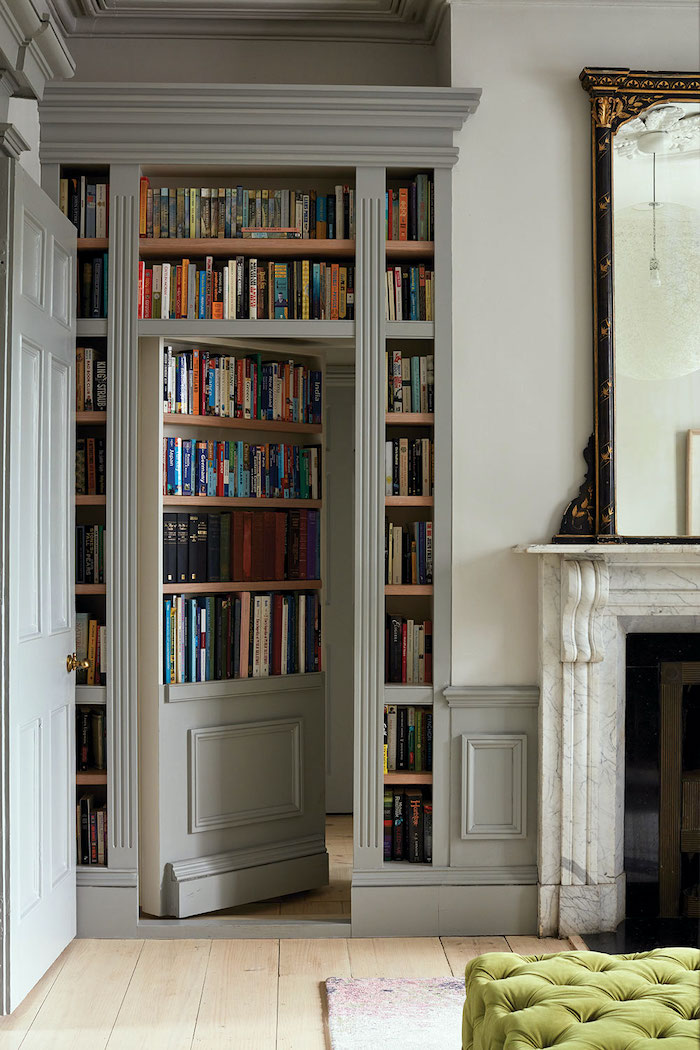 The Gloss Magazine Interiors- Design by Gillian Sherrard – Photo: Dylan Thomas
Please click the link to see the rest of the home. It's very lovely.
Okay, before we get in the jib doors, there is one other type of secret door.
It's one that's concealed to look the like the door to a cabinet. Only, when you open the door, you step into another room. How cool is that! Sometimes there is cabinetry on either side of the doorway.
But, here's the thing. On Saturday, while researching for the faux window post, I came across the coolest examples of this type of secret door. Only, I closed the damn tab, and now I can't find them again. Believe me; I spent several hours trying to find them.
However, I did find a few beautiful examples of this type of secret door.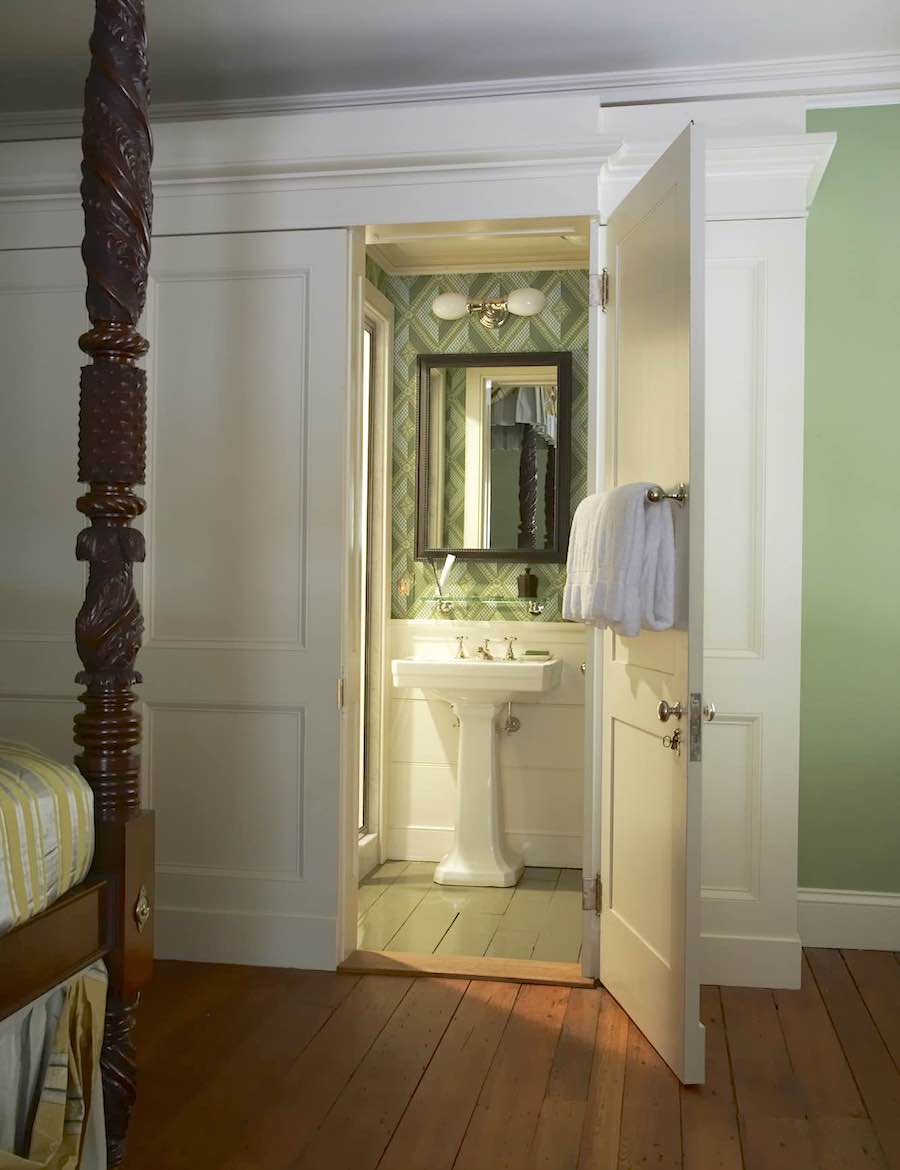 It's from the William C. Gatewood House, designed by architect Gil Schafer who I've featured at least two-dozen times on this blog. I love everything he does! For other posts where I've featured Gil's gorgeous designs, please go here.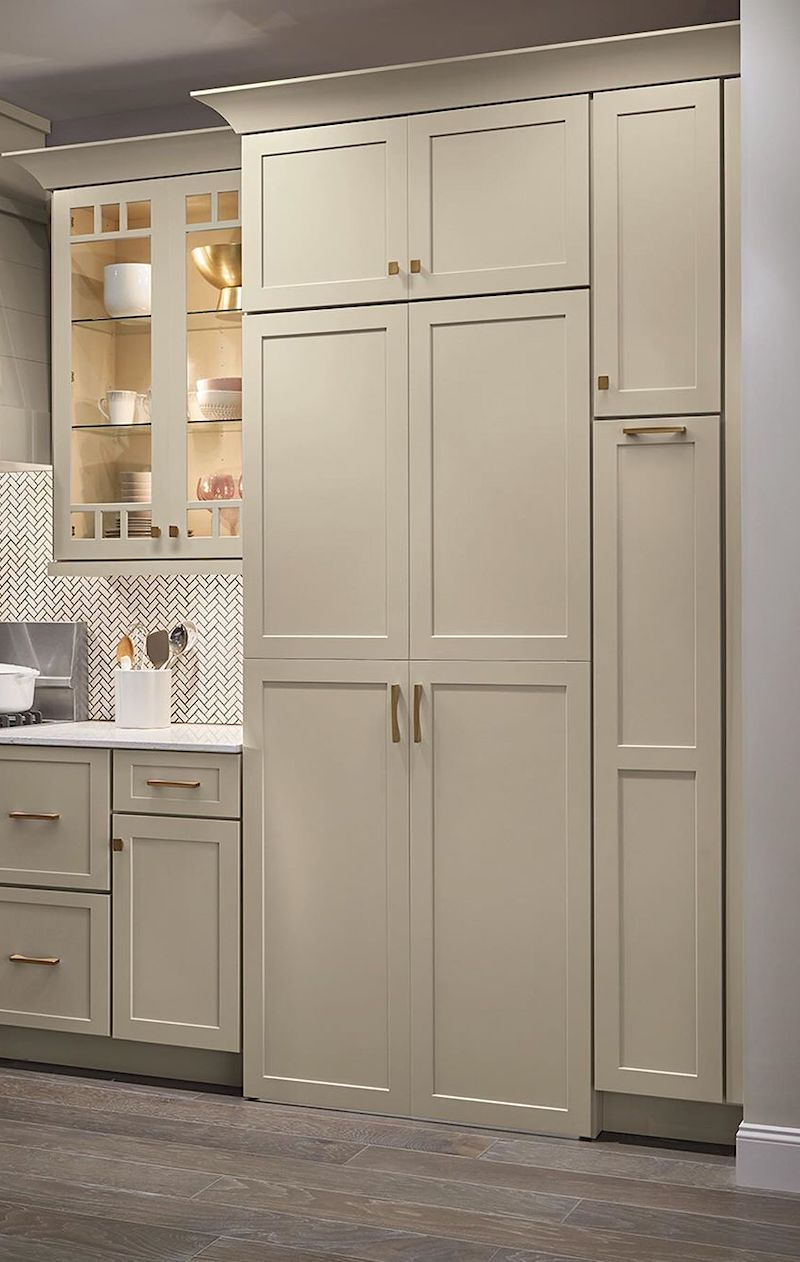 Above, it looks like a regular cabinet only about two-feet deep. And then…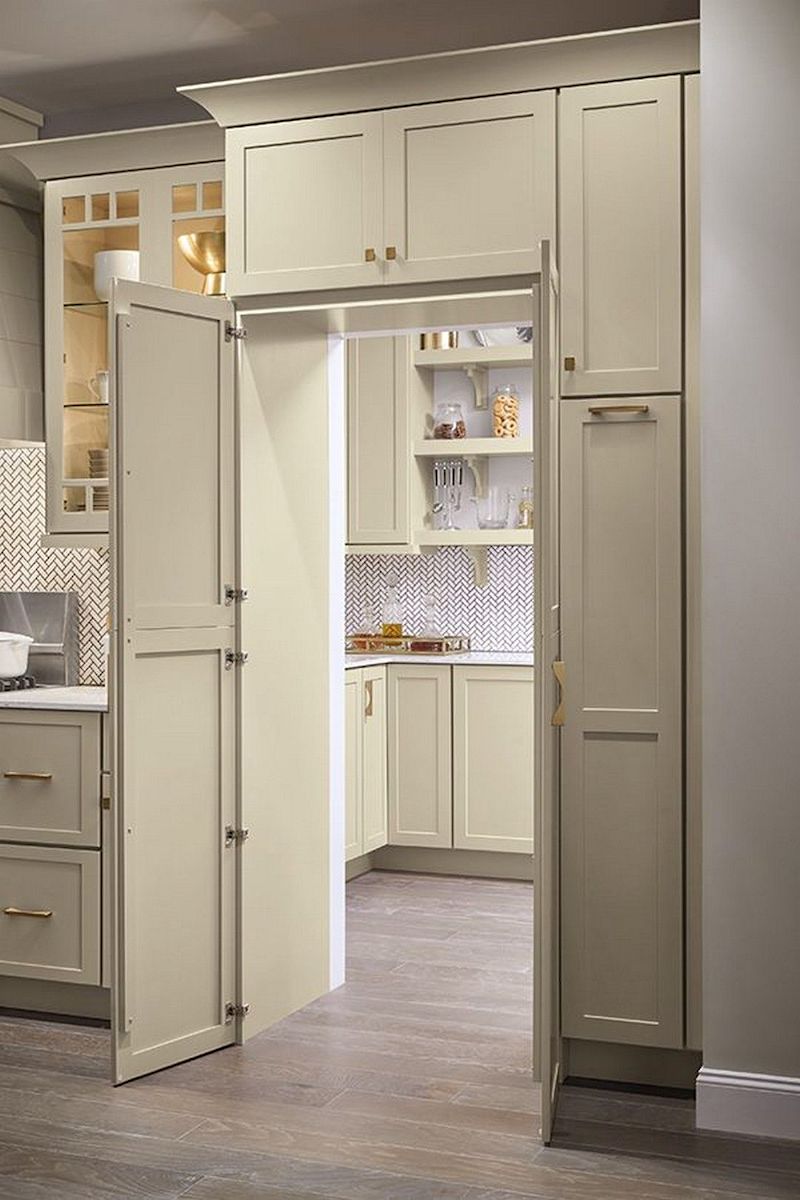 It opens into a much deeper pantry space.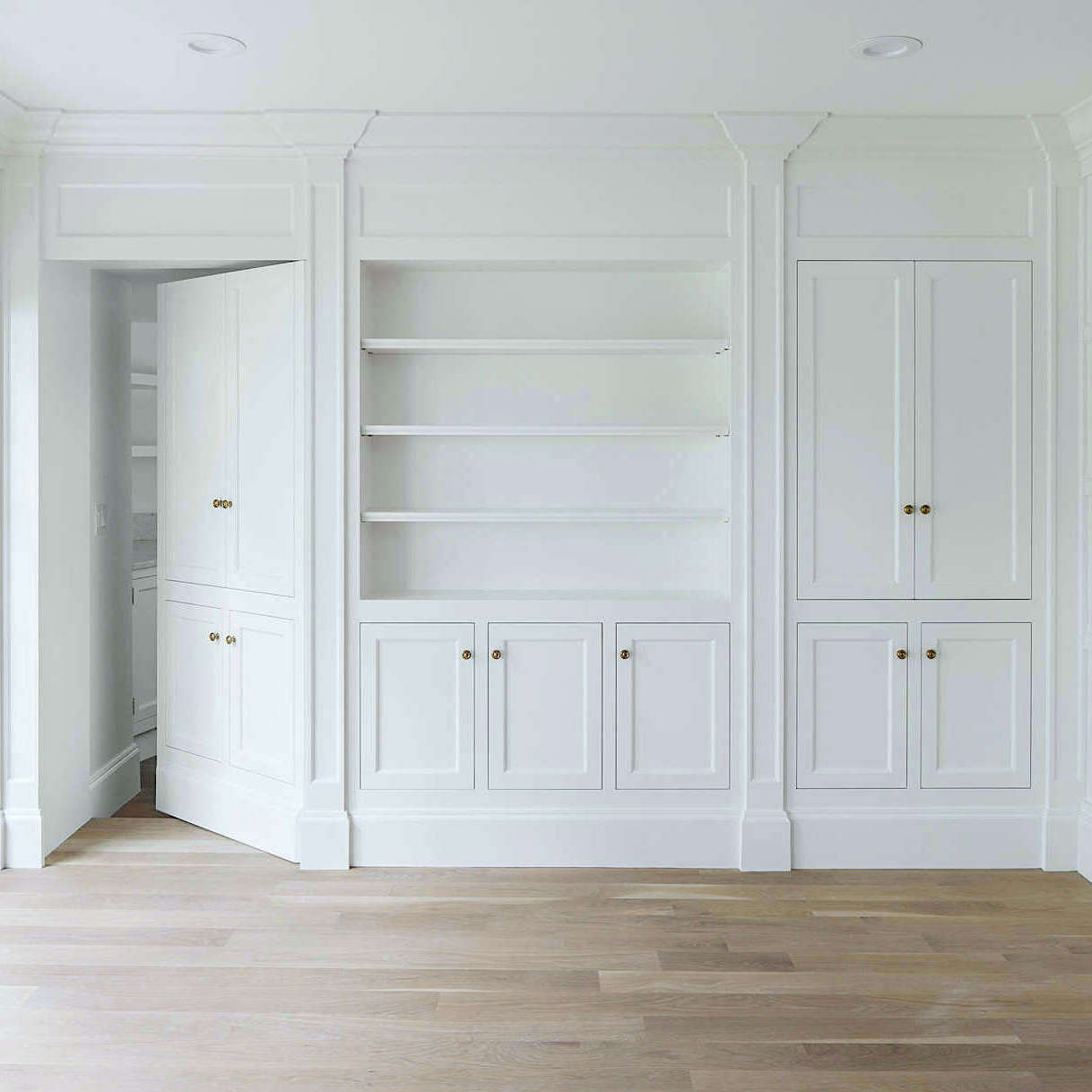 Interior Design – The Fox Group – Cabinetry – Christopher Scott
One more gorgeous cabinet door that opens up to another room. I've linked to their Instagram feeds. They are both gorgeous; very talented designers I think that you'll enjoy, a lot.
There are also some concealed doors that live behind large artwork or mirrors. That's pretty cool.
Alright, it's time for more jib doors.
I don't know why they call them that. Plus, considering I went to design school for three years and have been in this business since before the flood, I'm surprised it's a term I only heard of, today. Oh well.
The first way to do a concealed door is to treat it as part of the wall. Therefore, it is painted the same. Or, it could be a contrasting color, too. But, most often, in more traditional spaces, it is wallpapered.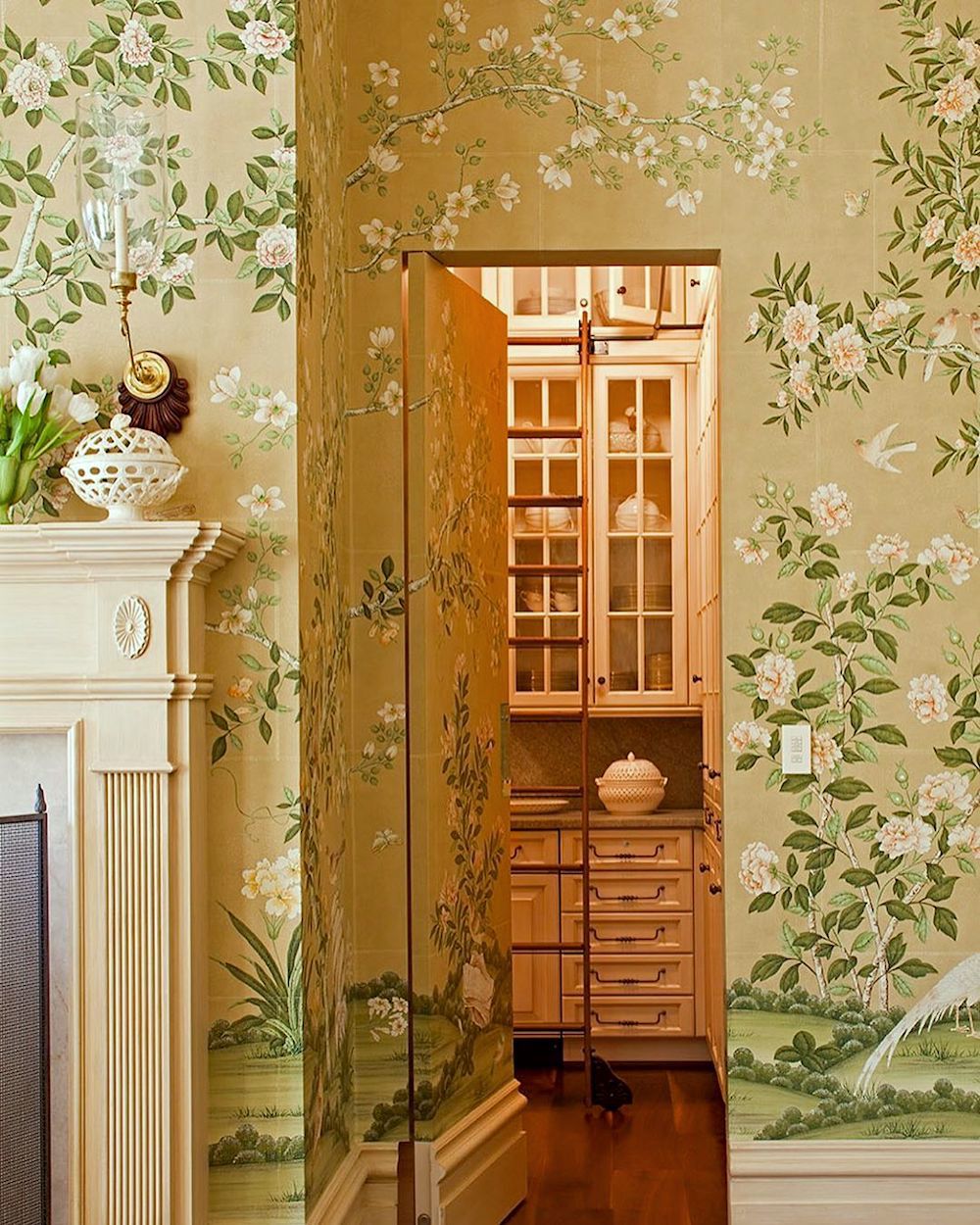 Designer Barry Dixon – photo – @erikkvalsvik – Gracie Ochre GardenWallpaper @graciestudio – Instagram
How gorgeous is that!
Walter Manning – via remodelista – old-faithful shop-Toronto
The other way to do a jib door is to use applied (or raised panel) wall mouldings and continue them onto the door.  The door above doesn't appear to be a jib door because I can see the hinges, but the idea is the same.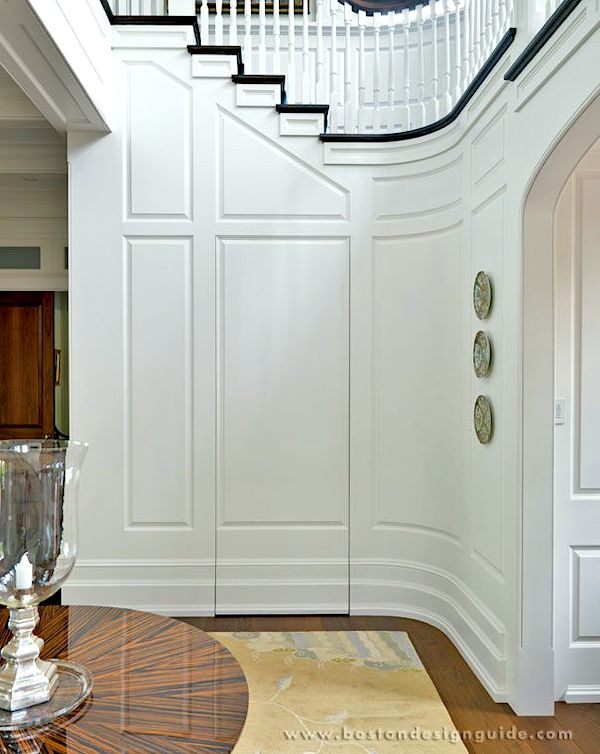 Catalano Architects – Toby Leary Woodworking–
Above is a beautifully integrated jib door.
And, behind it, a lovely powder room underneath the staircase.
Of course, underneath the staircase could be a post all on its own.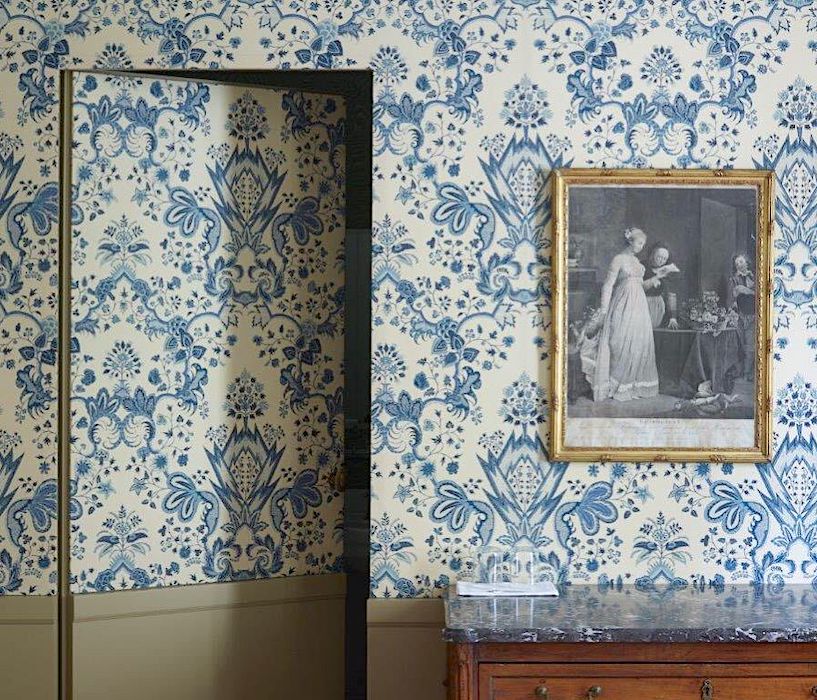 @lamaisonPierreFrey Instagram
Above is another lovely jib door.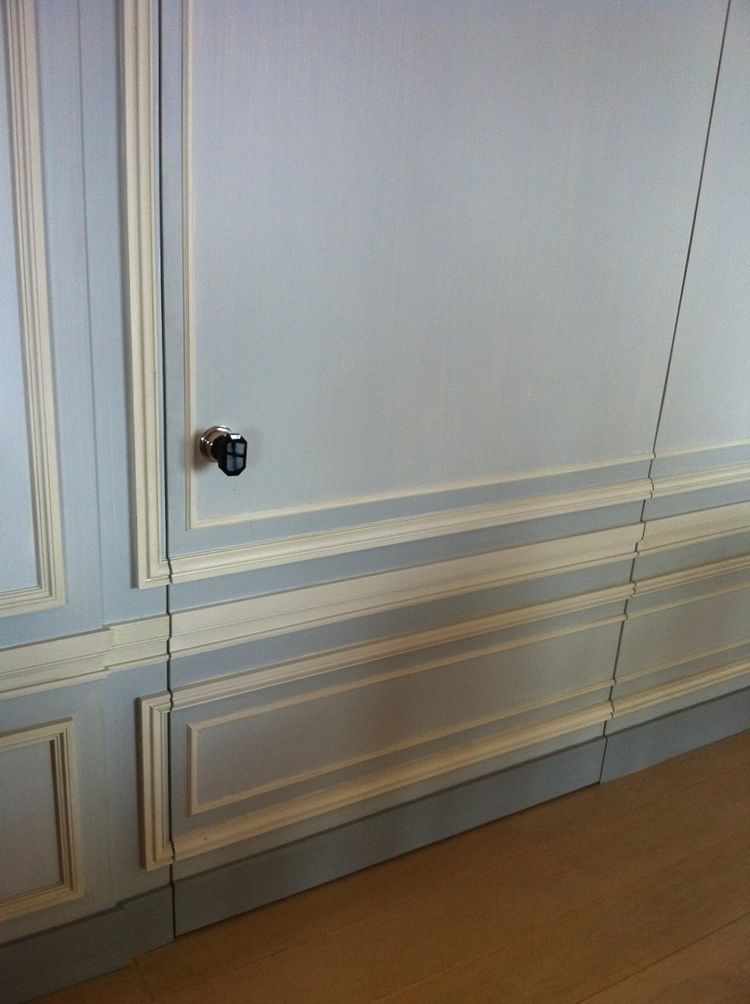 Bories and Shearron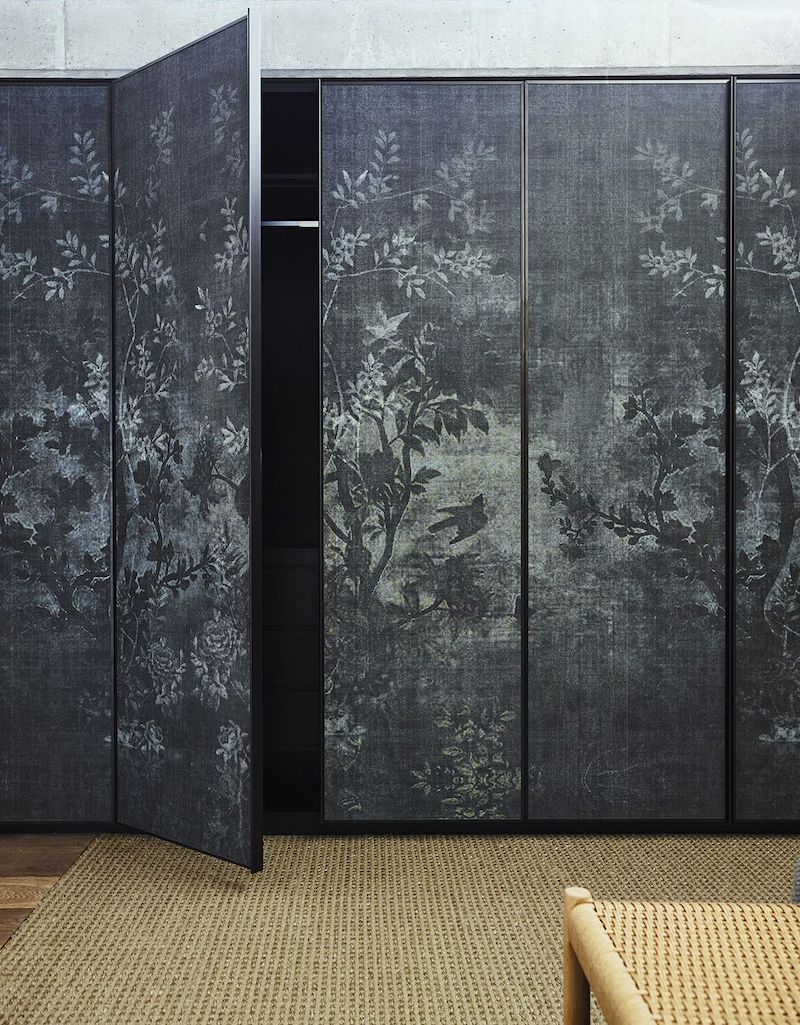 This one features a gorgeous contemporary home some of you might enjoy seeing if you click on the link above.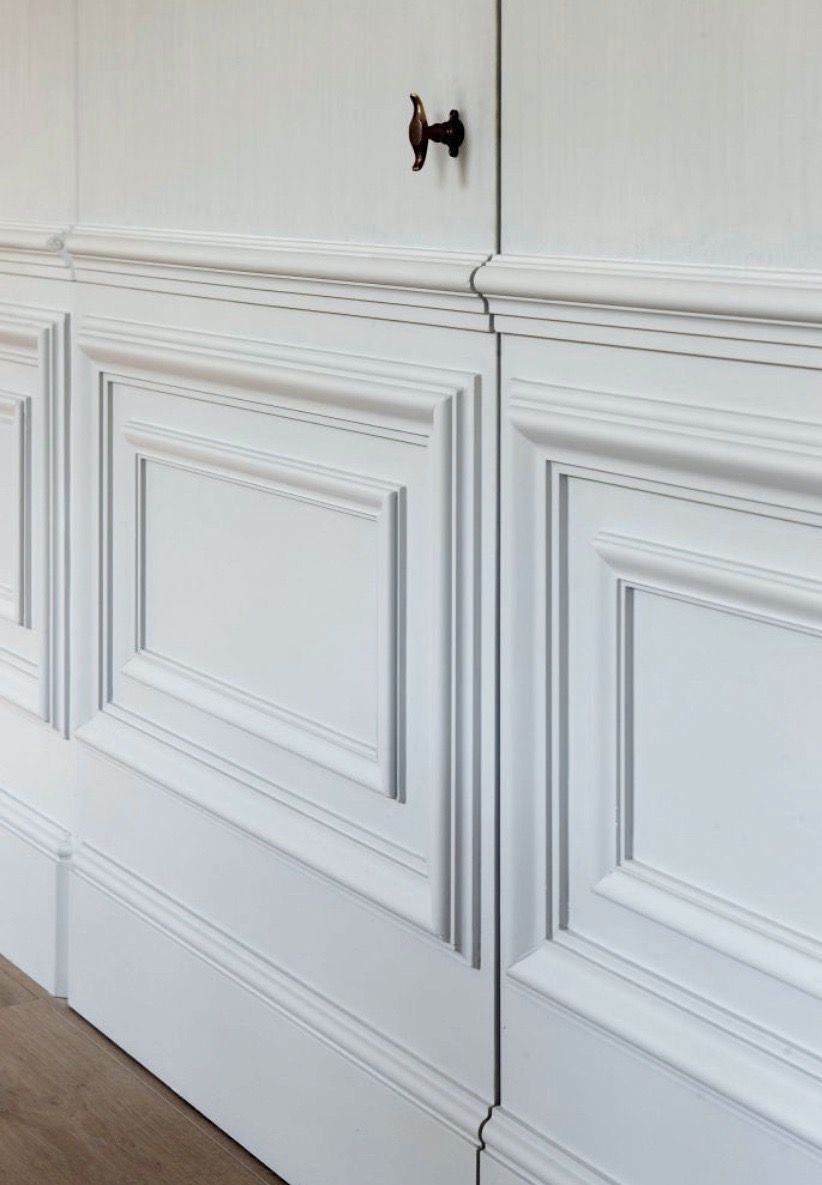 St Bartholomew's Hospital north wing
The above example features wainscoting and mouldings with a secret door.
And, I'm finishing up with several images from a young, brilliant architectural firm in London who call themselves Undercover Architecture.
Their aesthetic is deeply rooted in classical design. However, they combine their classical designs in a modern, fresh, and edgy way. Their innovation and attention to detail is exquisite.
Below, I'm featuring their Lansdowne Road Project. (except for the last image which is from their Mornington Terrace project)
Anyway, the Lansdowne renovation is FULL of secret doors.
Please enjoy their incredible work.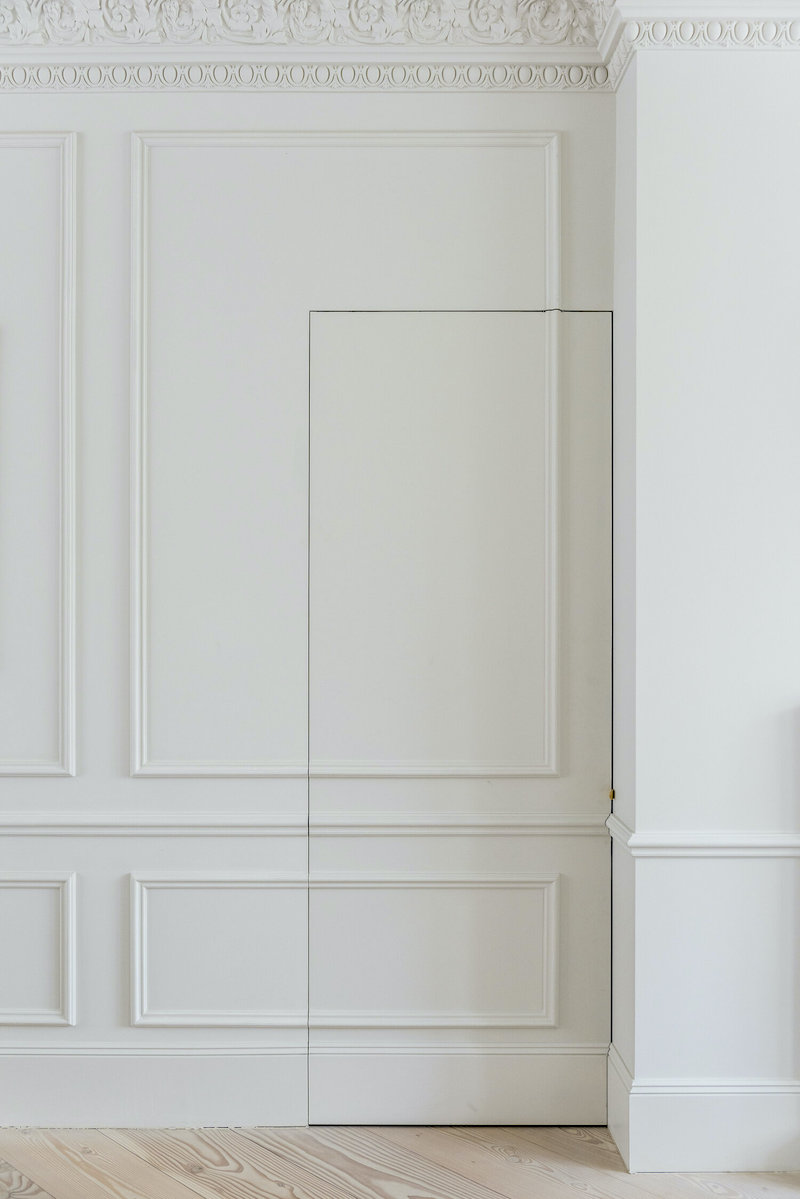 Undercover Architecture – A jib door with applied mouldings.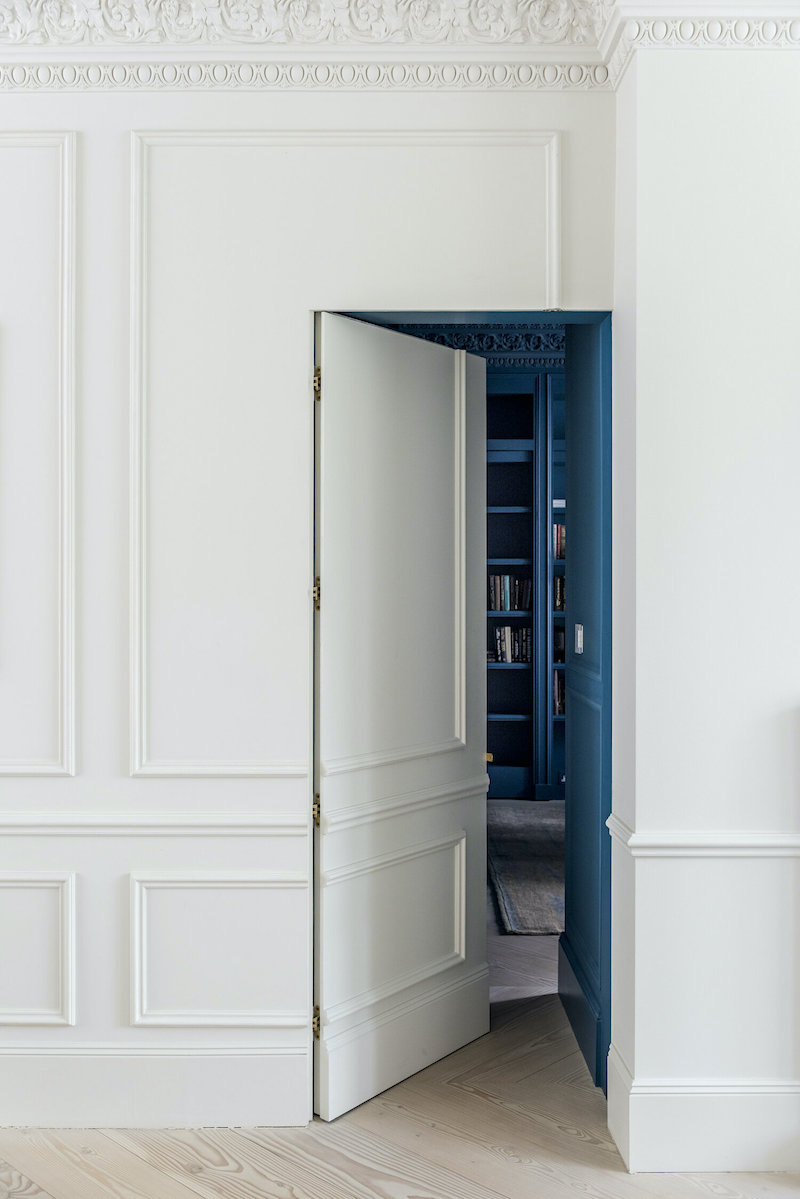 The jib door opens into a saturated peacock blue library.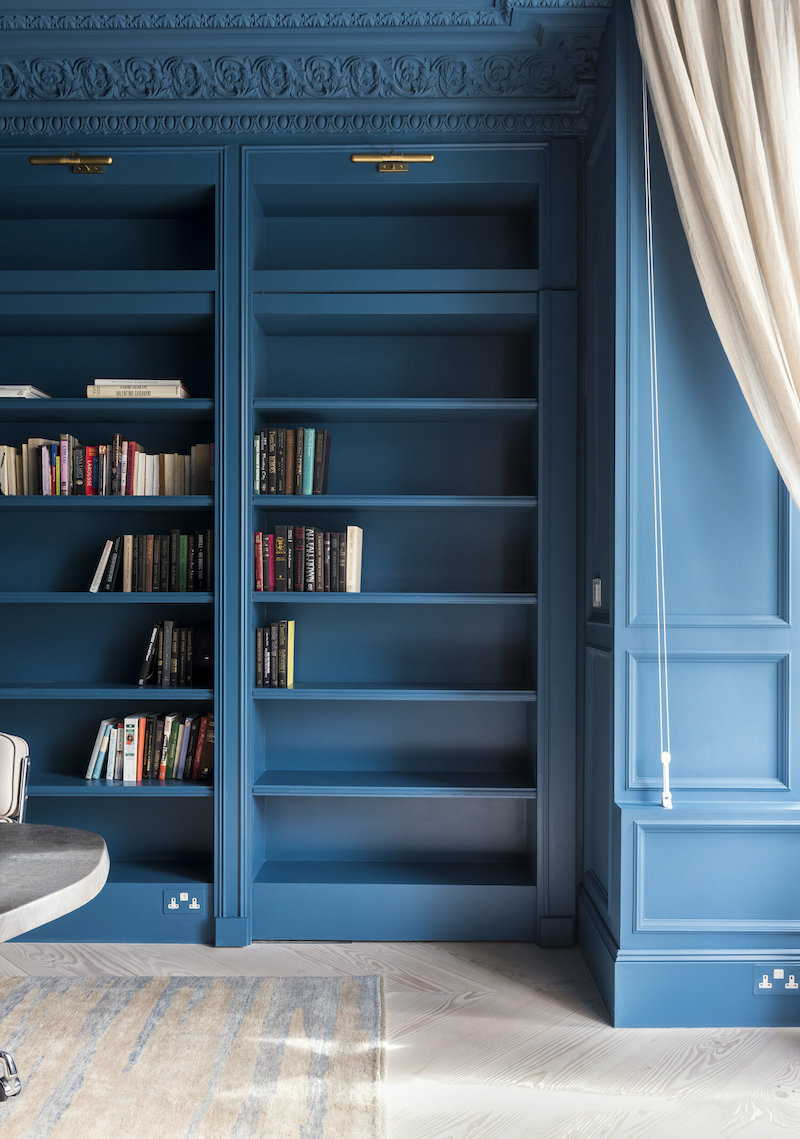 And, one more Murphy bookcase door.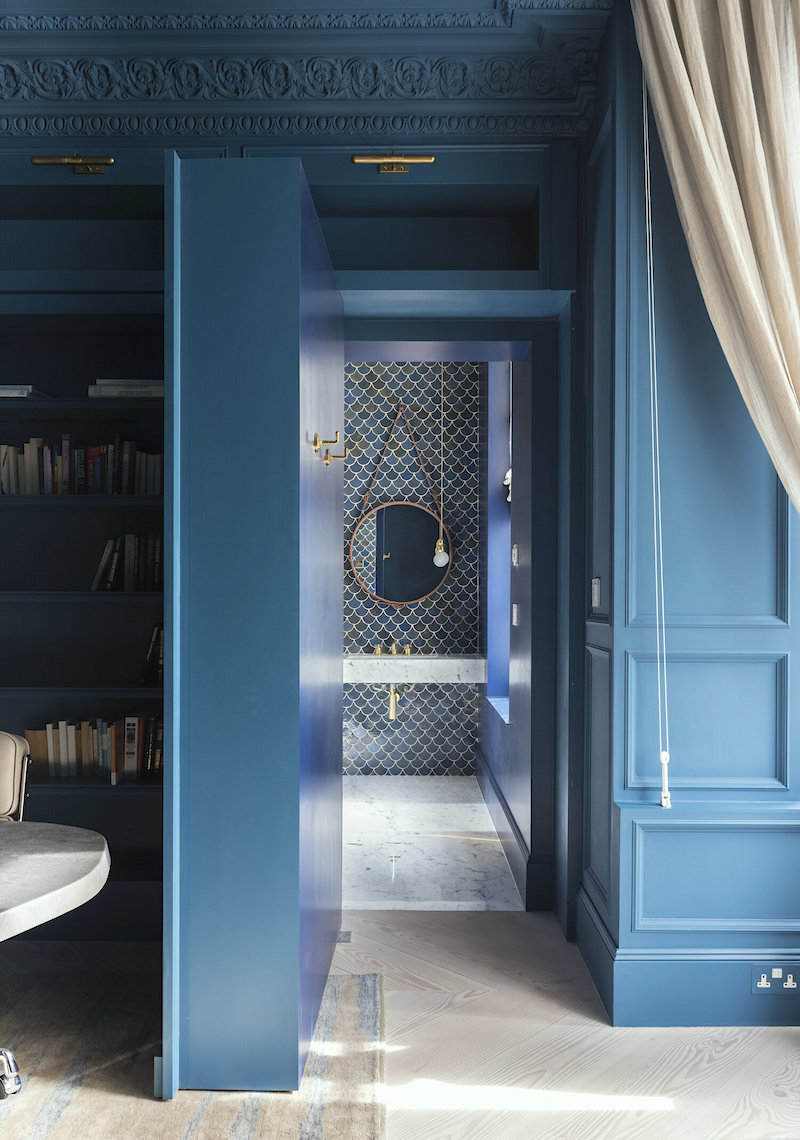 Behind the bookcase door is a bathroom or powder room.
And, I'd like to close with a few more images from Undercover Architecture.
These aren't secret doors, but this architecture is just too gorgeous from the Lansdowne residence. Please note that they gutted this space. You can see the before and during pics on their website.
See what I mean? Please check out Hidden Architecture's portfolio for more images.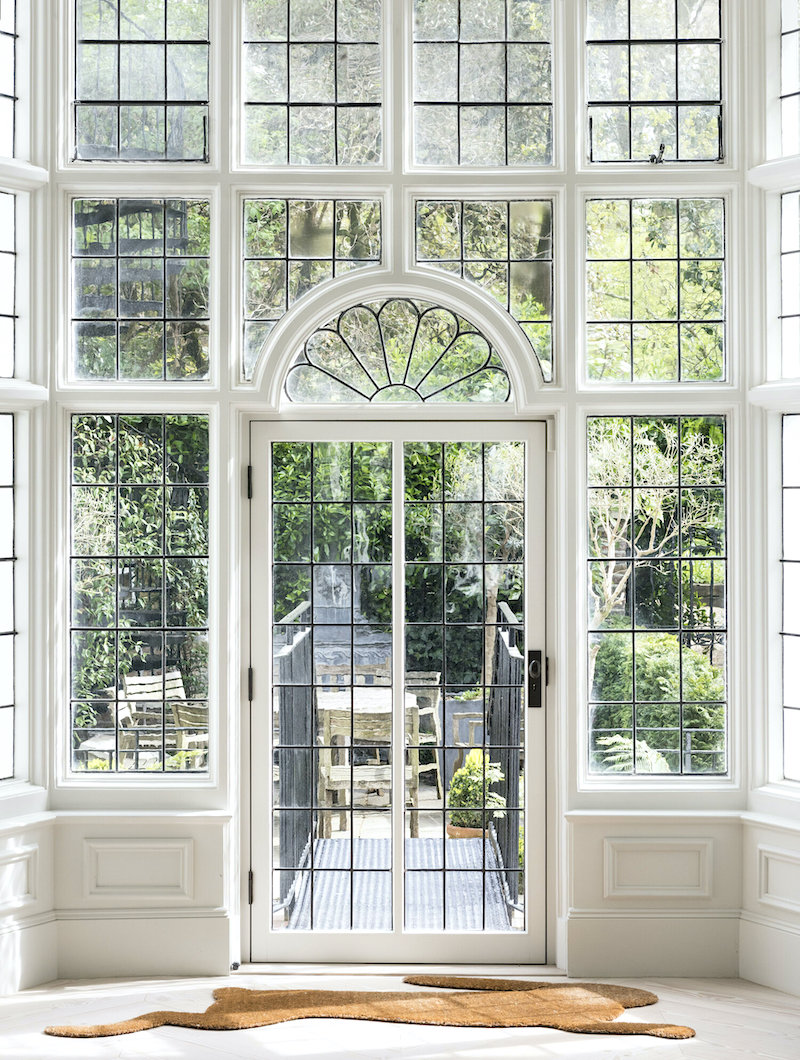 Maybe I should move to London, after all? However, I do realize this place is just a tad out of my price range. lol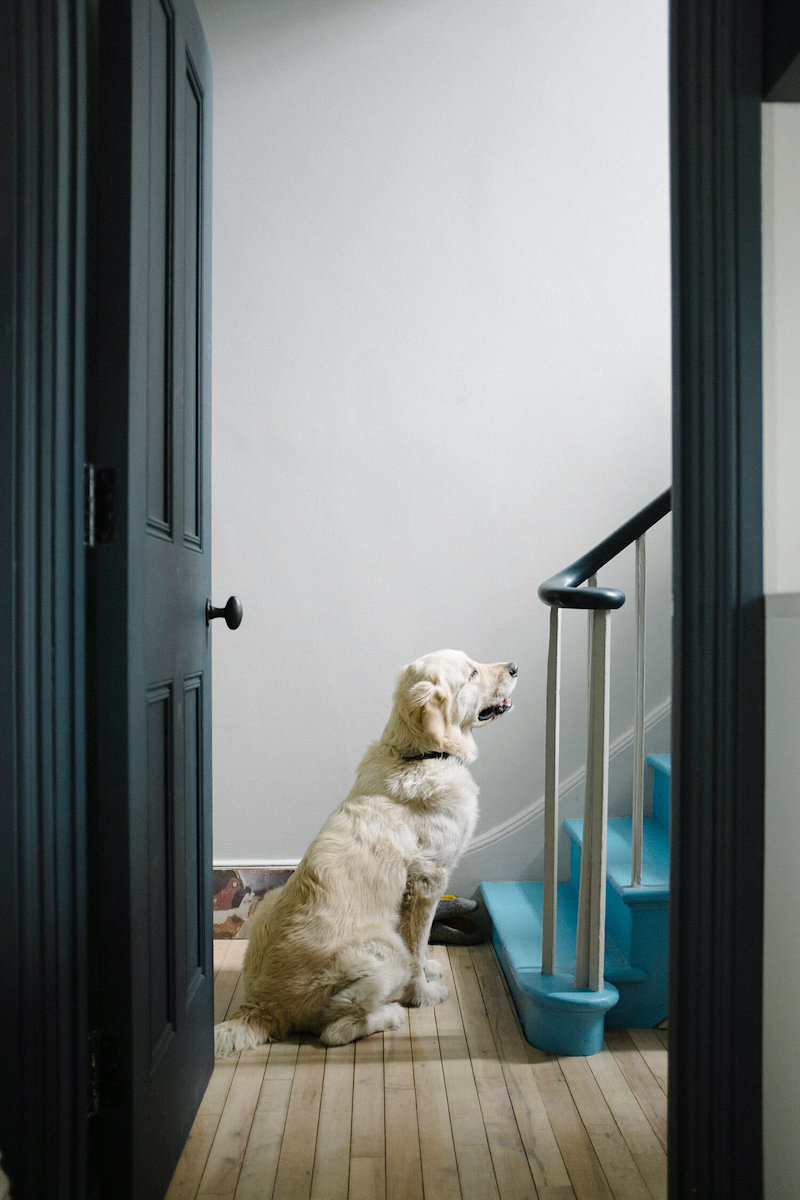 I love it when they stain the floor to match the dog.
Please be sure to visit Undercover Architecture on Instagram.
Well, I hope that you enjoyed all of these beautiful hidden doors. Do any of you have one? If so, please tell us about it in the comments.
For other hidden doors please check out these posts:
the only six white paint colors I use.
Beautiful Grisaille wallpaper and Murals
xo,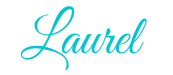 PS: There are only five more days left for the Nordstrom Anniversary Sale.
And, please also check out the newly updated HOT SALES