Hi Everyone,
Some of you probably thought that you weren't going to hear from me.
And you're right.
This isn't me.
Who is it?
Not sure, but it can't be me because I've only finished the first day of the tour and I'm already transformed– completely.
Seriously, I could come home right now, completely sated with the most exquisite beauty I've ever seen and be very happy. But no. I am forced to endure five more days of bliss.
I arrived in London a day early and am I ever glad that I did.
My room wasn't ready and while everyone was incredibly kind, I had to hang out in the executive lounge. Not a bad place, but I had not slept even one minute on the plane.
Now, I know that this might be disappointing, but once I got to my room, I didn't leave until the following morning. And again, I'm really glad I did that.
I ordered room service and had the best fish 'n chips of my life! And I got nine of hours of sorely needed sleep.
But, in the morning, I got up and ventured out of my room.
Since Buckingham Palace was a short walk away, I sauntered on over.
Just in case, you think I'm making this all up. haha! Here I am, in front of Buckingham Palace!
And as I was walking back, I saw this gem across the street.
WHOA! Textbook Georgian, classical architecture at its finest!
Here, I zoomed in a little for you, so you could see more detail. This is perfect in every way!
Then, I went back to my room to pretty myself up for the rest of the day.
The following afternoon, the tour began.
The hi-light was a visit to the lovely home of architect, John Simpson. He couldn't be more delightful or more talented. His work is exquisite. Hope that you like that word, because I'll be using it a lot.
I didn't take any photos of his home. I loved it because it was an elegant Georgian-style home decorated in a typically English timeless style. But because there were too many people. And of course, we can't take photos of people's private homes without their permission.
The following morning, we met John Simpson again, for a private tour of the Queen's Gallery @ Buckingham Palace. Not only did he design the gallery and portico, he wrote a book about it.
You can find out more about the book here.
Apparently, the original gallery endured heavy bombing during WWII and a makeshift gallery set up. It was only refurbished recently and quite beautifully.
Another view of the gallery from John's portfolio. (I will identify when images are not mine, otherwise, please assume, that I took them.) The giveaway here, is the weather! We had clouds.
My image of the gorgeous staircase with an elegant and unusual cast-iron railing from the Queen's Gallery.
A fabulous detail. Everyone went ga-ga over the cast-iron rope tassels. Genius!
A detail of one of the magnificent ceilings.
BTW, based on some comments, it appears that some of you think that I'm spending eight days in London. No. Only one full-day. The rest of the time, we are traveling amongst various locations.
The rest of the day was spent with the delightful architect Quinlan Terry at some of his projects, his office and finally at his home, Higham Hall for high tea!
First we visited the magnificent Brentwood Cathedral  — in uhh… Brentwood, UK. (the link will take you to more images of Brentwood Cathedral, designed by architect, Quinlan Terry.
Quinlan, is the most elegant gentleman and it has been wonderful getting to hear him speak about his work. And the same goes for John Ross.
We did so much that first full day that quite frankly, I can't remember what order we did things in. But every place we visited blew my mind in one way or another.
After Brentwood, we stopped at an astonishing estate called Terling Place. I am going to end here, because there's a lot to see.
This is obviously an aerial view of the estate (not taken by me) ;] which has been in the family for generations. The owners still have the title of Lord and Lady. No names, however, to protect their privacy.
The lady of the house greeted us warmly and told us some of the estate's history. In recent years, they had done a stunning renovation which included the addition of the two long wings. Some of that space, they use for offices.
One of the wings and a tiny portion of the mind-blowing garden.
Hang on.
please.
The garden goes on and on and is beyond elegant. I was like being in the middle of a movie set!
The three-story-squareish section in the middle (on the left in the above image) is the original house, but the inside has enjoyed a beautiful renovation.
The living room is astonishing, but sorry, no photos are allowed of that.
The gate goes to the summer house recently designed by Quinlan Terry.  You can barely make out the top of it above the fence on the right.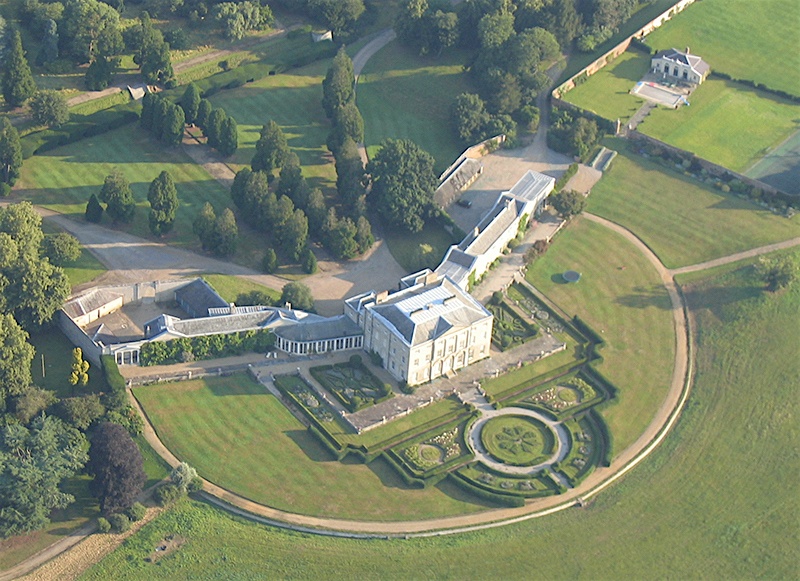 You can also see the summer house (upper right corner) and the entire estate in this shot, also not taken by me.
There are dozens and dozens of these gorgeous terracotta planters brimming with beautiful blooms.
And perfectly groomed topiary hedges. I did my best, but the photos can't begin to capture the immense beauty!
And yes, those are cows grazing in the background.
I don't know if it's still the case, but the original family were dairy farmers.
Don't the clouds look like they were pumped in from central casting? haha.
BTW, it has barely rained at all, during the day. It has rained at night a couple of times, however. All-in-all, the weather has been kind to us.
And if the terrain, above has a familiar look. This was the part of England where the artist John Constable derived much of his inspiration.
Malvern Hall – John Constable 1809
Tomorrow, I'm going to meet Ben Pentreath and we are visiting one of the gorgeous homes he designed, filled with classical architecture. We are also moving hotels again!
xo,