Hi, I'm Laurel Bern. That's me in the photo above in July 2022, unretouched and unfiltered. And no, that is not a glass of water from the Charles River. It's a ginger beer but nonalcoholic.
Behind me is part of my fireplace. After decades of living either in New York City or Westchester County, I moved to a beautiful apartment in Boston's Back Bay neighborhood at the end of 2020.
I was married for a long time, and now, I'm not married. And, I have two sons, both accomplished musicians, ages 32 and 27.
Laurel, tell us about your interior design career.
Oh, okay. In 1988, after years of being a struggling dancer, singer, and actress, I went back to college for interior design.
After design school, when Cale was two, I got a job working for a decorator in Bedford, NY. And, after four years, in 1996, I left that job to open up my own interior design business, Laurel Bern Interiors, Inc.
Sixteen years later, I began my blog, Laurel Home. And after three years of steady blogging about everything I know about interior design and researching what I don't know, I realized I could make a living blogging. I wrote a guide about how I did it. It's for everyone with a website.
And well, here we are.
In addition to writing about interior design, I'm passionate about the art of classical ballet (and other kinds of dance, too), but I also love all types of music, just as long as it's good music.
Therefore, you'll occasionally find the odd ballerina or Mozart piece. I also sometimes post fine art. I've even been known to paste my face on that art. And this unforgettable sculpture, I've named Davida.
Yes, I'm a bit of a clown, but I don't kid around regarding hardcore interior design information and advice I've pulled from my years of experience.
Other than design, dance, music, and art, occasionally, I like to cook or whip up the world's best chocolate cake.
I also made a gluten-free version that evaporated when I had a party last December.
If you'd like to know even more about me and my youth, you might enjoy this post, 12 Things You Don't Know About Me.
If you're a subscriber, new to my website and blog, 99% of the time, you'll receive a blog post on Sunday morning and Wednesday morning. However, if you're not a subscriber and want to receive a gift, there's a form at the bottom of this page that makes it easy to subscribe.
xo,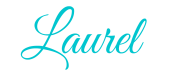 PS: Please follow me, Laurel Bern, on Instagram and Pinterest.