CLICK HERE FOR THE NEW EASIER PURCHASE PAGE (WHEN READY)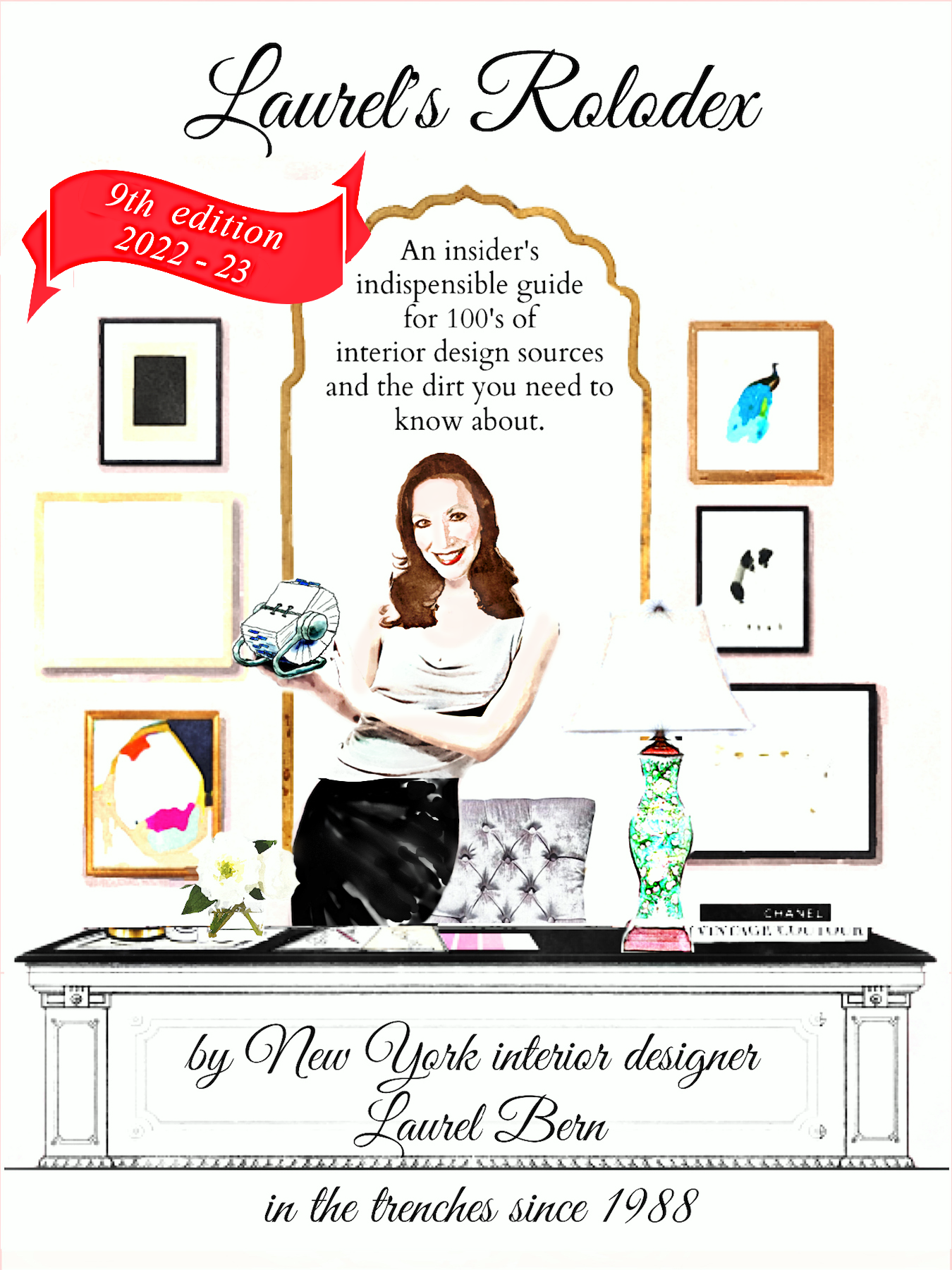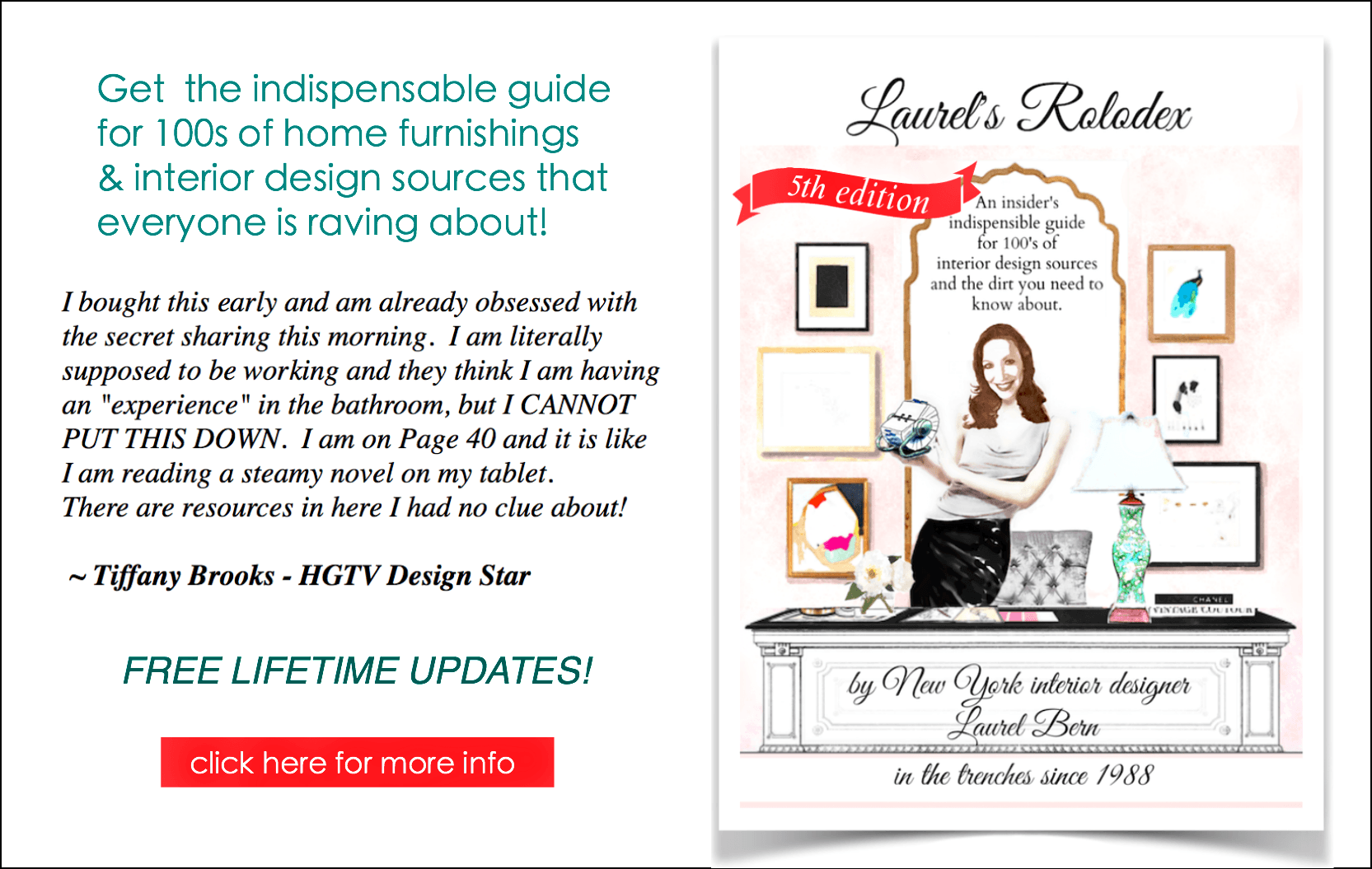 Laurel's Rolodex is a 250 page PDF guide with nearly 600 interior design
resources that are available to the trade and consumers alike.

The Rolodex is jam-packed with info that will save you time,
money and/or put more money in your pocket. Here's what's inside.
You Will…



Have access to a 250-page guide that gives an insider's view into the world of home furnishings
Learn about nearly 670 Vendor/Manufacturers (V/Ms) in every price point from "dirt cheap" to "if you have to ask, you can't afford it" in an alphabetical list
Have access to those V/Ms broken down into categories for easy reference
Have access to the list of approximately 180 DESIGNER-FRIENDLY V/MS where as a trade member, you'll be able to purchase at a deeply discounted price.
Learn about dozens of my favorite vendors.
Find out my list of the 35 sources I can't live without.
Learn which sources will give you the biggest bang for you buck be they retail or wholesale.
Find out which sources I've had bad experiences with. (I mean really bad!)
You'll also get a fabulous bonus chapter that will tell you in great detail how to find
the source of a product when you have no idea where it's from! It works for me, 99% of the time!
You'll have access to every vendor with a link that makes sourcing of product a breeze

PLUS— Over ninety beautiful images, anecdotes, inside info
and Dozens of — HOT TIPS!
An example below of a Product Page
please note that these are screen shots and if you are looking on a mobile device are not going to be as large as what you will have with the actual guide.




Greatly reduced in size! It is for conceptual purposes only.
(From Chapter C-D There are even more sources now, because there have been three updates since this screen shot is from September 2015.)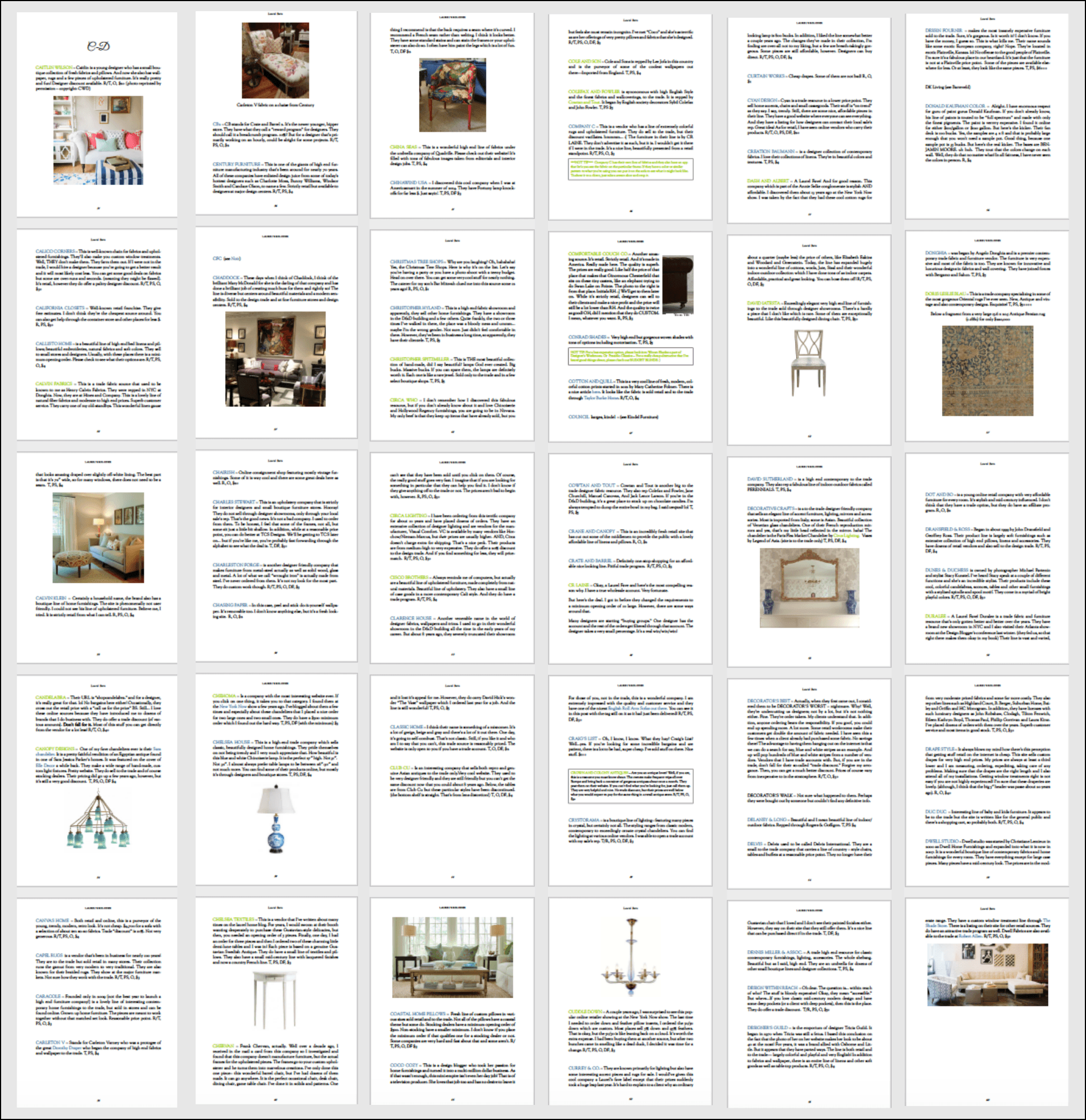 If you're looking for info about my paint products or blogging guide,
Here's what some people have said…

A lot of readers have been asking me if there's any value
to getting the rolodex if you're not in the trade.

<
YES! ABSOLUTELY!
The rolodex is designed to be useful whether one is in the trade and
looking for those lucrative wholesale accounts—
OR a retail consumer who's looking for some fabulous sources to get the best deals.
I guarantee that everyone will learn of many, many new sources. I did too!
Did You Know?
One year at the New York School of Interior Design (2017) where I went for three years costs now—
over $30,000 a year or $1,000 a week, or $125 for one hour of instruction.
For less than 1.5 hours of instruction, you can buy this guide
that will teach you more than I learned
in an entire year of interior design college. A lot more!
Hell, more than I learned the entire three years I was there!
A four-year degree program is– are you ready?
$121,695.00
and that doesn't include any living expenses whatsoever or supplies.
I spent thousands in art supplies!
Here's the deal
This 450 page guide that's crammed full of incredible sources, hot tips and an incredible bonus chapter is priceless.
Meaning, if I charged what it's really worth, hardly anyone would buy it.
And I very much want as many people to have access to this as possible.
The price for Laurel's Rolodex is only
$229.00


But WAIT!!!
The fifth edition rolodex released on November 8th, 2018 comes with a 50 page supplemental guide of the best of Chairish, Etsy and One King's Lane- Vintage, Antique and Hand-made!
But there's more and this is something that I think you're really gonna like.
Everyone who purchases will get
That's right. You will never have to pay for any updates.
We do a major over-haul every November and you will never
have to pay another dime for those additions.
CLICK THE BUTTON BELOW

And if there's a vendor or manufacturer I missed that you think
should be in here, please let me know and I'll add it for the next update.
(please note however, that I'm super fussy about what goes in here!)

***Update November 2018***
In the last 13 months I've gotten dozens of kind, unsolicited notes regarding Laurel's Rolodex.
I didn't save most of them but here are a few recent ones.



Karen said: July, 2016

Thanks for the great offer Laurel. I love my Rolodex and paint guide.

There is so much available to the public at retail that I had NO CLUE about,

especially regarding furniture.

I thought I was forever going to be stuck in the Lamps Plus, Pottery Barn, RH rut.

These tools you have worked so hard on are a super value

and I think all your readers should buy them!!
***
Bo Said: July, 2016

Thank you for your rolodex. It is just wonderful to have all

of these resources bundled in an easy to use format.
***
Magda July, 2016

Dear Laurel, First of all I have to say I love, love your blog –

thank you for taking the time to write it, and for being you!

Since I discovered it I didn't miss a post and I learned so much.

I am one of those new-ish decorators that was happy for some time,

mostly with the breadcrumbs retailers want to give us as a discount.

And then last year, Laurel's Rolodex came around and it opened

a whole new world for me – best investment I made!

Now whenever I need to source items for my clients,

I go through it and read your notes and my life is so much easier this way.
***
Karen said: August, 2016

Love Laurel's Rolodex. It is so thorough, so valuable because now

I know my choices reach beyond Pottery Barn for my retail needs.

There are so many unique sources out there I would never have known of!

There is life beyond Big Box retailers!
***
Gaye said: August, 2016

Dear Laurel,

One year ago I started decluttering and touching up my house.

I thought I would be through by Thanksgiving.

Now I'm aiming for Labor Day.

And discovering your blog helped me survive the process.

Your blog entries made me think about the right things,

to look with more thoughtful eyes.

They slowed me down just enough to save me from myself

and occasional idiots with whom I dealt.

And your Rolodex and blogs opened me to products

I would not have otherwise considered…
***
Taryn said: October 2016

Hi Laurel


I am a designer on Long Island in Cold Spring Harbor.


Just wanted to let you know I purchased your rolodex

and I'm obsessed with it! While there are a lot of vendors I was familiar with

& love as well, there are some I was not.

Your humor and honesty makes it a pleasure to read.

I also just purchased the paint color PDF, because sometimes

I feel like I am going to blow my own brains out looking through

my paint case with clients!


I'm enjoying your blog on this cold night with a glass of red wine– t

hanks for all the great ideas & tips!

xo,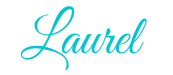 ***Please note, (if you missed it earlier) that Laurel's Rolodex is a PDF file which gets downloaded and then accessed through any computer device you wish. It's an amazing benefit as one can quickly scroll through the various categories and get instant access to manufacturers/vendors websites and product offerings. Every source has a direct accessible link.
In addition, as this is a digital product, it is the only way I can send out free updates and other perks.
Some, have sent their PDF files out to be turned into book form. Or some have had them printed with a heavy-duty printer and put in a binder. If you are interested in more information about this option, please contact me. It is something that you would be taking care of after purchase.




Want To Read More Testimonials?
Alicia said: November, 2016

Laurel! I have your Rolodex and LOVE it! I'm in Idaho house hunting for a relocation from North Carolina. It's my last night in Idaho, and it is my reward for buying a house without the help of my busy husband. You're the best!
Kim said: November, 2016

Thank you so very much for your help and time.  You are the best with all of you wonderful information but also attentiveness to customers!
It is so fun to delve into the paint colors and rolodex, totally gives confidence pulling everything together.
Thank you and have a great day.

Anne said: December 2016

Great post Laurel! I consider your blog to be one of the gifts of 2016. The election made this a tough year and I needed all the laughter and design-talk I could get. I agree with your comments about the colors, except that I don't share your love of white. But someday I bet I'll suddenly love it! BTW, I came upon an interesting Sherwin color the other day–Canyon Clay. It looks like clay in some light and totally plum in others. Magical!
And I second everyone's positive comments about your Color Guide and Rolodex. I've been in this business a long time. I know color very well and have resources galore. But there are fabulous things to learn in your Guide and Rolodex, plus it's all organized so beautifully AND infused with your joie de vivre. Priceless!
Can't wait to see what you bring to 2017. Cheers!

Tanya said: March 2017

Dear Laurel,

A long overdue note of thanks for your incredibly thoughtful and well-executed blog. It is a resource I refer to many times a week as I work through renovations in our home. What is particularly spectacular is that your advice is not style specific. I'm not a traditional girl and it doesn't matter one bit. The information you so generously share with your readers is both universal and communicated in layman's terms — thus, difficult to locate in one place elsewhere.

Your blog is so special and so unique that I have this quiet fear that eventually you will shut it down and all of this wonderful information will be lost to me. I've purchased all of your online materials and wonder whether you've considered compiling your blog posts into a similar resource? Ideally, you'd be in the process of writing your first book…?

Again, I can't thank you enough. I continue to jump at the chance to purchase your publications in an effort to make "our relationship" more reciprocal but then the resources are so rich, I find myself still taking more than I give! (sigh). Many thanks for all you do!

Leslie said: April 2017

Wow! I can't thank you enough for the great resources you shared in this post. I am in love with that $$$$ chandelier. I am slowly putting together a whole house on a cost conscious budget using your Paint Palette and Rolodex plus the incredible posts you give us like todays. Thank you Laurel

Mary said: May 2017

Hi Laurel,
Just wanted to say thanks for your incredible blog and resources. I have purchased the Rolodex and find it to be a true "go to" source for myself and my design team. I have a suggestion for a blog topic…Exterior Lighting. I have several sources for copper lighting but none are really great in my opinion. I know there has to be a great source for designers/builders. I also think it would be helpful to many to get some general advice on style, size and appropriate placement. Just a thought…

Ashley said: July 2017

Hi Laurel! More thank you vibes coming your way! My husband and I just bought our first home and I've been struggling to decide on furnishings to the extent that I was worried we were going to be sitting on the floor for the first 6 weeks or more once we moved in. Between your paint guide, rolodex, and blog, particularly the one about dining chairs you've (virtually) helped immensely! When I saw the neo-cassical style dining table by Henredon I knew it was EXACTLY what I've been looking for, and for $200?! INSANE! I can't wait for it to be delivered, I know it will be perfect!

Liz said: July 2017

Laurel, Your the best!!  I've loved this room since I first saw it in Southern Living magazine and am thrilled to find out about the stripe fabric. Thank you for all of your hard work finding sources! Best $ I've spent for your rolodex  and paints. Thank you from a fellow designer!

Gayle said: December 2017

Dear Laurel,

I have to be one of your biggest fans. I began reading your blog in April when we moved from our home of 18 years to a weird custom designed house. (Which could be fodder for days and days for you;) I talk about you so much that at first my friends and family thought I found a new BFF in the neighborhood.

Back on topic, with the old house I left a Viking gas four burner plus griddle range whose oven had blown burners or some constant expensive problem. My new house has an older Electrolux induction cooktop which I was prepared to hate. I have to say this induction cooktop is WAY more responsive than gas. It's clean and fast. This could be a wise choice for you. Just know that you may have to replace some cookware because the pans must be magnetic. This rules out aluminum and copper. It likes stainless and iron.

I've purchased your Rolodex and paint palettes and look at them all the time.

Virginia said: December 2017

Hi Laurel,

I purchased your rolodex and paint guide quite a while ago, but I've just begun using them. So helpful, thanks so very much for writing the guides. So far I've got 3 rooms in Classic Gray and I love it! I know you also have available the paint palette, and in my paint guide you mention that owners of the rolodex/paint guide can get the paint palettes at a discount.

I've been trying to find that purchasing information on your site and can't seem to find a button for those who've already purchased the first set. Would you mind letting me know the price and how I may order?

Venetta said: October 2018

Laurels Rolodex is full of great information. I'm so glad I bought it. Thanks Laurel, for making it.

There are dozens of other testimonials, but I stopped posting them in 2018, as you can see.
Please also note that there are numerous bundles with the other Laurel Home products for additional savings.