Dear Laurel,
Thank you so much for the many helpful blog posts you've been sharing recently. The ones that I love especially are the 21 mistakes you need to stop making and the 12-step decorating plan.
So, here's the deal. If I carefully go through all of the steps, I still feel like I'm not quite grasping my living room layout. You know, the flow of each room?
I'm hoping that maybe, pretty please, you'll do a blog post about this?
Spacey Planner
Hi Everyone!
Well, this one is based on an actual note I received recently.
Look, I get it. Decorating is DIFFICULT. And especially so, if you haven't done a lot of it.
But, there was a time back in 1989 when I was a student in my fourth semester at the New York School of Interior Design. The assignment for one course was to design and (pretend) furnish an open concept living/dining room. AND, produce a hand-drawn color rendering in two-point perspective.
Plus, a sample board of the finishes and fabrics– due in one week.
On top of that, I was about six weeks pregnant with the handsome hunk you can see here!
They throw you in the deep end like that; and then, you learn very quickly how to do the room layouts. There's no choice.
However, I had taken the course on space planning. And that is one course that I think is of vital importance. Space planning is the more technical way of saying room layouts.
Above is a drawing of a typical living room. It measures 24′ long by 15′ deep. I say typical, because of course, your room that you use for living might be larger or smaller. The proportions might be different, as well.
For instance, my living room is about 20′ long by 13′-5″ deep. And that's definitely "about" since none of my walls are at perfect 90 degree angles.
Above are four possible living room configurations. Of course, there are many more options. But these are some common ones in terms of door and window placement.
Let's look at six different living room layouts with furniture.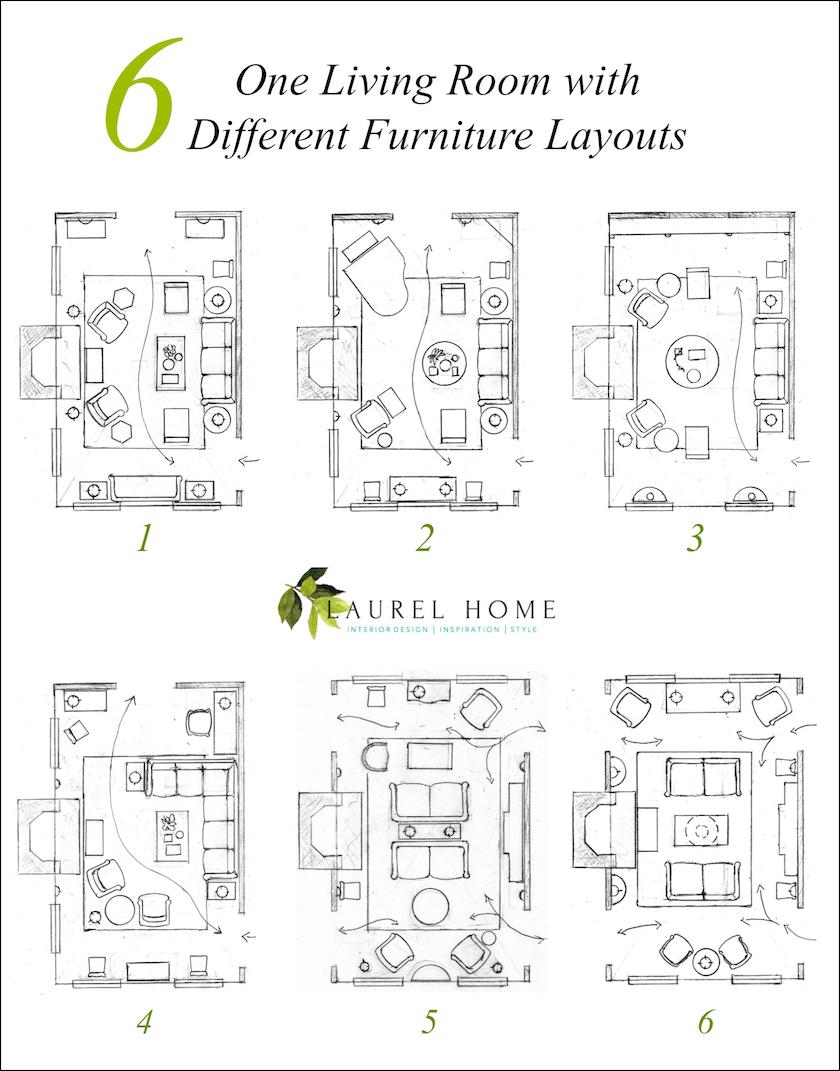 please pin me to pinterest :]
Oh, Laurel, thank you, but you are working too hard!!!
haha! Thanks, but believe me, I'm not working as hard as you think I'm working. I actually did these nearly four years ago! I was going to use them for something else but that didn't happen.
First let's go over the basic rules of space planning. Here you will learn how to draw a floor plan and what materials you'll need to use. And then, we'll go over each image separately, so that you can see what's what.
Are you back? Great! Let's get started.
Living Room Layout #1

We come into the living room off of a center hall and ahhh, into my favorite of all conversation groupings ever. One sofa, plus four chairs. I've done this plan dozens of times. In this image, there is an 84″ sofa, two slipper chairs and two club chairs by the fireplace.
The coffee table is about 24″ x 48." It could be a little smaller, but not much bigger. I would not do a coffee table more than 50″ long. My preferred height is 16″ – 18."
There should be about one foot between the coffee table and sofa.

The end tables are round, but they could be square or rectangular. Tables usually sit about two inches from the sofa. Try not to smoosh the table into the arm. :]
The end or side table as it is sometimes called should never overlap the door or window casing. (moulding). Measure carefully. The remedies are either a smaller sofa and/or smaller end tables.
Living room we did a few years ago in Bronxville, NY
Here you can see a smaller 78″ sofa and two slipper chairs. I usually do two 20″ pillows and two 22″ pillows.
Please notice how the black lampshade grounds the room.
A good size for a round end table is about 25″-30″ in diameter.
And if the sofa arms are the usual 23″-25," the height for the table should be between 23″-27″ high. I've been known to have either legs or a center pedestal cut down if it's too tall.
In between the club chairs is a bench. And, behind the chairs are two small floor lamps.
In the front of the room are two windows and in between, there is a settee, not more than about 24″ deep. Flanking it are two small end tables or chests. A night table might work nicely here.
In the back of the room are two chests or console tables. Since we already have four table lamps, I did sconces. However, if we want to put up artwork or a mirror, we could do a small recessed spot-light, usually called an eye-ball.
I've placed an extra dining room chair near the sofa, but we could also have two underneath the fireplace windows. Taking some of the chairs out of the dining room when not in use is usually a good idea.
The area rug is a 9 x 12. This allows all of the furniture to rest on the carpet comfortably and still allows a wide enough path so that one isn't walking half on and off the area rug.
There is an exit into another room which is usually used as an office or playroom.
Living Room Layout #2
This layout starts out very similarly to layout #one.
However, we did a round coffee table. This one is 36″ but we could also do 42″ here.
There is a club chair, with or without an ottoman or stool. There is a small occasional table or garden stool next to the chair.
In the front of the room is a console table of about 60″ in length with two buffet lamps.
Flanking the console table are two dining room chairs.
In the back of the room is a baby grand piano. If you don't play the piano, but play cards, a game table with four chairs could be added instead.
To balance the composition, I added a tall corner cabinet on the opposite side.
Flanking the back doorway and fireplace mantel are wall sconces.
Living Room Layout #3
This living room layout is a variation of the four chairs with the chairs having a little more of a relation to each other than the sofa. But, not so far that they are too far from the sofa for conversation. This could also work if your living room is only 14′ deep.
The coffee table is 42″ in diameter but it could be as large as 48." I've also done round ottomans this size.
The square end tables are from 23″-27″ high and about 20″-24″ square. Larger than that and they begin to look too big for a room this size.
Between the two chairs is an occasional table of about 18″-20″ in diameter. It could also be a garden stool.
Behind the club chair is a floor lamp.
In the front of the room, are two demi-lune tables with buffet lamps. However, we could also skip those and put a chest with one lamp and a mirror between the two windows.
This room only has one entrance. The back wall has no windows, so in this case, a built-in bookcase was constructed to go wall to wall. It could also be a free-standing book-case.
The little appendages are library lights. There are some nice ones here.
Living Room Layout #4
This is a great living room layout for a more casual space. The sectional can seat numerous people if this room centers around a TV. (sorry for those who find this gag-worthy)

This is modeled after my favorite sectional which is on sale here at 20% off.
I chose an end table that is only about 18″ wide.
The coffee table or ottoman is about 28″ x 48″
In the front, we have either a chest or a console table between the two windows.
Near the fireplace are two club, occasional or slipper chairs. You could do any of them.
And there is a little fireplace bench
Between the chairs is a side or occasional table. I feel that a round table needs to be a minimum of about 24″ to put a lamp on it. This one is slightly larger than that. If the lamp isn't possible, you can do a floor lamp.
This is especially nice if the children are playing and you'd like to (try) ;] to do some work and keep an eye on them.
To be clear, they would not have been *my* children. That is, unless the room was heavily padded, the door was bolted shut with a heavy-gauge steel lock and they were wearing their triple-ply mouth gags. ;] That might work.
However, I did once have clients who had this configuration. The piece behind the sectional was a secretary. And the piece in the back, an antique writing desk.
How are you doing? Do you need a bathroom break? A glass of something? A bite to eat? Feel free to take a little break. I realize that this is brain-draining stuff.
Living Room Layout #5
This is the living room with two doors entering the living room and two doors leaving the living room. The doors leaving are usually French doors which go out to a porch or a porch that has been converted into a sun room or family room of sorts. This is exceedingly common in southern Westchester county in pre-war homes.
Sometimes there are only the two doors entering the living room. And, if you are verrrrrrry lucky, they will be centered with the fireplace.
If you are unlucky and the builder of your home was drunk, didn't care, or both, and you DO care, then it's hours pulling your hair out trying to fudge the symmetry.
As you may well imagine, it used to drive me bonkers. One time, we even moved the damned doorway over about 18″ where it should've been in the first place!
There is a variation to this room layout coming up next.
This living room layout features back-to-back love seats. These love seats are about 60″ long.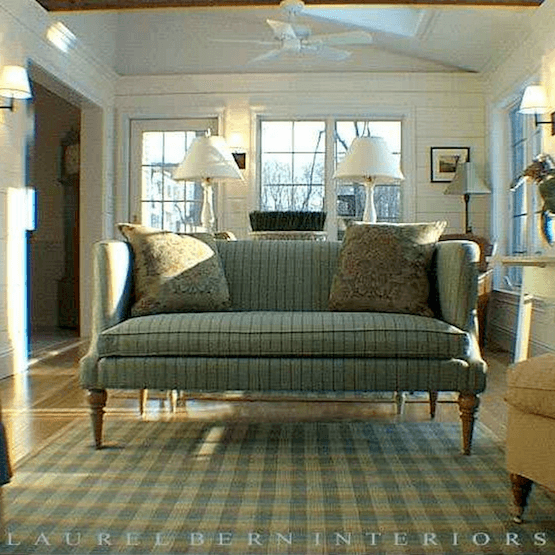 I have also done this with my favorite settee. Here it is in an old photo which in 2003, I thought was a pretty sweet pic. Now, I'm horrified, but it's better than nothing. This was one of my favorite projects with one of my favorite clients. What is so cool about this space is that before it was a sun room, it was a deck off of the kitchen!
I don't know what happened to that contractor. He was a handsome very tall dude and we were so much of one mind that we used to joke that we were separated at birth. Oh, to find another one like him! They are very rare.
I think that he did a fantastic job creating a sun room out of a deck!
Going back to our living room layout…
In actuality, what I've drawn is seriously no good.
Major pathways, should be about 36″ or at least 30″ and we don't have that much here. I was in denial and deluding myself. It happens.
We really need a good foot on either end so that we have enough space to walk from the center hall back to the sun room. However, it is valid to do the back to back sofas without a table in between. This is a very narrow console table, only about 12″ wide.
There are two skinny lamps, but we could also do a chandelier if our ceiling is at least nine feet or a semi-flush mount for a lower ceiling. But, we could do two small pendant lights too, for an eight foot ceiling, since we won't be walking under them.
Opposite the fireplace, is a breakfront bookcase, flanked by sconces. Sconces also flank the fireplace mantel.
And finally! Living Room Layout #6
This actually creates three conversation areas and is a great one for people who like to entertain.
Again, we have two love seats. However, if we don't have the bookcase, we could do a bit larger sofa. Maybe 72″-80."
Over the 24″ x 48″ coffee table is a chandelier.
In the back of the room is a console table or buffet of about  60."
Flanking the fireplace are two very small demi-lune tables. You can see them here (with a pretty lamp and artwork) and here (my bedroom).
Lauuuurrel, I don't have a fireplace; don't want a fireplace, either. Now what?
Geezzz, are you trying to kill me? ;]
Well, okay. This isn't that difficult. You can always do an armoire, or a bookcase, or maybe something like I have that I love which is a big cabinet flanked by two demilune tables.
Sorry, Laurel. I'm not trying to kill you. This is all very well and good, but we have an open concept floor plan.
You do? ;] Well, I did come prepared with that one. Here, let me show you.
I found the plans for what I think is a very lovely 4 bedroom home on one floor with a bonus room on the second floor. This is in terms of layout, not style necessarily. I realize that this farmhouse style is very on-trend. I would probably advise against it and do a more classic clapboard or shingle. You won't be sorry.
But, GREAT LAYOUT!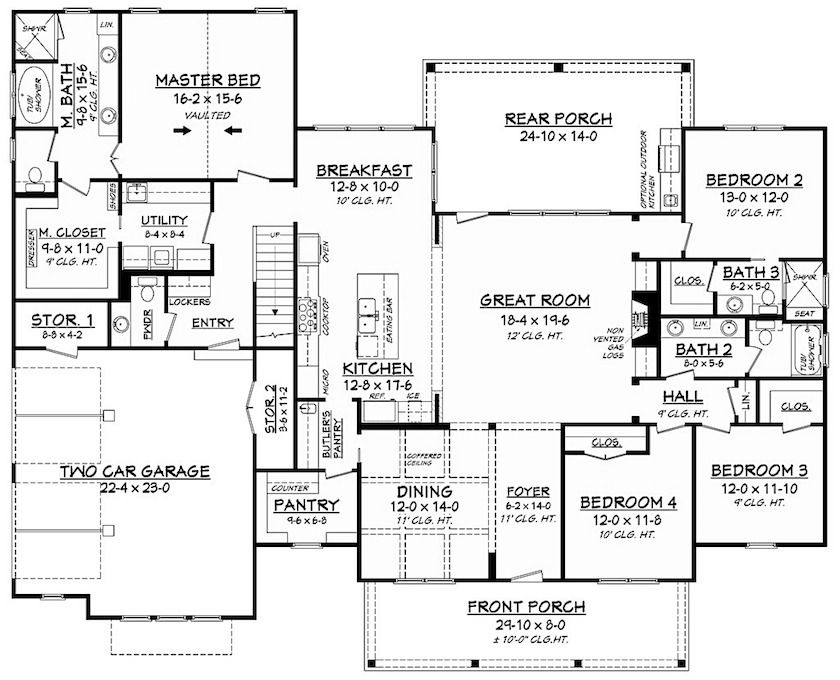 I think that if I were building a home, it might be good to start with something like this to save money, if you can't afford an architect. Nothing against architects, however.
So, here's what I did with this place.
Have you found the architectural tweaking I did?
I closed up the dining room a little and created symmetry with the addition of a short wall on the far end. I think it looks better this way.
Many of you were asking to see this.
Going back to the floor plan.
The other thing I did is steal two feet from the bedroom closet to create a front hall coat closet. Although the family is apt to go through the garage and mud room, guests will not and they need a place to hang their coat!
In any case, that bedroom might end up being an office, den and/or guest room.
Moving on to the living room layout of this more open concept home…
Can you see that all we needed to do is more or less insert floor plan #1 – spread out a little because the living room is deeper. And then I added a console (sofa table) behind the sofa.
There we can store baskets or stools for extra seating. There's an example of that here.
In closing, one little trick to use when creating your floor plans. This is a good one that I found very helpful over the years.
If you are creating a floor plan and you'd like an easy way to find the center of the room. All you need to do is draw a line from one corner to the corner across the room on the opposite wall. Repeat with the other two corners to make an X. Where the X intersects, that is the center of the room!
I learned that on my very first day of interior design school.
xo,