Every year in the middle of summer, I think,
"Oh, I've never done a home library post."
But, a post about a cozy library doesn't feel right when it's 90 degrees outside. But here we are, February 1st- smack dab in the middle of winter and what better time?
Laurel?
Yes…
Didn't you forget that you recently did a library post?
Thanks but no, I didn't forget. It was actually a dining room post and many of them included a library. But gosh, thanks for being so astute! I'm impressed.
And, over three years ago, I did a post that features a lot of bookcase styling and yes, there are many cool libraries on there. And then of course, there are libraries scattered throughout the blog.
One great source is also this post about north facing rooms, because libraries are usually dark. Or at least, it's a great place to use a deep, rich color.
Today, is about creating a chic library in your home.
But…
The classic library where one actually goes to read a BOOK in one's home has become almost obsolete.
After all, who needs a separate room for reading when all we have to do is throw our book in our pocket-book and off we go to the park.
I've never lived in a home that had a home library.
However, from a very young age, in Evansville, IN, I have the fondest memories of going to the Willard Libary, built in 1878.
My Mommy used to take me to this grand ol' Gothic Revival library when I was a wee thing. And she looks pretty darned good. I see that they're taking very good care of her.
photo: Graham Haber
And here is the amazing Morgan Library in New York City. I had a professor in design school who took us there to do free-hand drawing one day.

Dans La Bibliotheque by Auguste Toulmouche
 that dress!
I don't know exactly how the modern home library came to being, but I imagine that it all began as a more genteel version of the latter-day term, "man cave." ;]
But, like the dining room AND living room, the home library seems to be going by the wayside.
It is true, that many of us are living in one room. I'm not judging you if you do. (much) haha; just an observation.
And we've been through this before, but I love rooms. I really like the idea of lots and lots of little rooms. Even the other day, we were talking about a kitchen with multi rooms. I love that!
Let's start a trend, okay? More rooms and smaller homes. We don't have to go micro house, but I've always felt that the perfect family-size home was 2,500-3,500 sq feet. Sure, a little bigger a little smaller.
And it's true that many of us, myself included need to put our books in other rooms.
Like the aforementioned dining room.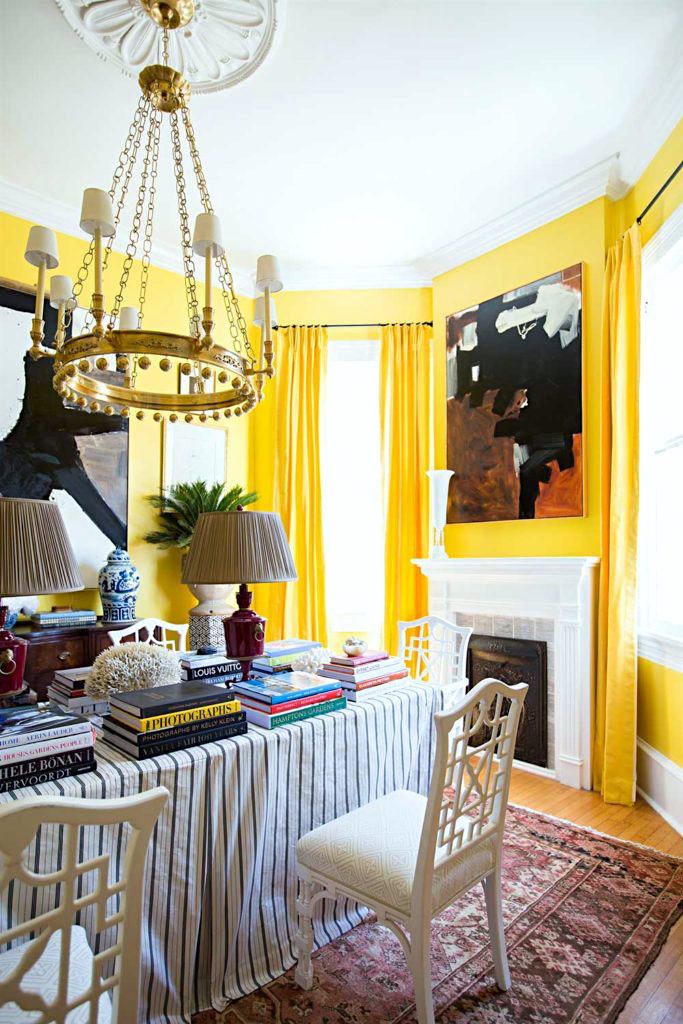 Oh William McLure! One of the brightest, most talented (and he's pretty damned cute too) young designers out there. This is man who even if you hate yellow will make you decide that you MUST have a yellow room! That's how good he is. But I adore this dining room created for the Southern Style Now Showhouse sponsored by Traditional Home.
You want your supper? Well, first you'll have to read all of these books! ;]
And yes… I know you want to know. I couldn't find the gorgeous red lamps, but I did find the chandelier.
It's the John Rosselli Natalya Small Chandelier for Visual Comfort and sold at Circa Lighting.
Just so you know. This beauty is 35″ in diameter— so not that small!
Then there's the hall home library.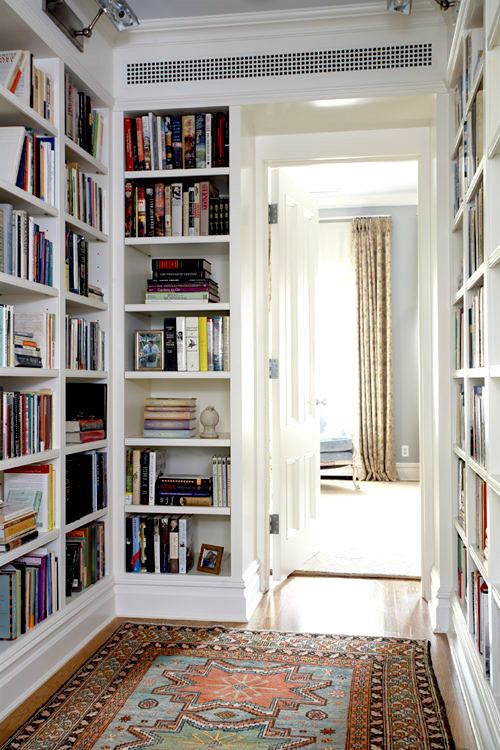 Some have a home library in the  bedroom
source unknown
The coffee table home library.
(and yes, we've been through this before too. lol)
Another beauty by William McLure.
Then of course, there's the John home library.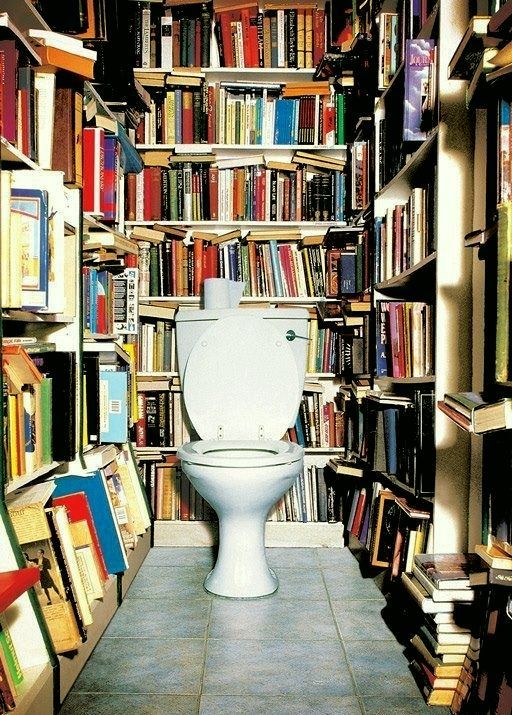 yes, yes… I know…
And sometimes the home library is everywhere you look!
I was a little surprised to see this is the library of interior design legend, Juan Montoya! That dude sure does love to read! BTW, I saw him last week at the New York Winter Antiques Show and he was looking quite dapper.
Many of our home libraries also double as a home office.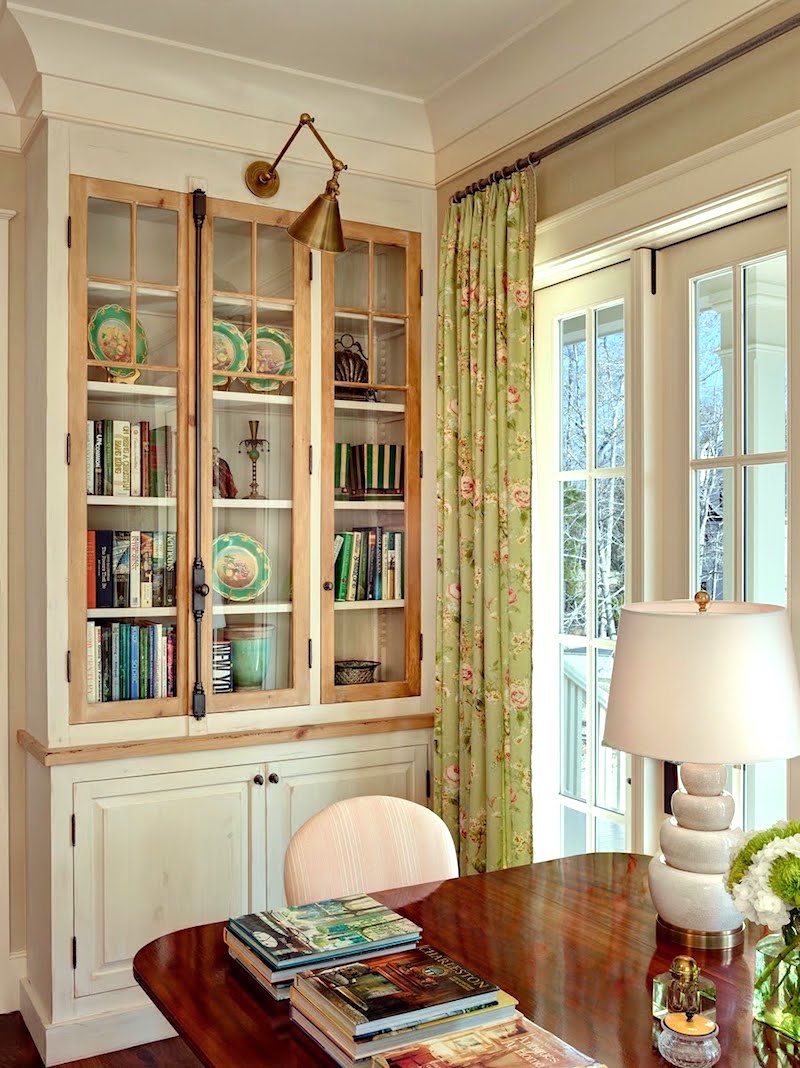 via Structures Blog. Architecture –  Darryl Cobb – Interior design – Deborah Way
In fact, that's probably more the rule than the exception.
I love this library/home office with the built-ins with glass doors and Cremone Bolts.
And do you want great lighting for your home library?
One King's Lane is carrying a wonderful assortment of furnishings for libraries.
All of the above lights are from Visual Comfort/Circa Lighting
Many home libraries are part of the living room.
The truth of the matter is that most of us don't have all that many books any longer.
Above is the gorgeously staged bookcase of my friend interior designer and fabulous photographer, Linda Holt. She's getting her home ready for sale and I must say that I think this bookcase is absolutely perfect. It doesn't look sterile, like nobody lives there, but it's visually appealing and pretty.
Please yes? Can I have this? I don't need the ladder. I'll hire someone if I need something up there.
French Boho chic. This is a room in three sections. The third one (behind the camera) is just like the dining room beyond. These rooms are difficult to photograph because it looks cluttered, yes, but I'm sure that in person, it's divinely charming.
I love the little bar area she created here.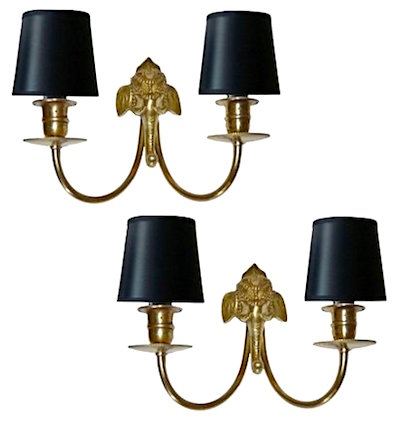 How about these chic antique French Bronze sconces
But still, many manage to create beautiful home libraries where the primary function appears to be reading and relaxing.
Vintage leather chairs are so classic in a library
A Victoria Hagan timeless masterpiece.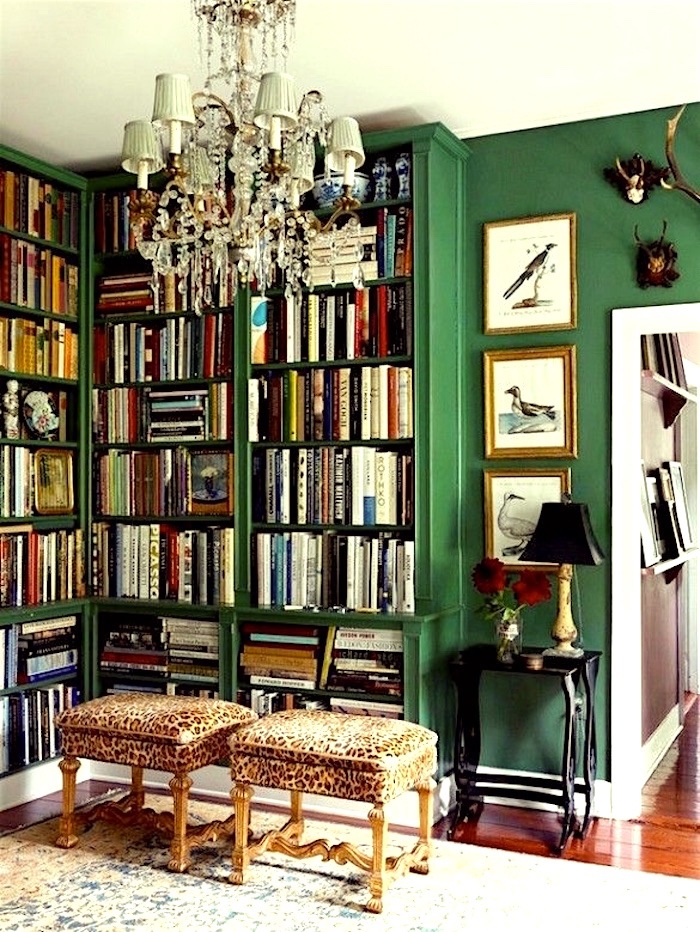 A rich emerald-green in this stylish French library. (if you know the original source, please let me know)
The color looks a lot like Laurel Home Essential Paint Collection color
I could see this chic French sofa sitting on the other wall.
(I don't know this company so can't vouch for the company, but it looks great!)

Above and below interior design by Miles Redd. Above for his mom.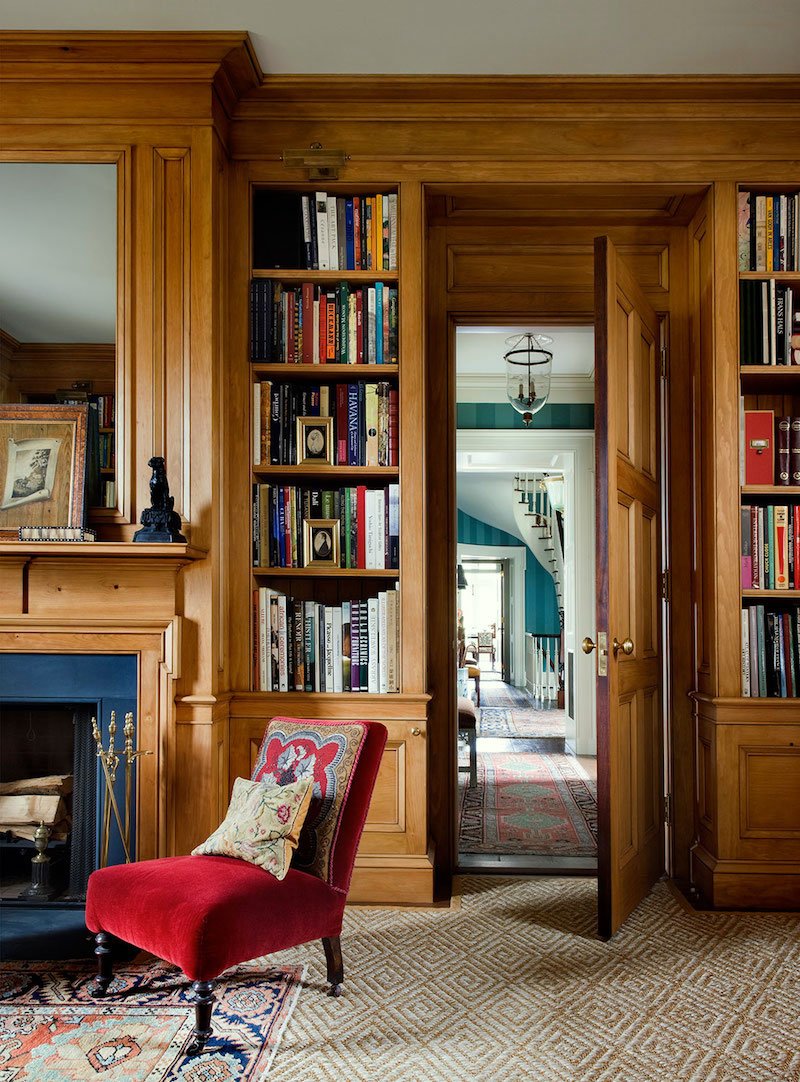 And here for architect Gil Schafer, a favorite of mine.
This is from his home in Millbrook, NY that was sold a couple of years ago.
I bet it went faster than you can say MLS.
Bunny Williams traditional and stylish library.

Always love a tufted classic chesterfield sofa. I think this would look wonderful in Bunny's library.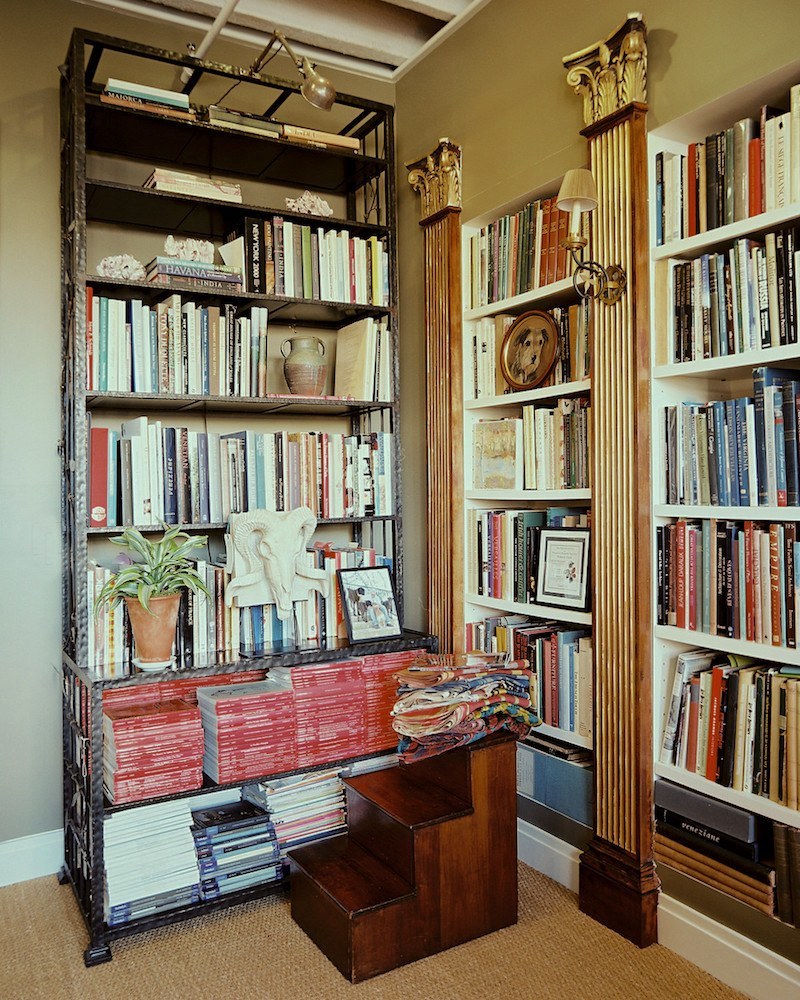 One of my favorite library colors is Bunny's favorite and another
Laurel Home Paint Color, Cleveland Green
Do you have a separate library? If so, do you use it strictly for reading books. If you do, I love that because it's so old-fashioned and that's a good thing!
xo,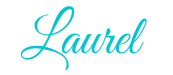 Save