I recently received a letter from a woman struggling with how to choose a north facing room paint color.
Dear Laurel,
Our entire back of the house faces north and on top of it, there's a big hill behind us. It's a townhouse, so the two rooms are the kitchen and den. The kitchen has a kind of bay window and it captures some of the western light, but the den is pretty dark except for about an hour for two weeks out of the year. :]
I recently painted the room and thinking that I wanted to brighten up the space and make it seem larger, I painted it white. Our sofa is brown leather and there is a beige rug. I hate it. It's cold, boring and depressing, not light and airy.
If white won't make the room feel airy, than what paint color will work for this dark north facing room to make it feel the way I want it to. Thanks for any light you can shed on this.
Susan Stumpt
***
Ahhh, yes, the north facing room paint color challenge. Actually, Susan is another of my made-up characters and except for the furnishings, she is describing the den in our old townhouse. You can see it here.
And, it's true. When we first moved to the house, the entire place was painted Benjamin Moore China White. And that included our north facing den which also faced a large tree lined hill.
China White has a lot of gray in it and that is exactly how the color looked in that small den. It looked gray. And if one has a dark and/or north facing room and wishes to have a pale gray, then china white might be a consideration.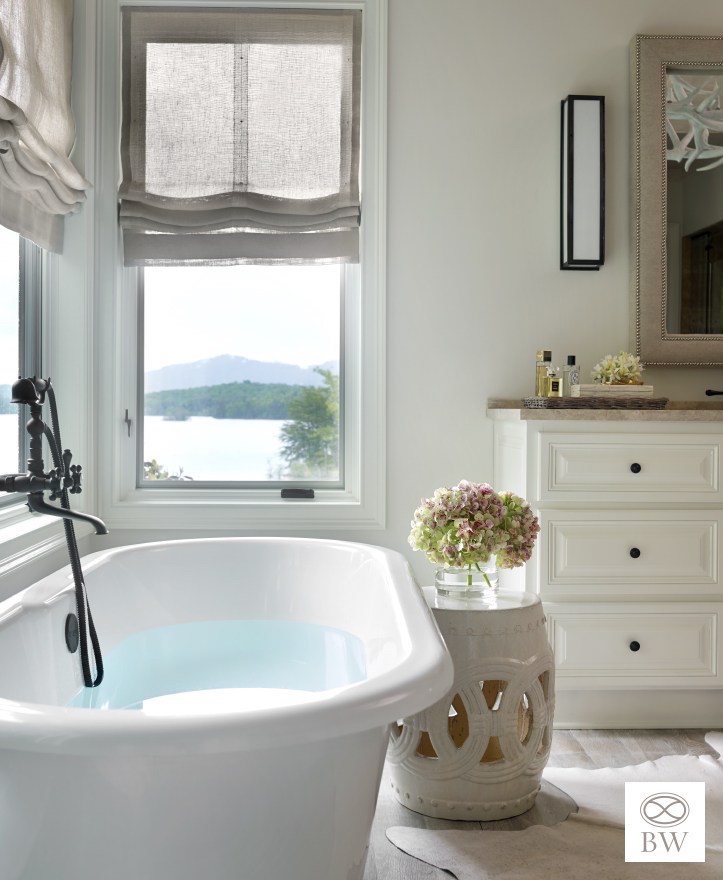 This, I think is a beautiful use of Benjamin Moore's China white in this gorgeous bathroom by Beth Webb
The first thing to keep in mind is that a dark room is never going to be light and bright.
That is from the outside light source– the sun. Of course, artificially, we can make it quite bright. But, you can't make a room something that its not.
Here are my thoughts that I've gleaned over the years regarding north facing and rooms with less natural light.
(this is a post about rooms with NO windows)
Generally speaking, a north facing room, is going to have more of a cool, gray tinged light. And, it will have a gray-ish, blue-ish light whether there are few windows or a lot of windows. The difference will be that if there are some big windows and no obstructions, it's possible to have quite a bright north facing room. However, most north facing rooms are not bright.
In addition, just to add to the difficulty, your room might not be facing due north. It might be leaning to the east or west. And there can be multiple exposures in one room.
The worst experience was with a room which faced due north on one end and due south on its opposite end. The result was a variation in shade, so extreme. In that case, I recommend a warm white.
However, there is one clear advantage to having a north facing room.
And that is, that you will have the most consistent light. You probably already know that is why artists prefer to work in north facing studios.
Here are some other important points to consider when choosing the best north facing room paint color:
A south facing room, in the morning is actually like a north facing room, as the sun is out of direct range of the windows. And thus, you will receive the cool shadowy light. But only in the morning. In the late afternoon, of course, you will get the opposite.
Therefore, I feel that the south facing room is the more difficult light to work with. However, the reason that I don't think it's mentioned is that most people love getting a lot of natural light in their rooms. And it is easier to block it than it is to create it.
Another important idea is what happens when it is cloudy and gray outside?
Well, there goes your sunny, warm southern exposure. How come nobody mentions that? And how come they don't mention that in the morning hours, a south facing room can be just as dark and shadowy as a north facing room? Believe me. I know because I am living with it!
But, a room, like my bedroom, for example that has three large windows facing south and west, is still pretty bright; even on a cloudy day.
Here's what I've observed regarding my own bedroom that is painted Benjamin Moore White dove around the beautiful Mural Sources Chinoiserie panels and also the trim and doors when it's a cloudy day as it is today.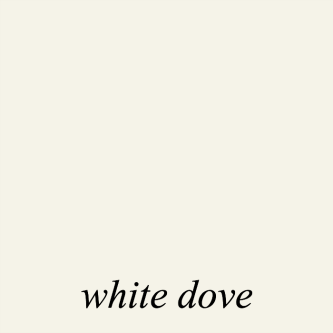 The color is much more even and yes, darker, but also, the light seems to bring out the yellow in white dove, so that the color reads as a beautiful cream; not really a white. If you want white dove to look super white, pair it with black or navy. It'll look very white, in that case.
While we're discussing my room, I want to divert from the main topic for a second to discuss whether the pale room looks larger or smaller than it did when it was painted Benjamin Moore Tropical Dusk.
I wrote this post about the misconception that light colors make a room look larger.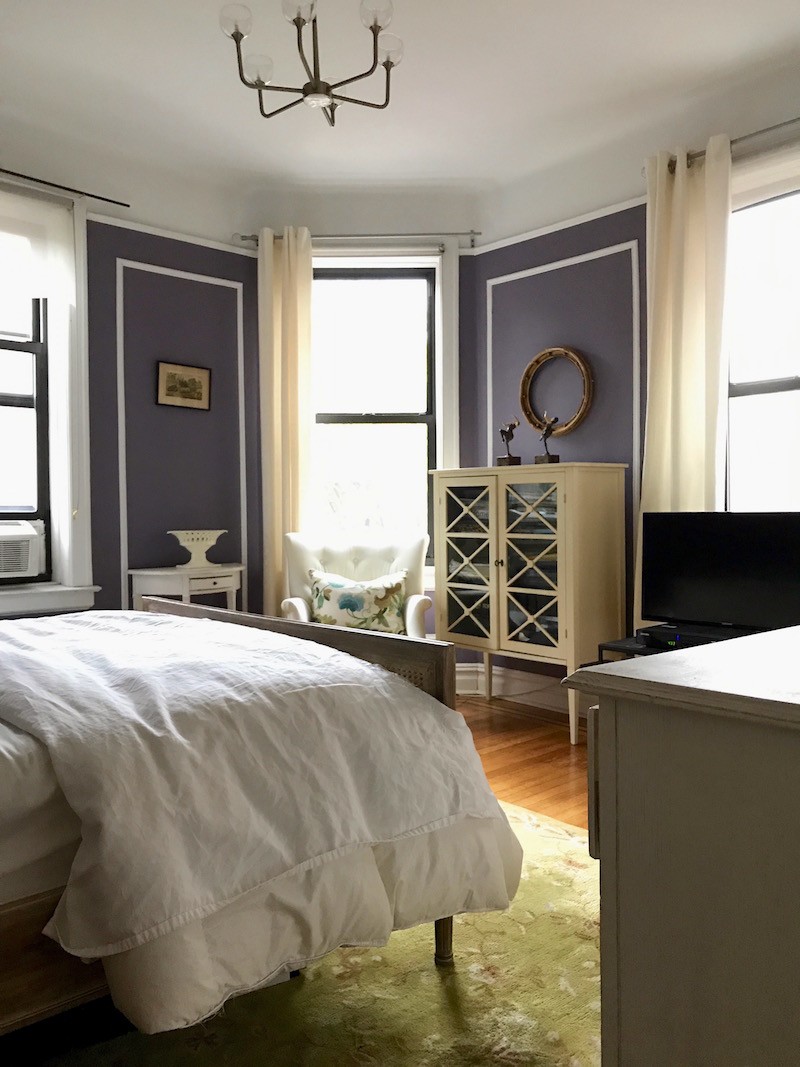 In the case of the old bedroom, shown above, there's a piece of moulding where the Tropical Dusk stops.
Now however, it's gone. The lack of interruption definitely makes the ceiling appear higher. And the room does feel lighter and more airy. What I notice, however, is that the room feels more rectangular. If I am lying in bed towards the two book cases, that wall feels closer to me than it did when the room was Tropical Dusk, thus distorting the shape of this nearly square room.
Honestly, the room does not appear larger or smaller. It feels like it's a different shape! Very interesting, I think. And, it's also a lot less choppy and thus, more soothing. Me like!
Let's get back to our topic, because we have several more issues to consider when choosing a paint color for a north facing room.
One, is the size of the room. Larger rooms do tend to look better painted pale colors, be they bright and sunny, or dark. That's not an absolute because I can show you some stunning large rooms not painted white. However, they usually have a healthy amount of white in them. Here's one of my favorite examples of that.
And this brings me to the second important point which is to stop expecting the paint color to be the cure for whatever ails you; decorating-wise, that is. It is not the cure. It is only one element.
Please read this post when you have a sec to find out what is far more important than the paint color.
Three, what is the room being used for?
The colors for a north facing library are apt to be different from a north facing bedroom. (that post asks if you can use gray in a north facing room)
Or, what about a north facing dining room?(lots of great colors here for a north facing dining room)
And four, is the fact, that at night, it matters not the exposure. Right? So, if it's a room that's almost always going to be used when it's dark out, who cares which way the windows face?
Plus, there is always going to be some crazy lighting situation that defies the laws of physics, or so it seems. Or, you know the room needs to be color X, but your spouse hates color X.
Decorating is a challenging business!
Still… are there colors that look better in north facing rooms and colors to avoid?
Yes, for the most part. Since north facing light is cool, if the paint color has any gray, green, blue or lavender tones, be they under or over, those are probably going to be magnified. And contrary to what I've read, might look grayer or they might not. The color could look brighter!
However, sometimes darker, grayer or brighter is the desired affect. I've probably told the story of the north facing bedroom that whatever we put up, it looked green. Even pink looked green! Finally, we just went with a beautiful cream which looked like a pale celery color and it ended up being very pretty.
Please don't ask me which one because I couldn't tell you if my life depended on it. But, it might've been Benjamin Moore Mayonnaise 2152-70. This is a lovely color in a dark or north facing room. You can see an image of Mayonnaise in this post that has some of my favorite paint colors.
Since the light tends to be cool in a north facing room, we don't want our room to look even more cold, and so cool grays and blues might not look as good in your north facing room.
However, if you love the idea of having a light blue bedroom, there are some pale blues that are all in the Laurel Home paint collection that you could try. (samples first please.)
And actually, most of these bedroom colors would be fine in a north facing bedroom.
Here are three, but there are more in the Laurel Home Essential Paint and Palette Collection.
Wickham Gray – We did this color a few years ago in a very dark entry/mudroom with almost no natural light. The darkness actually brought out the blue-green in this cool gray color, but it was super pretty.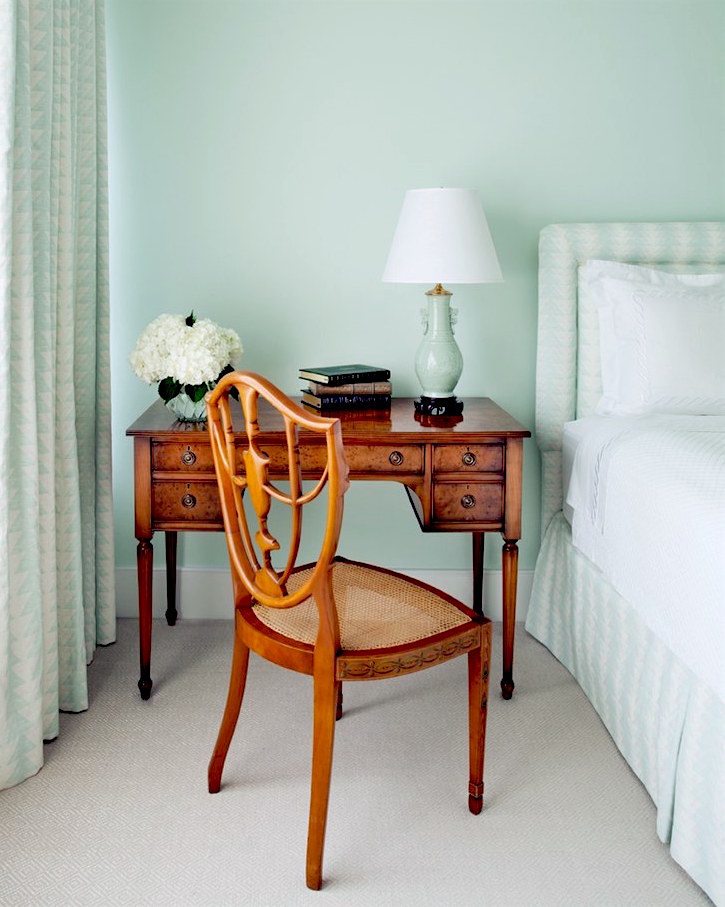 Opal Essence – Good for north facing room paint color – J and G Design-Washington DC Home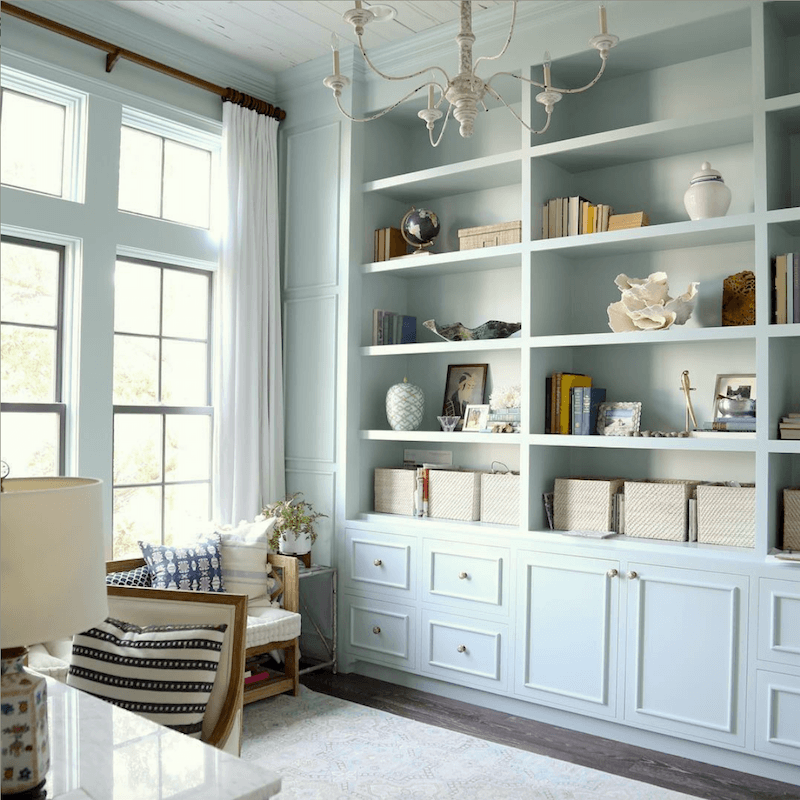 via @oldseagrovehomes on instagram – Beautiful account on insta.
Woodlawn Blue office. How pretty is that!
Of course, Quiet Moments is always good, no matter the light.
For a darker blue, you might try Van Deusen Blue, another Laurel Home paint color.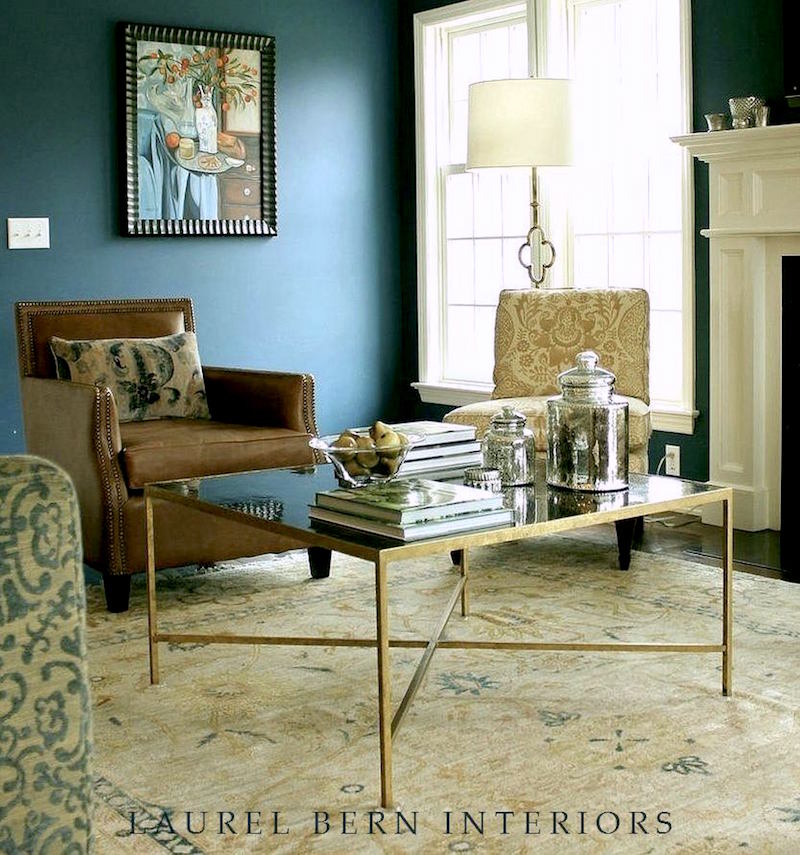 We used that in this not dark, but still north, north-east, east facing family room, eating area and windowless kitchen. This part was an addition, actually ten years old now, which blows my mind!
The kitchen you can see in my portfolio as well as a few other images. The kitchen and trim are Cotton Balls.
Over-all, however, the very best colors for your north facing room are the warmer tones. Warm whites, creams, khaki, warm gray, green and warmer blue shades.
But, again, even if I have to repeat myself a thousand times. Do not depend solely on the wall color! It is imperative that you get the "bones," architecture, envelope— whatever you want to call it, in place, FIRST.
Please allow me to demonstrate this philosophy, that is pretty much at the root of everything I write about.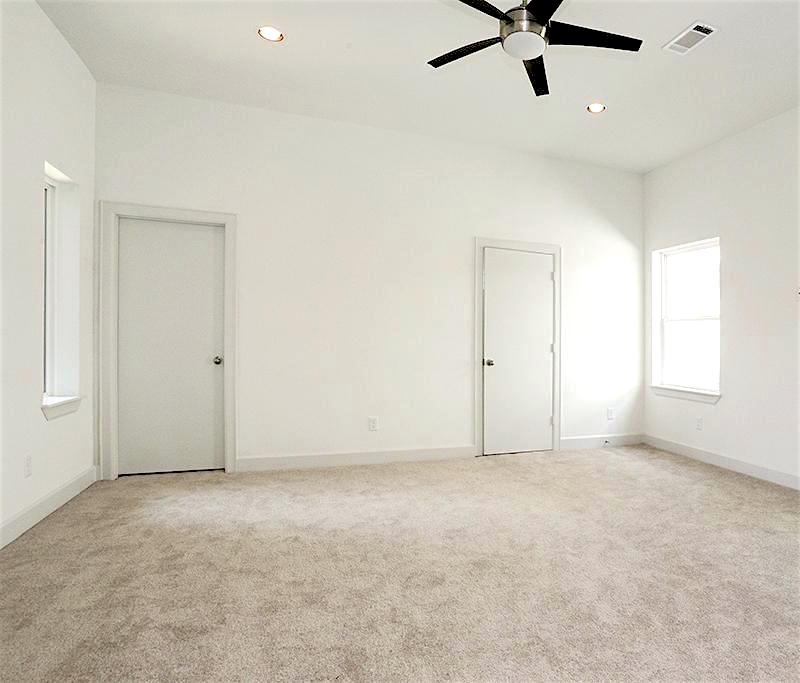 It's the same color as in this plain-Jane room.
Well, if that doesn't drive the point home, I don't know what will.
We get into trouble when we consider elements of a room in isolation instead of as a complete composition.
I wrote the woman back and told her that it's almost definitely not the paint color that's appealing to her. There's nothing special about it. It's everything else that makes this room soar.
Therefore, even if there's a color on the "don't use that one" list that you'd like to try, why not just make a sample and see how it looks?
Amen.
So, Laurel, are you saying that almost any color can be used in a north facing room as long as we get the bones right?
You know, in most rooms, I have to say, pretty much.
Of course, we  haven't touched on lighting low-light and night-time rooms in this post. But, you can read more about lighting here, here and here.
Still, I realize that this is too broad, so I'll leave you with some of my favorite colors for low-light and north facing rooms.
 Benjamin Moore Paint colors that look great in north facing rooms.
Some have wondered if you can paint a north facing room white and absolutely, I think that you can. My favorite, clean, soft, non-yellow white from Benjamin Moore is:
Benjamin Moore Cotton Balls oc-122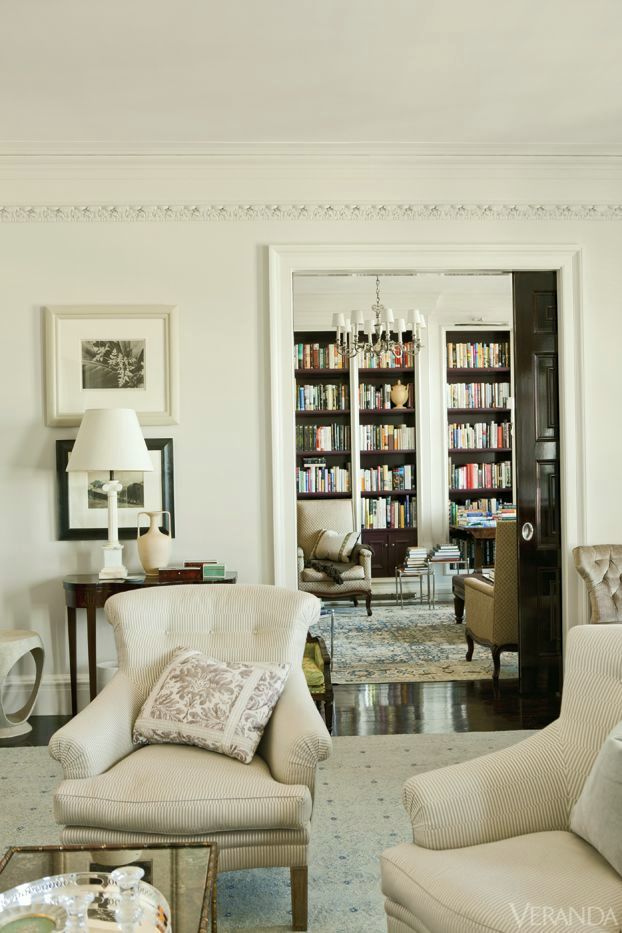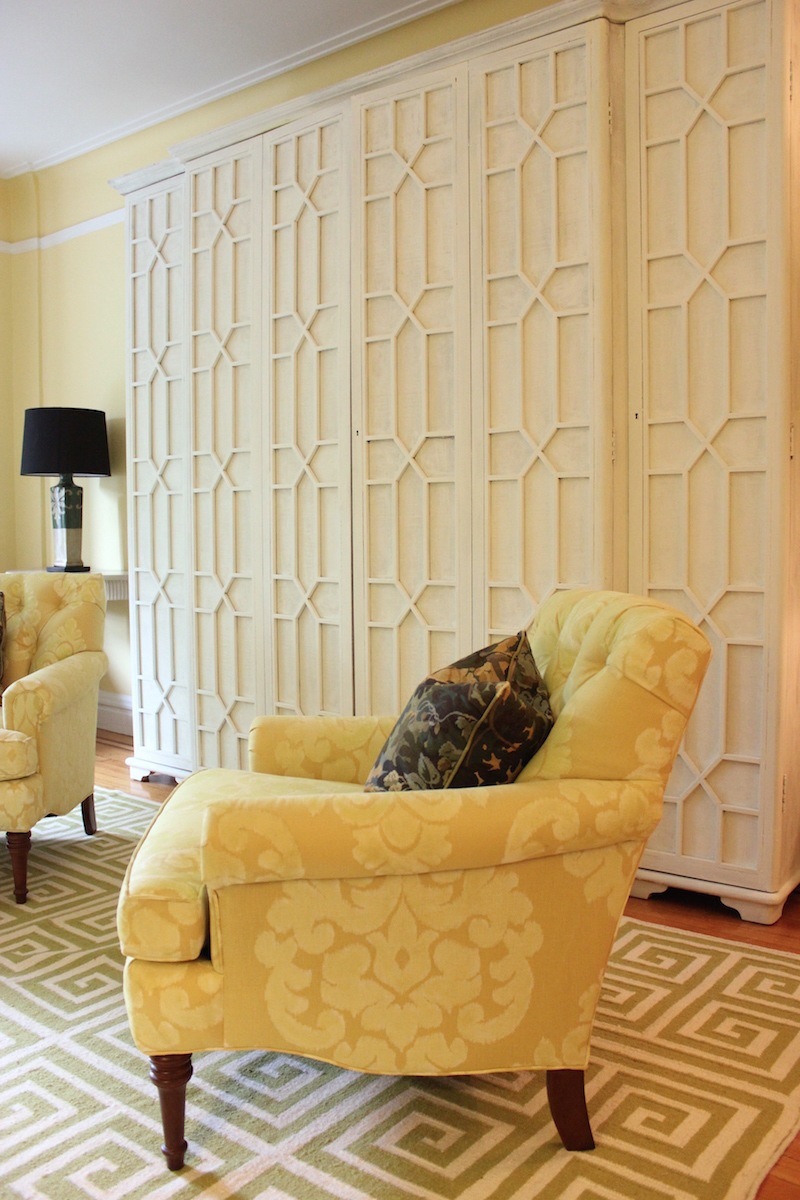 My living room
Cabinet is Cotton balls and the walls are Hawthorne Yellow another great shade for a north facing room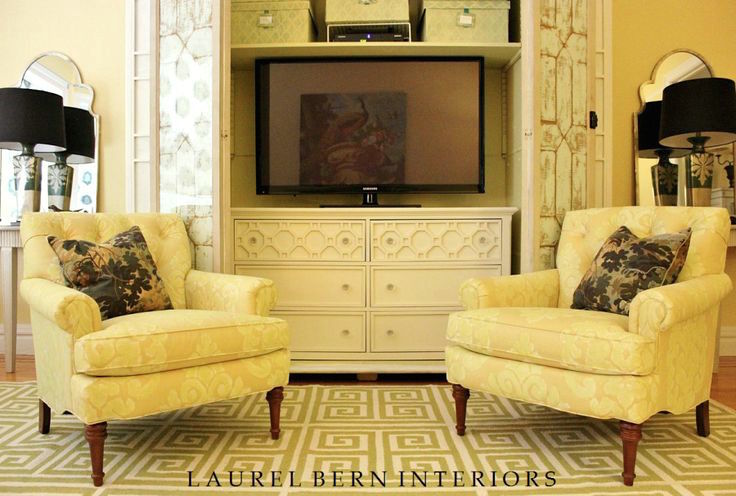 Benjamin Moore HC-4 Hawthorne Yellow –  My room does face south, however, any time of the day, sunny, cloudy and especially at night, it is fabulous.
Benjamin Moore Ivory White 925 is the perfect shade of cream, however I have also used 905 Lily of the Valley
Bunny Williams
Benjamin Moore 899 secluded beach is a recommendation of Allison Palladino. I've never used it, but it looks close to another Laurel Home Collection paint color Fresh Air 211.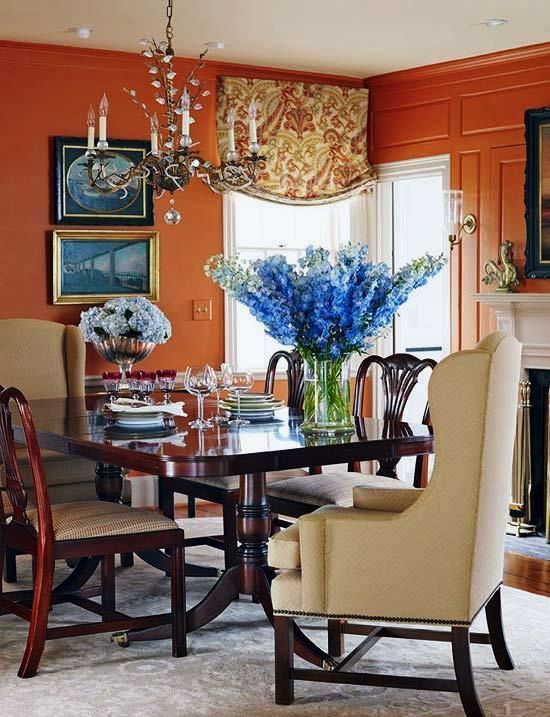 Benjamin Moore Spiced Pumpkin 034 is a wonderful north facing room paint color
Also, look at these 20 shades of orange, everything from a pale, buttery color, to a deep rust and everything in between.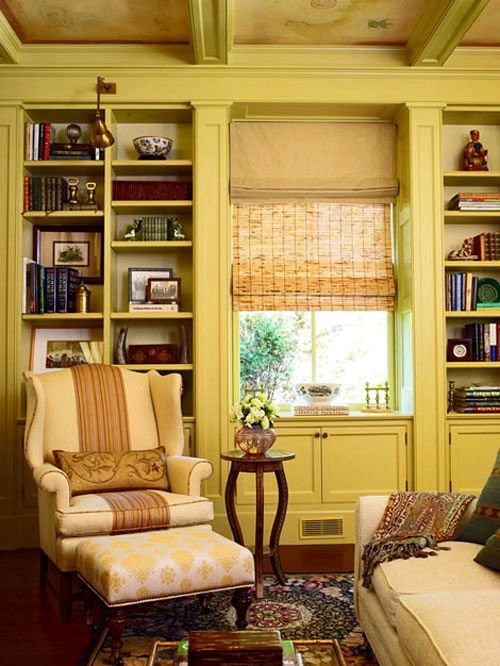 Benjamin Moore Henderson Buff HC-15
This is a color that I used several times circa the year 2000. I don't know whose room this is above. The color is a green-y gold and really wonderful in a north facing room.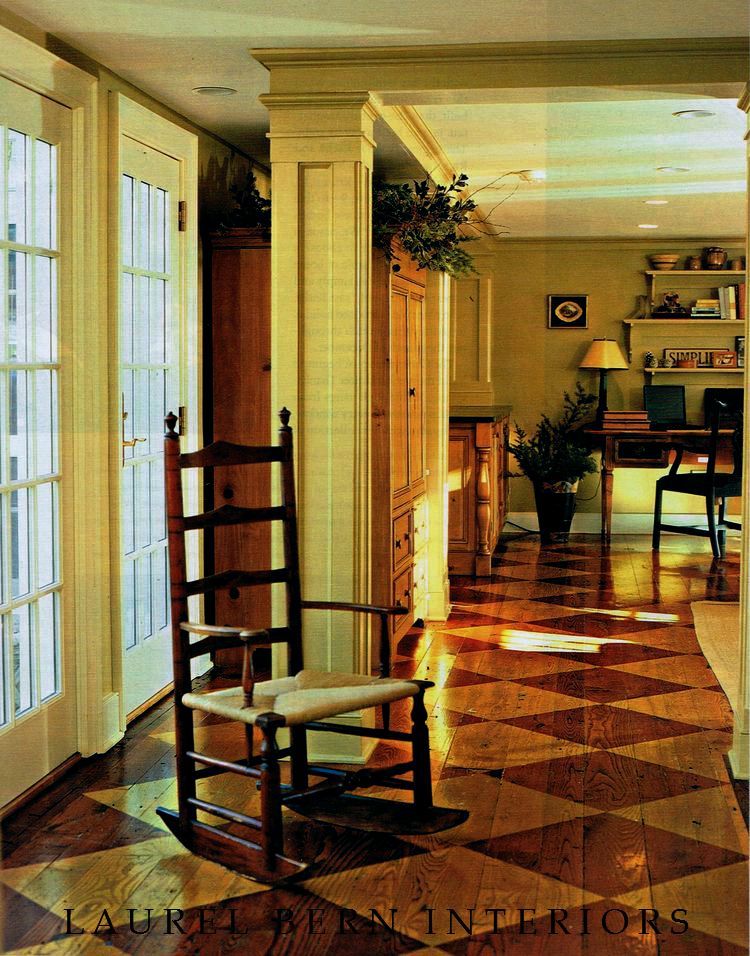 The above room is also Henderson Buff. Geeezzz… my printer was acting up, but I got it to print. This is a home that I did 19 years ago! I can't believe it! This photo was part of a spread in the December 2004 issue of Better Homes and Gardens. The room didn't face directly north, but it also didn't get a tremendous amount of light as there was a large hill behind the home. The color glowed. This is a home that was built in the 1700's in historic Waccabuc, NY.
You can see more of this beautiful home here.
So, really, creams, yellows, golds, oranges and REDS! All are wonderful colors for north facing rooms AND night-time rooms.
Another post you might like is this post featuring 12 of my favorite shades of red.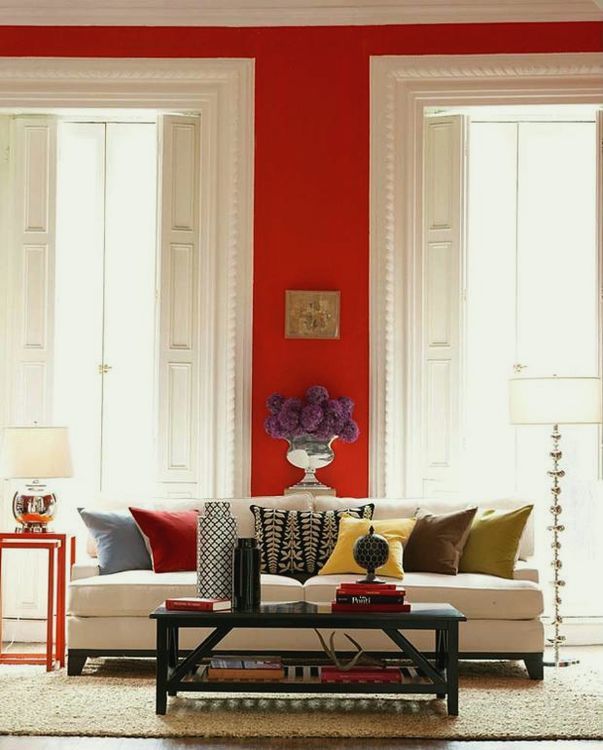 The room above looks to be Benjamin Moore 2003-10 million dollar red
Now, here are a few things that you may not know about red.
it does not make you all crazy [well crazier than you are, already] :] In fact, a red room can be surprisingly soothing
you can use both warm and cooler shades of red in a north facing room
Years ago, I had a new neighbor who wanted me to help her decorate her 13-yr-old daughter's room. It had the same exposure as my son's room. (Their room was a wonderful gold from Pratt and Lambert.) Quite frankly, I have no idea how I came up with this color.
Benjamin Moore 1337 Mediterranean Spice. It is a red veering on magenta and let me tell you— it is magical. As a matter of fact, I had a flooring contractor use it in his daughter's room and they were both extremely pleased. It's a wonderful color!
Above is a board from the Laurel Home Ultimate Paint Palette and Home Furnishings Collection that is part II of the 144 color Paint Color Collection.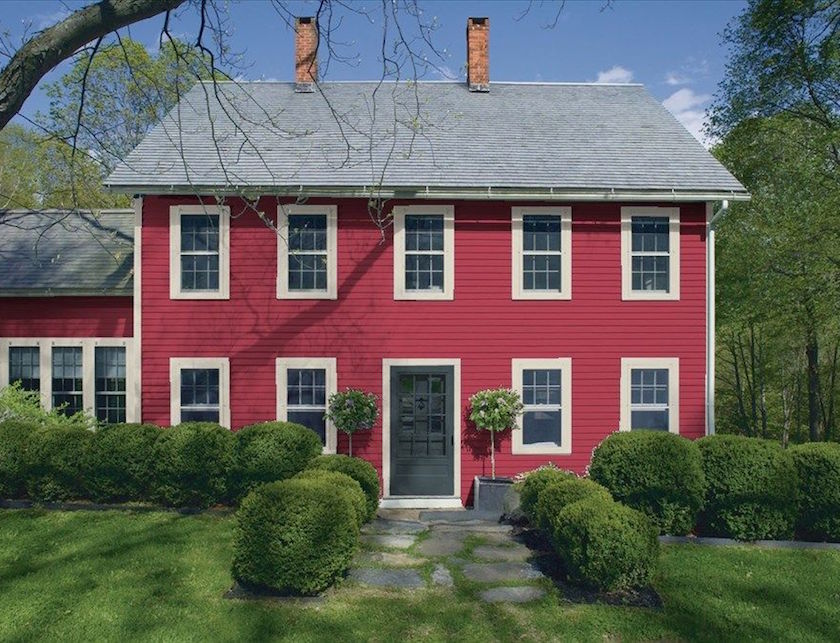 I found this on the Benjamin Moore website. But it's Mediterranean Spice used as an exterior color. I don't know if I would do this for myself, but it's fun to look at in the photo.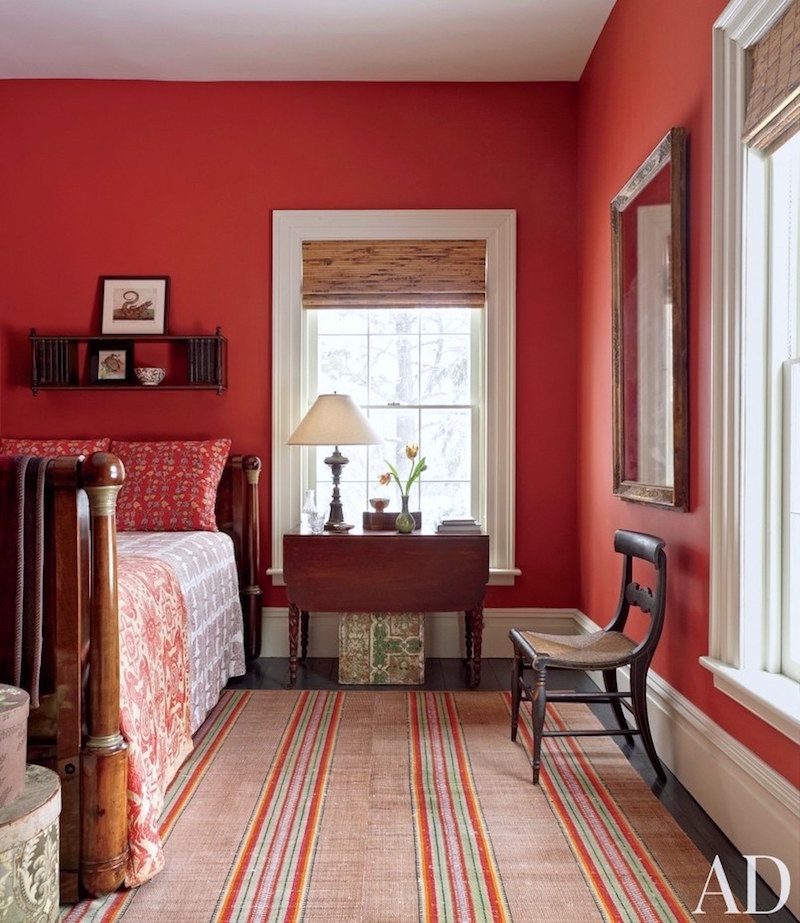 Joseph- Hottenroth Architects, Livingston-new-york-photo- Pieter Estersohn – Benjamin Moore Strawberry Red
Benjamin Moore 2003-20 Strawberry Red. We did this once in a master bedroom and it was really wonderful.
I'm finishing off with another room that we did about 15 years ago.
Benjamin Moore 1309 Moroccan Red
I also love warm grays like Benjamin Moore Abalone is one I have used and love as well as Elephant Gray. Oh, it goes on and on!
Well, that was pretty epic.
In closing, I think the main thing to take away here is that there are lots of options when considering colors for north facing rooms, but it's not just the paint that needs to be considered.
And that's what I think most inexperienced, untrained people fail to understand. Although, it's certainly understandable!
Oh, while I'm thinking about it. I do love hearing from you guys. But, I'm starting to once again get a lot of emails with requests for individual help. And that includes helping you source items and referrals for design pros.
I'm sorry, but I cannot help you with those issues.
If you have an idea for a blog post, that is fine and appreciated, but please think hard if it's something that you believe will be helpful for many others, not just a thinly veiled plea for help for yourself. eg: "I have 9 foot shoji screens with a red brick fireplace, slate entrance floor and 12″ crown mouldings, stained glass windows with an open plan and am wondering what color would work for the walls?" That sort of thing. Some of these are so involved that it hurts my head to read them.
If my interior design products cannot help you, (and for paint and sources, there's nothing else like them) then there are nearly 600 blog posts here on a wide variety of topics. And there's a search box in the blog sidebar which is the best way to find stuff.
Thank you for your understanding. Your love and support means more to me than I can say and really 99.9% of you are absolutely fine. But at this point, even .1% is still a pretty big number.
I love you all, just trying to clarify some things. I'm working on a Frequently Asked Questions which I'll be posting soon.
xo,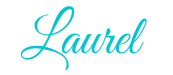 PS: Don't forget to check out this week's hot sales. Melissa just did her mid-week update and yes, the OKL promo code for 20% off (aka: Laurel's private sale) still works! Hooray!
Save