Below are three notes from readers. Each has a large living room and is having trouble.
Dear Laurel,
I'm hoping that other people have this problem so that you can write about it. But my problem is that I have a large living room. No, wait. It's HUGE as it's also the dining room and kitchen.
There is absolutely nothing cozy or homey about it.
I have no idea how to furnish this too large living room.
Sincerely,
A-Real-Reader-But-Laurel-Can't-Find-Her-Comment
The second reader with a large living room said this:
Dear Laurel
Firstly, I truly enjoy your blog, your attitude, and talent! I read it faithfully and have benefited from many ideas, etc. My suggestion is to do a blog post for those of us who are blessed with enormous living rooms. Ours has a fireplace, French doors, lots of windows with great views, and nine-foot ceilings. Plus, there are hardwood floors, radiators, and doors just about everywhere; there are no windows.
I could tell you a lot more, but then it will look like I am asking for design advice. The room is 30×20. 600 s.f. I know, we could scrap it as a living room and do a really great Airbnb studio apartment. Keep up the good work.
Best regards, Nancy in Wisconsin
Note #3 regarding a large living room that came to me from Instagram:
Hi, laurel!
I'm writing you because I just don't know where to turn. I read your blog religiously, and it is my go-to place for inspiration!
I am moving from a small cape (2200 Sq ft) to a large colonial, with BIG rooms, big windows, and TALL ceilings. Things people dream of! However, I'm having trouble with scale here! My living room is 25×20!!! How can I lay it out without it looking like my furniture is floating on an island in the center of the room?!!
How To Deal With A Too Large Living Room
Well, first of all, it really depends on the situation with your specific large living room. Don't I always say that?
Is it:
Only a large living room?
A great room with eating and kitchen combined?
A  loft space that must function as different areas?
Is the ceiling super high?
Are there architectural givens that can't be changed, such as doorways, windows, or a fireplace?
One thing I've struggled with over the years when I worked with clients is:  just because something was built a certain way doesn't mean that it's right.
And, once the awkward area is fixed, it will look right, like it was always that way.
This includes:
moving doorways.
Adding walls
Adding columns and/or pilasters
Maybe adding a drapery or glass wall as a separator
Adding beams and/or coffers to the ceiling to break up a huge expanse of space.
Then, we need to ask ourselves these questions about our large living room.
Can we have two seating areas?
What configurations will work?
Do we need to create an area for dining or a piano?
Do we need to create a separation for privacy?
Is it possible that the best solution is to create another separate room?
In other words, put a wall up to create a new space. Or even a half wall such as a pony wall.
Common mistakes that people make when furnishing their large living room.
Just because a large room does not mean that the furniture needs to be BIG.
Well, at least not all of it. Pieces that can be large are things like an over-scale coffee table. That looks fabulous in a large living room.
A bookcase or cabinet can be on a grand scale.
I believe with all of my heart and soul that the thing that shouldn't change size a lot is the seating.
Why?
Well, it's something we were JUST talking about in the post "Does your Living Room Furniture Need to Go on a Diet?"
As I said in that post, the furniture is for the people sitting on it, not for the room itself.
The only exception to this rule is living in any of the three following states.
And we can throw Montana in too. ;]
Then, you can have your furniture as large as you like.
Yes, I'm being cheeky.
What are other mistakes one can make when furnishing a large living room?
I read an article recently about decorating a large living room, and it said that the room needs a focal point. Seriously? Ask any five-year-old, and they know that one. But, below is the image they used to convey a focal point.
Yes, a radiator. That's hot. haha, Remember when we discussed how to hide a radiator if it's not a cool radiator?
But, this image should've been in the recent post about the gray trend. Aside from the radiator focal point, I do love this room. I love any room where the dog is an integral part of the decor. lol No, really.
This room is an architectural gem. Plus, there's a healthy amount of black and white. I'd love to see a beautiful gold or brass accessory on the coffee table. However, overall, I think this is a handsome, sophisticated use of the color gray.
I can't tell if this is a large living room or not, but in addition, I prefer a unified monochromatic palette for large rooms.
That is unless the designer is Miles Redd. He can do whatever he likes because it's always fabulous, even if it's not everyone's taste.
Above is a Miles Redd and Gil Schafer collaboration for a spec house, in Millbrook, NY. I think it took all of 10 seconds to sell it. Okay, maybe it was 15 seconds. ;]
However, for most of us, I think a pale monochromatic or analogous palette is stunning for a large living room.
This is, without a doubt, my favorite Windsor Smith living room. It is a huge living room.
This is a home run and then some. We need those layers of decor in a large living room.
What makes the room is the BLACK neo-classical table in the foreground and then flanked with the Gustavian chairs. Those elements plus the gorgeous, layered styling. We will come back to this room in a little while.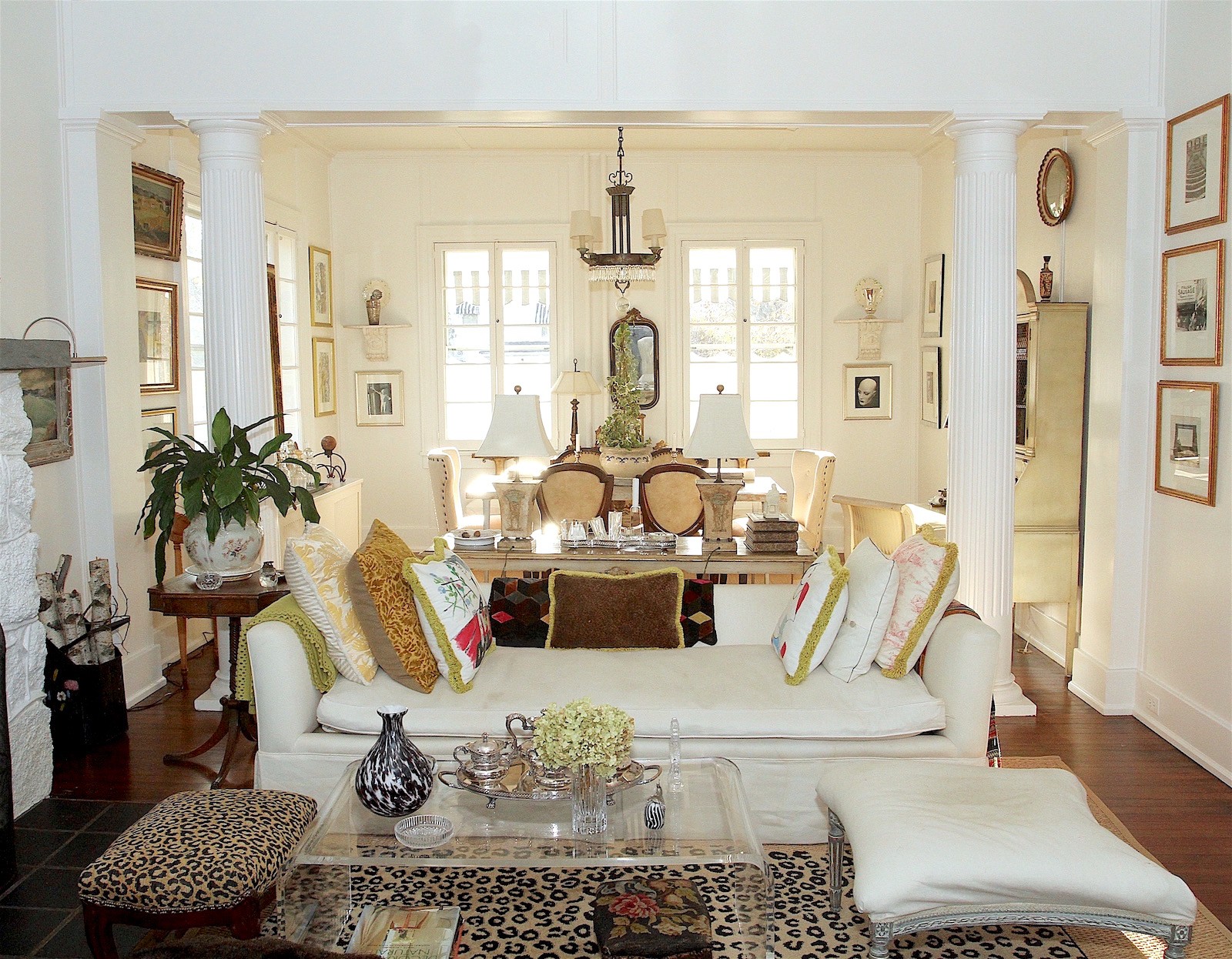 Nancy Keyes' giga-gorgeous living room is a perfect example of chantilly cream layers, exquisite architecture, and styling. Her room came with the beam, pilasters, and columns. However, breaking up a vast expanse of the ceiling in a large living room is always a good idea.
Furniture placement is super important in a large living room.
Of course, it's always essential, but here are two misses regarding the furniture placement in a living room.
This is a lovely photo by Scott Dubose and some interesting post-modern architecture. However, the furniture is arranged like they're about to have Church fellowship. Aside from that, what is that one chair doing hanging out IN FRONT of the fireplace? It's the only piece of upholstered seating I like in this room. And, if you feel that the Tudor-style mantel feels out-of-place in this coastal-style home, I concur.
This beige-on-beige room isn't terrible. The furniture feels a bit stiff and doesn't look comfortable. In fact, I know those chairs by the bay window are phenomenally uncomfortable. I've sat in one like that, and not only is the pitch too vertical, the way the back of the chair throws the human upper back forward, much like the seats on Metro-North, the commuter railroad in and out of New York City.
I used to see a chiropractor in Katonah throughout my 40s who told me more than once that he made a fortune due to these hideous seats.
However, there are other problems with the room above the Metro-North car.
The seating area around the fireplace feels cut-off instead of welcoming. In addition, there's a huge open area in the middle of the room.
Frank Babb Randolph, in his classic large living room, has created a gorgeous and gracious room layout. A center hall table is a terrific way to bridge seating areas in a super large room.
Okay, I have some photos from note number three.  But, wait a minute. I don't know her name, however, she lives in Maryland, so I'll call her Marilyn. :]
Anyway, she and her husband bought this gorgeous home built in 1930 in the Georgian style. They are planning an extensive renovation of a good portion of the house, but some rooms like their large 20 x 25 living room don't need as much help.
Now 20 x 25 is a large living room, but it's not super-duper large.
Let's take a look at Marilyn's large living room.
A photo Marilyn sent me looking into her large living room from the entry.
Most of these photos are before Marilyn and her family purchased the home.
The mirror is a little large, and I would love to see a mirror with a frame around it. We looked at some gorgeous mirrors over the fireplace in this recent post.
I would also add panel moulding underneath the chair rail to make a proper wainscoting.
In addition, I'd love to see some panel moulding on the walls and over the doors to beef them up.
My friend Andrea who writes The Glampad, featured this exquisite home which I think y'all enjoy.
There is lots of applied wall moulding and beautiful furnishings.
The back of the room and the adjoining large entrance hall. The woodwork is stained in the entry; however, I would paint it. It doesn't make sense that it's stained.
What about the windows, Laurel? Shouldn't there be a window casing there?
Great question. Of course, that could be added; however, if doing drapes, by the time it's all done, you won't even notice it. So, I'd put my money elsewhere.
Okay, now we've seen all four walls and some suggestions which are common to most homes. Still, this is a beautifully classical, symmetrical room of good size. So, now it's time to begin the space planning. That has always been one of my favorite parts of interior design. Some rooms are accessible, and some I'm pulling my hair out. Actually, for me, this room is easy. But, I've had years of experience.
The first thing I recommend if you're new to space planning is reviewing the 12 step decorating plan that works every time.
While there are interior design software programs such as Sketchup that would be helpful for me to learn, I'm so comfortable now with Picmonkey, that for these purposes, works just fine.
First, I lay out the perimeter of the room.
There is no need to show the wall thickness because it doesn't affect the space planning.
One thing I see that is always something of a challenge is the fireplace faces the entrance into the room. Plus, the entrance is coming in on the shorter end.
However, the first thing I always do, which can come in handy later on, is to find the center of the room. An easy way to do that is to draw a line from corner to corner. (the dark pink lines) Where they intersect is the center. On my first day at the New York School of Interior Design, I learned that. From there, we can bisect the room horizontally and vertically.
Then, I start messing around with the furniture layout.
It is a LOT easier in picmonkey than sketching it out and erasing, over and over.
The light gray boxes and circles indicate furniture placement, but not necessarily where the furniture is.
In a large living room, it is good to have both floating furniture and furniture anchored to the wall.
However, I prefer matching pieces.
Will it be too matched, Laurel?
Well, the way out of that is through accessorizing, I think. This bookcase styling post is a good example of that.
One tried, and true way of dealing with a large living room is with back-to-back sofas. This is especially good when the opening is on the short end. That way, we won't be walking into the back of the sofa. However, there are remedies for that, too.
Oh, dear. Suppose I published this Mark D. Sike's phenomenal room for Southern Living Showhouse a few years ago. This is an excellent example with a console table in between.
If there's room, I prefer this to the two back-to-back sofas without a table.
I'm a little on the fence about the conjoined twins sofas. This particular one by Windsor Smith is seriously cool, but please be careful because getting this baby INSIDE the room could prove to be quite problematic, to say the least.
This is another back-to-back-sofa situation. A fabulous large living room by James Michael Howard.
I love this room I found somewhere, but they only credited it to Atlanta Homes & Lifestyles. In addition, I love the blue trim and the moulding they used built right up to the ceiling, which works beautifully in this room.
Someone asked me if they do a contrasting darker trim in their home if they can do different colors in every room. I say probably not. But, you could do the walls and trim all blue. Or, all white and cream.
Above is the first of three-floor plans I did. Oops, there's a typo. Oh well, that's part of the charm! lol
So, let me explain what's going on.
The seating is pretty self-explanatory. Those are two 72″ sofas in the middle, and the lower seating group has slipper chairs.
Flanking the doorway are two case pieces.
They could either be two bookcases with doors or not. Or too chests with art or a mirror over them.
The case piece on the side would be the alternate, either a tall bookcase or a chest with art or a mirror.
The black round things are lamps.
And finally, the area rug is a custom seagrass rug. This one would need to be pieced together with wide binding. I recommend doing it in three pieces.
What are the blue dashed lines?
Ahhh, that is a ceiling coffer. Or, there could just be the horizontal beams.
Floor plan #2 is based on Windsor Smiths exquisite blue-gray room. I'll bring the image back down, so you don't have to scroll back up.
We could also do a large round table in the back. Or, that could be a large coffee table ottoman in the back.
I love this large conversational grouping. And, the issue of the back-facing sofa is the round table and two chairs flanking it. Of course, it could be a console table without the chairs.
And the final floor plan for this large living room is below.
This plan also has two seating areas and a settee on one side, as in Windsor's room. I like the versatility of this plan. Care should always be taken to have enough space to move through the room. Another important point is not to create an area rug that requires walking half on and half off the rug for more than a step or two.
Whew! I hope you enjoyed this post and found some useful info to help furnish your large living room.
You might also enjoy this post about one living area with several different layouts.
xo,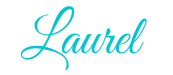 PS: Please check out the newly updated HOT SALES!