Hi Everyone,
Welcome to "standard time!" Since Boston is one of the easternmost cities in "eastern time" and is also pretty far north, it gets dark quite early. Tonight (Sunday night) will be at 4:31, almost four hours earlier than on our latest sunsets at the end of June.
Oh, I could go on with the astronomy lesson, but I know you're busy and might not be interested. If you are, though, here's one of my favorite posts about the northernmost inhabited city in the world.
Okay, let's dive into our post–
Mirror, mirror on the over the mantel.
Please tell us what size to get, Laurel.
Heck, if I know!
Okay, well, there is no one answer because there are numerous factors at play, which we'll get to in a sec.
However, do you want to know the biggest mistake I see when folks place a mirror over the fireplace?
They choose a mirror over the mantel that is too small.
Wait! Laurel! Aren't you the one who's always harping telling us that our furniture is probably TOO BIG! As it needs to go on a diet?
Yes, that's me. But, that's furniture that sits on the floor. A mirror over a mantel or anywhere on the wall is, of course, a vertical surface.
What's the difference aside from one being a horizontal plane and one being a vertical plane? Well, the walls are the largest area of any room. And, sometimes by a lot. But, also, because the furniture is for people to use. And, we are the same size no matter what room we are in.
This post isn't talking about art because, in the case of art, we can have one, two, or a large grouping of pieces to make up an entire composition. In my 333 Hard to Find Rules & Tips, You Need to Know Guide; I go over this in great detail.
However, I have to admit that while I mention mirrors, I pretty much glossed over them.
Here's the thing. It would be easier if every fireplace mantel were 48″-54″ high and every ceiling 8′-10′ high. But, since 90% of us have at least one ceiling of about that height, let's begin there.
Remember this post about ideal fireplace mantel (or surround) proportions? That is actually a fairly large mantel for an eight-foot ceiling. It's certainly fine, but I'd probably recommend one that's 48″ so that there's more room on top. I do like the proportions of that mantel, however.
And no, I don't think the mantel size correlates to the room size or wall height, and I believe that mantel heights are pretty stable. Yes, you can put a more oversized mantel in a larger room, but I don't think it has to be that way.
And, marble fireplace mantels might be smaller than average, but let's just stick with an average of about 51″ high.
If your opening is roughly 30″ square and your marble surround area is from 6″, the mantel part is approximately 8″ wide, the shelf at the top of the mantel will be about 66″-68″.
I like a reasonably wide overhang, but it depends on the style of moulding. 

In addition, your opening might be larger or smaller. Mine is only 27", which for my 13'6" ceiling height is relatively tiny.


 Generally, the mirror frame should never be larger than the stiles (vertical pieces) of the fireplace surround, and that's a hard and fast rule.
That is unless you have a gorgeous apartment in Paris. Then, you can do pretty much whatever you want. The bigger, the better.
via Apt Lafayette
I'm not saying this is wrong. In fact, I far prefer it to dinky. It's making a statement which is not a bad thing, in this case. It's a gorgeous apartment, and they rent this place. Please also follow them on Instagram.
However, you will see in print that the typical dimension for a mirror over the mantel is two-thirds the width of the mantel.
I am not sure if they include the overhang or not. Most of the time, that's fine. However, it can be a little more narrow than that if there are sconces. OR, if the mirror is part of a composition of other things.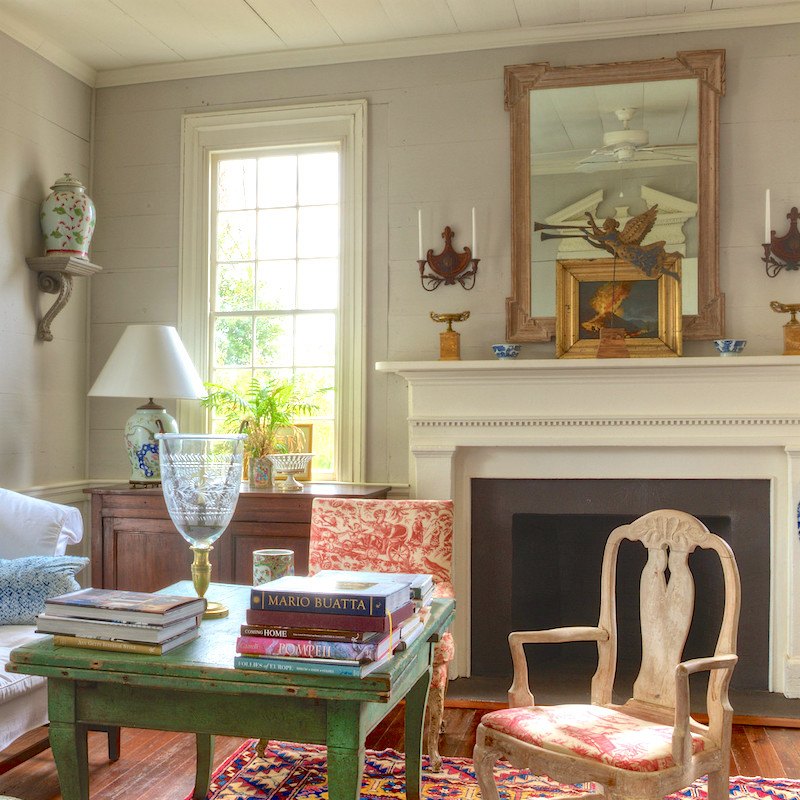 Here is an excellent example by Furlow Gatewood. Photo: Rod Collins.
This is a good post about mirrors in general, with many mirrors over the fireplace.
So, let's assume that there is only a mirror over the mantel with no sconces.
If your mantel is 68″ wide (the width of the mantel shelf), I will do a mirror that is approximately 40″ –  52″ wide. That is running the mirror vertically.
But, what about the height of the mirror over the mantel?
And, what if the mirror has moulding on the bottom or top?
Let's begin with the second question. :]

Large Victorian Giltwood Mirror via 1st Dibs – Pier Mirror
There are so many types of mirrors. Mirrors with trim on the bottom are known as pier mirrors and are meant to sit right on the mantel.
18th Century French Louis XVI Carved Giltwood Wall Trumeau Mirror from Provence
This is a trumeau mirror. A trumeau mirror has a decorative frieze or painting over the mirror.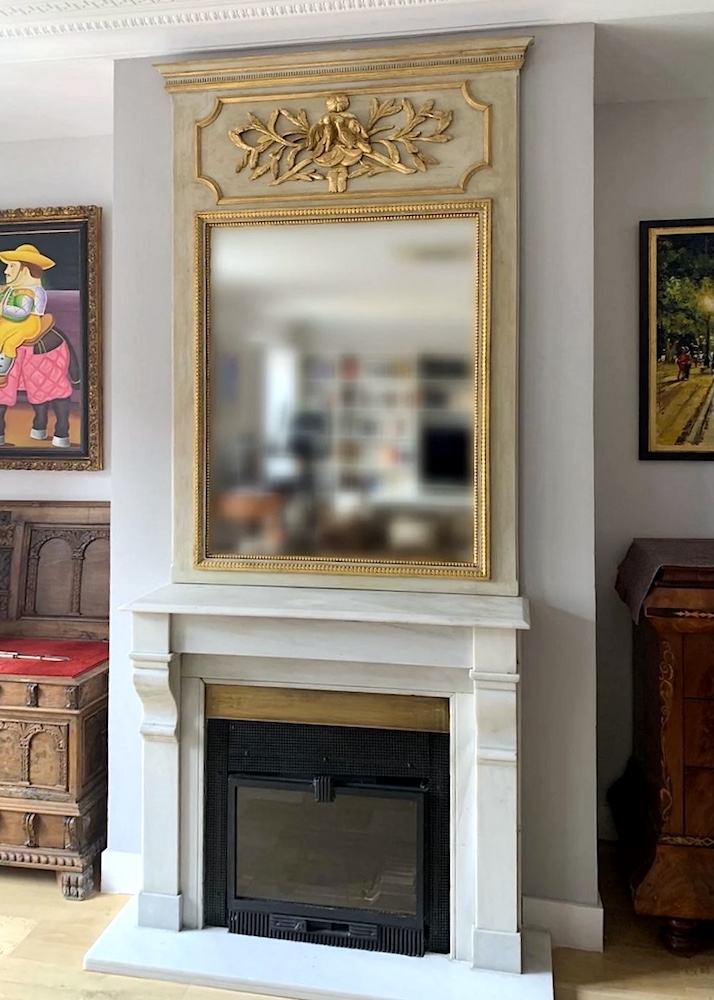 NewAntiqueFrench on Etsy trumeau mirror
Sometimes there is a crown at the top of the mirror. Trumeau mirrors often have this. But, they don't have to.
NewAntiqueFrench makes these custom trumeau mirrors in the Louis XVI style.
Below is a mini widget of some of them. But, you can customize your mirror however you want. Please click on any image if you're interested in more info.

Let's bring that pier mirror down again.
If there is moulding on the bottom, then I think it's fine to take the edge of that moulding within an inch or so of the end of the overhang. In addition to moulding, some pier mirrors have a decorative corbel, such as is the case with the spectacular mirrors that Steve Cordony has in his double parlor at Rosedale Farm. It is a similar mirror to the pier mirror I found above.
These pier mirrors have a corbel on the bottom, as do some other types of French mirrors.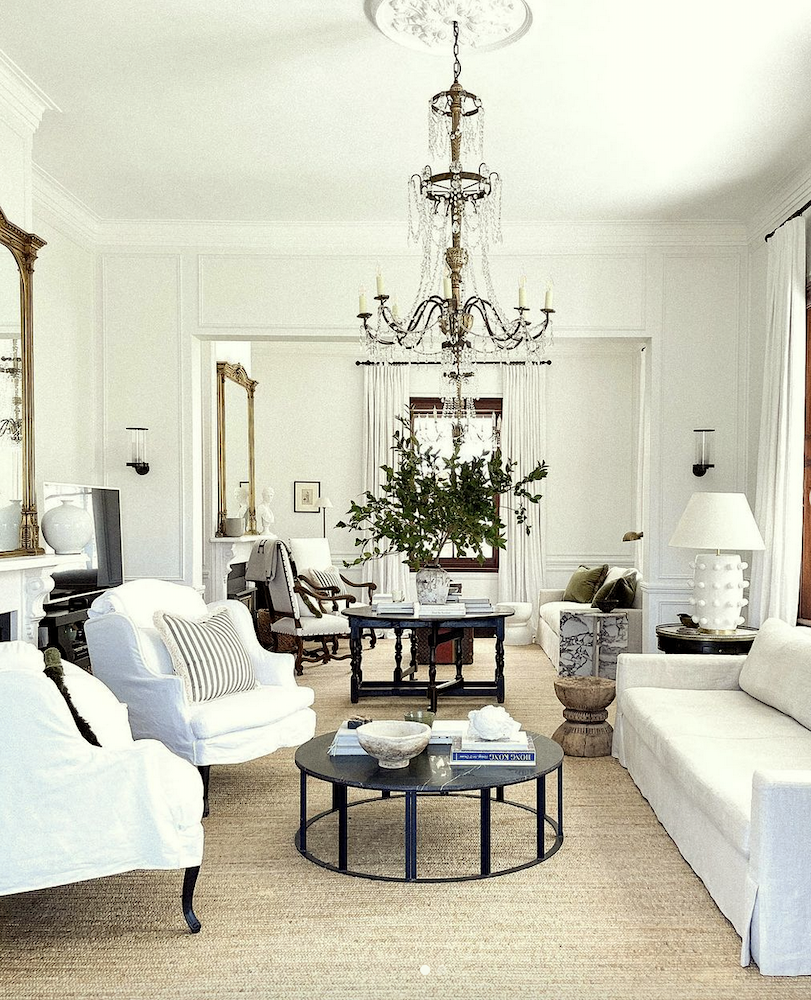 Hang on, and I'll get a better image of one of the mirrors.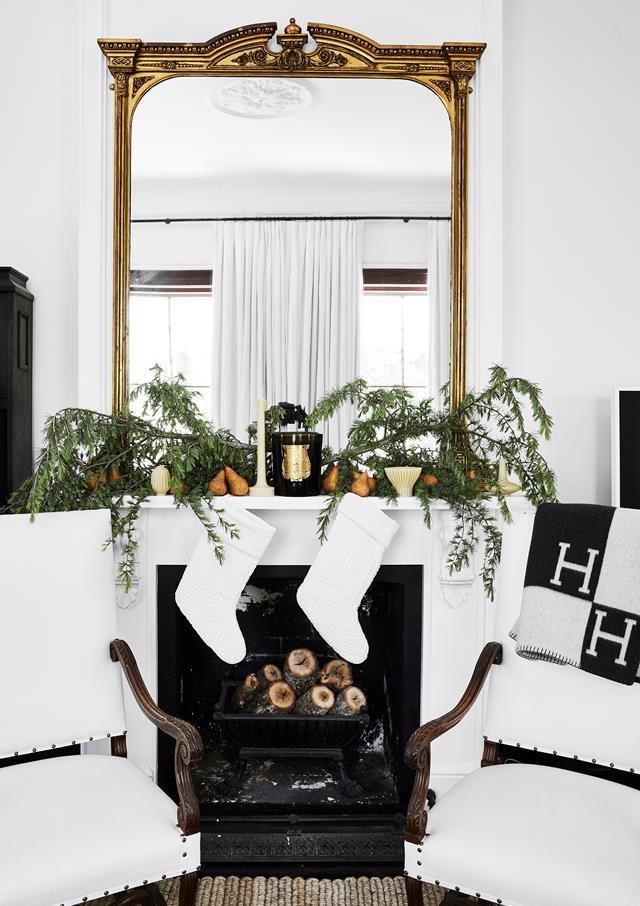 It isn't easy to see here, but the corbels come very close to the edge of the mantel shelf.
As an aside, I would classify Steve's style as young traditional or neo-traditional (neo-trad).
Please notice how he deftly mixes an exceedingly formal mirror with far less formal pieces as well as contemporary pieces. This is also something we talk a lot about.
Steve follows the 80/20 rule instinctively. 80% of the room is traditional, and about 20% is contemporary. He gets away with the formal pieces because his room is grand, and the color scheme is neutral.
But, Steve is a genius who makes it look so easy.
However, I was watching one of his hypnotic styling videos the other day when I couldn't help but notice: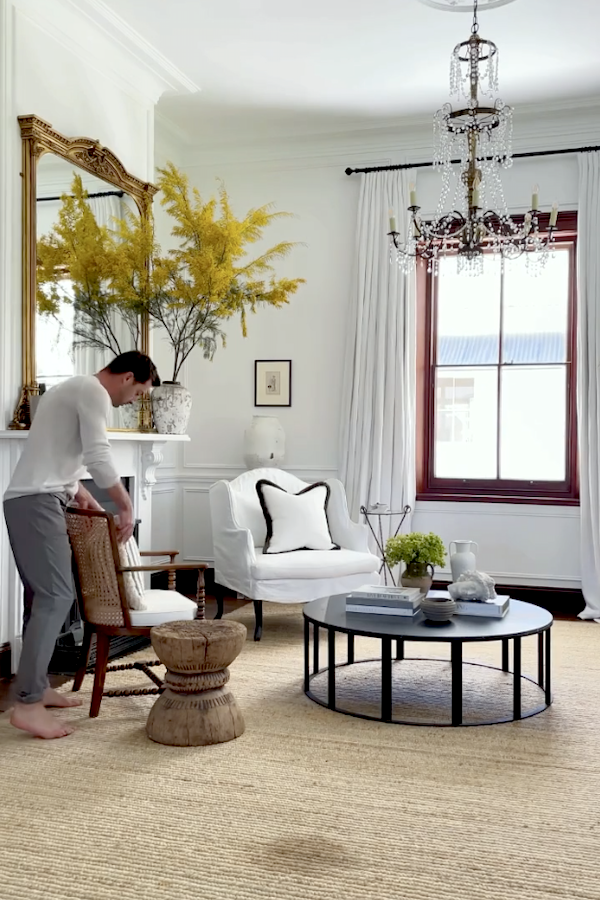 Ummm… Did the dog pee on that super expensive rug? Or, is it just a water spill from the vase? And, why didn't anyone notice? Steve has a crew of people helping him; you can be sure. They didn't even try to cover it up.
Well, no matter, they left it in, and this just makes me love him all the more, if that's even possible.
Okay, where were we before the doggie accident? ;]
Oh yes. The height of the mirror over the mantel. I hope I'm not putting you to sleep… zzzzz… I'm putting myself to sleep. lol
So, let's go back to our eight-foot ceiling and 51″ mantel height. Which leaves 48″, not including the crown moulding. But, let's subtract 4″ for that.
If you have an eight-foot ceiling, your mirror is most likely going to run horizontally. But, if running vertically, you can actually run the mirror right up to the crown moulding, and this will actually help lift the ceiling. But, I would do a mirror with a thinner frame.
Maybe– unless you're in France. Or, Paris, to be specific.
If you have a nine or ten-foot ceiling, you can go as high as about 56″ and 68″ respectively.
However, all of this depends on the following:
the shape of the mirror
size of the mantel
the crown moulding.
Also, sometimes, there is a frieze or picture rail below the crown moulding.
The best thing is to draw an elevation of your wall or a mockup before purchasing your mirror.
But, what if it's too late and you have a mirror over the mantel which is seriously dinky, there is no other place to put it, and your mother-in-law gave it to you for a wedding present?
Please have no fear. There is a solution for a mirror over the mantel that's too small. And, we've already talked about it.
You create a composition around it.
Please check out this post about fireplace mantel styling.
Of course, when no one else is at home, and the pets are in another room, you could also help the mirror over the mantel crash down to the floor. I recommend that you wear some protective gear, however.
Okay. It's time to look at some gorgeous examples of what I've been talking about.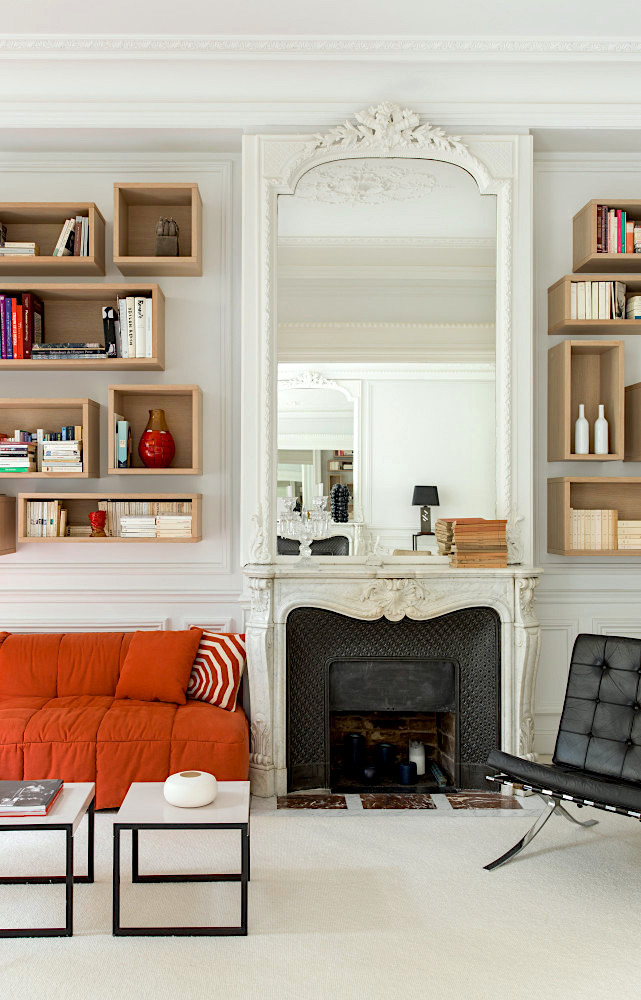 via – ideat.thegoodhub.com
I adore this French mirror painted white. It knocks back the formality of the gold, and it's also an excellent way for an imposing mirror to look less prominent.
Oh, what a gorgeous Parisian apartment. Please check it out.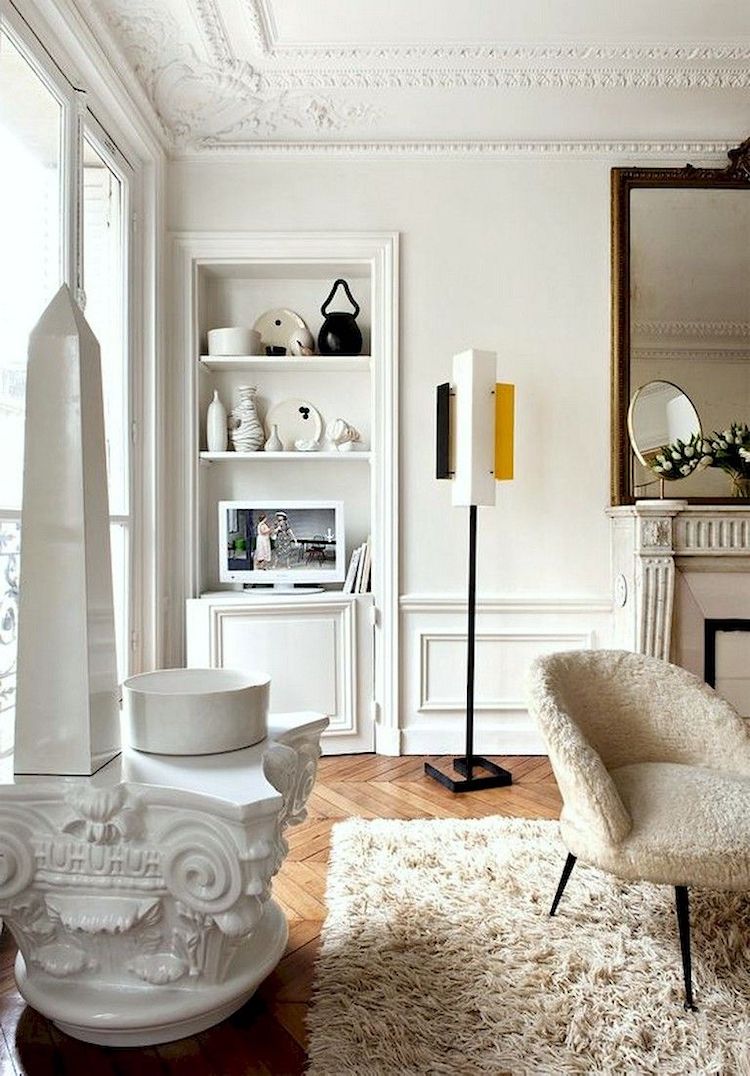 Emilie Bonaventure's home in the 9th arrondissement. Photo – Nicolas Mathéus.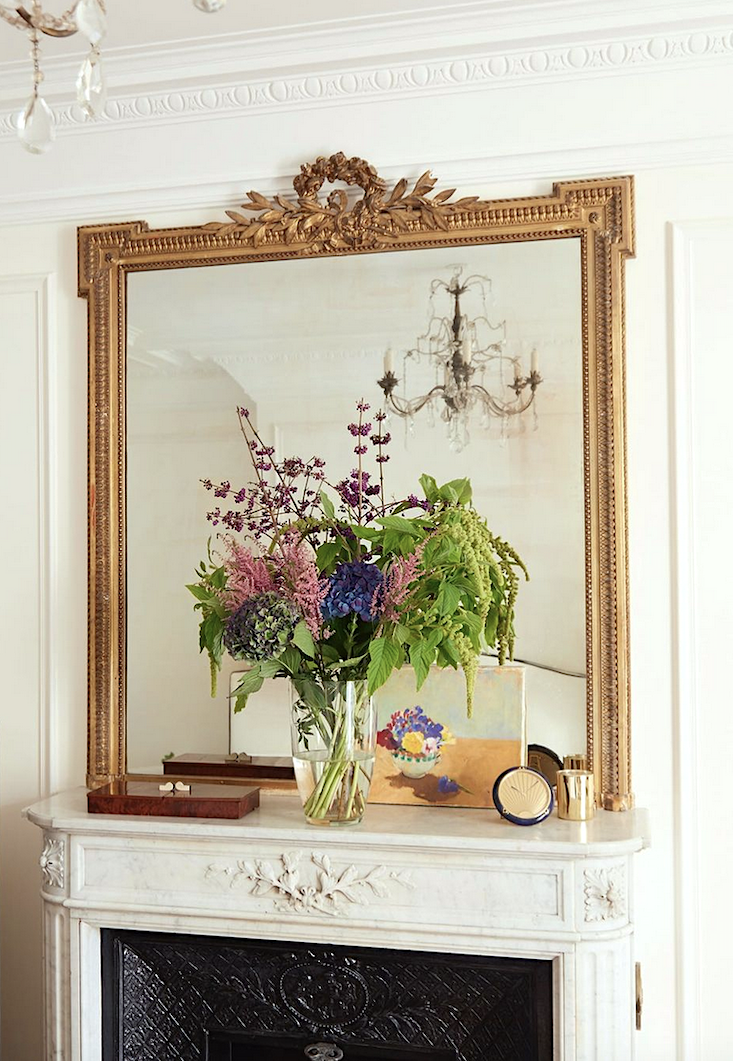 AB Kasha on Instagram – gorgeous Louis XVI mirror – marble fireplace surround. Please revisit some posts where I featured their stunning renovations in Paris.
I want this mirror, but as you'll soon see that I need one a bit taller.
An oldie but classic goodie of Ali Cayne's apartment. This is a beautifully proportioned mirror over the mantel.
Another option that I love is the integrated mirror that's integrated into the moulding. Let's look at some examples.
JK Place Capri
I love this trumeau mirror integrated into the wall paneling.
And, a beautiful architectural detail by AB Kasha over a gorgeous honed marble fireplace surround.
But, what if you have a ceiling 13.6″ ceiling like mine, or, even the ubiquitous 20th-century innovation, the double-story "great room." Those rooms have a ceiling height that's usually at least 17 feet high!
Indeed, we're not going to run the mirror up 12 feet! Or, even 9 feet.
This is up there, but I think it works in this space. (source unknown)
However, I did mockups of my fireplace wall.
By doing this or an elevation, it's the best way to see proportions. Another option is to put up some blue tape over your fireplace mantel to indicate where the mirror will go. However, if your wall is super high and you're as clumsy as I am, then it is probably a good idea to keep your feet planted on the ground. haha
Let's look at the mockups for the mirror over the mantel.
And, for my room and probably others with very tall ceilings, I did a mirror height that is 1-1/2 the height of the mantel. Or, close to 1.618, or 3:5, which is relative to the golden mean.
I think it's also nice to do a mirror that goes to the ends of the stone before the mantel itself.
In plain English, this mirror measures about 78″ high by 48″ wide. That would be a perfect size for my fireplace mantel. That is the one I don't have yet. haha
Then, I took the trumeau mirror from above to try it out. To the top of the finial is 96″ – eight feet! This mirror can rest on the mantel or be hung up from the mantel.  It's certainly a dramatic piece.
However, below, I manipulated the proportions to make it better.
I think you could make a case for either one.
This is a more opulent Louis XV mirror that's also eight feet tall. This could work, but I really prefer the Louis XVI style with the key corners.
Another thing to consider when deciding how tall your mirror should be is the height of the windows and doors. That can play an essential factor. For instance, my doors with their frame are roughly ten feet high. However, the windows come only two or three inches below the frieze!

By the way, I have tables and shades for the lamps coming. Finally!
Here, I made the mirror a little smaller; what do you think? I know our American eyes are used to seeing smaller.
This one's very bad; way too small. Please don't pin it.
However, I'm ending with one lovely idea that I found several months ago. It's from a local designer Kristin Paton who did a fantastic job on a renovation very close to me. Please also follow Kristin on Instagram.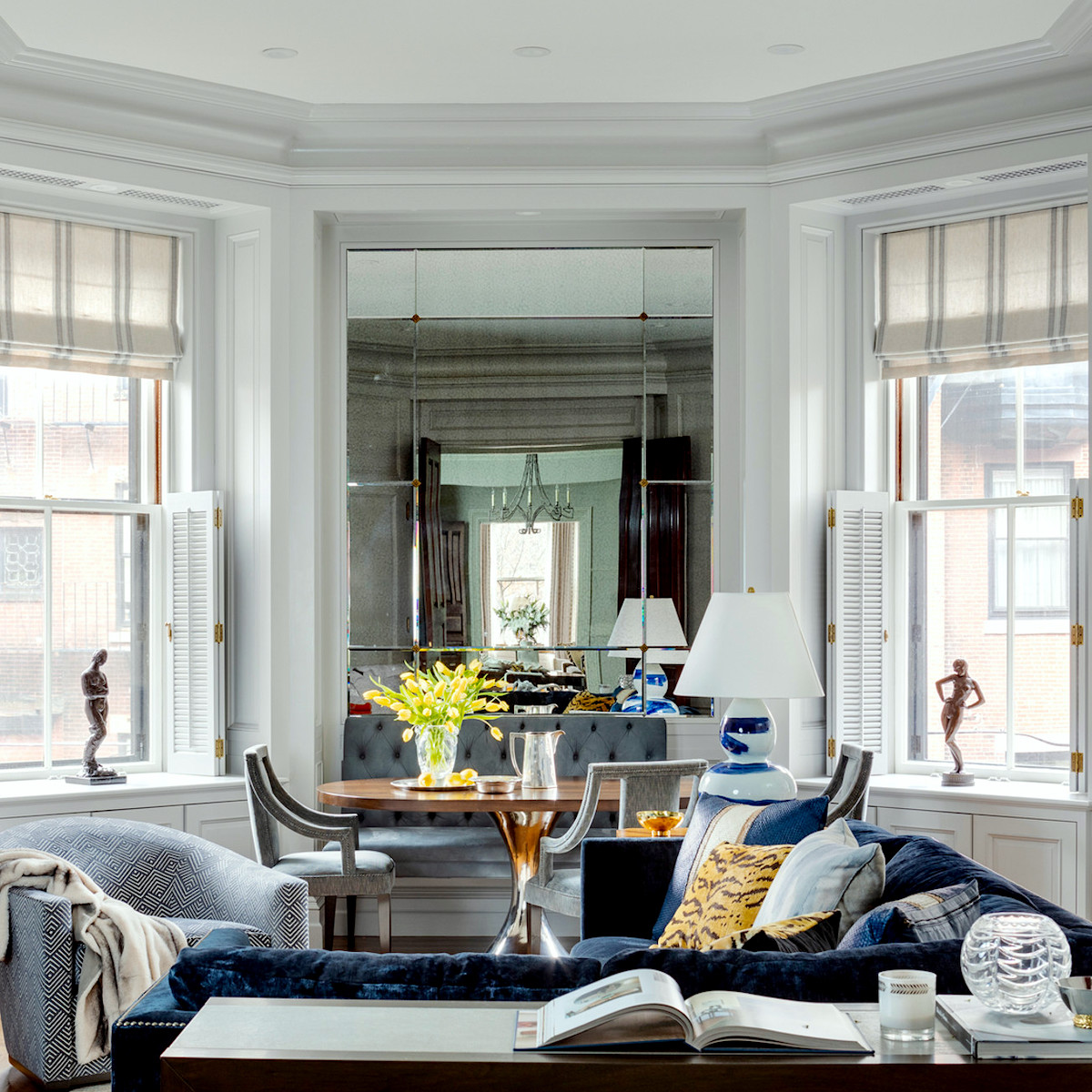 This isn't a fireplace mantel, obviously. But I love how Kristin created this integrated mirror using smaller mirrors with a small bevel and a tiny brass rosette.
I've never done an integrated mirror, but it's something to consider if you can't afford an $8,000.00 antique!
What about new mirrors?
Yes, there are some nice ones. And, Anthropologie has a couple of large ones that are nice.
Maybe one day, I'll do another post focusing on making a mirror, or, at least, have it made.
It would be possible to create a beautiful faux gold leaf. Or, you might purchase or have made framing pieces that are already antiqued that are meant for paintings.
Of course, there are always estate sales and auctions. And, maybe some of you are lucky enough to inherit an old 19th century or earlier beauty.
Like this incredible huge leaning Louis XVI style French mirror
But, Laurel, you didn't talk about other shapes for a mirror over the mantel like round mirrors, for instance.
I know.
Maybe another day.
xo,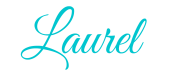 PS: Please check out the newly updated HOT SALES!
And the beautiful new HOLIDAY SHOP filled with decorating ideas as well as gift guides galore!