Post updated November 2, 2022
Please note: This post was written nearly seven years ago. Furlow Gatewood, one of the greatest creative geniuses of the 20th and 21st century, died this past weekend at the age of 101. Please enjoy this tribute.  Also, if you missed the post dated November 2, 2022, please check it out here. It's not to be missed. ~ Laurel 
How many of you have heard of interior designer Furlow Gatewood?
Well, some of you may have. Show of hands, please.
Don't worry if you haven't. He should be a household name because he is just that fabulous.
He's not.
In fact, nobody except for a very precious few had ever heard of him until he was about 90.
Yes, that's right, until he was 90.
And that was just about four years ago.
So, who is Furlow Gatewood, and why all the mystery?
Alright. I did research this post. Extensively, however, what I do is read many, many articles and then write what I remember, for the most part. I figure the parts that stand out are the ones worth telling y'all about.
Furlow has been an interior designer all of his life, but he is also an antique dealer and has as his best buds the likes of decorating power duo John Rosselli and Bunny Williams.
Some History.
Furlow Gatewood inherited a gorgeous 11-acre piece of property in Americus, Georgia.
Then, at the tender age of 82, he decided to put several homes on it. No architect is necessary. Some of the dwellings were picked up and moved, and some evolved or were transformed. Still, others were built around gorgeous antique doors and mouldings.
In addition to the homes, live the most exquisite gardens God ever created.
Alongside are enough adorable animals to fill an ark, most notably an exquisite assortment of blue and white Peacocks. As you can see, potted blue hydrangeas line the driveway.
Driveway?
That, my friends, is the road to paradise.
This is the main home named Cuthbert House. This gothic revival cottage also has elements of neo-classical, Chinoiserie, and antiques from all over the world. It's a lifetime of collecting. I'm getting chills as I write that.
Interesting fact: Furlow had this home picked up in two pieces and added a kitchen!
Before I go on, I will try and steer clear of the images published in Veranda and House Beautiful. There may be a couple of pictures from his book, but most I found online and were taken by the fantastic photographer Rod Collins. Unless otherwise specified, they are his photos. Some I cropped so that you could see the incredible detailing better.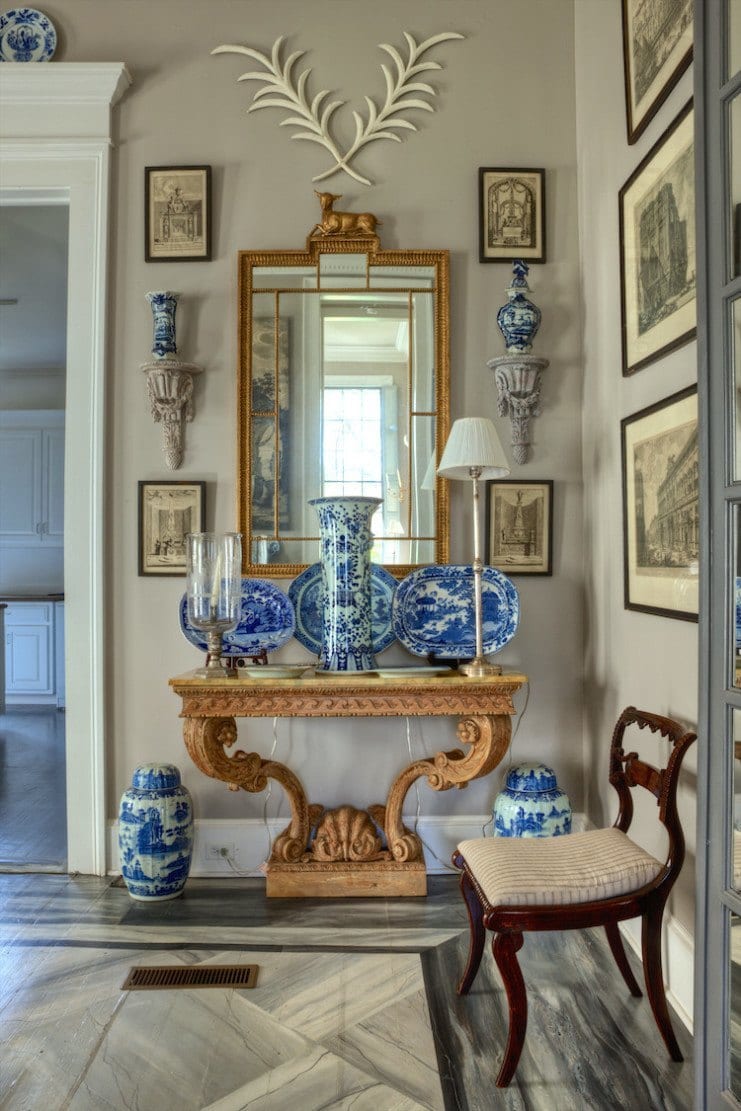 Furlow has a passion for blue and white Chinoiserie porcelain. It is sprinkled liberally throughout all of his homes.
The architectural detailing is not to be believed. The impossibly high ceilings with windows that reach the heavens are my fantasy.
The styling is relaxed and "cluttered." I'm not too fond of the word clutter. His homes are filled with the things he loves. That is not clutter.
Just when I thought it couldn't get any better. He pushed me over the edge with this room. All of it.
That painted floor! Folks, this is an "old man" who did this! haha! Maybe in chronological years, but that's it!
I know. Everyone plotzes over these French doors.
The hurricane sconce is one that I've long admired and is available through John Rosselli and Assoc.
Mr. Gatewood's bedroom. Love the switch of palettes.
Old-world art. Simple linen. Gingham and marble. It all just goes.
Lucky doggie is right!
Mr. Gatewood looking dapper in his lovely garden. I hear that he refers to the 11 acres as his yard. Enchanting!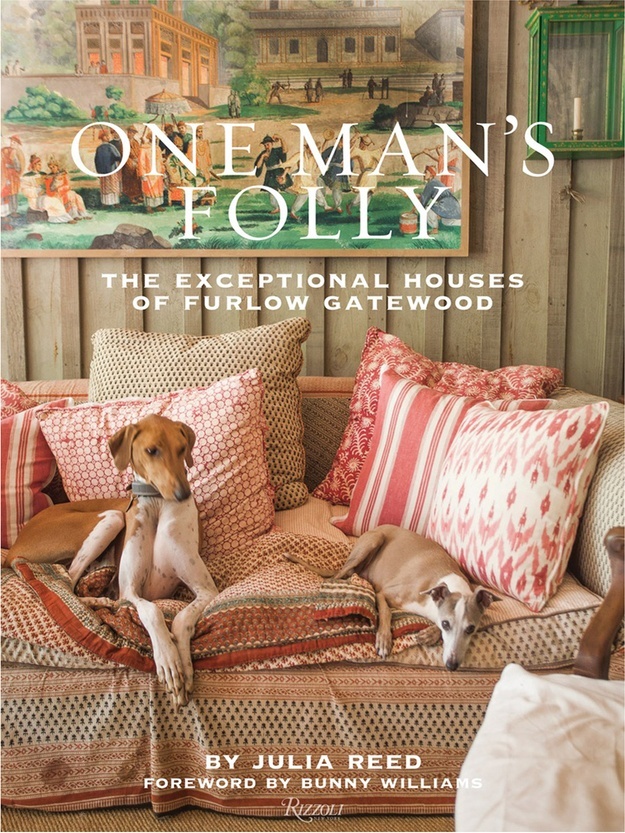 The book is incredible. Published by Rizzoli and available on Amazon. 
Julia Reed(Author) Paul Costello(Photographer),
Rodney Collins(Photographer),  Bunny Williams (Foreword)

Oh man, the colors! Jaw-dropping!

I love how nothing "matches."
Cuthbert House is magical in the snow.

A paradise like none other. I hope you enjoyed this glimpse into a man who might very well be the finest interior designer of our time.