The other day I received this comment from Sue. It's regarding the correct fireplace mantel proportions.
But, I also want to discuss styles. I see so much that I feel is thoroughly wrong when it comes to fireplace mantels proportions as well as classic styling.
Here's what Sue said:
Hi Laurel,
I have a question about my fireplace mantel. Maybe you can do a blog post about fireplace mantel proportions? The original fireplace was a 1970s flagstone horror with a raised hearth and concrete mantel. I don't recall the original height.
But, the new mantel is 63″ high. And, I'm not a pro, but it really seems a bit bossy, don't you think? I can replace it with something that has a lower profile. (or maybe fix this one?)

I just don't know how close to ideal I can get if I replace it. So, I don't know if it's worth the expense.
What would the best height be for a fireplace mantel in a home with eight-foot ceilings? The home is a typical developer's tract-style home. Of course, all building codes regarding the firebox need to be in compliance.
***
Thanks Sue,
First of all, yes, 63″ tall for a fireplace mantel in a room with an eight-foot ceiling is a little high. The highest I have ever seen is 59″ but most fireplace mantels range between 52″-57″ for an eight-foot ceiling.
The thing is, the mantel height is not going to change that much in room with a higher ceiling, either. That is, unless the firebox size gets larger. We'll be talking about that a little later on.
So, this is a good topic because a lot of people have asked me about fireplace mantels and especially about fireplace mantel proportions.
And, it's kind of funny. There are several posts featuring mantels and I will link them at the end. But, the one thing I haven't gone over are the precise fireplace mantel proportions– and scale.
But, here's the thing.
There's definitely some wiggle room when it comes to fireplace mantel proportions.
***However, the one that's critical is the scale of the fireplace in the room.***
And, particularly the height.
That is especially so with a room with an eight-foot ceiling.
Now, for a little entertainment.
In my internet travels, I happened on some fireplace mantels that clearly do not come close to following any meaningful classical proportions. So, I thought some of you would love to see what I unearthed.
I was debating whether I should ease you into the water slowly or just hit you straight between the eyes. But, I'll be gentle and begin with some fireplaces that aren't hideous but miss the mark and why.
(please do not pin the bad examples to pinterest unless it's for a folder of what not to do.)

Remember our discussion of the classical orders and proportions? If you missed the post or need a refresher, click here.
Below the mantel shelf is the "entablature,"  the same as in the classical orders. However, in the case of the mantel above, there isn't enough of one. The entablature below the shelf and crown should be deeper than the stiles (legs of the mantel) are wide. OR, at least the same width. But never less than the width of the stiles.
And, since this is a nice tall ceiling, this mantel definitely needs that extra piece.
Another issue is that there only needs to be six inches of fireproof material (usually, but could be more if the mantel body, excluding the shelf is deeper than 1.5″. Always double check that! But, it looks not-so-great to have more than one foot of stone or brick– usually.)
I love that the fireplace wall, above, is nicely furred out. However, I still prefer that there's a little breathing room on the sides. So, I'd make this mantel about four inches less wide. That's not crucial, but I think it looks better.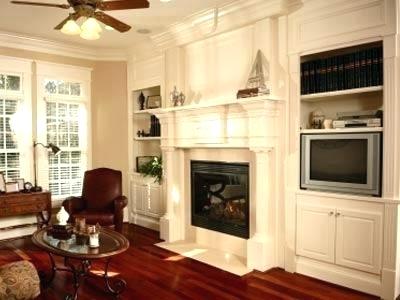 This is so close, but  the entablature and the base blocks are too large and maybe protrude a little too much. Standard depth for the mantel is 1.5," not including the shelf. Most shelves are 7″-8″ deep. The width on this one is fine, I think. Ideally, the hearth should reach to the ends of the mantel, as well.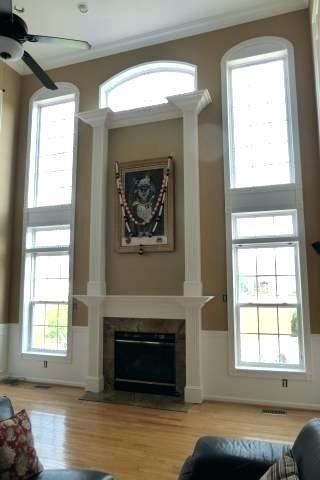 An "over-mantel" can be very elegant.
This one is preposterously large. So are the crowns topping the pilasters. And, underneath the mantel shelf. The rounded moulding and middle window, some know is a particular peeve of mine. Ask yourself, this.
Would Ben Pentreath do this in one of his rooms? If the answer is no, then, please don't do it. :]
How should it be?
I would do a third window like the two upper ones on the sides. And, then use a picture frame moulding for the over mantel. It could also be a real panel, but probably not in this house.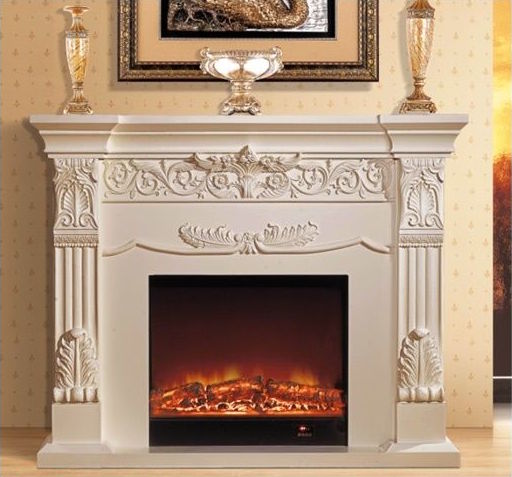 Precious, isn't it? Ummm… no.
But, now, you will need to prepare yourself. Please swallow your coffee/wine/mimosa.
And, ready your barf bags. Or, look away if it's too much. ;]
This isn't really a fireplace mantel, is it? I would say more as a shrine to their televison.
You know, I've always wanted to have an alter in my kitchen complete with niches and badly proportioned Corinthian columns.
They say that this is granite. hmmmm… I'm pretty sure this would be stunning in the mcmansion home with the entry painted baby barf beige. Remember, with the death-trap spiral staircase?
But, while we're here. The island top. Oh My Freaking Gagawful!!! It's undulating so wildly, I'm getting car sick. I'm not going to discuss the huuuuuuge corbels. The security lights are a nice touch, though.
The marketing on their website is even more comical.
You can proudly show off your house…and be instantly showered with praise and remarks about your good taste.

The overall concept is very much in the Italian tradition of architecture that can be found in the Palazzo Ducale in St. Marks Square in Venice.
Okay, if you say so.
Oh, yes, I see it now.
(where's that eye rolling emoji?)
But, we're not done. Or, I mean, I'm not done. ;]

Be sure to have that watermark nice and big.
This will be perfect for the nursery.
Those Corinthian capitals have goosebumps!
Oh man… Well, enough of this.
Time to get more serious about fireplace mantel proportions. And, what you do need to do. Plus, some wonderful sources.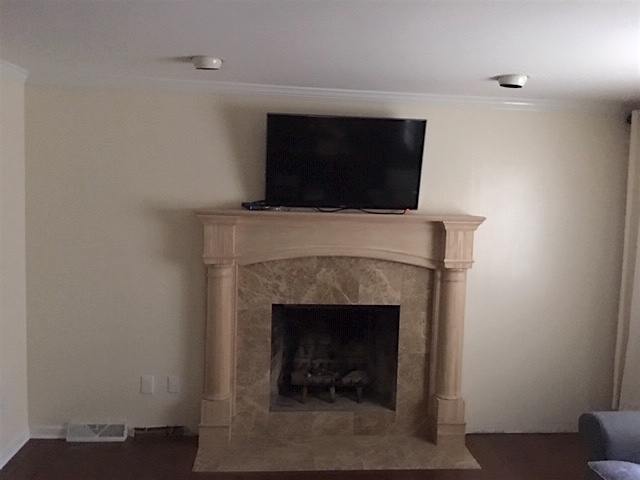 First, let's bring back Sue's image.
I think that she can do better. The first thing that's bugging me is the arch. It's the ubiquitous arch that doesn't exist anywhere except in American furniture.
Of course, y'all are welcome to your arches. But, just know that this is an affectation and not classical.
Second, the bases are too high. So, yes, Sue could have it cut down.
But, I'd just start afresh.
In addition, usually the mantel is painted the same as the trim. It doesn't have to be, but this bleached wood doesn't look so great IMO with the marble. And, the linen white walls.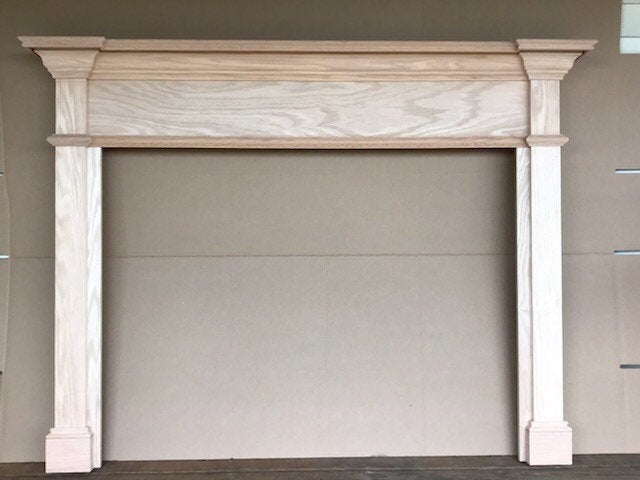 I would prefer to see something more classical (painted to match the trim) but not formal, like this lovely from Wood Your Way Mantels on Etsy. However, they have numerous styles to choose from. And the prices are wonderful.
But, the very best part is that they do custom. Oh, and their reviews are glowing.
I made a quick widget of some my favorites. Please click on the images for more information.

How gorgeous is that!
This is an architectural drawing I found. I don't know where it's from. But, this shows what interior designers and architects do before anything is built.

The above is from a wonderful company I discovered recently, in New Jersey, Kuiken brothers, who make the most gorgeous mouldings. And, they have some beautiful, detailed catalogs, as well as instructions on how to make these beautiful classical fireplace mantels.
But, they have mouldings for everything and many, beautiful and inspirational images, as well.
Oh, and they've proportioned everything out for eight-foot, nine-foot and ten-foot ceilings with moulding packages.
So, see, you don't need me after-all. haha
I swiped this beautiful detail from their instagram account @kuikenbrothers. So, please follow them there. And, no, they are not paying me to say that, but I like promoting companies with excellent products, no matter.
Below are a few more images with some perfect fireplace mantel proportions

beautiful English Georgian-style mantel – perfect fireplace mantel proportions via this is carpentry
Georgian Fireplace mantel – classical proportions – source unknown
Above and below are two new images from Serena & Lily.
When you have a sec, please check them out because they just brought in over 500 new things like this stunning chair above. But, let's look at this fireplace mantel, above. hmmm… It goes against the rules. But, this looks like a nice high ceiling and the mantel is very simple, so I'd give it a pass. I would like it better, however, if the mantel shelf came out another inch or so, on each side.
This is a wonderful fireplace mantel in the Georgian style. Beautifully styled living room, as well! But, their rooms always are!
Below, I made a graphic with some possible dimensions for good fireplace mantel proportions. This would be good for most rooms with an eight-foot ceiling or higher.
Please note, however, that these dimensions are not written in stone. It's merely a guideline.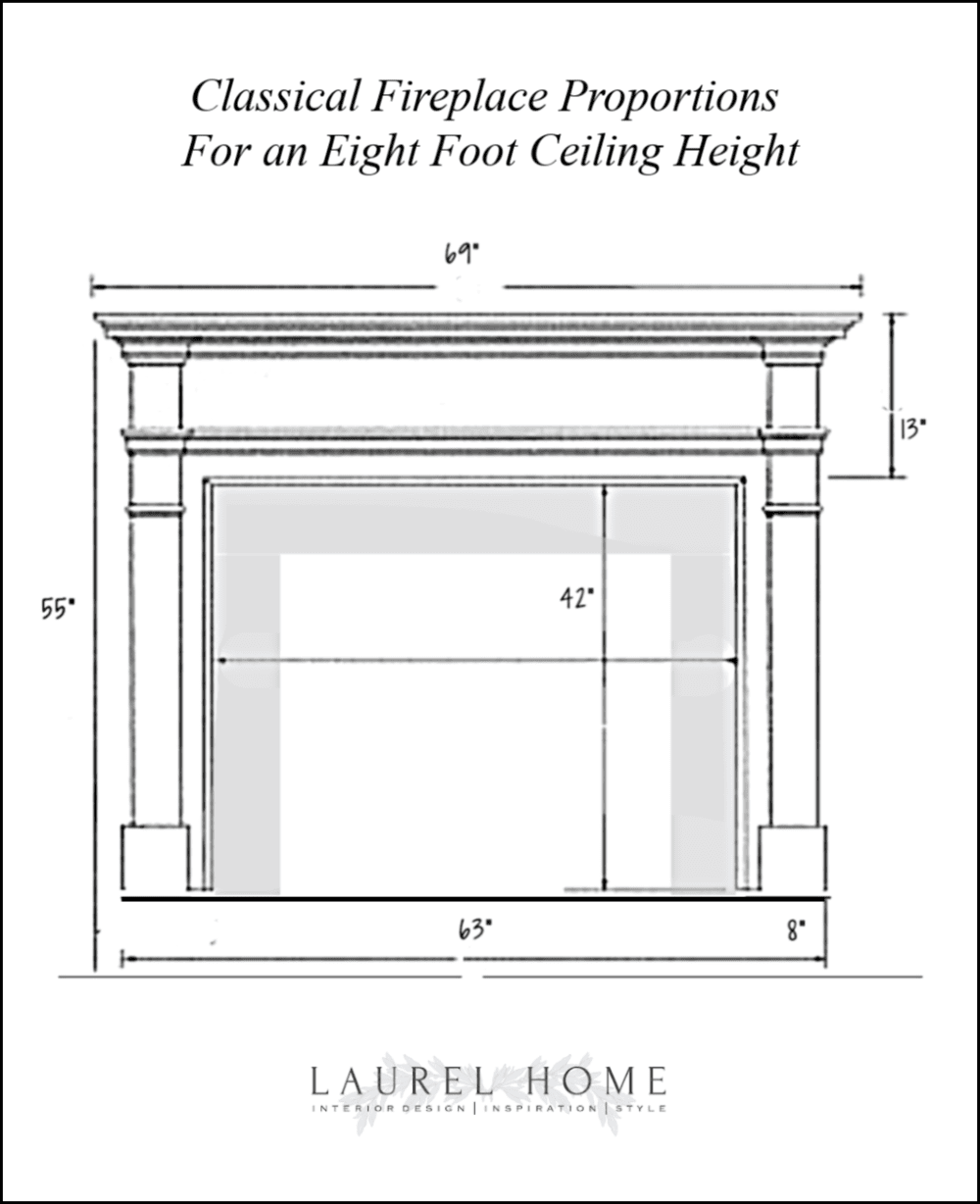 please pin to pinterest for reference
And now for those links to previous fireplace mantel posts
mantels on a big living room wall
Well, that should keep you busy for a while! And, I hope that this has answered some of your questions about fireplace mantel proportions!
xo,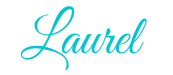 PS: Please check out the newly updated hot sales. Many beautiful new things to see this week in all of the hot sales pages.