Dear Laurel,
I loved the post about the split levels and raised ranches. But, what about just a plain old ranch house built in the 50s or 60s?
We're in the process of buying a house in Pennsylvania that is a 1,900 sq. foot ranch home.
It was built in 1962. And, Laurel, no one has done a bloody thing to it since then. Maybe, that's a good thing?
I thought maybe you could do a blog post about decorating the interior.
The house is basically modern, I guess. There are no mouldings. There's the ugly red brick fireplace, wall-to-wall carpeting. The kitchen has the original brown cabinets and a hideous tile floor.
So, a couple of questions about decorating a mid-century ranch house.
Oh, gosh, I don't know where to begin!
And, frankly, I don't even know for sure what I want. But, I think that I lean towards more traditional furnishings. But, we're in our 30s with one child and another on the the way. We don't plan to be here for more than ten years, but you never know.
Maybe you could do some sort of overview of how to make the most of a plain, squat ranch house? And, also talk some about the best paint colors and furnishings?
Sincerely,
Jolly Rancher
***
Sorry, I couldn't resist. But, my sister actually has a very good childhood friend named Jolly. However, this Jolly is a fictional character. And, like most, is an amalgam of past clients and readers.
Over the course of my career as a working interior designer, I helped at least a couple dozen or so clients who were living in some version of a 60s ranch house.
I don't think it matters a lot if it's a raised ranch or even a split level.
Inside, these one-story homes share a lot of the same characteristics. Although, there might be regional differences. But, these may include the following:
eight foot ceiling height
lack of architectural interest
small windows. Or, sometimes a combination of small and large windows
many have a "picture window."
wall-to-wall carpeting which is over a sub-floor of plywood. There is no finished hardwood floor
red brick fireplaces, often with a raised hearth
dated, dark inefficient kitchens
dated bathrooms with pastel colored tiles
or, worse. only ONE bathroom for a three-bedroom ranch house!
frequent use of curlicues and/or weird architectural elements, such as spindle room dividers
baseboard heating. (an interior designers frequent nightmare, for sure!)
dated, poorly designed exterior
neighborhood with similar homes which may or may not be in the process of being upgraded
Actually, there are a number of posts which do talk about many of these issues. In these posts, I share ways to give a ranch house some architectural interest.
However, today, by accident, I found myself looking at ranch houses.
I was looking up something else, and came across some classic ranch homes that were or are on the market for sale. I am not going to give any locations because some of these homes are still currently for sale. Although, none look in any way staged for selling!
First of all. These days, almost anything is possible. It's just a matter of money. However, the assumption is that if you've only spent maybe $200,000 on a ranch house, that is because you can't afford to spend a lot more. And, just so you know, in Westchester County where I live, I've worked in some absolute shitholes that were over a million dollars! Towns like Larchmont, Rye, Scarsdale, Bedford, Ardsley, Chappaqua, Katonah…
Here's ranch that's not a train-wreck, but you can see how much it was listed for. Crazy, huh?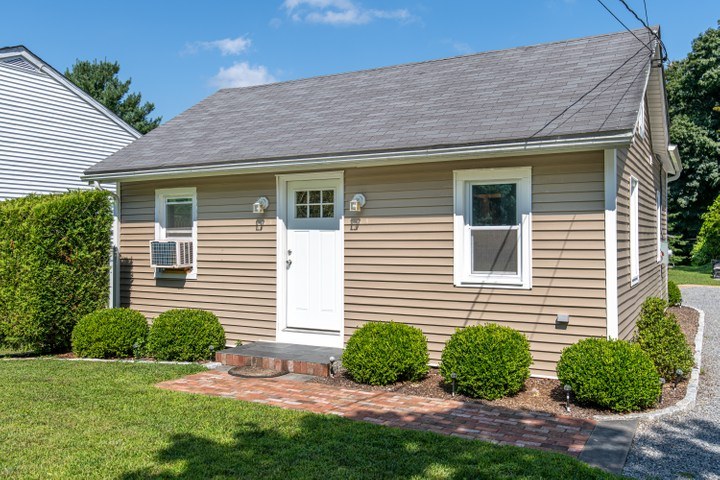 No, it's not a garden shed. This is a house in Katonah, NY, very close to where I used to live.
Somehow, they managed to fit in THREE bedrooms in this 800 sq foot HOUSE and, it's listed for over $400,000. But, since there's only one bathroom, I'd probably turn one of those bedrooms into a bathroom and maybe some extra storage.
Katonah is still from 50 – 108 minutes to commute into Manhattan once one is on the train. Here is more from the listing, if interested. Oh, and yeah, the sectional.
no comment. ;]
This is also reminding me of this post about super tiny houses!
Okay, it's time to really get into the thick of what this post is about. It's about ranch houses and furnishing them.
And, maybe you'll be lucky and yours is already beautifully updated. But, let's assume that the original owners lived in the same house since 1958 and only just passed away.  In addition, they did nothing to the decor in the last 50 years!
But, they did lovingly maintain the house.
The first thing you need to think about is how much money you can spend, including furnishing and cosmetic changes; or, even major renovations.
Even IF you have the money, if you sunk $100,000 or more into it, would it be in your interest? Are the other houses in the neighborhood doing the same thing? If most of the houses are a lot nicer than yours, then you're good to go.
In most cases, when working with my clients, they had already spent a lot for the house and even though it needed work, we needed to get creative as their budgets were frequently tight.
Let's start from the bottom up.
I do recommend putting in hardwood floors in a ranch house. I think that they are beautiful and have universal appeal.
Of course, I am talking about the majority of the country; not places like south Florida that are hot and humid most of the year.
The next room to address is the kitchen
There are a few posts which discuss what I call a kitchen botox. That is, most everything is new except the kitchen cabinets which do get painted and new hardware.
I can't afford a new kitchen, can you paint stained wood?
And, this wonderful kitchen botox in Greek Revival home
If the cabinets are in decent shape, they can be painted and the hardware changed. Or, sometimes, the kitchen can be refaced. But, we always just painted and fixed hinges, etc.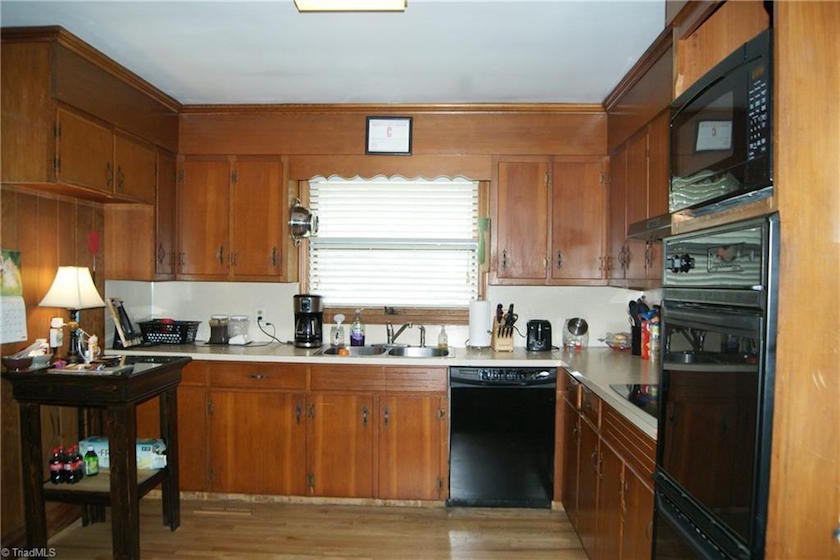 Most likely, these cabinets can be painted. I don't know what's going on with that toe-kick.
Please remove the scalloped valance.
Both the scalloped valances and the wrought iron curlicues, I find quite disturbing. I know that there are more disturbing things to worry about. But, I never got why anyone would do this.
I even found a ranch house that had this obnoxious (IMO) scalloped design element as a recurring theme throughout the house! Here, they've actually created a scalloped valance and then cut the top of the DOOR in the same shape. Well, of course, they did. Otherwise, how would you be able to open it? haha.
Obviously, this is the Curlicue room. Henceforth, the giant letter C on the door. That is, unless C stands for Crap. That could be it too. ;]
Let's talk about mouldings in a ranch house. Do you have to have them?
No, you do not. And, a little later we'll be looking at some beautiful ranch homes that look just fine with no mouldings except of course, for some simple window and door casings and baseboards.
However, if the ranch home was built in the 50s-70s it very likely did not include any mouldings such as a crown moulding, chair rail, wainscoting, etc.
These homes were built in the "modern style."  And, modern was free of any sort of artifice.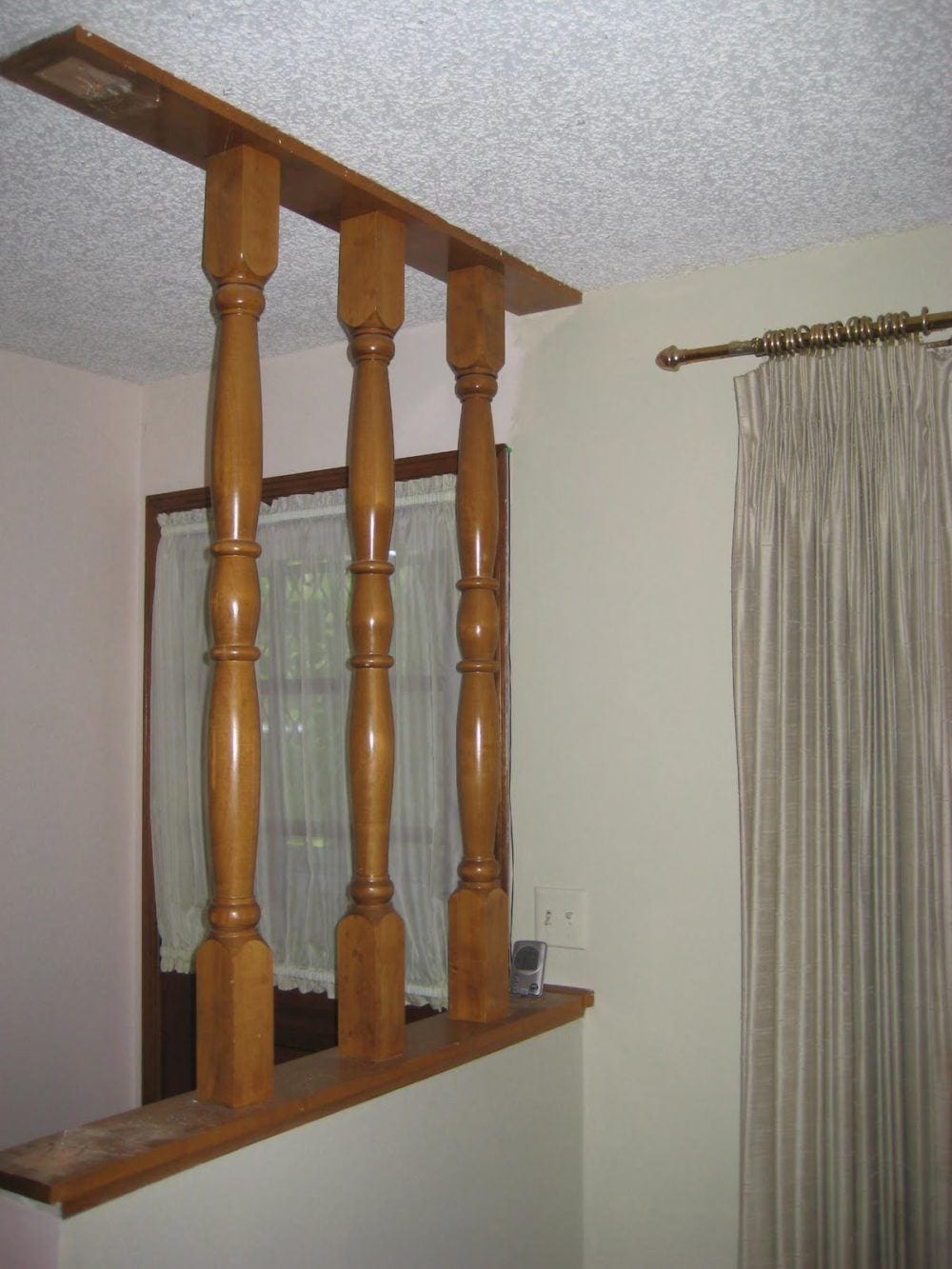 However, very often we find these strange wooden spindle dividers. In the above link, they give a tutorial on how to remove them.  I would keep the half wall and add a soffit attached to the ceiling with a square column.
You can get some great ideas for how this would be in this post about how to create an entry when there is none.
This is a terrific post for ranch house decor. And you can see more spindles here.
Now, I'd like to turn your attention to this gem of a ranch house built in 1962.
Actually, that doesn't look too bad. But first impressions can be deceiving.
As you will soon find out, this is quite the fixer upper. However, it is listed for only 139k in Winston-Salem, NC. Here's the listing, if you want to see more images and/or are interested in acquiring a project.

See what I mean? There's the red brick fireplace, paneled walls, wall-to-wall carpeting, popcorn ceiling, boob light and wtf? purple sheer curtains??? Crazy time! Can't we please take those down? Obviously, no one is living here, so why make this place even more unappealing? I don't get it.
Now, the good news is that there's a hardwood floor underneath most of the carpeted areas.
And, if it's been covered up for 60 years, it's probably in very good condition.

OMG! Look where the fridge is? That's insane! And, there's the scalloped valance again, in front of the window. The formica countertops are made to look like butcher block…ummm… Okay, I'll be nice. But, it's very difficult.
This kitchen, IMO is a complete do-over. First of all, there's room in the budget. And, I can't see how to make this work as is. There should be a range (oven and cooktop in one), not separate as they are.

Gosh. They've hit every cliché in the book, including a fake Tiffany lamp we were just talking about!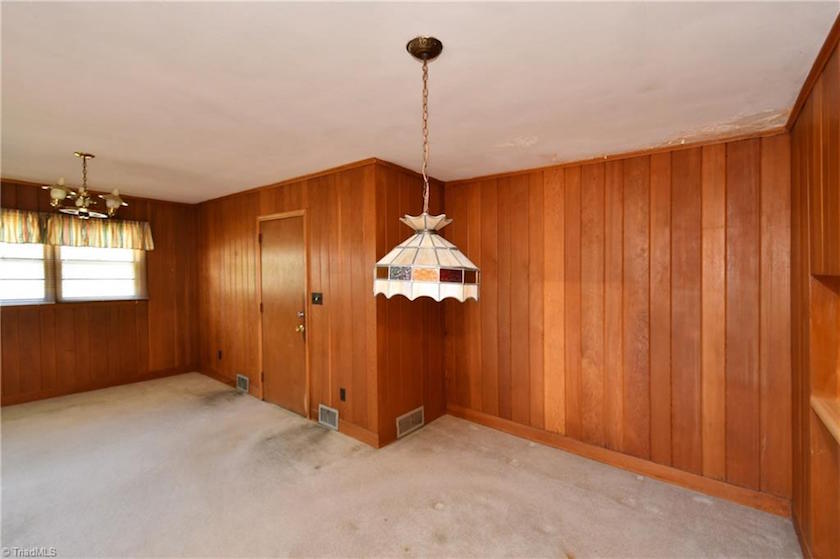 More paneling. Paneling for dayzzzz. What about this room? What is it? Well, I think it's the dining area/den. I would probably just paint this and rip up the wall-to-wall. Of course, 86 the flouncy valance too.
One thing that looks great in ranch houses are French doors. if they are going to the outside, or there's a hall on the other side.
The living room. I was trying to figure out what is going on with the front door, and I now realize that must be a shirred sheer over the one sidelight.
But, look-y here. The fireplace mantel isn't too bad. And, the hearth is at floor level. Hooray! In addition, it looks like they got rid of the popcorn here. Blessings to them for that!
Please check out the big, long living room wall for ideas about what to do with that large expanse of empty wall.
Here's what I would do with this ranch house living room.
remove carpet to expose hard wood floors
Also paint the hearth black
Put up crown mouldings, larger baseboards. Maybe some wainscoting. For ideas, click here.
I would create a pony wall to create a real entrance and separation of the front door entry from the living room.
Okay, now, it's time to put all of that aside and look at some ways to decorate a ranch home.
photo Susan Andrews – mid-century ranch house – via Traditional Home
Really, unless it's specifically styled in the mid-century manner, such as the home above, you could do almost anything.  The home above lends itself to a more modern aesthetic. But, that doesn't mean you couldn't have some traditional items in it.
My feeling is that when doing a mix, it should be either about 80% either traditional or modern. That goes for any space.
via One Kings Lane
The photo is a little over-exposed, but here is one idea that one could adapt for a mid-century ranch house.

I chose these rooms because they look like they could be a freshened up ranch house. There are no mouldings, but in this comfy looking living room, there is much rich texture and color.
I love white walls for ranch homes.
Does that mean that you can't use other colors?
Of course you can. But, it takes more skill, I think. Actually, using white takes some skill too. In the above image, the white works so well because of the addition of all of the white accents throughout the room.

This may or may not be a ranch. But, I love the monochromatic color scheme and how the somewhat traditional bed and other furnishings look quite at home.
By the way, these three images are from One Kings Lane. And are examples of some of their interior design services that they provide.
If you are interested, they are currently offering 25% off their services. This link will take you to that page.
Nashville  rental house – living room red door via Apartment Therapy- photo – Julia Steele
Another cool house I found is relatively free of artifice. And, there are many more images of this young family ranch house in the link above.
But, I just had to post one more image of the freshened up kitchen. But guess what? There's a valance and I actually like it here! So, what does that mean? It means I have no idea what I'm talking about. haha!
However, the reason I think it works, is because it's painted. And then, there's the little modern pendant light and the plant. Plus that lovely antique Oriental rug, the cat apparently just puked on. It's all so perfectly at home together.
But, what if you want a more traditionally styled ranch house?
photo – Nathan Shroder – via Traditional Home
Above and below is an elegant ranch home in Dallas, TX beautifully decorated by  Michelle Nussbaumer
And one more image of the beautifully appointed living room. This is only an eight foot ceiling and yet the room couldn't be more elegant. And, look at the fireplace mantel!
I also love the mid-century tea table. That and the modern lamp and painting give this room the 20% modern juxtaposed against the 80% traditional. This makes the room sing! Here's a post on how to mix modern and traditional furnishings
As an aside, I got to hang out with Michelle a few years ago at the High Point Market. She's also a super-nice, very down-to-earth lady. You can see her if you click on the link. Scroll down to the group shot. (I'm standing in the middle with a green raincoat) Michelle is in the back in black talking to Randall Tysinger who's gorgeous antique shop we were at.
Sorry to mess up all of the beauty. But, I think it's always good to see what not to do.
Below is a similar living room that unfortunately, didn't have the luxury of having Michelle Nussbaumer decorate it.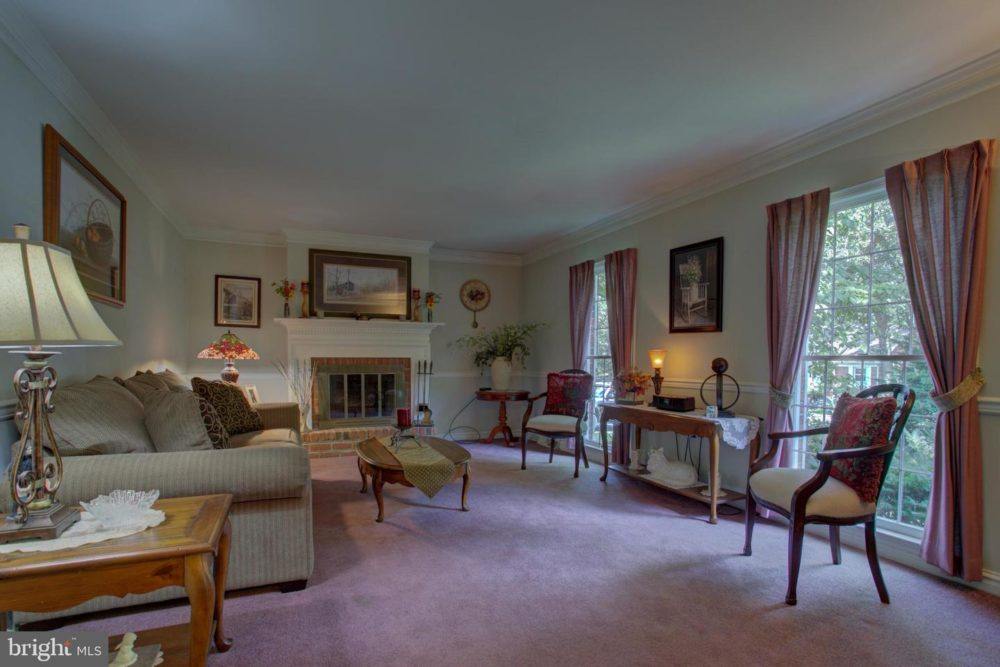 This room could be incredibly lovely. If I were their realtor, I would've made them take down the  cheap looking flood length curtains that are hung waaaaaay too low.
There's another really cool living room with a lower ceiling in this post that you can see here.
And, you won't want to miss 50 living room decorating rules you need to know
This is a wonderful source and one I've included in Laurel's Rolodex. And, they have a ton of beautiful and inspirational images. In addition, there are many rooms and images that could be adapted to a ranch house that's an eclectic blend of old and new.
And, something I didn't know until today. But Schoolhouse Electric has a beautiful line of retro-inspired furniture! I adore that plaid on a chair they said that they copied from an original vintage chair. Love that!
Actually, I think they've recently rebranded themselves as Schoolhouse and left off the electric part.
This home has a craftsman feel. And that also goes to show that a craftsman home doesn't have to be dark and full of stained wood.
I'm closing with a beautiful kitchen which could be adapted for a ranch house. You can see more of this cool home in the link.
Schoolhouse sells that wonderful hardware too!
Okay, I hope that gave y'all some good ideas for how to decorate a ranch home. I'd rather have one of them over one of these— any day.
You might also enjoy 21 Common Interior Design Mistakes You Might Be Making.
Oh, please check out one more post about modern homes and mixing them with mouldings, I wrote about a while back. It's very lovely.
Please, also check out this weekend's updated hot sales!
xo,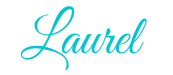 PS: Mom update: Well, she's still here, but mostly unresponsive now. Thank you again to all who've sent me such kind messages. It is not at all expected, but greatly appreciated!