Very excited to share this phenomenal Greek Revival Home with you today.
In the summer of 2016, I received an email from a reader, Lori, who needed help with her Greek Revival home. The home was originally built in 1835, but with additions in 1867 and 1898.
I so wish I could help everyone who asks, but it's  impossible.
Still, Greek Revival. Ahhh… amongst my favorite styles of architecture with its classical themes.
Lori wanted help with the kitchen. She hated the cabinet color and the wall color too.
Out of curiosity, I took a look.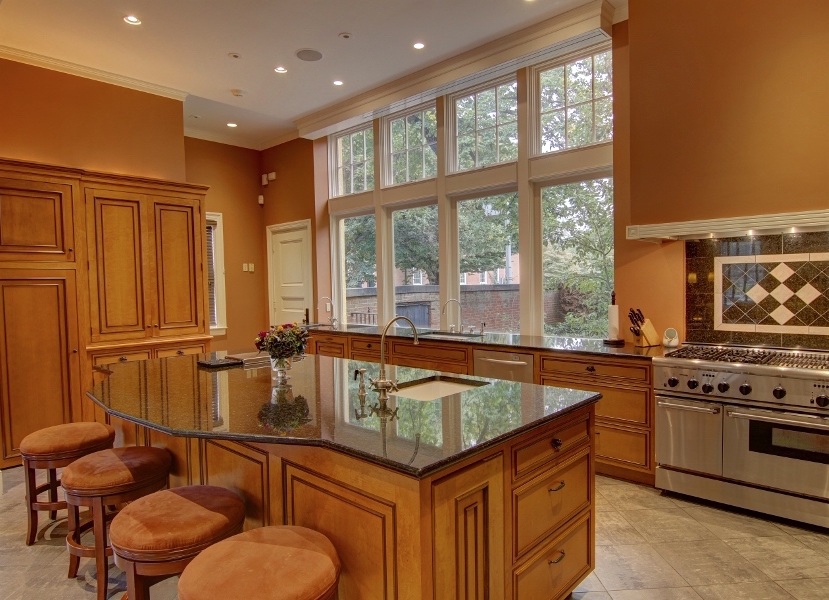 Uhhh… no kidding! And no way would I do this in a home from 1835!
gag.
This is an addition that was done two owners earlier. Really bad.
The existing floor has radiant heat and needs to stay because changing it would be a nightmare.
But, who pairs all of that orange with gray? Actually, the concrete floor is a lot darker than it appears here. You'll see later.
And the architecture? They spent a wad on matching what shouldn't have been matched and ignored the rest. You'll see what I'm talking about in a sec.
OMG!!! Tell me that huge screen covering up those glorious windows isn't really there!
What I found out was that they specifically matched the cabinet to the existing pantry.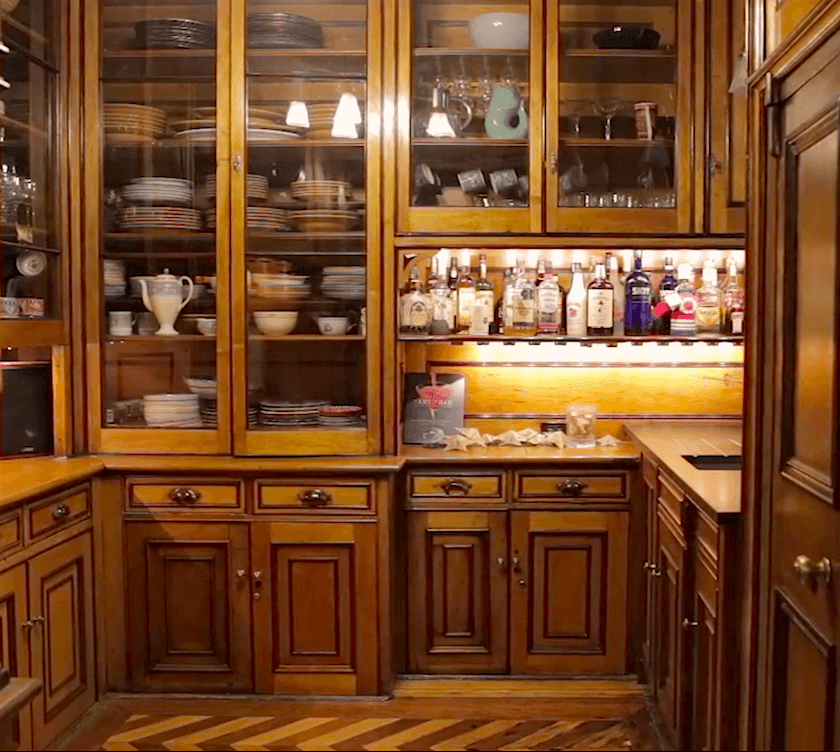 Okay, this is seriously cool! It's reminding me of some of the pantries here.

But I would have never tried to match these cabinets in the main kitchen. Never!
In addition, it isn't Greek Revival either. I would say more like turn-of-the-century, late 1800s. Late Victorian. And parts of this are new too. I don't think that they were putting in wine fridges in the late 1800s. lol
Gawd! It doesn't matter what I say. But, I could comment foaming diarrhea all over this and it would blend right in.
However, I tried to find a real Greek Revival Kitchen from the period and fell short of anything appropriate. But I did find some kitchens from the late 1700s or so. Close enough. Greek Revival started in about 1820.
Great kitchen at Saltram Manor dating to the late 1700s except for the range in the center which dates to the 1800s.  Now THAT is an unkitchen!
Georgian House Museum in Bristol from the late 18th century
Of course, no one expects a modern-day kitchen in a Greek Revival home to look anything like these.
We expect it to look like this fabulous kitchen in the Greek Revival/Neo-classical/Georgian style by one of my favorite architects, Gil Schafer and the oft-talked about Miles Redd.
This is another Greek Revival beauty by Gil Schafer.
For more of Gil's exquisite look and a fine example of Greek Revival architecture click here.
I wrote a quick note back to Lori. And told her in all honesty, that if it was my house, I'd rip that hideousness out. I would add beautiful mouldings, a coffered ceiling and WHITE cabinets!
Lori wrote back and thanked me. She felt the same way.
And that was that.
Below are three more images from Lori's Greek Revival home.
I'm showing these because, decorating issues aside, and the kitchen, what's with all of the stained wood? The dining room looks like a board room for a law firm!
Stained wood is not typical for the Greek Revival period.
It's not?
No, it's not. In fact, I tried to do a search on Pinterest, just to double-check and I got a "Sorry, we couldn't find any Pins for this search."
BUT, the stained wood is typical for the later dates associated with this classic beauty. I'm not saying that the stained wood should be painted. But my point is that if it were painted, it would be more appropriate to the original Greek Revival style.
The Greek Revival Style of architecture is from around 1820-1850.
But there are numerous examples that fit the profile built before 1820. The White House is a great example. Although, it is said to be built in the neo-classical style, which is another word for Georgian. But since us Yankees were trying to do away with dear George, we say neo-classical.
Then, I just read that the preceding period is called the Roman Revival style. But I don't recall ever hearing that term before. And the Romans copied the Greeks. So what's the dif?
There's a lot of overlap in these designs, in any case.
Well, remember Katy's kitchen that we took a look at a few weeks ago?
Just like that, out of the blue, I heard from Lori. But I bet you figured that one out about an hour ago! haha.
Hi Laurel,
I read your blog about painted cabinet finishes. Well, I read all your blogs actually, and refer back to them often. I also use your Paint Color Collection and Color Board Guides religiously. They are indispensable tools for me.
The reason I am writing today is that we corresponded almost two years ago about a kitchen/family room area that was absolutely horrible!  
I had the cabinets painted with a catalyzed paint in BM White Dove. The cabinet doors and drawers were painted off-site, while the frames were painted here in the house.  Over one year later, I have not had any trouble with cracking, splitting or chipping.
While we are still not completely done with everything due to time, "Reno fatigue", and some indecision, I have included a before and after picture.  My husband refers to you as "Your friend, the designer" – though we have never met!!!  Your guides have helped me avoid many expensive mistakes and were worth every penny and then some – if they were paper copies they would be well tattered by now.
Kind Regards,
Lori
I need you guys to prepare yourselves.
This kitchen went from this orange abomination with a contemporary yucky granite top on that island.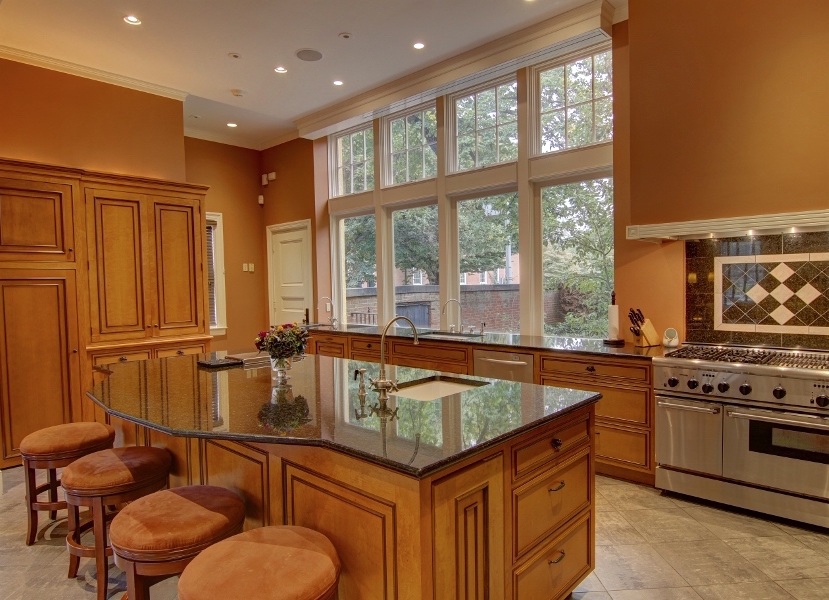 To This
Holy Crap! Greek Revival – REVIVED!!!
Yes, those are the SAME cabinets!
Want to see more?
Oh, stop teasing Laurel!!! Of course, we do!




See the floor looks great now! And the counters are a marble called Calacatta Vagli.
Fabulous new appliances and gorgeous range hood. Looks like an antique nickel?
And here's the original pantry.
Now the warmth feels special and refreshing instead of getting clobbered in the head with a million pumpkins!
There's more. Remember the Brady Bunch family room area?
Please do not pin these yellow and orange rooms. Thank you. This is why people hate orange. I did a post ages ago, about how to work with orange so that it's gorgeous!
And this is another post that I like too.
This is like being outside for an hour on a blisteringly hot day and stepping into some delicious air-conditioning!
Plus the mouldings! She did it! She did everything I suggested, except ripping out the cabinets.
And boy, am I glad that she didn't listen to me about that!
And Lori really has been paying attention. I have used that lamp in the paint palette collection which has 40 mood boards with furniture. And those pillows. And we had a post with a mirrors like that too!

They did a spectacular job of the mouldings.
Now, it doesn't look like a tacky addition. It looks like an old home that was lovingly renovated!
For more moulding ideas click here.
Plus, all about wainscoting here.
I adore this view into the library. Again, the warmth of the wood feels refreshing. But the warmth is carries into the white areas as well.
Lori says that she would like to change the table and chairs. I am thinking maybe a round table? The rug would need to change, but I think that would be nice.
And I told Lori that I would give her some ideas to finish things off. Really, she doesn't need much.
Sure, if this was going to be for a magazine, the stylist would bring in all sorts of accessories and plants, etc.
But, I really cannot get over this transformation and it goes to show that through the blog, my paint guides 1 and the paint palettes and Laurel's Rolodex, plus her own obvious talent, she's truly revived this beautiful old home.
It makes me want to see the rest. It's a BIG house!
Here's another shot of the kitchen with the warm glow of the morning sun shining through.
Please share any ideas that you have for what additional furnishings– That is accessories, lighting, additional window treatments yes and now and if yes, what would you do.
And thank you Lori for sharing your magnificent home with us! I didn't share an exterior shot to protect Lori's privacy. But here's a shot of part of the wrap around porch shot before she and her husband purchased the home.
xo,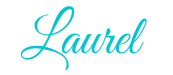 PS: please don't forget to check out the hot sales. Lots of great sales and some ending very soon!