Hi Everyone,
As anyone who's read my blog for more than a few months must realize, I adore Etsy. However, I just had an experience I need to share to hopefully save all of us from making an expensive mistake.
If you haven't read part please continue so you don't miss any of the juicy story.
If you've already the post, please click the link below to jump to part 2
Hold on a second, Laurel!
Ummm, don't you sell a guide sharing the Best of Etsy, and there are well over 200 Etsy Shops on the paid version? And, now, you're saying, "Buyer, beware!"
Great questions. So, please allow me to explain.
I believe most shops on Etsy are running a clean, ethical business. However, because it's the Internet, I also believe some shops on Etsy are not on the up and up.  Yes, and now that I've learned a few things, I will carefully evaluate each source on my Etsy Guide for the next update in November.
Still, it is always up to you, the consumer, to vet any source you're dealing with on the Internet.
So, Laurel, tell us what happened!
I will do that in a sec and also tell you some things to look for that can help prevent you from getting burned.
I need to reiterate that I believe most Etsy shops are reliable and run an ethical business. If Etsy discovers you're not, the business could get the boot.
Well, can't I just read the reviews to understand whether the business is legit?
I need to take a deep breath before asking if one can trust the reviews.
The answer is yes, and no. However, like many things on the Internet, there's good and bad, meaning ethical, trustworthy people and businesses vs. slime.
Slime are liars and misrepresenters who think we're a bunch of clueless idiots. They will go to great lengths to make us believe they are selling what we want.
So, tell us already, Laurel, what happened?
I am working on procuring items I need for the renovation.
One of those is a kitchen faucet.
Okay, for the last 15 years, I've wanted one of these.
A Perrin & Rowe polished nickel bridge faucet.
But, then, I thought I wanted natural brass that would get a patina. The problem is, I love both.
That is actually another topic, so for now, let's focus on the polished nickel bridge faucet of my dreams.
And, I mean bright, warm, POLISHED nickel; not brushed, matte, or anything dull. Those unpolished nickel finishes are darker and don't have the look I love. It's fine if you do because I know most people seem to prefer brushed nickel. Yes, I know about smudges.
Nothing will give me more pleasure than… um… (laurel-filter activated)
Never mind. Some of you will get ideas you shouldn't be having. lol
So, what's the problem, Laurel? Just get the damned Perrin & Rowe polished nickel faucet.
Well, with the sprayer, before any shipping charges and tax, it's at least $2,000.00 and sometimes more.
I have so much to get and don't want to get caught short.
Now, DeVOL has a similar version that's a little less money but still quite expensive.
But get this. I saved the image from the DeVOL website, and this is how it was named.
Perrin & Rowe Ionian Tap Chrome 02.jpg
Yes, that's the chrome version, but ironically, it looks like nickel. However, chrome is a cool silver tone, and I definitely do not want that. However, I it appears that P & R is making the faucets for DeVOL!
So, I've been looking on Etsy.
There's a plethora of shops that make mostly brass bridge and other taps. Sorry, bridge faucets. ;] Some do carry a couple of polished nickel taps. One of those sources, Insid East, is in my Etsy Guide. Last fall, they seemed to be the predominant company selling Bridge faucets and other brass products.
However, there are dozens of these Moroccan brass companies on Etsy.
And, their products all look pretty much the same. So, maybe they're all using the same factory.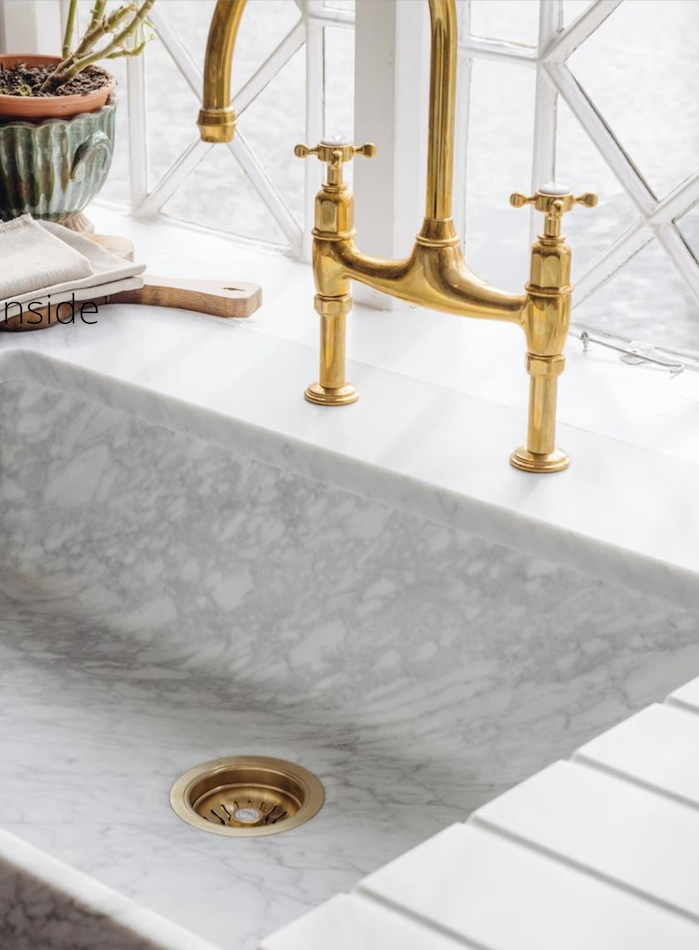 But then, I saw it. I saw the exact faucet I love, only in brass, and on Etsy, for about a third of the price! I actually prefer the DeVOL Perrin & Rowe Bridge because the detailing is very lovely.
But wait, that image looks just like the one I saw on DeVOL.
To verify, I put the image into a google images search.
Uh oh… Busted!
Yes, that is right. Faucet-dude is using DeVOL's imagery and slapping his company's name on it, then trying to sell a product that is not even a good knock-off. However, using DeVOL's image to sell his own competing product is totally not cool.
But, as I scrolled down the listing, I noticed that the faucet had changed!
It no longer looked like the DeVOL. So, this is the real faucet I would be getting. It was starting to look like the rest of the Moroccan bridge faucets, except without the funky cross handles, we'll see in a sec.
And, then, I looked very closely at this piece. Please notice the part that wraps around the bottom of the handles connecting to the bridge.
Here, I'll blow them up for you.
Holy wow! They look like they're peeling off!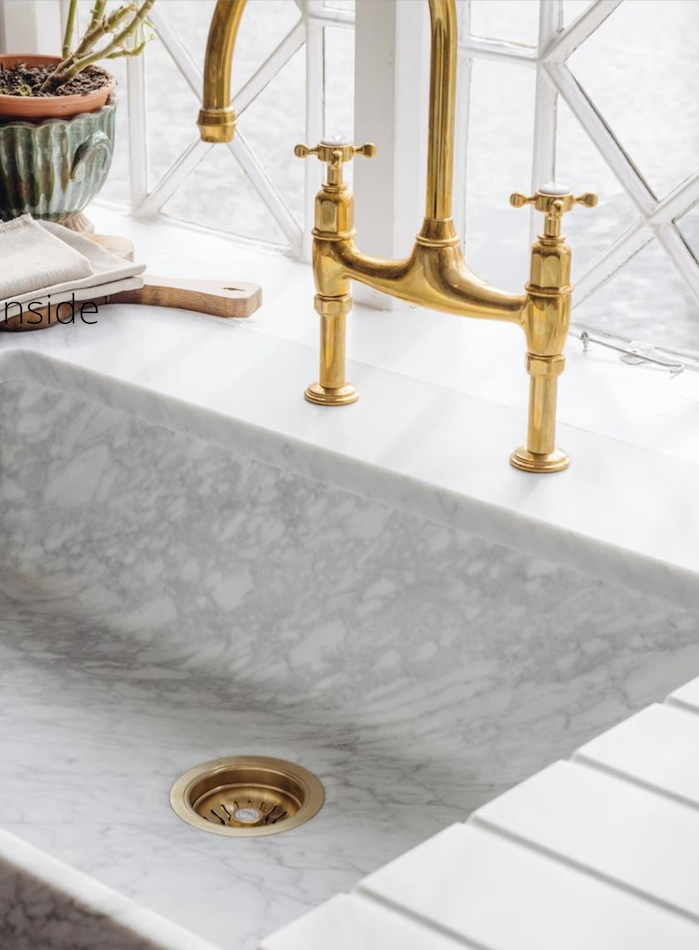 Please remember that this is what the faucet is supposed to look like.
Faucet-Dude's is a bridge faucet, but it is like comparing Velveeta to a great-aged English Cheddar Cheese.
For you young'uns, Velveeta was an American product in the 1960s that looked and tasted like congealed, orange plastic that had been laying in a cow barn for a year, but was marketed as "cheese."
Still, I had to see this through.
So, I contacted Faucet-Dude, and within 30 minutes, I was hit with a barrage of short emails. He sent me a different faucet that looked nickel-like and asked me if this was the finish.
Come again? He makes faucets, and he doesn't know what polished nickel is?
The answer I was looking to hear was, "Yes, we can make that in polished nickel." Would you also like the side spray and coordinating drain? If so, I'll be happy to work up a quote for you."
By this time, I definitely knew this was not going to work out.

However, here is where they lead folks down the garden path…
His reviews on Etsy are superb.
Well, remember what I said? I did some research and found several folks who state with proof that not all reviews on Etsy are real reviews.
Yes, they are fake reviews.
In fact, to avoid wasting your time, I've cued you to the point in the following video @ 5:58, where this lovely young woman does undercover work, to let us know what is really going on.
She will tell you about her experience on Etsy, and then she tells you how some scumbag vendors go about scamming you.
Interesting, huh?
So, here's what to look for when reading reviews on Etsy so you don't get burned.
Look to see how evenly spaced the reviews are. If they seem to come every week or two like clockwork, they are probably fake reviews, and fake purchases, too.
If the guy sells mostly $500 faucets, but every third order is something super small like a gasket, part of a drain, showerhead, or a soap dish, and that is all, then, Fake, Fake, Fake! Those are freebies in exchange for a positive review.
I didn't hear back from Faucet-Dude until 24 hours later. That's fine. But, he sent me a silver faucet that he said is:
"exactly what you are looking for."
Ummm, sorry, no. It ain't exactly what I'm looking for.
And again, it's not his pic. This one belongs to Insid East. That is… unless they are the SAME vendor!
Please observe we're back to the Moroccan version of the cross handle that looks about eight months pregnant.
To be continued Thursday evening…
*********************************************************
Part 2 Begins Here
It's Thursday evening. :]
I hope you're enjoying the new link near the top of the page that I'll be adding to all two-part posts. It took me a while to get it to work, plus, I was in Back Bay two times today, so this is mostly going to be photos of the renovation, I took the other day.
Thank you so much for all of the fantastic comments.

I have decided to go with the DeVOL polished nickel faucet. In fact, I just ordered it, in case a bunch of you decide to get one, and I'll have to wait until next July to get mine.
They don't have an option to have lever handles, but I have to admit, I've always loved the beautiful cross handles.
DeVOL's handles are actually, little paddles, so that might make a difference, when turning.
Even if it doesn't, I'm thrilled with it, and realize that this is not an area to skimp. There are other ways I've been able to save money.
As for Etsy. I think we can see from the comments that there are fantastic sources and some that aren't so great. Like I said, I've ordered from numerous vendors and except for the printed hand-knotted Turkish runner, have been delighted with my orders.
Many Etsy vendors add personal touches, which are lovely.
Still, I am going to be going through my sources very carefully for the Etsy Guide, and if there's any hint of fakery, they are off the list. Or, at least, I'll put a note to proceed with caution.
One of those areas of concern are the Chinoiserie panels. I'm not too impressed with many of the sources. A couple of them seem okay. But, at least, you can get a sample before proceeding. Or, just get a sure thing at The Mural Source!
I think the vendors that are selling old things are usually a safe bet.
However, if anyone ever has a problem with a vendor on my list, please let me know.
Okay, now, on to the photos and some problems that have come up.
I saw my contractor today who I'm so pleased with. He's light.
What does that mean?
Light means easy to be around.
Okay, please enjoy the part of the renovation where it gets much worse before it gets to be a lot better. I'll bring in gently by showing the parts that look more familiar.

Living room with appliances waiting to be donated.

The opposite view. The long form has been submitted to get approval for the heavy-duty structural; the staircase and entry door, downstairs.
The familiar view of entry on the left and gutted kitchen on the right. Here, you can see the dividing wall has been removed. About 2/3 will be returning, but much wider.
The entry
Okay, let's go downstairs…
Sweet, ain't it?
Straight ahead is the bathroom. In front of that was the huuuuuuge closet. It's still going to be large, but about 30″ will be devoted to the new toilet location.
The electrical panel is getting moved 90 degrees on the new entry hall wall. Where you see the horizontal strip of blue tape is where the new egress door is going. If you look above, you'll see some exploratory surgery the structural engineer recommended to assess the direction of the joists.
Never assume anything.
More exploratory surgery to ascertain the depth of the sub-basement. It's about five feet. So, there's ample room for the new pipes to go.

While they aren't allowed to do any structural work on the new staircase, they did remove the sheetrock. It's a good thing as it revealed a problem.
There's a freakin copper pipe about 28″ away from the wall and thus about 2/3 of the way into the new stairwell!
However, the solution is simple.
The pipe has to be moved over.

And, in the bathroom, there's another copper pipe. At that point, the ceiling was supposed to go to its full 9′-1″ height. Of course, that's not happening. We will lower the ceiling to about 8′-9″, which will be totally fine. The lowest ceilings are 8′-3″. Those will be over the vanity, shower and toilet.
A shot of the garden with a lot of the old structures hanging out. All of this was taken away today.
While we've had a lot of rain, it hasn't rained in a few days now. The guys have been terrific about keeping the plants watered.
In other news, the kitchen cabinets are all paid for and are IN PRODUCTION as I'm writing this!
They will be delivered in about four weeks!!!
I hope you enjoyed the tour of my gutted duplex in Boston!
xo,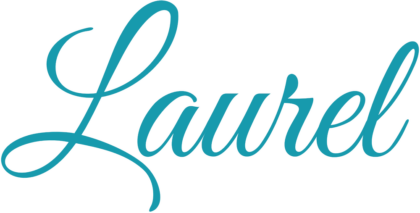 And, you'll also see all of the great items Melissa and I found at the Nordstrom Anniversary Sale!
***The sale is ending on August 6th.
There is now an Amazon link on my home page, as well as below. Thank you for the suggestion!
Please note that this website is a free service. However, it's very expensive to run. To provide this content, I rely on you, the kind readers of my blog, to use my affiliate links whenever possible for items you need and want. There is no extra charge to you. The vendor you're purchasing from pays me a small commission.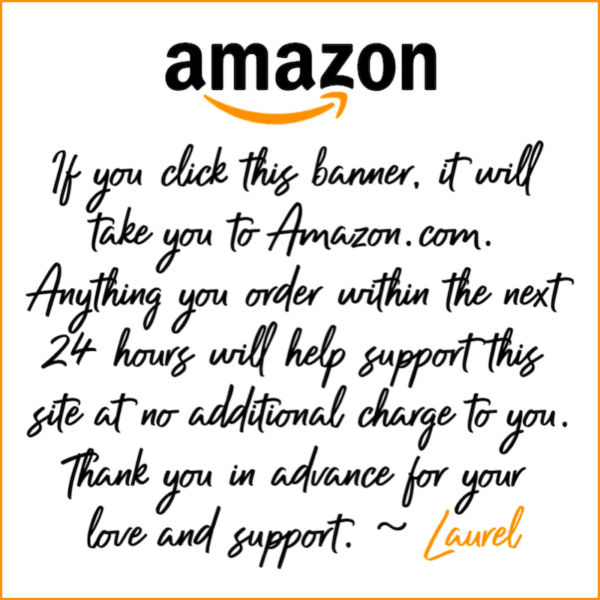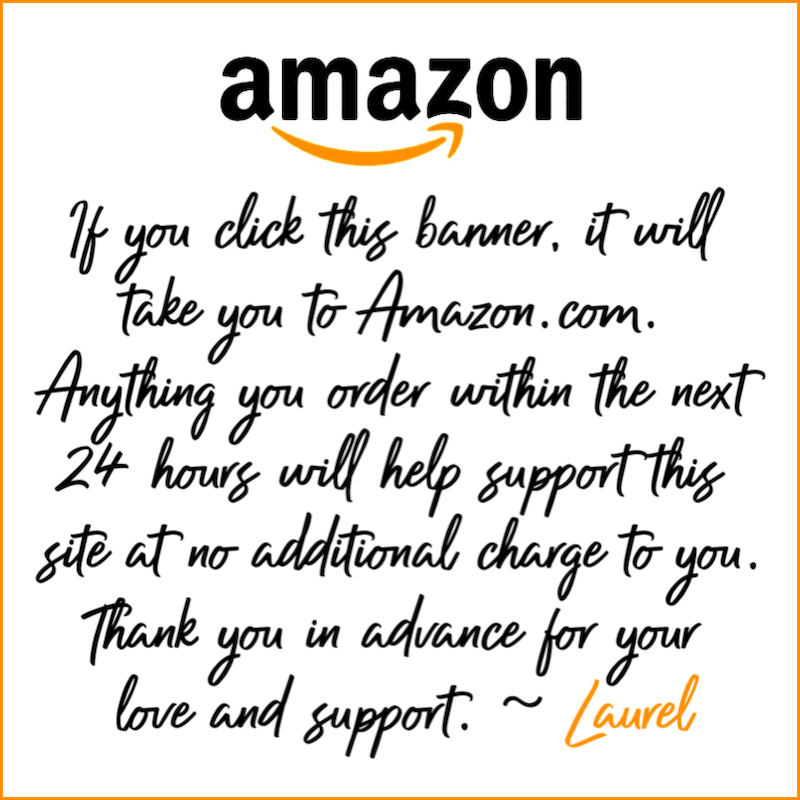 To facilitate this, some readers have asked me to put
A link to Amazon.com on my home page.
Please click the link before items go into your shopping cart. Some people save their purchases in their "save for later folder." Then, if you remember, please come back and click my Amazon link, and then you're free to place your orders. While most vendor links have a cookie that lasts a while, Amazon's cookies only last up to 24 hours.
Thank you so much!
Your support of my work and website means the world to me!