The other day, I received this comment from Courtney:
Adore your blog! I think a fab post or series would be if you designed/built your dream home, what would it look like. I'd love to see that.
Well, I did a take off of the hilarious 1948 film, Mr. Blandings Builds His Dream House with Myrna Loy and Cary Grant. I was watching some scenes on youtube and it's funny how many things are pretty much the same as then. Like wanting an en suite bathroom for every bedroom and lots of closets!
Laurel, What's with the "Mrs. Laurel" in the title?
Oh, haha. Yes.
Well, as most of you know, I am trying to create my dream bedroom and get the bathroom fixed and a few other things, like the kitchen one day.
I've contacted three contractors and gave them my "to do list." Two haven't gotten back to me and the third is my super, Jose. Yes, in addition to being superintendent of our apartment building, he is also a general contractor.
Great? Right? I mean, he's right here! In fact, I could easily blow out his windows from my apartment as it's just across the narrow part of the courtyard, but on the first floor.
I sent him an email with my wish list.
No response.
I saw Jose in the hall, two days later and he said, "Hi Mrs. Laurel, I got your email, I'll be in touch."
No word.
Two days later, I saw him in the hall again.
"I'm coming by Saturday, Mrs. Laurel."
Okay, great Jose, any time after 1:30 will be fine.
On Saturday, on my way out to ballet, I see Jose in the hall again and I said, "Any time after 1:30, right?"
"Yes, Mrs. Laurel. I'm bringing a carpenter."
Great, Jose. See ya later!
Right. He never showed up. Didn't call. Nada.
So, if anyone knows of a great GC in the New York City Metropolitan area who isn't a flake, please either email me or write it in the comments.
Just want you to know that if you're not in the biz, that we have trouble getting people to do work too. Or at least I do!
Oh well, back to the topic at hand.
My dream house.
This is very difficult. Very, very difficult. And it's because I love so many things!
But fine. There are some things that I love no matter what with the physical architecture of my dream house.
I know that this might sound strange, but I prefer either an apartment or a townhouse.
Or rather urban living over country living. I've had both and because I have a strong tendency to isolate, living in the country where one must drive everywhere, is not a good thing for me. Visiting is divine, but full-time, no.
Butttt… probably not New York City. It's just tooooo loud and crazy to live there all the time. Plus, people ARE rude. Well, okay, it's not that they're rude, so much. They're just wearing blinders.
I looked in all of my favorite cities like Boston, Charleston, London and then Paris.
Even though I've never been to Paris, I've certainly seen many dream houses and apartments there!
And then I found it. Although, from the title, I suppose that you already knew that it is in Paris. haha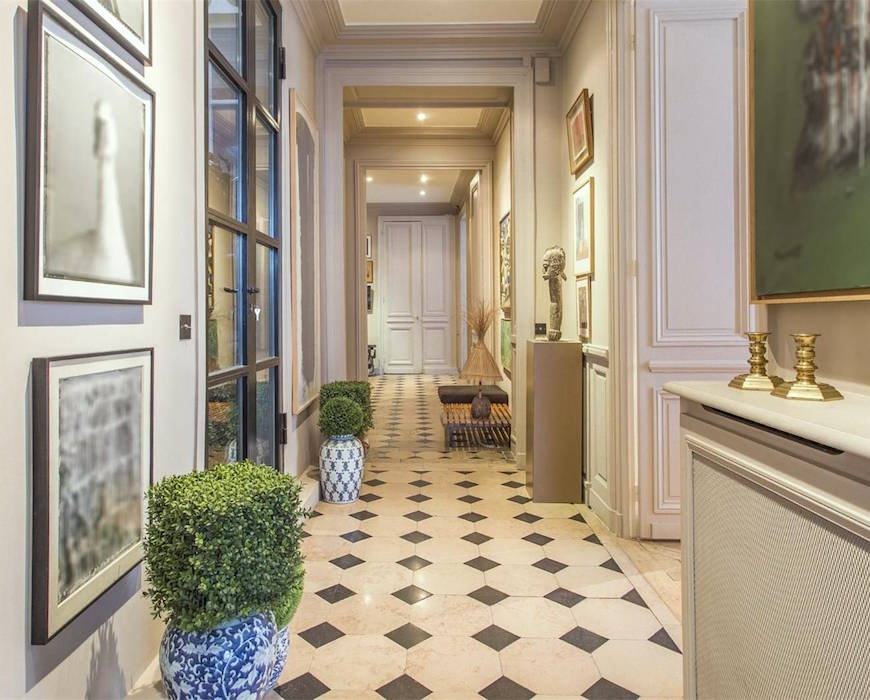 Here's the listing at Sotheby's Realty.
The front door to the home is down this enfilade. Remember when we talked about enfilades?
The glass doors on the left go out to the garden.  Here's a post about beautiful urban gardens.
Please note that the price is "available upon request."
I guess that goes under the category of "if you have to ask, you can't afford it."
Should I make an offer?
hahahahahaha
This is the library.
For more gorgeous libraries, click here.
And here, we can see why I'm madly in love with this place.
The architectural detailing
Floor to Ceiling Windows and doors
High, high ceilings. I would say at least 12 feet.
Whoever lives here has done a lot of traveling, it appears. Oh, and they also don't watch the HGTV 'decluttering' method of home staging for house sale. 
Thank God!
I love the pale, warm colors and the bleached parquet floors. Yummy! However, this room is rather narrow. See how the sofa is butted up against the bookcase? That's no good.
If it was my place, I'd take that bookcase out and leave the two on either end. That would be more than enough space for books. In fact, all of my books would fit on three of the shelves.
Then, I would put a sofa against the wall where the long bookcase  currently is and instead of the two sofas, I would put two beautiful chairs.
There would be end tables and table lamps as well.
Another enfilade looking through the library and at the end is the dining room. Wait until you see that!
The other thing I love is that the rooms are a nice, cozy size. I've come to realize that I really do prefer rooms to be on the smaller side. Just as long as we have a high ceiling.
My ceilings are currently nine feet which I love.
I'm quite intrigued by the Roman shades. These are the classic kind, but you don't see them very often in the US. They are probably made of a sheer linen. And those lines going across are stays. I've never seen a custom-workroom who does these.
You guys who make window treatments, do you make these yourself or do you get them from a more industrial window treatment factory?
I do see that Hunter Douglas makes this type of treatment, but not quite as refined.
I know that it's like that for the top down shades as well. They are factory-made. At least that's what I was told years ago by the two workrooms I used at the time.
While I think that the Roman shades with the stays are cool for this Parisian home, I prefer this kind of Roman Shade, for me. But with such huge windows, I imagine that the stays are necessary so that they can go up and down more easily.
For more beautiful Roman shades, please check out this post.
And the dining room, I mentioned earlier! Mon Dieu! That's insane! This has to be a decorator who lives here! Don't you think? I'm a little surprised at how small the dining table is, however. Maybe it's to ward off having a lot of guests. But shame. They need to share this place!
For more great dining room ideas, please check out this post.
The kitchen is certainly pretty, but of course, we are wondering where the island is? I could see a beautiful antique pine work table. And I'm wondering if that's all the cabinets there are. It certainly is different from American kitchens and English kitchens too, for that matter.
I believe that this is the master bath. Doesn't that shower, assuming that's what that's a shower is verrrry small? Unless it's the water closet? I would kill for that Venetian mirror. Sick!
The beautiful mirrors as well as the pale colors in this home are reminding me of the young designer in New Orleans, Rivers Spencer.
And now, the master bedroom suite.
Love the art wall!
Some of my favorite art walls are here.
Well, there it is!
Mrs. Laurel's Dream House.
Well, the Parisian one.
I'm sure that I have about five more to build.
In the meantime, I put together a widget filled with things that I love and that I would put in this lovely French home.
Please click on the individual images, if you'd like to know more about that item.

And below is a close up of the wonderful fretwork design on the stools.
Vintage Hickory Chair fretwork stools on Chairish
Well, that was sure a fun fantasy. What does your dream house look like?
xo,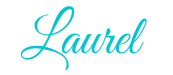 PS: Don't forget to check out this week's hot sales!