This topic of mixing Chinoiserie Decor with Gustavian Swedish Decor is one that I've had percolating in my mind for probably the last four years.
How come I've never discussed it before?
That's a good question; not sure.
Maybe because it would be like going for the best massage of my life and then following that up with a piece of the yummiest banana cream pie (BCP) ever! Not that I'd mind that, but you're supposed to have green tea (which ALWAYS makes me nauseous); or one of those vile unfiltered apple cider vinegar and ginger shots (in a little bottle) after a massage.
Have you ever had one of those?
Like I said…
And like a massage followed by BCP, I adore both Gustavian Swedish and Chinoiserie Decor. Having them in the same room is sublime.
But how does the exotic, oft-tropical Chinoiserie Decor work with the coolness of the Scandinavian Gustavian Swedish decor?
That's a very good question and to answer it, we have to go back in time and have a little refresher about Chinoiserie decor for those who don't already know.
Chinoiserie does not equal Chinese any more than a Tootsie roll equals fine chocolate
Chinoiserie decor, fabrics, wall murals, some porcelains, etc are a fanciful IDEA of Chinese designs.  Yes, they are based on some porcelains brought back from the far east; but more so, the tales told of an exotic land. The Europeans were fascinated with the foreign customs, food, vegetation and climate of these faraway places.
And as we discovered in this post about surprising Gustavian Swedish colors, the Swedish Gustavian version of Chinoiserie circa 1750 was anything but pale and gray.
The period was actually just before and at the beginning of Gustav's reign. Most of Gustav's reign took place during the neo-classical period AKA Louis XVI in France. The period before was uhhh… Louis XV, or the Rococo period.
What's the dif?
The Rococo style is known for lots of curves, heavy carvings, gilted finishes and painted furniture. And also some wood.
*The neo-classical and subsequent Regency (England) Directoire (France) periods brought about far more streamlined furniture with tapered legs, less carving, and more classical motifs, such as the Greek Key pattern.
Therefore, it's only natural that Chinoiserie motifs such as wall panels, wall paper and porcelains are a wonderful accompaniment to Gustavian Swedish.
The only thing is… it's not that easy to find images incorporating both.
Now, let's take a look at the magnificent example of late 18th century Chinoiserie in Sweden, the Chinese Pavilion (Kina Slott) on the grounds of the magnificent Drottningholm Palace.
Drottningholm Palace, if you don't already know is considered to be the Versailles of Scandinavia.
The Chinese Pavilion has an interesting history which you can read here. The architecture is in the Chinese Rococo style. It consists of one large glorious semi-circular building with numerous small buildings on several acres.
The plans of the main building and out buildings.
Kina_slott_October_2016_ photo – Arild Vågen Chinese Pavilion – Drottningholm
The front facade of the main building.
Some of the architectural detail featuring gargoyles and Chinoiserie bas relief. Love the palm trees! And the colors! I found this and other images on the Love Is Speed Blog. It appears that  most, if not all of the images are taken from a book. But, I'm not positive about that.
One of the small out buildings. I'll take this one! I could see myself living here! Please notice the Greek Key motif!
Definitely from a Book,  above and below. But look at these rich saturated colors coupled with neo-classical motifs.
The wallpaper is original! Wow! And the fabric was created to match fairly recently.
One thing we don't see here is the beautiful Gustavian Swedish style furnishings. The chairs above look like French Louis XV which makes sense.
When I see these amazing exteriors and interiors, it makes me think of Miles Redd.
True, there's no Gustavian Pieces, but one can see how Miles was influenced by the Chinoiserie designs of that era and quite possibly the Chinese Pavilion.
But what about the more traditional Gustavian Swedish colors, grays, blues and creams?
Can we mix that with Chinoiserie Decor?
Tureholm Castle (sometimes spelled Thureholm)
YES!!! But you already knew the answer, I bet.
godsochgardar.se – Carl Jan-Granqkvists blue and white Chinoiserie porcelains with Gustavian Swedish
Let's take a look at how some interior designers are incorporating Chinoiserie decor with Gustavian furnishings.
Ruthie Sommers via Lonny – photo: Patrick Cline
The table is probably not strictly Gustavian, but it is painted and neo-classical and it might be French. Gustavian furniture does have some distinctive qualities, but some of it is indistinguishable from the French versions.
What makes it neo-classical? See above*.The Greek key pattern on the apron and the tapered leg. the lion heads, I don't know. I'm sure somebody out there does and will bail me out. I have a feeling that it might be Directoire. That is the period just after neo-classical and therefore does share many of the same characteristics :]
Above and below one of Furlow Gatewood's amazing rooms
photos by Rod Collins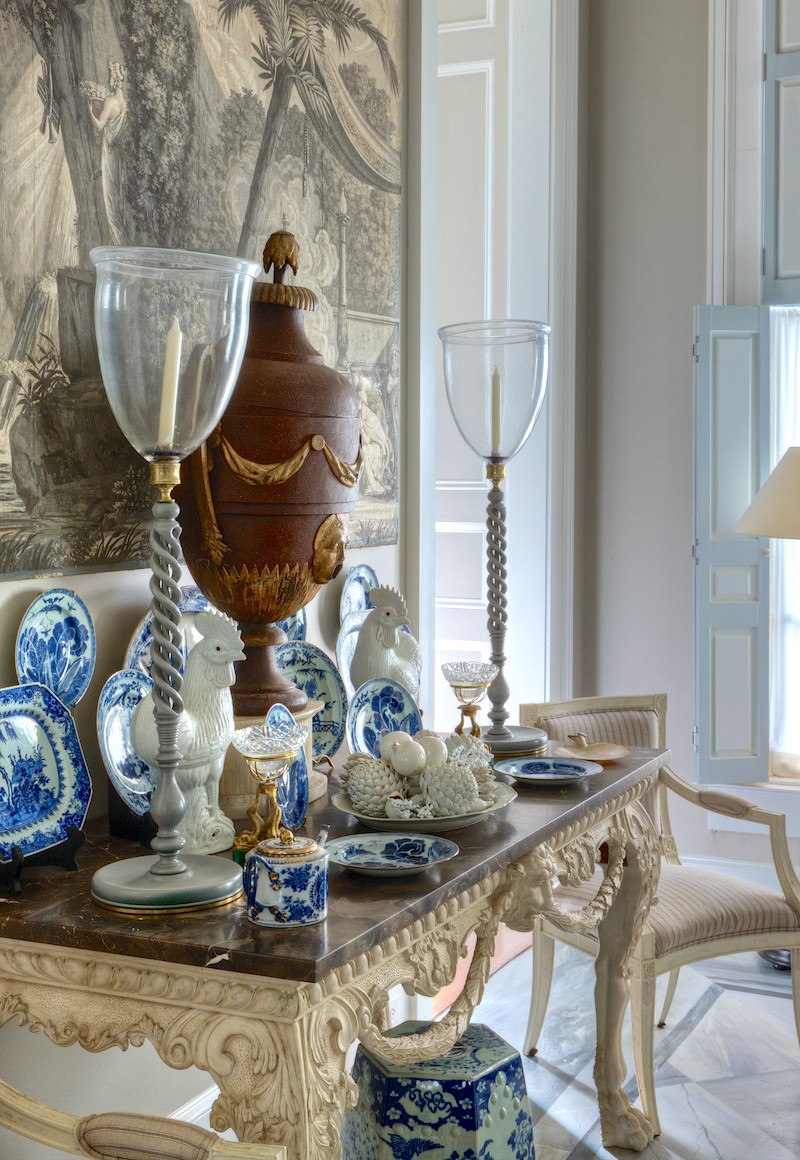 Furlow's incredible dining room has elements of Gustavian with French Rococo and chairs which look to be Directoire. (early 19th century) A Chinoiserie Grisaille panel and then his inimitable styling of porcelains and various objets that are part of his vast collection of antique furnishings. For more of Furlow please enjoy this post.
And this is a beautiful post with more Furlow and other designers and loads of Chinoiserie used in rooms that aren't blue and white.
And here's where I came up with a Furlow Gatewood paint palette.
The fabulous Maura Endres whether she realizes it or not is one to embrace all classical styles. If you aren't already, I heartily recommend that you follow her on instagram.
The table is probably French neo-classical, but the over-all feeling is Swedish.
The reality is and probably what this post is really about is that ALL classical styles go together. And Chinoiserie is really part of that period of architecture and design.
But that means genuinely classical styles. Just because something is sold as "traditional" or "French" or anything at all, doesn't necessarily make it so.  Remember this mess? If you're not sure, please look it up. Or if something looks odd, that means it probably is.
And it doesn't matter if the item is not a bonafide antique. I'm fine with well-done reproductions based on authentic antiques!
One thing I love about Chelsea Textiles Gustavian Furniture is that every item in their collection IS a copy of an actual antique. And because of that, their dining chairs are surprisingly petite. I imagine that some people have a problem with some of them, but if they were to buy authentic Gustavian antique dining chairs, they would be THAT size.
However, I'm okay with adding another inch in all directions, for comfort's sake. Some purists I guess, would say no, but…
After all, we're probably bigger than folks from over 200 years ago. And you know the great phrase. "form follows function."
What isn't right is to take a side chair that originally was 34″ high and 18″ wide  and then make a bizarre version of that is 41″ high by 22″ wide. I see that all the time.
One of my favorite vignettes ever by Megan Rice Yager featuring Scalamandre's Shanghai Wallpaper.
And I cannot ever have a post having anything to do with Gustavian Swedish without including an image from my friend Loi Thai of Tone on Tone Antiques. I'd give my eye teeth for those gorgeous blue-green Gustavian demi-lune tables!
Loi owns an antique store in Bethesda, Maryland specializing in Gustavian Swedish Antiques and well, he's Chinese. So, there it is! ;]
Plus he is a superb gardener and is known for his legendary topiaries! Super talent and a really nice guy too! Oh, and please check out Loi's insta account too. He has quite a large following there and for good reason!
I love his blend of classical styles with Gustavian antiques. Loi told me once that he only deals with the real thing.
Interestingly, to me, is that Wisteria, one of my favorite online sources and for many years is the only company I can think of that totally embraces the mix of Gustavian Swedish with Chinoiserie decor and furnishings.
Here's a beautiful example with their Gustavian extension table styled beautifully with a few of their lovely collection of blue and white porcelains. BTW, they're having a big sale over at Wisteria and it looks like all of their blue and white porcelains and 100s of other great pieces are at greatly reduced prices.
[Sadly, Wisteria is no longer but I am leaving this up, anyway. December 2020]
xo,