Dear Laurel,
I've been loving all of the blue and white Chinoiserie porcelains you've been posting.
But I have no blue in any of my rooms.
The dining room is mostly red and the living room is neutrals, creams and white. And then we have a dark green library.
I'd really like to incorporate some of these pieces but don't know if it'll look funny if there's no other blue in any of these spaces.
Sincerely,
Betty Bluper
***
Actually, someone did write me about this, but forgive me, I can't find the note now. So, I apologize to whoever asked about this. Her name is not Betty Bluper. lol
But I wrote back a quick note to say that I think that blue and white chinoiserie goes with EVERYTHING. And no, you do not have to have any blue in the room.
So, I went hunting for many examples of Blue and White Chinoiserie in non-blue and white rooms.
And some of them have already been featured here.
Like this one from a post about one of my favorite designer/architects, Bobby McAlpine and all of his associates. Now, there is some dusty gray-blue here, but I wouldn't call this a classic blue and white room.
I always forget about rooms I have done for some reason. Maybe it's like the "visitor from afar" sort of thing. And I've posted this image a number of times. But here it is. Green and white looks fab with blue and white.
I had clipped this image out of a magazine long before we were using computers.
Lovely vignette by Mary Douglas Drysdale.
And likewise for this fabulous dining room/library Miles Redd designed for his mother. Miles gives us courage to try things we're afraid to do. And no, it's not drilling a hole in the table in order to plug in the lamps.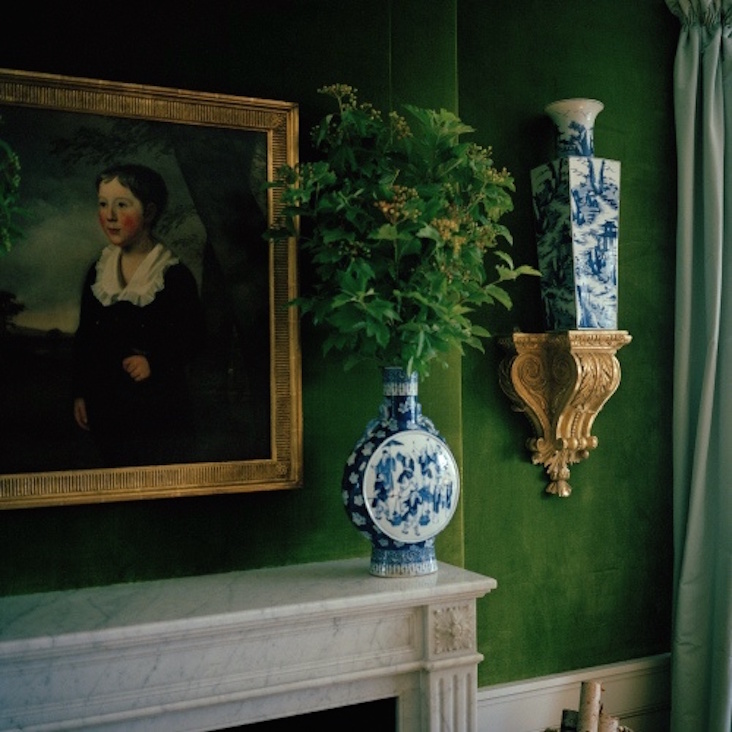 And who can forget Tory Burch's stunning living room designed by the wonderfully talented Daniel Romualdez. It just wouldn't be the same without those blue and white vases and I love the shallow vase made to go on a mantel.
That reminds me. It's not easy to figure out how big a vase you can get on the mantel. And that depends on the difference between the widest part and the base. But as long as the entire base can sit on the mantel, it's okay if the widest part is hanging out a little bit.
We can see that here in an image taken sorry, I forget where by Parker Kennedy Living; although that vase on the mantel looks like it's hanging off a smidge.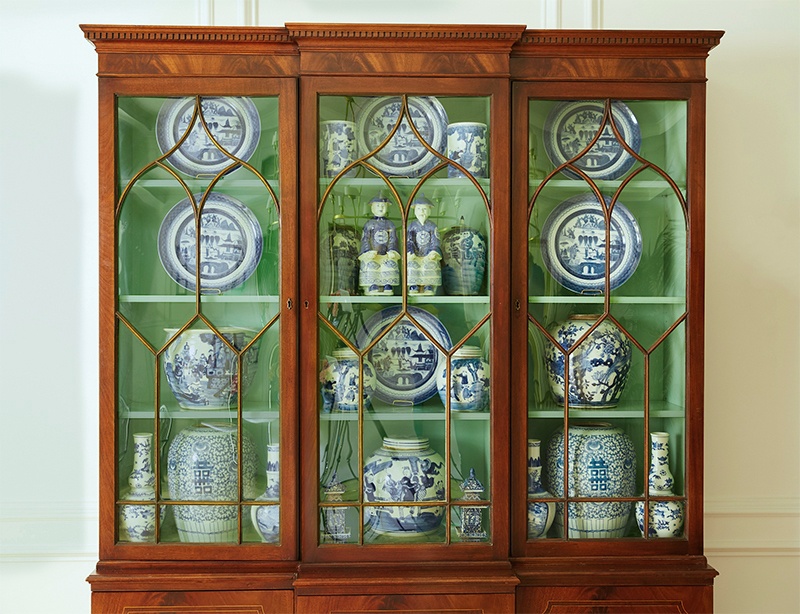 A gorgeous staged Chippendale-style China cabinet by Jennifer from the Pink Pagoda. She recently did this for The One Room Challenge™  held twice a year. Please check out Jennifer's instagram that also links to her blog.
Lovely traditional entry vignette by James Farmer.
Anna Clark via Traditional Home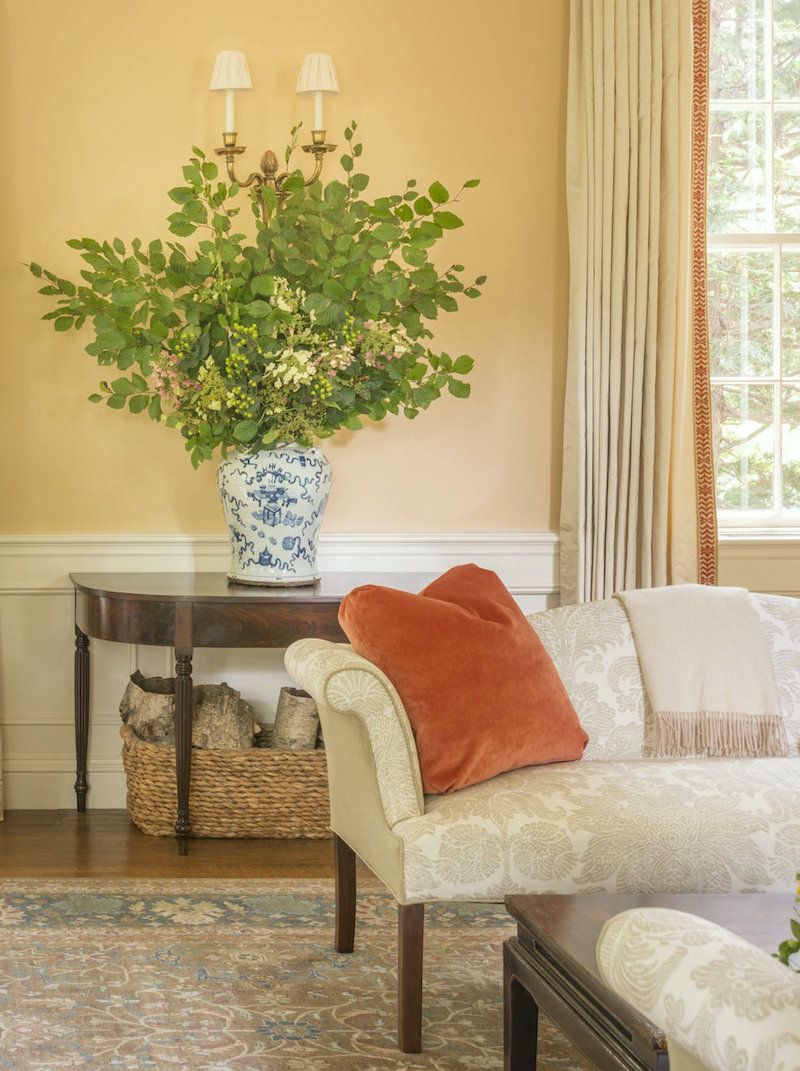 A soft living room by Meg Braff. She's a designer that I can't always recognize her work. She's known for using a lot of saturated colors, but not this time.
Image found on Habitually Chic.
The other day, I found myself sucked into Ben Pentreath's instagram. Fair warning. His home in the English countryside is straight out of a fairy-tale. (if you'd like to follow me on insta, here's the link)
From another gorgeous instagram feed by Jonathan Gargiulo
And who can forget what is now, Tory Burch's iconic and most pinned sun room ever, again designed by Daniel Romualdez.
The lower left-hand corner gives a clue as to who this gorgeous design belongs to. It's the fabulous room designed by Summer Thornton who's definitely in my top ten but wasn't on my radar when I wrote that series a few years ago.
You may recall that another image of this beautiful room spawned the shitestorm of the century. (well one of them.) ;]
More plates against a saturated persimmon via Nancy's Daily Dish. (cute) :] Ahhh… orange and dark blue. It's one of the most gorgeous combos in the colorverse. In fact I devoted an entire post to the pairing of orange and dark blue a while back.
And another previously posted beauty by the amazing Carolyne Rhoem. Here we can see a gorgeous example of taking a rug and using that as the inspo for the color palette. It all goes beautifully with the blue and white Chinoiserie porcelains!
More lovely plates via Decor Design Review on Tumblr and not a lick of blue anywhere to be found in this sophisticated European-country room. I've always adored this scrubbed look.
A beautiful Becki Griffin photo of a Holly Mathis Interior.
And here's Holly's website. Lovely work.
If I had to live my life as a dining room, this would be the one. Christy Ford's dining room was featured a few years ago in Lonny. She is the owner of a wonderful antiques Emporium, And George in Charlottesville, Va.
She owns the store with her mom. I could never figure out how they came up with the name until I read that her dog is "George." So cute.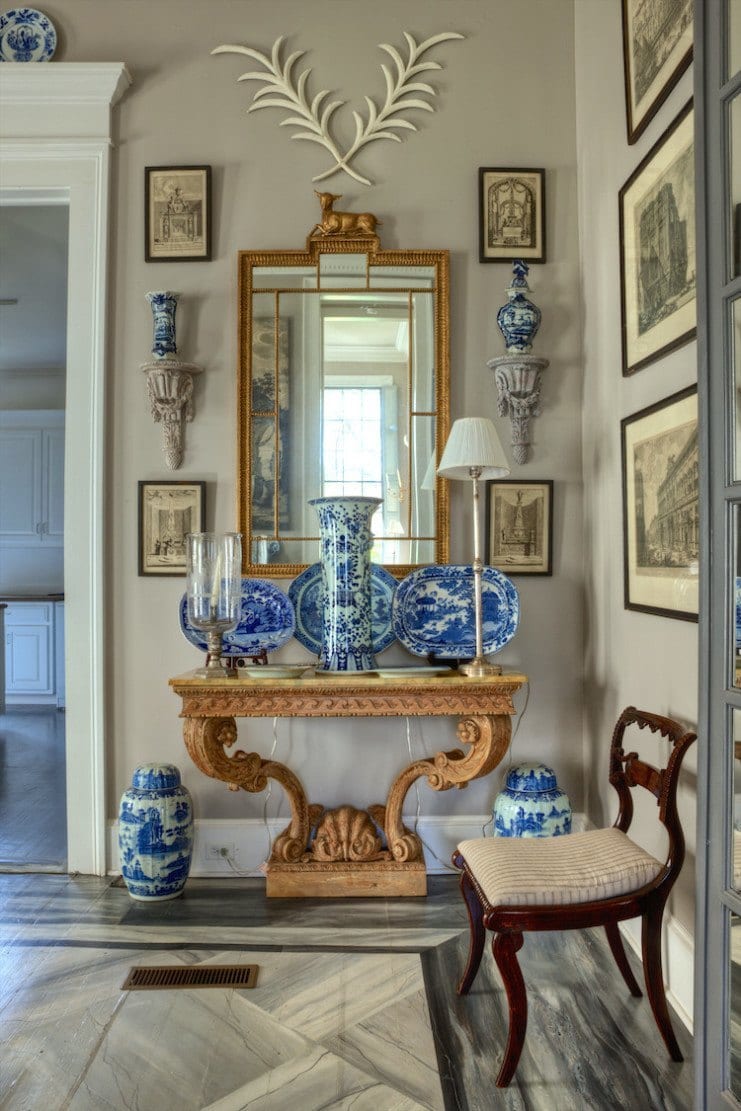 And of course, there's the fabulous Furlow Gatewood whose rooms often feel like they are blue and white because he uses so much blue and white Chinoiserie, but mostly, his palette is creams, beiges, and gray.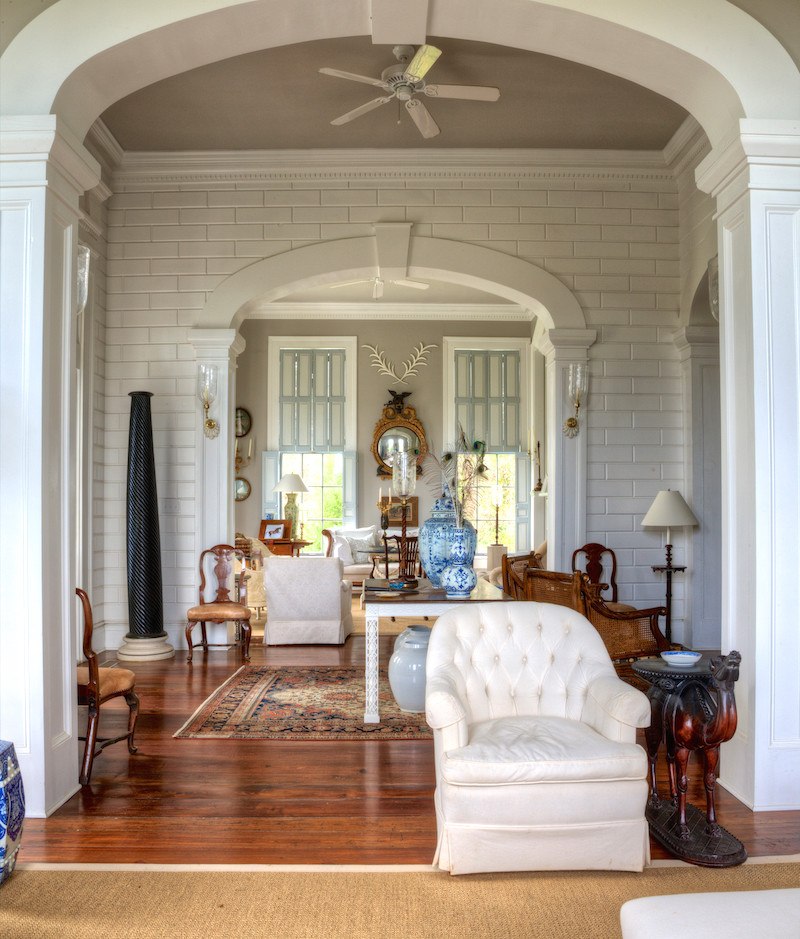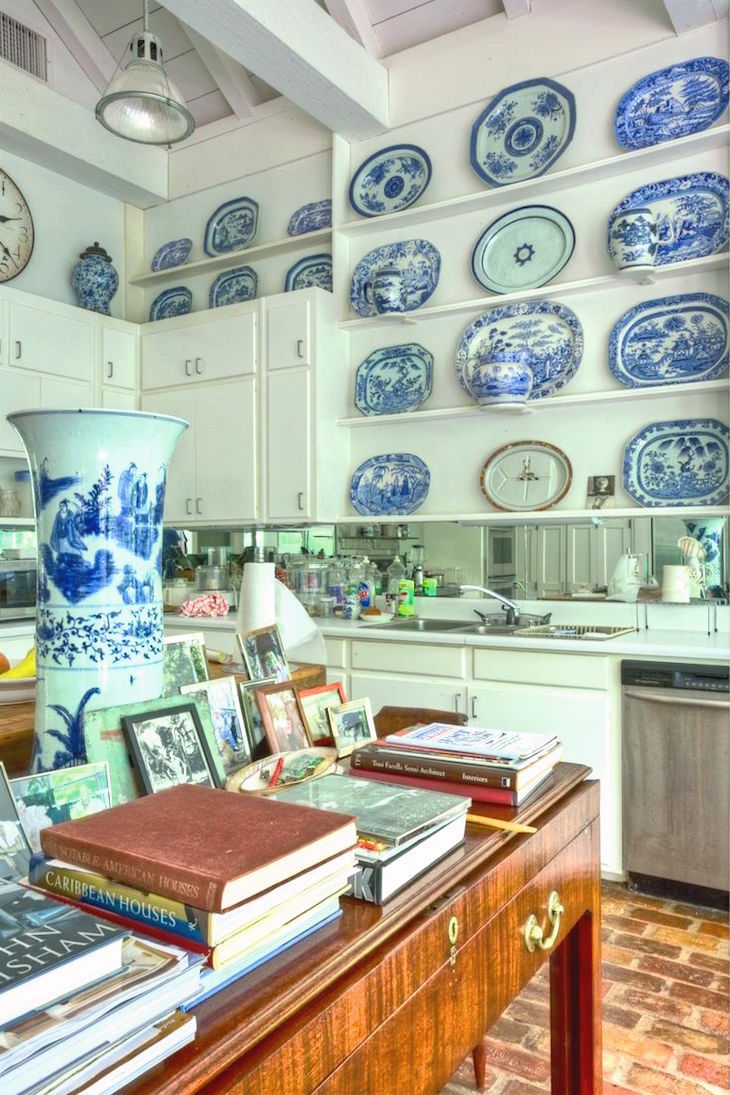 Mr. Gatewood's kitchen. Ya know. I could've probably just shown his rooms and stopped right there. haha.
The latest rendition (I think) of Mark Sikes glorious living room in the Hollywood Hills. Layers upon layers of delicious chantilly cream inside the flakiest puff pastry.
Shhhh… Come a little closer because I have to share a little secret with you; but please don't blab about it on Twitter, okay?
Mark IS the one I would hire. But, I also need to kidnap his amazing home!
More from Mark. Okay, we slipped in a little blue.But this is in no way a blue and white room.
Yes, it's the same gorgeous Chinoiserie vase from Bungalow 5,
but I found it at Kathy Kuo Home as well.
Mark used the Paris Flea Market Chandelier from Visual Comfort
It's brave to do a red sectional, but Mark pulls it off beautifully. The trick is lots and lots of white, the gold and black and the fresh blue and white.
And notice something else? The walls are actually a pale, pale lavender. Whoa! Genius! It is reminding me a lot of Benjamin Moore Violet Pearl – 1451, a color in the Laurel Home Essential Paint Collection.
Tigre Velvet pillow available at Williams Sonoma Home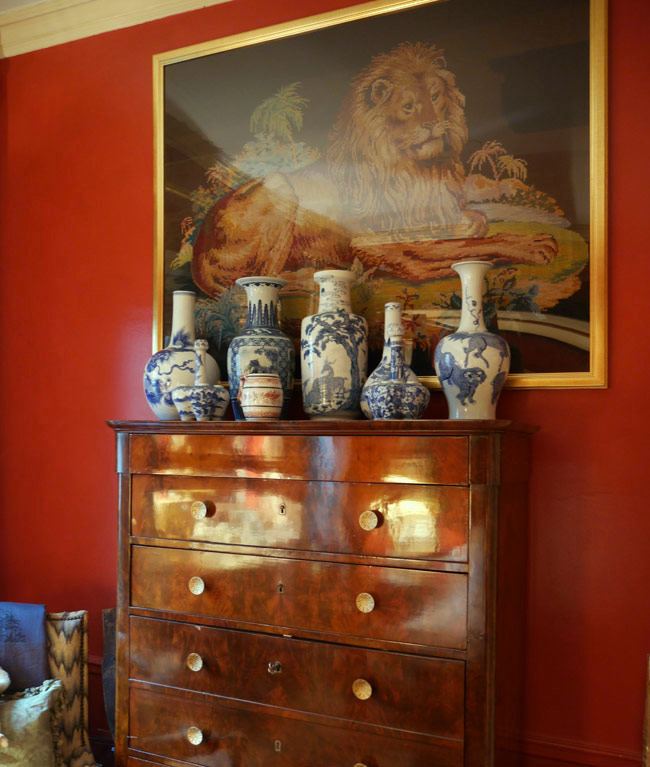 Speaking of red, a shot of John Rosselli's bedroom. But doesn't that mean it's also Bunny Williams bedroom? No problem. I don't ask questions. It's none of my business. Maybe she hates red. That would explain it.
Another shot of the John's red bedroom. As a matter of fact, I've done at least two red bedrooms that I can think of off the top of my head. And both times, they turned out splendidly. Who knew? Red is a fabulous color for a bedroom!
Oh and I just have to add this image.
I'm not sure whose bedroom this is, but ahemmmmm!!! There it is. Le TV!!! (remember how some of you roasted me for having a TV all neked in my bedroom?)
Of course, this one is elevated to high-style as it is sitting atop a priceless antique.  Is that a VCR??? Maybe a DVD player. No matter. John and Bunny's rooms are the epitome of timeless. The only give away is technology.
And a pretty vignette from Bunny Williams' bedroom (in their Punta Cana home) with a light blue wall. (sorry, no photo)
Blue is definitely Bunny's color! And Cleveland Green!
I love the black and gold cabinet.
And there it is.
Blue and white Chinoiserie is timeless, classic and goes with EVERYTHING!
Well, it is Wednesday morning and I am going to the ballet today! I am seeing ABT do Swan Lake. I see it every year as it's my favorite ballet.
Today, the young soloist, Devon Teuscher is playing the part of Odette, the doomed swan queen.
Although there's a happy ending version (no, not THAT happy!) where the prince grows some balls and kicks that evil Von Rothbart to the curb. I definitely prefer that version as I think all fairy tails deserve a happily ever after…
xo,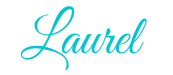 PS: I'm back! The ballet was gorgeous!!! Devon Teuscher danced the part of Odette/Odile. She's amazing! Oh, and I saw Caroline Kennedy in the ladies' room! I behaved myself and pretended not to notice. haha
It's good to take a break for a few hours!