And why don't they want you to know this decorating trick?
Well… I can't speak for them. :]
But this one's so simple, and yet I don't see anyone writing about it.
The trick to creating beautiful, professional-looking interiors is…
Are you ready?
You steal it.

That's right. Take. Borrow. Copy. Imitate. Steal.
Oh, I know. I bet you think it's wrong to steal. Well, in this case, I'm telling you that it's okay.
I mean. Isn't that how we learn?
Let me put it this way. When you were born, did you know how to walk and talk? No. You copied other people.
Did all of the great painters just put their brush to canvas and out came a masterpiece the first time?
No. They learned as apprentices by imitating and copying their mentors.
And then, over time, they developed their own style.
What about Mozart? Did he just sit at the piano and start composing a concerto when he was three?
Okay, that one isn't a great example because he started composing long before three. haha But he still learned from his father and his fellow musicians. There was a particular form and style that they all employed. He just did it better than everyone else. And then other musicians copied him.
When I was a ballet dancer, I copied my teacher and dancers who were better than me. That's how I learned to
Well… it's no different when we're designing and decorating our homes.
By now, it's all been done before, anyway.
But dang it all, sometimes we see stuff in magazines.
We become obsessed.
A piece of furniture.
A fabric.
But, they don't tell us where it came from! They tell us where everything else came from except for the two things we really want to know about. Doesn't that drive you nuts?
Well, I might be able to help you with that too!* So, please hang on!
*When I say help you, it would be very helpful for you not to take that literally and use me as your concierge service. Yes, people do that several times a week. However, I am happy to tell you how to help yourself find whatever it is you're looking for. So, please keep reading!
So, let's put this not-so-secret decorating trick into action. I will take a beautiful room and share how I source items.
In so doing, I will attempt to share how to get the look without spending a fortune.
The room is this beauty that was on the cover of House Beautiful May 2016 by one of my favorite interior designers, the fabulous Chicago (my birthplace!) interior designer, Summer Thornton!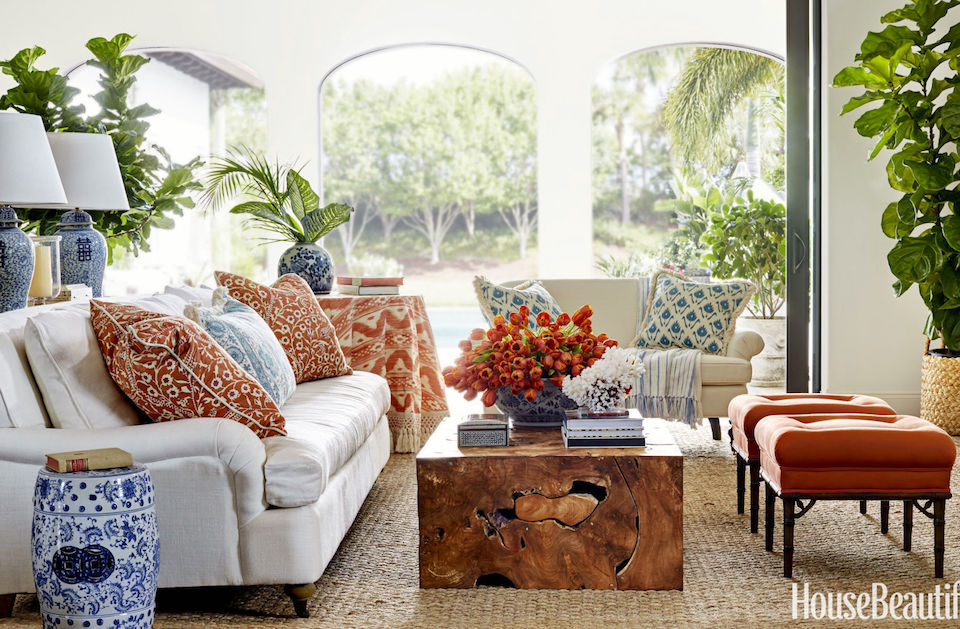 If it looks familiar, this is a completely reworked post from 2016. In fact, this post spawned one of the most read posts on Laurel Home. Yeah, the shocking truth about Resto.
I always love to point out that their stock prices have flourished in the five and a half years since that post was written.
But let's move on now and get into my favorite decorating trick!
One of the things I love about Summer's designs is that not everything is insanely expensive. Some of it is, yes, but not everything.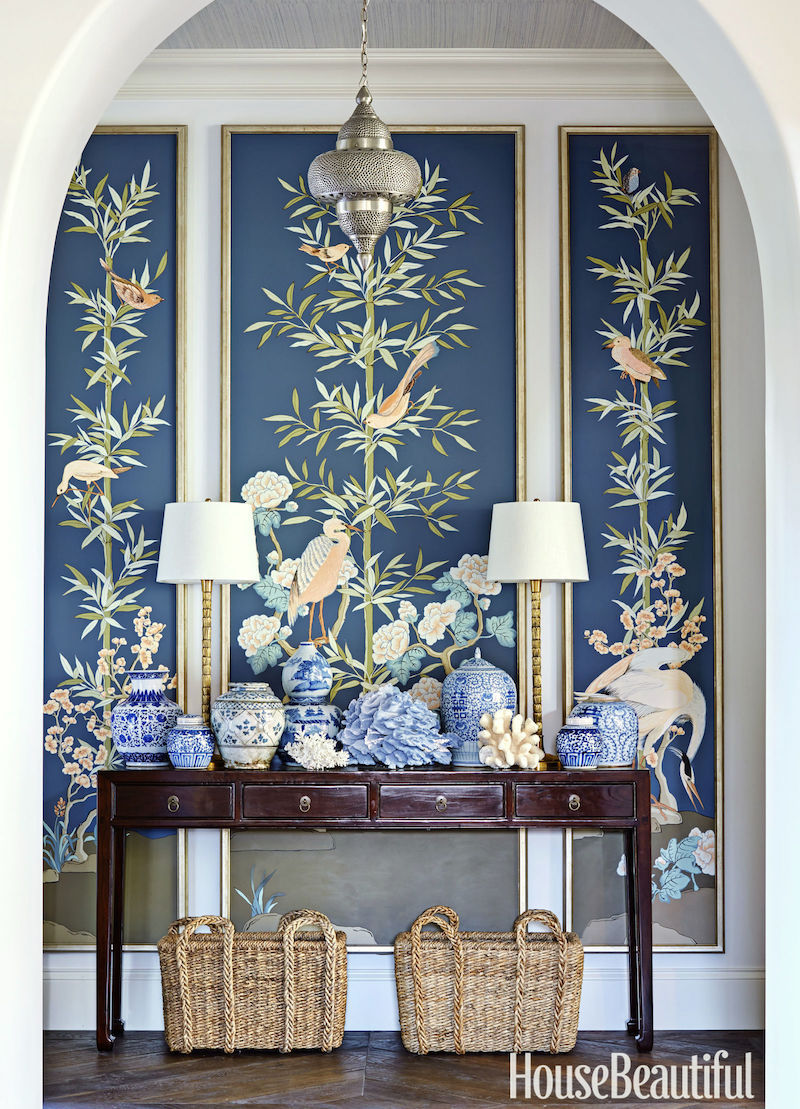 Photo: Luke White
Let's begin with the fabulous entry.
There's nothing I would change in this exquisite and quietly dramatic entry.
The gorgeous Chinoiserie panels are hand-painted by Allison Cosmos
hmmm… That has to be somewhere in the 'hood of 10k. But I don't know. In any case, most of us, myself included, don't have that kind of money, no matter how spectacular.
However, if you have the money, you can purchase a similar mural on Chairish!!!
Allison Cosmos Chinoiserie Hand-Painted Mural Triptych on Chairish

These two images are prints made from the original. They come in two sizes. However, they are a lot smaller than the original painting.

You could also do one of these fantastic murals from Casa Cosima (The Mural Source)

Please click on any image for more information.
Of course, there are a lot of terrific ideas on this post about terrific Chinoiserie murals and sources.
Below are some beautiful Chinoiserie console tables.

Next comes lighting.


Those are cool buffet lamps, but I don't recognize them. I did one of my favorite tricks when I don't know where a lamp is from. I crop it tightly and put it in google images.
Dang, it often works, but not this time.
So, now what?
I opened up Laurel's Rolodex.
Oh man, if you don't have Laurel's Rolodex, then you are missing out on another wonderful decorating trick.
I use mine all the time and wonder how I got by all those years without it! (not very well, sometimes. lol) I just went to the lighting section and started scrolling through the dozens of sources, and bingo! I found the source on page 246- Vaughan Lighting! I feel giddy when that happens!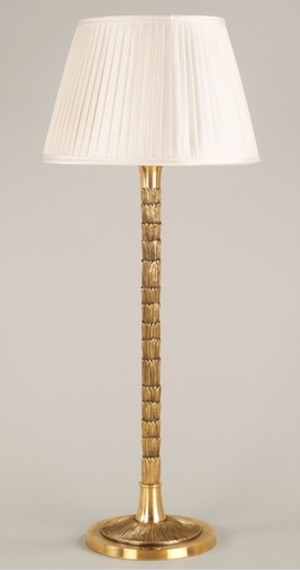 The shade is different, but Vaughan offers many shade options.
What is so great about using Laurel's Rolodex is that all of the links are right there, so you can quickly click on a link and go through each vendor's products as fast as you can scroll.
Below are some other beautiful lamps.

The Chinoiserie lamp goes behind the sofa on another console table.
For the accessories, there are so many places that carry great stuff.
One of my favorite sources for Chinoiserie porcelains is Legend of Asia. And, they have the entire line at Perigold!
Okay, in addition to the mini widgets, I have also created a large widget where I can put in some descriptions. Not everything in the widget will be in this one room. However, they could all be in the same home, but in another room.

And now maybe you can start to see why I love this decorating trick so much.
That's because in the process of "stealing" someone else's design, by the end, we always end up with a room that is perhaps reminiscent of the original design; however, in the end, it becomes our own.
For me, starting the process from a solid jumping-off point gets my creative juices flowing, and sometimes, the room ends up being very different from the original.
I think that's one of the most extraordinary aspects of design. Just like people, no two rooms are ever alike. And, the possibilities are endless.
xo,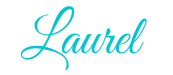 PS: Please check out the newly updated HOT SALES. There are some special surprises this week and a big sale that's ending very soon!