Hi Laurel, While reading this informative article (several times in fact), I became entranced by the window treatments and especially the curtain rods. Would you please consider doing a blog post on curtain and drapery hardware and aspects to consider when purchasing? By the way, I especially love the simple curtain rod with the curved ends. Appreciate all you do Laurel.
Emilia
Emilia asked this question in a comment the other day. And, there is a lot of this information in an old post about window treatments. But, I would like to go into it more in depth and also share some sources.
And, of course, we will also go over some things to avoid doing. Some of these, I see all over the internet, showing many horrible ways to hang curtains and draperies.
Laurel, what is the difference between curtains and draperies? And, is there a difference between draperies and drapes.
Thanks, great questions. ;]
As far as I'm concerned, you can call a piece of fabric hanging over a window anything you like. Someone once chastised me for calling a drapery a drape. Gosh, I'm really sorry to have offended, but really?
I don't care what it's called. I care what it looks like. :]
So, between draperies and drapes, I'm fine either way.
The terms curtains and draperies are often used interchangeably.
However, generally speaking, a curtain is lighter in weight. ie: sheer or lace curtains. Velvet draperies. You got it.  But, if you say linen draperies or curtains, or drapes, all good. That is, in my world. If it's not good in your world, I hope it's your worst problem. ;]
First, let's go and read the overview of window treatments, in the link below.
Just scroll down a little and you'll see HARDWARE in CAPS.
I think it's very helpful to get an overview before we dive into particulars. There will be some repetition, but if you've never heard any of this before, it bears repeating.
In the early years of my career, say before the year 2000, occasionally, I did wood drapery rods.
But, then I began seeing wrought iron rods being done by all of my favorite design idols, like Victoria Hagan, for example.
Designers who did wooden rods were doing a far more formal look. In addition, fine wooden drapery rods are hideously expensive. I once joked with a client that she had a choice of a grand piano or drapery rods. haha
Therefore, for the purposes of this post, I am only going to stick to metal curtain rods. And, I say metal, because most drapery rods that we refer to as "wrought iron" are actually made of steel.
Believe me, there is more than one way to do things, however, as interior designers, we find what works for us and usually stick with it. That is, unless it gets discontinued. :/
Above is pretty much all I've ever used in the way of drapery hardware.
This consists of a rod, a straight pipe made of metal and then painted either in a soft black or antique gold, usually.
Brackets to hold up the rod
Decorative finials for the ends
Rings (with hooks) to hold up the draperies or curtains.Let's now go over each element, very carefully
So, Let's go over every element
Drapery Hardware: Curtain Rods
The rods are either 1″, 3/4″ or 5/8″ in diameter. The rods for my clients are custom-made.
What about the telescoping rods? (adjustable rods) Some of you may already know that I am not a fan and here's why:
Back in about 1999, I had a client on a strict budget. And, so, we did the adjustable rods. First of all, if you need to open up the rod, one end of the rod IS thicker than the other. Do you want to see that? No, you don't. It IS noticeable. And, not in a good way.
Second of all, the drapes will not hang straight on the floor. We spent three full hours putting up  gorgeous Donghia linen (that's where the money went) curtains on TWO windows. Both the installer and myself were pulling our hair out because no matter what, we could not get those curtains to hang straight. I believe, in this case, it was the rods that made this especially difficult and they really didn't look that great.
However, an uneven hanging issue can occur even with custom rods. The reason for this is because:
The floor is uneven
The window is crooked
The ceiling is crooked
Everything is crooked and uneven.
I have a hard and fast rule in interior design.
Story-time about crooked drapery hardware
I had one installer that I enjoyed working with. Don. You can see him and my other favorite Mario working diligently, here.
I had only been working with Don a short time, and he was super-nice. He put the rod up and I said, "I'm sorry Don. It's crooked. "   I am absolutely anal about that. Because, the last thing one wants is to have a client call you up and say, "Laurel, the rod looks crooked to me."
Don, takes out his tape measure and shows me that each bracket is exactly 6-7/8″ below the ceiling. Thanks Don. I'm sure. It still looks crooked.
Don, then whips out his 48″ level. He says, "it's perfectly level, Laurel."
I said, okay, please come back here and take a look and tell me what you think. I think that the right side looks about a half inch higher.
He gets off his ladder and stands where I'm standing, scratching his head and conceding that the rod, indeed looks crooked.
Therefore, I do recommend careful measuring. But measure from the ceiling and then the floor and see if you come up with the same location. And even then, put up one bracket and hold the rod up. This is why you need three people. The third person will then deem when the rod looks straight.
If there needs to be a center bracket, I recommend putting that one up last.
Hang the rod without the center bracket and then have the installer hold the center bracket until the rod is no longer sagging, but also not arching upwards. He will then put a pencil mark in the holes where the screws are going and that is where he'll drill his holes.
Getting back to the rods. Yes, we are still only on the rods
The 3/4″ rods are hollow and the 5/8″ are solid. Both are very sturdy, but if the rod has an expanse of more than ten feet, it is probably better to do the thicker rod.
Or, if the drapery is a heavy velvet.
If the window is four feet or less, it shouldn't matter, the thickness of the rod.
What matters is how the bracket gets attached to the wall.
In the 20 years that I was taking clients, I went to every window treatment installation. How many is that? Well, not every client did window treatments and some that did window treatments only did Roman Shades or wooden blinds. (you can read more about them, in those links)
But, I can safely say that I attended at least 100 jobs which included the installation of draperies and/or curtains. And, let me say, that every single time, when it was finished, it felt like the weight of the world had been lifted from my shoulders.
And, how only the installers with the most experience should be entrusted to put up your drapes.
Still, I know that some of you are not going to believe me. Maybe you're super handy or even more than super-handy. It's like this. I am a thoracic surgeon. I've been trained to operate on the vital organs in a human being's torso. That doesn't mean that I'm qualified to operate on their brain.
Actually, putting up drapery hardware is a three-person job– ideally. Although, I know of installers who do it all by themselves, that's just a recipe for a bad job or else putting lots of holes in the walls.
Clients really hate it, when we come and put lots of holes in their walls. Even IF they are covered by the fabric. And, yes, some of them look.
If you're a designer and you find an installer who does a great job, I would treat him (or her) like gold. They are not easy to find.
I've never gotten into anything fancy in terms of twists and other unusual shapes. Just a plain pipe.
However, about 20 years ago, I began to see a lot of rods that had a return back into the wall. In other words, the rods curve back on themselves and go straight into the wall. The most sleek ones look like they are growing straight out of the wall. But, of course, they are well anchored into the wall, just as the straight pipe is.
The pipe can either be curved or it can be at a sharp right angle, but it's most commonly just a curve. These are called either return rods or French return rods.
I've never used them before, but they are more popular than ever.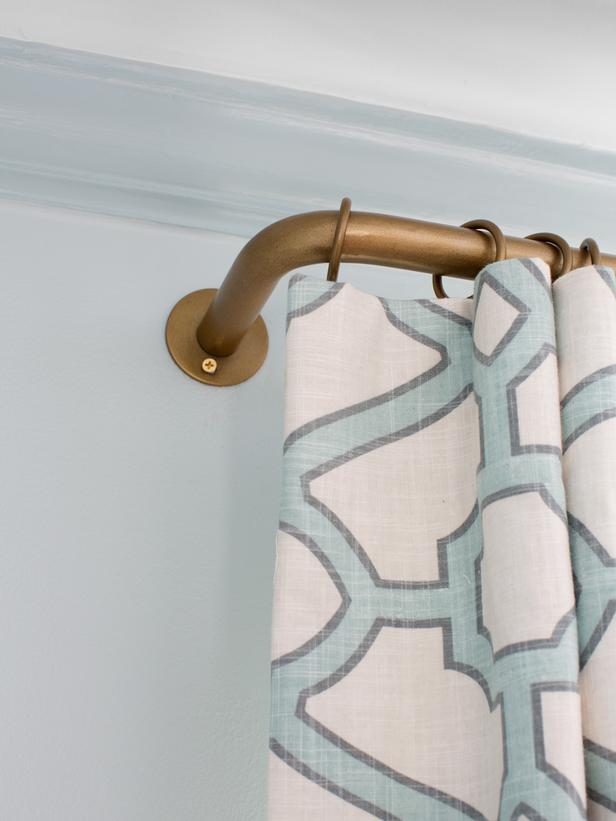 If the rod is a straight rod, you usually need a finial, unless you are doing a rod with a self-cap.
You often barely see it, so I wouldn't get too hung up about that detail.
Drapery Hardware: Brackets
Brackets, of course are the supports that hold up the rod. And, there are many, many kinds to choose from. Generally, the simpler the better. I am not discussing them in length here, because I believe I discussed them in the other post. There are so many to choose from, but the ones I generally did are in the graphic above.
Drapery Hardware: Rings
Okay, this is one that used to be rather difficult because there were not many sources for rings. A basic ring should have a loop on one end. Then, you will need a steel drapery pin that attaches to the drape and then loops into the loop.
The pin needs to be placed so that you cannot see the loop when the drapery is hanging.

I love Pottery Barn. I like their ready-made curtains like this lovely silk dupioni. But, those rings! Unforgivable! And, here we can see a little of the telescoping rod. Imagine if it was pulled out all of the way. Horrible.
Do not use a ring with a clip. That is just bloody weird. Who wants to see an ugly clip?
The one above has a loop and a clip. I guess no one will see the clip, in this case since they are using a pin. Yes, the pin is correct.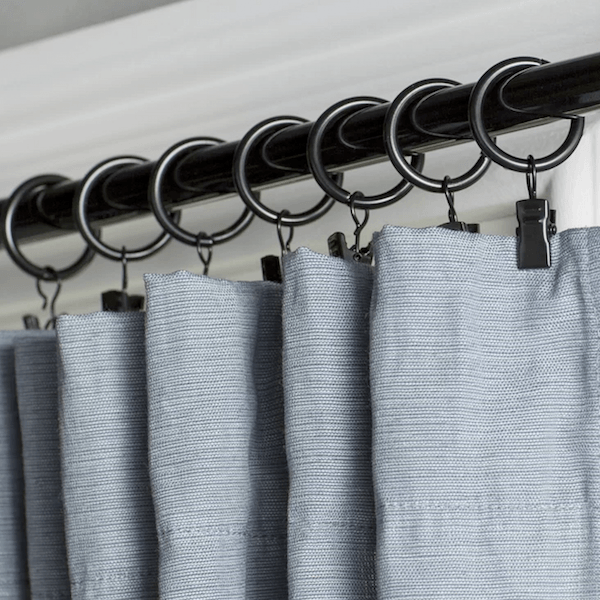 See what I mean? It's like, there are beetles holding up the curtains. So bad.
Above another exquisite room by Suzanne Kasler. See, you hardly even notice the bracket in the center of the rod. The draperies are so beautiful and covering up the loop at the bottom of the ring.
This image should go in the post about grown-up twin beds, right?
For more about rings and clips, please check out this post with lots of great information.
Frequently Asked Drapery Hardware questions and problems you didn't know you didn't know about until you made a boo boo
Well, why do you need rings at all, Laurel?
That is a very reasonable question.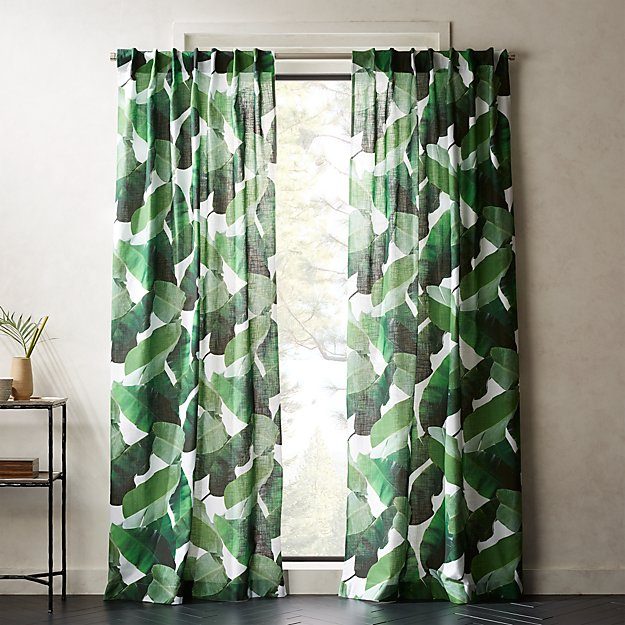 First of all, THIS looks bloody dumb, IMO.
It is very strange to have the drape covering a decorative rod. In addition, please note that they hung the drape below the window casing. They did it because of the ready-made length. They always make an 84″ length and then then the next length is 96″ Someone should get wise and make a 90″ length.
The solution is to get a curtain that's too long and then hem it. And, then use rings to hold up the curtain. Then this fun banana leaf pattern from CB2 would be elegant for someone's Florida home. haha
Alas, I think it got started when all of the ready-made curtains became popular.
Ready-mades are definitely a great solution when one can't afford custom. But, rings are just one more expense. Perhaps, the likes of Pottery Barn and West Elm realize that they can sell more window treatments if they don't also have to sell them the rings. Of course, they do have rings, just crappy ones.
But, have you ever tried to scoot fabric along a metal rod?
If you have, you will know exactly what I'm talking about. It's very similar to trying to get into your tightest jeans on January 2nd.
But worse.
Every time you try to open and close the drapes you will be met with the most resistance you've ever known since your kids were three and you said that it was too close to dinner-time to get ice cream.
And, that goes for tab-top curtains too.
Sooooo, if you know for a 100% fact that you are never going to open and close the curtains, then I guess you could go without rings. But, it is not a professional look. It is fine to disagree with me. But show me when Suzanne Kasler, Bunny Williams or Victoria Hagan does drapes that are gathered around the drapery rod.
They don't ever do that.
Another beauty from Suzanne Kasler. Absolutely exquisite. That looks to be either a 3/4 or one-inch rod. The draperies are full. The header is covering the loop on the ring and they are breaking about an inch or two on the floor.
Aren't they worried about the draperies getting dirty?
No, they are worried about their kids getting into Princeton.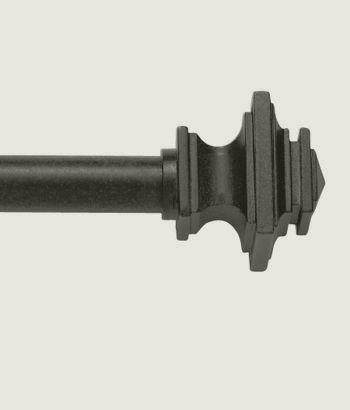 She's also doing my favorite finial which we called a Pagoda finial. I did 100s of rods with this finial! The source of my wrought iron rods, brackets and finials is in the back of Laurel's Rolodex as one of the sources I can't live without.
However, if you really need/want to save money and have a working curtain without rings, then I very much do recommend a grommet curtain.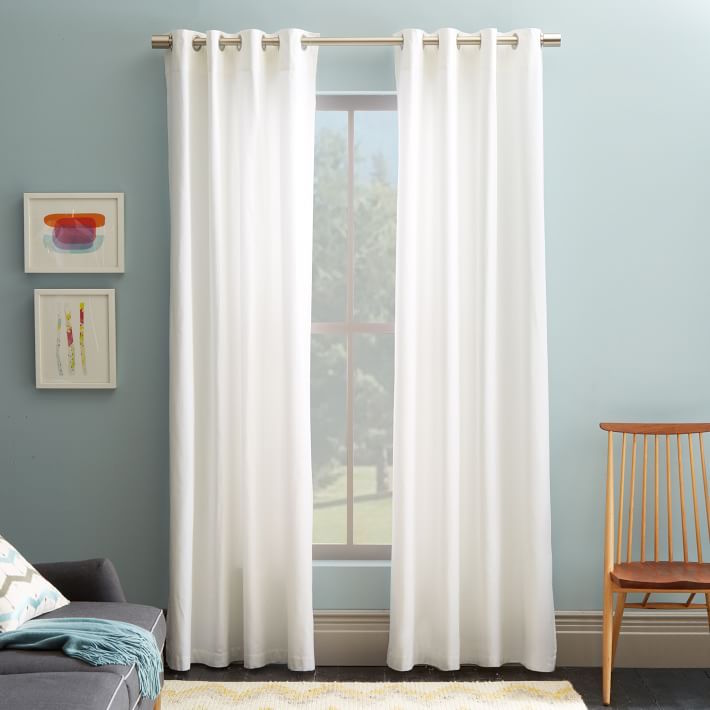 This white canvas one from West Elm is inexpensive and nice looking for a more casual interior.
and, it's 20% off, right now with code FRIENDS (free shipping, too).
I just added it to the hot sales widget.
Laurel, I still have a drapery hardware question. It's about the funny looking ring that looks like someone took a bite out of it. What's that all about?
Ahhhh… that's called a "C ring" for obvious reasons. The one above is from a boutique custom- drapery hardware company on Etsy called Lilly Max Decor
What's it for?
Well, let's say you have a long room with a bank of windows or doors spanning 20 feet or more! And, you need to be able to close these draperies. Well, you are going to need not two brackets, not three, but five brackets.
But, normal rings won't be able to go past the two brackets on set several feet away from the end bracket and the middle bracket. Therefore, some of the rings will need to be able to pass by those two brackets.
Or, sometimes the curtains might need to open to one side or the other and there's one center bracket to contend with. Same deal.
However, you will only need to use the C rings for the parts of the curtain that need to pass over the bracket. The rest of the rings can be regular rings.
There are companies that make regular rings and coordinating C rings.
Can you purchase rings and rods from different places?
Yes, you can. And what if the finish doesn't match? If it's already hand-painted, you can adjust the rod a little with some craft paint. But honestly, unless the match is really several shades off, it won't be noticeable. Pinky-promise.
What if you can't drill a hole because it is too close to the one already there? OR, the hole will show?
Ahhh… well, you DO have a problem. This is how I suggest you handle it.
First go to where they keep their booze and pour yourself a stiff shot of whiskey. I recommend going for the single malt scotch; Glenlivet, if they have it. And, then have one more, just to be on the safe side. ;]
Sure, go ahead and laugh. There is a very good reason that I prefer to sit until 2:15 AM making jokes about everything that can wrong instead of LIVING through one shitshow after another. However, believe me. Everything I'm writing about has happened to ME on more than one occasion.
Well, if you don't want to or can't make another hole, you can put a small piece of foam or something of that nature, between the rod and the bracket it's sitting on. This will raise it up some and it won't be noticeable. Nothing worse than a drapery rod that's sagging in the middle. AND, supported by a bracket.
Okay, what IF there are holes in the wall that are showing, anyway.
Please try, try not to do that. I worked with one installer on several jobs and lickety split, he had put up the brackets before I had a chance to stand back and say, "Doug, the forking rod is crooked."
Naturally, I got tired of this (and my clients complaining) and thus, replaced him.
However, even with the most careful installer, mistakes are very easy to make. This is why your clients must go for an extensive spa treatment while you're putting up the window treatments.
Really, unless they are the SUPER chill type, they should not be home. It is for the same reason that you can't be in the operating room if your child is having surgery performed.
So, now you have holes in your client's walls.
After you've poured your double single malt scotch, you need to pray. Pray very hard. Pray that somewhere, in the garage, basement, closet– SOMEWHERE lives a left-over can of paint to match the current wall color. Your installer should always carry spackle with him in his tool kit. Have him fill the hole ASAP. Go find a hair dryer. Stand there like a nerd blowing the spackle dry. Dab the paint on very carefully.
Do not get paint on the window treatment.
Do not knock the paint can over.
Carefully put the lid back on– tightly and put the can and hair dryer back where you found them.
End of story. hopefully
Laurel, you haven't talked about tie backs.
You're right. I haven't. Nobody does them any more and I need to get some sleep. ;] Plus, they're a bloody pain in the arse. I always did hold backs, instead of ties.
One last question, Laurel about the drapery hardware
Okay, fire away
How do you know how high to hang the rod? Or rather, how do you know how long the draperies should be?
Oh, this is such a great question. There is usually some wiggle room, especially if it's okay with you or your client if the curtains can break on the floor. I said, break, not puddle. Nobody does that any longer. By break, I mean at most an inch or two hitting the floor.
But, this is where it is advisable to know what curtain hardware you're using, before you order your curtains. Once you know that, all you need to do is figure out how high your rod should be and then allow the space for the rod and rings. It's usually about the overall diameter of the ring.
So, if your rod is at 92″ off of the floor and you'd like a little break, your drapes should be about 91″ long. If you don't want the break, then, about 90″ should be good. But, always double check!
However, if you are getting ready-made curtains and want to hem them or have them professionally hemmed, you can install the rods first and then pin the drapes and then mark where you'd like them to end.
Be sure to look at more than one window if there are multiples. Sometimes the floor can be quite uneven.
Has anyone ever used stitch witchery to either "sew" ready-made curtains or to make anything?
Okay, since this is the second longest post ever, time to wrap this baby up!
Below is a widget with some of the products we've discussed and a few others, we haven't. Please click on any of the images for more info.

Of course, I am quite positive that I have not covered everything.
one) I don't know everything
two) I'm sure I've forgotten something I already know
So, if you can think of something I've forgotten or have a question related to the topic of drapery hardware, let's discuss it.
However, I still recommend a professional installation. They will know how to keep the rods up on the wall where they belong, even if your home is made out of cardboard. It's frighteningly common these days.
You might also enjoy this post about different drapery styles as shown through 17th – 19th century art.
xo,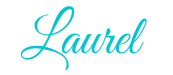 PS: Please check out the newly updated hot sales