Please enjoy this post about how to make budget window treatments look custom.
Dear Laurel,
We recently moved to a 60s center hall colonial. And, yes, the previous owners had granny decor taste. Lots of ditzy flowers and ruffles and stained oak.  Incidentally, I laughed so hard when I read that post, I think I fractured a rib. No worries, it was probably just a little gas.
Fortunately, I don't have a husband who turns into the incredible Hulk if you even mention painting the stained wood. He totally gets it and is on board.
Oh gosh, Laurel; sorry for the rambling.
You must have better things to do than listen to my whining. It's just that we're house poor and have 21 windows that are covered in paper shades.
So, I looked at some of your ultimate window treatment guide. And, from what I can ascertain, it would be thousands of dollars not including installation. Uh, like tens of thousands. I asked a friend who has a gorgeous, professionally decorated home. And yep. That's what it is.

We just don't have that kind of money to spend.
Well, anyway, the absolute most we can afford right now for all 21 windows is $5,000.
We need budget window treatments but with a custom look. Am I asking for the impossible?

Best,
Sade Roman

*********
Thank you, Sade! Is it impossible to get budget window treatments to look like high-end custom ones?
Yes, it is.
Good night.
Oh, wait. Don't go. I do have some tricks up my drapery rod. (Sorry, that sounds a little dirty but not intended.)
;]
With a little ingenuity and some clever ideas (none of them are mine), ;] much can be achieved to make budget window treatments look pretty damned good.
Plus, I have found some fantastic lower-priced alternatives, some of them, today! You'll find those later on in the post.

But, here's one, FabriHome on Etsy that makes custom window treatments that are quite reasonable and lovely, too!
Before I go on… I realize that several readers are professional designers and some fabulous window treatment workrooms are represented here. Okay, I can see the smoke blowing out of your ears.
I want to make it clear to consumers that if you can swing it, there is nothing like custom curtains, draperies, valances, shades, etc. That is because these are going to be crafted by hand. And, a great workroom is going to create your window treatments with love and pride in the work that they do. And so many details can be customized. There is a choice of lining, header, trim, and more…
These types of window treatments are super-labor-intensive. Thus you can expect to pay a lot more for that than something manufactured in China, in an automated process.
Therefore, if you can't afford custom window treatments, please know that all is not hopeless. Therefore, if money is tight, we will go over some ways you can create the custom look for a fraction of the price.
Also, this is a good post for folks who are working with a custom workroom.
So, let's get started, as I'm excited to share all of this with you!
A while back, Beverly, a very clever reader, sent me a photo of her beautiful bathroom.
Wow! That's gorgeous.
But, get this. She told me the Roman shade was from Bed, Bath & Beyond! And no, it did not come trimmed like that; she added the trim. Now, I'm doubly impressed!
Here is a good tutorial that shows how one clever blogger added a flat trim to a similar Roman Shade.
I know. You want to know where the wallpaper is from.
After some research, I discovered that it's Luzon by Thibaut.
***Before ordering wallpaper, I recommend reading this post to help you avoid making costly mistakes. Unfortunately, wallpaper is never returnable. That's right; not even if it's shrinkwrap sealed and unopened.
Okay, it's time to share numerous ideas you may or may not have thought of to get budget window treatments that look custom.
This first idea to get a custom look for a budget window treatment is not for the plain tangerine curtains but for the plain white roller shade.
Yes, a talented designer, Darnetha, stenciled the roller shade!
But, not only do I love the stencil design, her use of color is fantastic and fun.
Please check out her beautiful blog, where she shares her tutorial for how she did the stenciling.
You can purchase the stencil here.
There's also this darling idea where a woman took a plain roller shade and embellished it with iron-on tape to make a Greek Key design. I love this idea.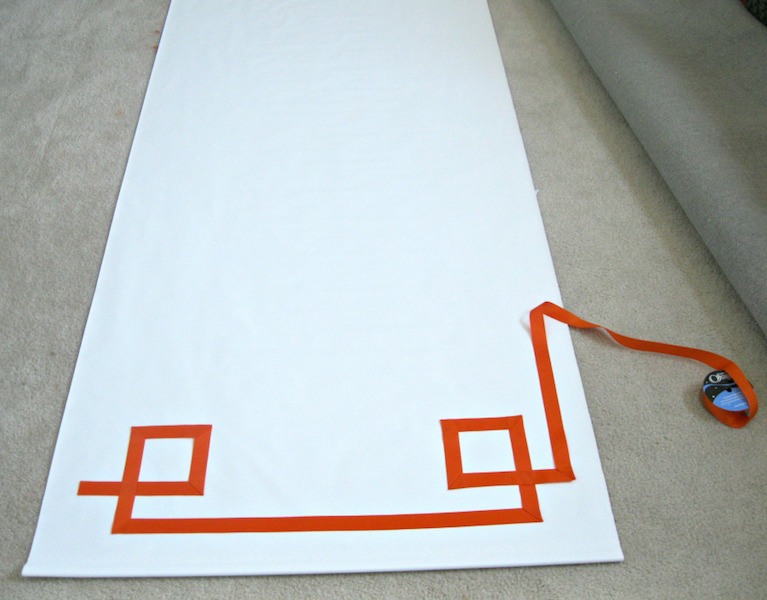 I love this idea. The tutorial is in the link above.
A few years ago, I was considering this design (below) for my old bedroom.
The design is with ribbon trim.
Around that time, I showed a similar image to a client I was helping with her kitchen, and she found a source to have them made!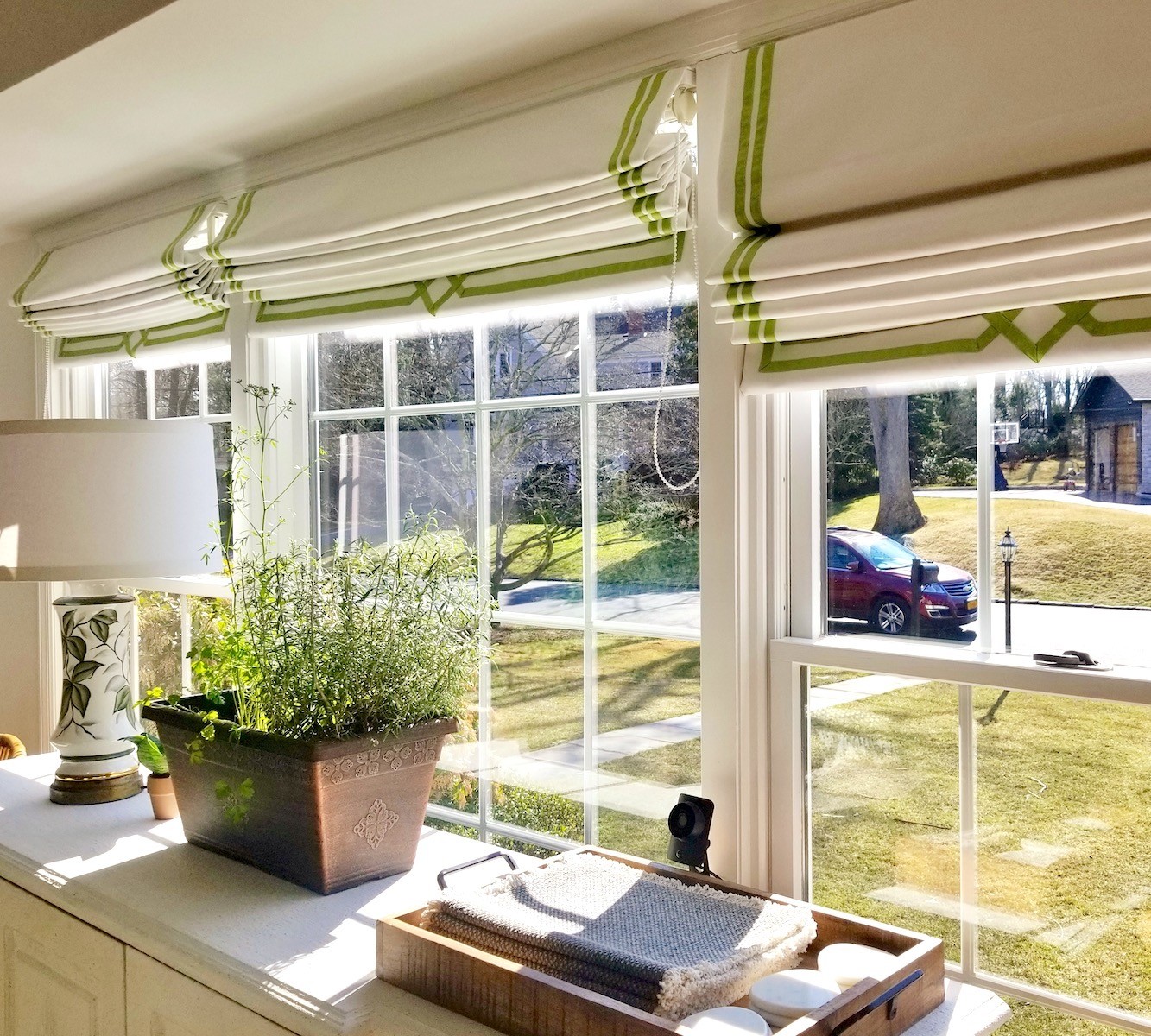 The source*, you might already realize is By Harrington. And, they did a wonderful job. This was a new design then, and they should've made the bottom flap longer. Dianne, the owner of By Harrington, offered to fix it– no extra charge, but my client was fine with them the way they are.
*By Harrington, many of you have seen on the HOT SALES main page, is offering 20% off all shades and drapes– everything, only for Laurel Home readers. To get your 20%-off, use code SECRETSALE
And, please check out this post for another Greek Key design on a Roman shade.
I want this one for my living room– one day, I hope!
Okay, let's move on to curtains and drapes for our next category for budget window treatments that look expensive.
This first idea is fairly common and that is to apply a trim to the fronts and sometimes the bottom of the drapes. We did this kind of applied trim dozens of times for clients. Sometimes plain and quite often my favorite Greek Key trim.
These kinds of trim are usually sewn on by hand.
The above is from a job we did several years ago.
However, what if you don't have a sewing machine? Or, you have six thumbs and four fingers?
Well, you don't have to sew these days.
Please check out this beauty. These ready-made curtains from Ballard Designs have a trim applied after purchase, and without sewing! Did they glue it on?
No, they used stitch witchery, an iron-on adhesive. I've seen tutorials that explain how to create all sorts of things, and NO SEWING INVOLVED!
However, other products are on the market for no-sew curtains and other soft furnishings.
Please check reviews and other information. Also, if anyone has had great success using no-sew adhesives or tapes, please let us know what works and what doesn't work as well.
Please click on any image for more information.

It has come to my attention from a kind reader that she prefers using Steam A Seam. She found that stitch witchery tended to bleed through the fabrics. What I would do is buy a few of these and then make some samples, following the directions. Then, let dry and see which one performs best. Below is a mini widget for some of the Steam-A-Seam Products.

But, here are some terrific sources for trim on Etsy!
You'll also see some fantastic sources in the big widget later on.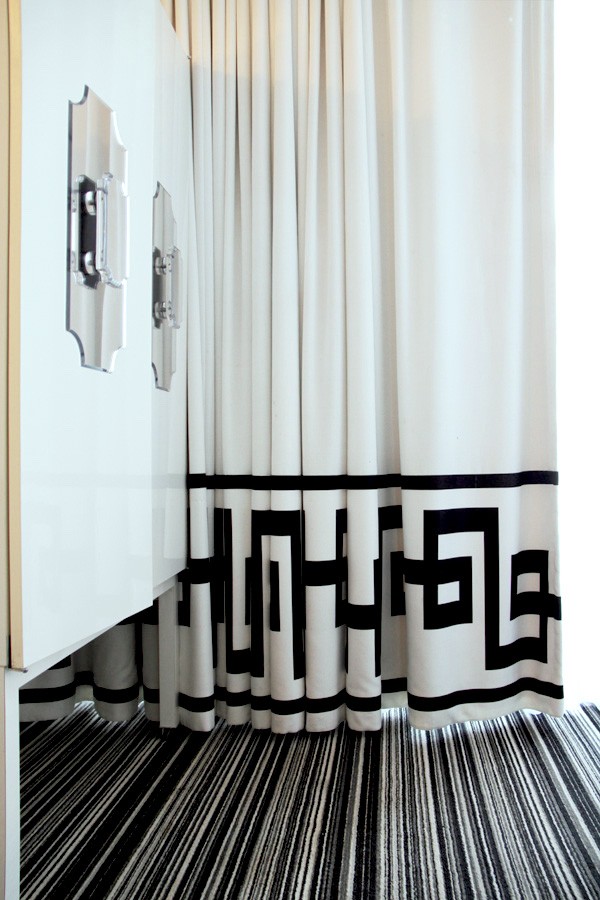 The next idea I got years ago when I found this image on the ish and chi – blog from seven years ago!
The location of this window with the gorge drapery is the Viceroy Hotel in Palm Springs, CA.
However, this is the only image I had.
The design is by the darling Kelly Wearstler. Remember her? She's the decorator who got arrested in Florida for practicing without a license.
I realize that sounds very clickbait-like, however, it's true. My idol, Darryl Carter, and the legendary Juan Montoya were also arrested in Florida. WTF??? It's a very entertaining post. I promise you won't be disappointed.
Well, I loved this trim so much (and still do) that I used it on at least four or five of the boards in the Laurel Home Paint & Palette Collection. But, I had no idea what the trim actually looked like, not folded.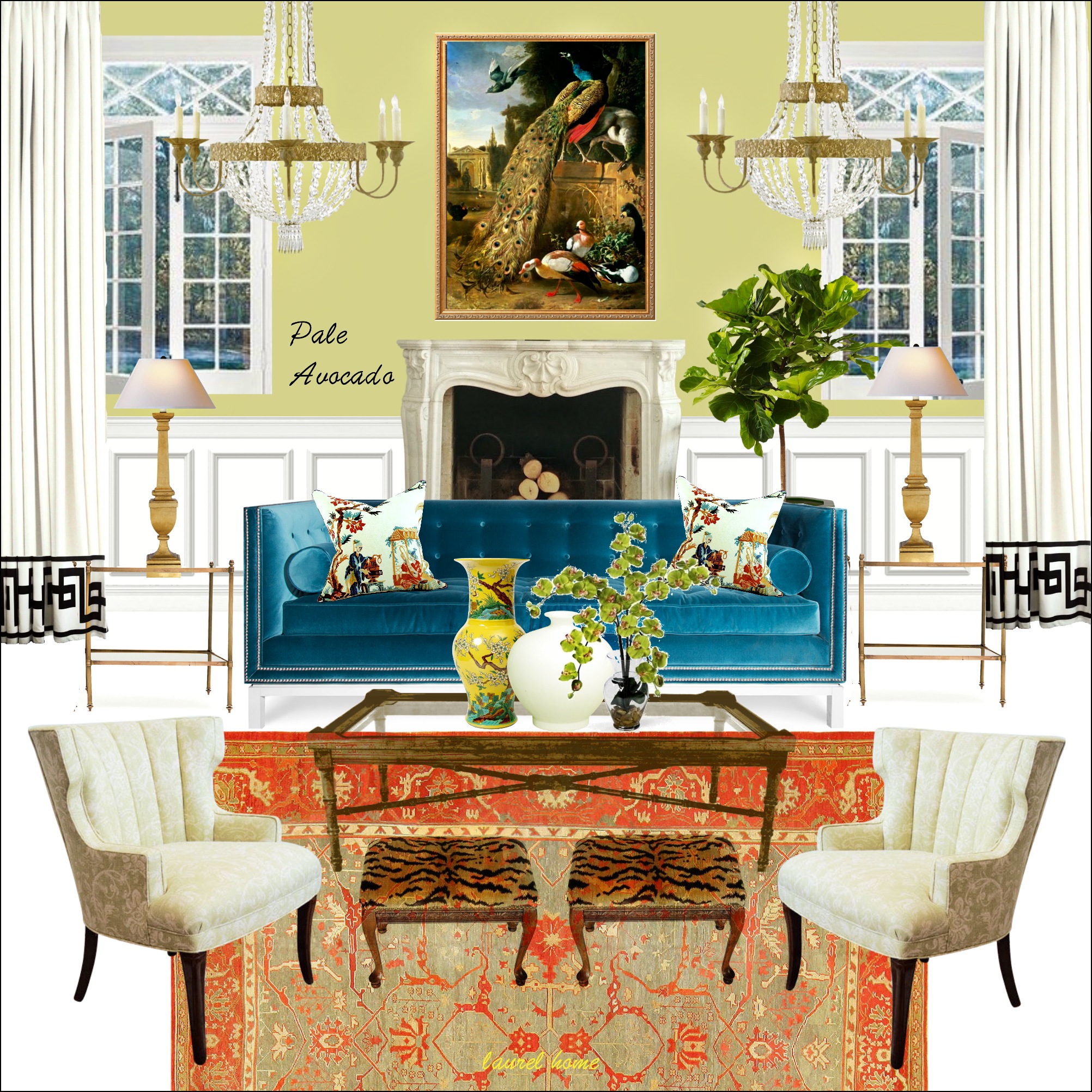 This is one of my favorite mood boards from the Laurel Home Paint and palette collection. There are 40 of these boards and 40 palettes. And, guess what my favorite part is? Yeah, the curtains with that awesome trim.
So, I had this crazy idea to reproduce the trim without seeing the full repeat.
I began doing searches for running Greek key trim.
I couldn't find it anywhere.
Okay, so what did I do?  Well, I went on picmonkey and created a grid, and then I started recreating the parts I could see. I figured if I started with that, knowing it's a meander, I might be able to reconstruct it.

Part one. I did a screenshot and saved it. And then I came back and added the screenshot to what you see above, only I turned it upside down.
OMG! That's it! I was so excited.

Then, I created the entire pattern including the top and bottom trim. The height of the trim is about 12″ – 14″. But, you could scale it a little bigger if needed. Kelly's, actually, IS bigger. Or, at least, it is when it's used as a valance.
A valance?
Yeah. I found it AFTER I had recreated it. Still, it was a great exercise and gratifying to solve the pattern puzzle.

The above, is from one of the hotel rooms at the Viceroy in Palm Springs designed by Kelly Wearstler. My design is more square and a little looser. Kelly's is more rectangular and tighter.

This is a screenshot of my design on picmonkey. If you want what I think is a helpful tutorial on how to use picmonkey, click here. It's not difficult and it's a lot of fun. I'm completely self-taught. And, remember, I'm a (former) computerphobe.
So, now the question is, how do you make this design on the bottom of a plain linen or cotton curtain?
Thank you, that is a very good question. I'm afraid that my capabilities are more conceptual than actual. haha. This is why I rarely make anything. I lack patience or fine motor skills or something. It's just not fun for me.
original source unknown
Fortunately, Kristi from Addicted 2 Decorating loves doing this stuff and always does it well. In this post, she puts together a gorgeous drape with one of my favorite Greek Key corner trims. The one above isn't hers. But, her design is very similar.
In addition, you can see other posts I've done on the blog, such as this one about all kinds of Roman shades and some great ideas to dress them up.
So, one way to create the Kelly Wearstler design is with tape as Kristi from Addicted to Decorating Did.
Another way would be to paint the design on. That would require a stencil and a tremendous amount of patience. But, it could be done.
But, I want to talk about another favorite way to make budget window treatments look amazing.
This idea is also my favorite remedy if your drapes are too short.
These ikat curtains from World Market are super cheap. (and great reviews, too) However, they are also only 84″ long.
tsk, tsk… 84″ is so 1992. We no longer do 84″ curtains unless the ceiling height is only 7 feet or so. 84″ is too short for an 8-foot ceiling. The only choice is to mount the curtain rod on the window frame. (casing) These days, we are mounting the drapes much higher.
The solution is to add a deep hem. We can also add a border to the front, but that isn't essential. The fabric looks like it has a slight pattern because the ikat is showing through. I did that so that the folds would still show. But, usually, we do a solid pattern.
I adore this look! And, have done it for clients who possessed some curtains that were too short. That was a gratifying solution.
Now, we need to go over some things NOT to do when working with budget window treatments.
The hem is too deep. This is a ready-made, but if it was custom, this is a wonderful example of a low sill that is the perfect height for the contrast hem. The drapes should be longer as well and go up several inches above the window.
Usually, the hem is from 14″ – 18″. However, if your sill is at 20″, then it's fine to follow that line.
If the ready-made curtains come with back tabs, please do not use them.
If there's a rod pocket on a curtain, and it's a stationary panel and gathered, I'm okay for a casual look to have the rod going through the pocket.

Pocket drape with a Kenney Turino rod and finial.
Otherwise, I feel that this curtain which looks glued to the rod instead of hanging from it is unprofessional and cheap-looking. If you feel otherwise, it's okay. But, to my eye, it looks wrong.
We've been through this before, but I feel compelled to speak up as the marketplace is determined to impose this  21st-century abomination on us.
Here's another wrong one. The panel is lovely, but the header looks stuck to the rod, not hanging from it.
What to do instead?
Always use rings with hooks. If you want more information about decorative curtain and drapery hardware, please check out one of my favorite posts.
And no clips, please, unless it's a super casual room.
The curtain above is hung properly, using hooks and rings, thus exposing the rod. Yes, the rings are an added expense, but curtains stuck to your rod will never hang right, and they will scream BUDGET WINDOW TREATMENTS!
For an extensive post about drapery hardware, please go here.

For good-looking and inexpensive window treatments another choice is bamboo blinds, below. They're great alone, or layered with curtains.
These are so cheap, I'm wondering if they are okay.
But the reviews are splendid. And they have many styles and sizes to choose from. (info in the link)
Please note that the bamboo shades above are NOT LINED. That means they are not private. They will make the room darker, but, folks can see through them at night.
Yes, Laurel made that mistake once for a client job.
Oy. Four bedroom windows. Fortunately, I was able to send them back and have them retrofitted with lining. But, it still cost me a few hundred dollars, plus shipping, to get them fixed.
These blinds are terrific alone or underneath your curtains or drapes. You can see an example in this post about a young woman who inherited her granny's dated furniture.
For an extensive post about woven wood blinds, please go here.
And please enjoy more shades, curtains, trim, drapes, and hardware in the widget below.
(please click on the individual images for more info. Also, a few of these treatments are not cheap, but they are not expensive either. But, totally lovely, I think.)

I hope you enjoyed learning some of my tips and tricks about how to make budget window treatments look more custom.
xo,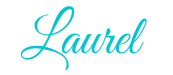 PS: Please check out the newly updated HOT SALES. Huge Easter weekend update!
Please click the graphic below before you do your shopping. I will earn a small commission at no extra expense for any orders you make within 24 hours of that click. I very much appreciate your support of this website.