Dear Laurel,
I was having lunch with a friend who like me, loves to decorate and I was telling her about the plans for our living room refresh.
I loved those drapes you did with the Greek Key Pattern on them. But, when I showed them to my friend, she scrunched up her face and said, "Ya know, that design trend has nearly played itself out; I'd leave the trim off. Otherwise, you're going to date the room shortly."
Hmmm… I know that you're always talking about Greek Key Motifs and how much you love them
Is she right? Is it a mistake to use a Greek Key Pattern, in this case a trim on my draperies and perhaps elsewhere?
Meandra Keyes
Hi Meandra,
No. It's not a mistake.
It's not a mistake any more than say, putting in a front door.
But yes, anyone who's been reading this blog for a while, knows that I adore Greek Key Patterns.
My living room. Photo by Me.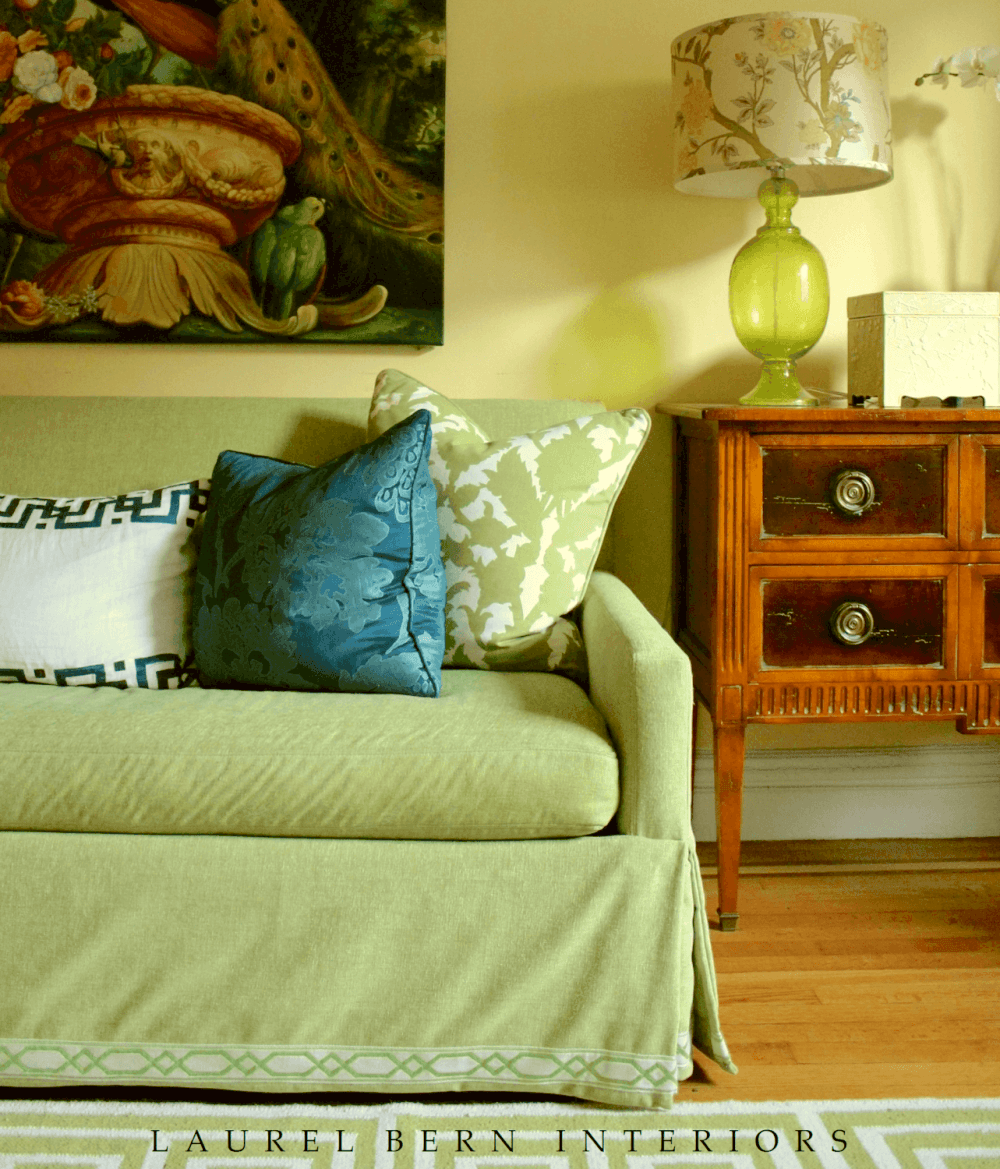 Greek Key rug. Greek Key pillow. And Greek Key-esque sofa trim. I love it all. In fact, if you'd like to see an earlier post with lots of gorgeous Greek Key images and info click here.
However, what is it about Greek Key Patterns and Motifs that makes them so appealing?
The Greek Key pattern, also known as a meander pattern, is most often used as a linear pattern. The design is a geometric line that repeatedly folds back on itself, thus mimicking the  Meander River of Asia Minor
This pattern became particularly important to the classical Greeks and then Romans. The Greek Key motif symbolizes the infinite and unity.
But, they also convey a beautiful graphic that's architectural, pleasing to our sense of symmetry and balance. Above are some examples of some common Greek Key Motif patterns. But there are many more. (sorry, source of the graphic unknown)
Greek Key Patterns are both traditional and modern.
It's not a fad.
People may have it more on their radar now, but it's not new and it's not going away as a time-honored classical motif.
Now…
I have to tell you.
I could sit here all day searching the interwebs for Greek Key Patterns.
All day.
For a month.
But, since that's not happening, I'll do my best to cut this short.
After-all, I know that you have to fire up the grill soon! :]
Today, I'm going to share with you lots of wonderful ways to use Greek patterns.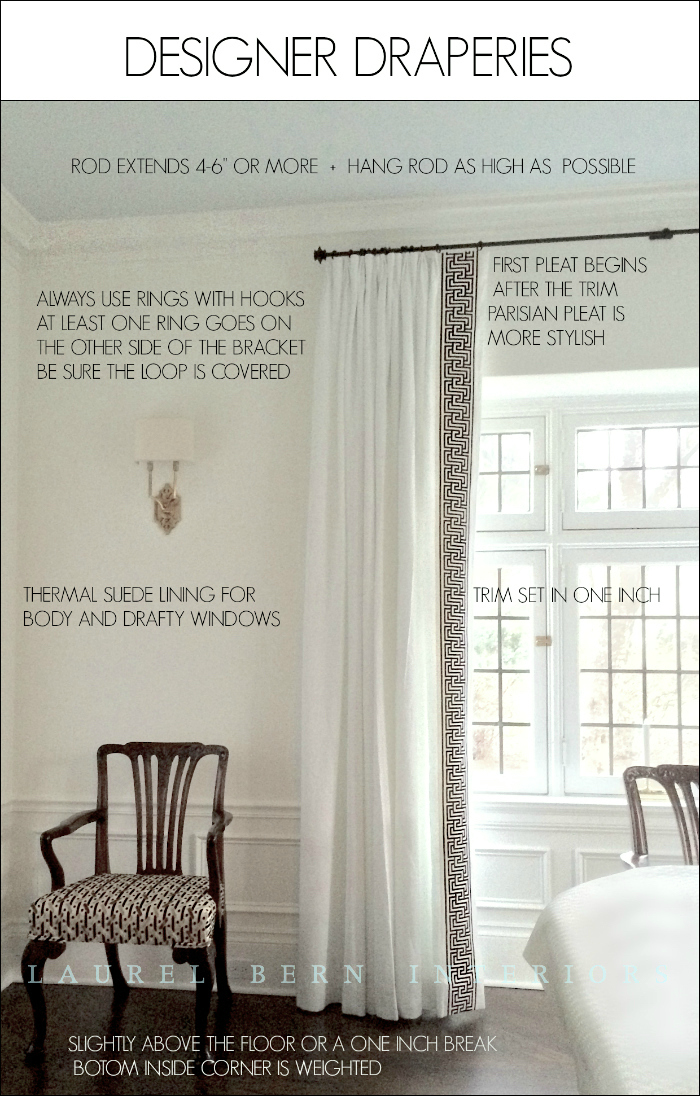 A couple of years ago, we did this lovely drapery with Mary McDonald Greek Key trim. To read more about this post and pretty much everything you know about window treatments click here.
(please forgive the typo in the graphic. I forgot. My magic wand to fix it is at the cleaners. And I believe that they just want out of business.) ;]
I adore this green Ming table I found @palmbeachthrifters on-instagram
via Barbara Westbrook Interiors on instagram – Greek key home exterior Atlanta
Love her work! Remember this gorgeous bedroom?
via @katherineandsouthall Greek Key Motif fence historic property Hancock Wirtcaskie House
A visit to a wonderful building in Brooklyn Heights with an image by me. This is a piece of the ceiling.
Brooklyn Law School – City Hall with a Greek Key Motif floor. My pic and feet. They could clean a little better, no?
And, I realize that part of it looks very much like a swastika. That design was also a beautiful classical motif before the Nazis took it over to be a symbol of everything that's atrociously evil in a world gone mad. It's really a shame, but of course, what they did is a trillion times worse.
Ironically, its original meaning was the diametric opposite.
Photography: Amy Bartlam and Ryann Ford – designer Meredith Ellis
Love this bedroom and I think that the Greek Key Pattern on the duvet cover makes it!
via @amandaforresstyle on instagram Greek Key motif with Metrie wall moulding
For more beautiful Metrie mouldings click here and here.
Throughout history Greek Key patterns have also appeared on clothing.
It's not too flattering, but, nonetheless, it's a Greek Key Motif. It was very popular in the Empire and Regency periods of the early 19th century.
And, we can still see Greek Key Patterns in clothing today.
via @vmnemporium @versace instagram -That's better! ;]
You can also frequently find a wonderful Greek Key Motif out in nature.

How cool is this Greek Key Boxwood Hedge?
Sorry, I tried in vain to find the original source of both images.
Fabulous black and white floor and chic staircase by Tori Mellott on instagram
Interior design by Nick Olsen – Amazing!
Below is a widget of some beautiful home furnishings which feature a Greek Key Motif. Please click on the individual images for more information.

***Okay. Very important***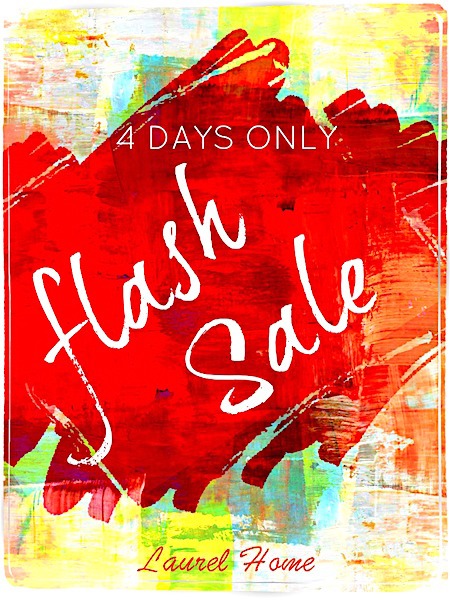 The Laurel Home Products Flash Sale is ending July 4th @ 11:59PM eastern time.
(The info is in the link)
And please visit the hot sales pages for some of the best Fourth of July sales going on right now. Including 20% off of everything at Serena and Lily!
via @Jamberry and @ellenlange on instagram greek key toenails
Please have a beautiful, relaxing holiday. (the one that lasts for ten days this year!)
xo,