Dear Laurel,
My husband and I recently purchased a darling farmhouse (circa 1900) on a beautiful piece of property in Western Mass. Or Massachusetts, if you're not familiar with the term. Western Mass is what folks from Boston call it. We raised our kids in bean-town, but realized a few years ago that we longed for a simpler, more quiet life.
And that is what we have; uhhhhh… except for our

building contractor

who I'm about ten seconds away from firing because he has a yap on him that never quits.
Never mind the arguments about our "unkitchen" renovation. HE DOES NOT GET IT. Every time we discuss my disdain for upper cabinets (which go over counters) and look stuck to the wall, I get a condescending lecture like I'm in kindergarten or something.
Oh, and I'll spare you the comments he made about some of our paint color palette ideas.
Obviously, he doesn't read your blog, Laurel.
Okay, enough whining about him. The real reason I'm writing is to talk about my paint color palette.
I love that post about your 16 favorite Benjamin Moore paint colors. After reading that, I realized that I had to get your paint and palette collection guide. It is a total game changer and worth at least ten times what you're charging for it.
And, it's not just the colors; there's so much useful information about everything having to do with choosing paint colors–including the best white trim colors for each of the 144 paint colors. I love that. It gave me such peace of mind not to have to stress about that one!
When we tested, we felt that white dove was just a tad too bright, but Benjamin Moore Swiss Coffee is sublime. But now, I'm also loving Ivory White.
Oh, and we redid the floors too and went with your recommendation in the paint palette guide.
I love that chapter about the "6th wall" which was a bonus, amongst many I wasn't expecting. And the hardwood floor stain is glorious! The perfect floor color.
In fact, to get our home in Boston ready to sell, we painted EVERYTHING. Oh, I wish we had that contractor for the new place. He loved the paint colors we chose, or if he didn't, he knew when to keep his opinions to himself! Really nice guy.
This is the board from the palette collection that made up our minds, the paint color palette we wanted in our home. And we want the same for our new home.
more inspiration from Mary McDonald from this post
Do you know that we actually went out and got most of the items in this image, including the Chesterfield from W-S Home?
Well, no of course, you don't, but we did. And we get so many compliments on the furniture. BTW, we take advantage of the sales you post weekly. Love your Friday Hot Sales pages!
Unfortunately, the rug above was sold, but I just noticed that you have some gorgeous new rugs in your rug page featuring those warm-rusty-reds and warmer blue colors. And what I love, especially, is that everything is on sale.
And of course, we chose our paint color palette from the Laurel Home Paint Guides. (yes, per your instructions, we tested all paint colors first) Everything looked amazing; some of the spaces were more neutral. Can I tell you how much I adore Cleveland Green??
We used Corlsbud Canyon in the guest bedroom after you showed it off in this post about numerous shades of orange and coral paint.
One thing that was especially helpful is that you created the palette families. That way, there were many more colors to choose from and a few more great shades of white paint.

I am dying to do this in our new home.
This is one of my favorite posts where you featured all of the different ways to do Chinoiserie panels including making your own designs with a pre-made stencil. Also, love the work of Summer Thornton who uses these colors in many of her interiors.
Ever since you showed this image of racing orange paint color (below), I've been in love.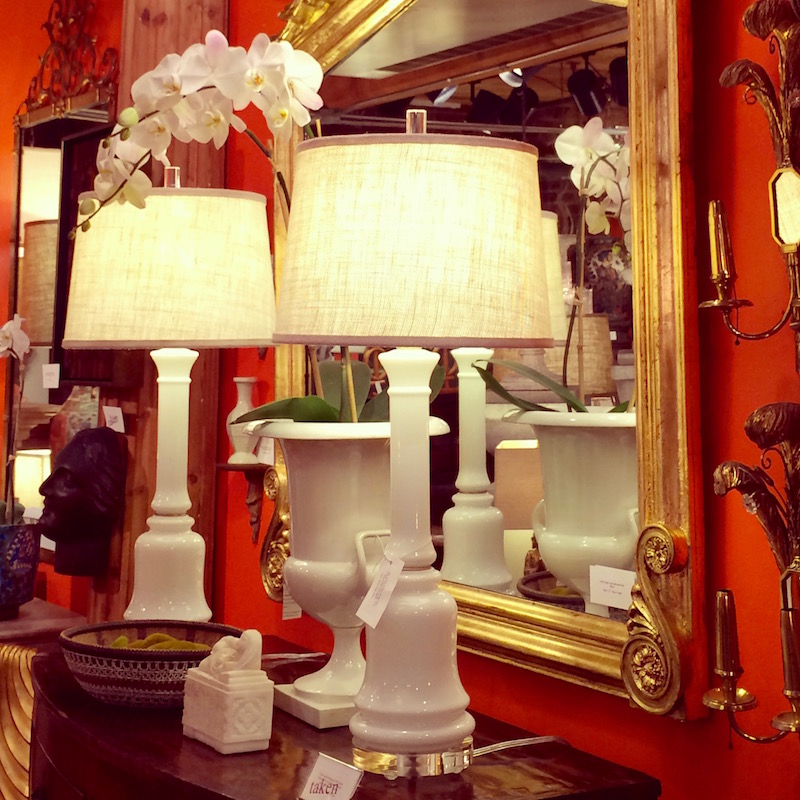 photo by Laurel at the High Point market Spring 2016.
ohhh… I spy a beautiful window transom!
Another thing I love is that the guide isn't just a bunch of colors and paint color palettes. There are 40 of these paint color palette boards with links to sources. Quite frankly, Laurel, if you charged $500 for the paint collection/palettes, it would be worth it. I realize that most people won't pay that much, but knowing what I know now, I would.
Our realtor asked who helped with the paint colors. haha! (You can't make this shit up!)
Well, our house sold practically before the realtor could put their sign in the ground!
I've just made my decision. I realize that the contractor is not right for us. He hasn't actually done any work. I'll pay him for his "insultation" time. :/

I'm sure there's one out there, who gets us and our vision.
Sincerely,
Fanny Ovue
Well, actually, I have to confess, you CAN make this shit up, because I just did. haha!
And if it seems a little self-promotional, it's because it is. But I'm doing it for your own good. Sure, and mine too. Think of it like when public TV does those annoying seasonal fund-raisers. Only, hopefully, this isn't quite as annoying.
However. Everything here has been said in one way or another to me by some kind soul. You can read the testimonials on the paint palette page if you don't believe me. There is also a paint collection page because they are actually two separate products that are sold as one product. They were released six months apart because it would've killed me to do them at the same time.
The same kind comments can be seen on my other two products Laurel's Rolodex and the new blogging guide.
I'm so proud of all of my products and very grateful to so many who've purchased them.
So, here's the surprise that if you're on my email list you got notified about.
that's a link to the product page, above. :]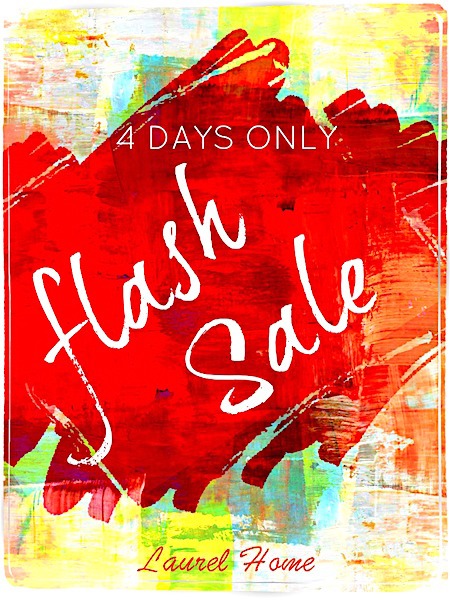 please help me get the word out by pinning to pinterest, if you're able.
This is more rare than it getting to 100 degrees which it might today, here in New York.
So, for those so inclined, here's the skinny on the discount.
If you get any one of the three products, you'll get 20% off.
Any Two products 25%
All Three products 30% which is almost like getting one of them for free!
***But, this flash sale is only until 11:59 PM July 4th, 2018.***
After that, the price IS going back up to where it was yesterday.
And just so you know, in the fall, the price is going up for everything!
Rolodex owners do get FREE lifetime updates.
However, if you aren't interested in any of that and even if you are, the store sales this weekend are OUTRAGEOUS.
And yes, one of them is Serena and Lily. 20% off the entire freakin' site! (through the 5th) And there are other great deals too like one of my favorite sitewide sales on One Kings Lane.
For those who are interested in purchasing my products, a bit of info that will make things go much smoother for both of us.
The process is super easy. There is a brand new page with individual links for all seven options.
PAYMENT. Yes, it's Paypal. You do not need a PP account.
Please do not use your husband's PP account OR yours IF the email address is one you are no longer using. Please use your CC card and put in the email address you want it to go to. It is completely safe and secure. Or, you can use your PP account if you're still using that email address.
If you forget, I won't take your head off but just know that husbands often delete the updates.
As a public service announcement. You CAN forward your email. Many people do not realize this.
If you don't get your guide within an hour, please check your spam folder. If you don't see it there, do a search for SENDOWL. (my shopping cart service)
Thanks so much guys!
Happy Fourth of July Weekend! (more like 10 day weekend!)
I hope it's okay to say that. Somebody took my head off the last time I wished y'all a happy holiday weekend.
But, seriously, as a reminder. The heat can be deadly so please drink plenty of (non-alcoholic) fluids and carry a salty snack with you if you're out in the heat.
xo,