Last year I did something I vowed I would never do.
I took on a long-distance interior design job.
Oh, you've probably heard the stories…
I mean, you can't exactly drop everything and fly out 3,000 miles if there's an emergency. Right? And the thought of having someone screaming in my ear or sending threatening emails isn't very enticing either. Of course, that could happen, with a local client, too. But at least with a local client, it's easy to bop over to see what's going on. (BTW, I can count on one hand the number of times I've been screamed at. It's very rare.)
It takes a special kind of person to make what could turn out to be a total purgatory, into a fun, rewarding experience.
A very chill-type-person-who-won't-get-too-worked-up-when-the-chair-arrives-and-the-back-leg-is-broken.
That type of person.
Well, in the summer of 2015, out of the blue… I got an email from such a person; a woman named Jenn.
Of course, I couldn't tell that she was that kind of easy-going individual in the email.
But I certainly could after chatting to her on the phone for quite a while a day later.
You know that feeling where upon meeting someone for the first time, you know that you're going to be friends?
Well, that is the feeling that I got after speaking to Jenn. Warm and bubbly and not only that, a woman with superb taste. AND, a woman who knew exactly what she wanted. But in a not-pushy-way whatsoever.
A couple of months earlier, I had done a long-distance paint consult for her parents. (who as an aside adore their Benjamin Moore Cotton Balls oc-122 one of my fave white paint colors.) They were so happy that they told Jenn about me and that is how she happened to contact me in May 2015.
Jenn, her husband and four soon to be five (!) children were just about to break ground on a custom-built home in the blue-grass state. Well, they weren't the ones bull-dozing, of course. But they did have an experienced master-builder who they loved and trusted to do a great job.
Jenn sent me some photos to show me what she was in the process of cooking up.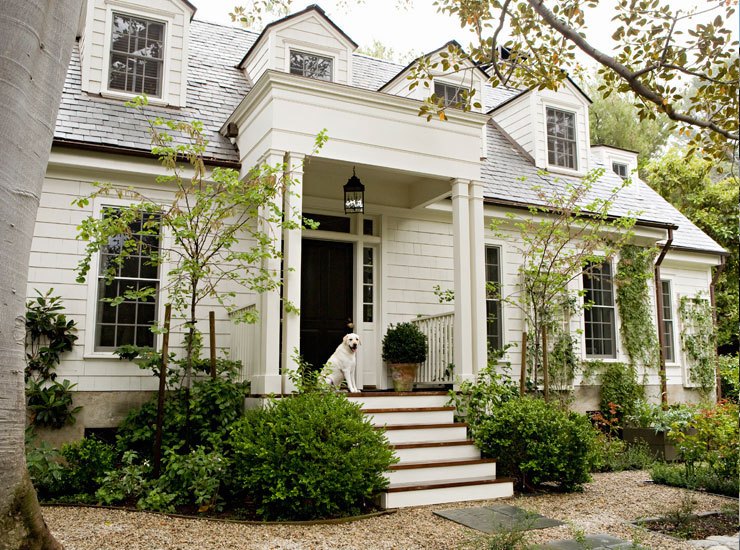 Inspo for the exterior. I do know the paint color. It's rather divine, isn't it?
Oh, you want to know what it is? It's in the laurel home paint collection. ;]
Okay, okay… I'll tell you. It's Benjamin Moore Swiss Coffee oc-45. It's like cafe au lait that's really the lait with a whisper of warm coffee– a very yummy cream.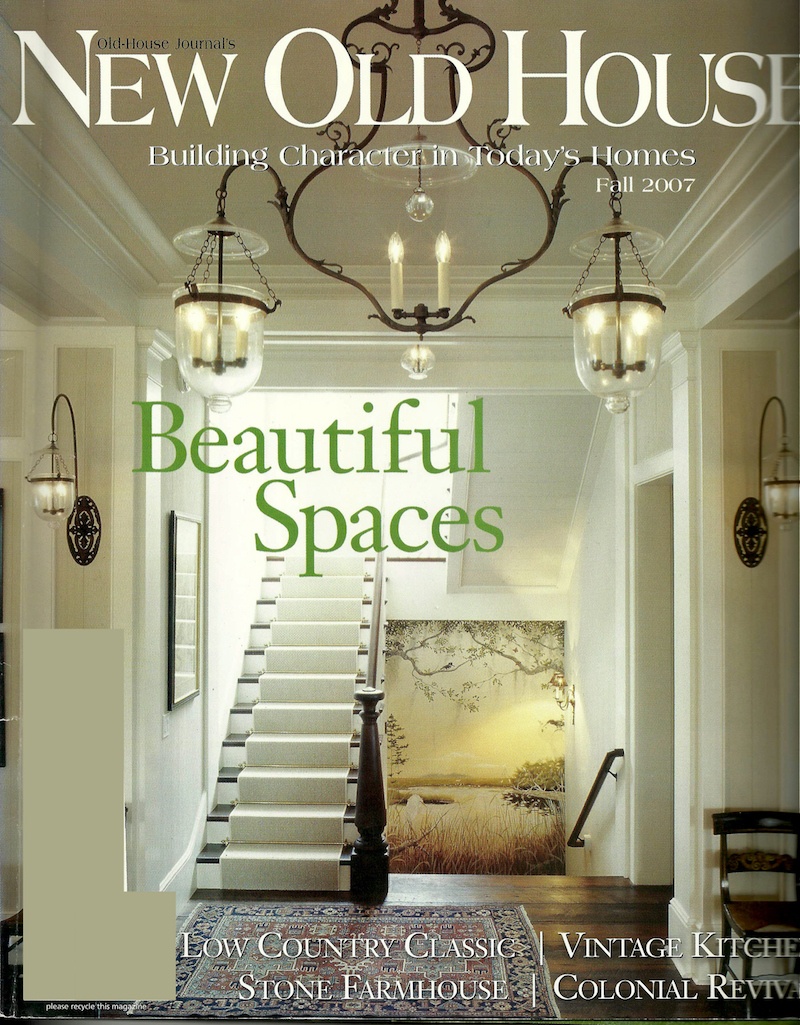 Above and below beautiful traditional architecture and interiors by Aaron Daily.
Damn. That's pretty gorgeous!
Her dining room. Well, not hers– yet. This one is by the fabulous Beth Webb.
The one above and the next two many of you will recognize as the stunning kitchen and Atlanta Homes and Lifestyles winner, created by Frank Neely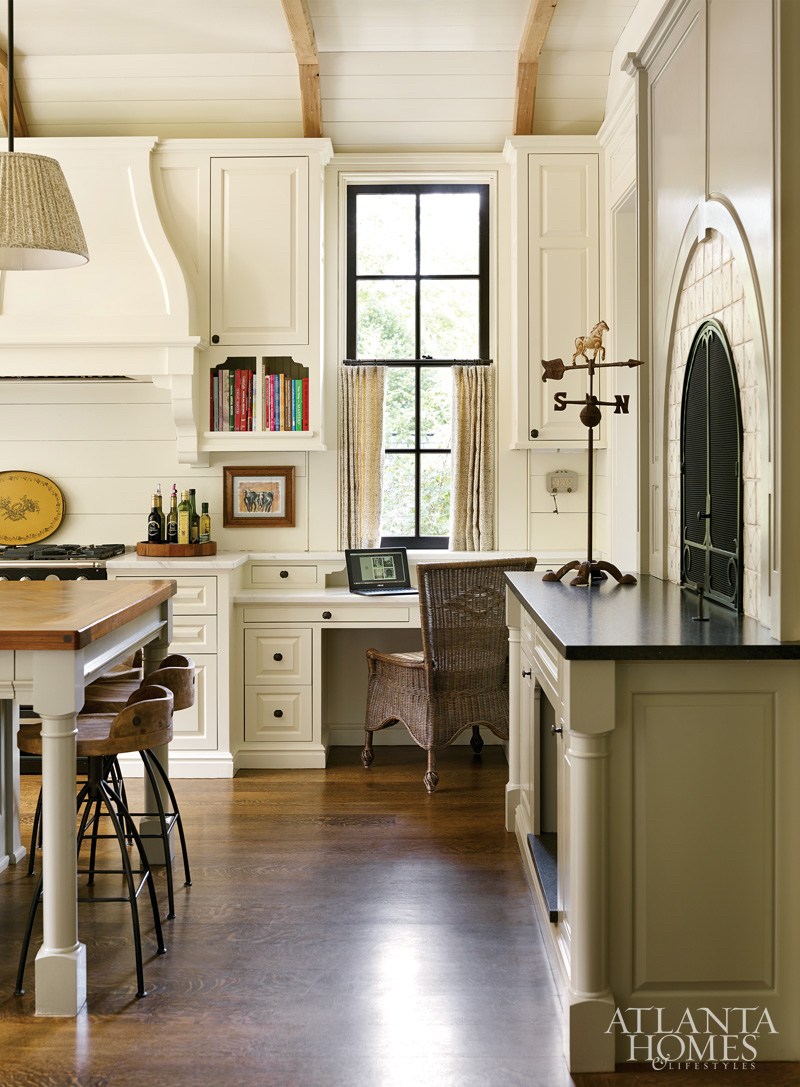 Jenn told me that they were copying the dining room AND kitchen.
Okay, I'm in. Geeeee… hope she wants to hire me!
Well, I guess I already gave that one away. haha.
First on the agenda for this exciting long-distance interior design job was the floorplan for the first floor.
I was to help with the main living space and husband's office as well as paint colors for much of the home.
Jenn said, "if you see something to say something– don't be shy."
Who me?
Here we have exhibit A – Le Floor Plan–
This shows the GREAT room which is one BIG living, sitting, kitchen with a dining room appendage.
In our convos, Jenn said that they were casual and they want a timeless, traditional, stylish and cozy family home.
I love that. Just one big problem.
There's nothing cozy about a room that's 19.5 feet wide X 45 feet long.
That is a swimming pool.
And I had some other problems too.
I didn't like the location of the gorgeous kitchen fireplace, kind of shoved behind the side of the island.
The island is too narrow
There's only one wall to put anything on in the living room.
And the biggest problem is that we have this big barn of a room.
Then, it came to me.
Let's move that wonderful fireplace around the corner and create a wall between the living and sitting area with two doorways and the fireplace between them.
That way, we kill several birds. There will be a wall in the living room. The needed separation while still maintaining an open, light feeling and the fireplace will be a focal point to enjoy for those hanging in the sitting area.
Jenn loved all of the ideas and got the okay from the builder.
I ended up redrawing the entire room! But I love doing that sort of thing.
Fast forward – one year later.
Here is the sitting area with four wonderful swivel chairs from Lee Industries
And that chandelier. I bet you want to know where that came from.
Me too. lol
I plum forgot the woman's name.
Oh wait!
She's in Laurel's Rolodex!!! I know I say this a lot but that thing that I created for you guys, has saved my life more times than I can count.

ELOISE PICKARD ON PAGE 239!
Eloise doesn't have a website. It's all word of mouth, but you can read more about her fabulous hand-made lighting here.
A 180 degree turn back towards the island and range.
This view looks a lot like the inspiration kitchen. But over-all, while very similar it doesn't feel like a carbon copy to me. That is what I was saying in this post about getting inspiration from designs we see.
pretty brushed nickel faucet. Love the detail of the marble backsplash.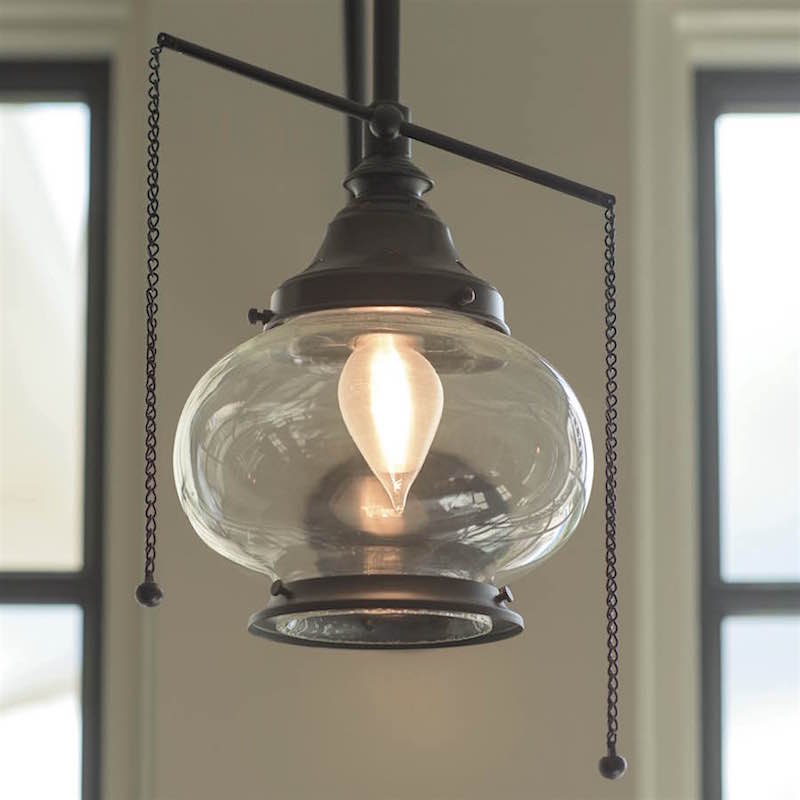 Another Eloise Pickard creation and below in the dining room.
Whoa! The dining room is stunning and nearly identical to the model. I designed the window treatments, but Jenn's workroom did the work and wrought iron rod. I suggested a heavier linen and a fuller treatment than in the original. Trim from Samuel and Sons and linen fabric from one of my best secrets (in Laurel's Rolodex) The chairs are new from me, from Phillips Scott.
The cozy, warm living room.  I had a hand in everything except for end tables and lamp. Furniture is from Lee Industries. Jenn already had the chairs but we chose a simple ticking to have them reupholstered.
The drapes are made from Bird and Thistle cotton chintz from Brunschwig and Fils
The view towards the fireplace.
On the other side of the kitchen is the back entry and mudroom.
Kid's lockers. Love this!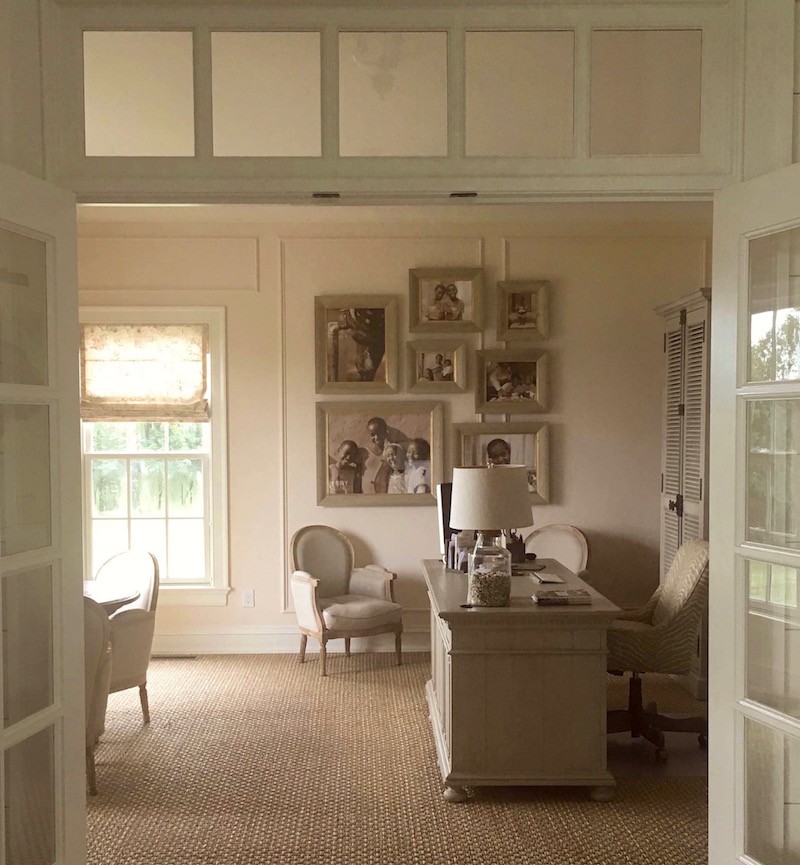 Jenn's office painted in Benjamin Moore's Puppy Paws 1152, a lovely, soft, pale-dusty-pink. Oh, in addition to being the mom of five, building a house, Jenn runs a non-profit located half-way around the world!
Jenn and family outside their new home.
The back. Nice!
The exquisite, bucolic property most likely just after dawn.
Well, long-distance interior design work could very well be a nightmare; but not this time.
Jenn is one of the most delightful clients I've ever had. Every step was a pleasure. And when she sent me over these photos a couple weeks ago, I seriously couldn't believe that we did this.
It was a true collaborative effort of homeowners, builder, designers and trades.
Jenn and her husband are thrilled with their new home and I'm so happy to have been a part of it and to be able to share it with you. I forgot to ask until this afternoon who took the photos, but as soon as I find out, I'll give credit.
xo,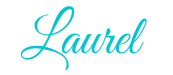 Save
Save
Save
Save
Save
Save