As promised, I am finishing off the perfect no fail home palette [and here's part II] for our new homeowners,  and I am going to give you a list of the best no fail Benjamin Moore gray bathroom colors. Their painter has called off his dogs and all is right with the world. However, we haven't discussed what to paint the two upstairs bathrooms. Here again, is the upstairs floor plan.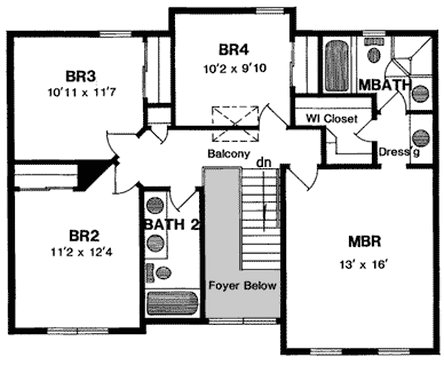 The first bathroom is the community bathroom for the kids and any visitors who might be using the upstairs bathroom. Some people like to paint their kids bathrooms jazzy colors and put up equally jazzy tiles with so-called kid-friendly themes. I do not recommend this because… one, if you are not staying in the house for a while, it might devalue your home and if you are staying in the house for a while, your kids are going to out-grow this look very quickly.
In addition. While I do like other colors for kitchens and bathrooms, my all-time favorite for the last 25 years has been white. Does that tell you something?
Oh, but Laurel… White is so STERILE!
Yes. A white bathroom can look sterile. IF it looks like this.
Sterile is devoid of interest.
This is an all-white bathroom. Doesn't look sterile to me. It looks like heaven to me.
Here is a refresher on the 20 best shades of Benjamin Moore white paint and some exceedingly beautiful, anything-but-sterile rooms.
This does not mean that in a white bathroom, you need to have white tile, walls, sink, mouldings, trim— everything.
But in my opinion, one of the most beautiful ways you can do a bathroom is with subtle gradations of white and pale gray.
For the most part, the best colors for bathroom are soothing and/or refreshing. Right? We want to relax in our bathrooms and get clean. (well, duh) Cool colors feel cleaner. Spa-like. So, for now, let's stick with that. We are going to do white sinks, tubs and toilets. Our cabinetry will be white. Tile can be Carrara, White Statuary, Thassos or even Calacatta. Although, the latter is quite expensive as it's become wildly popular and therefore, harder to get. Quite frankly, Carrara Bianco looks pretty much the same and is maybe half the price. You can also mix marble and ceramic tile.
Therefore, the natural no fail color for our walls is going to be gray. Later on, I'm going to give you some of the best no fail gray Benjamin Moore Bathroom Colors.
However, please note that these shades of gray would look great in ALL rooms.
Gray is a tough color as you may already realize. Here is one of my favorite blogs called A Perfect Gray. Can you imagine that a blog is so focused that she is in quest of that one perfect shade? However, one person's perfect shade might look baby blue to someone else. It is easy for gray to go blue.
Usually, gray is not pure gray. The reason is two-fold. There is no such thing as pure white or pure black. Therefore, there is usually some other color lurking in its undertone and the most common one is blue. This is because pure white paint is made from titanium dioxide which has a blue undertone. Did you know that?
It's one of those nuggets that I did learn in design school that I filed away somewhere in the deep recesses. To compensate, other tints are added. However, with pale colors such as light gray, it is more difficult to get rid of it. Black is a mixture of all three primary colors! If you mix it with white, you will get BLUE. Fascinating, I think, but enough of the color theory.
Below are some pretty bathrooms that use the color gray in them.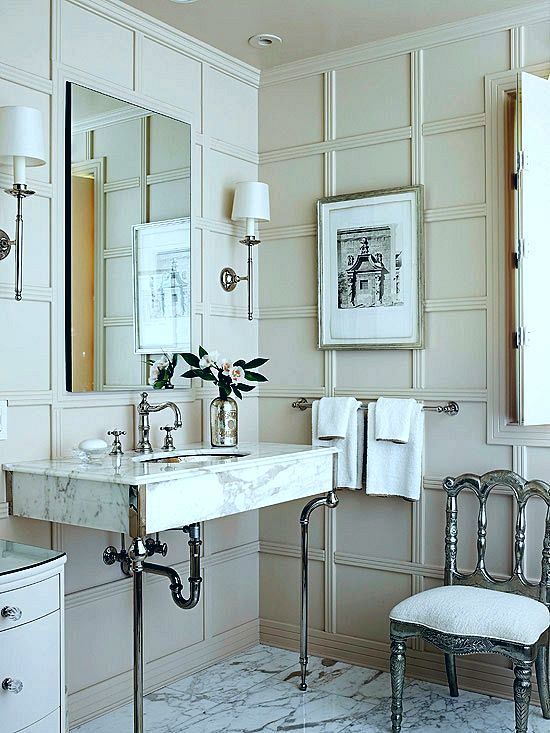 This is one of my favorite bathrooms. I adore this variation of batten board wainscoting!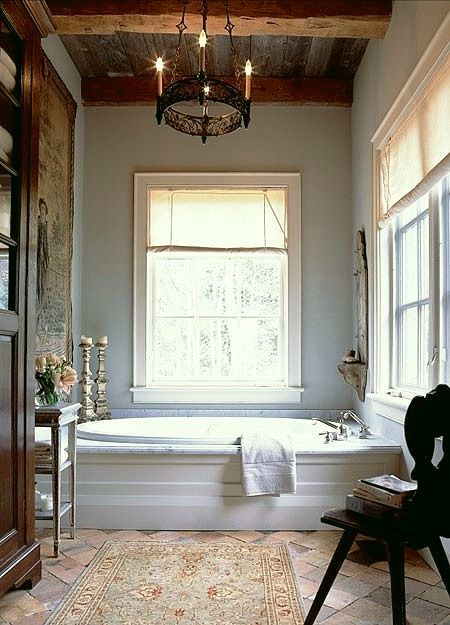 Love this unique bathroom by Toronto interior designer, Jill Kantelberg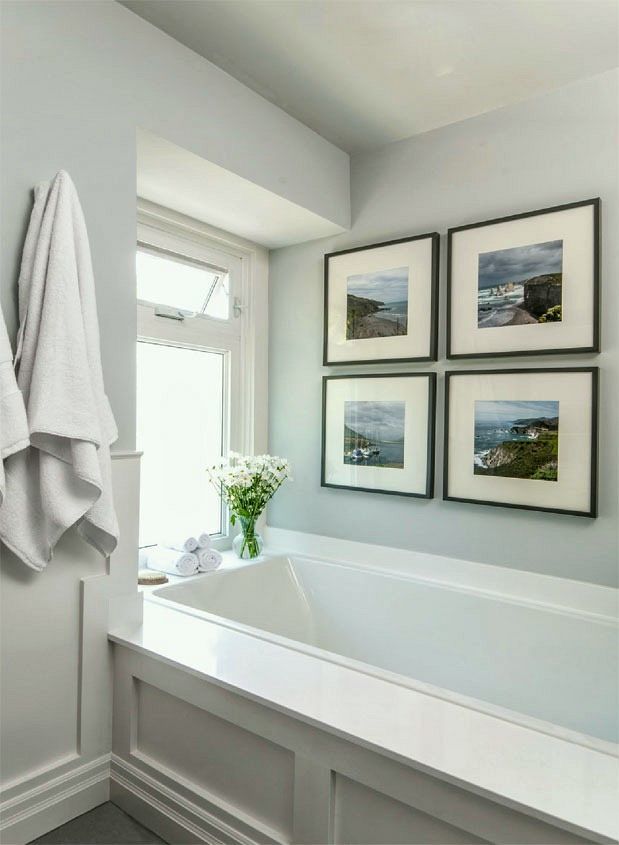 I saved this photo years ago before I met Vanessa at KBIS and have hi-lighted her beautiful work in numerous posts. If you'd like to see more, click here.
Gil Schafer
Clever way to create some great storage and still be able to use two charming pedestal sinks.

And here are the best no fail Benjamin Moore Gray Bathroom Colors
(and good for other rooms too!)
CLASSIC GRAY 1548
–  I have used this a few times for clients. It is a very slightly warm gray and can sometimes have slight violet undertones, but only in the most subtle way. Very beautiful and, yes, classic. This one would not be a good fit with a Carrara marble, but would look beautiful with a limestone most likely, or white tiles and nickel fixtures.
GRAY OWL 2137-40 – Gray owl is the darkest of the grays on this list. Quite frankly, I have never used it, but I have researched this until the cows come home and there are people who absolutely love this color. And then… there are despite my admonition those who have tinted it at 50% who also love it.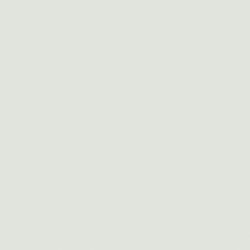 HORIZON 1478 – We discussed as being a great color for the downstairs bathroom in the original post on no fail paint colors. By the way, I am absolutely fine with you painting every bathroom the same color.
OYSTER SHELL 864 –  Our nursery room color. Lovely, lovely soft pale gray that is about as true as can be. PAPER WHITE 1590 – is another wonderful shade and very, very pale. We used it once for the exterior of some custom bookcases.

SHORELINE 1471– My bathroom color and I adore it! In warm, lights, it can take on a very slight green-gray shade, but it is still very much a cool, soft gray.
Here is a quick shot of my bathroom, painted Benjamin Moore Shoreline just to give you an idea. I am in love with my Serena and Lily bone inlaid mirror. Sadly, it's now discontinued. I did not choose the fixtures and travertine. They wouldn't have been my first pick, but that's what I have, for now.

WICKHAM GRAY HC 171- Wickham definitely has the most blue in it of these shades. It can go a  tad icy in a dark space, but it's still really wonderful.
Well, there it is. If you want easy access to the other posts on this series of go to no fail Benjamin Moore colors, I'm including the links below.
xo,