Hi Everyone,
Thank you all so much for the terrific comments you shared with me on Wednesday's post, where I posted the floor plan of my 90 square foot galley kitchen. I so appreciate the advice and especially those of you who are speaking from personal experience.
Yesterday, I signed the purchase agreement and plunked down 5% of the purchase price as a down payment.
I mean, this is really happening!
The closing is happening in less than four weeks! November 6th. And, apparently, in the state of Massachusetts, when they say it is happening, it is happening. But, let's not go there.
So, what else is going on?
The kitchen. I am kitchen obsessed. And, I am up for these renovation challenges. Well, at least that's why I keep telling myself!
And, again, thank you guys for all of your suggestions.
But, if I may ask a favor of you? Please avoid, if you can, very detailed descriptions in your comments. It's not that I don't appreciate them. It's that my brain rarely "sees" what you're trying to convey. I am a highly visual person. If you wish to express some ideas, it would be better to email them to me, with photos or sketches. If you are a subscriber, you can always contact me via any email you receive from me, via Mailchimp. They come from Mailchimp, but responses go directly to my email.
However, I am still collecting images for ideas.
One idea that someone wrote to me about is to create a tiny pantry in the back of the kitchen. She painted hers in Farrow & Ball's Downpipe.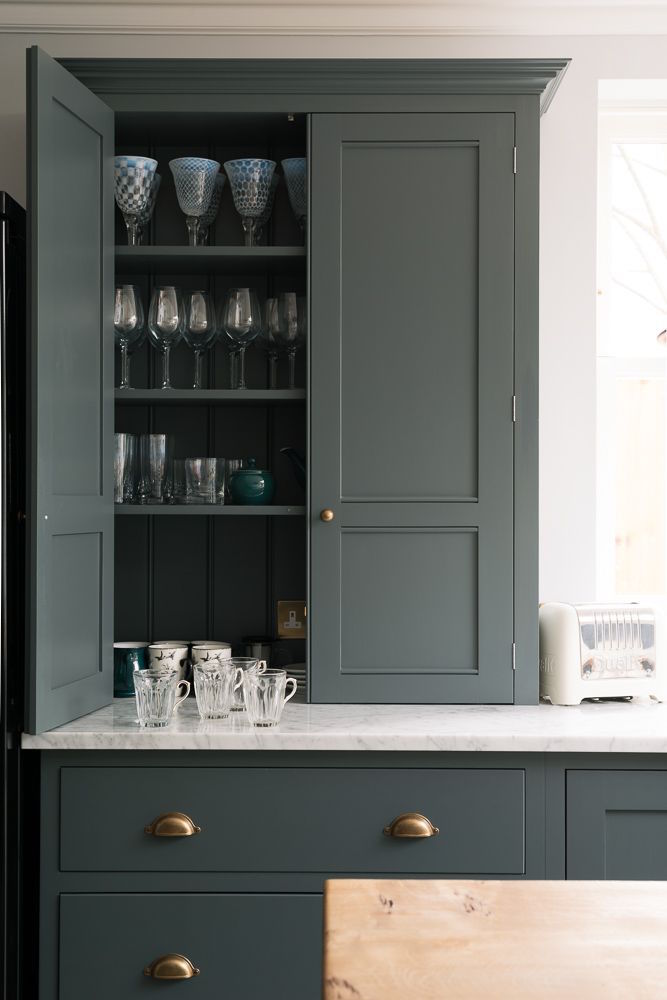 Farrow and Ball downpipe – Farrow and Ball classic English kitchen
And, then I remembered my boyfriend. The one I'm going to marry and make babies with. He doesn't know it yet, but that's half of the fun. ;]
Would you like to see him, again?
Hang on a sec. I have to go and find him. He's very popular!
Yes, the Bloomsbury kitchen from DeVOL. Believe me; I'm not the only one who wants to marry this handsome fella.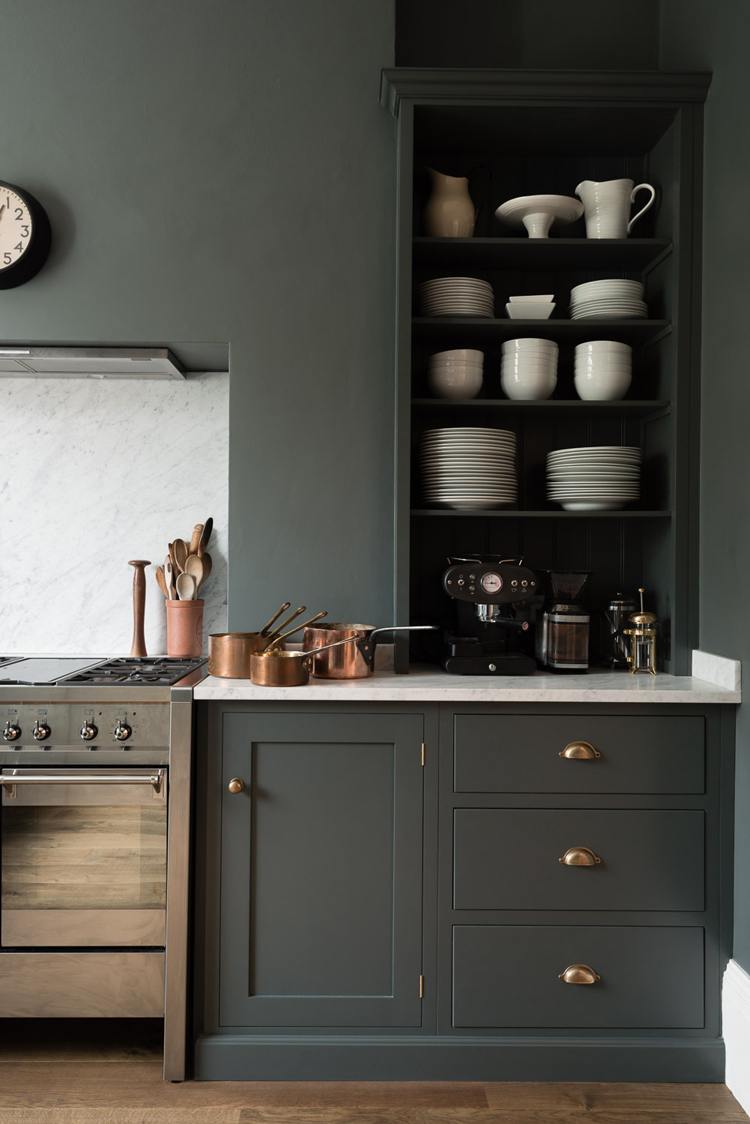 And, look! A white living room right off of it.
However, my kitchen is a galley kitchen. And, while this one is small, I would say that there are ten feet of floor space on both sides. If I have two-feet deep bases on the two long ends, I will have only about 3′-8″ of the floor. My point is that I don't want to feel like I'm living in a big dark ditch. That certainly won't do.
Let's look at some new inspiration I found in the last few days.
From the DeVOL showroom in New York City. So gorgeous! Love that marble!
If you go to the Hot Vintage page and look at that wonderful photo from Gerald Bland, that is pretty much my color scheme.
Another beauty from Jean Stoffer I found on her instagram.
A beautifully integrated galley kitchen by Heidi Caillier
More inspiration from Neptune Kitchens
For some of my favorite kitchen cabinet colors, please check out this post.
Okay, I promised to show you more of the apartment, and now that we're under contract, it should be safe to do so.
Here's the front of my building.
So, first, we'll look at the floor plan. Or, I should say, PLANS! That's because my place is a DUPLEX!
After you go into the front doors, you walk through the long vestibule, which feels like it belongs to me and my floor-mate. He has the front duplex, and mine is the rear duplex. Then, you walk through the door, and to the left is a built-in closet that was added some time ago.
Then, you turn right, and here's the living/dining room which you've seen already. You can see the small galley kitchen in the upper left corner of the floor plan.
Now let's walk out of the kitchen, (please check out the link above to see the current kitchen) and if we make an immediate right, we will pass the spiral staircase and come to a small vestibule. To the left is the guest bedroom/den, and straight ahead is one of two bathrooms.
yes, I know…
To the left of the guest bedroom is the other entrance to the guest bedroom/den. Opposite that, is a linen closet.

Can I tell you how happy I am that I will have TWO bathrooms and TWO bedrooms?
Although I am not going to set the den up as a bedroom. I will set it up as a den. The current owner is leaving her sound system and smart TV! Then, we can walk out of the den and back into the living/dining room.
One idea I've been entertaining is to close up the entrance to the den by the bathroom. And then continue the closet along the entire length of the den. In the hall, I can create ANOTHER closet across from the existing one. (in front of the bathroom) One will be a linen closet. And the other one, a coat closet.
I feel that having the extra storage will be far more beneficial than having to walk 8 extra steps through the living room to get to the bathroom. Once one is in the room, the distance isn't that different to get to the bathroom. Hey, they're lucky they have one!
Now, I might yank out the entry closet.
That's because I need a spot for my prized antique, probably 19th century 7-foot long bookcase. It is only 11″ deep. That could go there.
However, it is possible that it could go in the kitchen. Buttttt, it would need some work to make it useable as it's rather fragile.  Now, that would be very "unkitchen!" And then I would have an L shape for the rest of the kitchen.
Please know that all I am doing is talking. One of my renovation challenges is that I'm challenged just getting them going. But, I'm determined to get it done this time. I'm hoping that the problem is New York.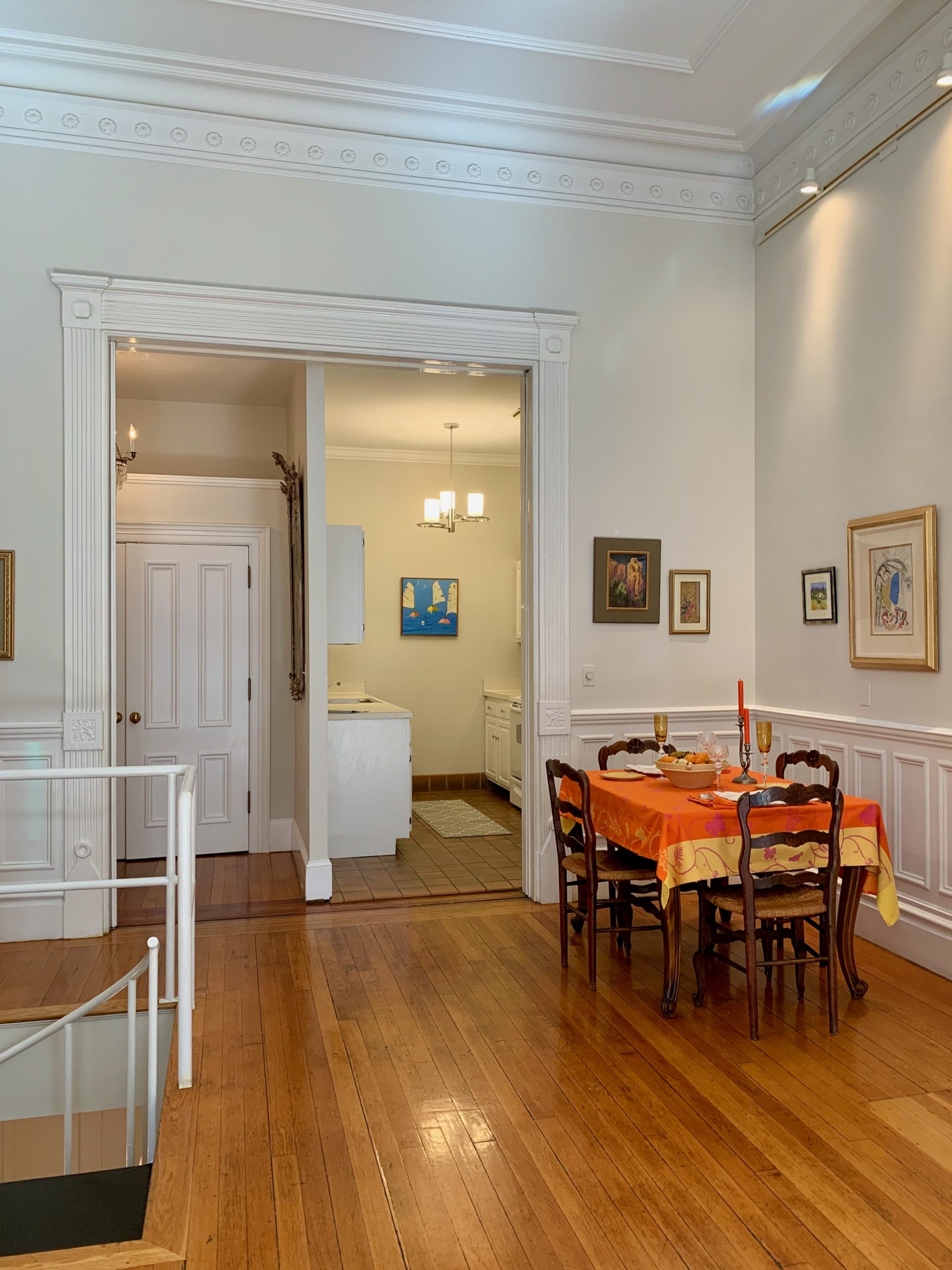 Okay, here is why we cannot take out the wall by the fridge. As you can see, it is part of a large doorway. And, on the opposing side, is the same wall. It won't work. However, if I could wave my magic wand, I'd probably make the center wall come out into the doorway with another 8″ piece that coordinates with the side casings of the doorway.
You see, what is now my soon-to-be living room was once the formal dining room of this elegant brownstone.
There was no entry, as it is now. I guess we all know, that's what happens when they convert these old beauties into condominiums. Actually, I've been told that the trend these days is to make more single-family homes and duplexes. So, the population in Back Bay, where my lovely is located, is dwindling, somewhat.
Laurel, are you going to talk about that spiral staircase? Is that one of your renovation challenges? Is it even up to code?
Hmmm… no, of course, it isn't. A small child could easily fall through it. Alas, they used to be much more diligent about controlling the population a while back.
Sorry; sick joke.
From my standpoint, the worst part is that it takes up a 5′ x 5′ space square in the living room. And, it's space that I would like to use for walking on, not tripping on. If I think my dishwasher drawer is a problem. Oh dear.
Ideally, the staircase would run along the back of the room where the brown cabinet is.
It would have a beautiful railing, and then once heads clear, the floor, the stairs can swing around for the last few steps.
For a couple of days right after I put my offer in, I tried to work it out. I even researched alternative spiral staircases. The technology of spiral staircases has improved a lot. I found one which requires less of an opening. Well, in any case, it's something to explore once I line up a contractor. Or, if anyone has any suggestions, I would gladly listen. I do believe there's enough room downstairs. However, I would've configured things differently down there.
I don't fault the owner. It's fine with the staircase as is. But, the staircase as is, is not ideal, in my opinion.
Okay, I'm going to save the lower level for another day. My hand is cramping! I'm sure this has given those who wish plenty to discuss.
Please note, I am still only exploring ideas for the kitchen. If I do the dark kitchen, it will still need plenty of white, marble, white backsplash, white dishes, lighting, and small amounts of black and warm metals like brass and gold. Artwork would look stunning against that color. Oh, and also, maybe some antique mirror somewhere. But, it shouldn't look too glitzy or formal.
As I was fantasizing, I remembered that all of this costs money. Haha. So, I actually started thinking about IKEA. Please forgive me. Pleeeease! And no worries. Melissa, who helps me with lots of things and has become indispensable, talked me down from the ceiling, in her kind, tactful way.
Of course, she's right! I mean, they do manage to make their kitchens look rather appealing.
Above and below, two kitchens from IKEA.
However, I cannot put MDF board embalmed with formaldehyde and then wrapped in plastic in my 140-year-old home. I'll eat oatmeal and peanut butter every day for the rest of my life before I'll do that!
But, I need to try and get as much of this sponsored as possible. Anyone from DeVOL out there who wants to partner with me, Plain English Kitchen, Neptune, Christopher Peacock? Anyone have an "in."
And, some nice appliances too. A LaCanche will do.
Below is my current media that gives an overview of current stats. Please ignore if looking at this sort of thing makes you want to hurl.
I'm exceedingly bad at promoting myself. It always sounds like obnoxious boasting at best. Or, else, I get looks that clearly say, "There, there now sweetie. The van to take you back to Bellvue will be arriving at any moment."
But, seriously. I should definitely be getting some free stuff in exchange for me writing about how wonderful it is. Or, at the very least a Bosch dishwasher. Y'all seem to have one. lol It is obvious that many of you darlings are very high-end. I'm fine with General Electric and my 30-year-old (at least!) Kenmore fridge that's running on fumes. I mean, it works. The milk stays fresh. The water boils.
Eventually.
More to come! Hope you're having a blessed holiday weekend!
xo,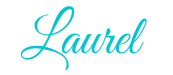 PS: Please check out the spectacular Columbus Day Weekend HOT SALES!