Today, I have a very special treat for y'all.
As the title says, it's a frumpy old house that gets a sparkling makeover.
And, could you please use a little restraint and not scroll ahead!
Okay, fine. you win. I would do the same. :]
But, for the three of you who are far more disciplined than most of us, haha, there's more to the story than an old house makeover.
This is because it's an old house belonging to Melissa.
Who's Melissa, you ask?
Melissa is a darling woman who helps me keep the Hot Sales pages up-to-date. Thank God! Before she came along, I was so bogged down with that, that some of the pages, particularly the widgets which hold all of the images, weren't getting updated as regularly as they should. And now, it's so much better and leaves me more time for sourcing and watching ballet on youtube. haha
First a little background.
Melissa purchased this circa 1900 coastal charming New Jersey home in 2000 as a summer home and rented it out the rest of the year. But, after several years, it is now her permanent home. Here's some of what she told me:
I would say to myself, this is the year I am going to do some renovations. However, it is a relief that I procrastinated because 10 years ago, it would not have been an unkitchen!
The old kitchen was done in the mid 80s before I bought the house. The only thing I did was to remove some wallpaper and paint.
Let's take a look at the old 80s kitchen.
And then we'll look immediately at the after, so you don't get a headache.
kitchen before
Pinkie Beige cabinets, ditzy wallpaper. Ditzy is actually a technical term when describing a small all-over pattern.
But that window! Well, we know that isn't original! Who in the hell would do something like that? Well, never mind. People are strange. That is fact. ;]
And I bet that you can already guess what the solution is!
kitchen after
Before
Before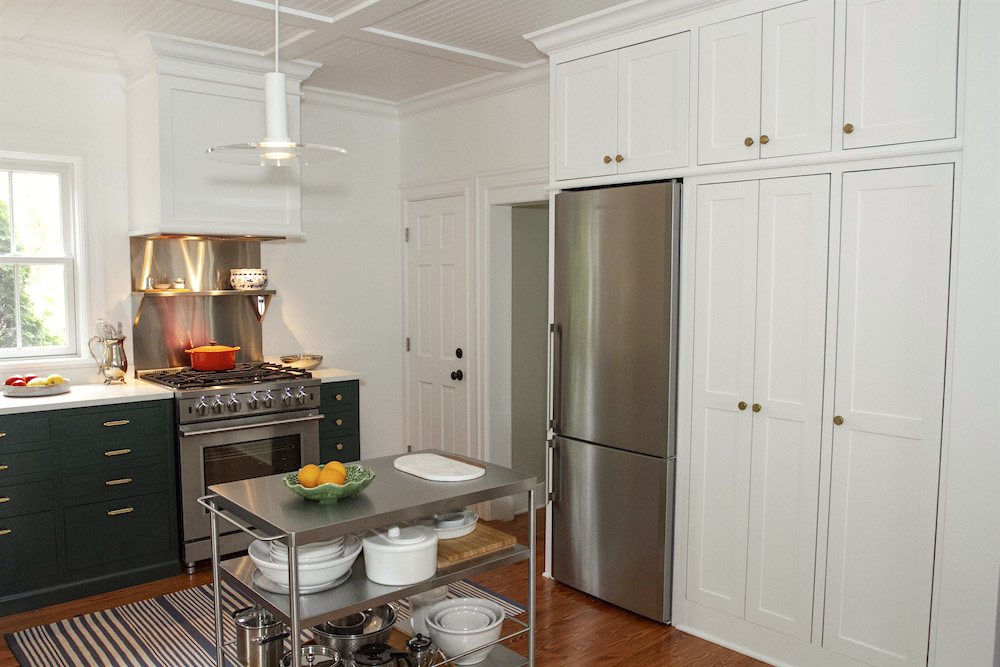 After (no kidding!)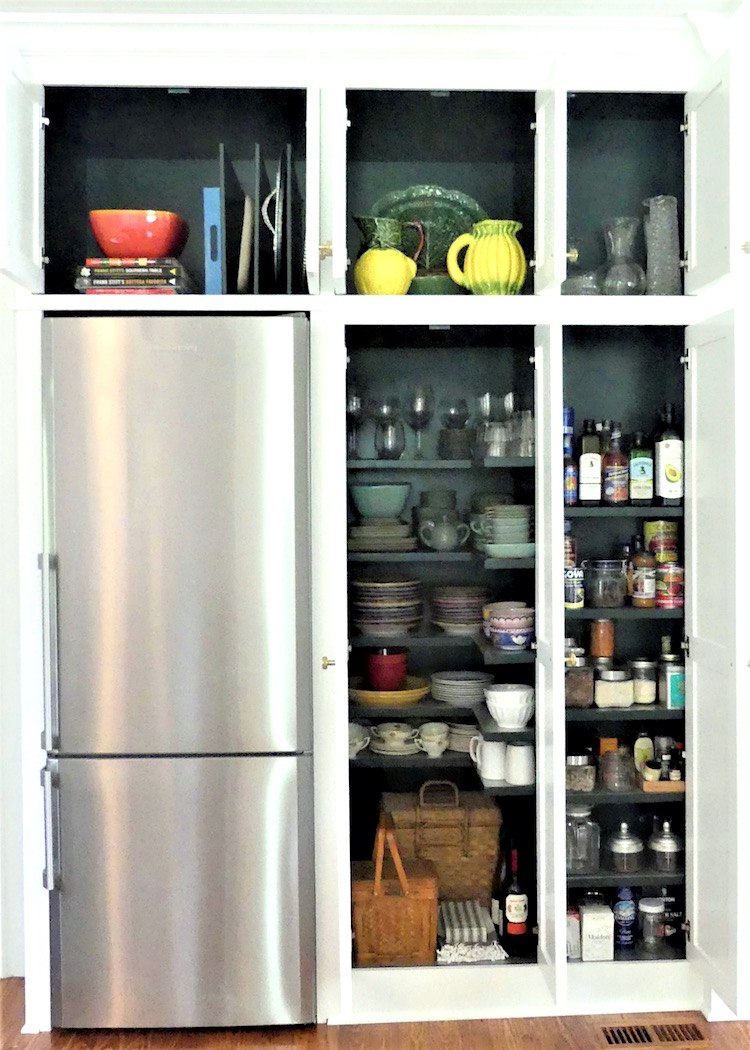 I want to show your readers, Laurel that even though there are no "uppers" in my new "unkitchen." There is PLENTY of storage behind the pantry doors.
Oh, an interesting thing happened. Quite a massive boo boo, actually.
The contractor got his signals mixed up and painted the pantry doors in the Hunter Green, But we wanted them to be what they are, which is the Distant Gray. Therefore, we kept the inside the Hunter Green, as you can see, and had him redo the outside.
In another email, Melissa shared many details with me about her old house remodeling.
Melissa is in italics
[Laurel in brackets, unless there's a lot of separation]
Dear Laurel, (haha)
Very excited to share this with you! The renovation on my NJ house is finally done and I wanted to share some of the photos taken last week.
The posts on your blog were really helpful: selecting the perfect colors AND inspirational: the unkitchen, the unbathroom. I think I have all three 🙂
Fortunately for me, Nancy Keyes was there to guide me through the (five-month) renovation of this old house.
As I was a renovation newbie, I was not prepared for the emotional distress, much less having to deal with the zillions of details and decisions to be made. Oy, what a process.
In any case, Nancy and Marc have done tons of renovations on their houses and Nancy has serious design chops.
[I know, I know!]
Gawd knows what I might do without her guidance.
[very lucky, you!]
One thing she said during the process that has really stuck with me was: "don't settle for just anything because it is stressful and frustrating and you feel the need to take the easy way out. With all the money and effort you are putting into this, it is worth it to get what you want."
[very, very wise]
Nancy and I obsessed on Pinterest and Instagram for months, looking for the perfect inspiration photos. That was the fun part. And all that obsessing really paid off, because at the end, it all turned out perfectly.
Here are some more details… You're going to love this!
Just to add a little drama. As if there isn't always enough. We made a last second change.
Originally, I had my heart set on navy blue kitchen cabinets.
Then, the day before the cabinets were to be painted, Nancy sent me a photo of that beautiful green DeVol kitchen (the one in your post on colors for the perfect English kitchen) saying what do you think? On the spot, we decided to change the color to the DeVol green. We just went with the gut on that one!
That set off a mad scramble to find the perfect green before the cabinet makers bought the paint. Lucky me, you had the DeVol kitchen in your post on the perfect English kitchen and the matching Farrow & Ball color so that was a starting point. And we looked at all the dark greens in the BM swatch book. Then tested 3 colors:
A BM match to F&B Studio Green (too dull for the light in kitchen)

Hunter Green

(perfect in kitchen, too xmas-y for the powder room)
[Oh, that's a Laurel Home Paint/Palette Collection Color!]
Essex Green

(too dark for the kitchen, perfect in the powder room)
And then, in an imitation is the sincerest form of flattery move, I shamelessly copied elements from Nancy's old house renovation 😉 that she knew would work in my house:
4' capped beadboard in the bathroom with bump out to insulate the sink pipes
Kitchen cabinetry with inset style and hidden European hinges
RH hardware–but in a burnished gold and different style (in the widget below, I used a substitute, not because of this post, but because I cannot add them to the widget.)

Rejuvenation wall sconce in kitchen, just like the one in Nancy's bath
Vintage Fredrick Ramond lucite pendant, just like the one in her hall
Vintage milk glass towel rack, like Nancy has
An envelope of white walls (Benjamin Moore Distant Gray, stupid name!)
[Yes, verrrry distant the gray is. So distant that it IS definitely WHITE. But, it looks gorgeous here.]
The wall between the kitchen and dining room was removed
That created one big open space. Nancy was concerned about it looking like a bowling alley, like you might see in a new-build house.
So she sketched out beadboard on the ceiling with shallow coffers to break up the ceiling expanse. It really gives the room a vintage feel. Plus, two short walls to further define the space.
[BRILLIANT]


[LOVE the ceiling! It reminds me of one in this post about ceilings. ]
[And I love this little alcove off the kitchen. Wonderful prints. That's a trademark of Nancy for sure!]
Keeping room
I didn't know I needed a keeping room until Nancy explained that it would be a room that would work for me 99% of the time. The dining room clearly wasn't.
The old dining room.
For instance, why did I need a dining room table that seats six, when I had only used it for that many people two times in the past 18 years?
Therefore, out with the dining room table, china closet, bar cart set (too matchy, matchy). In with two upholstered chairs, a gate leg table, and a 30" round white Saarinen-style table for everyday use. Should I ever decide to have more than two for dinner, I can open up the round drop leaf.
[that is freaking brilliant!]
Below is the new keeping room which I ADORE!
Powder room
I don't have a before shot.
Nancy sourced the amazing green Chinoiserie mirror — thinking it would look perfect with navy blue, and now even more perfect with the Essex Green. The room has a shed roof, so the mirror fits perfectly in there.
Plus, the vintage faux bamboo chandelier with green leaves. I seem to recall seeing one almost like this in this blog post about bathroom vanities.

Upstairs bathroom
The house had only one bath, and on the first floor of two-story house. Nancy insisted I needed a bath upstairs and that I would not regret it. Of course, she was right. So my daughter's small bedroom with no closet became the new bath. Nancy wanted to make sure to leave room for a piece of furniture. (The contractor just rolled his eyes.)
[hope he didn't hurt himself] ;]
Now a china cabinet from my parents holds towels and bath stuff.
[oooohhh, sounds charming!]
Looking back at some of the before pictures, I laugh at how *fugly* the rooms were before. (A couple of contractors thought the kitchen was not so bad.
Maybe they didn't really want the job, and no, I didn't hire them, haha.
[Seriously, you have to wonder…]
Next project: porch redo and living room refresh. Am reading your 12 Step Plan post to prepare!
And also Sunday's post about the 21 mistakes. That one is a keeper too!
Below is the before and after of the exterior. The new shingles are red cedar shake and will weather to a silvery tone. But they were on their last legs, so they had to go.
before. It may not look that bad, but believe me, it was falling apart.
And here are some more before and after images that Melissa made for me!
wow. just wow.
I mean the whole thing– wow!
Nancy and Melissa, I know that you're out there. It may be an old house, but you have breathed new life and energy into this charming gem. This is one of the most impressive home renovations after your own Nancy, that I have ever seen.
But, it takes a real collaboration and trust to create something as fresh as this. And yet, this is a home that retains its historical charm.
Nancy makes interior design and renovating look easy, but we know that it's not.
She also told me that for the summer, they are leaving things spare and will probably add more cozy elements for winter.
And there's something else that Nancy has confessed to me; it's something that I have suggested a few times here. And it's also something that Melissa mentions.
"Shameless copying."
Most of us designers do it at least some of the time. Sure. We add our unique bent to it. Artists copy while learning from their master artists.
And so in the spirit of "shameless copying", I have spent waaaaaay too long, but am having more fun than you can imagine creating a widget (below) of furnishings ala Melissa and Nancy.
Most of the appliances are exactly the same. However, many things in Melissa's home are one-of-a-kind and so I went sourcing for products that we'll say are "in the manner of."
Of course, someone is going to go with the "I get everything at yard sales comment…" Yes, absolutely. Get things wherever you like. But I can't put yard sale furniture in a blog post. :]
Please enjoy and if you want more information about the individual products, please click on the images. Also, there's more info in the captions, as well. However, if you have any questions, operators are standing by. haha

Thanks so much Melissa and Nancy for sharing your beautiful home and work with us!
Please follow Nancy on instagram
and Melissa on instagram.  (love her hydrangeas!!!)
BTW – Gerald Bland has gotten 675 new followers in one week! Way to go guys. Very proud of you!
xo,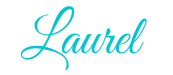 PS: Some of you wanted to see what Nancy and Melissa were talking about regarding the short walls added. Here are two more pics.
Looking into the living room
Looking into the keeping room.