There's no question about it.
I'm going straight to hell.
Why, Laurel? What on earth could you have done that's so bad? Did you insult somebody? Or were you cruel to an animal?
I'm sure that I have insulted lots of people (usually) without that intent. ;] And, I do generally love most animals, except for the man-eating ones. However, I did murder a very large bug the other day that surprised the hell out of me in my kitchen.
Apparently, I had only maimed him; because, as I was tying up the plastic bag, I heard him crying in a panicky-buggy sort of way.
You've got to be kidding.
No worries. I continued to clobber the bag until it fell silent.  You know, a little like Robert De Niro in the movie, Good Fellas? (I don't recommend that you look up the scene if you have not seen the film, however.)
But that's not why I'm going to hell.
It's the headline.
Uhhh… Laurel. You've written some provocative headlines, for sure, like "Why Bunny Williams Husband Hates Me" and "The Shocking Truth About Restoration Hardware." And let's not forget this year's eye-opener, "The Ugly Truth Behind The Pretty Pictures on Houzz."
But this post title is about as tame as they come for you.
Thank you. On the surface, perhaps, but let's dive a little deeper into Laurie's behavior. :]
Oh, it all started out quite innocently on a steamy summer day here in Southern Westchester County.
They all do.
But, it wasn't research for bland decor that I was going after.
Nope, it was  a different topic entirely that I was researching. However, fairly early on in my research, I happened upon a designer that I had never heard of, but should definitely have heard of.
And, I desperately wanted to work him into my post, but no can do.
Therefore, I decided that the post needs to be about this designer.
Actually, he's NOT a designer; he's an antiquarian of extraordinary ability.
And here, it comes. The reason I'm going straight to hell.
His name is Gerald Bland.
Get it now?
At first, I had to refocus my eyes, because they said one thing, and my brain through these gorgeous images was telling me something else.
Bland is not really an appropriate surname, in my opinion. I think that Mr. Bland should change his last name to Sublime. Gerald Sublime. Yes, that's it. But, for now, we're going to have to stick to "Bland, even though it's painful to say that."
And, who knows how I happened to find him, but there I was on Gerald Bland's instagram.
(No, you may not be excused yet. You have to read the post first. Thank you.) ;]
And at this point, I will insert a couple of his images, because I know that you're hungry to see what I'm talking about!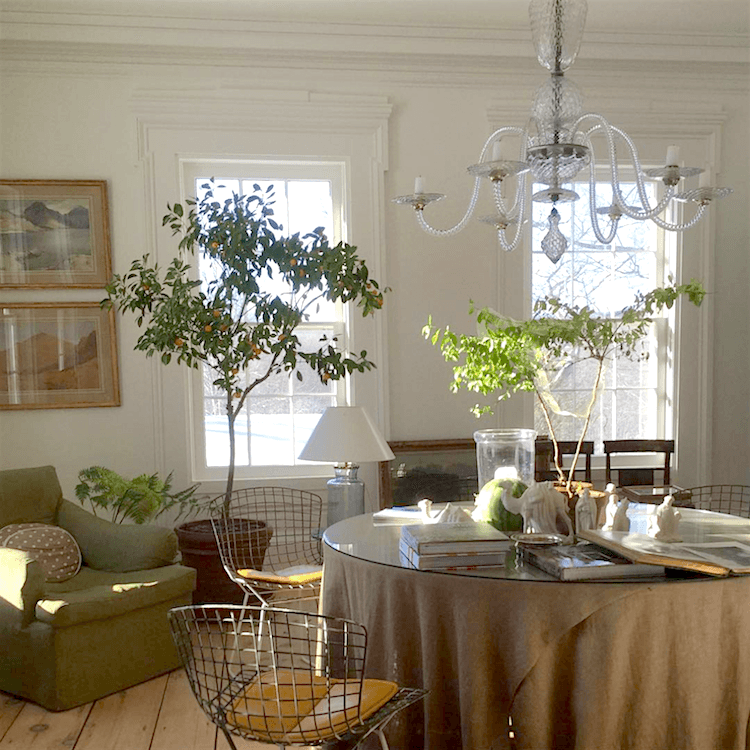 This is a relatively new (to Gerald and his wife Mita) house. Where it is, I'm not sure, but we'll get to that in a bit. And they've done a massive number to it! Look at that chandelier. I mean LOOK at it!
This home is in the Greek Revival style.
But, here's what struck me almost as much as his exquisite images on his instagram.
Gerald Bland only posts images. No hashtags and not even a caption. He says nothing whatsoever about his images and never answers comments.
In this way, he unwittingly teases his followers who are dying for answers; although I'm quite positive that is not his intent.
And those followers include some of my favorite designers that I've written about numerous times.
A-listers, like: (and I've included a few amazing images from their instagram accounts) Above the photo is a post on here that they appear in and underneath the image is the link to their instagram account.)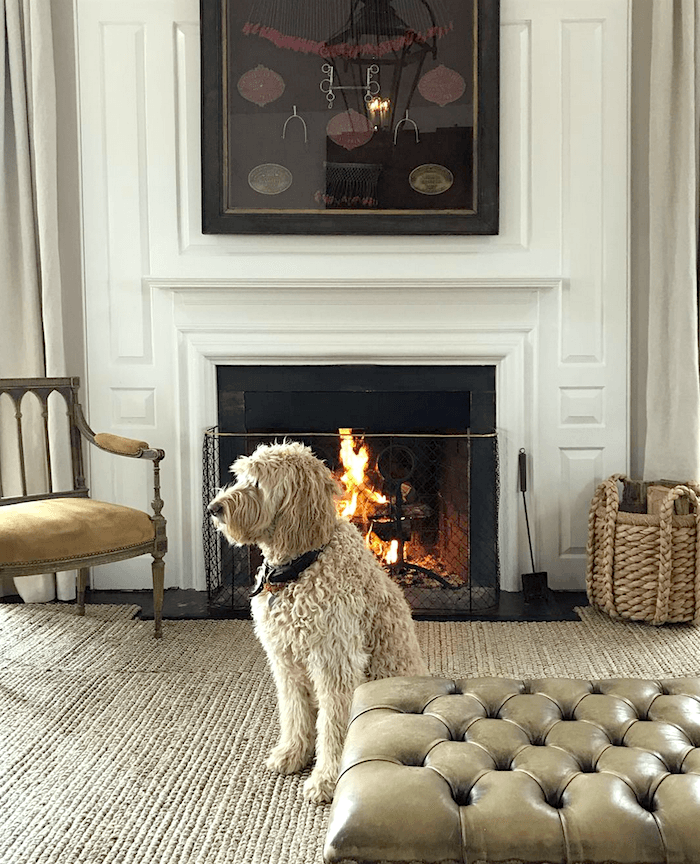 @stevengambrel gorgeous fireplace mantel – living room – cute doggie, Sailor
Steven gets two images because I can't stop looking at the next one.
Man 'o Man I'm dying here.
via @peterpennoyerarchitects on instagram – Regency jewel by H. Pleasants Pennington – Locust Valley, NY
via @katieridderinc on instagram her charming home – LA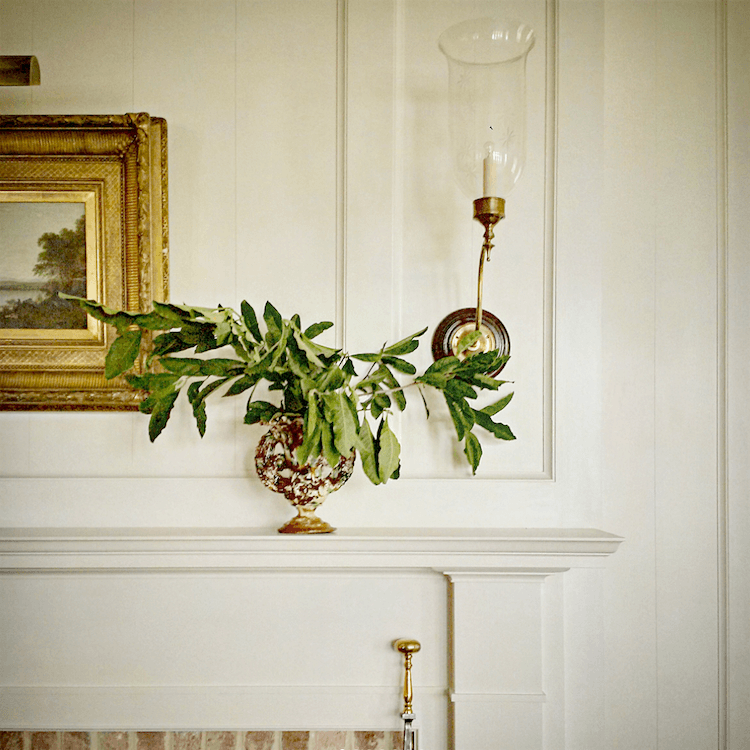 via – @gpschafer instagram – not bland design fireplace mantel – gorgeous sconce – oil painting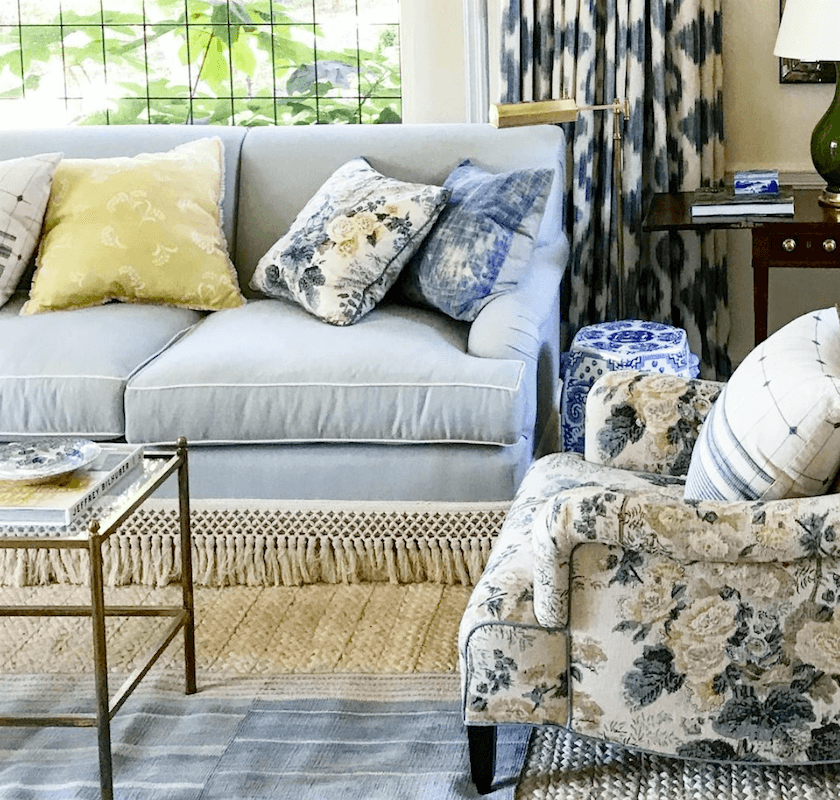 @markdsikes in instagram- blue and white living room in Montecito
via @bunnys_eye on instagram – her exquisite home and garden – Sharon, CT not bland decor!
That is just a little extra bonus to refresh you on this hot, hot steamy day, here in the northeast!
Since I know nothing about Gerald Bland, and being the naturally curious type, I googled him to see what I could find. And what I learned is quite fascinating. Gerald Bland is an American who grew up in a coastal North Carolina town. He was not exposed to anything in the way of art or antiques and his family was not wealthy or connected to high society in any way.
After dropping out of college in 1974, he landed a job waiting on tables in Nantucket. It was a casual atmosphere where customers mingled with the employees. One patron knew of a job opening at Sotheby's Auction House.
Despite not knowing anything about fine antiques or art, Gerald went for the interview and got the job!
Oh, I love stories like this, because of course, his eye, taste and talent for design is beyond exquisite. In fact, his interiors are, IMO, the diametric opposite of bland decor.
His style is not flashy either. I find it incredibly elegant and soothing even.
Bland stayed at Sotheby's for many years before opening up his own shop, Gerald Bland, Inc. on the upper East-side of Manhattan in 1987.
Since there are no captions on his images, I have to look for clues to ascertain what I am looking at, but I think I have it straight.
gorgeous shot – by @cralexander426 on instagram
Unless otherwise stated the rest of the photos are from Gerald Bland's Instagram
Hmmm… he only has 7,400 followers. Let's see if we can freak him out and get him up to 10,000 followers. hehe! That would be fun!
Another beauty with an English Chippendale breakfront -And folks, when I say Chippendale, I mean CHIPPENDALE! Like Thomas Chippendale probably did the carving himself! Love the chairs with yellow upholstery which gives a fresh note to this space in the showroom.
My favorite from Gerald Bland Inc. – That fine oil painting. The chartreuse chair and a Greek key pattern, all in one gorgeous image!
Oh, you want to know the wall color? My money is on Farrow and Ball Down Pipe. You can find a Benjamin Moore equivalent (or as close as I could get) in the link.
Now, here's where things begin to get a little fuzzy for me. Bland lives with his artist wife, Mita, a brilliant artist in her own right. And it appears that they have or had an apartment in Manhattan, but perhaps sold it to go live in the country. I'm not sure about that last part, except that most of the furniture is in the new (to them) place.
This is Gerald Bland in the NYC apartment via NY social diary. But the image was taken several years ago.
Apparently, they purchased a magnificent Greek Revival Home– somewhere, outside of the city.
Ahem.
Just clearing my throat.
And that's because I have lived "somewhere, outside of the city" for the last 26 years and believe me, I know my suburban hoods. (at least those to the north).
Now, someone on the insta feed mentioned Millbrook, NY. (That will take you to Gil Schafer's beauty up there) But, that is quite a commute if that is their main home, which it appears to be. Although, Bunny and John's commute from Sharon, CT is just as far.
Looking for any small clue! ;]

Not much to go on, but it is definitely way outside of the city! However, look at this exquisite entry with either a Directoire or Regency side chair.  Love the black door and look at that charming doorknob!
I am pretty positive that it could be somewhere in Northern Westchester County, NY, possibly North Salem, Waccabuc, Katonah or Bedford. However, it is possible that it's also in Fairfield County, CT in the towns of Greenwich or New Canaan. No matter. Each area is beyond gorgeous. I lived up there for 22 years and never grew jaded from the surrounding beauty. In fact, it looks a lot like the English countryside, minus the sheep. lol
Make no mistake; Laurel the detective spent a good couple of hours trying to find THE house. haha!
Yes! There's a tiny corner.
Greek Revival, indeed.
LOVE the porch.
A driveway or country road. There are parts of North Salem in northern Westchester County that look like this. So gorgeous!
Same view from inside the front door. This is not the same door we saw earlier.
Oh well, time to give up.
But, maybe someone out there knows where the house is?
And if you do and you don't feel it's your place to say where, that's cool too, of course.
I'm just having fun.
Love the relaxed look of the white slipcovers in the Bland's living room.
Gorgeous styling and love the gold painted ceiling!
Are you feeling a bit William McLure here?
The painting is a relative of Mita Bland!
Well, I could keep posting, but please go check out Gerald Bland's instagram (and of course follow him) because there are hundreds of gorgeous photos. And you'll get to see the walls before they were painted white. Some of them were teal which was also gorgeous, but very different, of course.
The floors had a different finish as well. I love both finishes but understand why he made the change.
What shade of white paint is that Laurel?
Seriously? Please tell me that you didn't just ask me that. How the hell should I know? lol
For all I know, it's primer. Does it matter? We've been through this!
When you get the bones right, the shade of white, as long as it's a good one, like one of these matters far less.
Or, if you'd like a more narrow list, this is a good post for both trim and wall colors.
However, if you'd love to have the entire enchilada along with what trim colors look great with what, then I suggest getting the Laurel Home Paint Color and Palette Collection.
Hope you guys enjoyed this as much as I have! I might actually go and post something on my own instagram!
xo,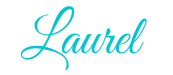 PS: Please don't forget that the Nordstrom Anniversary Sale is still going strong. You can check out some of my favorites here.