Dear Laurel,
Thank you so much for all of the advice you give out weekly on your blog. We're in the middle of a new-house build.
I had NO idea. No idea what we were getting ourselves into. The decisions are overwhelming me and one of them is our door knobs.
Yes, door knobs.
Who da thunk that would be the thing that's driving me to drink? (not that I need much of an excuse)

There are a billion choices (no exaggeration) and it's not just the door knobs themselves; it's what kind of knob and how thick the door is and on and on…
And then do I want a lever or a knob?
Should it be traditional or modern or something else?
I read what you said the other day about descriptions and it really made me laugh. I do get that.
My other burning question about door knobs is:
Do the door knobs all have to match each other?
What about the other door hardware, like the kitchen cabinet knobs? Do they have to be in the same finish?
Then, we run into the issues with the plumbing and light fixtures for the kitchen and adjacent rooms. Do they have to match? Or maybe they shouldn't match?

ACK!!!
Laurel, I'm having a massive anxiety attack, just writing all of that out.
I don't expect you to answer all of these questions. But, I imagine that I'm not the only knob-nut out there! I know exactly how a hamster in a cage going 'round and 'round on a wheel feels.
Gratefully,
Crystal Door-Handler
Oh, Crystal,
Just so y'all know, Crystal Door-Handler is a darling amalgam of readers and clients and sleepless renovation nights. I feel for her. I mean that with all sincerity. In fact, I feel anxious just writing this post. My shoulders are up by my eyeballs.
Why does Laurel feel anxious?
Well, this may come as a surprise to some of you. But, I don't have all of the answers.
Despite what kind words LuAnne Nigara said on her podcast interview with me.;]
I mean. I'm not even certain if it's doorknobs or door knobs? And believe me, I looked it up. But that didn't help much.
Sure, after 30 years (counting design school) in this business, I do have a good many answers.
However, the door knobs are not high on the list of experience.
Our old home in Goldens Bridge, a builder's townhouse had the cheapest, crappiest brass door-knobs that God had nothing to do with.
But, they worked okay and in those days of raising two children + working + clients, the door knobs were not a priority. Plus, we had no money for that sort of thing.
Music lessons, yes. Door knobs, no.
But, I remember, too that our exterior front door handle was so worn, that it looked quite antique after a while. Funny, because all of the other homeowners replaced theirs because of the "patina," however, I rather liked it and felt that it made it look more authentically old.
And that's because old door handles DO look like that; not those overly shiny lacquered door handles, handles and levers. And worse. The fake, brushed on antique brass.
However, for the last 20 years or so, there's been a resurgence in authenticity in metal finishes.
For the most part, even if the antique finish is replicated, the manufacturers are doing a far better job of it as you'll see shortly.
But, like everything in design, there are some things I'm not so fond of and then– the things I can't stand.
Oh, please do dish Laurel!
Of course. :] Now, you may feel differently about my likes and dislikes and that is always fine. However, some of you may not have given much thought to doorknobs, but when you see and hear why I don't like certain things, it might make sense.
There's one word that I've used frequently on this blog. And it's the one word that makes me melt into the ground faster than a wet-witch made of brown sugar.
ERSATZ
If you still don't know what I'm talking about or would like to see some examples, here are some posts where I feature that which I detest.
Exhibit A are real antique French Door Knobs vs. a bizarre fake French Door Knob.
Hmmmmm…. I'm having a déjà vu! haha
In exhibit B of the fake and hideous, we have a brushed nickel abomination.
Brushed nickel, or anything brushed is CONTEMPORARY. ALWAYS. However, I do get the fingerprint issue with polished. But what is the most objectionable here are the curly cues. That is totally made up. Add to it the brushed nickel (that actually looks like plastic here) and the entire thing is just so wrong.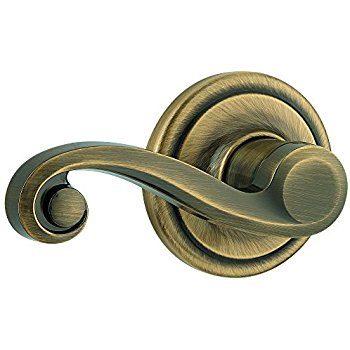 This horrendously crafted "antique brass" lever handle is so bad, the dog is going to start humping it thinking it is his mate.
Well, you get it.
What if you already have something like this for whatever the reason?
Well, if funds are tight, you can paint it. You can paint anything.https://laurelberninteriors.com/high-low-furnishings-sources-secrets-revealed/
What finishes do you like for door knobs, Laurel?
It depends on the metal. I do love a shiny nickel finish but it's not right for every home. However, my favorite is unlacquered brass. Or at least brass that has a believable, subtle antique finish.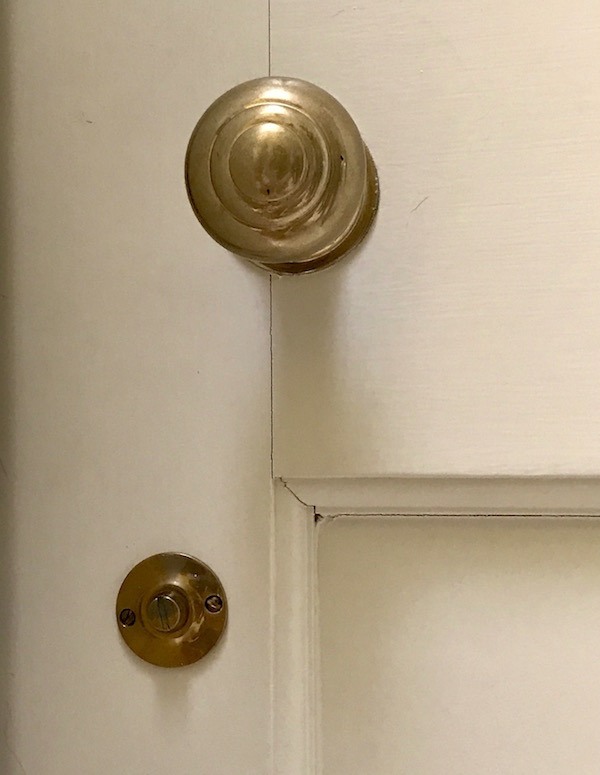 Remember this beautiful door knob from this post last fall after my trip to England? You can't get knobs like that here. Well, let's just say that I haven't seen any.
I'm also liking natural bronze. I like a good gun-metal finish and porcelain knobs can be lovely in an old home.  True pewter instead of the brushed nickel is also great for a timeless finish that will age over time. And black can be incredibly chic.
Here's an interesting post on Remodelholic where they took a basic shiny brass door knob and "antiqued" it. I don't think it's terrible, and it's far more interesting than it was, but if the rest of the house is new, it doesn't make sense.
The question about mixing metals is not an easy one to answer because of the variables. But  whether we should use brass or not in bathrooms is explored in this post.
As you can see above, a beautiful natural brass door knob is wonderful in a classically inspired home. Actually, I can't imagine this beauty not looking fabulous in ANY home.
But does that mean that you need to do brass everywhere?
It depends on the home.
Let's say that it's a rustic home out in arid California with heavy Mediterranean influences, like Steve and Brooke Giannetti's gorgeous villa. In this case, I would stick with natural brass, iron and bronze.
Most of the time, I prefer the warmer tones in metal fixtures. But, not always.
However, nickel costs about 30% more than chrome and for some people, that might be a factor when choosing a finish. I wouldn't sweat it, if it's not in the budget. The only thing that really looks bad is mixing chrome and nickel, in the same room if you can avoid it. Nickel is a warm silver and chrome is a cool silver.
Another material for door knobs to consider is porcelain. They might be a little trendy right now, but they are not new in historical terms.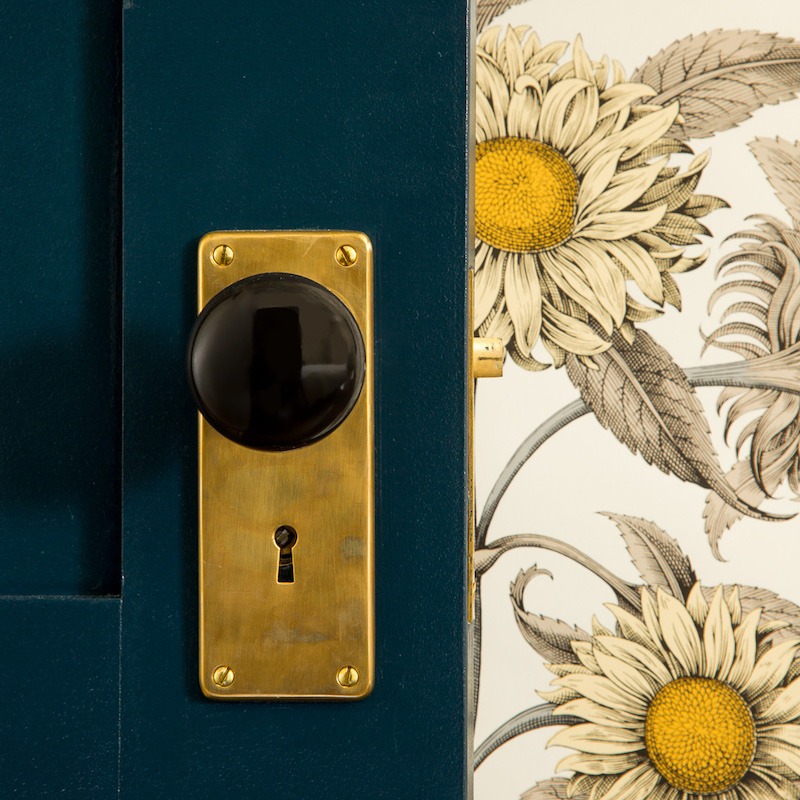 This fabulous door and hardware is by Lauren Liess is a great example of a round black porcelain knob.
The back plate of the doorknob is called a rosette if you didn't know that. I didn't until I started researching this post. But, if there's a keyhole it's an escutcheon.
But, let's not forget. In the olden days, almost all doorknobs (except for the inside door side of a bathroom) were errrr… brass-ish.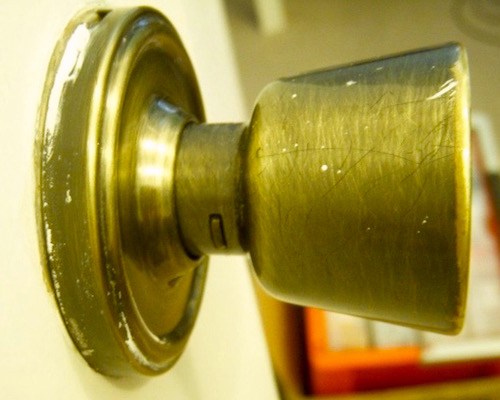 Remember these?
And in the days of my youth, shortly after the flood, you had a choice of three finishes for your doorknobs.
Plain overly lacquered brass
furry, fake gross looking antique brass which was then overly lacquered
chrome
It's exactly like breakfast cereal. There was:
corn flakes
rice krispies
cheerios
Right? Okay, there were a few more, but nothing like today!
So, the answer to the common question about how to mix metals is that there's no easy answer. There are too many factors to consider aside from the finishes. However, it's safest to stick to two or three different metals.
Then there's a question of whether one should do door knobs or levers or a combination of both.
I think that a beautiful lever can be very nice as an accent, especially on French doors or the main entrance door, but I'm not overly fond of them for everything. However, if you love them and want to put them everywhere, I'm not going to shoot you down. (I wouldn't anyway)
Do, all of the doorknobs and levers have to be the same?
No, they don't. But they do need to coordinate and look like they belong in the same house. And I wouldn't do more than two or three different door knobs or handles, excluding the front egress door.
Just one important thing to consider about door levers. I can't tell you how many times in my life, my jacket, purse handle, etc got caught up in one of those things. Very annoying. That's something to consider.
As for style. Of course, we need to be careful with the word "traditional."
We've already ascertained that when folks in the home furnishings industry use the word "traditional," they mean something that's anything but.
I prefer the word "classical" as a better descriptive of styles.
And while we're at it. I think that a better word for transitional is classic-contemporary. And sometimes it's new-traditional. I prefer to move away from the word "transitional."
However, I also realize that I'm farting in a tornado. haha
In other words, nobody knows nor cares about my move to change the word transitional.
I guess I'll have to live with it but that doesn't mean I have to like it.
Let's look at some door knobs on some doors I found from various sources that I think are beautiful and or interesting.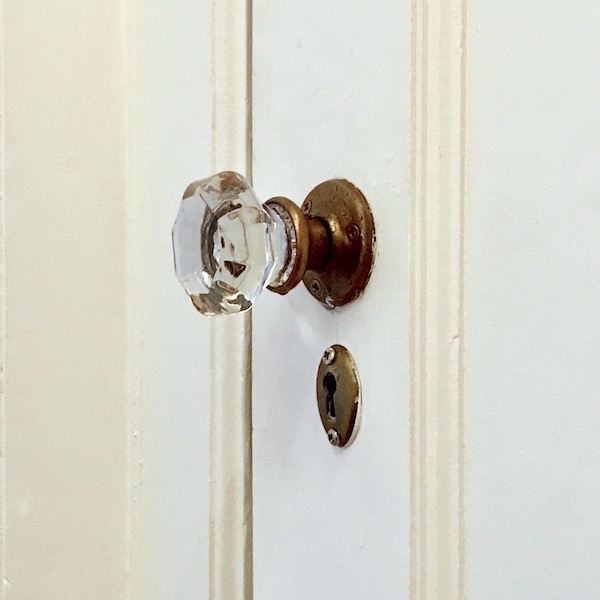 Above is one of five beautiful brass and crystal antique or almost antique door knobs from my 1920s apartment. I'm quite sure that these are the original door knobs. They are a little smaller in scale than ones I see today.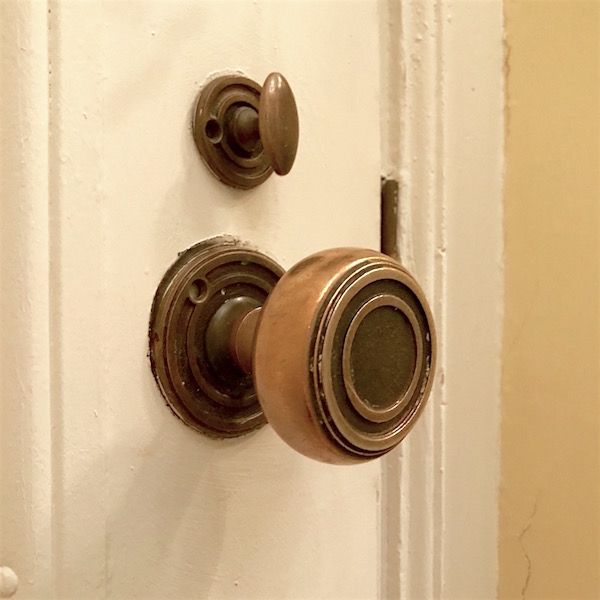 And this is definitely the original brass door knob to the entry door to my apartment. What looks like crud, is really paint that I couldn't get off. haha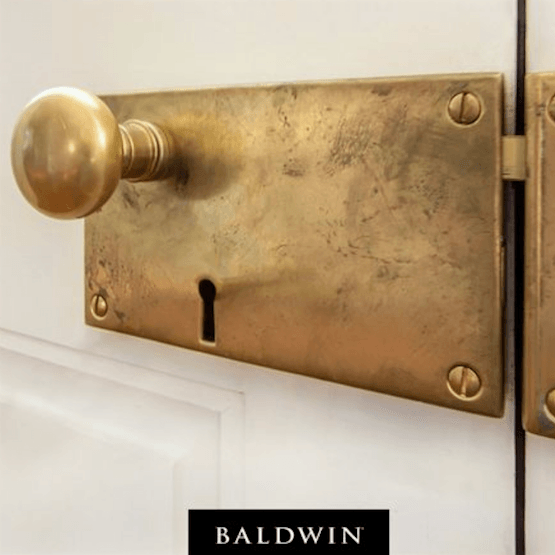 This is Baldwin's antique brass lockset in the Heritage antique brass finish. I think that they did a pretty darned good job with this.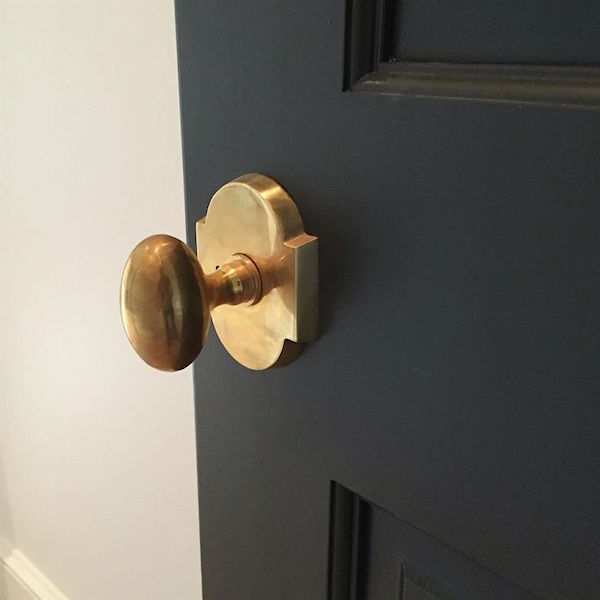 Sun Valley Bronze-BHM-Hardware unlacquered brass egg knob with arched rosette is lovely against the black door.
Emtek – doorknob powder room-Georgia Farmhouse by Athens Building Co. with Rebecca Lang, Photos by Rustic White Photography
via @brandinobrass on instagram – design – @bethmcmillaninteriors – photo @jamesacomb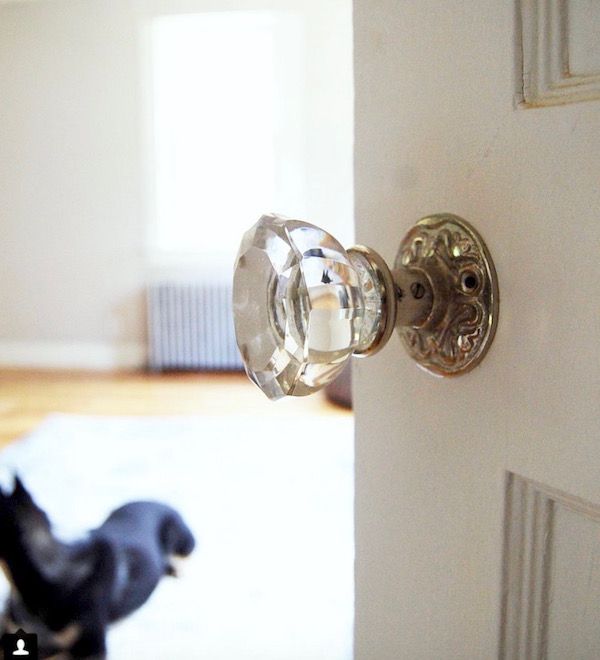 via @katelynndasilva on instagram new crystal knob to replace old broken knobs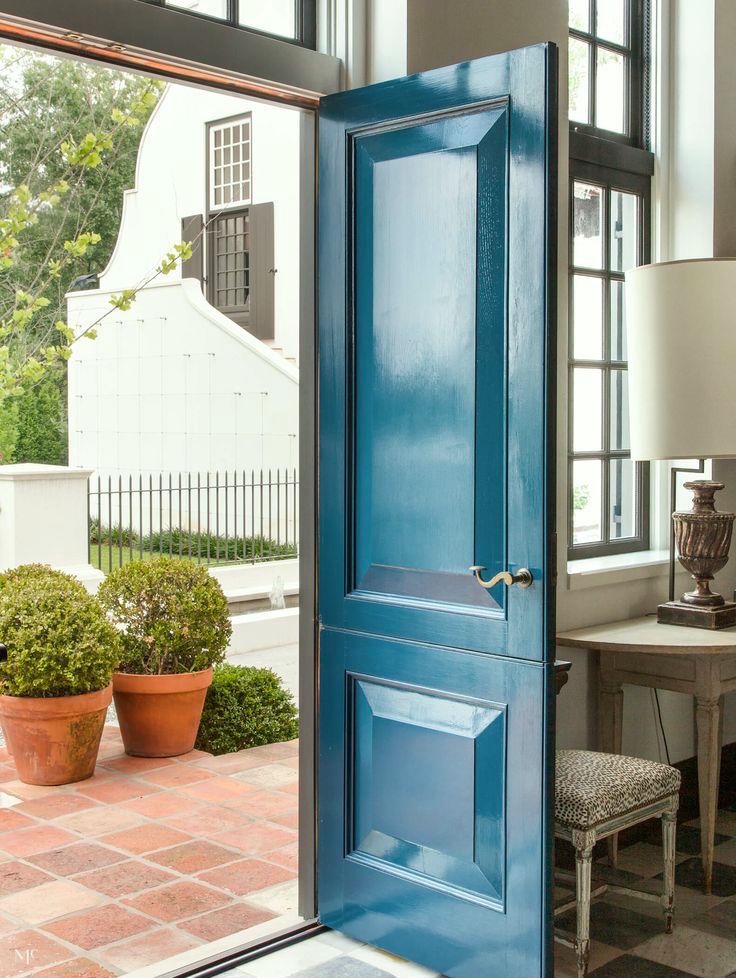 Cape Dutch Inspired by Bobby McAlpine and Associates
Fabulous door and lever handle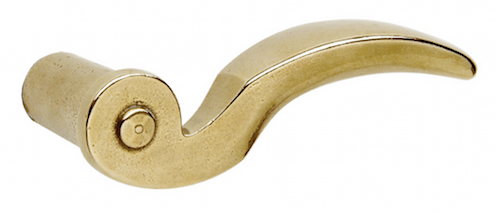 This one from Rocky Mountain Hardware door lever in silicon bronze light looks the same or similar.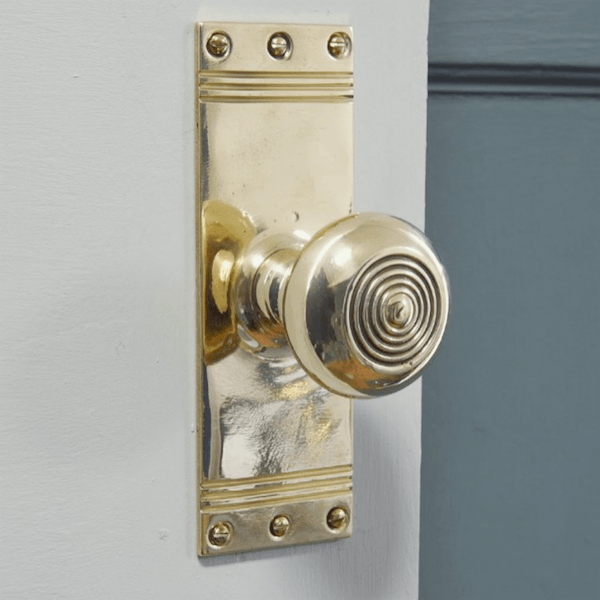 via @willowandstone1 on instagram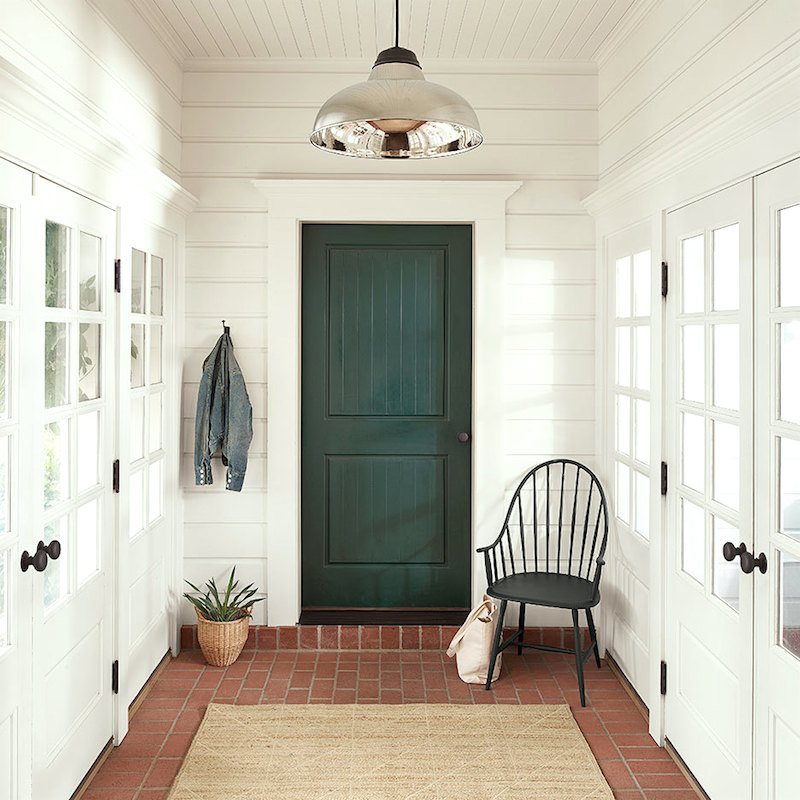 Great Farmhouse look with Rejuvenation door knobs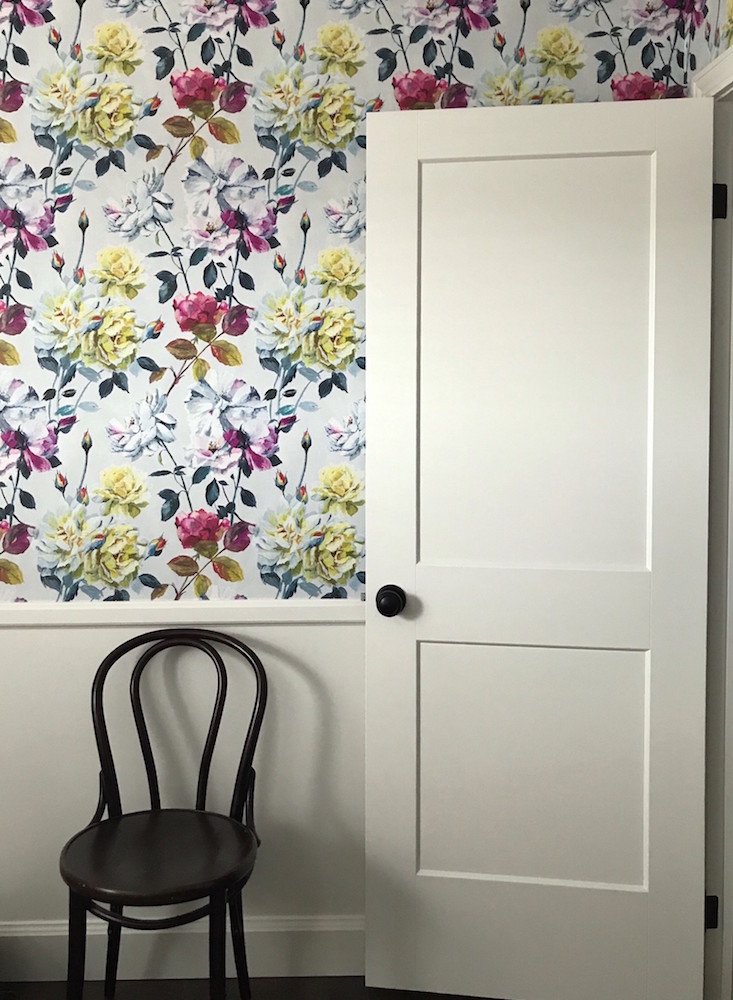 Vanessa Francis black door knobs with floral wallpaper guest-room
For more of Vanessa's work, please click here.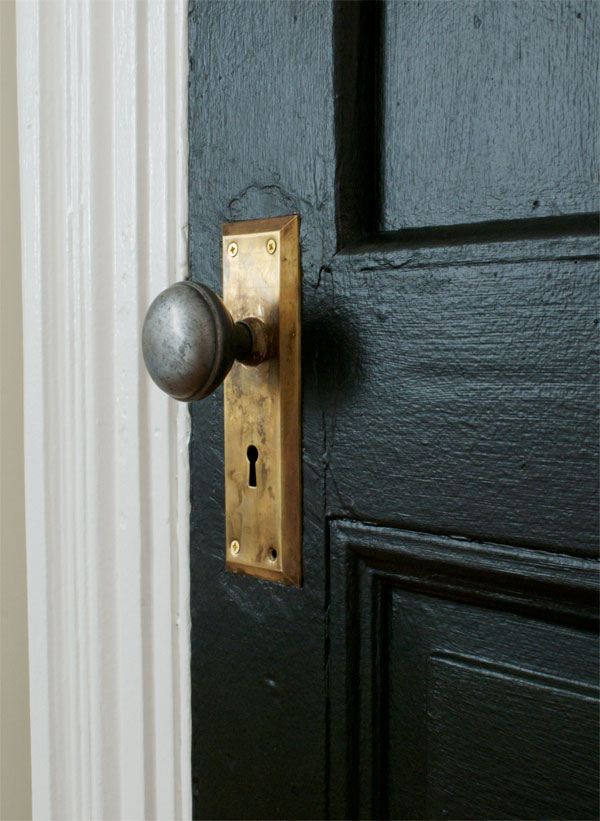 bedroom door knob restored via manhattan-nest
By the way, if you like saucy language, then you will love his blog and if not, well… up to you. And of course, you also have to love old and imperfect.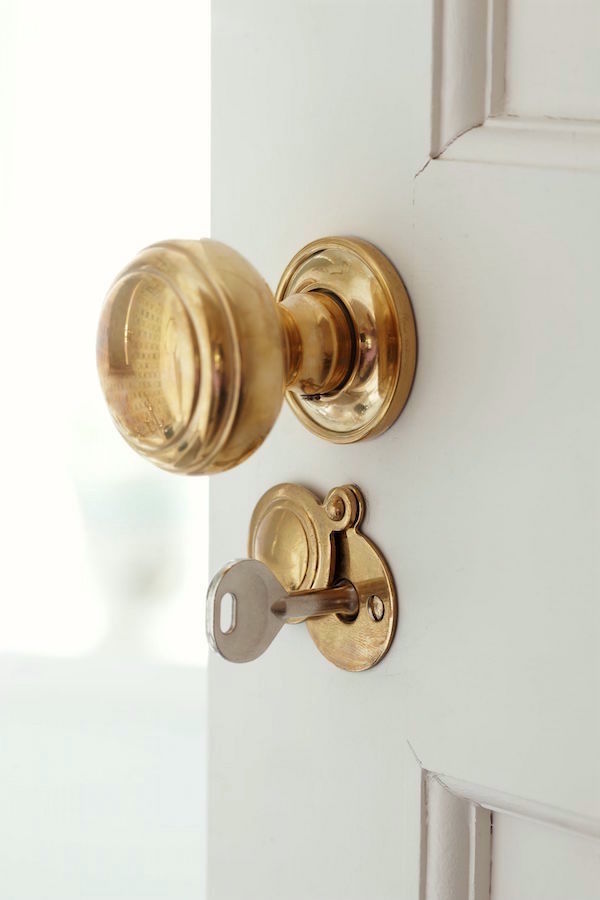 Fabulous new-trad interior design by Sarah Richardson. Love the unlacquered brass door knobs – Photography by Stacey Brandford
Below is a widget which includes some of my favorite door knobs.
Please click on the images for more information.

Well, that was intense! If you have some pearls of wisdom, please do share. Or even if you don't have pearls of wisdom. You can share that too.
xo,
PS: Please don't forget the Nordstrom Anniversary sale is on right now and also there are some other awesome sales in home furnishings on the hot sales page.