Hi Guys,
There have been a lot of interior decorating questions recently and I'm going to weave them into one post.
hopefully. :]
There are three topics.
Lighting options and what goes with what?
What size lamp or chandelier?
How many wall colors can you use in a home?
Of course, each of these could be a separate blog post, but the idea is to give a more holistic response, because they are actually all interrelated.
To demonstrate my ideas, I am going to focus on the beautiful work of Jana Bek
(please also follow Jana on instagram)
Jana is an interior designer who is probably best known for her brushstroke lamp (sold on her website which I would say already has icon designation. She also sells other ceramics, fabrics and art. And who knows what will be next!
These are most of the colorways, but there are a few more.
As an exercise, what I've done is taken a whole bunch of other lamps, ceiling fixtures, sconces and made a widget.
(sorry, I'm going to make you read a bunch first, but it is below, I promise.)
How it works is you could take one of the brushstroke lamps and then one other lamp in the living room, a floor lamp, a sconce and a ceiling fixture. And I'm pretty sure that they will all work together. (There are also some beautiful light fixtures not here, but on the hot sales page which would also work)
What isn't used for the living room could go in another room. In other words, the light fixtures that you will see eventually (after we take care of a little business), all go with each other!
What I didn't tell you is that everything is on sale (20% off) in the light widget. (below) That is part of the "secret sale." It's not really secret. It's only available to folks who get the catalog, but I'm happy to share that "secret code."
The code for the catalog sale (sitewide) is: OKL01CATALOG  and I believe that it's good until mid-February. There ARE a bunch of vendors that are excluded. Quel drag. But there are still a lot that aren't excluded.
However, there IS another 20% off sale at OKL
But it is only for two days, which I assume means the rest of today and tomorrow.  you can read the excluded vendors here. It's a smaller list.
Use code  OKLXTRA20
And it's for furniture only.
Several of my faves are on the hot sales page and it is under the catalog promo code OKL01CATALOG which is site-wide (excluding many vendors). For furniture, you may use either promo code.
Sorry, if it's a little confusing. Furniture, you can use either promo code. Lighting only the catalog promo code.
Okay, let's get back to Jana and the recent interior decorating questions.

I love Jana's fresh, young traditional look. Notice how she balances out the room with lots of texture, black and other dark colors and white. This was a room that she did for the One Room Challenge™ about a year ago.
Here are a few more images from Jana's portfolio.
Wonderful faux bamboo Chinese Chippendale side chairs. They look like the ones from Jonathan Adler which she then reupholstered. I did that once too, which you can see here.
What I love is these are basically neutral rooms, so that the accent colors could change if she liked.
For instance, she has done that here. I'm not sure if this is before or after the other one. But no matter, you can see that with a neutral base, it is not terribly difficult to change the palette.
But let's go back to the more colorful version.
The color is Farrow and Ball Cornforth White which is a close match to Benjamin Moore Barren Plain (sorry, I messed up the number on the chart. It should be 2111-60.
For those of you, who own the Laurel Home Paint and Palette Collection, you are at a huge advantage. For instance, we can find a color in the collection that is close to Cornforth white and from there, we can go to town.
And then we can take a palette which has sea froth and classic gray which are similar to Cornforth white and from there build a palette. Which I've already done for you.
Below are two palettes which come with beautiful room boards from the paint palette collection.
There are a total of 40 palettes plus 12 bonus palettes. They all come with a board.
Actually, this one is from one of the bonus boards. There are 12 of those. Okay, 11. One of them is just a board but it is a special board.
Let's say that the hallway, is a soft white like Cloud white or white blush.
Then, for another room nearby we could do racing orange red, deep royal, one of the pinks, a green, or a deeper neutral like Chelsea gray.
It is very difficult to ascertain how many wall colors one can have. But usually, I would not do more than 3 or four that are visible to each other. And then maybe another room will have wallpaper.
I am not including bathrooms and laundry rooms. Things like that. And this is only for the main living areas of a home with actual rooms.
Of course, you could paint everything white and then vary the accent colors, carrying a thread of one of them. I think that there should always be a thread of some color to carry through all of the rooms.
If a lot of unusual colors are used, then they all need to live in at least one of the rooms.
Ben Pentreath is an excellent example of this because all of his colors live in the uhhhhh living room.
As for the size of the chandeliers, you can check back to this post about dining room lighting. (where the guy nearly lost his eye due to the over-scale chandelier)
As for table lamps, there is a recent school that says the bigger the better.
Please forgive me.
That is hogwash.
Tell me, if you have an end table that is 27″ high, how is a 36″ lamp supposed to look good on it? (unless it's in a barn of a room) The only exception I can think of is if it's a true mid-century vintage look, where the end tables are quite low and the lamps are quite big. But it's an affectation of that era.
For most living rooms a table lamp of from 26″-31″ is the optimal size IMO.
I'm going to be going through more rules of thumb soon. And the reason is that I keep seeing stuff that's wrong. For instance that an end table should be two inches lower than the sofa arm. That just doesn't happen if you have an English roll arm sofa with an arm at 23″!
In defense of the designer who said that, she might not have actually said that. Happens all of the time.
But before I forget, here are all of the beautiful light fixtures on sale!

You can pick out one table lamp, one sconce, one ceiling lamp plus a brushstroke lamp. Of course, there are millions of combinations that would work. Of course, some of these would go in a more casual room like the Vendome. It is dressier in the brass, but handsome in the bronze finish shown.
And a few are for dining rooms. One or two are for kids rooms, but they could also be used as accent lamps just about anywhere. If you like this, I could do it for a different type of home, one day.

And finally. All of Serena and Lily's gorgeous rugs are on sale right now too, (through Feb. 5th) including all of the new ones.

Can I tell you how much I adore this new Abaca rug?
Speaking of S & L, I can hardly contain myself. Someone emailed me from there yesterday. Out of the blue!!!
We found your blog and think it would be a good fit  [Hell yeah!] and we want to give you some product for you to… blah, blah...
You know the rest.
Laurel is suddenly having an out-of-body experience, floating high above herself which just fell to the floor. Surely, it's a fake.
Nope, not a fake.
I really need a bigger place.
And a cleaning lady. lol
I'll keep you posted about that one!
xo,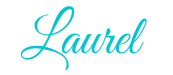 PS: Please don't forget to check out the Hot Sales Pages. Some really beautiful things this week!