Dear Laurel,
Would you consider a blog article on bathroom storage for the small bathroom – where there is not room for a beautiful antique armoire for storage – but simply – double gasp – over the toilet storage? Can that ever look elegant?
Thank you for considering,
Anne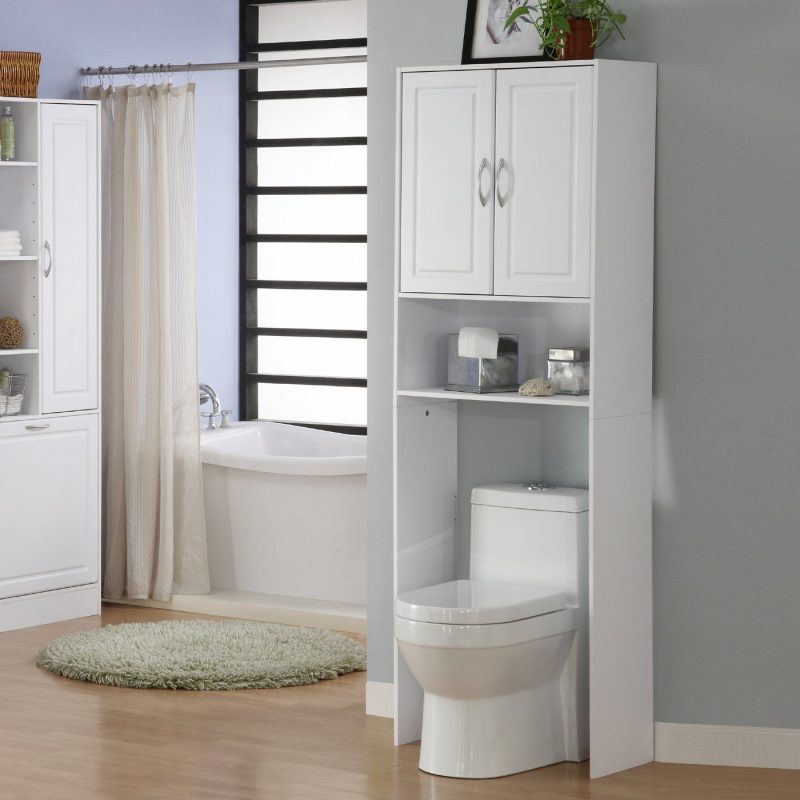 You mean like this?
Granted, I've been in a lot of bathrooms where there's been some variation of the over-the-toilet storage. And I also realize that some people have limited funds.
As many of you know, I love to do a little historical research to see if something inspiring transpires.
You may recall in our recent posts about enfilades that the numerous doors lead to the… uh.. the john.
Apparently, the loo, crapper– okay, fine. The "toilette" back in the 18th century was a place where the lady and gentleman of the house did their entertaining.
Marriage A La Mode – The Toilette – William Hogarth
They took their tea there too.
Crazy time!
I'm trying to wrap my mind around all of this. But I did find a most interesting, well-written expose about life in the 18th century that explains things better than I ever can. I think that you'll enjoy it too. (it's a pretty out-there website and sorry for all of the click-bait, but the article is interesting, I think.)
In the meantime, I'm not getting a lot of clues about bathroom storage here.
And this one with a harp and her clothes strewn all over the place. Guess that she could use some bathroom storage.
People were very different back then. I mean, their habits. I think that in other ways no, but their habits were gross. Although maybe they would think that we are gross since we no longer actually talk face-to-face with each other.
Never mind the bathroom storage because when it came to hygiene, have to say that they were pretty revolting.
Boilly La Toilette intime ou la Rose effeuillée
Eew.
Oh, look, there's a shelf over the chamber pot.
Well… there it is…
I guess that little exercise didn't produce anything inspiring in terms of bathroom storage.
However, I can commiserate with those of you who have super tiny bathrooms.
By the way, in case you are wondering what's going on with that; a third of the ceiling is missing and the walls have been ravaged. Why? Well, about a month ago, instead of the usual trickle of water from above which has ruined my walls, there was a massive hemorrhage of water. What a mess! They will be coming to fix the walls/ceiling soon and hopefully, the leak will be no more!
And I do still very much, at the very least want a new vanity.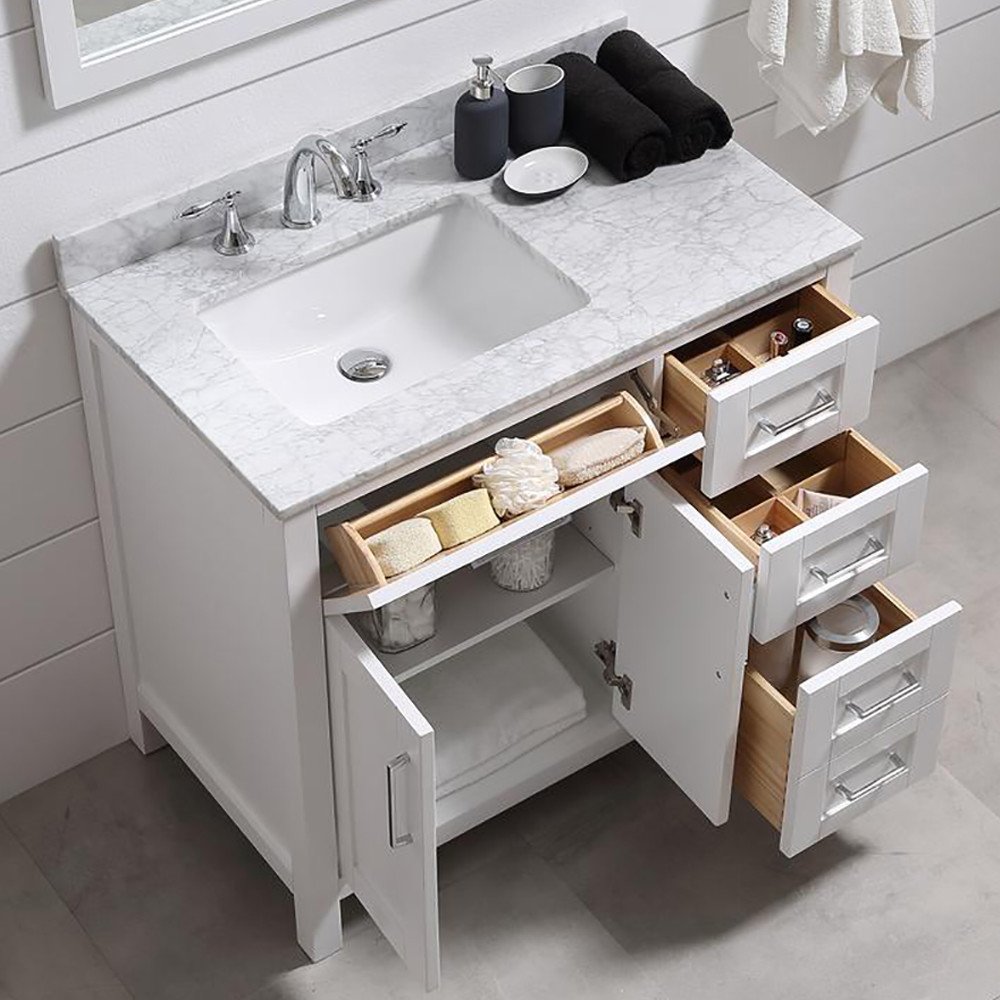 By the way, this one from Ove Decor is one of my top posted pins on Pinterest.
But ever since I started talking about my bathroom, I have had an idea for storage that would be quite cool, I think.
My little room which can barely fit one person, let alone a crowd has one thing going for it.
And this one thing is the most obvious place to gain potentially a phenomenal amount of bathroom storage.
What is it ALREADY Laurel?
Oh, sorry. I guess it's not that obvious.
Well, in my little bathroom I have over seven feet of uninterrupted wall.
Well, sorta.
There is a bump out which I'm not quite sure why it is there.
And then there's the bloody hot water pipe that cooks the room in winter.
Yes, Laurel. A wall and there isn't enough room to put anything on it and if you put shelves there, you would be hitting your head.
Yes, I know that. Will you please let me finish!? :]
The storage is IN the wall.
Remember when we talked about between the stud storage?
And we also touched on it in one of my favorite posts about brass in the new unbathroom.
But, it makes so much sense to have between the stud storage in bathrooms.
Look at medicine cabinets. If they are recessed, that is between the studs!
And we can take it a step further. What is behind the bathroom wall?
In my case it's two closets. Two sucky closets.
But, what if we stole a few inches from the interior of those closets? Would hell freeze over? Would it spoil some vast eternal plan? Not in my case.
But it would make a big bloody mess. It's really the type of project that would be best accomplished if no one was living here.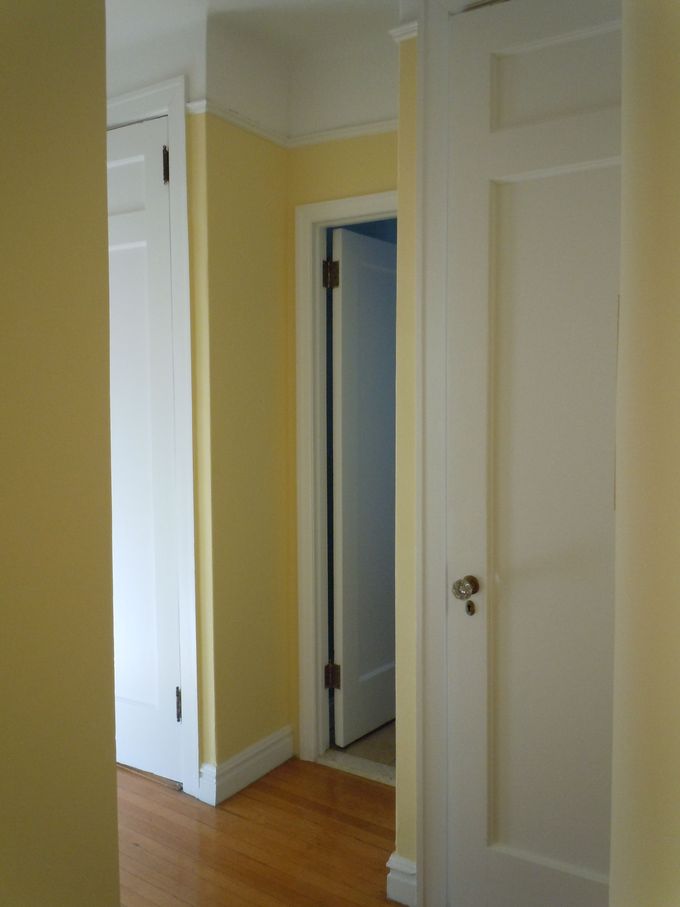 Above is the entrance to my bathroom. See where the door to the bathroom is? The open door. It could be attached to the other side and then swing out. That wall is longer than the other one. That way, the entire wall inside would be free.
Then, we could do some really cool built-in cabinets. The only issue would be the bloody pipe. Or I should say the SCALDING PIPE!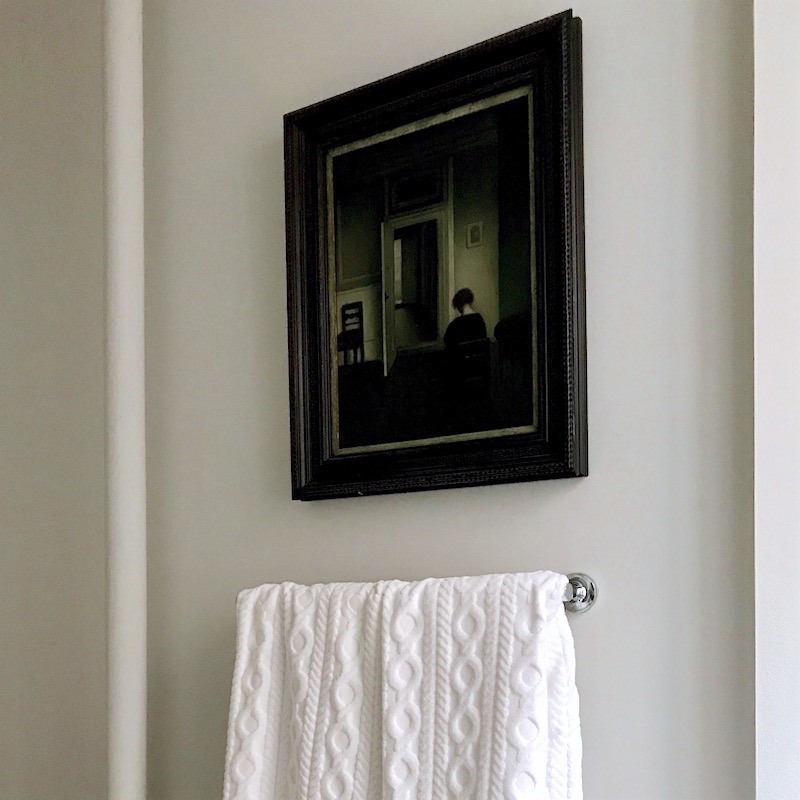 No wonder the woman in the painting is so down. That pipe is a real thorn in my paw. But for now, let's pretend that it isn't there.
The next images are some inspiration images I found to show what could be done if we consider moving into the wall itself and maybe stealing a few inches of space from behind it.
*Please note. We might not be able to do this on a wall that has water and waste pipes in it. Always seek out the advice of a professional before attempting to DIY. You've been warned.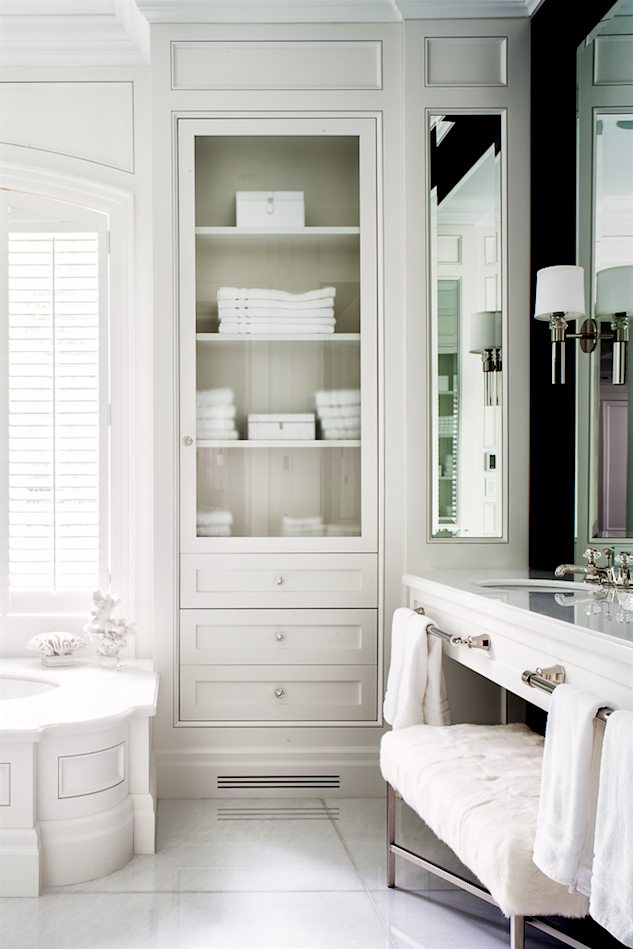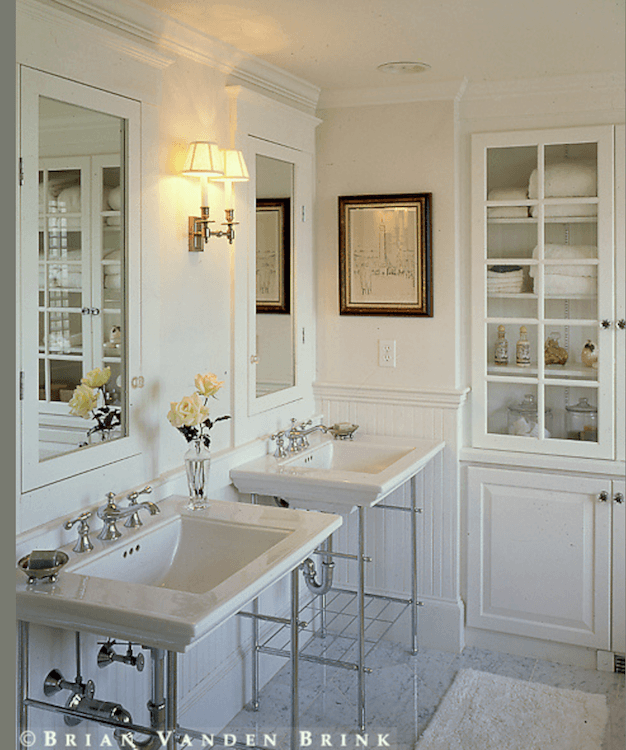 You can see more of this gorgeous bathroom by clicking on the link.
BHG
BHG
This is a cute idea for a kids' bathroom.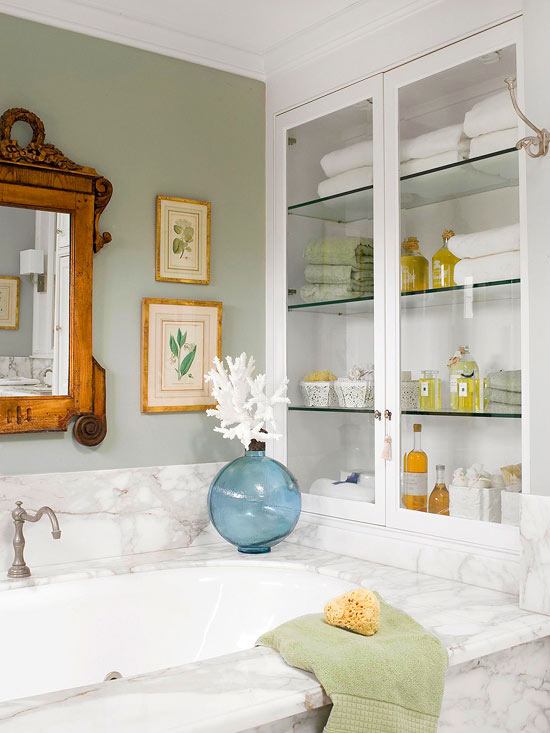 BHG
This cabinet isn't recessed, but I love the antique glass doors and it's a helluva lot classier than the melamine. No?
This one is technically in the hall. And that too, is an option.
I love the idea of having a little dressing area outside of the bathroom, as well.
Here are some more bathroom posts that you might enjoy reading.
Here's How To Get The Cool High-End Bathroom for a lot less
A Disturbing Bathroom Renovation Trend To Avoid
Bathroom Art Ideas You're Gonna Love
21 Interesting Bathroom ideas for bathroom people
Best No-Fail Gray Paint Colors For Bathrooms
Have any of you put in between the studs storage in an area that couldn't fit a typical cabinet on the wall?
Please share with us your experience in the comments if you have.
xo,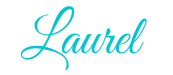 PS: Please check out the Newly Updated Hot Sales!
Lots of Great Things This Week, Plus A Secret Sale!