Recently, we did a post about the new "un-bathrooms." And I featured a lot of English bathrooms, because they have it just right, I think.
Well, if you saw yesterday, I went to a fabulous new showroom in Manhattan in the Architect and Design Building. It's the new showroom for Drummonds.
Drummonds is an English company that makes EVERYTHING gorgeous, gorgeous and hand-made for a high-end bathroom.
Absolutely exquisite.
Here, let's take a look.
These are a few images I took of the new Drummonds Showroom in the A&D Building in NYC the other evening.
If that paper looks familiar, it's because it's also in this post. I do love it!
Gorgeous!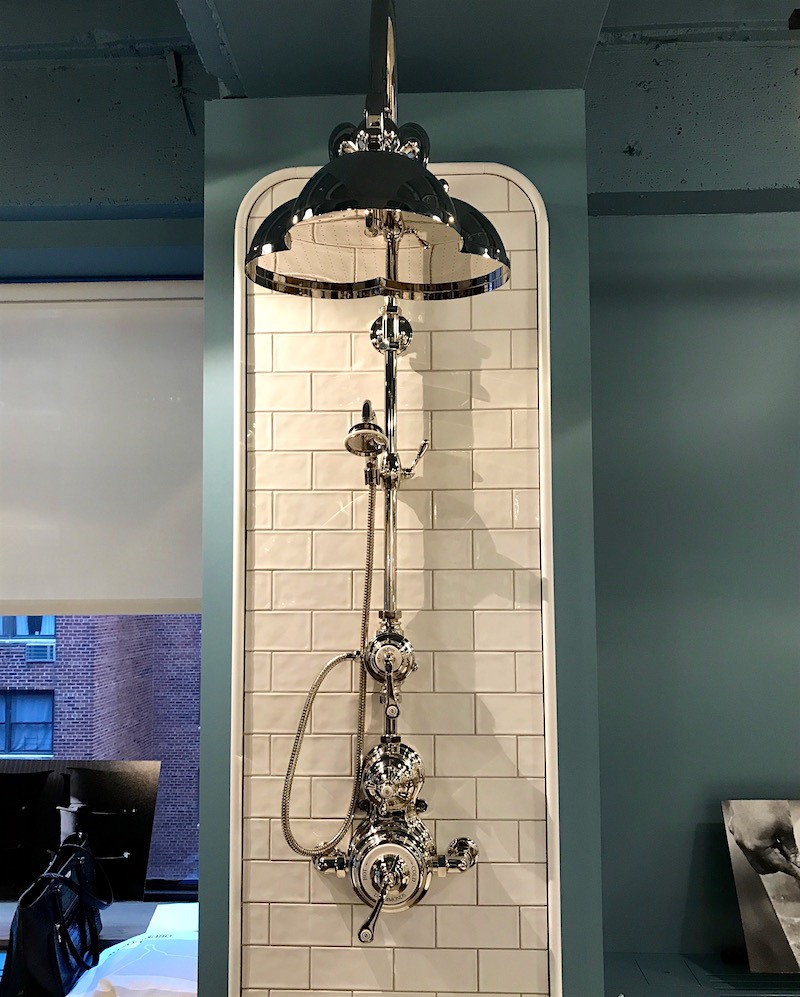 Now THAT is some shower head!
And some images I found on the Drummonds high-end bathroom website
Everything is hand-made and it shows.
There's those Georgian windows that I adore!
Damn, that's exquisite!
Pretty freaking awesome aren't they?
But…
I don't know about you, but I will be lucky if I can so much as afford one of their cup holders one day! And I'm not saying that the price isn't worth it. It definitely is… IF you have the funds (without swindling anyone…hmmm).
If so, then please head over to Drummonds or get your decorator to head over there and create some magic for yourself.
For the rest of the 99% of us… I want to create the look and tell y'all about some of my favorite bathroom sources for fixtures and the like.
Some of you have been wanting to know.
Most of it is not terribly surprising. But maybe one or two surprises.
Let's dive in.
You really cannot go wrong with Kohler.
It's a family-owned business from Wisconsin. And Wisconsin-ites are good people. I know this for a fact because I lived in that state for five years and have visited frequently, all of the other years. I have also been to the Kohler factory in uhhh… Kohler, Wisconsin. It was a while ago, but it was pretty awesome.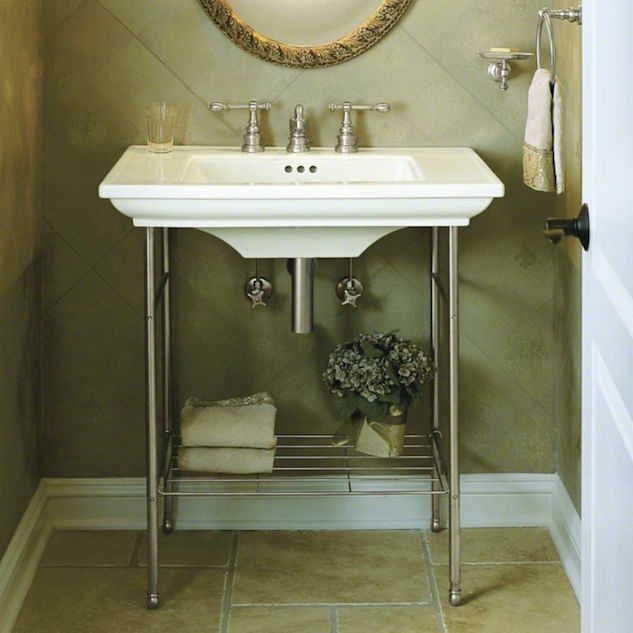 This is one version of the Memoirs Console sink by Kohler.
(please note that the link is for the base only)
This is another beauty. The Kathryn Sink with porcelain legs.
There are metal versions of these legs as well.
One of my favorite bathroom faucets from Kohler
Another favorite is Rohl and its subdivision Perrin & Rowe.
And a line that might be a surprise is Rejuvenation. (image above)
This is part of the Williams-Sonoma family of companies.
And while Pottery Barn also some has nice things, Rejuvenation is on another level. I love their entire line.
One thing that I know that you guys are thinking. (well, some of you) is that you'll look at the console sinks and wonder where you're to put everything.
A closet. The English have closets in their bathrooms, or just outside. ;]
Or a chest is very nice in a bathroom too.
And below, please enjoy a widget filled with some of my favorite fixtures and I also added in a few other things just to break it up. I can't control the order things appear in. If you're interested in finding out more about anything, please click on the individual images.

Wish I could say "Happy Eastern Standard Time." But I can't. I'm not a morning person. The sun can rise at 10:00 AM, for all I care. I wouldn't notice the difference. haha. But, I sure do in the evening. Oh well, the extra hour of sleep is appreciated.
xo,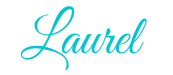 PS: Please don't forget that if you are interested in purchasing a rolodex and/or paint/palette collection bundle, that the price is going up on November 13th.

And also please check out the hot sales pages. So many beautiful things on sale this weekend.