Laurel– What do you mean it's not the wall color that makes a beautiful room?
I mean, did I just plunk down 199 bucks for nothing for your color guides? Please explain.
Sure. Well first of all, white IS a color and there are several beautiful whites in my paint collection.
But saying that a wall color makes a beautiful room is like saying a flawless complexion makes a beautiful woman.
Indeed, a beautiful woman generally does have beautiful skin and a beautiful room needs a beautiful wall color, but no color in isolation will automatically make for a beautiful room.
In fact, I believe that one of the worst decorating mistakes is to have a big, uninterrupted drink of ANY color.
Yes, we've been through this before. And we will again, because IMO the most important feature, the one that MUST be there, are the architectural elements of the room.
It's awfully difficult to make a plain box look special.
And so it's the architecture of the room. Windows, doors and especially applied wall mouldings which are the GUARANTEED way towards a beautiful room.
I mean, look how gorgeous this design is for panel moulding and a fireplace mantel. Wonderful design by Gil Shafer.
Now compare it to this solid white. Which would you rather look at?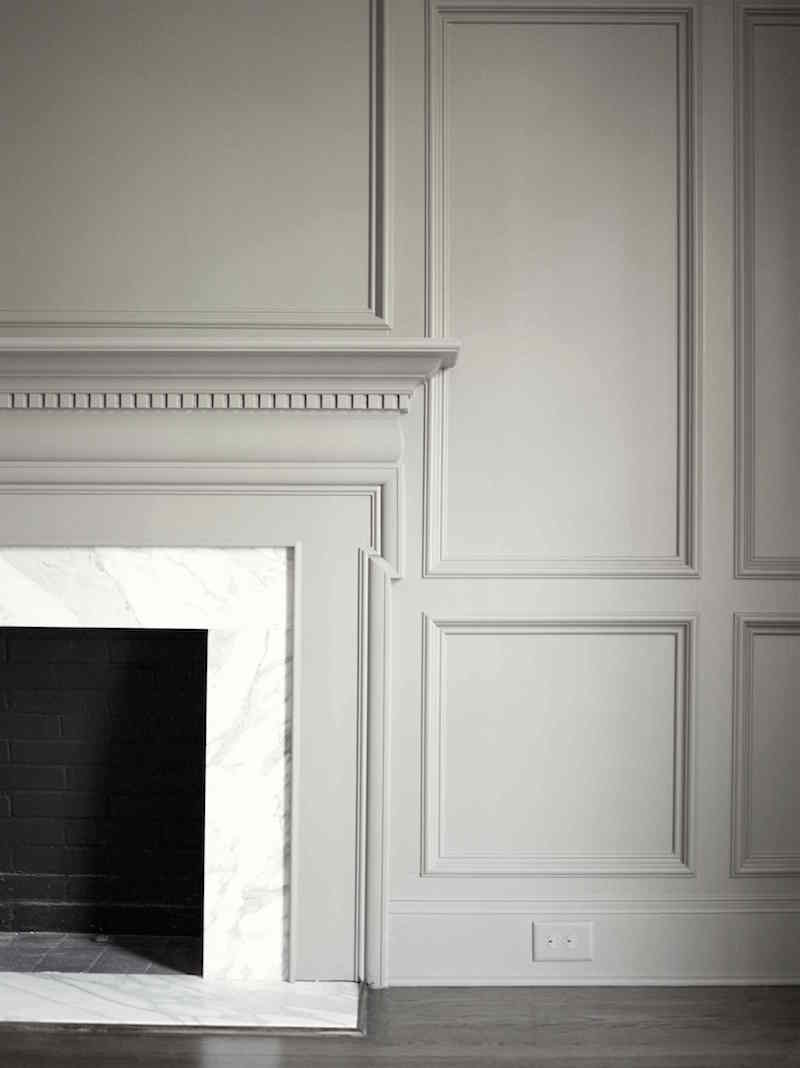 Or this incredible mantel in this warm greige with panel moulding. (original source unknown)
Or imagine how boring this vignette would be with this gorgeous chest from Stanley without the simple panel moulding behind it.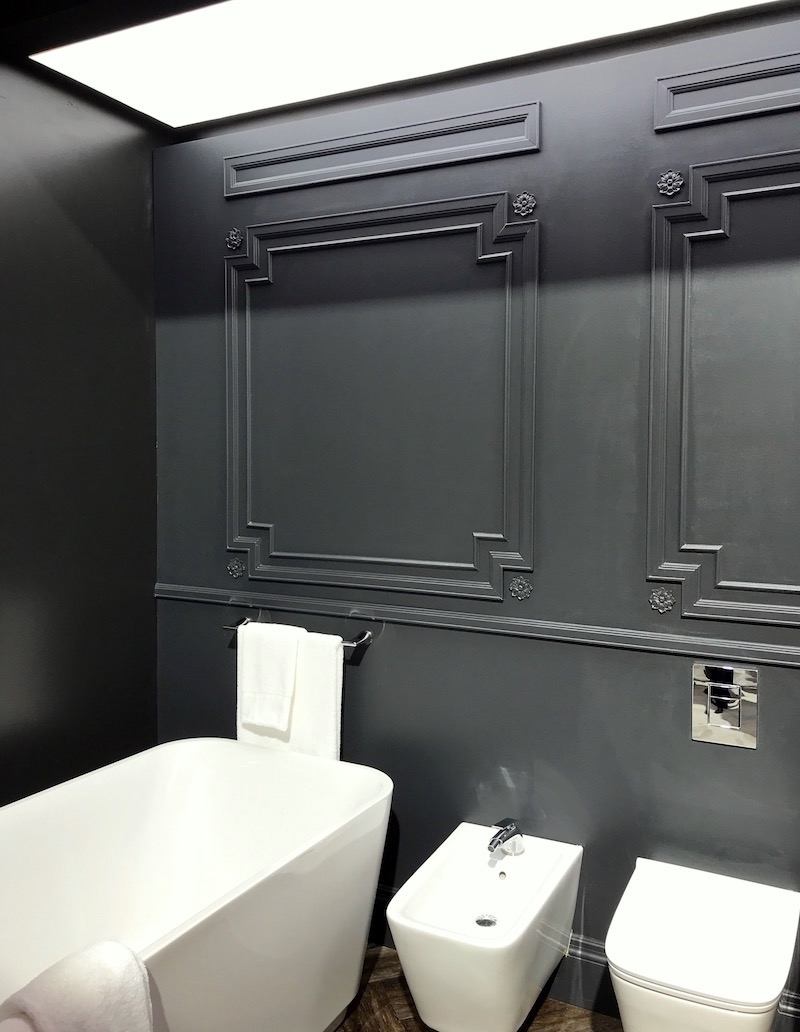 And then there's this image from Sunday's post with the beautiful mouldings in this contemporary bathroom vignette from DXV from the KBIS show.
By the way, someone wanted to know the wall color and I still don't know, but it looks like a dead ringer for  Benjamin Moore Stormy Sky 1616 or possibly Benjamin Moore Anchor Gray 2126-30. Both of these colors are part of the Black and Charcoal color family in the Laurel Home Essential Paint and Paint Palettes Collection which features 144 curated Benjamin Moore colors + more than 40 palettes. And yes, I know that I owe those of you who own it, the final bonus palette.
If you missed it, you can see the final bonus board (there are 12 of those) here.
So, Laurel, If I'm understanding this correctly, you're saying that if we have nice doors, windows, fireplace mantels and applied wall moulding that we will have a guaranteed beautiful room?
Well, haha, you WILL have a beautiful room, but yes, you can still muck up the design and furnishings. However, you're going to have to work a lot harder on doing that if the room is inherently beautiful.
And I believe it's very difficult to have a beautiful room if the architecture isn't there.
Well, what if I want a modern home, sans mouldings? Are you saying that it's going to be awful?
No, not at all! You will still have windows and doors and probably lots of glass. Usually there is some moulding, even if very plain.
But for the majority of us who are interested in a classical, stylish, eclectic home, these elements are going to make a huge difference.

A great example of a room that is traditional with a contemporary feel is this stylish vignette by Thomas O'Brien. Love his work!
And this brings me to one of our Designhounds Blog Tour Sponsors at the Kitchen and Bath Show, Metrie Interior Mouldings and Doors. Some of you may recall that I did an interesting post featuring them a while back which I think that you'll enjoy. And last year, I also included this post about them.
There's no shortage of information and gorgeous examples of Metrie Mouldings. In fact, Kristi Barnett, (The Decorologist)who was also on the blog tour, did a fabulous post which brings up an excellent point.
And that is the increase in home value from using applied wall mouldings. Not only are you adding incredible beauty and charm, but you are increasing your home's value!
Story Time
In 1991, we purchased our first home, a townhouse in northern Westchester County. I was so excited because it was bright and spacious and had a lovely fireplace. There HAD to be a fireplace!
While I loved the home, it also had miles of PINK carpeting and a warm dirty white on the walls which I later found out was Benjamin Moore China White.
Five years later, we had been so house-poor that we had done NOTHING to our home which as you can imagine, kind of depressed me. But when I began my business in 1996 , I somehow persuaded my husband to take out a home equity loan for $25,000 and FINALLY, was able to make the home our own. That was a happy time.
The first thing we did was… yeah… Ripped out that hideous pink, wall-to-wall carpeting
And we put down (well, WE didn't put it down) a beautiful oak hardwood floor which was stained minwax golden oak. And we used Fabulon Polyurethane 3 coats. The result was a rich cognac color which I loved. You can read more about that here.
Next on the list was a crown moulding, new chair rail, picture frame moulding, to simulate raised panel wainscoting and new baseboards. I decided to leave the windows and doors with their plain 3″ window casing because that didn't bother me so much and after all, the house still had some contemporary elements.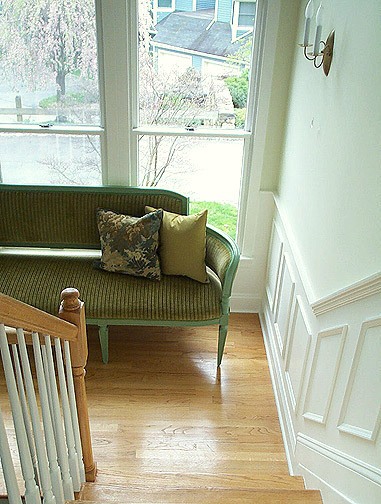 An old photo of part of our wrap-around staircase after the mouldings went up. We also had four walls with wainscoting in the L-shaped living/dining area. The floor stain was lighter on the small landing than everywhere else for some reason. But it also faded over time.
Then, we painted, did a kitchen botox, reupholstered and/or slipcovered the furniture in white fabric and had some much-needed new furniture custom-made. You can see my old living room here. (and a young Peaches grooming himself– awwww)
At the end of 2012, I moved and my wasband let me take whatever I wanted which I did. hehehe ;]
We had the house repaired and painted and then it went on the market for sale.
In two weeks, we had a solid offer which we took.
Two weeks later, on the day before the prospective new owners were to sign their contract, we had an offer for the FULL ASKING PRICE.
Similar homes were not selling or selling for a song, but we got our full-price. And I am positive it is because of the beautiful applied wall mouldings. It made such a difference, I can't tell you! And for the 16 years, before I moved, I derived much joy from our renovations.
End of story.
Let's go back to the Kitchen and Bath Industry Show (KBIS)
where I was a Designhound with Modenus on a blogtour and once again hanging with Claire Jefford and Maria Killam and I went to visit Metrie at KBIS.
Behind Maria and Claire is my favorite Metrie door called Fashion Forward. (in pink). There is also a glass version with the black frame. BTW, have you seen Claire's wonderful youtube channel, filled with lots of great videos and decorating advice.
Here we can see a gorgeous white living room by Shannon Claire using the Fashion Forward door from Metrie.
Back at the show is a gorgeous vignette designed by Cheryl Torrenueva. (this is Metrie's photo from their Then and Now Collection)
Don't forget to look up like I did! I swiped a pic from Kristi Barnett of the fabulous ceiling detail from Metrie.
I don't know about you, but every time I see that light fixture, I think jelly fish. :]
Let's see some of their beautiful work!
Vanessa Francis
I met Vanessa Francis (link to that gorgeous bedroom above) on last year's blog tour and was taken with her immense talent, plus she's super-duper nice! Oh, and she's a great photographer too. Please check out and follow her on instagram.
The mouldings and door above are from the Metrie Pretty Simple Collection
A fabulous bathroom designed by Vanessa using Metrie moulding. (and a lot more beautiful Metrie Moulding examples too!) The beautiful Pretty Simple Collection
This is a detail of a Metrie crown moulding in Vanessa's drop-dead-gorgeous kitchen. You can see many images on her blog.
This is a little video from House and Home featuring Vanessa and her kitchen.

Another beautiful job using French Curves moulding from Metrie by designer Amdolcevita on instagram.
Love the way she incorporated the art with the panel moulding.
I found a fabulous tutorial on Addicted 2 Decorating for the adventurous.
Lovely applied wall moulding treatment.

A beautiful detail of the Metrie French Curves line of mouldings.
Well, Laurel, I'm seeing an awful lot of white walls. White, white, white. Do you have to always use white?
Gosh, you guys are making me work today! ;]
No, you can use mouldings with any color you like!
Here are some what I think are wonderful examples of ways to use mouldings with colors that aren't white.
A gorgeous hall with dark blue walls and a black ceiling. Please note that the rooms off of it are white. Very interesting and I think it's a great idea too! (sorry, I found lots of this image, but not the original source. If you know it or any of the others, please let me know.)
Interior designer Nyla Free, another talented blog tour member used Metrie Doors in her office and painted them black. Stunning Doors From the Pretty Simple Collection at Metrie!
BHDM Design via Lonny
This handsome room doesn't have moulding that I can see, but I know that some of you have prejudice against dark walls. Please tell me, if you feel like it, if you still feel that way looking at this vignette. I'm fine if you do, but I think that this is the way to do dark walls. Lots of white and black and some mid-tones too.
Love this paneled dark green wall in a room by Studio McGee with Metrie panel mouldings. You can see another view of the room here.
And well… that's all I have to say about mouldings and such– for now. Oh wait. No. I just wrote another post. All about wainscoting and the one thing you must never do.
xo,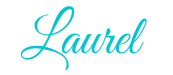 PS: Please don't forget to check out the hot sales pages.  Snow day tomorrow! Might as well shop if you're stuck at home.