Hey guys,
Can't begin to tell you how hard I'm smirking… Because any of you who know me and know that I'm actually IN the sky winging home from The Design Blogger's Conference in LA know that there's a very good chance that Scary doesn't mean Scary Bad.
It means SCARY GOOD!
You see, I did my talk and I'm still alive, but one aspect of my talk is getting your reader's attention.
Nobody is going to open up a post with this title.
Two Fabulous interior decorators who gave keynote speeches at the Design Blogger's Conference.
zzzzzzzzzz…
Oh, yes, of course, some of you will.
Some of you would open up a post entitled
The Fascinating Pastime Of Watching Paint Dry
lol
Since one of my key points was for design bloggers to rock their headlines, I figured I better not disappoint.
And while we're on the subject, or rather, *I'm* on the subject, lol, thank you, thank you, to the many well-wishers and those of you who were actually there to cheer me on!
Back to the topic at hand… The definitely NOT scary interior decorators. Two have been featured on the blog before, and one is new to me.
But here's what's super interesting. Two out of the three had NO formal interior design training and all three catapulted their careers solely through their blogs and social media.
Through that came all of the other good stuff like book deals, etc.
Two are living in California and the third is in Salt Lake City. While there's some overlap in all of their work, each has at their core, a relaxed, comfortable casual vibe.
Let's begin with the young husband and wife team of Syd and Shea McGee of Studio McGee.
You may recall that I featured their work in this post about Simply White.
Shea was the speaker and what happened is that she had always had an interest in interior design. Her husband lost his job and from there, she began decorating.
She started her blog and an instagram account and now has well over 400,000 followers. They have a staff of 30. And all this has been accomplished in barely three years! Wow. Just wow!
Adorbs, they are. Oh, did you know that in addition to starting this mega-business, Shea has had two kids?
Yes, I had two little kids when I began my biz in 1996, but I didn't have 30 employees, speaking engagements, a blog, a shop and let's not forget social media. But then again. The 30 employees are doing a lot of the work, I'm sure.
It's no wonder that their style has taken off. It embodies a fresh, young-traditional style that's tres easy on the eyes.
Recognize the Pyne Hollyhock from F. Schumacher?
I love the juxtaposition of an ornate framed oil painting against stark white walls.
Blue and white prevail in their designs, but they have gotten more adventurous with dark colors, with some jobs. I love this chic office with the Oriental rug and combination of black panel moulding with white built-in cabinetry.
Last summer, they launched their shop, McGee & Co.
The second designer is Amber Lewis
Amber Lewis of Amber Interior Design is the designer that's new to me. She was a keynote speaker and a most interesting foul-mouthed (by her own admission) woman of enormous talent. She opened her talk admitting that she was nervous, but I'm not sure why. She gave a terrific talk!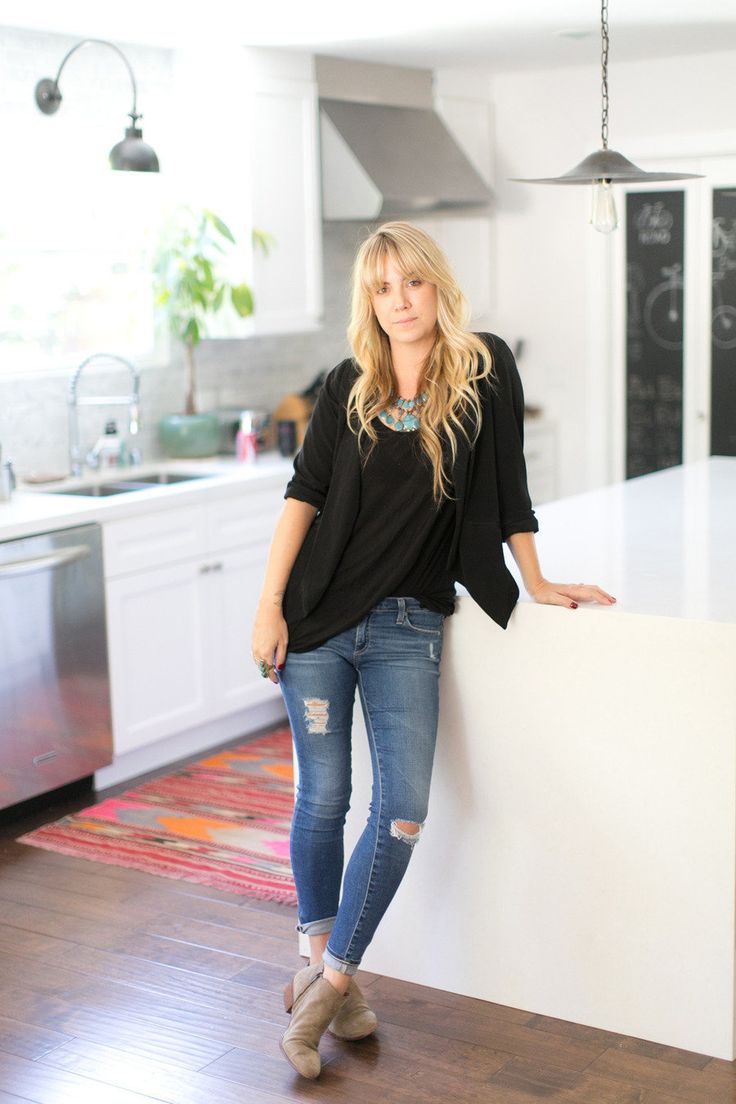 Hers was another tale of adversity and she too, used her website/blog as well as instagram to propel her business which only began in 2010.
She describes her look ast BoHo Chic, but I see it as being not dissimilar to the interiors of Studio McGee.
Both design firms feature white walls with blue accents in their interiors.
Both mix in antiques and fine art to their more contemporary rooms.
I love how she takes a very traditional sofa and inserts in this contemporary but classic home and it looks fresh and very happy in that setting.
I think that her mix is just right.
If my memory serves me correctly, Amber was working for another designer and lost her job and possibly her husband lost his job or something and she needed to scramble. Something like that. My mind tends to wander at these things as it's a lot to take in.
I do know that she has a design background, but am not sure if she was formally trained or not.
Image and article about Amber Lewis' shoppe via the LA Times
Amber Lewis has both a physical shoppe (yes, with a double P and an E which I suspect is meant to be irreverent coming from a casual Cali girl) and an online version of the shoppe as well.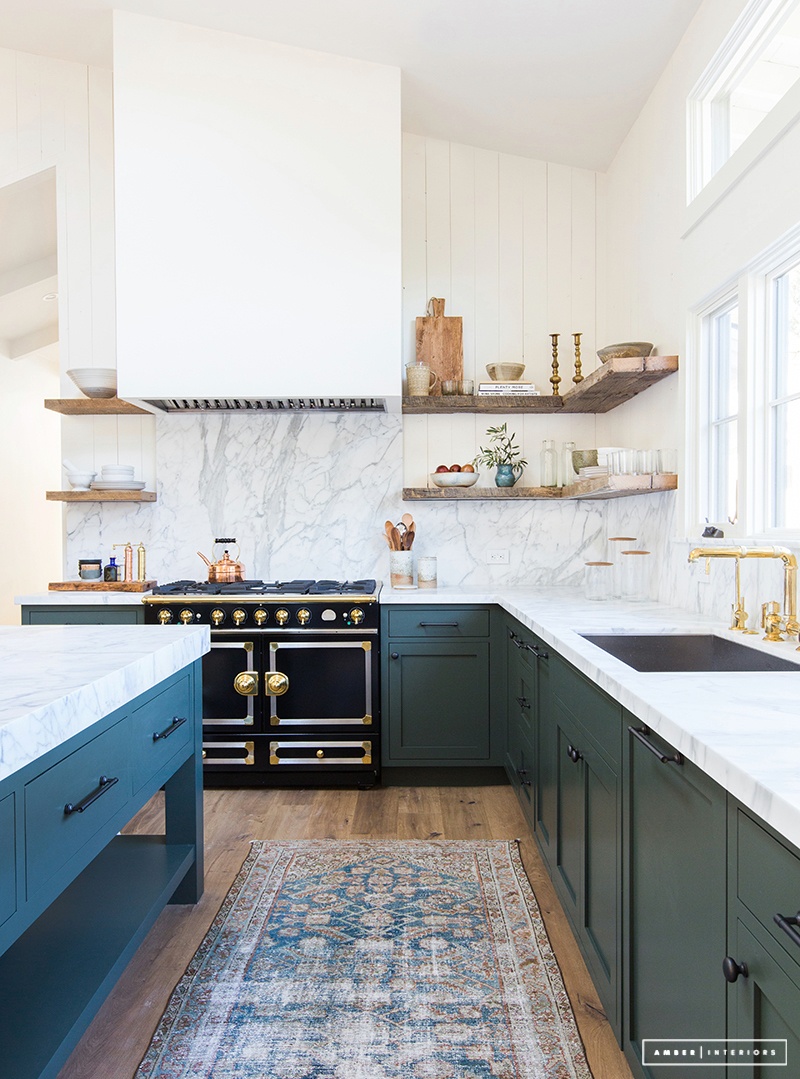 Love this kitchen which is reminiscent of some of the English kitchens I've been featuring. I think that the antique runner makes the room!
And finally, we have the fabulous husband and wife team of Steve and Brooke Giannetti.
Steve and Brooke Giannetti via the Washington Post
They have been featured on the blog several times which you can see here, here and here. (and some other posts which you can find by typing in 'Giannetti' in the search box in the side bar)
Steve of course, is a licensed architect and owner of Giannetti Home, but what I did not know until yesterday is that Brooke is not trained as a decorator. She did a house for a friend. Started her wonderful blog, Velvet and Linen and then from there, the jobs began pouring in for both of them.
And well they should. They are both so incredibly talented. And I'm torn between which one of Steve Giannetti's houses I want.
While Brooke's interiors retain the casual laid back vibe of the other designers, her look is more detailed and layered– a little more grown-up. Although I can't exactly explain what that means.
I love this house too!
Gorgeous, gorgeous room!
Not only is Steve an immensely talented architect, he's also a fine artist and furniture designer.
The Giannettis too, have an online shop with higher end offerings.
These are chairs that Steve designed. I adore them all!
One more view of one of Steve's homes he designed for clients.
The Giannettis have written two fabulous books that I heartily recommend
Patina Style
Patina Farm
Patina Farm tells the story of the building of Brooke's and Steve's dream home in Ojai, CA.
All of these interior decorators followed their dreams and made it happen.
I find that inspiring, even though I know that it's not easy. And sometimes it's not even easy to know what our dreams are!
Brooke Giannetti says that it's important to have a mentor when starting out as a designer. I couldn't agree more with that and that goes for those who've had formal interior design education and those who have not.
Talent is not something that can be taught, but there's still much to learn about the business. Still, it is possible to become a designer if that is where your heart is taking you.
xo,