Dear Laurel,
Thank you for your email; I expect nothing. I love your blog, and always feel that I learn something new from you!
I live in a 1964 ranch-style home that's only 1400 s/f (3 bed/2 bath). Here are the photos of my master bedroom layout, which I'm working on. It's only 13'7″ x 10'7″, with two random windows that aren't even the same size.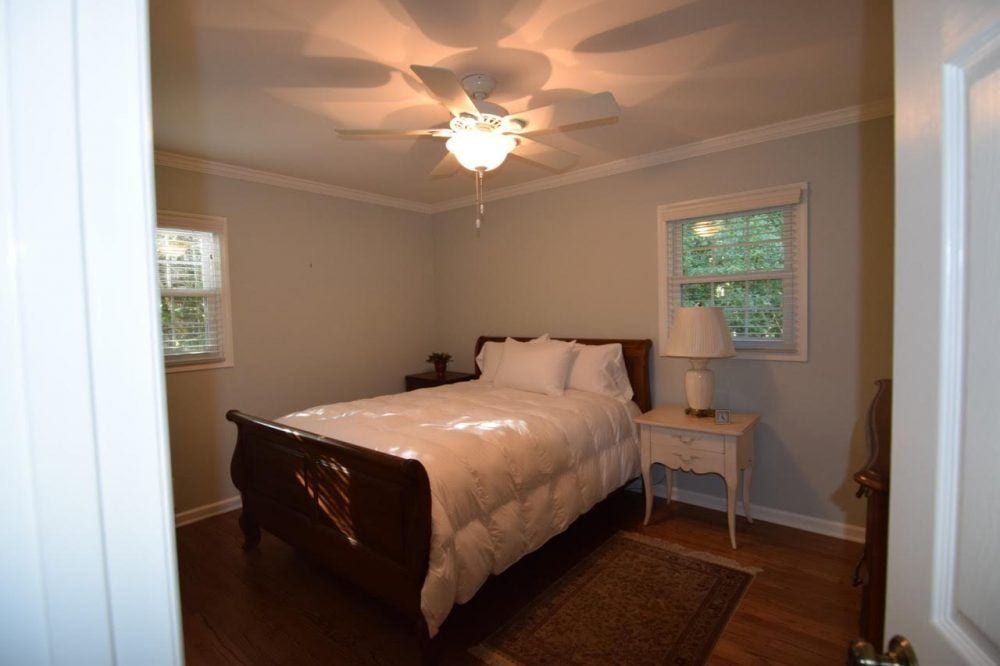 One window encroaches on the bed, and the other is squashed into the corner near the closet.
On top of that, they aren't even beautiful. They're kind of fat and squat, and someone replaced the original windows with vinyl. We are planning on replacing the vinyl with windows more appropriate to the home, but we're definitely not blowing out the brick on the walls to make something more attractive and symmetrical.
My bedroom is painted BM Gray Cashmere, with BM White Dove ceiling and trim. Earlier this year, I ordered Kristie Barnett's Paint Color Toolkit that you featured in a blog post (love it!). When I saw the Benjamin Moore Gray Cashmere color card, I knew I wanted to go for (i.e. shamelessly copy) this look, a room I absolutely love:
My original plan had me cutting down the one bedside table to the same height as the other, and painting both white. I was also planning on doing just a single drapery panel on the right side of the bed window, and regular drapes on the other window, to add height and softness to the room.
But now I'm kind of doubting myself, and have reached that horrible point of decision paralysis. My room is so small, I somehow feel that the window treatments need to echo each other and not be totally different? (See, I can't even say that with confidence!)
If you created a mood board for me, even with something entirely different from my inspiration, I'd feel like I'd died and gone to heaven! But even if you just nudged me by saying what you think would be the best window treatment option I'd still be ecstatic. 
I can't find anything online for my particular situation, because homes like mine always seem to be the "before" shot of the new, stunning remodel done by an architect/interior decorator husband-wife team, hahaha.
Sincerely, Tracie
Hey Everyone,
I received a sweet note the other day from Tracie and she said that she has a small ranch house and is struggling with her master bedroom. I told her it would be okay to send a few photos which she did with the note above.
Oh wow! Pretty wall color. I mean, really pretty.
And the bed is lovely… but there are some substantial issues.
What's the first problem with this bedroom?
Besides it being pitifully small for a master bedroom. Anyone?
Yes, in the second row; I saw your hand go up first.
The ceiling fan with a light?
Bingo. You guys know me! The fan is fine. The fan with a light says tacky in my opinion. The only time I've seen this work is with a retro style fan. It's meant to be fun and well… retro. Otherwise, in a classic design like Tracie desires, the light looks down-market to me.
Anyone else having a problem with the placement of the bed in this bedroom layout?
I see most of you raised your hand.
Tis a problem. We have a queen-sized bed that feels cramped in an elfin-sized bedroom. Okay, we'll call it cozy. :]
Plus… our problem child. Those windows.
But what are going to do about the bed? Anyone?
Yes, in the third row in the DT T-shirt. I bet you have lots of great ideas.
"Well, I hope so. I am wondering if the bed could be put on an angle in the corner?
Yes. That's a great idea! ;]
Now, here's where it gets interesting. Laurel spent four hours making a mood board without first putting the room down on paper.
I know better, but that didn't stop me. haha.
After I finished the mood board, I thought, well, I better put this down on paper. I had asked Tracie to send me the measurements and then I discovered that the photos lied.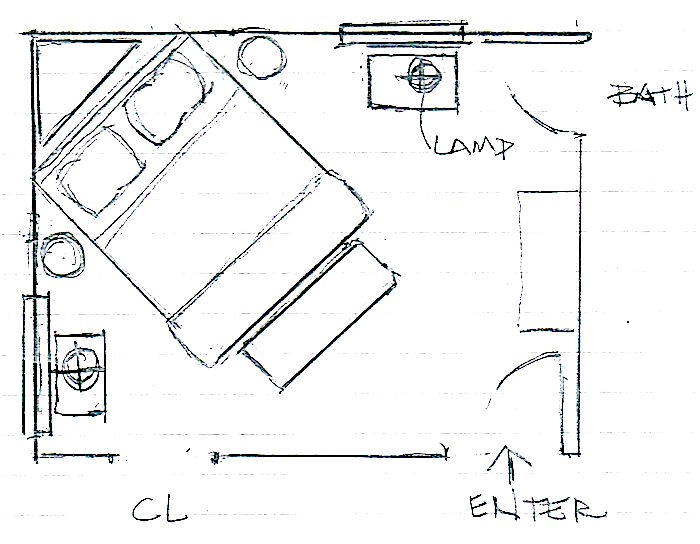 Here's the sketch – a little rough, but it's all there.
The reality of this bedroom is that with a queen-sized bed and placement of the windows, something is going to be sacrificed.
But over-all, I do prefer the bed on an angle.  Yes, it's a little tight, but it's like trying to fit into your skinny jeans in January. And, it's tight the other way too.
Does the bed have to be on an angle?
No, it can stay where it is, but it's going to make it difficult to put up drapes, unless they are pulled to the right side. And then, the window near the closet the drapes pulled to the left side.
I'm not going to tell Tracie to get rid of the bed, but being a sleigh bed, it is a little longer than if it was just a standard bed, with a headboard only.
The other issue is the night stands. I drew in some small circles to represent two small round tables– maybe two garden stools, just big enough for a drink and a pair of glasses and maybe a small book.
We could do swing arm lamps above.
I drew in a rectangular table behind the bed but it's not really practical, except to catch the dust.
We can put her other tables in front of the windows, I think. And yes, painting the other table is a great idea.
And then, I would add a pretty lamp for each.
Tracie's instincts are right on about the drapes. 
They should be the same style and even though the windows are different, sizes, we can cheat that a little so that they look to be the same size. I do that all the time.
But before I address the design of the drapes, I would like to address the fabric. Tracie loves the buffalo check and I do too. She wrote me that she wants to use this check from Ballard Designs.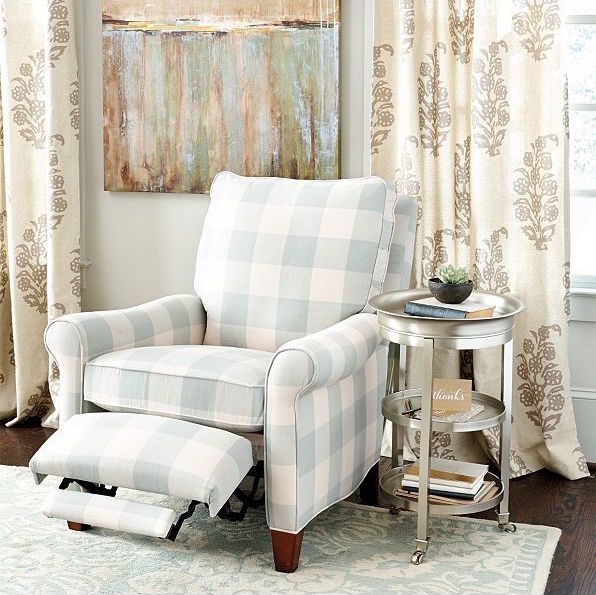 Here it is on a recliner for scale purposes.
It's very pretty; but here's the problem and it's a universal one.
Sometimes when we see a room we like and we want to copy it, it may be that there are some elements that really aren't right for our space. In other words, we won't get that room.
The room Tracie sent me is at least 50% larger with a nine foot ceiling and normal windows.
BIG difference!
I'm afraid that the big check is going to be a little overwhelming and something else. I am worried that the large squares are going to act like a beacon that says… "look at my squatty square windows!"
But, I might be wrong. And one other thing. The large check is classic, but it's also very trendy right now. Just something to consider.
Here's what I would suggest if there's any doubt if a drapery fabric is the right one.
Definitely get a sample, but if the sample is too small, buy a yard of the fabric and hold it up. You can always use it for a pillow or something. Drapes are a really in-your-face-thing and better to get a better sense of what's in store.
In addition, the background of this fabric is cream and believe me when I tell you that it could possible go very yellow when the light shines through it. Always use a white lining fabric for that reason, unless you want it to look yellow. And it might still look yellow, even with white lining. It's a good idea to hold the fabric up in front of the window during the day to see what happens.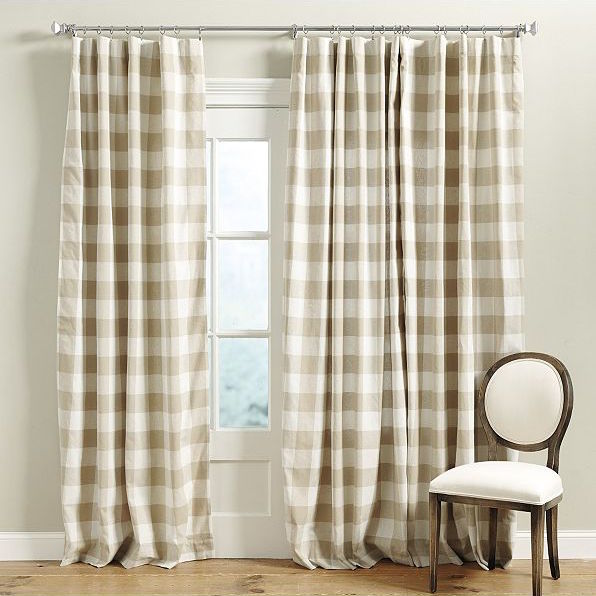 I forgot to tell you that Tracie has a pretty tight budget. I did look and Ballard does have  ready-made drapes in the buffalo check but in a dark gray, definitely not and a beige and white which is a possibility. She should get the 96″ size and hem them a little.
I'd like to suggest a fabric that's the same color as the wall.
I love this kind of treatment in any case, but especially for a small room because it will help to make things less busy and more elegant.
In any case, drapes need to be hung as high as possible. Right underneath the crown moulding.
OR we could do something else…
I am thinking that a tailored inverted pleated valance, just long enough to cover the window frame will do the trick. Tracie says that there is 11″ between the crown and bottom of window frame, but 13″ will be a good proportion, I think and ensure that one cannot see the casing. That would be very tacky.
This treatment will give the illusion of height to the eight-foot ceiling.
But of course, it is still absolutely fine to do a treatment without the valance.
In addition, I would paint the ceiling a slightly lighter version of the wall color. The ceiling will look lighter in any case, except close to the entrance. By painting it a pale gray-blue, it will raise the ceiling higher.
It really does!
And finally. I believe Tracie lives in the south so if a fan is needed, a simple white fan would be fine. Otherwise, I put in a fixture that does not come down more than about 18″. That should be on a dimmer for ambient light.
One other thing I would recommend is to have a different mirror for the chest and then a lamp on low in front of it.
It's not that the one that's there is bad. It could also be brightened up with a little gold craft paint, perhaps.
I like this brown and cream bone inlay mirror from Anthropologie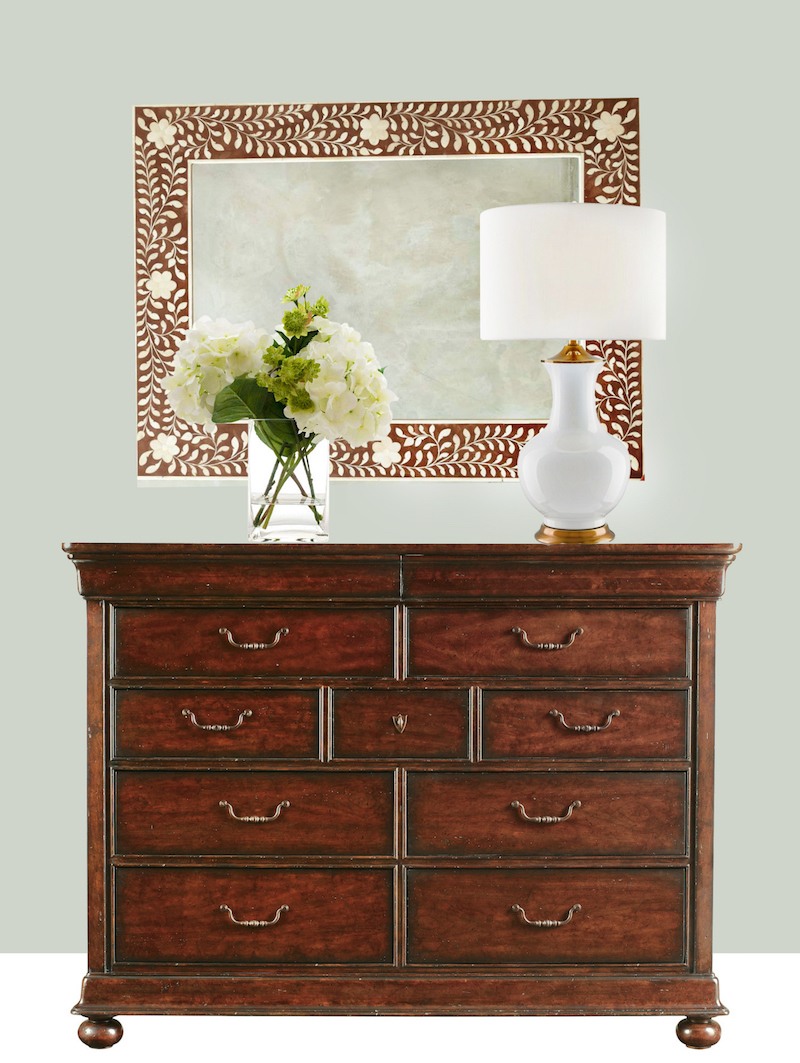 I think the pretty white lamp she has on her night stand would look great and brighten up that spot. This one is the Lilou Table Lamp from Currey and Co. If you google it, there are many online vendors that sell it.  It's a little big for this room, but I like the idea.
And here's the inspiration board!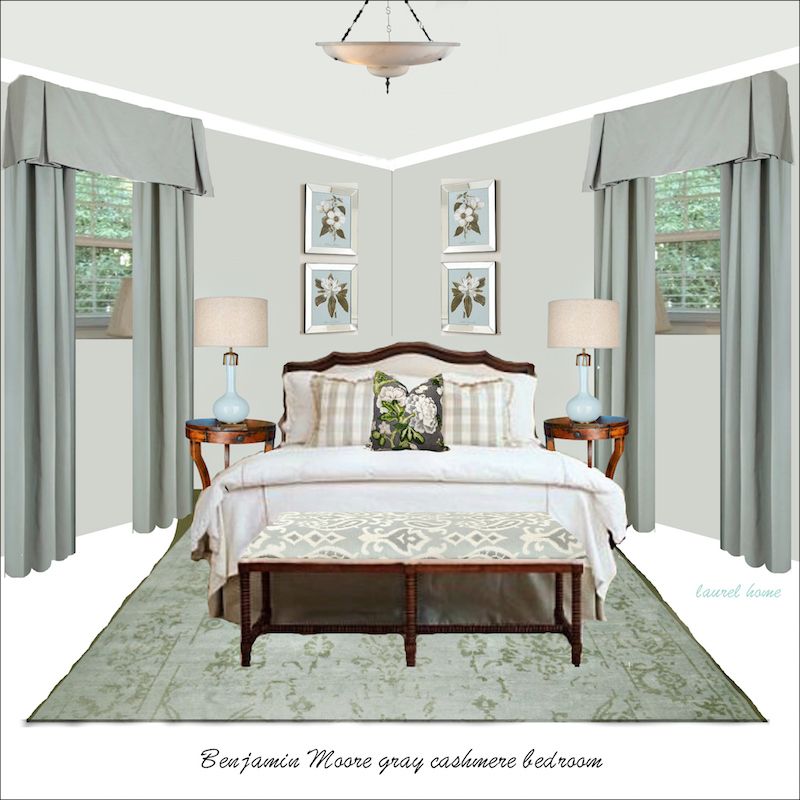 I hope that helps Tracie and anyone else that's struggling with a small awkward space.
xo,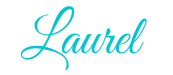 PS:
Art is from Ballard Design
Nightstand lamp: Athena lamp from Robert Abbey. It comes in a zillion colors and is also sold online– many sources.
The rug is something I made up from another rug and I found some random fabric for the bench.
PSS: It's Sunday morning at 10:40. If you leave a comment and don't see it right away it just means that I haven't had a chance to post it yet. Thanks so much for stopping by!
Save
Save
Save
Save