Who doesn't love a beautiful hardwood floor?  A while back I did a post discussing different options and the best way to maintain them. Last Sunday, we discussed different ways to coordinate area rugs, especially in an open space.
But here is a comment I received from that post hi-lighting another common problem.
Another rug design dilemma: The rug over a hardwood floor under a dining room table where there are children dining. There are practical problems. Chairs scrape the floor and damage it even with fuzzy things attached (and anyone who's lived through a hardwood floor refinishing knows it's not the cost that's the scariest, it's the total mess).
The rug almost has to be washable. Definitely needs to be easy to remove and shake out. It needs to be large enough to go under the chairs, too. I'm almost ready to try skipping the large rug altogether (or using a large, cheap seagrass one), and putting a small washable cotton rug under each chair. I think that may look awful. If anyone has solved this problem I would love to know, and if I ever solve it, I'll post the solution!
EE
**********
I told EE to hang on because I have a solution that's never been discussed on the blog before.
First of all, a rug underneath a dining room table is not ever going to be easy to remove and shake out.
Sure, if you have a particularly-nice-and-handy-husband-with-a-good-back and a strapping not-too-nasty teen-aged son, they can lift the 200 lb table, skooch the rug out from under, take it outside, beat it with a baseball bat to within an inch of its desiccated-chocolate-milk-encrusted life…
…lay it out in the hot sun and remember to bring it in before the cloud burst that AccuWeather™  forgot to forecast, hits. :]
And then, do the entire exercise in reverse, hopefully laying it straight and smooth under the table.
OR,
You could do what our founding fathers did centuries ago.
You could put down a beautiful hand-painted floor-cloth.
<
You mean a piece of crap canvas, Laurel?
Well, Yes, they are usually made out of canvas, but…
They are only crap if they are some dinky-factory-fresh tchotchke from China and sold at Walmart.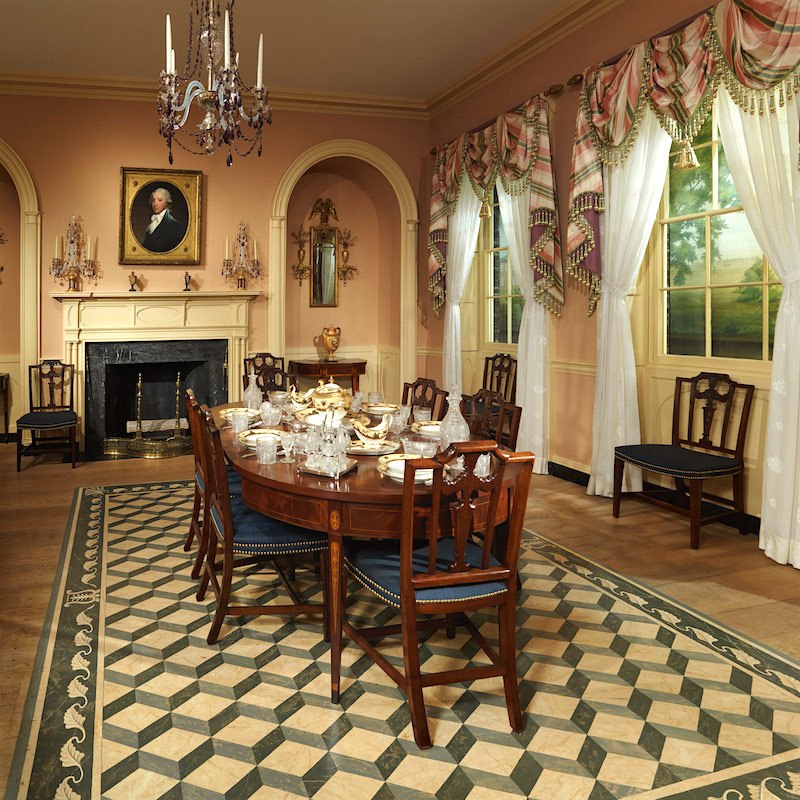 Drawing Room of the Craig House Baltimore, Maryland – via Met Museum
Not this exquisite beauty
Captain Crawford House via Big Old Houses blog
or this one… (actually, the entire floor seems to be a floorcloth in this entry)
From a home built in 1709 and on the Historic Register is 70 miles north of New York City.
Floor cloths were common in the 18th and 19th centuries by some of the most Aristocratic homes in the US as well as less affluent homes. They were very popular in England and remained so until linoleum replaced them in the early 20th century. (sad face)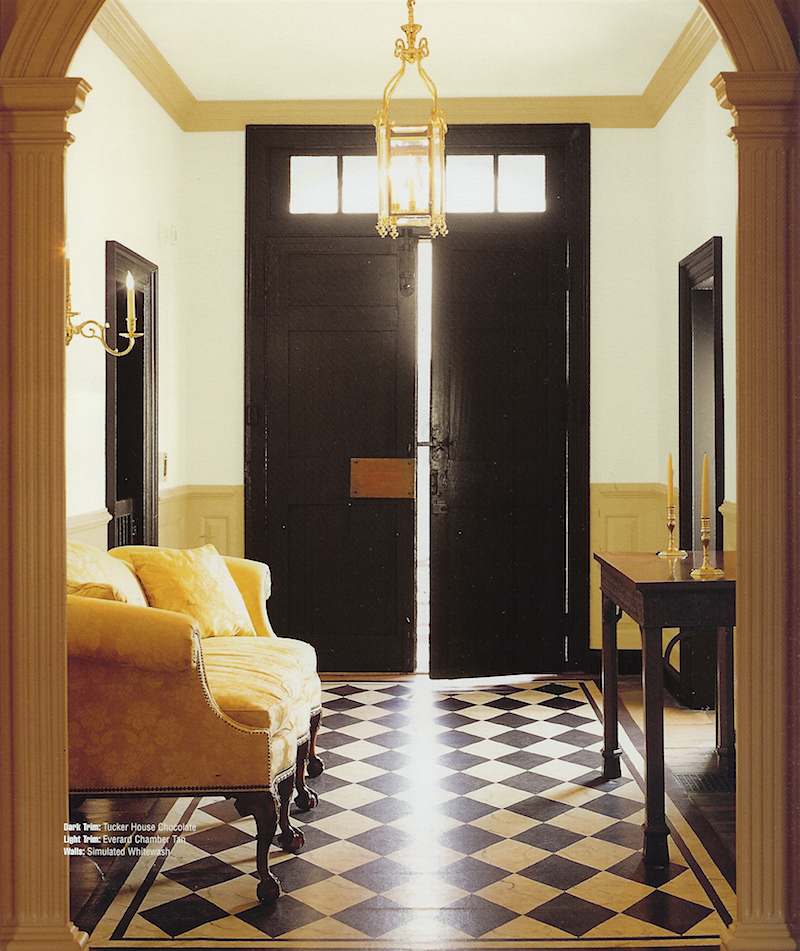 Tucker House Floor cloth via Black Dog Gallery
However, they have not died out completely. And for good reason!
They are not only very beautiful, but very practical too!
I remember years ago when I worked for a decorator in Bedford, NY she had commissioned a small tone-on-tone canvas floorcloth that sat over the seagrass wall-to-wall. I loved it and even when it became a little shop-worn, I loved it even more; it looked authentically antique. She didn't agree with me and got rid of it, but I took it home and had it on my deck for a while. Eventually, it became REALLY antique-y complete with a cool patina of green mold. haha And yes, I did part with it when it became super grody.
The above floor cloth and the two below this one are hand-painted versions mimicking authentic reproduction floor cloths that have a distinctly Americana flavor. The owner/creator of Canvasworks Designs, Lisa Curry Mair can do anything you like. Her studio is in Vermont.
Her pieces are loving works of art!
I thought the kitty (what a punim!) was part of this magnificent floorcloth runner at first.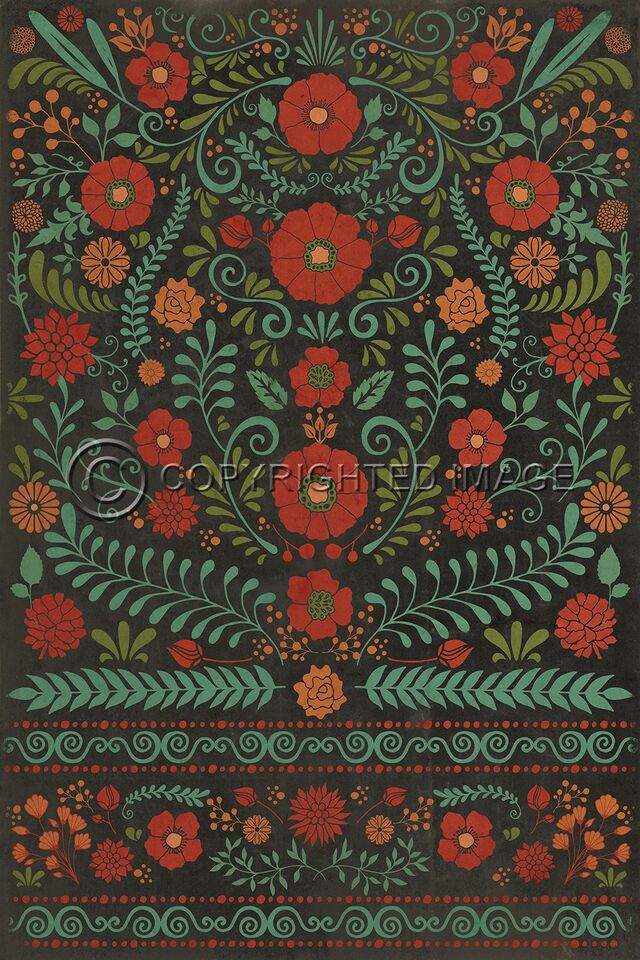 The designs above and the two below are floorcloths, not on canvas but produced on a sheet of textured vinyl by Pura Vida Designs. I don't know anything about the quality, but they come in a zillion sizes, including squares and large rectangles. The colors are gorgeous and there are dozens and dozens of designs. Please check out their website.
They also do custom-work.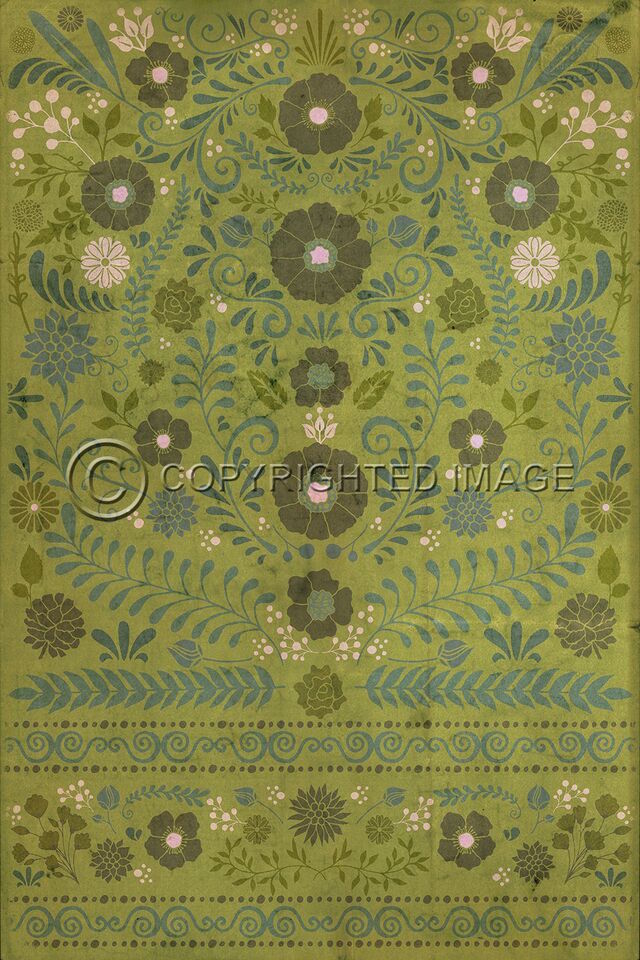 Love them greens! By the way, the images are copyrighted. lol
I could see this in an entry.
The other thing you can do if you want a custom floorcloth is…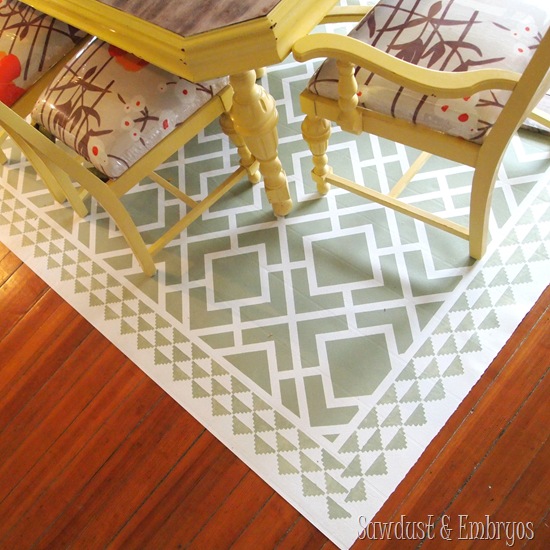 Sawdust & Embryos
Make it yourself.
If you're feeling adventurous and creative, you could create your own unique floor cloth. This site has an excellent tutorial on how they did that. They didn't use canvas but actually a dated piece of linoleum. You know, the kind with the fake tiles on it and dainty little flowers? The very faint indentations made it easier to lay down the design.
Royal Stencils via their instagram feed

which is via BrocanteSpirit's feed
 Love this all-over damask pattern and such a pretty shade of blue. I believe that is Annie Sloan Chalk paint they are using.
HGTV Design Star Mikel Used a cheap outdoor mat as a stencil. How clever is that?
But, there's something else.
Any design for a floor stencil could be adapted to a floor cloth. Right?
Nicolette Tabram has a very lovely website with some gorgeous images like this bathroom above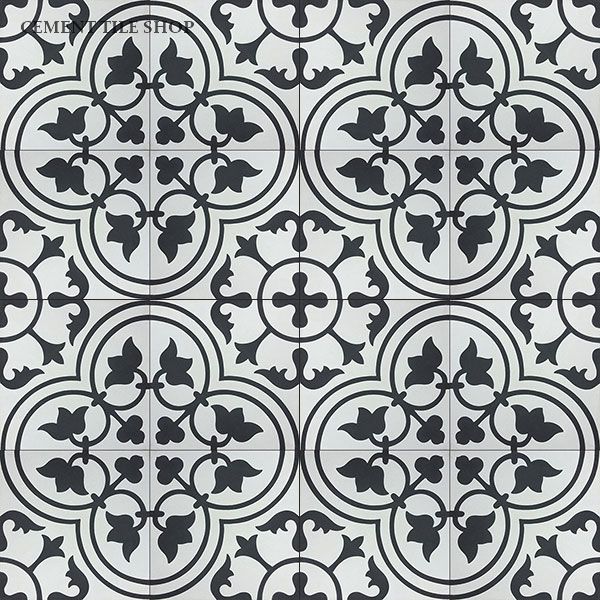 Above and below from the Cement Tile Shop
Another idea would be to stencil on an encaustic (cement) tile look onto a floorcloth.  It would be a great way to update a kitchen without taking the plunge into actually putting in real cement tiles. I think this would be especially hot over a painted wood floor.
I would be careful to look into putting a very thin padding between the floor-cloth and the hardwood floor so that it doesn't stick and pull up the finish!
Or you could adapt a design from an existing rug. But what if… I'm just thinking out loud here. Could you put a truckful of plastic down and then spread several layers of poly over a rug like this? I suppose it would be best to start with a doormat size and experiment with that. The idea is that if it's thin and can be mopped clean, how wonderful is that?
Holy Moly! How gorgeous is this! I would never ever be able to move out!
If doing a floorcloth, you could do a similar design in a tone-on-tone color scheme. It would make an amazing rug!
I think that floor cloths are a wonderful solution to protect your hardwood floor for:
Dining Areas
Entries to a home, especially if there's no room for a rug to fit under the front door!
Kitchens
Bathrooms
Mudrooms
Playrooms
Have any of you ever done a floor cloth? Did you make it or do you have a special source for them? Please share, if you do.
xo,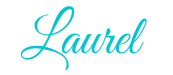 PS: Some of you know that I've had a long-time love affair with Serena and Lily. (the brand, not the two women. haha) For years, I've admired from a distance the growth of their home furnishing offerings. And they just unveiled 500 new products, so I thought you might want to know about it. I believe they also offer a discount if it's your first order.
please check out the 500 New Arrivals at Serena and Lily
Save
Save