Ever find yourself flipping through the latest edition of your Elle Decor, House Beautiful and drooling over all of the amazing home furnishings–
And then… suddenly you see it.
It's the coffee table you've been dreaming of all your life but couldn't find until today.
There it is!!!
Hot diggity dog!
Just one problem.
They're not telling anyone where it came from!
How could they do that?
They're telling us where the dog bed came from and the sofa. ;]
Why aren't they telling us where the coffee table came from?
Sadistic freaks!
Nervously, you flip to the back pages of the magazine. Nope. Not there.
It's mighty frustrating to say the least.
Well, today, I'm going to share with you my secrets for finding those beautiful home furnishings on the internet; at least 80% of the time.
As promised, I'm going to take you back to Summer Thornton's way cool home that she designed for clients in Florida.
[All photos via House Beautiful and photographed by Luke White]
I'm going to share many sources. We'll also see if there are any ways we can get the look for less.
Summer is really good. Not everything is super-high end even though it looks it. And that's the hallmark of a great designer. She mixes high and low and it all comes out looking smashing and very rich!
And now for the image that launched a thousand comments. ;]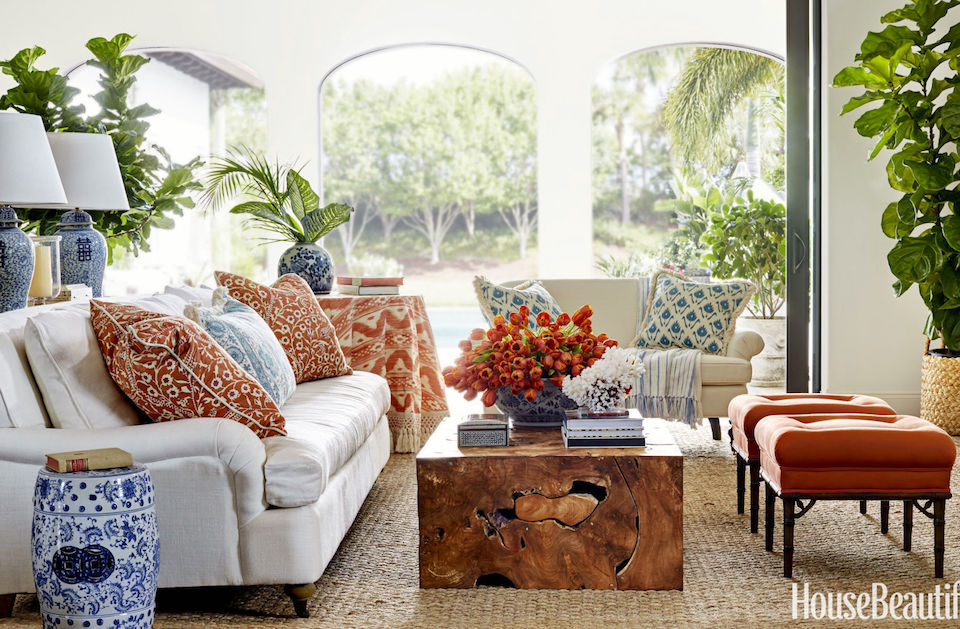 Let's begin with the sofa and since I told you not to get a sofa from that source we won't mention, let's discuss where I would get a sofa.
Lots of places. There are dozens of resources in price points from low, moderate to very expensive in Laurel's Rolodex for sofas and other upholstered items.
But here are a few of my favorite English roll arm sofas
The last one, is one I really shouldn't be sharing. But it's a hot day and I just had the most delicious cold-brewed (not dunkin) mocha iced-coffee
Cococo as they call themselves has an endless number of customization options and their prices–even at retail are exceedingly reasonable. They are very helpful and will send you samples of fabrics and/or leather.
The other settee looks like it might've already belonged to the owners and maybe was reupholstered. I love it when pieces are recycled in that manner.
The pillows and table skirt.
BTW, table skirts are making a comeback! I was never into them, but I'm seeing them a lot these days.
For clues when they don't list their home furnishings, House Beautiful usually posts the vendors in the back of the magazine. They've stopped being specific about which pages. Okay, we'll deal.
Now, I admit, having worked in this business solidly since 1991, I know a LOT of fabrics, but certainly not all. The name China Seas is in the back of the magazine and I seem to recall seeing the lumbar pillow and table skirt fabrics there. The umbrella company is Quadrille. The two collections are very similar.
Bingo! Those were pretty easy.
Quadrille Palampore stripe above and below Bali Hai in Salmon
The other two pillows, no clue.
First I just tried searching some  vendors like Brunschwig and Fils and Lee Jofa but came up dry.
So, then, I did one of my favorite tricks of them all. I created a duplicate image and then cropped just the pillow fabric (see below) and put that new little image in google images.
Below is the screenshot of what popped up after I put the image in google images.
And bingo! For some reason it gave me the pink version and it's not Lou Lou but I found it anyway under the Cobalt Blues at a very beautiful and new source for me. Hill Brown (Potola)

Now for the other fabric.
No idea. I sure do love it however.
I tried my little google maneuver.
Nothing.
I look in the back at the vendors again.
Nothing and Brown Hill is not mentioned.
hmmm…
Channeling Summer…
Aha!
I wonder if she just went with another Hill Brown Fabric?
I searched the site and YES, she did!
And here it is!
Hill Brown Cannanore in Apricot and pink
That's a good trick to remember. Often us designers will use the same source more than once in the same job. Or some designers once you get to know them, you might see a pattern.
But what if we can't find the fabrics? Or what if we find something else?
Sure, why not?
I could see this China Seas Fabric working– Henriot Floral – I love the mix of the different blues.
Here it is in this timeless bedroom by Phoebe Howard from 2008
Let's look at the Chinoiserie stools in the Jacques Bouvet et Cie's Sambru Silk. Pretty, pretty!
(posting the photo again so you don't have to keep scrolling up.)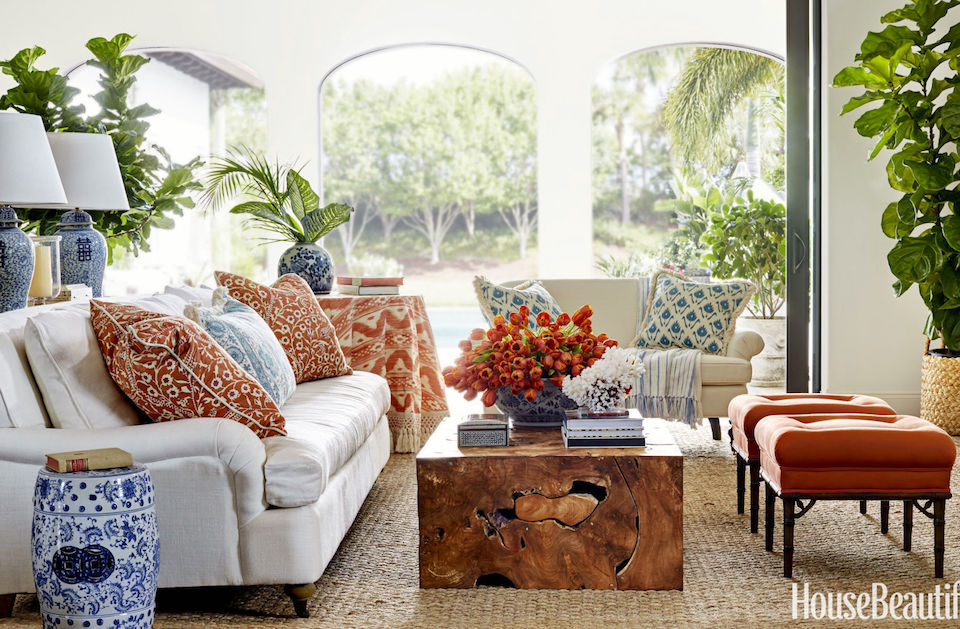 These are one-of-a-kind and vintage.
We can go to the antique, antique look and vintage section on Laurel's Rolodex and maybe come up with something there.
Or, another wonderful resource on Laurel's Rolodex is one of my favorite vendors Red Egg. They're a terrific company that makes very stylish and well-priced Asian-inspired furnishings.
And in their Indochine collection lives this pretty thing.
It comes in a bunch of different painted finishes and I believe that they'll do custom finishes. It also comes in a Java color and a lighter wood tone.
***Please note*** that silk is a wonderful fabric, but if upholstering with it, I very strongly recommend that you have it knit backed. You can read about some terrible mistakes I've made in the past.
The Milo Teak coffee table is way cool and from another Laurel's Rolodex Vendor, Jayson Home.
I looked it up.
It looks a lot richer in the magazine photo, doesn't it? Which one is correct? That's another lesson. We don't know if the table looks like it does in the editorial or from the Jayson Home website. Maybe Summer had someone beef up the finish. Maybe it's the photography. Who knows? So, if one doesn't want surprises, it's a good idea to get a sample if possible, or see it in person. OR, just call them up and ask. I've done that many times.
The Lamps
Another easy trick is to put exactly what one is looking for in their google search box.
I know that's called a Double Happiness Design, so I put in chinoiserie blue and white happiness ginger jar lamps. Or actually it's a temple jar, but it's okay. Google is forgiving that way. :] And sometimes we don't know the terminology. Just describe it and if you don't see it, look at the related images. Keep going with items that are the most similar looking.
Wow! That's a lot of happiness! Oh wait! I think I see the lamps on the second row from the bottom.
Seriously, I just saw this after putting the image up.
Hold on, let me go and check that out.
No, there was nothing there and now I see that the lamps are a little different in shape.
But I found this one which is available at The Well Appointed House. I don't know the vendor.
But let me see if I can find the Double Happiness Lamp by scrolling through the images.
No, but I found this pretty lamp from Wisteria
And then I went to my favorite source for blue and white Chinoiserie porcelains, Legend of Asia. They don't have lighting but they do have a double happiness temple jar. The link above goes to a retail source since LOA is to the trade only.
I suppose that one could find someone to create a lamp out of the temple jar. I know that some of you are very creative that way!
Sometimes, it's impossible to find the exact thing. It could be a one-of-a-kind or discontinued or even an antique.
Rug
The rug is a Stark Bovina Jute rug. Stark Carpet if you don't already know are the premier source for high-end rugs and carpets. But it's out of range for most of my clientele. I also have a wholesale account with Prestige Mills on account of this hideous debacle.   Prestige carries a lot of the same carpets that Stark does.  It too is a trade source, but something to look into if you're in the design trade.
One of my favorite and relatively recent sources is a great natural fiber company called Fibreworks. They have a trade discount and to be honest I'm not sure if they sell retail or not. But I've been getting all of my sea grass rugs there recently and have been very happy.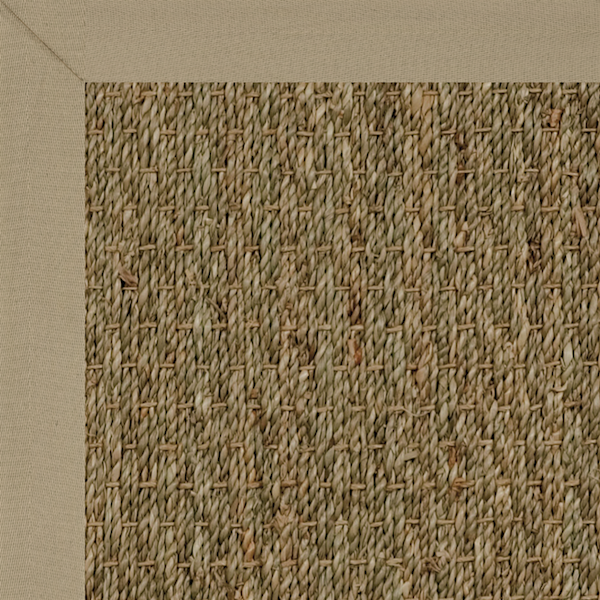 You may recall this post where we discussed the merits of seagrass. I recommend it highly, but do recommend getting it from a great source like Fibreworks. I like their Spring Twine.
They make dozens of products. This is a braided jute which you can do with a braided jute border which I love. We did this in the yellow sunroom in the Bronxville Home which you can see in my portfolio.
And that's the living room except for the garden stool. But you can get them in dozens of places.
I forgot to tell you this the other day but Lidy Baars of the beautiful website, shop and blog French Garden House asked for my recipe for
The Recipe For The Chocolate Cake That Will Make You Plotz!
So, I gave it to her along with a cute story that I wrote.
Seriously, if you want to manipulate someone into doing anything, you will need to make this cake. I've made dozens of them over the years.
And she also put together a little interview we did recently. Thank you for all of that Lidy!
phew! It really was sweltering here today. Not complaining because the opposite is what does me in.
xo,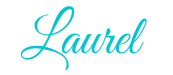 Save
Save
Save
Save
Save
Save
Save
Save
Save