Dear Laurel,
I'm so disgusted. To put it bluntly. My decorating sucks. Or my rooms suck. Well, something isn't right.
I love the furniture, but it's just not all coming together like I hoped that it would. I think it needs those finishing touches. I'm hoping that you can help me pull it all together.
Sincerely,
Patty Pallid
*********
There is no Patty. Well, there is a Patty. There are thousands of them. And dozens have contacted me over the years with pretty much the same decorating tale of woe. I'm sure the designers out there are nodding their heads in knowing agreement.
In the early years of my career, I'd fly on over and then discover that the problems were usually far, far deeper than adding some accessories. And unfortunately, the problems were new purchases; like the sectional that was waaaaay too large for the room AND a difficult color in an ugly cheap fabric.
After a while, I learned that "I need help pulling it all together" was code for "it's a big bloody mess."
But this week, a kind reader sent me a photo of her living room and it's NOT a big bloody mess. In fact, it's rather nice and with a few tweaks, I think could be a soaring success. I told her she could send me a few more images, but she didn't do that yet. It's okay.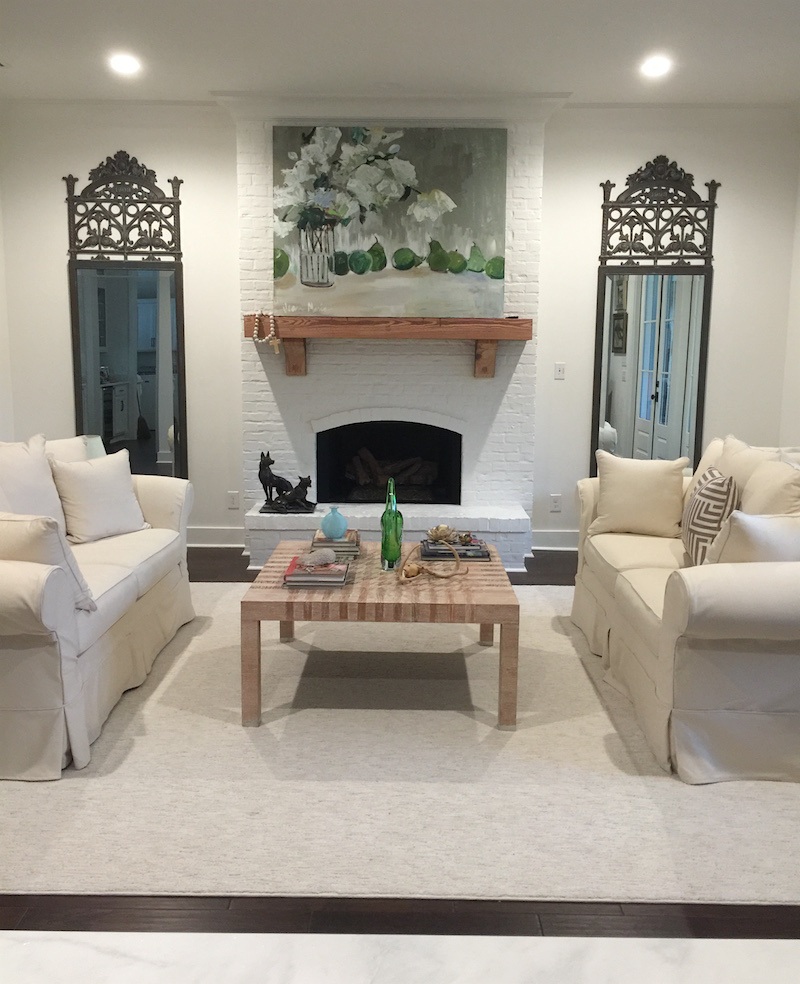 See? The sofas are lovely. The wall color is Benjamin Moore White Dove and the brick looks great painted. I love the mirrors.
So, what's wrong?
Yes, in the back row?
The lighting?
Bingo!
Yes, the lighting. I have a headache just looking at the photo. Those babies need to go on a dimmer– stat.
Since I can't see the room, I don't know if any of this will work, but it might be nice to have a sofa table behind one sofa and then end tables on the other, or at least one end table.
I think that some pretty chests or demi-lune tables would look great in front of the mirrors and those could be accessorized and then each have a lovely buffet lamp.
Then, I think the rug, while lovely, needs to have more oomph. I would either do a rich Oriental or sea grass.
And then some cool pillows out of lots of different possibilities and maybe even an animal texture.
Tigre Velvet pillow from Williams Sonoma Home
That always seems to add so much style to a space.
I would definitely add some blue and white Chinoiserie vases, ginger or temple jars, as well.
The idea of this decorating post was to show different ways of doing collections.
And collect, I did.
But then I went back to my favorite decorating/interior design instagram account by M.O. (Maura) Endres.
And in the end, I had to stop right there.
Here's what's cool. I first found Maura or wait. She found me while I was in Venice and she was advising me on where to go. Since I had absolutely no control of where I went, I thanked her and that was that.
But later on, I thought I would check out her page and was instantly blown away.
And since then, she continues to astound and amaze me.
Now, don't get (too) nervous or anything, but my stalking skills are actually pretty darned good. And this is what I found out about Maura.
She lives in Princeton, NJ and is a wife and the mother of four children.
And it appears that she is NOT a decorator or an interior designer. I can't call her a housewife (horrendous word!) or even a home maker.
But the fact remains that if she wanted to be a professional designer, her phone would be ringing off the hook!
Maura's the real deal.
And her instagram account is on fire as folks are rapidly discovering her and now many, many more are about to!
But here's what's funny.
Her decorating reminds me a lot, a lot, a lot of our fabulous NANCY KEYES!!!
And Nancy, too lives in NEW JERSEY.
Of course, everyone knows that New Jersey is a bastion of high-style, sophistication and all worldly endeavors.
Like, the Elizabeth, New Jersey Refined Oil Refineries.
Pretty, huh?
Yes, indeedy. The terrifying New Jersey Turnpike. Once when we got lost trying to visit friends in Freehold, NJ, my husband quipped that you had to be born on the other side of the road in order to get there. ;]
It's tricky.
Oh, okay, before Nancy unfriends and blocks me on facebook. lol
New Jersey is not all bad. In fact, most of it is downright AWESOME.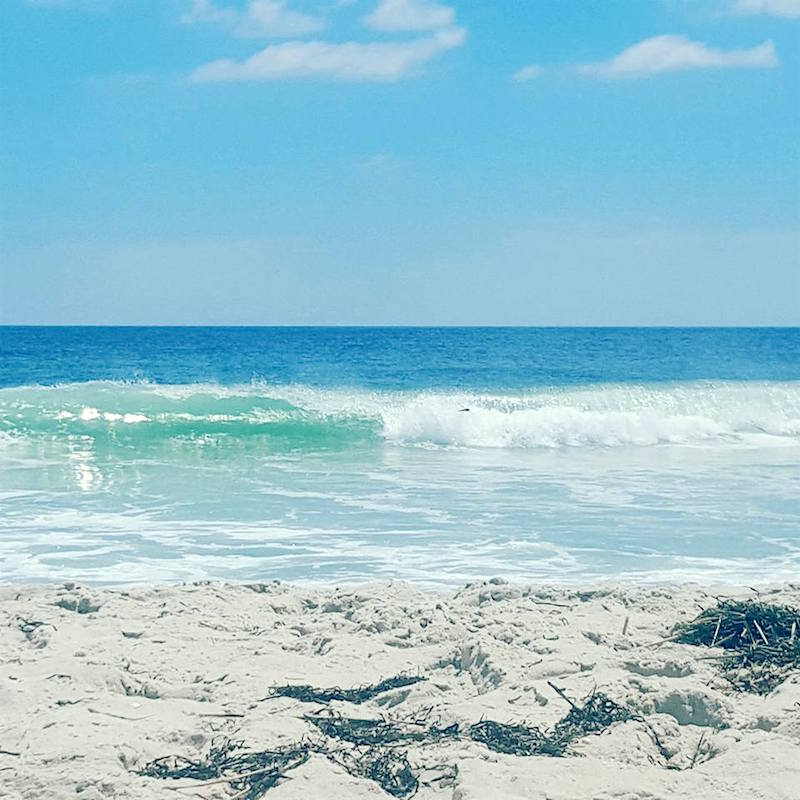 Like Long Beach Island that bears the same initials as my company, LBI. For years, I would drive around seeing bumper stickers with LBI on them, not knowing what it meant until a client clued me in.
And Princeton! We visited there a few times, just for fun. That's how nice it is.
In north Jersey, there is some of the most expensive real estate in the world in picturesque Saddle River.
And in the southern tip, another place I've visited twice and honey-mooned at– the charming Victorian ocean resort, Cape May.
And then we have Nancy Keyes and Maura Endres, both amazing designers.
And let's not forget that Martha Stewart is from Nutley!
Before I forget. These are Maura's images from her instagram account. And I dare you not to go to the end.
These are amongst my favorites but only a partial list. And in case you don't realize, every shot is of Maura's exceptionally beautiful home!
If you pin them to pinterest and her name doesn't show up in the pin description, please give her credit.
Oh, I wish they were mine, but they aren't.
But please pay close attention because every room is a brilliant lesson in decorating.
Starting with Maura's kitchen. Oh my. And she frequently photographs this corner with a revolving door display of one amazing horticultural display after another.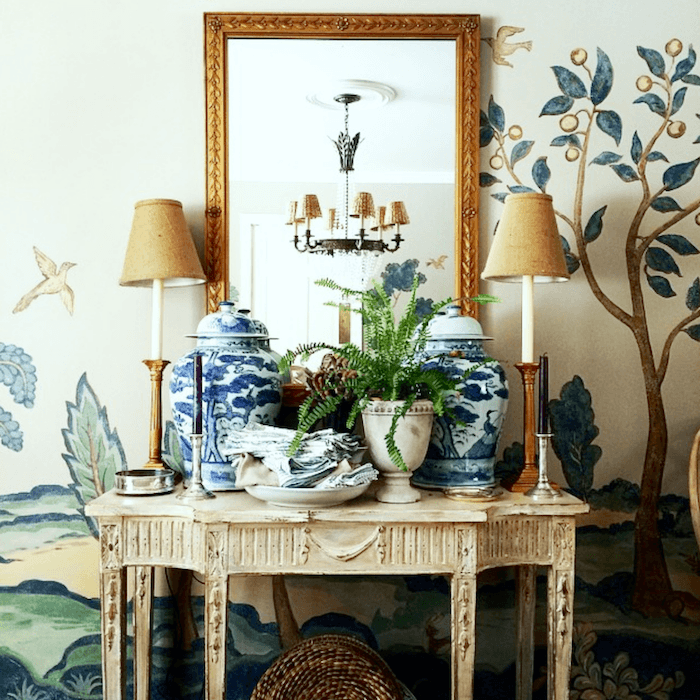 In fact, every area of her home is a special vignette that is artfully arranged for the season or just because she feels like it. I read that this wonderful console table was something she found for almost nothing and hand-painted it to look like an antique. How cool is that!
The awesome mural is hand-painted and you'll see several views of it in the following images.
I love it to bits! I don't know who painted it, but Maura's daughter is a very talented artist. You can see some of her work on Maura's instagram too.

A long shot of the living room and her wonderful art wall! Love the large Chinoiserie temple jar. I couldn't find one like it, but I did find the lamp below.
Barclay Butera Tessa Blue and White Chinoiserie and brass lamp available at The Well Appointed House.
In other vignettes, there is a pretty white ceramic lamp which I couldn't find, but Oomph has one also available at The Well Appointed House.
These lamps are lovely, but are on the expensive side. Circa Lighting has my favorite lamp collection, over-all, these days. For more about Circa Lighting, click here.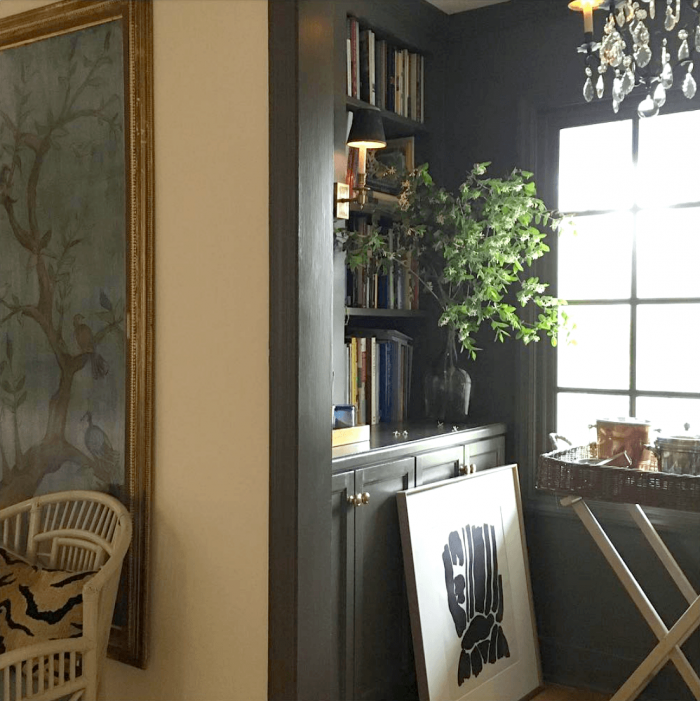 I love this little library alcove painted a deep hunter green. In fact, it looks like it could be Benjamin Moore Hunter Green which is part of the Laurel Home Essential Paint Color Collection.
*Note: I found out later that it is not that color at all.
It is Pratt and Lambert Tobacco 2248 which is actually a warm, gray, brown, green– one of those colors that's difficult to describe and changes with the light.
I could not find a dead-on match in Benjamin Moore, but it is very close to Dash of Pepper 1554. Dash is just a shade lighter. But also look at Color Stories Coachman's Cape CSP-90.
And Farrow and Ball's new color – Salon Drab is possibly the best match I found. I have that one matched to Benjamin Moore Brown Horse, but what I've found is that the chips can change depending on the color card or fan deck! It's in the same family, just more gray-brown and a little less green undertone.
A shot looking into the kitchen from the dining room. Please note that Maura has four children.
White is not a problem, apparently. ;]
The oft-photographed beautiful corner of the white kitchen
I asked Maura if she knew the shade of white paint for the cabinets, but she can't remember.
But based on my experience, I would say that it looks a lot like Benjamin Moore White Dove. I used that color in the Bronxville Kitchen and we also did Calacatta Gold marble. It's a beautiful fit, but of course, always check your unique situation first!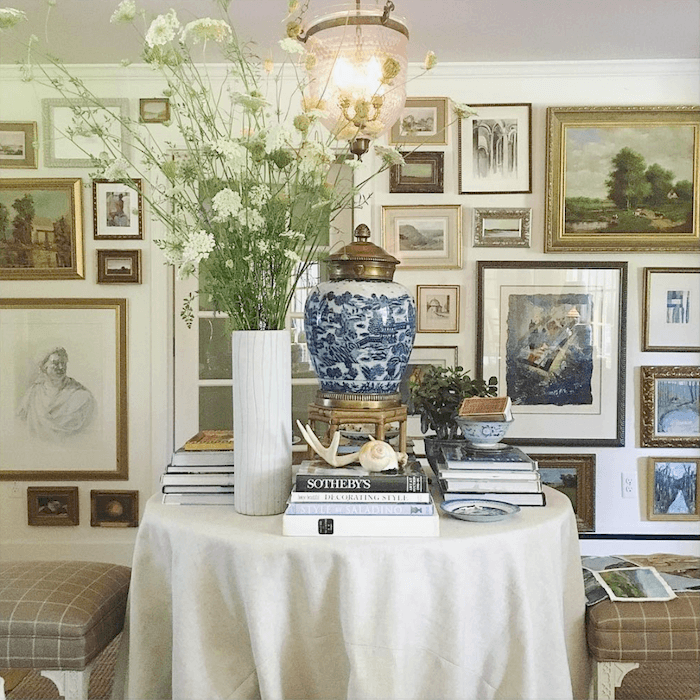 Sometimes the table skirt is in a white linen. That must be for summer. Love the Chinoiserie benches.
This time lilacs grace the corner of Maura's amazing white and gray kitchen.
Topiaries in blue and white chinoiserie cache pots.
Styling with books reminds me of William McLure's Decorating.
A summer display for the console of gorgeous potted plants
I went shopping to see what I could come up with in the way of something similar to this console table.
I found these pretty console tables from Eloquence.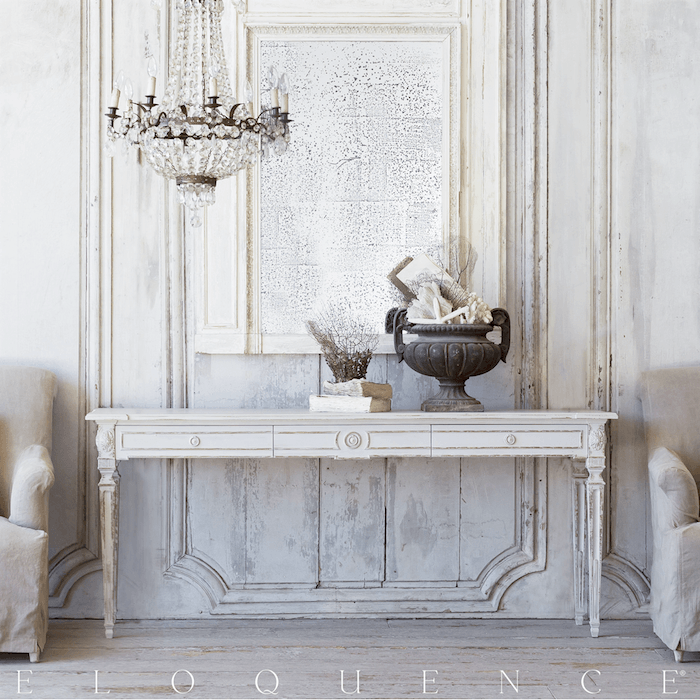 This console below is from Ave Home
and this one also from Ave Home comes in raw wood so that the owner or designer can hand-paint it.
All sources are in Laurel's Rolodex
The best I have ever seen!
Maura found these drapes in an old home in Princeton if I read that correctly. That Chinoiserie panel makes me swoon!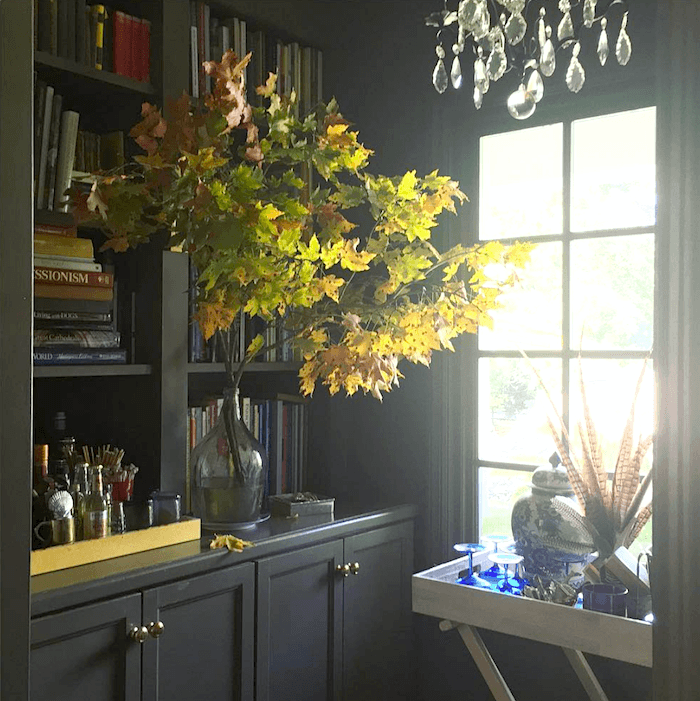 How delightful are the fall branches in the library alcove.
A gorgeous Thanksgiving table.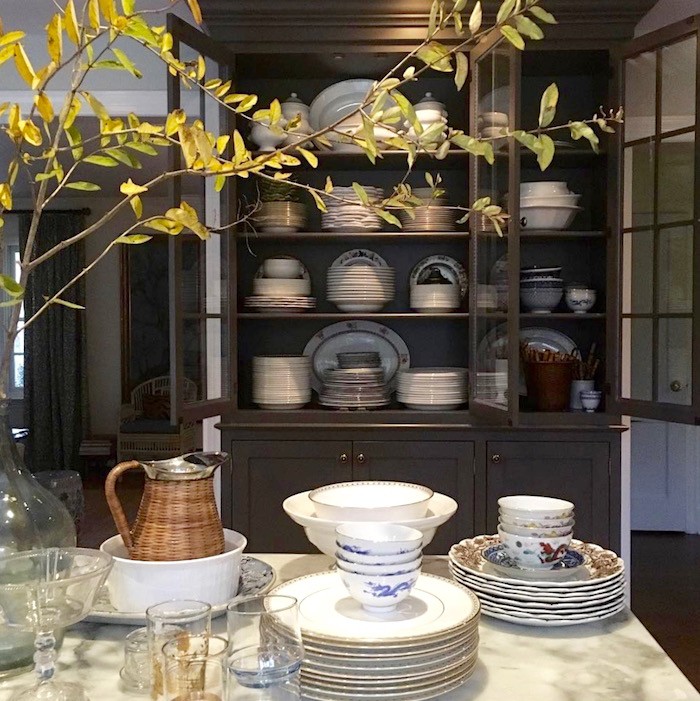 Love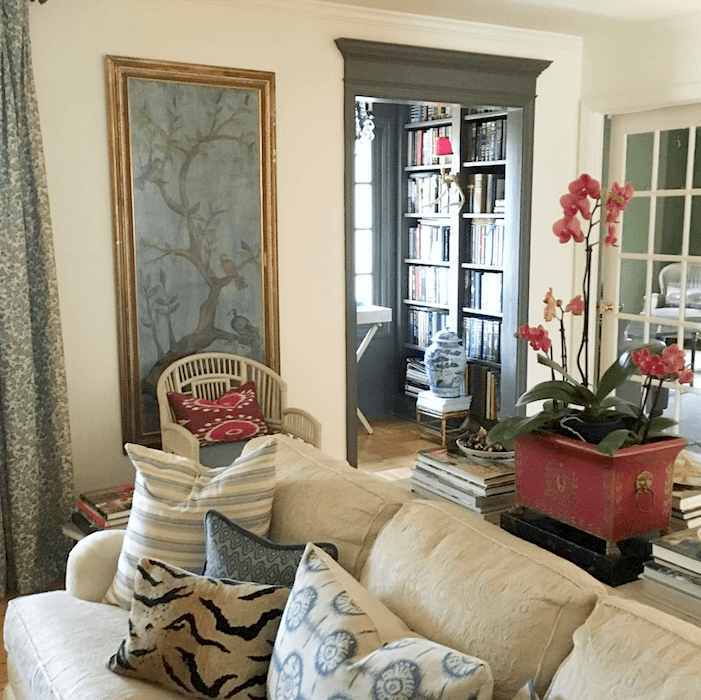 A recent iteration of the console
Another gorgeous display over the fireplace mantel with vintage art prints.
The most magical image with her Christmas tree in the background.
Doesn't the dark gray remind you of Nancy Keyes' kitchen? And yes, that looks like Carrara marble on all of the counters. I'm almost positive that it's honed. Maybe she'll stop by to share her experience since there's so much controversy over marble?
(Note: Maura did answer in the comments. It is not honed but looks that way from years of use. And she loves how the marble has aged. Love that.
Also, the dark gray cabinet color is Benjamin Moore Bear Creek which is a warm, browny-gray, also in the same family as the library color, but a little less warm.)
It does etch easily if anything acidic gets on it. But maybe if it gets etched all over, it isn't a problem? A little like an Etch A Sketch. haha.
Well, I hope that you enjoyed Maura Endres' home as much as I do and will continue to follow her beautiful stylings.
It's a special and uncommon talent, but Maura is a genius at interior decorating.
She sees her home and its decor as an artist's canvas; her brushstrokes are the most beautifully styled florals and exquisitely chic home furnishings.
xo,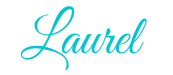 Save
Save
Save
Save
Save
Save