Dear Laurel,
It's me again, Barb Brake-Frunt. Thank you so much for the terrific post about the living room furniture. I forgot to tell you about the dining room furniture.
Granny's dining room furniture is a matched set. I'm sure that you know what I'm talking about. In fact, I think I read about that faux pas in a post once upon a time.
Oh, and there's more.
Her dining room furniture does not all fit into our dining room.
Gran's dining room was a large room, about 14 x 20 and our dining room is 11 x 15. That large breakfront does not fit in the dining room. However, there is the perfect wall between two windows in the living room. Would it be weird to put it in there?
Oh, wait. There's more. Half of the chairs are falling apart. I think that I have maybe at most 6 usable chairs. Maybe. I guess I could get the others fixed, but why spend money to fix chairs that I don't like in the first place?
Barb Brake-Frunt
*********
Hey y'all, this is part II of the post about the fictitious Barb who inherited all of her Gran's dated furniture. But it triggered a memory that I have of clients from about 14 years ago. They were a nice young couple with three young children living in Chappaqua, NY. They were ex-Manhattanites who fled the city after 9-11.
My assignment was to help them with window treatments for several rooms, rugs, the entire living room and a kitchen table and chairs.
Since they had nothing to sit on in the kitchen, that project took priority.
I discussed my ideas with the wife in an early meeting and she loved the idea of doing a cherry table with a slight antique look with painted chairs. And then, I thought it would be nice to do an upholstered chair for the host chairs. She loved it all.
So, I went back to my studio and put it all together. For the next meeting, we met on a Saturday when her husband would be there as he had a keen interest in what was going in the home.
I showed them what I had in mind and I could tell that the wife loved it all, however, the husband looked at me as if I was threatening to torch the place.
NO WAY!!! He barked! THE CHAIRS MUST MATCH THE TABLE!!!
I love clients who know what they want. :]
Seriously, I do. Fine. It's their home. I don't want anyone to live with anything that would make them uncomfortable. And hey, it makes my life easier. Cherry table. Matching cherry chairs. Done. I would die of boredom, but hey, it's not my house!
However, this was the one and only time out of dozens of times I did dining room furniture that a client insisted that they match.
Otherwise, I never did a matching set. And almost always the chairs were something different than the table. Not all the time, but the majority for sure.
Oh! and I frequently put china cabinets large and small in the living room and they look great! Some put in china and some put in books or a combo.
Here are some examples of dining room furniture that in my opinion, I would avoid.
(and what to do if you didn't/can't avoid them)
There are a lot of pieces in the Furniverse that are perhaps loosely based on a style, but not designed-well. They tend to be disproportionate with exaggerated design elements. The one above is loosely some Baroque-esque, Venetian-esque, abomination that I'm sure costs a lot of money. And fine, if this is your taste. You need a very large dining room to accommodate all of this.
But let's say that you were under pressure, confused and realized after the truck pulled away that it was all a big mistake, what can you do?
Well, you could put the chairs on Ebay and paint the china cabinet. Sure, your husband will think that you've lost your marbles or maybe he'll secretly be thanking the heavens that you're doing something about this!
Blan B. Keep everything.
And slipcover the chairs in some heavy white cotton duck or even drop-cloth fabric.
Then, paint the walls a wonderful navy like Benjamin Moore Deep Royal found in the Laurel Home Paint and Palette Collection.
Change out the chandelier for a beautiful crystal piece.
The heavy brown will "disappear" and it will take on a Ralph Lauren look. A little.
One of the main issues is that the furniture is so big and heavy, it NEEDS the walls to be dark. See how it creates a more harmonious space in this beautiful dining room above.
Use crisp white trim and beautiful white drapes and lots of great lighting and mirrors. It will be beautiful.
Exhibit B = Gran's dining room furniture– Queen Anne-ish.
Right?
It's not that it's bad, the dining room table and chairs, that is. It's just horribly banal.
The breakfront is not Queen Anne. It's not Queen anything.
This is an antique Queen Anne China cabinet.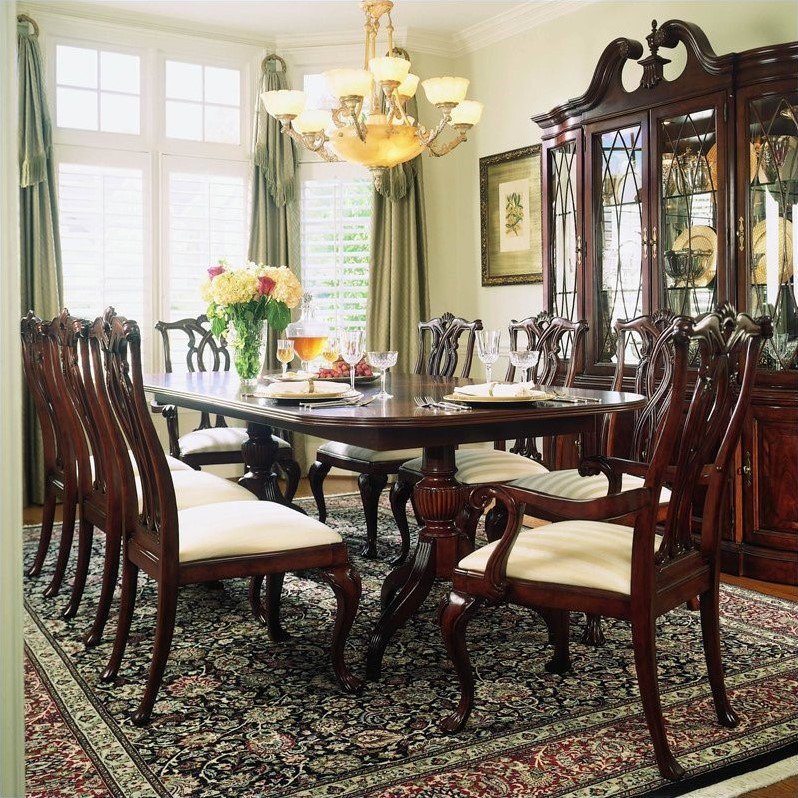 And a Chippendale style dining room furniture set.  It's not terrible, but it's an awful lot of brown. Again, I would paint the walls a deep rich navy. And how about painting the chairs like Mary McDonald did in her gorgeous dining room, below.
Here's a set of six such chairs for sale at BW Home.
Beautiful white painted chairs at
Chippendale white bamboo chairs available at Chairish
Queen Anne-style chairs white-washed a chalky white. Love this.
Available at Full Bloom Cottage.
And looky here what the fabulously Karen (aka: The slipcover maker) did to this chair. Wow!
What a transformation! She is so talented! I adore her slipcovers.
And check out this baby.
This is a slipcover? (it really is!) I had to read it v e r y   c a r e f u l l y  to make sure that my tired mind wasn't playing tricks on me. That is the most beautiful slipcover I've ever seen. It does not look like a slipcover.
Oh make no mistake, she can make them look less fitted, but I love this upholstered, but not really look.
Please follow Karen, the slipcover maker on pinterest.
One of my all-time favorite dining rooms is this classic by David Easton. Here, David used a Gustavian Swedish table and a Queen Anne chair. (Those are probably real antiques or else superb repros). He added an exquisite crystal chandelier and the wallpaper could very well be hand-painted.
Not sure. Zoffany does make a paper they call Eleonora
However, this version seems to have more detailing. Just gorgeous.
cool caned chairs available at Miami Vintage Decor
I could see having some extra chairs on hand (but with different upholstery) if the Giannettis table expands and they need more chairs. (Mixing chairs is another post.)
Designer, Amy Morris Architect, William T. Baker and Photography, Erica George Dines.
"Traditional Twist" – Atlanta Homes &Lifestyles, Feb. 2012
Love the little dressmaker slipcovers on the seats. I think it adds a lot of style and knocks back the formality of the Sheraton Style dining chairs.
Studio Peregalli
(sorry, I could not find a website for them)
Fabulous dining room with neoclassical themes and slipcovered dining room chairs. I love the table!
A fun dining room by Eddie Ross with a herringbone ceiling! The French chairs from Ballard Designs with painted black frames are so chic in this dining room. And the fabric is unexpected and cheery.
Beautiful little cabinet painted a chalky black.
Pretty linen slipcovered chairs in a cool, rustic dining room by Wendi Young.
Slipcovers can be made for almost any chair.
And don't forget that most chairs can be fully upholstered. Something to keep in mind.
From Colorful Home Designs on Etsy
 Love the color they painted this cabinet. I could see it on a wall in the dining room above it.
So pretty! I would hate to put anything inside and I would definitely leave the doors open all the time!
dining room by designers Andrew Brown and Jane Hawkins Hoke, photo Annie Schlechter for Veranda. There are more images of this spectacular home on Habitually Chic.
A fabulous dining room by some of my favorites – Cathy Kincaid – John B Murray Architects – Zuber Les Lointains wallpaper gorgeous dining room-veranda-2016
Wonderful eclectic dining room. Love the mix of furnishings. Okay, the bling chandelier is way trendy. I'll forgive them for that. I do like it, but they've become quite trendy and will be one day, so early 21st century.
Fabulous traditional dining room by Alexa Hampton
Love all of the elements of this dining room. I would never have thought to pair a rustic table with Biedermeier- style chairs, but it works! The wall color is Benjamin Moore Polo Blue.
For more great dining rooms click here and here and here.
xo,