Dear Laurel,
Out of the blue, a realtor contacted me the other day. She wanted to show a couple our home on the coast of Rhode Island. (We're a ten minute walk to the beach). While, we are planning on down-sizing in a couple of years, we thought, why not?
There wasn't time to do a full home over-haul, but my daughters and I did a massive konmari purge. That sure felt good!
Okay, I'll get to the point. Here's the feedback:
The colors need updating.
The house felt a bit too lived in for the family.
The dining room should be a living room or a family room– People don't do dining rooms any longer; maybe stage it with some other seating.
Is that true?
Am I the only idiot who serves 25 for Christmas dinner?  Hosts 40 women for a baby shower or makes dinner on a Tuesday night and serves on china with linen napkins just to be civilized?  I want and need a dedicated dining room!
Besides, it's a large home; 5,500 square feet. We have a big tv room, a sitting room, a children's play room (with two couches) and five bedrooms + 2 offices. We have no use for another "living room." I thought those were passe.
So I am thinking, maybe dining rooms are out?
Sorry, I kind of needed to just get that off my chest.  Even though I am happily living here, I have taken your advice to heart: when you are ready to sell, it isn't your home, and just prep it to sell.  So while I am not giving up my spaces just yet, I may have to budge when the time comes.
I'd love to see a blog post about this if it works for you.
Thanks,
Anon Amos
**********
Hey Anon,
Hold on a sec. I was rolling my eyes so hard that one of them popped right out and I have to go and fetch it and see if it'll go back in.
Oh never mind. One eye is fine. ;]
I think that you know what's coming.
Of course, you're not an idiot or nuts or anything. And your home is gorgeous!
The realtors remark that dining rooms are passé can't be completely true!
In fact, I find it a little sad that somebody wouldn't want a dedicated dining room in a home your size. And furthermore, I can't recall ever having a client in over 20 years who didn't want a separate dining room.
Of course, some will have to have a dining room and some won't want it at all. Can't please everyone! And don't the buyers have enough gray matter to figure that they don't have to use the room in the same way as the previous owner?
However, there is a trend to use the dining room for more than one purpose in some homes.
It all depends on the size of the home and how casual or formal it is. And the lifestyle of the owners.
14 years ago, I had a client who turned her deck into a sun room. The idea was that it could double as a dining room because she had occasions where she needed to seat as many as 20 and her dining room only accommodated up to 10-max.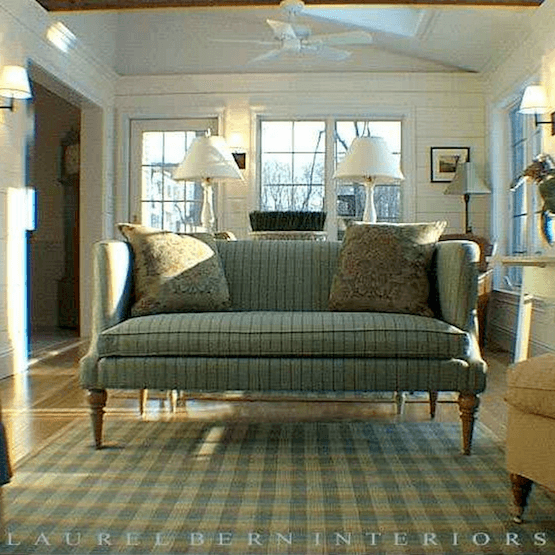 Sorry about the poor quality image. We had these two back to back settees and the rest of the furniture were chairs. The settees could be used for seating at 5 card tables she stacked together with a large table-cloth. There were two occasional chairs for the ends and everything else got pushed into the corners or in the family room.
It worked beautifully!
These folks also put a pool table in their living room. That's all that would fit in there.
A lot of people use their dining rooms as libraries and/or office space
I like the mix of furnishings.
 Miles Redd
did this saturated library/dining room for his mom.
photo from Milieu via Cote De Texas
There's a pretty nice video that goes with this from House and Home.
 Fabulous home of Caroline Sieber
Let's go back to Anon's home.
The prospective buyers weren't digging the colors and thought it looked too "lived in." That's code for it could use a new paint job.
Full disclosure. Anon is a friend of mine and believe me when I tell you that her home is immaculate. Albeit, it hasn't been painted in a while.
And it's a coastal home.
While I think that the yellow is very pretty, it is a tougher color to use when selling a home, unless the buyer is me. haha!
Let's look at some more coastal-type dining rooms
I adore this dining area from this wonderful home that
Summer Thornton
did.
Above and below are from the wonderful Hamptons home of Elizabeth Cooper via
Lonny
.
Quite spare, but I like.
This dining room reminds me a lot of Anon's. I could see her adapting something like this and it wouldn't break the bank.
I knew that it looked familiar!
These are very affordable and remind me of the antique Indian Dhurries at Madeline Weinrib. But those are thousands.
I don't remember if she has a chandelier, but this stunning piece, The
Darlana Linear Pendant 
is from Visual Comfort (for brick and mortar wholesale) and Circa Lighting – retail and to the trade.
But… if I had the space, I would still love a designated dining room. This one will do. It'll more than do from Loi Thai's old home in the D.C. area.
Photo via Muse Architects
Well, food for thought? Some are thinking about getting their homes ready for selling this spring. Here's another post where I go into my philosophy of home staging.
And here's another post where I helped the homeowners give a coastal feeling to their renovation.
xo,