Now, that the computer issues have largely sorted themselves out, I'm back to my series on freshening your home for the new year.
Wall Art Ideas
In part III we discussed painting the walls,  and now, I'd like to discuss what to put on them. This is actually a continuation of the previous post about decorating with art prints.
I find that hanging art is an art unto itself! And it's easy to muck it up, so here are my wall art ideas and tips for getting it right.
Hang the art so that the center of the piece or grouping is at about eye level. (You already knew that, I'm sure.)
Art over a sofa or table should be from 4-6″ above that piece. (you probably didn't know that because I didn't either until I researched it recently)
Big pieces on big walls and small pieces on smaller walls. (well duhhh…)
please note: When it comes to hanging art, almost every rule can be thrown out under certain situations.
Here are some tips for getting the spacing right for large groupings of different size pieces.
First try it out on the floor. Or better yet… Get a large piece of brown kraft paper and tape pieces together if need be. Then lay out the art on the kraft paper and trace around each piece. Pick up the piece of art and lift up the wire as if it's hanging from the hook. Let's say that this is a half-inch below the frame. Then, that is where your hook will need to be, so that the piece of art is in the correct position. Mark that spot on your traced picture. Hang the entire piece up on the wall. Then, tape the paper to the wall… hammer in your nails or hooks. Rip away the paper and hang your art. It should be perfect.
OR you can try this method as exhibited by Lauren Conrad. As you can see, she cut out each image and taped it on to the wall and then she hung the nail where it needed to be and ripped off the paper, and voila!
If you have a limited budget here are some ideas of how to do some cool art groupings on the cheap.
go to a secondhand bookstore or look on ebay for an old art print book
thrift stores often have some unusual treasures
flea markets
your children's art
other children's art
your own art
family photos (preferably black and white)
Custom framing is expensive, but if it's a casual or more contemporary look you want, you can often find frames at places like West Elm, Pottery Barn, and One King's Lane. Old frames can be found at flea markets and thrift stores and tag and estate sales too. For my clients, I have some wonderful trade sources and one of my favorites is Wendover Art.
Here are many more ideas for art groupings and ideas for the art itself. (please note: I've tried to source everything, but in a few cases, I could not find the original source and therefore it will be left uncredited.)
I love this simple grouping flanking a window.
Here is a beautifully symmetrical composition with old art prints and simple gold frames
Here's a creative use of space in an office. (love the chairs!)
Hallways, say outside the family spaces are wonderful places to display personal photos. I'm not saying that you shouldn't have them in your more public areas, but this very attractive gallery wall done all in white frames is a wonderful idea.
Here is a before photo of a wall with some stuff on it. (like the thermostat! Hate those pesky things!)
and this is how the designer and blogger, Jennifer Johner dealt with it.
I love how she integrated photos of her family with other keepsakes and also did an amazing job of "hiding" the wall switches and stuff!
While white frames are cool… so are black frames…
A beautiful display going up a staircase of old black and white photos by the wonderful designer, Phoebe Howard
But what if you don't want all the frames to be the same color? Admittedly, that is a lot trickier, but here is one very successful display done on a staircase in a pretty traditional home by Scott Sanders.
The arrangement is a work of art in and of itself. Please note that the colors all coordinate beautifully and the mattes are largely pale shades of white and cream with a smattering of blue–gorgeous! The frames are either black or gold or black and gold.
Below is another vignette by Phoebe Howard with white mattes and frames in shades of ebony, brown and gold. Outstanding! Note that the rule about the prints not extending the width of the console table works because the table is part of the composition itself in the confines of the wall space. The larger spacing also works, for the same reason. Trust your instincts. If it looks good to you, it's good! The larger gaps also allow space for the lampshade so that it's not covering up too much of the art.
Kate Spade's apartment. Style City!!!
This is one of my most popular pins on Pinterest and no wonder. (however, please notice in that photo, that part of the lamp is missing! With it's soft neutral coloring and balance of white and black and the colorful accents, this is a perfect and very sophisticated bedroom!
A lovely grouping of small paintings for a kitchen. I think that these are probably original paintings, but sometimes you can find original art in small local galleries or flea markets that is quite good and not that expensive.  Also, the designer, Loi Thai of  my fave blog Tone on Tone, sometimes gives goodies  like this away. Yes, he's really that nice and one of the most talented humans on the planet!
As stated before, if you can't afford original art… Hang up your kids creations. They'll be so proud, too! (well, maybe) :]
Hey, if all else fails, just paint a piece of canvas turquoise. Gorgeous, eclectic room by Britt Moran and Emiliano Salci of Dimore Studio.
Art looks wonderful in front of walls with strong colors. So, when planning your room and choosing a wall color, please take into consideration that the wall color might end up only being an accent in the room and once the art is up and furnishings, there won't actually be that much of it.  Here is a stunning contemporary room by designer Elaine Griffin.
The art looks like it might be the work of Kathe Fraga who paints these very colorful Asian inspired contemporary works using multi-mediums–very expressive!  For Kathe's website, please have a look here.
note: February 17, 2015 It has been brought to my attention that this is actually a print of Vincent Van Gogh's Almond Blossoms and that it is the wrong way around! haha! Here is how it's supposed to look.
I adore this vignette by Loi Thai of Tone on Tone.
This gorgeous display from the Kate Singer Hampton House is yet another winner. What makes it work so well is of course, the beautiful colors, but all of the interesting frames which are connected to each other in some way. The trick is not matching… It's coordinating. Again, it's in the eye of beholder. Be brave. You can always take it down!
John Jacob
For the less brave, (but most tasteful) ;] there are always the classic botanicals and herbariums such as these. I  love herbariums and have used them for years for many of my clients. I love how refreshing they look in this earthy and handsome bedroom.
Rue Magazine | Interior Design-Tonya Olsen-Photography-Lindsay Salazar
Fabulous art gallery wall and love the panel moulding.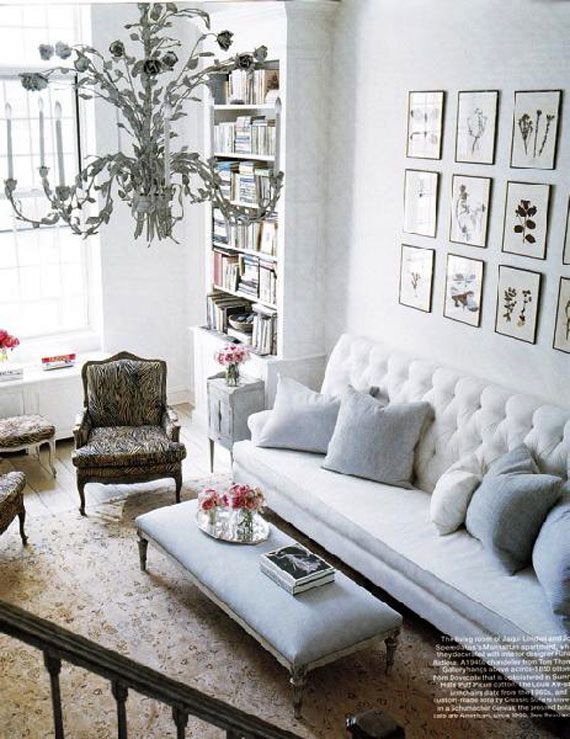 Here they are again, in a Parisian flat. Please notice that they start well above the standard 4″ above the sofa. However, it works, because we have an exceptionally high ceiling. Even so, I might've put them down 2 or 3 inches. What do you think? It's such a pretty room!
I will leave you with a very traditional vignette.  There's something about it that makes me feel grounded. It was here yesterday and it'll still be here tomorrow. Beauty is beauty.
Well, I hope that you've found some inspiration for making your home fresh and beautiful for this very cold, very frigid, very arctic-like new year. I cannot wait for spring!
stay warm!
For more beautiful art walls click here. 
xo,