This isn't a "Dear Laurel" exactly. It's from a dear reader, though.
Karen K.
First of all, Karen has waxed poetic about my products. So sweet and appreciated.
She has all three of them and has said that she couldn't decorate her home without them. Cool.
I think that I love this woman! :]
And she has been writing me sporadically for the last several months; keeping me abreast of her dining decorating.  Each time, her dining room just keeps getting better and better.
Obviously, as you will see in a sec, Karen is blessed with a talent all her own. Just beautiful.
However, after sending me the last set of dining room photos, she admitted that she's not totally feeling it with the family room.
So, I told her to send me some more photos and with her kind permission, am sharing all with you today.
First some shots of the dining room before we get to the family room.
How lovely is that?
I had shown these gorge blue and white Chinoiserie lamps a while back.
And guess what? Karen bought them!
You may recall that they are the same lamps that we used in the dream Bronxville Kitchen
I forgot the story about the mirror (I think it was inherited?) but I love it! In this case, since it's such a statement piece, I wouldn't put anything above it.
Then, a few weeks later, Karen asked me what I thought of these rattan chairs for the host chairs.
What do I think?
SENSATIONAL!
I think that Chica, Karen's adorable rescue doggie agrees.
I wonder what happened to the arm chairs?
I have an idea.
Hang on please.
Preserve Console Table From Stanley
I couldn't find Karen's exact table from Stanley but I found another beauty from Stanley which is only $1,059.00 at Wayfair.
And then just yesterday, Karen sent me the photos for the new drapes she's been waiting weeks for.
Kind of smashing, don't you think?
And what is the wonderful wall color? (that looks different in every image) :]
It's Benjamin Moore Pale Avocado which is one of the Laurel Home Essential Paint Colors/Palettes and Home furnishing collection colors.
The one that hopefully will get fixed up one day.
I found the fabric at Etsy Studio which has tons of gorgeous fabrics at moderate prices.
Moving on to the Family Room
First some rooms that Karen is inspired by.
Eddie Ross
Me too! But she bemoaned that she's struggling to do this maximalist look without it looking horrible.
Oh wow, just had to add what Eddie did to this secretary. LOVE it!
It reminds me of one in this post about home offices.
Mark Sikes Park Avenue living room – family room via House Beautiful
Here's what Karen has done in family room so far.

A few months ago she sent me this of the brand new sectional.
And oh. the wall behind it. Fireplace and cabinet were on the way out. As in gone.
The fabric is Crypton is Spring Grass from Robert Allen.
Love the beautiful cabinet with the inside paint green. It is probably a Laurel Home paint color.
My guess would be Benjamin Moore Herb Garden.

Yesterday the window treatments came. I like the fabric but wish that they were inside mount Roman Shades. I told Karen that I hope that didn't make her feel badly. It's just my preference. And also what looks strong in a photo might not in the room and in the room is what matters. She loves them and so I'm good.
However, they are making a strong statement and so I think that we need to create a better balance.
Karen rolled up the rug because she's not loving it. I don't mind it but I think that we can do better. In any case, it's too small. At the very least, I would layer it with a seagrass rug.
I told Karen that I needed to see some more shots of what was missing in the family room.
The slipcovered wing chair is going bye-bye one day.
Karen kept the cherry cabinets in the kitchen for a variety of reasons but updated the counters, hardware and backsplash for a fresh updated look. Me like.
And looking back from the kitchen tells the entire story. Now, the valances feel more balanced, but the room is still missing some cohesion. Nothing horrible, but I think that we can make it better.
I love the rattan chair and I think Karen found a chartreuse geometric that she's going to use to recover the cushions.
But, I'm not totally crazy with where the chair is. It feels a little lonely over there.
Here's what I'm thinking.
I'd like to center that pretty table and then flank it with the two dining room arm chairs. They can be brought back in to the dining room if necessary.
And then I'd like to reupholster all of the chairs.
First I looked at this fabric.
The iconic document print Citrus garden by Schumacher.
Just one problem.
Karen will have to take a second mortgage out on the house in order to get it. ;]
It retails for at least $200/yard! 
Okay, chair seats would only be a few yards.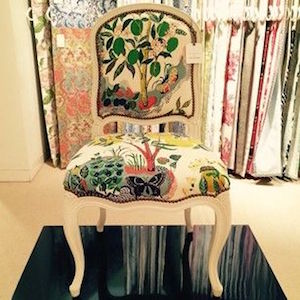 I did find this fabulous chair to give you and idea.
I wish the image was better.
Someone wanting to mess with our heads put up this image. lol
But, then I found this charming Chinoiserie print from Robert Allen for 16 bucks a yard!
Etsy Fabric Supply
French chair in the chinoiserie fabric.
I could see this fabric working in both rooms and it would look fab for the dining room chair seats.
Custom Slipcover Education Blog
I was thinking that if we did the less expensive fabric that it would be awesome to do a skirt on the chair something like this.
I am thinking that we need to introduce some coral into the room. I found this 100% wool hand-knotted Oriental that I think might be perfect. It's not too heavy or formal. I am not going to call it "transitional."
You may call it transitional, but I can't bring myself to do it. Can we please come up with a better word!?!
Karen wants an opium/ming/Asian coffee table for the family room and I love that idea too!
This one is the right idea from Ethan Allen. I have seen this table in person and it is very pretty. My only hesitation is that the "aged" appearance isn't very believable. But, in a few more years, it will be. haha.
It is almost 38″ wide, so just need to check that it's not too big for the allotted space.
I adore this little club chair which is super comfy Belgian chair in soleil linen from Serena and Lily. It can be customized in dozens of fabrics. I love this persimmon linen.
Now, I don't have a floor plan and photos can be deceiving.
But what I'm thinking is that it might be wonderful to bring the wicker chair over to where the white slipcover chair is and the persimmon one on an angle to make a better conversational grouping. It looks like there's plenty of room to do this. (I hope). We can also give it a pillow.
I have some more ideas for pillows and little tables in the family room board below.
1 / 2 / 3 / 4 / 5 / 6 / 7 / 8 / 9 / 11 / 12 / 13 / 14
Yes, I know. I can't count. lol Sorry #10. It was an accident.
Hey, that's nothing.
The other day, I found a half-eaten soupy quart of ice-cream in the kitchen cupboard.
Someone clearly needs a vacay. haha
Then, I would maybe round it out with a big fiddle leaf fig tree between the cabinet and occasional chair.
Well, I'm sure that there's more. But I think the addition of some of these things will take this room up to the next level or three.
Really pretty home.
Oh!
Wait!
Hang on!
The exterior Karen's house. Not the worst color I've ever seen, but nothing special either.
But afterward, in a fresh coat of Benjamin Moore Swiss Coffee– One of 12 shades of white in the Laurel Home Paint, Palette and home furnishings collectionhttps://laurelberninteriors.com/rolodex-paint-collections/
It is looking so fresh and updated and it also looks like it goes with the interiors far better. That's important.
I forgot to mention that all of the interior cream-colored walls are Benjamin Moore Linen White which of course, is another color in my curated paint collection. For those that don't know. There are 144 Benjamin Moore colors.
Happy Summer!
I think I have some exciting news, but just need to make sure. It's about a trip. To England! More about that soon!
xo,