Ahhh… the days in the northern half of the northern hemisphere are now quite short. I find myself needing to turn on the lights by about 4:15 PM. And soon, it will be earlier.
So, I thought it would be a good time to have a lighting post.
It's actually a HUGE topic and there's no way, that I can cover it all in one blog post.
But before I get into the most common lighting misconception, I have a little confession to make.
Lighting is an area of design that I'm a little weak in and here is why.
Back in the fall of 1989, when I was beginning my 5th semester of interior design school, I signed up for a full-load of courses which was about 6 or 7 classes. A lighting course was one of them.
I showed up for the first class, feeling a little off. And for good reason. I had just found out the day before that I was 6 weeks pregnant!
(He's 26 now.) :]
We were given a massive assignment due one week later.
The day after the first lighting class, I was no longer a little bit off.
I was now feeling quite a bit like when I was a child, and we used to go on the hilly ride from Evansville, Indiana to St. Louis and my father would virtually chain smoke in the car, up and down the hills for three hours…
My mother always kept plenty of plastic bags and shoe boxes (my Dad owned a shoe store) on hand for me to barf in.
That's how I felt back in the fall of 1989.
I went home after that day's classes and told my husband that this was not going to work and I needed to drop out. But, he said that I would probably be feeling better in a few weeks and perhaps not throw in the towel completely; maybe just drop 2 or 3 of the classes.
So, I did. I'm sure that you've already figured out that lighting was one of the courses I dropped.
However, even though I don't have all of the technical language, I did pick up a lot from other courses and much more, in the 27 years since then that I've been working in this business. There are a lot of famous designers who haven't taken any courses whatsoever.
Whenever there's something I don't know, I always work with people who do know what they're doing. I've worked with some fabulous electricians over the years and learned a lot from them.
We get it Laurel. What is the Number One Lighting Misconception!?
Oh, sorry.
It's this.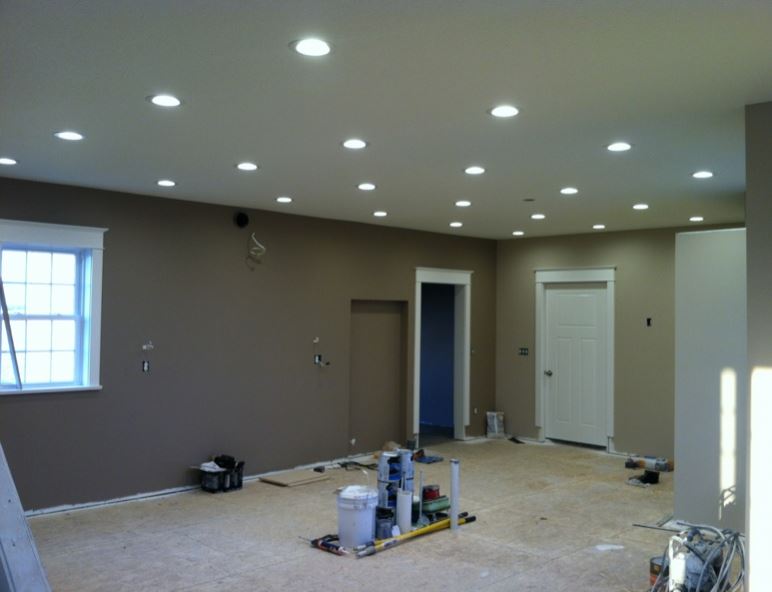 photo from Lighting Designer Deborah Nicholson
Those things.
People refer to them by different names. High Hats, Pot Lights, Cans, etc. But I learned the term, Recessed Down Lights
And no. That yucky lighting mistake is not  Deborah's work! Her issue is pretty much the same as mine.
.
Before, I go on… and get strung up by an electrical cord, I want to say that it's not that there shouldn't be any of these, but to be mindful that they are only one part of a great lighting plan, if used at all.
Recessed Down Lights are wonderful for smaller spaces where task lighting is very important such as kitchens and bathrooms. But even then, placement is everything.
For kitchens, the lights need to focus on the counters and bounce off the cabinets.
For bathrooms, I don't think that they are the best lighting. I far prefer wall lights but one or two are okay. My little bathroom has four halogen down lights and they are fine.
For living areas, I prefer that down lights are used sparingly and mostly to hi-light art (with an "eyeball" fitting) or in spots where light is needed but it's impossible to have a lamp or sconce.
If you light the corners of the room, the rest is easy.
However, what I commonly see that's the biggest lighting misconception is that the assumption is that the recessed lights are ALL that's necessary
And that is a recipe for a poorly lit room, full of glare and ugly shadows.
If you'd like to read more about some of the options with recessed down lights, Home Depot has a pretty good article.
Okay, but Laurel, I live in a home and it came with these down lights. Now what?
Yes, I understand completely.
This is why God invented dimmers.
Everything goes on a dimmer!
The other thing is that there are different fittings for your recessed lights.
And on top of it, these days there's a choice of bulbs.
This is where you're going to find a lot of resistance from this old dog.
I'm sorry.
Well, not really.
Maybe someone can point me and the rest of us in the right direction. But so far, I'm not very impressed with LED lighting. I'm sure that some of it is alright, but a lot of it is not, IMO.
In fact, some of it is so bad, that it's making me pretty steamed. We've been through this before on another post, but I can't stand white, cold light. I know that some disagree with that, but I hate it. I think that lighting should simulate candle-light and be warm.
Yes, I realize that warm lighting distorts colors, but I actually love that.
The other thing people do is OVER LIGHT their rooms. Or there's a huge imbalance of light. So, dimmers are a good place to start to get some control over that.
What about doing something to spruce up the trim on the recessed lights, Laurel?
Thank you for bringing that up. :]
I found some trims like this (not sure where they are from) which I could see in an old Victorian building, but not necessarily a residence. (Maybe if very high ceilings and only a few like in a hall.) They are urethane and they can be painted to match the ceiling.
But, please, please, please don't ever do anything like this. (below)
unless, you're decorating a brothel.
It's my feeling that ALL ROOMS need lamps and/or Wall Sconces
Did you know that in Laurel's Rolodex there are over 200 wonderful sources for lighting? These are both retail and To The Trade and many of them are both retail and TTT.
It wasn't that long ago, that it was difficult to find great lighting, but that has changed in the last 15 years. Now, there are tons of gorgeous light fixtures.
Since this is such an extensive subject and lamps, IMO should be the mainstay of great lighting, I'm going to focus the rest of the post on Table lamps.
One thing about lamps is that they seem to be getting bigger and bigger! There may be a few exceptions, but for most of our homes with 8 or 9 foot ceilings, my max is about 32″. If your room is larger and with super high ceilings, it is possible to get away with larger lamps
Bunny Williams lamp that I've pictured before is 35″ and it feels in proportion in the Lee Jofa showroom in NYC, but it's a large space with super high ceilings.
Below are 12 or so of My Favorite Lighting Sources and at least one table lamp from each source. These aren't all the sources that I like, but a good sample.
The Addison buffet lamp from Aidan Gray Home is a statuesque 40″ and breaks my 32″ rule, but it's so sleek and classy. But it definitely needs at least a nine foot ceiling, I think.
The Cove Table Lamp in Celadon from Barclay Butera is about the most perfect table lamp ever. I have found that a shot of turquoise or aqua is a wonderful way to wake up a tired room.
Bradburn Gallery is not the manufacturer of this lamp they call Cezanne Blue. I couldn't find the source, but I love this hobnail-esque piece.
The Pavillion Lamp from Bungalow 5  is a true classic.
As can be seen here, at 30.5″ high, it is plenty big!
This is another wonderful trade source for lighting and home accents, but available just about everywhere. I found this lamp at MeadowBlu.
Candelabra is probably my favorite retail source for lighting. In fact, over the years, I've had clients go there to "shop." They have a lot of terrific brands. And it's a lovely website as well. The above Pike Table Lamp above is a Robert Abbey lamp. They have a lot of beautiful lamps and at a more moderate price point than some.
Above and below by my second favorite retail source that also offers a designer discount, Circa Lighting.
The lamp above is a Ralph Lauren design called the "Small" Marlena Table Lamp. But, it's 32″ tall and that is not at all small!
To make it even more confusing, this is the "medium" Foo Dog Table lamp which is also a Ralph Lauren design at Circa Lighting. It is only 27″ tall! That's a terrific size for rooms with an 8 foot ceiling.
Point is, to be super careful if ordering lamps online. Their size can be quite deceiving.
Also, sometimes measurements are given with or without the shade. And sometimes the shades are sold separately.
This is the Gustavian Table Lamp from Circa Lighting. It's about 33″ high but because it's fairly hunky for a buffet lamp, I think it could go in some rooms (with a high ceiling) as a table lamp. I used it on several boards in the new paint palette collection.
Designers and design enthusiasts have long-admired the giga-gorgeous work of Christopher Spitzmiller. These beauties are completely hand-made. Price-wise, they go in the category of "If you have to ask, you can't afford it." :]
Carleton by Christopher Spitzmiller.
While still pricey, this division of CS is far more reasonable at $785 each.
Currey and Company has some cool pieces. I'm not quite as enamored with their lamp collection as I was a few years ago. That's partly because their prices have recently taken quite a large leap. But this Lilou Table lamp in this deep bottle green is one of the best out there. It also comes in black and a white version too.
Festoni is another trade company that has a very cool collection of lighting and home furnishings. I wish their website was more slick, but their product is very stylish and they are designer friendly for all of you designers out there. The piece above, as you can see, comes in a bunch of beautiful colors.
This is one where the base and shade are sold separately, and the measurement is for the base only!
One King's Lane
xo,