Sorry to leave y'all hanging from my last post… and before I delve into today's topic about famous interior designers who got arrested, I need to answer the question about our nine famous interior D people.
Which ones are interior decorators and which ones are interior designers?
1. Barbara Barry   2. Darryl Carter    3. Sister Parish
4. Jonathan Adler   5. Nancy Lancaster   6.Vicente Wolf
7. Kelly Wearstler    8. Nate Berkus     9. Elsie De Wolfe
The answer is that they are ALL  interior DECORATORS.
That is, according to the arbitrary tenets of ASID. [4 year degree in accredited ID program; pass the biased, draconian NCIDQ and work for two years for an ASID interior DESIGNER which accounts for about 3% of all interior designers.] In fact a lot of these super-star designers never even went to college or went to college to study something else. Eliminating our three grande dames of design, Elsie De Wolfe, Nancy Lancaster and Sister Parish, here's the breakdown.
Barbara went to art school for a couple of years and then started her interior design biz.
Darryl was a lawyer. Yes, a lawyer. Stopped doing that for interior design.
Jonathan started his career throwing pots. Clay pots, that is.
Vicente makes no bones that he didn't do a lick of formal study.
Nate actually started working for an interior designer straight out of high school. Then later on, he got a degree in French and Sociology.
I saved the giga-gorgeous Kelly Wearstler for last. Kelly did study interior and graphic design in college. After college, she went out to Cali and tried her hand at acting. Not getting too far,  she took some odd jobs like waitressing…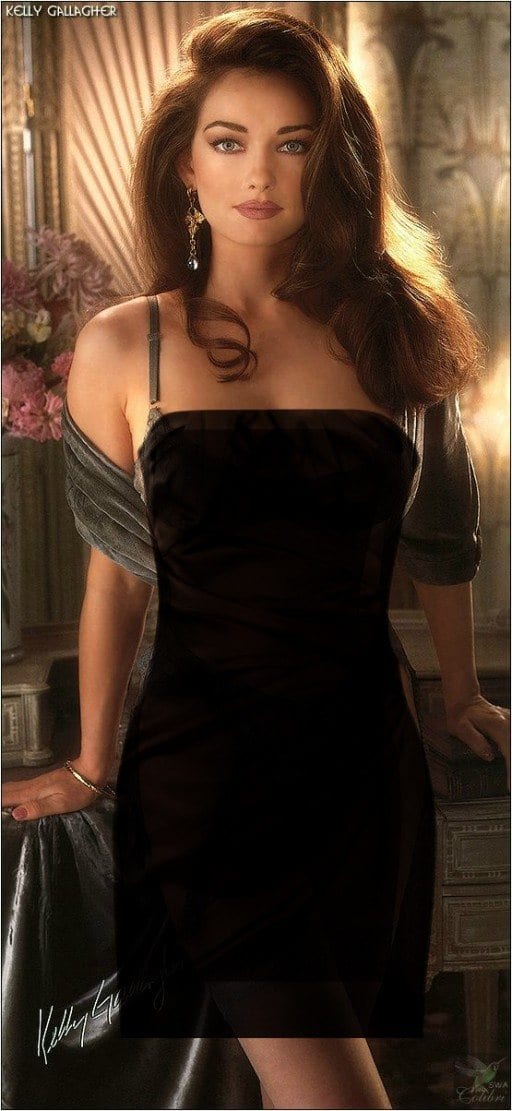 and uhhhh… posing for Playboy. Indeed, under the pseudonym, Kelly Gallagher. She was the September 1994 Playmate of the Month. Yes, I was a little shocked too, however, I think that Kelly is without a doubt one of the most beautiful women in the Universe and hell yeah— I truly believe that anything to make this world a more beautiful place is a good thing and what could be better than Kelly Wearstler sharing her God-given pulchritude?!
And besides, she needed to pay off her student loans.
As you can see, I put a little dress on her.  After all, this is an interior design blog and I want to make you believe  convey, that I have a modicum of class. Oh, make no mistake. I was plenty tempted, but I figure, if any of you good people are interested in seeing more, [or is it less?] ;] you know where to find her.
Moving on…
A couple of years later Kelly met this dude. Oh wait. Actually, she was decorating his home! Lucky Kelly, she found herself a shrewd real estate developer and hotelier. Brad Korzen. They fell in love, got married had a couple of kids. He started a west coast chain of chic boutique hotels and Kelly did the interiors and to great acclaim. She quickly made a name for herself in the niche area of hotel interior DESIGN. As it turns out, she's not just a pretty face, with a bitchin' bod, but one kickass interior DESIGNER. The NY Times heralded Kelly for her retro-inspired-Dorothy-Draperesque designs. And many people including A-list Hollywood celebrities have hired Kelly to DESIGN their homes for them.
Here is a sampling of Kelly's amazing interior DESIGNS.
This is Cameron Diaz's kitchen by Kelly Wearstler.
In addition to the many hotels she designed and being a wife and mom, she also designed a restaurant at Bergdorf Goodman, and designed products for Sferra Bros. Linens, The Rug Co. and most notably fabrics and wallpapers for F. Schumacher & Co.
This one fabric, Imperial Trellis which a lot of you know all too well. It comes in both linen and velvet as well as wall covering  and in a bunch of colorways. It has made millions for  Schumacher.
Here is Kelly today with a newer collection for Groundworks a subsidiary of Lee Jofa. It's doing very well too. Geeezzz, I wish I could wear shoes like that!
Getting to the Heart of the Matter and [one reason] Why I Will [probably] Never Live In Florida
Okay, this part isn't news, because it happened about 6 years ago. However, it's news to me, so maybe it will be to some of you too. Several years ago, Kelly was all set to do the interior design for a brand-new hotel her husband, Brad was developing, The Tide Water in South Beach, FL. Everything was all set and running smoothly until one day…
Kelly received this by certified mail.
Kelly Wearstler: Case No. 2007-067706
Probable cause was found that Kelly Wearstler, Inc. of Los Angeles, California, is not licensed to practice interior design in Florida and contracted to provide interior design services on The Tides Hotel on South Beach in Miami. Ms. Wearstler specifically offers interior design services in the contract and is offering such services through a business entity without a certificate of authorization. An Administrative Complaint seeking fines will be filed and a Notice and Order to Cease and Desist will be issued.
Yep! And it wasn't just Kelly who had this type of legal trouble. The list went on and on. It even included the great Juan Montoya one of Architectural Digest's perennial Top 100 DESIGNERS  and as I mentioned, one of the esteemed judges in an ASID sponsored student competition.
Here's his summons.
Juan Montoya Design Group: Case No. 2004-055870
Probable Cause was found that Juan Montoya of New York, NY is not licensed to practice interior design in the State of Florida and contracted to provide interior design services on a commercial project. Mr. Montoya also held himself out as an interior designer throughout the contract. Further, Mr. Montoya is offering such services through a business entity without a certificate of authorization. A Notice and Order to Cease and Desist was issued and an Administrative Complaint seeking fines was filed.
hmmm, ASID didn't have any problem with Mr. Montoya judging our student INTERIOR DESIGN competition back in 1990, but then he gets into legal quicksand in Florida for referring to himself as an interior designer?
Juan Montoya was practically born with a mechanical pencil in his mouth. He's one of the most prolific highly respected INTERIOR DESIGNERS in our field. Absurd doesn't even begin to cover it; unspeakably insulting is what it is, to say the least!
Here is some of his amazing work.
The fabulous designer Jonathan Adler was also stopped in his tracks. Yes, he started out making pottery. But, he learned the business over time, AND like Kelly and all interior designers who take on big projects, there is a team of people doing many aspects of the job. It would never be ALL Kelly or any interior designer, for that matter!
Here is some of Jonathan's fabulous work which is also retro inspired, but more whimsical than Kelly's interiors, I think.
 Florida is one of a handful of states which makes it ILLEGAL for anyone to use the appellation "INTERIOR DESIGNER"
—unless they've gone to four years of an accredited ID program, taken and passed the aforementioned test, the NCIDQ, AND worked for an ASID designer for two years. Even IF you've been an interior designer for 40 years, if you want to practice interior DESIGN in FL, you must follow this letter of the law or you will be arrested.
This happened to many interior designers who for whatever their reasons decided not to be accredited according to the terms set forth by ASID. They were all told to CEASE AND DESIST and were heavily fined. All you had to do to get a summons and a fine was to use the word DESIGNER in your contract. This was also happening at the height of the recession when few could afford such extreme financial reversals.
Alright then, I know what you are thinking. Surely, the government  has their reasons for cracking down on this???
Oh sure. They have a reason. There's always a reason.
Their reason is that the public needs to be protected.
After all, if an interior designer isn't licensed, then how could they possibly know what they are doing? They couldn't possibly have learned to follow code in any other way or hired a team who were experts in all necessary aspects of hotel construction. Therefore, they most assuredly ARE a danger to society and must be stopped! Go back to your pillow fluffing, you rebellious decorator! You can't follow our RULES, then you will be in some deep spackle.
I dunno… You can walk around the state of Florida with a fully loaded AK 47 assault rifle. [to protect yourself from interior decorators, I suppose], blow someone's head off in a movie theater for throwing popcorn. But pretty little Kelly Wearstler is a threat to the well-being and safety of millions of Floridians? Forget about those pesky hurricanes. That's nothing. Kelly and her kind are the real problem. She must cease and desist calling herself an interior designer! How dare she!
Of course, we all know the real reason. It's perfectly clear. It has to do with the fact that Florida and other states in cahoots with ASID are trying to limit the NUMBER of interior designers who are allowed to practice. There can be no other reasonable explanation.
This is the deal folks and if you're in the trade already, of course you know this. Interior designers do not actually BUILD anything. My drawings are listed in my contract as "conceptual in nature." They are interior DESIGNS, not shop drawings! I, like these other people, work with a team of professionals for all renovation projects. I work closely with the contractor and his subs and architect if necessary.
And there's more. Products used in commercial buildings have something called ASTM compliancy. The info is right there. And if there's any doubt, an interior designer may contact the vendor. A decorator can do all of that too.
Are things still this bad? I'm not quite sure. It is possible that some of these states have softened their stance. If you want to know more about any of this, here are some great resources and where I got all of my information.
http://www.idpcinfo.org/
http://cotedetexas.blogspot.com/2008/06/asid-agency-out-of-control.html
http://cotedetexas.blogspot.com/2013/04/a-bit-of-politics-and-interior-design.html
ASID – Backpeddling as Fast as They Can
http://en.wikipedia.org/wiki/Kelly_Wearstler
What totally fascinates me is that Joni Webb of the Cote de Texas blog states that
no interior designer has ever gotten sued because a client hurt themselves as a result of something they specified.
I do not have a way of verifying this statement, however, if true, [and I have no reason to believe that it's not] it only lends credence to the flagrant audacity of the laws governing what interior designers can or cannot call themselves. The responsible parties are the manufacturer and the contractor. It is up to the contractor to install products that are safe and if they're not, then he needs to tell the interior designer. Although, it should never even get that far and very rarely does!
I agree, that for those designers who want the accreditation, then fine, they can if it works for them. I have no problem with them calling themselves "certified" interior designers. Does it make them better designers? Not necessarily. In fact, I have seen some shockingly bad results from many a "certified" interior designer.
I randomly and quickly went through the first portfolio I could find on the ASID website and I came up with these photos which are vignettes of the total photo. They are of course, not credited. If they are your work, sorry, but these are not well-designed spaces. There are many, many technical and aesthetic errors.
And yes, I realize that this is horribly unprofessional, but I am trying to make a point and do not feel that I can convey that without showing you what I'm talking about. So, please allow me this one indiscretion.
shockingly poor fitting slip cover. Hope the home owners don't trip and hurt themselves on the piece dragging two inches on the floor. In addition, the colors are hideous. The slip covers are greenish-gray and the rug is purplish gray. If only there were some pillows which could liven things up. That would really help!
And MUCH better window treatments than that schemata hanging totally off-balance. The pig is a nice touch as are the stuffed animals. This is no way a professionally designed room! There was a kid's toy truck on the coffee table. Also, really. Can we have some more attractive window gates put up?
What?
Which is it? Ikea or Country Kitchen? It's not that you can't mix contemporary with country, but this looks like two different kitchens! There is just way too much disparity in the design here and on top of it, the photography is shockingly bad.
The "interior designer's" entire portfolio is like this. This person is a card-carrying member of ASID.
My main aim isn't to disparage someone's work. Yes, it's exceedingly tacky of me to take a colleague's work and tear it down but in this particular case, it's to make a valid point. This is not even a matter of taste. My taste does not run towards Kelly's, Juan's, or Jonathan's work especially. I wouldn't hire any of them to design my home because there are other IDs whose work is far more aligned with my own personal taste.
However, I can appreciate their work because their interiors are brilliantly designed and executed. The ones by the ASID designer are anything but. Yet, in the eyes of ASID, those three phenomenal professionals are interior DECORATORS and will get arrested and fined in some states if they have a contract stating that they are doing interior design work. This interior designer is free and clear to design anything [she dares] anywhere. In addition, according to ASID, she should be able to teach all of our "decorator" superstars a thing or two. And for two years, it would have to be.
shudder.
There's A LOT more to being an interior designer than knowing codes. It's like saying that a ballerina can't call herself a ballerina unless she has a college degree in ballet. Well, none of them do!
I don't have all the answers either, but all I know is that this kind of autocracy stinks and reflects poorly on our profession. I think for folks wanting to hire interior design help, you need to look at their work and talk to some of their previous clients, perhaps.
Alright. Thank you. I'm done with this topic.
Please have a wonderful weekend! I'm very excited. Going with my BFF to see Mark Morris Dance Co. tomorrow night at Lincoln Center.
Respectful replies are always welcome. All others will be deleted. Thank you for your understanding and I very much enjoy hearing your feedback.
xo,