A post about steam therapy, Laurel?
Yes, I can't think of anything more divine than hanging in a hot steam bath in early February!
Steam Therapy has been around since at least the Ancient Greeks and Romans. (and many other civilizations as well) Although we're starting to come around, they fully understood the therapeutic value of thermal baths and steam, along with massage, exercise, rest, a healthy diet and music to rejuvenate body, mind and soul.
Okay, that's cool. So, what's the steam therapy warning about, Laurel?
Well… The warning is that you might become addicted to steam therapy.
But there's a cure for that too. :]
But first, we need to go back in time to understand what the Greeks and Romans understood that we (well, not WE) in our supposedly advanced civilization are far slower to grasp.
Plus, I don't know about you, but I'm always curious to know more about how our ancestors lived so long ago.
The Greeks and later the Romans, turned bathing into an art-form. But it wasn't only a hedonistic pleasure. The early bath houses, were elaborate complexes, designed to rejuvenate and maintain good health and well-being.
A critical component of the Greek and Roman baths was steam therapy created with water as hot as the body could stand it. (about 114° F)
These hot, steamy baths were known as Thermae. In addition to the thermae, were baths and rooms of pleasant warmth and an ice bath– I guess to stop the "cooking."
But all joking aside, the hot, steamy baths create an artificial rise in body temperature. This rise in temperature increases circulation, can cure or alleviate certain diseases and kills dangerous bacteria in the body.
Those Greeks and Romans were so smart. Maybe they got a little too carried away, in the end, but for quite some time, I think that they were pretty amazing!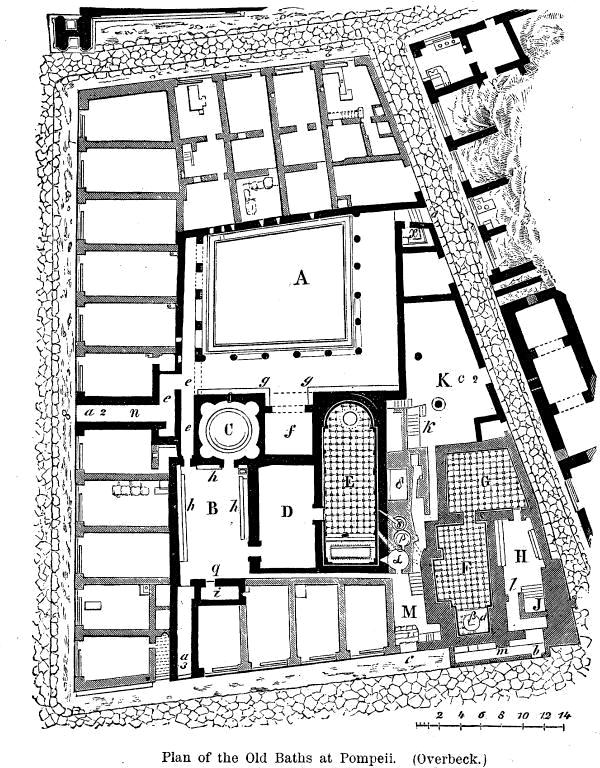 A floor plan of the old baths (Thermae) in ancient Pompeii
B) apodyterium or changing room
C) frigidarium or cold bath room
A) tepidarium or tepid bath room
E) calidarium or hot bath room.
You can read more about it in the link above.
Of course, very little has survived of the ancient thermae, but there is a fair amount of 18th and 19th century art depicting scenes of the therapeutic bathing culture.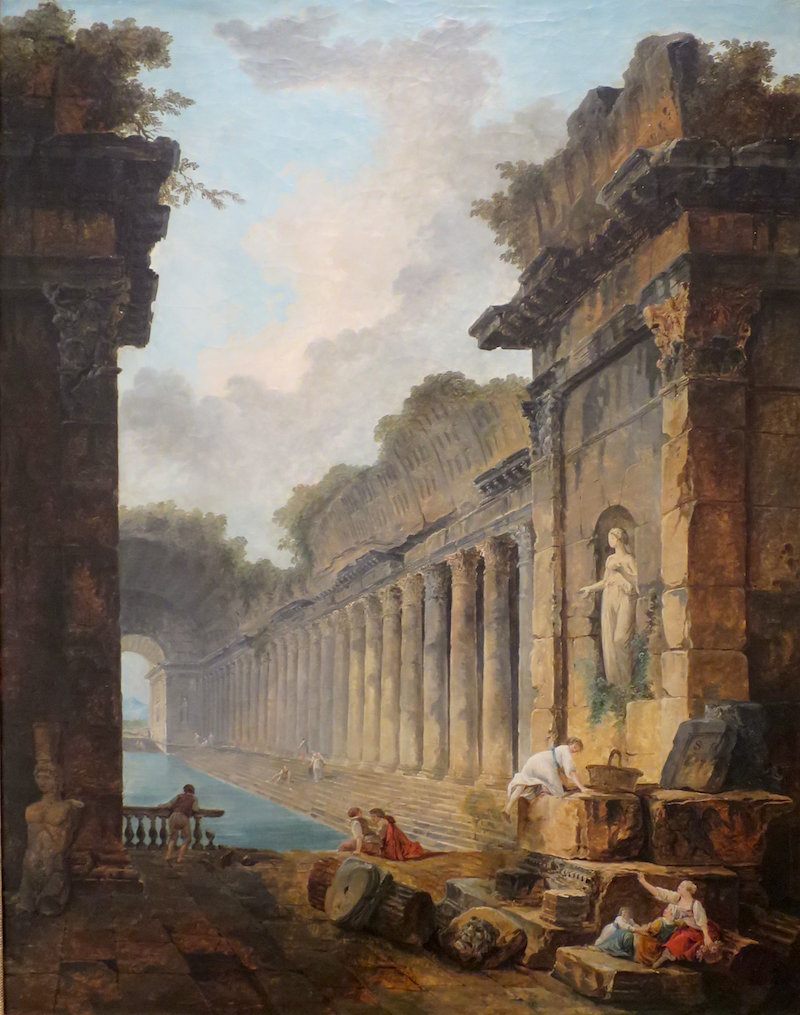 'Roman_Bath'_by_Hubert_Robert,_1795
Robert,_Hubert_-_Ancient_Ruins_Used_as_Public_Baths_-_1798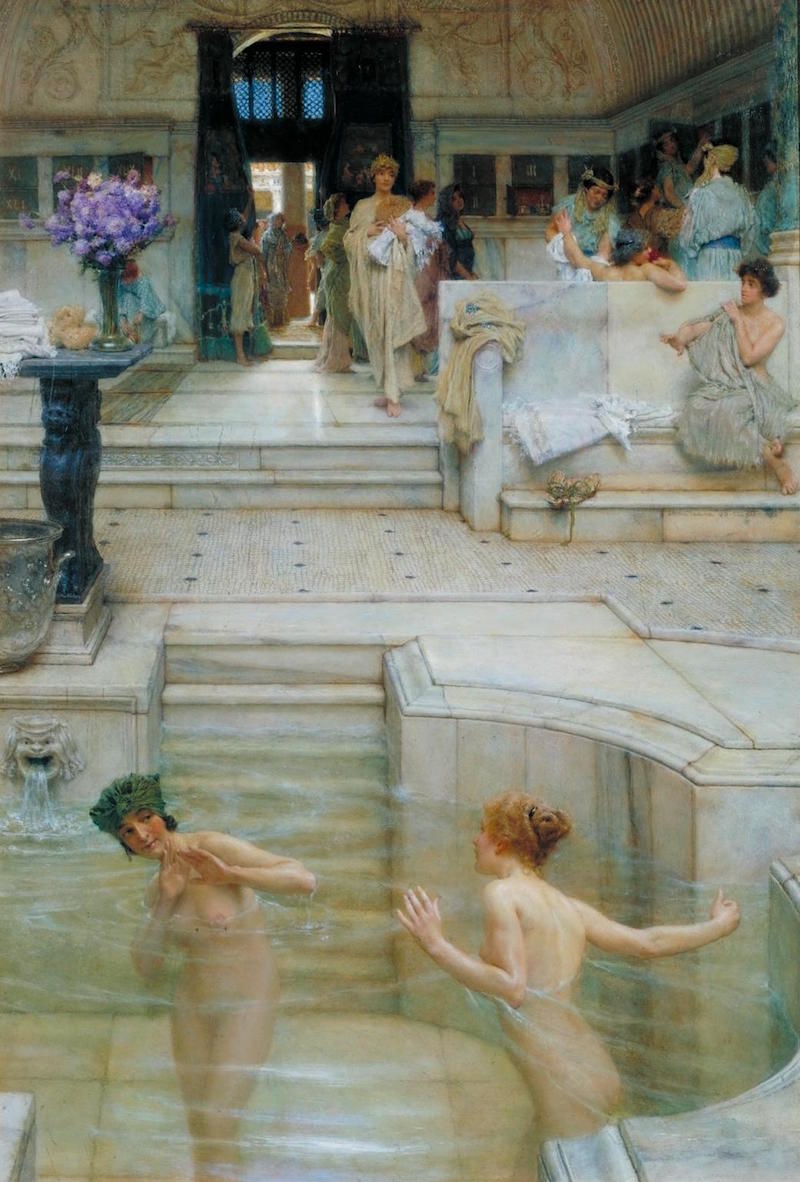 Alma-Tadema_A_Favourite_Custom_1909_Tate_Britain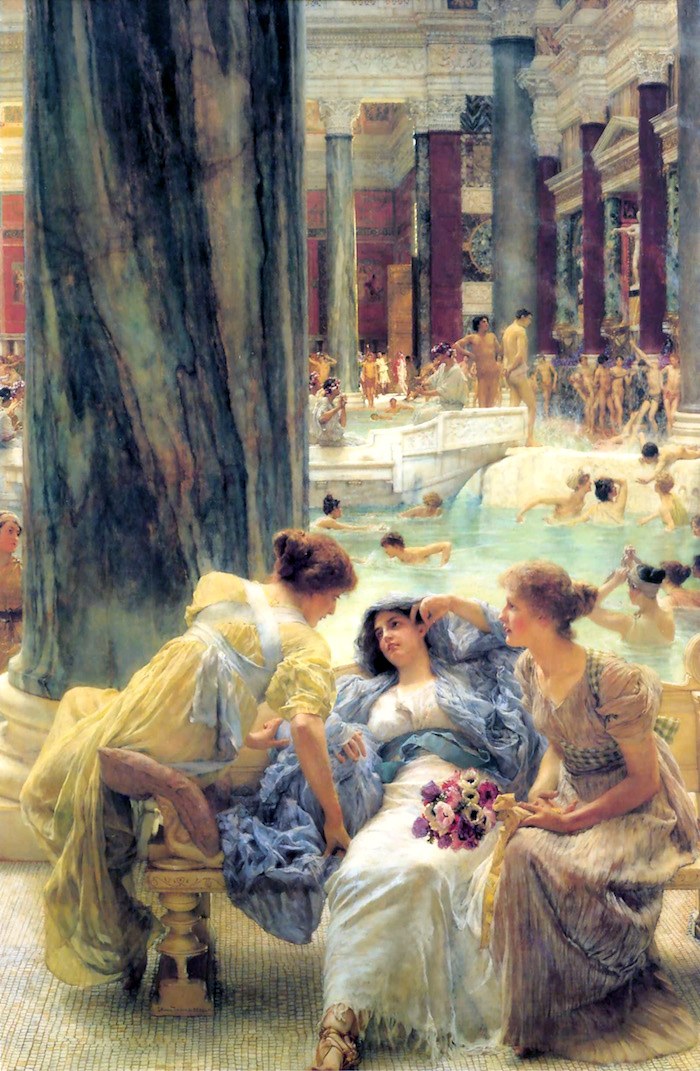 Just hangin' at the Thermae at Caracalla
As already stated, in addition to the thermae, the Greeks and Romans understood that part of the wellness plan included massage, a healthy diet, exercise rest and music.
Mowbray: Harem Scene 1884–1900
Obviously, these paintings were painted long after the ancient baths of the Greeks and Romans. But I love the feeling of rejuvenation they invoke as well as the colors. I am not sure if they are depictions of what the artist imagined or if they are contemporary to the time of their creation.
And since I'm not writing a doctoral thesis here, lol, I'm content to leave it at that. But, I imagine that someone out there knows the answer to that.
Joaquín_Sorolla_y_Bastida_-_The_Pink_Robe._After_the_Bath
Beautiful colors. Notice how the bits of black give depth to the largely pastel colors. It's just like a room. :]
Interestingly, the thermae were far more than spas. Attached to the public baths were sports arenas, areas for shopping, eating and socializing. The bathhouse was an integral part of day-to-day living.
In fact, there is an allegory that when a foreign visitor asked a Roman Emperor why he took a bath once a day, he answered, "Because I don't have time to take a bath twice a day."
Where were these bath houses located?
Pretty much all over Europe because the Romans occupied everything. But one thing that made it easier to create one was a natural thermal hot spring and they are pretty abundant. However, the Greeks and Romans were quite resourceful in using wood burning stoves and rocks to heat the water.
And the Romans made the price of admission pretty much affordable for all. Alas, after a time, the maintenance, shall we say was purported to be not up to snuff.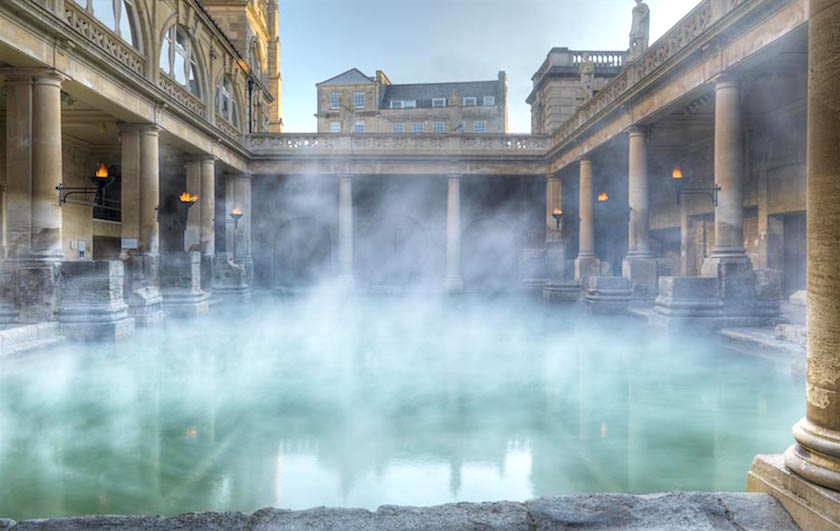 One of the most famous of these ancient baths still stands and that is the Roman bath in BATH, UK. Although it still stands as a tourist attraction and the water is changed frequently, it is no longer safe to swim in. The bottom structure is original, but everything above the columns is not.
And of course, there were Turkish baths too.
Are there still communal thermal baths?
You bet your sweet bippy, there are!
Find Us Lost
One country that is quite famous for their baths is Hungary. Did you know that? Well, I did not, and my paternal grandfather was Hungarian! He taught me a couple of Hungarian nursery rhymes,
Boci, boci tarka,
Se füle, se farka,
Oda megyünk lakni,
Ahol tejet kapni.
However, he failed to mention anything about the rejuvenating hot springs. (that I can recall) This is a great guide to Hungarian thermal baths.
Interestingly, it must've been in our blood, because a favorite family vacation growing up, was to visit French Lick, IN where there sits a grand hotel that sprung up because of the healing hot springs located there.
Mind you, we never went into the hot springs because they stunk to high heaven, (of sulfur) but it was always so much fun going there!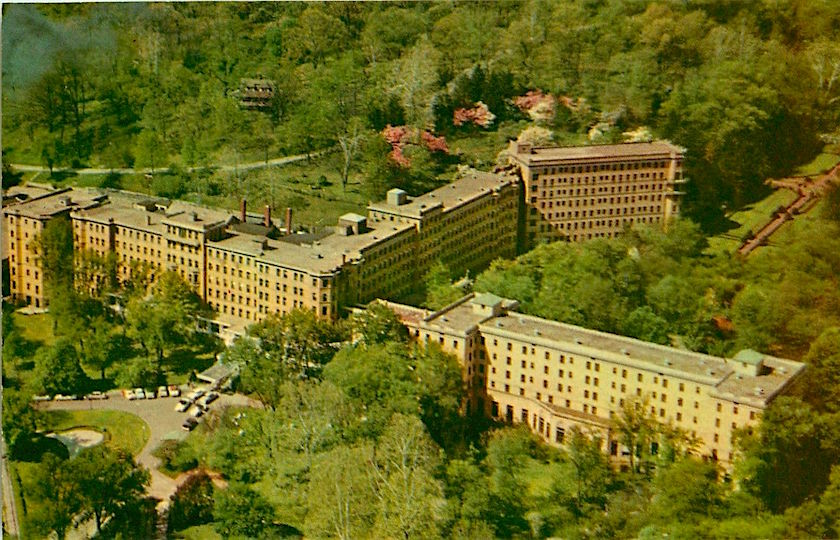 The grand old hotel from a postcard in the 1950s
Let's look a little more closely at Steam Therapy.
Of course, we can get it by visiting a thermal pool or many health clubs and spas. But, what if we want to have steam on a daily basis and we want it one hour before bedtime? (a great time to have a hot steam bath)
Well, the logical answer is that we would need to have it at home.
And this brings me to one of the fabulous sponsors of the Modenus Designhounds KBIS Blogtour that took place last month in Orlando, FL:
They were our last stop on the tour and in true Roman fashion, we were royally fed in a lovely restaurant and given a charming presentation of the numerous benefits of having one of their residential steam systems in our homes.
As numerous cultures have known for thousands of years, steam has amazing healing properties.
In fact, water in any form is beneficial, but steam, in particular, does all of this:
moisturizes and rejuvenates the skin
aids in circulation and removal of toxins
soothes sore, tight muscles
helps those with a host of ailments including sinus, bronchial, (remember the doctor telling you to throw your sick kids into a steamy shower?), arthritis
Promotes better and more restful sleep. Okay, I don't know about you, but I'm already sold. But there's more!
Promotes a sense of relaxation and well-being
relieves stress
And to further augment the powerful benefits of steam, Mr. Steam systems can come with aromatherapy kits as well as something called chromotherapy which I needed to look up. Chromotherapy uses different colors of lights and it's quite an interesting science.
The final cool thing is that the systems come equipped with soothing music for a total rejuvenating, healing home spa experience.
Now, if they can find a way for us to get a great massage, I'd probably never leave my home!
In case you are wondering, the basic units are not terribly expensive. These spa showers are good for resale value as well.
And yes, you can install a Mr. Steam system in a bathroom already in existence.
Having lunch with the Mr. Steam folks was a fabulous way to end our blog tour.
But I realized that the Greeks and Romans did leave out one crucial component for good health.
At the end of our delicious lunch with the Mr. Steam folks, I had a hankering for a little something sweet.
And there it was… on the menu– a crucial component of a healthy diet! Thank God!
yummy banana cream pie at Emeril's in Orlando
Sorry, I took a bite and then realized that I better take a pic of this amazing thing. My only regret was that I didn't take what I couldn't eat (which was most of it) in one sitting, home with me. That was the best BCP I've ever had, but very rich!
If you're looking to see some of Mr Steam's items, I put together a widget for you. (below) You can purchase their entire line on build.com Of course, you will need a professional installation. You can get more information on the Mr. Steam Website.
And OH! If you'd like to try one out, they have a way cool app on their site that tells you where you can go locally to do that.
I took a screenshot of all of the places I can try out a Mr. Steam system in my area. Most are less than a 30 minute drive from me.
And below is a grouping of a very small sampling of their product offerings. Their steam systems are available for both residential and commercial use. For more info, please click on the individual images.

Does anyone have a steam shower? Or if you have any questions, I will try to answer them.
please pin me to your Pinterest boards
Happy February all!
It's my birthday on Wednesday (and that is not a request for anything at all!) and on Thursday, I'm actually going on a little warm-weather vacay with some design friends. The last time I went somewhere warm in the winter that wasn't business was in 2002. Not kidding.
I'll still be around, this week, but not quite as much.
xo,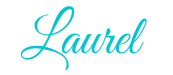 PS: Please check out the Hot Sales Pages. Everything is up-to-date and there are lots of new things to see.