A real Dear Laurel letter about mixing Modern and Traditional Furniture
Dear Laurel,
I hope you can offer some analysis of how and why some designers/artists mix elements from different periods so successfully and how we can do so in our own homes.
By modern, I specifically have in mind contemporary furniture from B&B Italia, which I love, or even some of this year's West Elm pieces, but mixing any furniture from the "modern period" you mention below with traditionally styled furniture would be helpful as no doubt the tips about proportion, shape, or color would be similar.
For traditional, I am thinking of chairs and tables with turned legs, Lawson and  English roll arm sofas, French bergeres and settees, Gustavian antiques or reproductions  and even a few Victorian "brown" pieces, all of which are very pretty too.
I think this sort of furnishings mix is probably what a lot of us end up with, over time. I am moving into a small federal period historic townhouse, and I not only appreciate the clean design of good contemporary furniture, but the proportions are better than many of the giant "traditional" pieces that I know you have discussed. Hence, my suggestion to my favorite design blogger!
Christine
Christine had written me earlier and I asked her to be more specific about what she meant by "modern" and "traditional."
And that is because I lot of folks mistakenly refer to contemporary as modern. They are two different things. Modern refers to a period of time– usually in the 1940s +/-. There is the "modern period" which encompasses bauhaus…
Oh damn it! Wake up! Never mind. I'm tired too and this is helluva boring. But you know the rest, mid-century modern, Mies van der Rohe modern, Danish Modern, Italian modern, shrimp modern…
… shrimp cocktail, shrimp-kabobs, shrimp creole, shrimp gumbo, pineapple shrimp, lemon shrimp, coconut shrimp…
But the mixing of styles is a VAST subject. I mean, we're talking ten volumes of coffee table books.
However, I'm going to make a little cheat sheet of some classic modern and traditional furniture pieces that are Universal donors. (no fair looking ahead) :]
Contemporary is largely the bloated stuff they make today.
Okay, not all of it is. But too much is.
And transitional is a meaningless term, IMO. It's really contemporary. Or, if it's well-done, classic contemporary.
If it's not traditional or modern and it's made today, it's contemporary.  If a piece of furniture is not made in the time period that it looks like it is, then we call it "whateveritis-style" ie: Chippendale-style  because Thomas Chippendale furniture was produced well over 200 years ago.
But very few do that and I'm not going to split hairs as I've been just as guilty for calling something contemporary, "modern."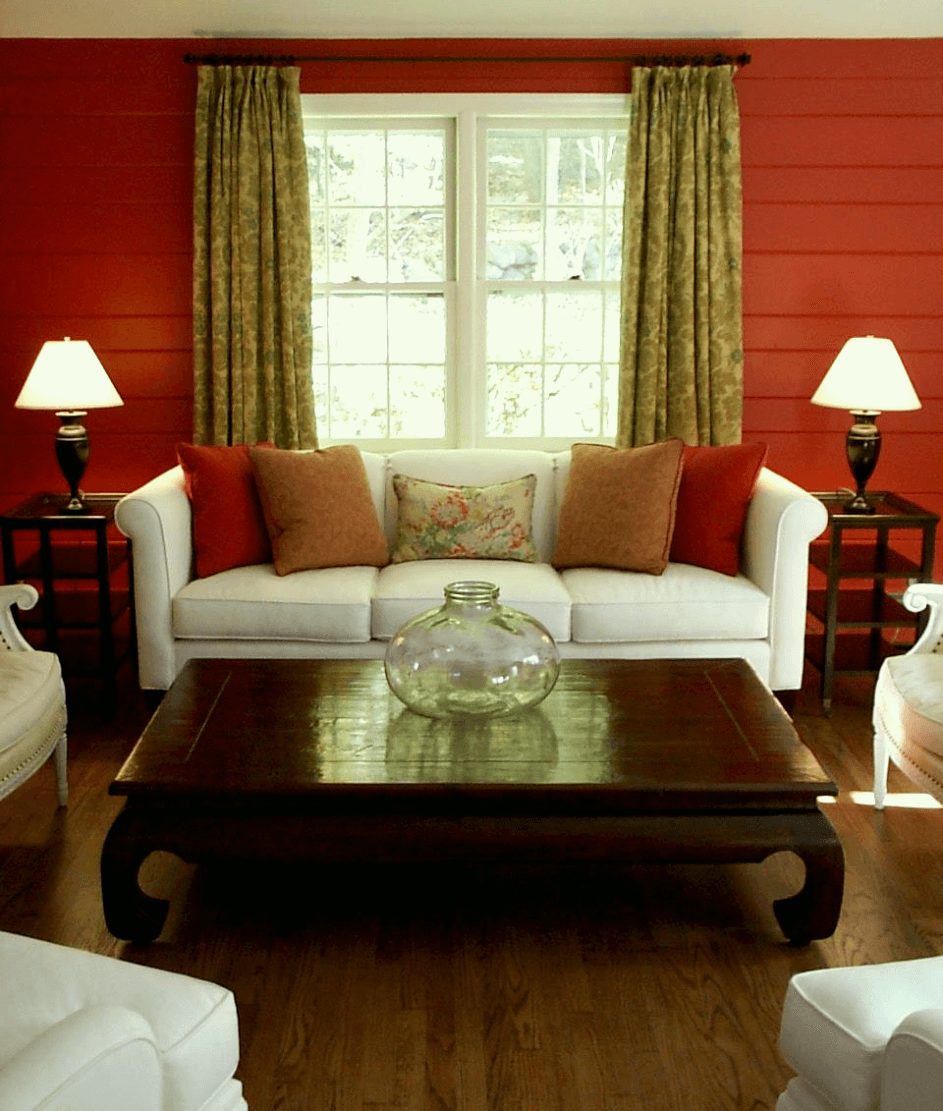 A room we did in 2005
As for traditional. Over the years I've shown clients this classic contemporary sofa (above); some see modern and some see traditional. It's from TCS Designs,(no website) but they discontinued this frame a while back.
A lot of what makes a room feel more traditional or more modern is how the furniture is treated.
For instance this room from the One King's Lane Studio, with its English Roll Arm sofas and wing chairs has traditional furnishings (save the contemporary coffee table)
But because of the simple monochromatic color scheme and minimal decor, the over-all effect is contemporary in feel. Added to that is just the right of contemporary and modern accent pieces.
First rule of thumb when mixing modern and traditional furniture
No matter what, you can always do a modern-style coffee/cocktail table. Always. Always. Always.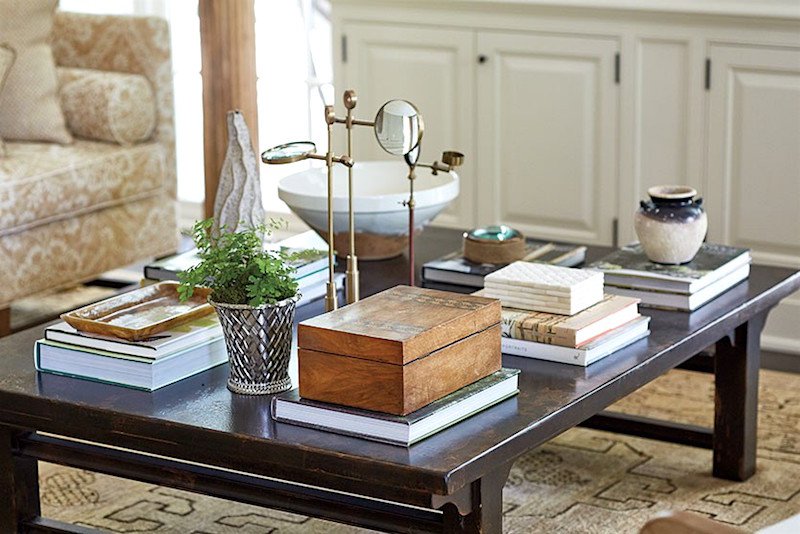 Like this beauty done by Mark D. Sikes
Can we do it the other way around?
Usually not.
For instance, here we have a classic Italian-style-modern sectional ala B&B Italia.
Only this is the Andes sectional from West Elm for about 1/8th price. I'm not exaggerating.
It's is not going to look good with this lovely Chippendale style table found at Chairish
But, the coffee table would look great with this beautiful contemporary Sutton sofa
What's the difference?
The first sofa is more stylized and to my eye doesn't work as well with a traditional style. The second one does have some more traditional elements with the tapered wood legs and classic shape.
But that doesn't mean that you can't have traditional elements with the West Elm sofa.
But this modern Oscarine lucite and brass coffee table from Anthropologie is a wonderful universal donor. You could mix this with anything.
In addition to coffee tables are there other Universal elements for mixing modern and traditional furniture?
Yes, indeed!
I think it's good to know the elements that can work in any decor, be it modern or traditional.
Here they are:
Ornate architecure
Modern architecture
Abstract art
Traditional art can go in modern rooms, but more sparingly
Modern Side/End tables
Oriental Rugs
Natural rugs
Chinoiserie
Ornate Mirrors
Modern lighting
But traditional lighting can also be cool in a modern room.
But here's the most important rule to know when mixing modern and traditional furniture.
There are no hard and fast rules.
There is an art to it and when one starts putting formulas together, I think is when we get into trouble.
And then the other consideration is if the room is formal or casual. See, there are thousands of possibilities.
A rustic coffee table with turned legs and peeling paint is going to look silly with Italian modern furniture.
Remember when I said there are no rules? Well, I lied. This one below is pretty solid.
Architecture Aside. The room is either going to be predominantly modern or predominantly traditional– with only accents of the other style.
This is one instance where being equitable is most likely going to result in a sucktastic room.
So, how does that work?
Well, first, we need to look at the architecture of the room. Say we are fortunate to have a 19th-century brownstone with 14-foot ceilings and 10-foot high windows. sigh…
Quite frankly, you can go to your local Salvation Army, load up a U-haul, throw it all in, and it'll be on the cover of next March's Elle Decor.
Right?
If you have a 1960s ranch home, the same home will probably look pretty tacky unless your Salvation Army is in the middle of Greenwich, Connecticut, or someplace like that.
Leaving the architecture of the room off the table, let's discuss what making the room predominantly one way or the other would look.
Going back to the brownstone. It is decided that we are going mostly modern. If I were a consumer and didn't have $150,000 to drop, I would head over to Anthropologie, West Elm, and Jonathan Adler. If you don't have one near you, you can shop online following the links.
And actually, Anthro might end up being one-stop shopping. And that is because they have already curated their collection with an eclectic combo of modern, contemporary and traditional styles. And they've thrown in some exotic elements too.
Yes, it's true. They started out well over a decade ago with a tiny collection of decidedly BoHo furnishings. And yes, you can still definitely get the Boho look.
If you don't know what Boho means it's short for Bohemian.
But Bohemian with a hefty trust fund and a Maserati parked out front. Ya know?
However, that was then and now, they have toned it down a nicely priced and HUGE line of eclectic furnishings.
You want neutral? They have it. You want color? Oh man, they are the boss of color!
And some very pretty, classic pieces.
>
You can furnish the entire place with Anthro. And as a reminder above with the Timorous Beastieswallpaper, they have a fabulous collection of wallpapers and wall murals.
West Elm has broadened their line to a really lovely and well-designed mid-century modern collection. It is pricier than previous collections, but it is still relatively affordable compared to the likes of the aforementioned B&B Italia.
Last is Jonathan Adler.
I have also loved this line, but I debated including it in the list. And that is because they took away one of my favorite coffee tables and didn't replace it with anything nearly as cool.
True, the faux alligator is a bit much sometimes, but the lines and scale of this piece are perfect.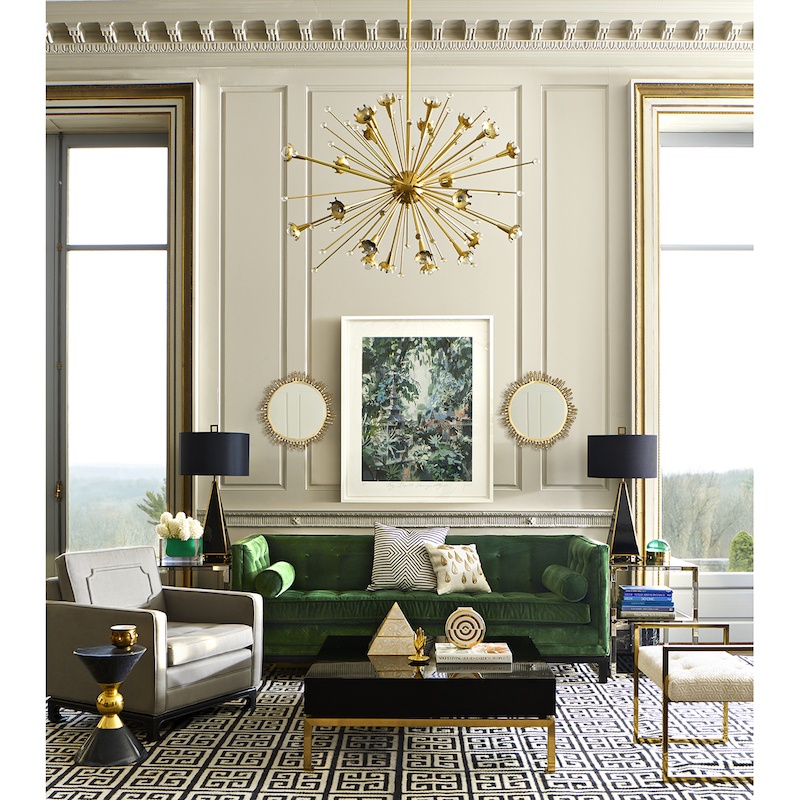 However, they do have this way cool cocktail table, which fulfills a necessary requirement of having some black in a room. For some rooms, it might be too much black, however. It also comes in white, orange, peacock blue, and navy.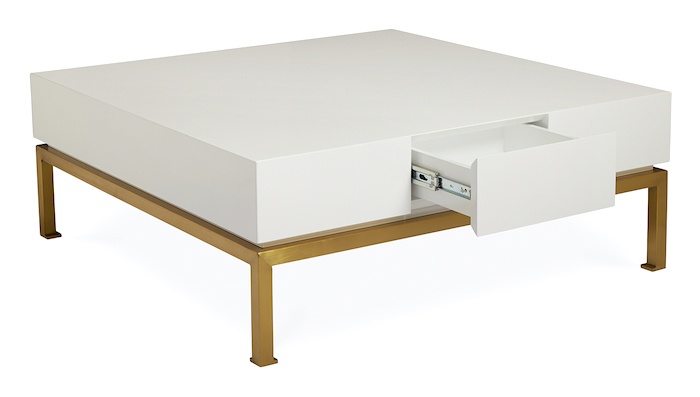 Peking Cocktail Table
Very versatile and there's some storage in it too.
Many of us want rooms that are both fresh and timeless. Now, that might seem like an oxymoron. But as I see it, a timeless room by definition, is always fresh. And I think that a room can be timeless whether it is mostly traditional or mostly modern.
I think that the most successful rooms usually have some elements of both.
Here are some beautiful rooms that I think got the mix of modern and traditional furniture just right.
Above and below by Nate Berkus
One King's Lane – mixing modern and traditional
Cool mix of modern and traditional furniture and accents.
Studio McGee – always a great blend!
and I adore their shop!
Mark D. Sikes – Love everything he touches.
Great modern Charlton Floor Lamp from Visual Comfort amongst beautiful traditional furnishings.
And below is the promised gathering of universal furnishings– and some iconic classics. I found as I did this exercise, that it's mostly modern and contemporary furnishings which are universal.
While a crystal chandelier can look fabulous in a modern setting, it takes time to find just the right one sometimes. But I did add in a baroque mirror. I love to have a bit of fancy in a modern/contemporary room.
I think it's important to have at least one unexpected thing.
Phew! That was a lot and I could've written about 50 more posts like this. I know that I didn't even come close to covering everything, but hopefully, y'all gleaned some new information. I certainly did. And that comes from really thinking about how things are done; I think it's mostly something that I've done instinctively.
Below is a graphic to pin for reference if you like.
xo,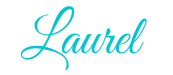 PS: If you're looking for Father's Day Gift Ideas please check out the curated collection I put together. Since there are so many sales on this weekend, this is an excellent time to get gifts, if you enjoy shopping online.