It still doesn't seem quite real. But a week ago, I was sitting on a stage at the annual Kitchen and Bath Industry Show (KBIS) with NATE BERKUS!
And every time I see a photo of myself standing or sitting with the rest of the panel… I think. "Who is that bitch wearing my dress!" ;]
That's how surreal the whole thing is.
And it's not like I've never been on a stage before. Some of you may know that I have a pretty extensive background in theatre and dance.
See? Nothing goes to waste.
But still… most of that was a long time ago and in between were more than two decades of heavy-duty child-rearing and clients.
But, it really did happen and here's the proof.
Awww… can I take him home with me. Pleeeeeeease???
As you can see… I was a happy gurl.
And NO, I did NOT SNIFF HIM. Somebody said that in a comment and sorry, but that's a little gross. He's a married man and I do not go around sniffing married men!
And believe me when I tell you that his husband is far, far prettier than I. haha.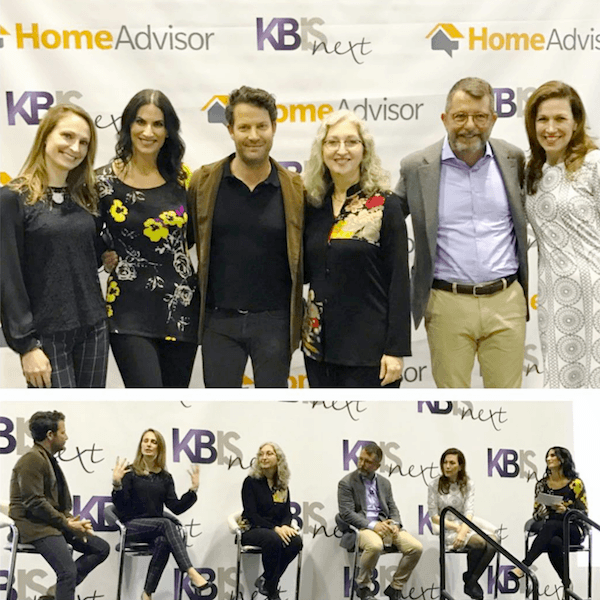 Here's the entire panel – top photo. Andrea Magno from Benjamin Moore, Alena Capra, designer and the wonderful moderator, NB, Amy Wax a fabulous color specialist also from New York, Daniel Germani, a designer from Phoenix and somebody wearing my dress!
Where were we? Oh yes… I forgot for a moment why we are here.
(and I don't mean that in an existential way) ;]
The topic of the panel was a talk about color trends in general but also specifically about kitchens and baths.
Here's what Nate Berkus had to say about design trends of all sorts.
Get your tweeter ready: it's a doozy.
"Trends exist to make people feel badly about what they don't have." ~ Nate Berkus
Like, holy crap yeah!
I guess that's why we love him so. Not only is he really, really cute, he's witty, charming and smart.
and talented.
Oh, and he remembered my name.
I have to work on that one.
I do understand that there's a video coming out of the color chats and when it does, I am definitely going to put up a big banner ad in my sidebar with the link.
And from a design stand-point, I found myself agreeing with everything he said, except for the part about listening to your house painter for color advice.
WHAT???
You are not to listen to your painter for color advice, unless he's the one in a hundred who is capable of doing that. And perhaps Nate's painter is that dude. Your painter, most likely will not be.
Oh, and there was one other thing.
Nate wasn't really there to talk about color. That's just an incidental.
You know that and I know that. Nate was there to plug his new products at LG appliances.
And ummmmmmmm… The finish.
uh oh…
Nate confessed that he realized that people were a bit doubting of it. Images come up of the horrid BLACK and soon-to-be-dated appliances of about 15 years ago +/-.
I admitted on the panel that I was one of the doubters, but I was going to come over to LG and take a look.
Nate is also a fantastic salesman. He described the color as not at all black, but this bronzey rich color.
"It's a classic," he said.
But, I'm thinking, if it's a bronze-y tone, it probably would look good with earth-colored cabinetry, but not so great with white.
After lunch, I sauntered over to the next building where LG lives to see the black, but not really black stainless.
And I kid you not.
20 seconds after I arrived, Nate walked in to give a presentation.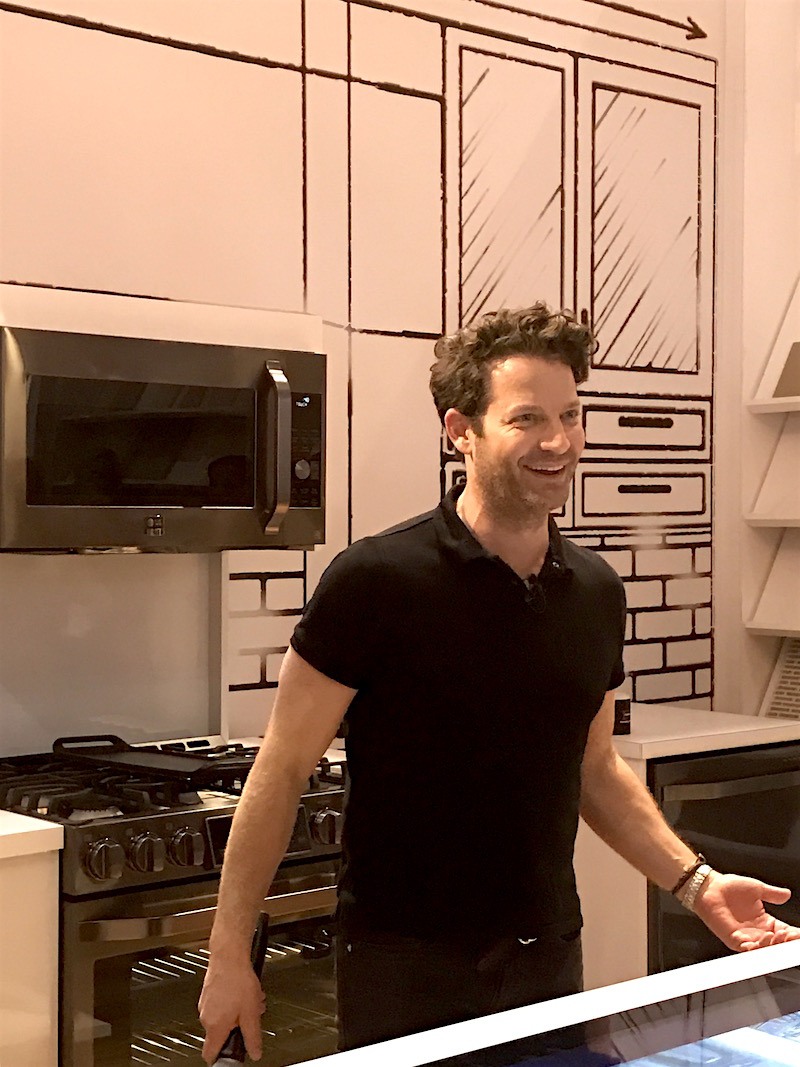 Now that we're fast friends, ;] he gave me a friendly "hi" and then a little brotherly smooch on the cheek.
I'm thinking, wow, I couldn't have planned this better.
And just to his right I got immediately distracted by the "black stainless" fridge.
He's right; it really isn't black.
The design itself is very nice. You knock on the window and it lights up in case you're too lazy to open the door. But it's cool. The kids will like that and maybe they won't stand there with the door open for an hour.
But lets talk about the finish. Okay?
LG STUDIO NATE BERKUS BLACK STAINLESS BUT NOT REALLY REFRIGERATOR
Here are the glossy-not glossy, black-not black website shots of the fridge.
Looks matte, doesn't it?
It's not matte. In fact, it's not really stainless either.
My pics aren't airbrushed. This one, apparently is.
So, if one is expecting this, they are probably going to be disappointed.

The finish actually looks and feels like shiny plastic.
But something else and forgive my nit-picking, but doesn't it clash with the tile? Well, I think so.
The dishwasher, however, seems to be a different material and is closer in color to the tile and less shiny, but I would still like it to be as matte as the handles. Then, it would be kinda cool.
But I do not think this is a classic; even if it was matte.
Sorry Nate. You're adorable and very talented and I still love you but, please forgive me, I'm not a fan of the black-not really black stainless.
Here's my solution. Clad the fridge in cabinetry. The rest is fine but I wouldn't classify it as classic.
But here's the thing. I'm not even sure how much control Nate had over this; probably less than we'd like to think.
So, from an aesthetic standpoint, I give the LG appliances a C+. They can do better. Maybe next year?
Functionality, I have no idea. Anything would be better than the cheap crap I have in my kitchen.
And no, you cannot see it! It's shamefully awful.
But… getting off this train, on another wall lived several cabinet door samples. I asked a salesman if he knew the colors?
No m'am that's the studio department.
Fine. I'll fend for myself.
I turned one of the samples over and pay dirt!
There on the back of each of them is the name of the Benjamin Moore color they are!
And yeah… Like any self-respecting Design Hound, I took pics of the names which I'll get to in a sec.
And they are great colors. In fact some of them are in the Laurel Home Paint Color/Palette Collection!
More samples of finishes. Me like these – a lot!
These ARE classics. Soapstone, Carrera or Statuary marble and a neutral earthy quartz solid surface.
Nate's old kitchen via Domaine
So a little presie for you guys.
I made a graphic with all of the Nate colors of the cabinets there and then added in a Navy because he likes Navy as seen in his old kitchen above. He's doing a new kitchen now.
The colors are: from left to right, top to bottom
FIELDSTONE 1558
WHITE DOVE OC-17
STONINGTON GRAY OC- HC-170
POWELL BUFF HC
HALE NAVY HC-154
BENNINGTON GRAY HC-82
CINDER AF 705
ONYX 2133-10
ALEXANDRIA BEIGE HC-77
I think that this is a very handsome, earthy color scheme and what's cool is that they all work together.
While we're talking kitchens and counters,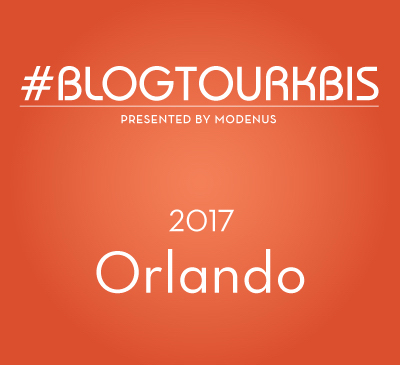 the design hounds stopped at WilsonArt that have a vast
collection of the coolest laminates and solid surface counter-tops.
Their target audience are millenials who want the look, but don't have the cash for natural stone. Or people like me, who don't have the cash for natural stone.
But look at this beauty. Yes, it's laminate
They have hundreds of options.
And check out this laundry room, complete with doggie bath. How cute is that?! And YES! The walls are laminate, not wood! The doggie bath is a solid surface materia. I could see this working in a more rustic contemporary home.
And get this. Coming out in 2018 is this material which is a laminate that is installed in a shower. That's right. It's meant to handle copious amounts of water. I'm excited to learn more about that!
But there's lots of info on their website.
To finish off, I have to show you the raspberry Aga. And yeah, I had to tackle and hog-tie several people to get an image sans the crowds, but isn't it a beauty?
Oh, I have some other news.
On January 26th at the New York Armory is a "young collectors" night for the Winter antiques Show and I'm on the committee.
Now, you can be 105 and still be a young collector. Young means a neophyte collector. If so, then I'm a fetus. haha. But if you can make it that would be a lot of fun!
Well, that's all for now.
See ya on Sunday!
xo,