Common' Laurel. Is that a trick question? EVERYONE knows that rooms with light walls appear to be larger.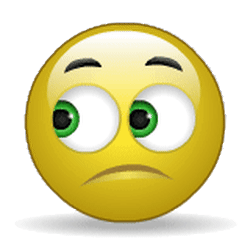 Please be careful, sweetie, because your eyes might roll out of your head if you keep doing that. ;]
Okay. I realize that the prevailing belief is that rooms with white or light walls look larger. However, that is actually false. Yes, pale walls will make your room feel lighter and airier, but not larger.
Oh, stop looking at me like I just told you that Little Bo Beep went vegan a decade ago. However, I don't fault you for thinking that light walls look larger. I've read this, as well, countless times.
"if you want to make your room appear larger, paint it white or a pale color."
It's yet another of those interior design myths that have proliferated into our mainstream thinking, like two hyperactive gerbils locked in a cage together for a month.
Here ya go. Here's what I'm up against. Some magazine or blog will write an article or a post.
How To Make A Room Appear Larger.
That's a great headline. Very compelling; everyone wants a small room to appear larger.
Here are some quotes from some articles I found.
"White Rooms Always Look The Largest. " ~ Forbes.
"Maximize your space by using light colors, specifically on the wall." ~ Apartment Therapy
"For the illusion of a larger room, use a color scheme that's light… " ~ Lowes.
Here's a good one. This article about what colors make a room look larger has four light walls and two very dark colors.
Which is it?
I don't see how it can be both. However, other elements might affect how large or small a room appears.
1. The amount and size of the furniture
2. The light coming into the room.
3. Reflective surfaces
4. Room layout
5. Ceiling height
6. Floor and ceiling colors
What's wrong? Why the puzzled look?
Well, Laurel, you haven't convinced me that a light, bright wall color will make a room look smaller.
Okay, sure. I understand. It takes time to turn the ship around.
Let's try something else. If you want your legs to look thinner, do you wear white or dark pants?
Well, dark pants, because my legs will look smaller and thinner. Therefore, dark colors will make a room look smaller. Right?
Sorry, no. The dark color makes whatever it's on recede.
How does that translate to walls?
It's the same principle.
Dark colors recede.
Light colors advance.
Therefore, a light wall reflecting more light appears to come towards us, making the room appear to be smaller.
What about white ceilings? Are you saying that painting them white will make them appear lower?
Yes, that is true.
This is a matter of physics, not an opinion, not a debate, but pure science. Here is the proof.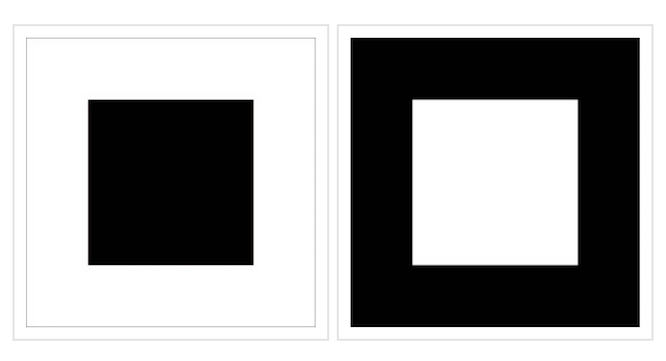 All corresponding squares are identical in size, whether black or white.
The black recedes and the white projects. The white square also looks larger.
Again, it's not larger. The two squares are the same size.
Okay, Laurel, so that means that because the white square looks larger, it means the room will look larger? Right?
Sorry, no. I get your thinking; however, it's the same line of thinking you had with the black pants.
Four walls and a ceiling painted white will look bigger and closer than they are. Therefore the room will appear to be smaller.
But, here's the thing. For the most part, I think that large open spaces look best painted a light wall color or white. However, I love small, intimate, dark spaces. They feel cozy and bring depth to the overall scheme of a home.
Let's look at some more handsome rooms painted a deep, rich color.
Lonny
Notice how the walls appear to go deep into space.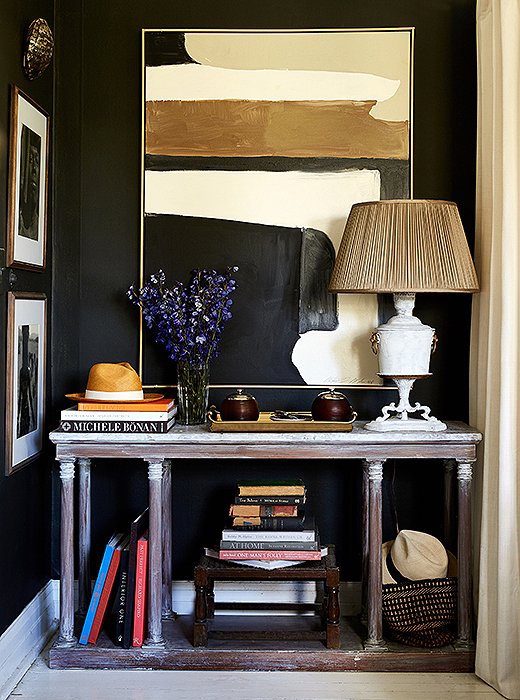 William McLure
I've always adored his decorating style, and this bedroom he carved out of a loft space. Please follow see more of William's gorgeous rooms and art here.
Also please follow William McLure on Instagram.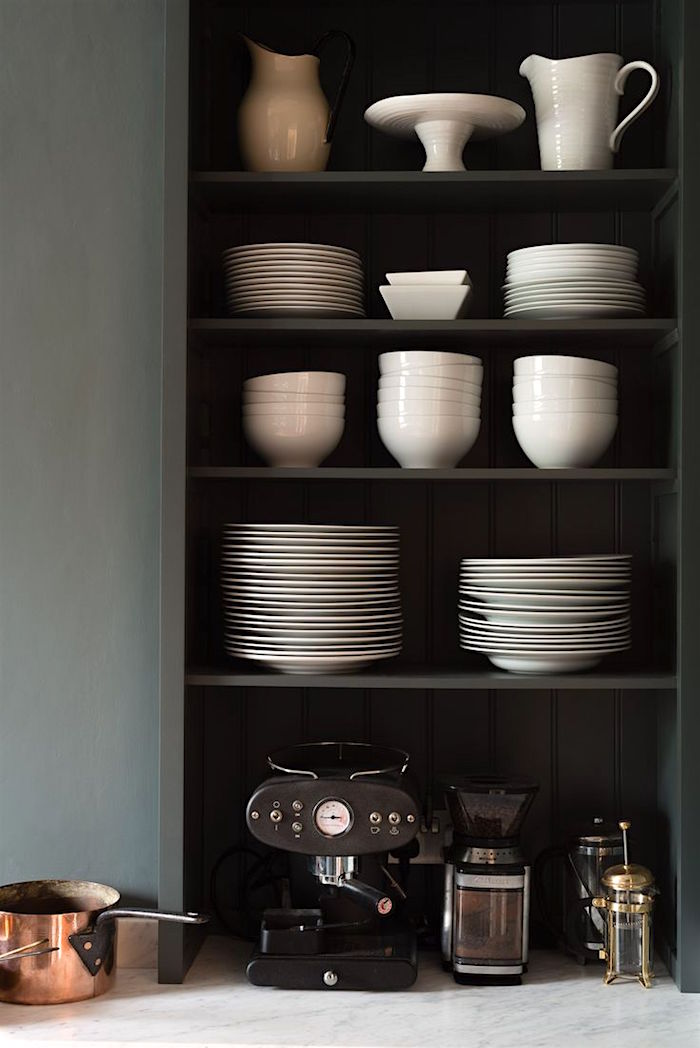 Painting the cabinets a deep charcoal gray makes for a beautiful backdrop for the white pottery in one of my favorite DeVOL kitchens.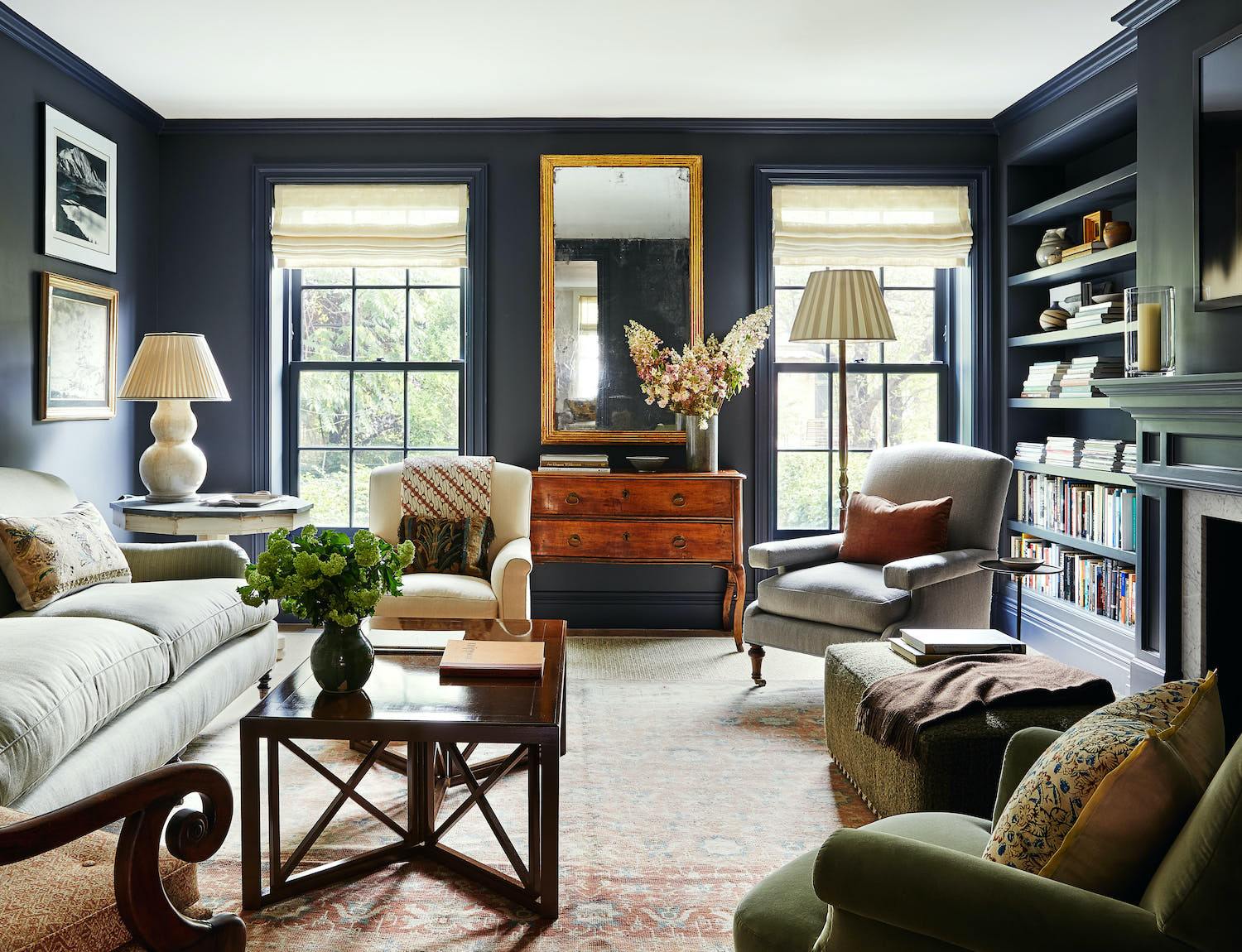 Please check out this post about two dynamite mother-daughter interior design teams.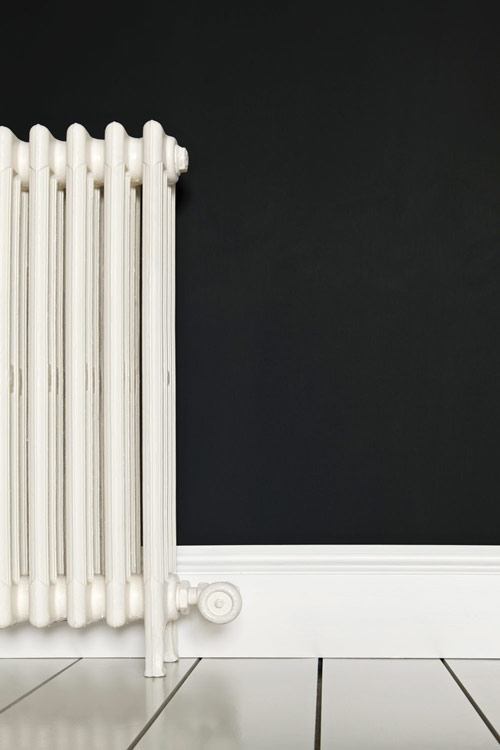 Notice the white "popping" forward against the receding wall.
By the way, I do like this radiator.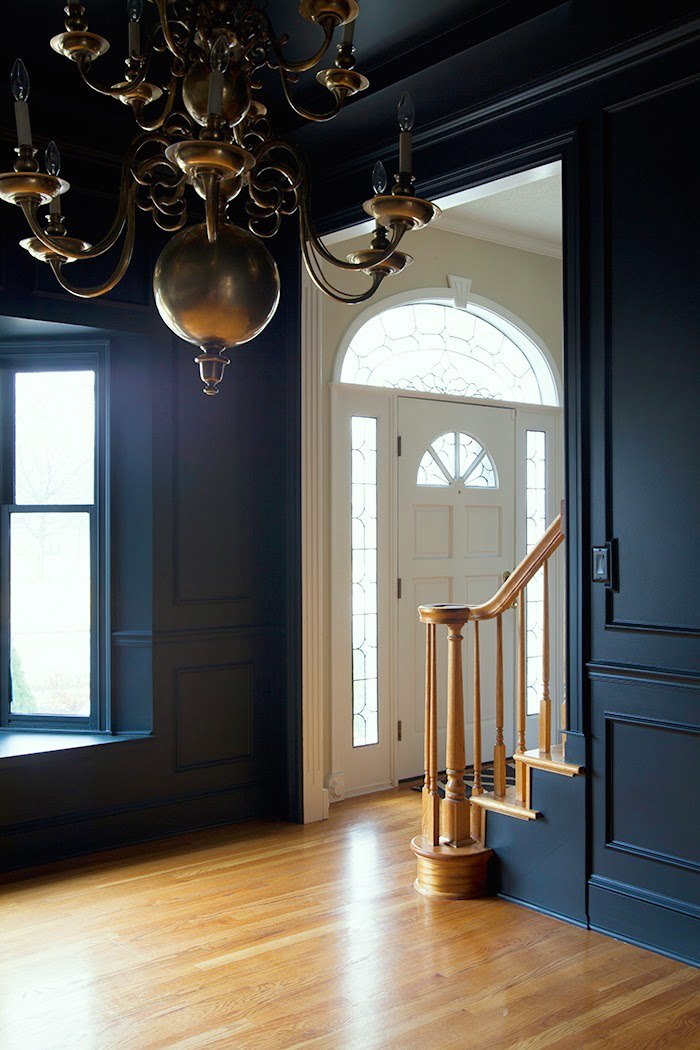 The Makerista
Excellent blog post (if you click on the link) explaining her process and how she hung the cool chandelier. Notice how fabulous colors and the warm metal looks juxtaposed against the cool dark blue. Notice how she took the black all the way up and onto the ceiling. Love.
Farrow and Ball Stiffkey Blue
A sea of infinite inky blue. I love how the color draws you into its depths, like looking into a deep dark ocean.
Using darker walls for smaller rooms and areas is a great way to create variety and interest in your home.
Architecture – Bill Ingram – Mallory Mathison
A rich, medium blue has a darker blue ceiling. I love this accent in this design.
A deep wall color with a cult-like following Is Farrow and Ball Down Pipe.

It is a charcoal gray with slightly blue-green undertones. I've never used it, but many consider it the most fabulous color ever! For more terrific Farrow & Ball colors and rooms, please go here.
(Did you know you can get all of the gorgeous Farrow and Ball paints and wallpapers online, now?)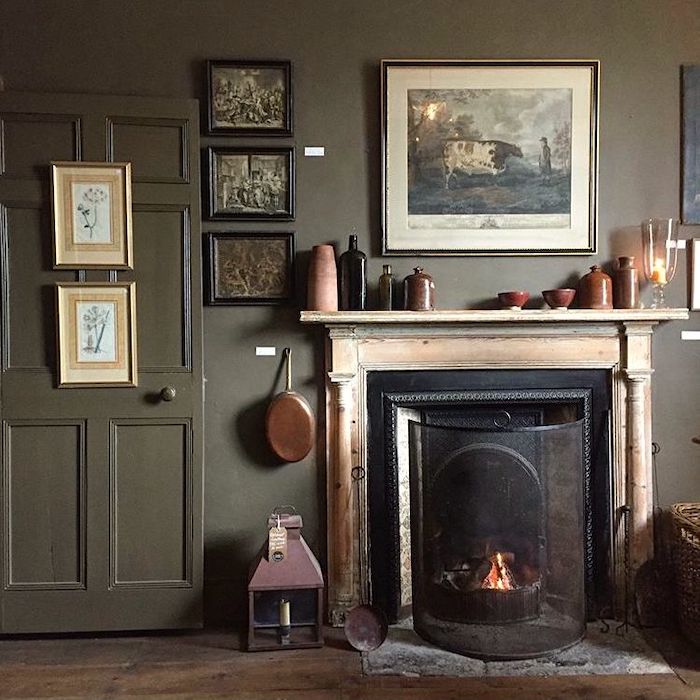 Oh, I see they've brought back Pantalon in a new collection.
I love small areas like the 3′ x 3′ vestibule connecting the den, bathroom, and linen closet, and I'm planning on painting this area a deep color.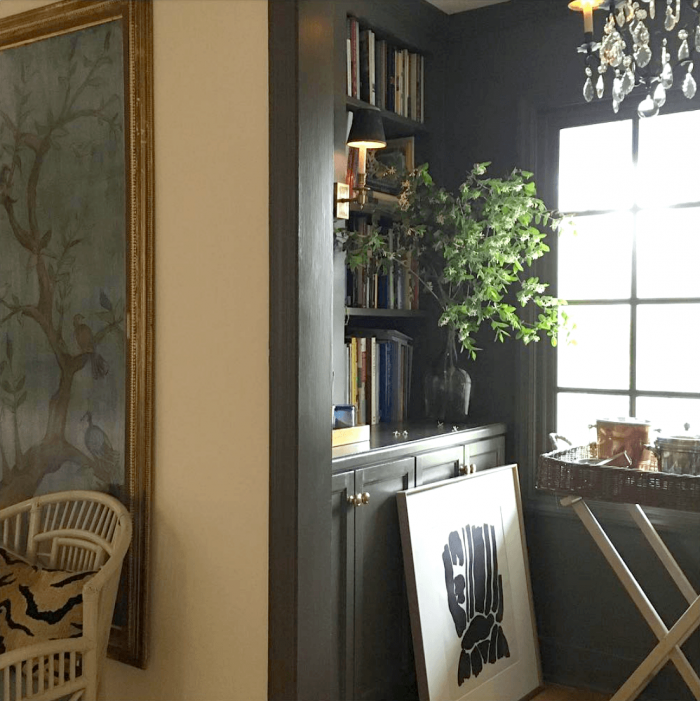 I've always adored Maura Endres' home. And one of my favorite parts is this incredibly charming, tiny library off of her living room. Please follow Maura's fantastic Instagram account if you're not already.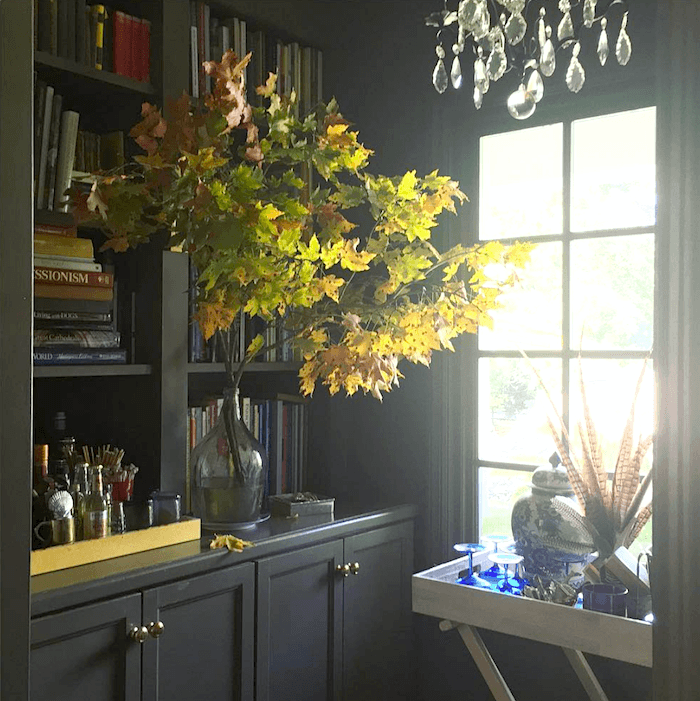 Benjamin Moore Knoxville Gray hc-160 is a terrific accent in this mudroom.
Well, I hope I've won you over to the dark side. ;]
If so, will you gently correct folks who insist that light rooms look larger? They don't. They might look lighter and airier, but not larger. This is why LARGE rooms (with a lot of light) look wonderful painted in a light color.
Of course, it's absolutely fine to prefer light and, or bright colors. However, if your room is a low-light room, no amount of white will make it light and bright. I find that low-light rooms often look best in deeper colors, provided they are small to medium rooms. Please always remember to test your paint colors.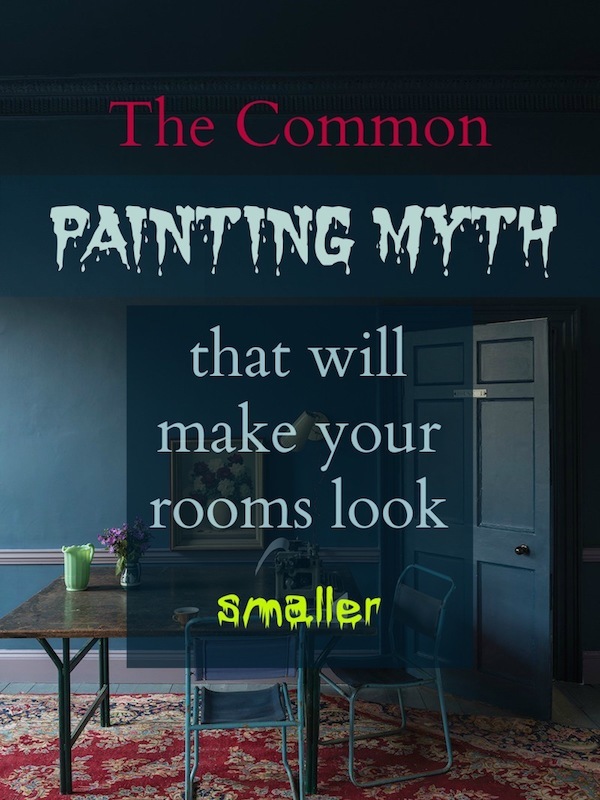 If you want to make your room appear larger, paint it a pale color. no, no, no!"
Here are some other tips when using dark colors in your rooms to make the most of them.
Dark colors love:
white
brighter colors
mirrors and metal, especially gold
Black loves dark blue.
Cooler dark colors will make the room seem the largest. (Another myth is to paint a room a warm, bright color to make it larger, but that's a different post.)
To make a ceiling appear higher, paint it darker than the walls.
Dark floors will appear to go deeper.
To make a room look longer. Paint the back wall dark and the side walls a light color.
Lighting the corners of a dark room is essential.
While I love matte paint, I generally favor an egg-shell or even a satin finish for blacks and navy. However, the walls must be very smooth. No shiny orange peel, please!
You might also enjoy the following posts featuring decorating with dark colors.
You might also enjoy this post about dark bathrooms.
Dark rooms, are they handsome or depressing?
Small Living Room Decor, Should it be pale or dark?
Years ago, however, I visited a home that was predominantly black and dark blue on the walls and furnishings.
It was absolutely the most heavenly thing I've ever seen; deep, enigmatic, and very comforting. I could've lived there too.
Please see the new black interior design.
Beautiful Black and Blue Rooms
Would you paint a room a very deep color, or black? Have you done so? Any tips I might've missed?
xo,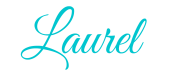 PS: This weekend's HOT SALES are exceptional. One of my favorite and rare sales is going on right now for a limited time.