A recent home botox/paint consult inspired this post. There's been much discussion on laurel home about the color white and white trim. However, we don't always use white for trim. Sometimes we use other colors and in more recent years, black is being used more and more in interiors.
Therefore, I thought it would be fun to explore the use of black and as I love to do, go back in history to see how black was used.
I came across this photo when I was searching for iron windows as my consult's new home has iron windows from the thirties. This is the actress from the 1930's Dolores del Rio and her husband Cedric Gibbons. He built this incredible home for her. I'm amazed at how modern it looks!
Above is one window from the client's home but the windows in the living room have a lot more of the heavy iron and are much larger windows. I love this diamond motif!
People often ask me about current trends. Certainly, we are seeing a lot of black in our interiors. Is it something that's going to go out of fashion? Will I regret it if I paint my walls black? Isn't it going to make the room look smaller?
Oh, so many questions. But first of all, let's go back in time. Black has been around for a long time. It is a classic color. When I think of black in old paintings, I think of artists like Rembrandt and Caravaggio. They used the technique of Chiaroscuro, the contrast between light and dark
The Seven Works of Mercy – Caravaggio 1607
Portrait of a Man Rising From His Chair – Rembrandt 1633
Frau Von Rembrandt 1677
I hope that she eats her meals through a straw. ;]
photo: Brent Wallace
The lobby of my favorite hotel. The JK Place Capri designed by the amazing Michele Bonan.
Windsor Smith
I think that this actually a very dark green, but no matter. The deep color actually blends in better with the gorgeous view. Love this fabulous space by Windsor Smith!
Willem Van Alest – Still Life With Fruit Mouse and Butterflies 1677
I love the enigmatic feeling of this painting by another great Dutch Artist during the golden age
The exterior of Jenna Lyon's former classic Brooklyn, NY Townhouse. Sweet. via Sotheby Homes
Inside the same apartment. Jenna used much black throughout the apartment. It was classic, yet urbane and sophisticated.
Pondering black? ;]
The end result. That has to be the chicest nursery I've ever seen! The color they chose is Benjamin Moore BABY SEAL BLACK 2119-30. It is a very cool black with blue undertones.
Kishani Perera
Fabulously talented young interior designer. Please check out her beautiful portfolio. Many of her rooms incorporate a fair amount of black.
A wonderful rich black is Benjamin Moore is ONYX
Rixey Architects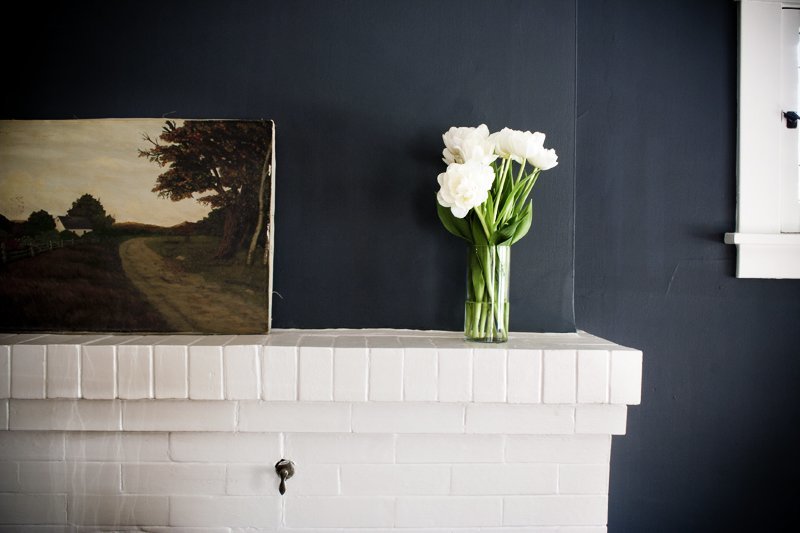 Love the painting with just enough color to cut through the black and freshened up with the white.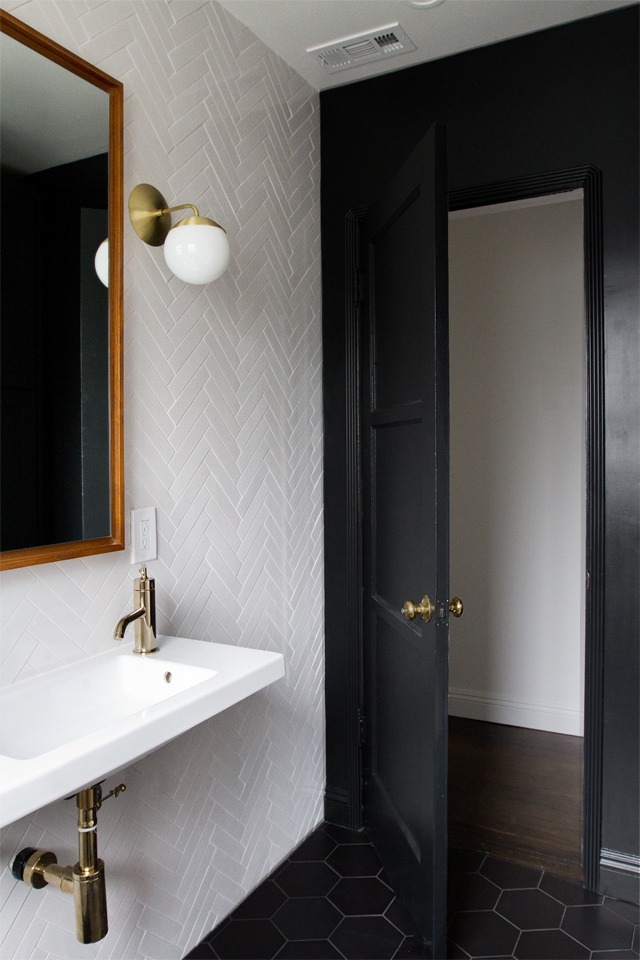 Smitten Studio
Fabulous modern black and white bathroom! Love the herringbone white tile pattern. Gorgeous blog too, by Sarah Sherman Samuel. Please check it out for a ton of delicious room candy!
In answer to the question, will black or another really dark color make a room look smaller?
The answer is no and here is why. Dark colors recede and light colors appear to come forward. Therefore a dark color will make a wall look like it's further away than it is and a light color will make a wall look like it's closer than it is. It's the same principle with dark clothing and light clothing. A dark color, however, will make a room— well, darker, duh. Dark colors absorb light. Light colors reflect it.
Won't it make the room look like a cave? Well, sure. If you have a narrow boxy room with few windows and nothing on the wall. It will look like a cave for sure.
The Library Lobby JK Place Firenze by Michele Bonan
A Most elegant restaurant Praktik Rambla in Barcelona, a hotel in a historic with a black and white theme
Here Are Some Things I Recommend When Using Black
Black and dark colors in general when used as a wall color are better for smaller rooms– under 200 sq. feet.
Dark colors are better in rooms with lots of doors and windows
Black loves warm tones. So, yes to wood.
Black loves white
Black loves reflective, so gold, mirrors and glass are good
Black loves color
Okay… I know that I'm always going on and on about accent walls. Well… take heart. I think that one black wall is often the exception to that rule. However, I feel that the other walls, need to be white and there needs to be a good balance of white and black throughout the space
via: Petite Passport – A room with a black accent wall in Hotel Pratik Rambla in Barcelona
In all honesty, I have less experience with black than any other color. I live in the burbs and I used to REALLY live in the burbs as in horse farm land until 2.5 years ago. Therefore, the shades of black I am recommending have come through research.
Here are a few more highly recommended shades of black from Benjamin Moore
BLACK BEAUTY 2128-10
SOOT 2129-20
MOPBOARD BLACK – CW – 680 This is a pretty soft black which runs neither warm nor cool.
BLACK SATIN 2131-10
What about you? Do you use black in your decorating? Would you? If so, do you have a favorite black you can recommend? Or any that you tried that turned out not-so-great? Please share in the comments!
xo,